VIDEO: Watch The Casey Anthony Murder Trial Verdict Being Read.
It was the shocking result of years of investigating and more than a month of testimony.
Below, video of the verdict being read. Some of the long pauses as people filed in and the judge reviewed paperwork have been edited down for timing.
It was the shocking result of years of investigating and more than a month of testimony. But despite the expectations of those following the Casey Anthony Murder trial, Anthony was found not guilty of all charges or murder and manslaughter. She was only found guilty of charges relating to lying to investigators.
Below, video of the verdict being read. Some of the long pauses as people filed in and the judge reviewed paperwork have been edited down for timing.
Merriam-Webster Is Revising Its Definition Of Racism After A Thoughtful Request From A Recent College Grad
Never underestimate the power of words, especially when they are combined to create a thoughtfully crafted email.
Recent Drake University graduate, Kennedy Mitchum, noticed that in her numerous conversations about racism people were able to turn to the dictionary definition to prove that they were not technically racist. The verbal loophole frustrated Mitchum as she told CNN "I kept having to tell them that definition is not representative of what is actually happening in the world. The way that racism occurs in real life is not just prejudice it's the systemic racism that is happening for a lot of black Americans." So, the Missouri native took matters into her own hands and emailed Merriam-Webster asking for a revision to be made on their definition.
Merriam-Webster's current definition of racism reads:
A definition Mitchum does not feel adequately describe the true nature of racism. Mitchum told CNN that she emailed her request for a revision on a Thursday night last month and to her surprise received a reply from the Merriam-Webster editor, Alex Chambers, the next morning. After a few emails exchanged between the two, Chambers agreed to update the definition and confirmed that a new draft is in the works. In an email shared with CNN, Chambers told Mitchum "This revision would not have been made without your persistence in contacting us about this problem. We sincerely thank you for repeatedly writing in and apologize for the harm and offense we have caused in failing to address this issue sooner."
Peter Sokolowski, another editor at Merriam-Webster, told CNN that their dictionary provides alternative definitions to the word as well. The definitions read "a doctrine or political program based on the assumption of racism and designed to execute its principles" and "a political or social system founded on racism." While Sokolowski pointed out that the alternative definition does cover systematic racism, the dictionary could also "express this more clearly to bring the idea of an asymmetrical power structure into the language of this definition."
Mitchum told CNN that she hopes the vocabulary change will allow for more productive conversations about race and is thrilled to see her concerns taken seriously. "I was super happy because I really felt like that was a step in a good direction for a lot of positive change for a lot of different positive conversations that can really help change the world and helps change how people view things," she told the news outlet.
Next time you think one person can't make a difference, remember this story!
Like what you read? Follow me on Instagram
The College Admissions Scandal Now Has A Sexy Halloween Costume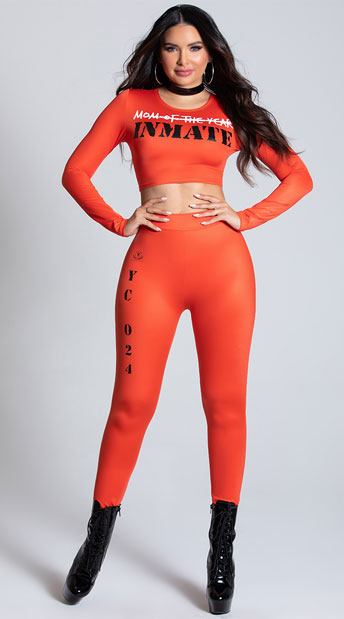 If there's one thing we can expect each year, it's that a current news story will be translated into a comical Halloween costume. In this case, the college admissions scandal did not go unnoticed by costume maker Yandy, who knows a thing or two about creating  sexualized costumes based on news events. Check out the costume being branded as "YANDY COLLEGE SCANDAL COSTUME."
A take on the mothers involved in the scandals (Felicity Huffman has already been sentenced, and Lori Loughlin awaits her hearings) the outfit is a tight fitting prisonwear look. A sleek reddish orange crop top reads "INMATE" with "Mom of The Year" crossed out.
Currently 69.95, the company also knows how to get PR!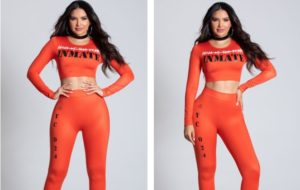 WATCH: Nancy O'Dell Weighs in on The Trump Video on Entertainment Tonight
Without saying Trump's name, O'Dell, the mother of a 9 year old, had a message about the culture of objectification, and her hope for young girls.
On Friday, "Entertainment Tonight" host Nancy O'Dell inedvertently found herself thrust into the Presidential campaign when a 2005 tape was leaked to The Washington Post. The video featured audio of Donald Trump and O'Dell's former Access Hollywood co-star Billy Bush making lewd remarks about her, women in general, and Trump's approach to women he found attractive. (His 'approach,' he noted, was essentially forcing himself upon them.)
If you don't know the story, then where have you been exactly? Okay. sorry. heres the link to The Washington Post on Friday.
While O'Dell did issue a written statement, her Monday appearance on Entertainment Tonight, her first since the story broke, called for at least some acknowledgement of it.
SCROLL DOWN FOR THE VIDEO!
The show, which usually starts with its iconic theme song and blasts into the entertainment stories of the day, began uncharacterisitcally quitely, without music, and a stoic O'Dell, explaining that the tape  "has thrown me in the middle of the political arena, of which I didn't ask to be a part."
The full video response is below, but the host made note that "there is no room for objectification of women, or anyone for that matter, not even in the locker room. The conversation has got to change because everybody deserves respect no matter the gender or setting."
The mother of a nine year old daughter, she continued more passionately: "And as a mom, well I have to add that our kids, especially our young girls, need to know that their hard work, their achievements, their intelligence, their heart, are most important, and those things will not go unnoticed."
WATCH: