It Really Isn't Ashton Kutcher's Week…Trouble on "Men" Set
Yesterday, the bad news for Ashton Kutcher was breakup rumors for himself and wife Demi Moore.  Today, we get news of issues at the workplace.
According to MSNBC, on the second episode of this season's "Two and a Half Men," Kutcher's Walden Schmidt is relaxing on the couch with his laptop, which is covered in stickers for social-networking and media websites like Foursquare, Flipboard and GroupMe.
On first glance, this seems fine for the character (Schmidt is an internet billionaire), however what many don't realize is that Kutcher has investments in those companies, and (more importantly) it basically was free advertising given out by CBS.
While the Foursquare connection was noted by a disclaimer in the show's credits, per FCC regulations, and "Men" co-creator Chuck Lorre had no problem with it, CBS received no compensation for the presentation.  A network rep tells E! News,
"This was not part of any advertising transaction with CBS…Our policy is to disclose such financial interests in a credit at the end of the broadcast."
CBS is reportedly planning to blur out the stickers for all repeat viewings of the episode.
So the real question is…a television network being stingy, or normal advertising business practices?
Laura Dern Honors Her Parents In Touching Academy Award Win Speech
Laura Dern, who has been slaying awards season this year for her role in "Marriage Story," took home the ultimate prize – a Best Supporting Actress Academy Award – and thanked her actor parents in a touching acceptance speech.
Her parents, actors Diane Ladd and Bruce Dern brought her to the Oscars with them when she was just 7 years old.
"Some say never meet your heroes. I say if you're really blessed, you get them as your parents. I share this with my acting hero my legends, Diane Ladd and Bruce Dern. You got game. I love you."
Dern's mother has been nominated three times, her father twice, but neither have won. Her mother can be seen during the speech crying in the audience.
Congrats Laura!!!
POP UPDATE: Justin Bieber, "Friends" For Life, And The Critics Choice Awards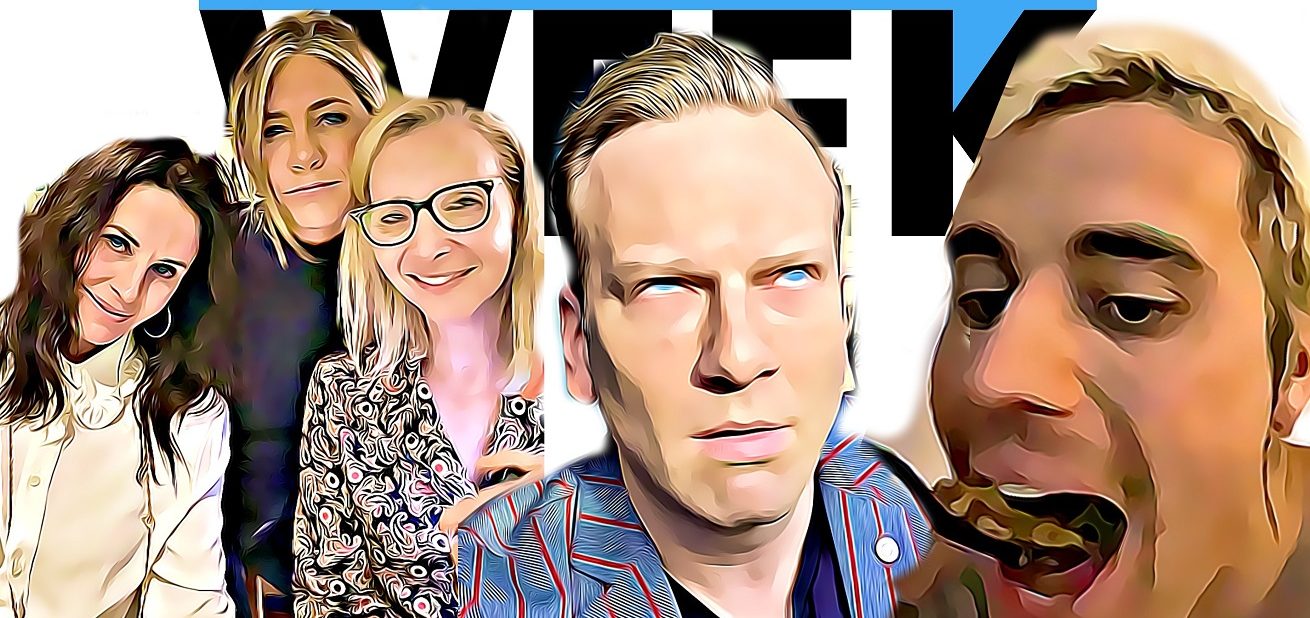 We're going to be doing some quick video updates whenever we can! Here's the latest! Justin Bieber begging for streams, (while you can hear him chew – ew), the ladies of Friends reunited, and mother nature. Take a look!
Courteney Cox's Instagram Caption Is Every Parent With A Teenage Kid
Have you heard? It's 2020 and we're all supposed to music videos on TikTok. Courteney Cox is no exception. The TV star posted an instagram of her and her daughter Coco dancing it out, with the hilarious caption, "Wanna see your child lose their patience? Do a TikTok with them."
Also, how long does it take to actually learn one of these routines? It seems very time consuming.
What I was really hoping for was video of her daughter losing her patience, but what we got was a pretty strong routine!