OPINION: Why The Tom Cruise And Katie Holmes Split Was Settled So Quickly.
In what may be the most publicly amiable split and divorce agreement in recent celebrity history, Tom Cruise and Katie Holmes have settled the terms of their split in less that two weeks. Here's why.
In what may be the most publicly  amicable split and divorce agreement in recent celebrity history, Tom Cruise and Katie Holmes have settled the terms of their split in less that two weeks. Here's why.
Here's how it came out: Amid the frenzy of stories about the breakup, PEOPLE magazine got the statement from the legal eagles behind team Holmes:
"The case has been settled and the agreement has been signed. We are thrilled for Katie and her family and are excited to watch as she embarks on the next chapter of her life.
Then, chimed in Cruise's attorney Dennis Wasser, separately: "All the lawyers and the parties are happy that it's done, the deal was closed and we wish everyone well." 
Then came separate, unified statements from Holmes and Cruise: "We are committed to working together as parents to accomplish what is in our daughter Suri's best interests. We want to keep matters affecting our family private and express our respect for each other's commitment to each of our respective beliefs and support each other's roles as parents," says the statement from Holmes and Cruise's reps, Nanci Ryder and Amanda Lundberg respectively.
So what are the reasons behind the lightning fast settlement? Here are a few theories:
1) For Katie, It Wasn't About Money
This isn't Tom Cruise's first time to divorce court, and so speculation that he and Katie had a clear cut pre-nup seem likely. And while it's rumored that the payout for Holmes was minimal, it's been reported that this decision was never about a financial windfall for Holmes. By not challenging the agreement, things moved quickly. But even if they hadn't moved so briskly, it was Holmes that stood to gain the  most from a long drawn out media event, and Cruise who would need to move it along.
2) Tom can't win.
Ask around: In the courtroom that is public opnion… Do you hear anyone cheering on 'Team Tom'? The harsh reality, perhaps one that Cruise himself needed to hear from his advisors, was this: Cruise's public image can't handle much more damage. In a relationship that was as publicly questioned and scrutinzed as this one, Tom could only mangle his reputation further by fighting to separate a mother from her daughter. The world, even the media, whether they would admit it or not, was clearly on Team Katie, a young woman trying to save her daughter from a mysterious world with secrets so closely guarded that we've barely scracthed the surface.
3) Cruise's Special Brand Of Crazy.
The longer this story draws out (without much in the way of publicly released facts) the more entertainment shows are left to speculate about the reasons for the split, which can only draw more focus on Cruise's odd behavior back when this relationship began. That means more flashbacks to his bizarre appearance on Oprah, (see below) and his compelling, but creepy Scientology video where he claims that only people from his religion can truly help people who have been in a car accident, and other bizarre claims. (Also below). Those two videos alone will haunt Cruise whenever he's making  big news in his personal life. They're a PR nightmare every time they run. The sooner this story dies, the less those embarassing, bizarre moments will get played out on national television.
4) The Wild Wild Web
Things have changed since Tom's divorce from Nicole Kidman, the details of which largely managed to stay under wraps. Now, the public's insatiable desire for celebrity updates is rivaled only by sources and destinations to find it. It seems likely that more and more secret details chronicling the backstory of this marriage breakdown, and the facts behind terms of the split, would surface… from the stories of Scientology to the personal details of their broken marriage. And even if they didn't, that same insatiable lust for gossip would also result in a groundswell of completely fabricated, speculative gossip that stood to hurt Cruise even more than the truth.
5) This Is Bigger Than Cruise
The people behind the Church of Scientology can't be thrilled to be in the headlines yet again. As people are just starting to calm down about the scandal behind member John Travolta, Holmes surprise divorce filing had to be the last thing they needed. Cruise, whose close relationship with the Church's highest leaders is well documented, was in all liklihood advised in great detail about the best approach to the split, developing solutions that would not only benefit Cruise, but keep the best interests of Scientology at heart as well.
Now, with the settlement reached, with an irod clad confidentiality clause obviously included, the period of speculation will subside. But the cameras will still be waiting and watching to see what happens next.
For more entertainment opinion, follow @BrianBalthazar on twitter!
VIDEO: Why Paris Hilton Is A Chameleon.
Paris Hilton sat down with me and Makho Ndlovu at the People Now studios to talk about her new fragrance "Electrify," the first song she plays when she's DJ'ing, and what character's she likes the play… in real life!
What an amazing time it is visiting and guest co-hosting People Now. The people on camera and behind the scenes couldn't be more kind and welcoming! And Paris herself was absolutely charming and sweet.
Watch How This Hasselhoff Deepfake Takes Years Off The Actor!
Visual effects artist Chris Ume takes countless images of David Hasselhoff from his past Baywatch days, then creates a younger avator, blending the new, artificial Hof onto the real life Hoff.
The process of this crazy magic? It's called a Deepfake = combining and superimposing existing images and videos onto a source image or video. The process is incredible, and yet still relatively in its infancy. If things keep progressing this genre as we can only expect they will, it's not a stretch to imagine that we could someday see an actor actress play a younger version of themselves so convincingly we won't see how they did it.
To follow more of his work, subscribe to Chris' youtube channel.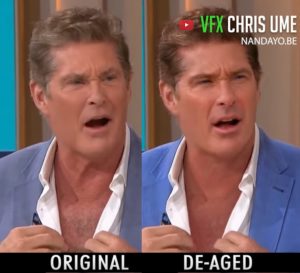 Chatting With Charo: The "Hair" Edition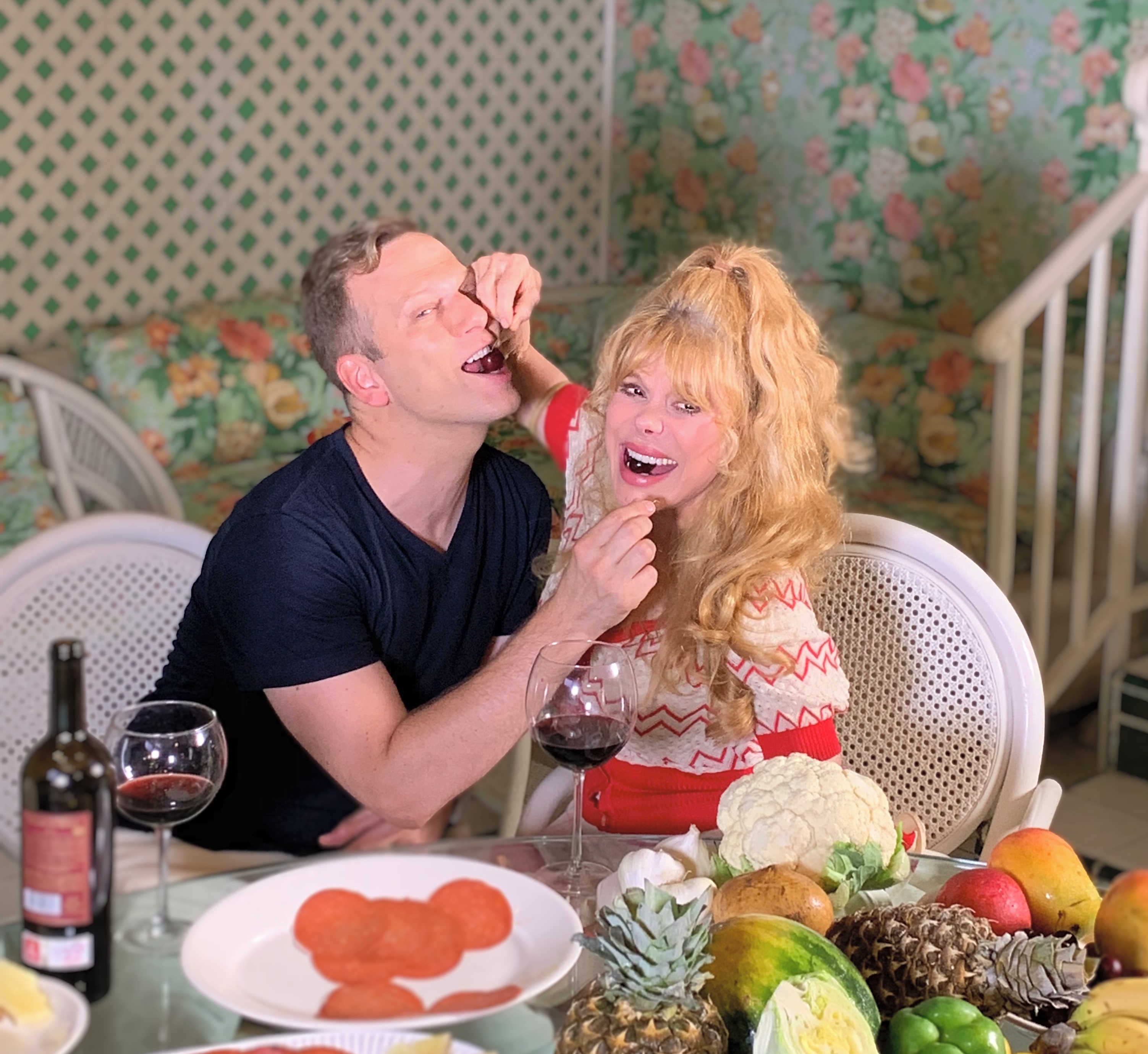 Brace yourself! There is a lot you don't know about Charo's hair! Listen, learn – and laugh your ass off – all along the way!
I got to visit Charo at her home just a week ago (I've known her wonderful family for many years) and we started out chatting about food (which explains all the tapas on the table!) But not so shockingly, we got sidetracked! This conversation about her hair had me laughing until I was crying!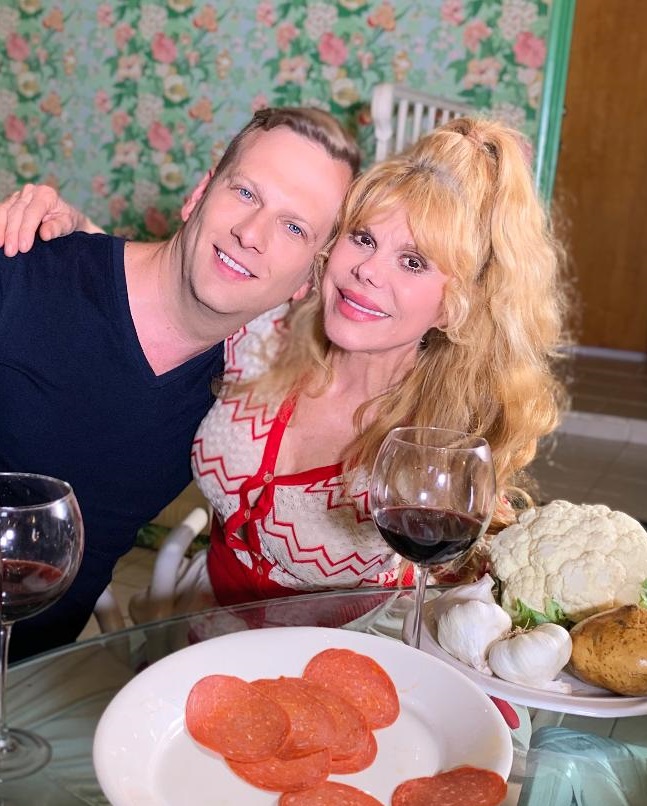 Catch more chatting with charo! Follow her on Twitter!
Follow her on Instagram!
And Hey, why not follow me too! On twitter and instagram!