Six Months Of Movies: A Preview Of The First Half Of 2013
As studios try to eek out as many dollars from their box office hits of 2012, there are plenty of new movies waiting in the wings to be the next big moneymaker. Here are the films getting our attention for the first half of 2013.
As studios try to eek out as many dollars from their box office hits of 2012, there are plenty of new movies waiting in the wings to be the next big moneymaker. Here are the films getting our attention for the first half of 2013.
IDENTITY THIEF (February 8th)
Jason Bateman and Melissa McCarthy star in what could be a surprise hit. Bateman plays a mild mannered businessman whose life gets complicated when his identity is stolen. He decides to go after the culprit himself. But the woman whose been ripping him off (Melissa McCarthy) is more than he bargained for. McCarthy looks hilarious in this!
OZ THE GREAT AND POWERFUL  (March 8)
The story of the Wizard of Oz has stood the test of time – and interpretations. It's Broadway interpretation, "Wicked" continues to give the story commercial success. But just as in the Broadway incarnation, the upcoming film OZ THE GREAT AND POWERFUL doesn't delve into the story of Dorothy. The movie stars James Franco as Oz, and focuses on his tumultuous journey from Kansas to a magical world – and the creatures and characters he meets there. A great cast includes Mila Kunis, Rachel Weisz, Michelle Williams and Zach Braff, but dramatic special effects will provide characters of their own.
THE INCREDIBLE BURT WONDERSTONE  (March 15)
Steve Carell and an almost unrecognizable Steve Buscemi play 'onetime superstar' magicians on the Las Vegas strip. (The faint aroma of Sigfried and Roy without the tigers comes to mind.) But after years of making millions, their friendship is broken, and they're faltering against competition from a David Blaine like street magician Steve Gray, hilariously played by Jim Carrey. In order to compete and stay relevant, the duo attempts an outrageous stunt with disastrous results, and are forced to examine what made them pursue a career in magic, learning the inevitable lesson in the process.
I wouldn't expect this to be an award winner, but I think it will be a great cure for the Cabin Fever we'll be suffering from by March. I'll be there!
SCARY MOVIE 5 (April 12th)
Two words: Lindsay Lohan. When Lohan does something, people (the entertainment media, at least,) listen. Lohan has only a brief cameo with Charlie Sheen in this farce, slapstick comedy about horror films, and already she's reportedly furious about what she's seen. According to TMZ, Lohan was supposed to have final approval over any jokes at her expense in the movie. As you can see in this trailer, Lohan screams in terror at a TV screen that shows a news network reporting that her own probation has been revoked. The TV was supposed to be a shot of her 2005 film Herbie: Fully Loaded but apparently humor won out. Lohan has a court date on January 14th, so by this film's April 12th release date, we'll know more about whether Lindsay Lohan has more films in her future.
Scary Movie 5 has a huge ensemble cast that includes stars Heather Locklear, Kate Walsh, Mike Tyson, Molly Shannon, Kendra Wilkinson,  Ashley Tisdale, Jerry O'Connell and many more.
THE HEAT (April 5th)
I love Sandra Bullock. And I love Melissa McCarthy, but this one already feels a little painful based on the trailer.
Bullock plays an FBI agent that doesn't fit in, and gets no respect from her peers. (I know, I could have stolen that line from the description of Miss Congeniality) Melissa McCarthy plays an agent too, and the two of them just can't seem to get along. I could have stolen that last line from about a gazillion other odd-couple cop movies. In any case, here's the trailer. I think you'll prefer McCarthy in "Identity Thief" in February instead.
MAY – BLOCKBUSTER SEASON BEGINS
Or should I say – blockbuster HOPEFULS. Because as you know, not everyone can be a winner in the movie game. May has five weekends in it this year, and so each one will be a battle for the box office.
IRON MAN 3 (May 3rd)
Tony Stark (Robert Downey Junior) is a complicated hero. His private world has been destroyed, and now he's got a formidable new nemesis – the Mandarin – played by Ben Kingsley.
THE GREAT GATSBY (May 10th)
Leonardo DiCaprio holds the title role in this new big screen adaptation of F. Scott Fitzgerald's novel, The Great Gatsby. A gloriously shot and styled story set in 1922, It's a story of love and deceit among the rich. In addition to Leo, Tobey Maguire and Carey Mulligan also star.
Writer/producer/director Baz Luhrmann knows how to tell a beautifully visual story. THAT SAID: It was initially scheduled for release at Christmas time 2012, and so the sudden release date change has some insiders wondering if the film needed major surgery, or worse yet – is a stinker.
STAR TREK INTO DARKNESS  (May 17th)
The rebooted Star Trek movie franchise has found new life – this is the second installment employing the talents of Chris Pine as Captain Kirk. J.J. Abrams Directs.
Synopsis: When the crew of the Enterprise is called back home, they find an unstoppable force of terror from within their own organization has detonated the fleet and everything it stands for, leaving our world in a state of crisis. With a personal score to settle, Captain Kirk leads a manhunt to a war-zone world to capture a one man weapon of mass destruction.
THE HANGOVER III (May 24th)
These guys haven't learned to simply stay away from one another! In this, the third installment, there's no wedding. no bachelor party… and so far, no trailer!
JUNE
THIS IS THE END (June 14th)
Seth Rogen, Jonah Hill, Paul Rudd and James Franco star in this comedy about the end of the world. The preview, which isn't really a trailer just yet – is full of expletives. So CLICK HERE if you want to see it!
AFTER EARTH (June 7th)
Marvel at how much Will Smith's son Jaden Smith has grown up as the two play opposite each other on film once again. High on special effects and suspense, the two play a pair  trying to survive a changed and dangerous earth.  M. Night Shyamalan co-wrote and directs – will it have one of his signature surprise endings?
WORLD WAR Z (June 21)
Brad Pitt is a A U.N. employee and dad who suddenly finds the world is at war – with deadly zombies – and he's somehow the best guy to fight them. No, I'm serious. Yes, I"m going to go see it.
MAN OF STEEL (June 14th)
Once again, the franchise is starting from scratch. A new lead (Henry Cavill) tells the story of an alien on earth and how he goes on to become Superman.
MONSTERS UNIVERSITY (June 21st)
It's been 12 years since Monsters Inc came out! This animated film looks at monsters Mike and Sulley (John Goodman and Billy Crystal) during their days at the University of Fear, before they got along so well.
That leads us to July, and as you probably know by now, that's when all the heroes, enemies, sequels and box office blockbusters (so studios hope) make their debut. Keep visiting POPgoesTheWeek for the next installment of our movie previews!
For more entertainment news, follow @BrianBalthazar on twitter!
Watch Brian Balthazar and Wendy Williams Talk About What's Trending Now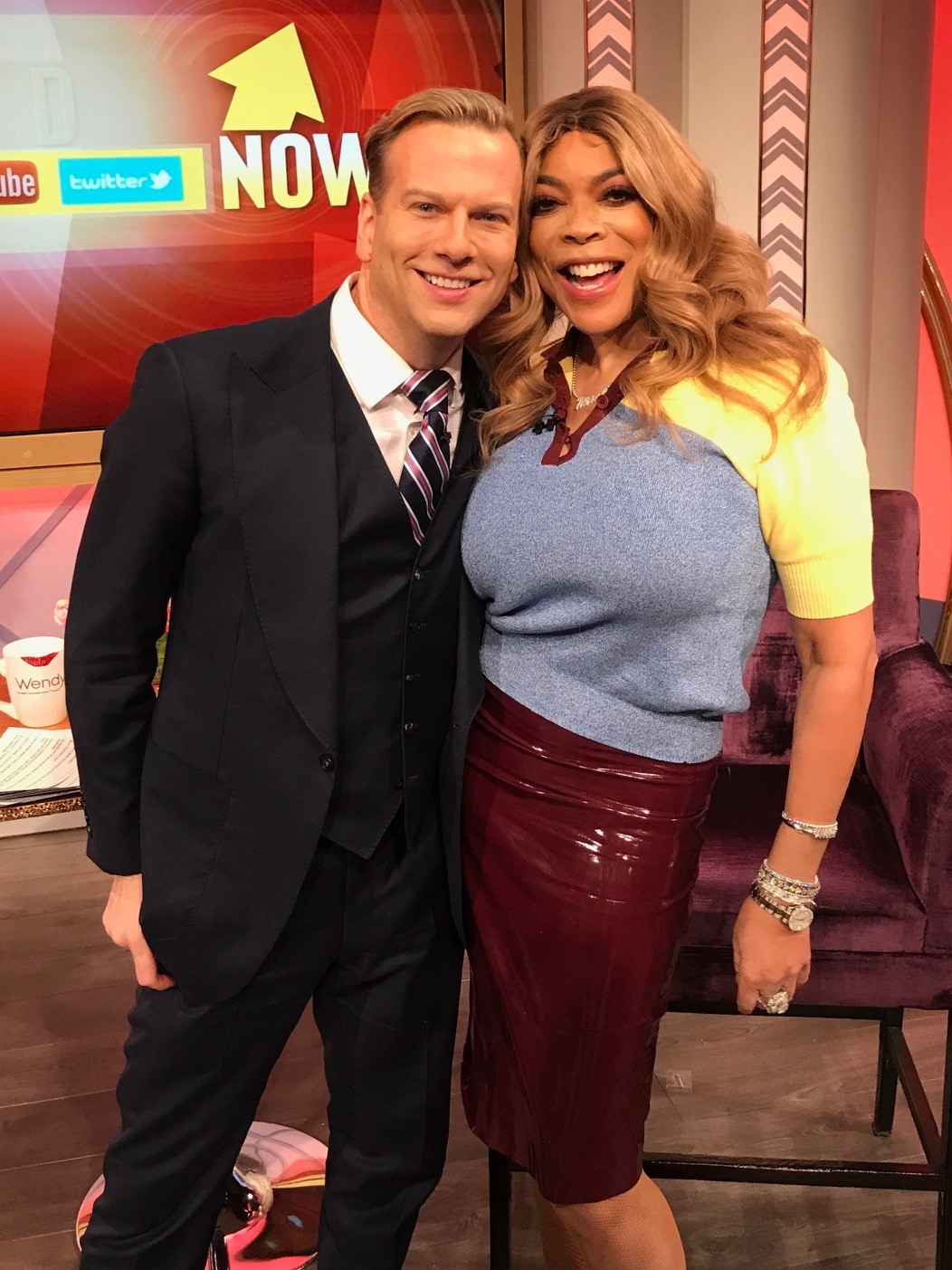 Always SO much fun going on the Wendy Williams show to talk about what's trending! In this case, the best part (for me at least!) was wearing a creating by art director Michael Lee Scott, who recreated the iconic hat worn by Billy Porter at the Grammys! What a recreation!
Brian Balthazar Billy Porter Hat
Wendy Stuart Kaplan Knows How To Party – Now She's Throwing An Epic One Of Her Own!
Wendy Stuart Kaplan knows her way around a party. In her book, 'She's The Last Model Standing," she wrote about her headline grabbing days at Studio 54, and now throws more than a few of her own. The latest is her "Reading For Filth" and her birthday extravaganza, where she, hosts Eileen Dover and Nick Lion and others (including yours truly!) will perform a collection of wildly entertaining essays, poems, comedic rants and more. The kind of person who is so 'on the go' you get exhausted just thinking about it (she, however, does not) I caught up with her as she was taking a break between a radio show, a modeling job and a party tonight. If you want to catch up with Wendy, you have to be flexible… she's probably got a full schedule that day! Her party this Friday is one that will not only celebrate a wildly varied and entertaining life, but also celebrate the spoken word from a variety of performers.
Anyone who's ready your book "She's The Last Model Standing" knows you've been partying since studio 54 – when did you first realize you were a party girl?
I first realized when I came back to New York after college! I wasn't until then, because there was no good place to party.
Where did you go to school?
SUNY Binghamton where I majored in anthropology – and then I went to Nigeria! I definitely enjoyed partying eventually, but back then I really, really wanted to go to Africa, which I did! I have gone back often, most recently to work on my documentaries.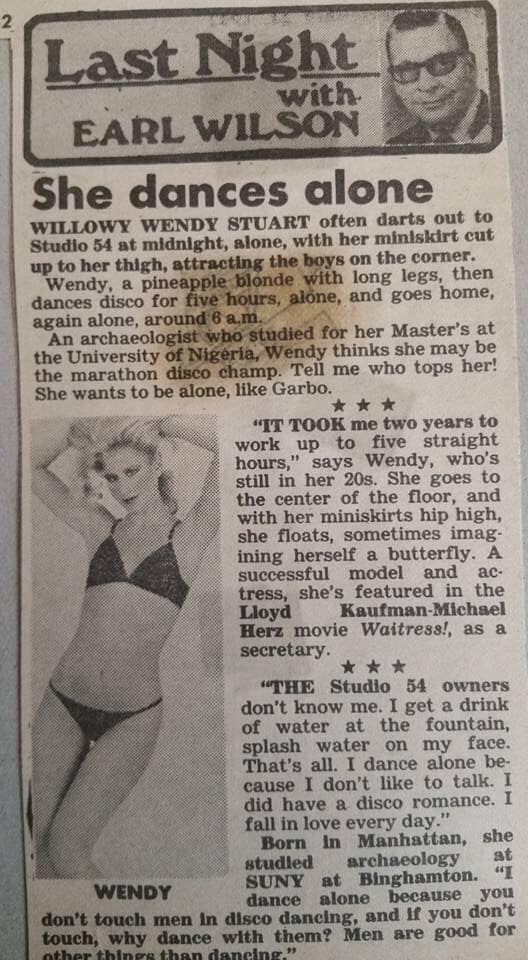 That's wild! But it's not surprising to hear of that passion since you make films about wildlife conservation there. But your festive side eventually DID come out! We all know you now as a social butterfly! Whether you're at a party, or working a film premiere – but were you as confident and comfortable in the spotlight as a kid as you are now?
I was an oddball kid. I had two things: I had my friends in the Bronx, and the ones that I had in school and they didn't mix all that well. I loved growing up there, that was home – but I remember as a kid I would get stomachaches before parties! How weird is that? Until you asked me I had forgotten all about that.
What were you worrying about?
Social pressures – what if nobody talks to me – oh my god, I'm not pretty. I had a short mop of brown hair because my mom thought I looked better with short hair, and I had chubby cheeks. I didn't love that look. I used to put on wigs as a kid and imagine myself with long blonde hair!
And here we are!
Here we are, right? Long blonde hair. I morphed into it. I'm totally self made!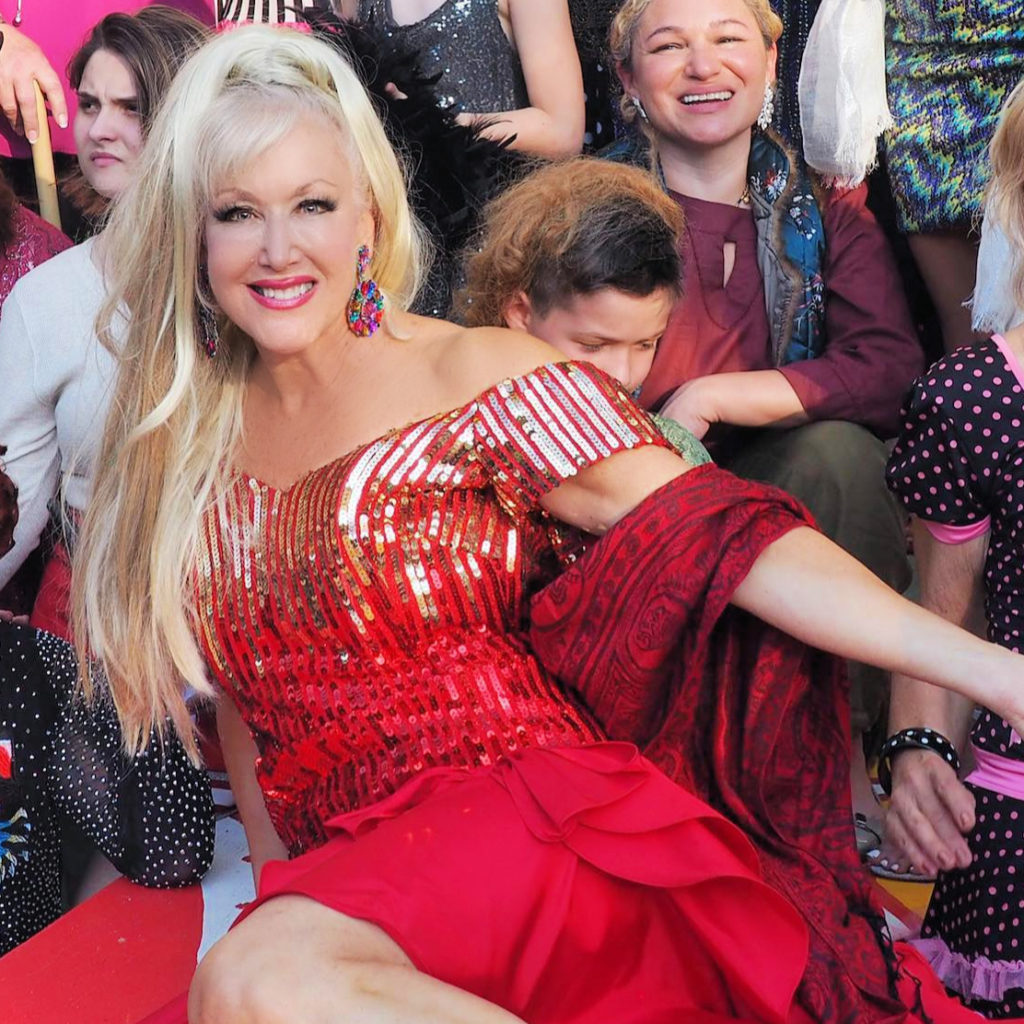 Tell me more about Reading for Filth – your event this Friday at Club Bedlam.
Reading for Filth came about when Brian Butterick, also known as Hattie Hathaway, used to have these events. One had the byline, "low rent reading for a high rent city." Reading for filth is an expression for 'I'm going to read you to filth,' as in, "I'm gonna tell you what I really think." The performers would do a reading of their choice. Something personal, maybe about an old boyfriend, or something someone else wrote, and they'd get up and read it in front of a room. At the last one we had, Michael Musto read from Suzanne Somers' poetry book. I didn't even know she wrote poetry… here the same person who wrote about African violets is also behind the Thighmaster! Brought me to tears! I imagine her thighs going back and forth as she sits next to a table with a sole African violet in its little pot, which inspired her to write the poem.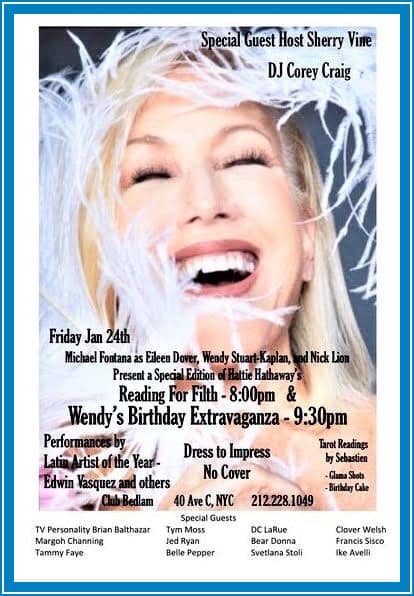 The reason we chose to open my birthday party with it is, when Hattie passed away, my friend and partner in crime Michael Fontana (Eileen Dover) really wanted to keep it going. We say it's such a downtown New York thing but it's a New York thing. It's a nationwide thing. Think about what's hot right now: storytelling. And here we have had Reading for Filth going on long before all that other stuff. Brian Butterick had been doing it for six to ten years. He was very ahead of his time. We brought it back this past year.
You love people and being around them, entertaining them, but you also love your home life – please describe your NYC living situation. You have a beautiful place… but describe your roommates.
Well, we will have to go back about 30 years when I got my first rabbit. I haven't lived without one for 30 years, so when one dies I always have one in the wings. Fast forward to now, we always have two rabbits. It's nice if they have another rabbit to hangout with. Also, 33 years ago we got a baby cockatoo, named her Louise, fed her formula, and she is now hanging out with me in my living room. Did I also mention our blue merle chihuahua?
In my New York apartment everyone is loose. No one is caged. Everybody is trained to go on those wee-wee pads you buy for dogs, and everybody goes on a wee-wee pad including the rabbits… but not the dog.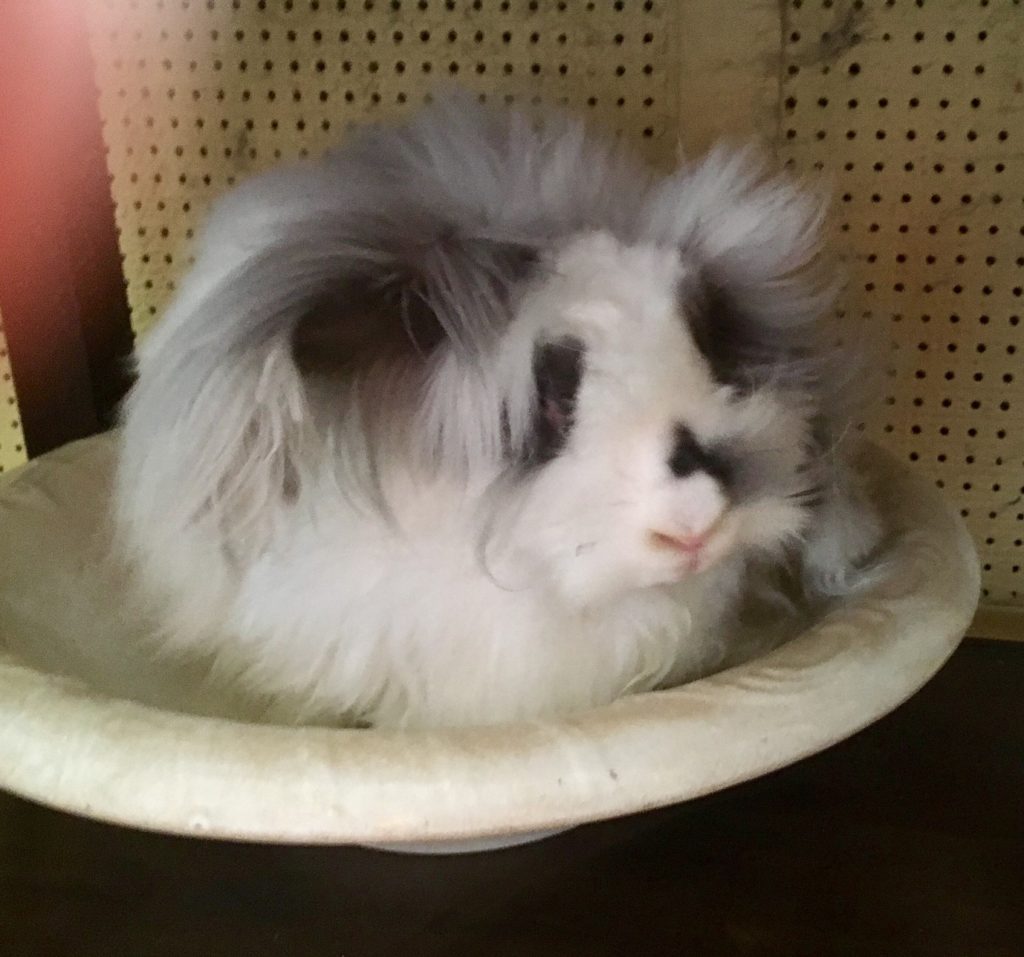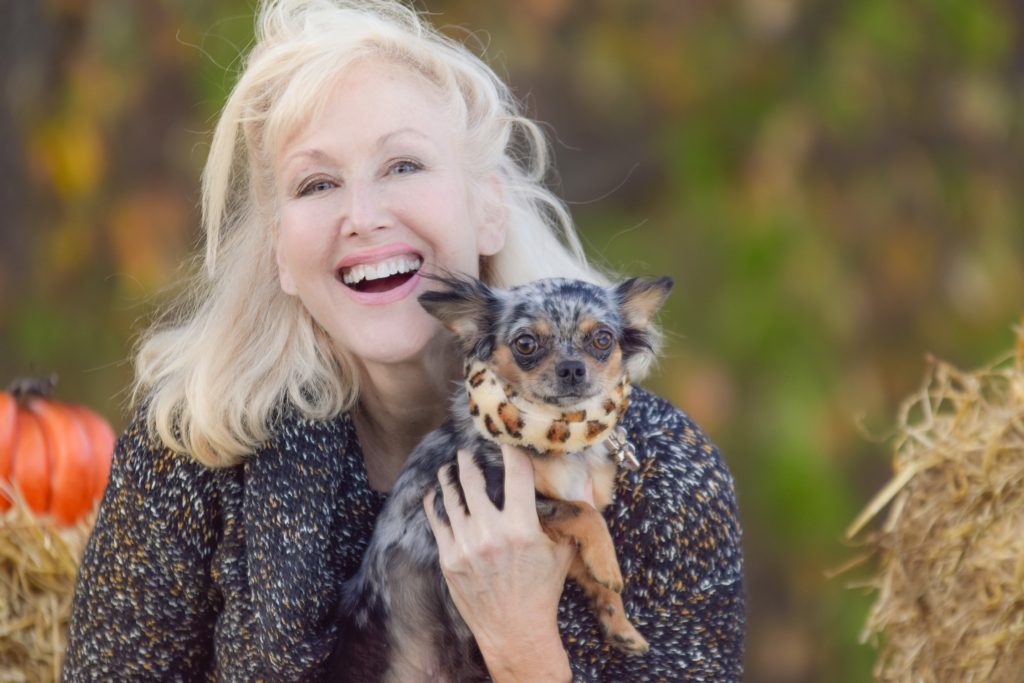 You know how to party – we know that – your wedding was no exception…describe your epic wedding.
So my wedding was 32 or so years ago. I should know that! Alan (a renowned photographer) and I got married in our huge loft, and you had to come dressed as members of a bridal party. It was on Halloween – you could be a bride, or a groom or a bridesmaid. The only problem was a lot of people thought it was a costume party and not an actual wedding. So we had people dressed as bridesmaids with five o'clock shadows and brides with full beards. They thought this was just going to be a big loft party – because we always gave huge parties – and not a wedding. But it was actually our wedding. I didn't get many gifts because no one took it seriously. I won't make that mistake again!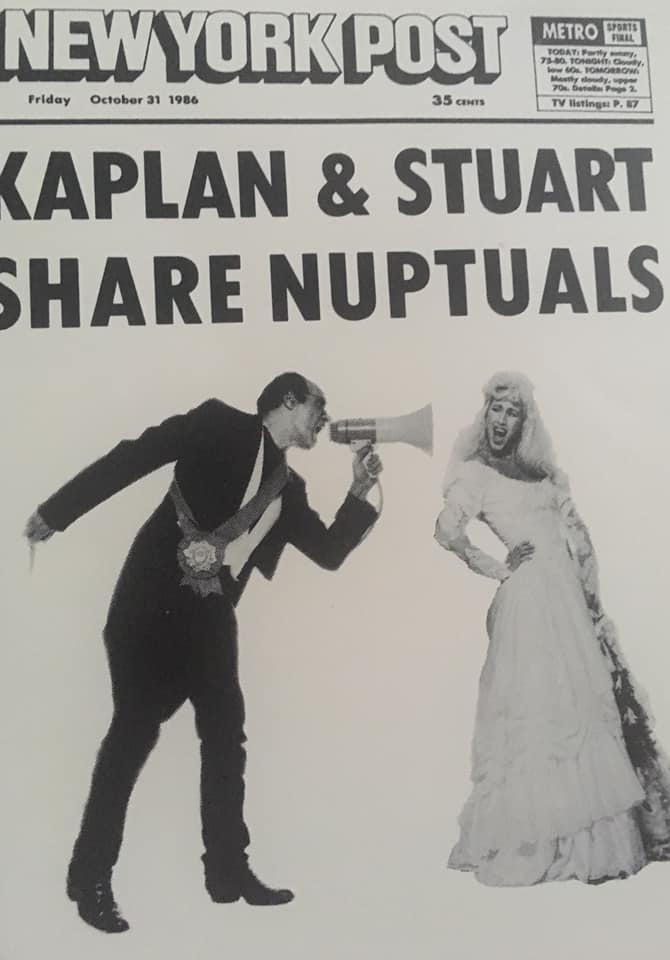 You've been modeling since you were in your twenties – what's the best thing anyone can do to look and feel like a model whether they're walking down the street or working it in the office?
You have to know who you are. What's your style? What makes you feel good? What floats your boat? When you put on a certain dress how does that make you feel? Don't go with trends, go with what you're attached to! Listen to your inner fashionista. And you know what? We all have that.
Reading For Filth is open to the public this Friday at 8pm at Club Bedlam, 40 Avenue C, NYC. For more on Wendy visit her book's Facebook page, her personal facebook page, or her instagram.
Visit her website, and buy her book on amazon!
All 18 of the BAFTA Acting Nominees Are White, All Directing Nominees Are Male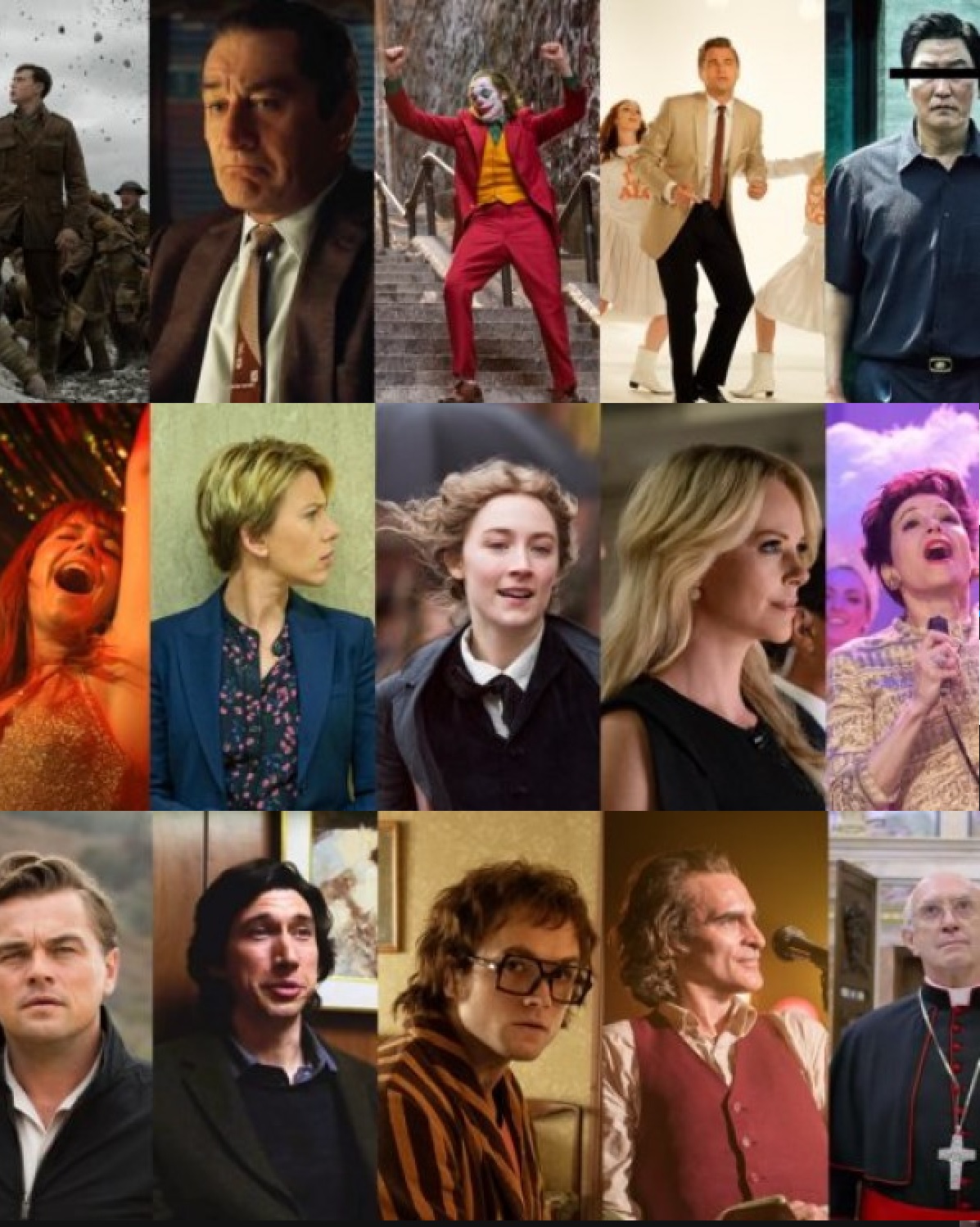 "Joker" is the one to watch at the upcoming BAFTAs, but if you're looking for diversity and female directors, sadly you'll have to look somewhere else. All the acting nominees are white, and all the directors are male.
Led by a lead actor nomination for Joaquin Phoenix, "Joker" received 11 nominations for Britain's equivalent to the Oscars, competing with familiar Golden Globe nominees Taron Egerton, "Rocketman,"  Leonardo DiCaprio for "Once Upon a Time … in Hollywood," Adam Driver for "Marriage Story," and Jonathan Pryce for "The Two Popes."
Renée Zellweger leads the nominations for the best actress category for her role in "Judy," alongside Jessie Buckley,  "Wild Rose," Scarlett Johansson, "Marriage Story," Saoirse Ronan, "Little Women," and Charlize Theron for "Bombshell."
Here are the other notable highlights:
See the full nomination page HERE.
11 nominations for Joker
10 nominations for The Irishman and Once Upon a Time… in Hollywood
Nine nominations for 1917
Six nominations for Jojo Rabbit
Five nominations for Little Women, Marriage Story and The Two Popes
Four nominations for For Sama, Parasite and Rocketman
Three nominations for Bombshell, Judy, Le Mans '66 and Star Wars: The Rise of Skywalker
The ceremony will be held on Feb. 2 at the Royal Albert Hall in London.