Six Months Of Movies: A Preview Of The First Half Of 2013
As studios try to eek out as many dollars from their box office hits of 2012, there are plenty of new movies waiting in the wings to be the next big moneymaker. Here are the films getting our attention for the first half of 2013.
As studios try to eek out as many dollars from their box office hits of 2012, there are plenty of new movies waiting in the wings to be the next big moneymaker. Here are the films getting our attention for the first half of 2013.
IDENTITY THIEF (February 8th)
Jason Bateman and Melissa McCarthy star in what could be a surprise hit. Bateman plays a mild mannered businessman whose life gets complicated when his identity is stolen. He decides to go after the culprit himself. But the woman whose been ripping him off (Melissa McCarthy) is more than he bargained for. McCarthy looks hilarious in this!
OZ THE GREAT AND POWERFUL  (March 8)
The story of the Wizard of Oz has stood the test of time – and interpretations. It's Broadway interpretation, "Wicked" continues to give the story commercial success. But just as in the Broadway incarnation, the upcoming film OZ THE GREAT AND POWERFUL doesn't delve into the story of Dorothy. The movie stars James Franco as Oz, and focuses on his tumultuous journey from Kansas to a magical world – and the creatures and characters he meets there. A great cast includes Mila Kunis, Rachel Weisz, Michelle Williams and Zach Braff, but dramatic special effects will provide characters of their own.
THE INCREDIBLE BURT WONDERSTONE  (March 15)
Steve Carell and an almost unrecognizable Steve Buscemi play 'onetime superstar' magicians on the Las Vegas strip. (The faint aroma of Sigfried and Roy without the tigers comes to mind.) But after years of making millions, their friendship is broken, and they're faltering against competition from a David Blaine like street magician Steve Gray, hilariously played by Jim Carrey. In order to compete and stay relevant, the duo attempts an outrageous stunt with disastrous results, and are forced to examine what made them pursue a career in magic, learning the inevitable lesson in the process.
I wouldn't expect this to be an award winner, but I think it will be a great cure for the Cabin Fever we'll be suffering from by March. I'll be there!
SCARY MOVIE 5 (April 12th)
Two words: Lindsay Lohan. When Lohan does something, people (the entertainment media, at least,) listen. Lohan has only a brief cameo with Charlie Sheen in this farce, slapstick comedy about horror films, and already she's reportedly furious about what she's seen. According to TMZ, Lohan was supposed to have final approval over any jokes at her expense in the movie. As you can see in this trailer, Lohan screams in terror at a TV screen that shows a news network reporting that her own probation has been revoked. The TV was supposed to be a shot of her 2005 film Herbie: Fully Loaded but apparently humor won out. Lohan has a court date on January 14th, so by this film's April 12th release date, we'll know more about whether Lindsay Lohan has more films in her future.
Scary Movie 5 has a huge ensemble cast that includes stars Heather Locklear, Kate Walsh, Mike Tyson, Molly Shannon, Kendra Wilkinson,  Ashley Tisdale, Jerry O'Connell and many more.
THE HEAT (April 5th)
I love Sandra Bullock. And I love Melissa McCarthy, but this one already feels a little painful based on the trailer.
Bullock plays an FBI agent that doesn't fit in, and gets no respect from her peers. (I know, I could have stolen that line from the description of Miss Congeniality) Melissa McCarthy plays an agent too, and the two of them just can't seem to get along. I could have stolen that last line from about a gazillion other odd-couple cop movies. In any case, here's the trailer. I think you'll prefer McCarthy in "Identity Thief" in February instead.
MAY – BLOCKBUSTER SEASON BEGINS
Or should I say – blockbuster HOPEFULS. Because as you know, not everyone can be a winner in the movie game. May has five weekends in it this year, and so each one will be a battle for the box office.
IRON MAN 3 (May 3rd)
Tony Stark (Robert Downey Junior) is a complicated hero. His private world has been destroyed, and now he's got a formidable new nemesis – the Mandarin – played by Ben Kingsley.
THE GREAT GATSBY (May 10th)
Leonardo DiCaprio holds the title role in this new big screen adaptation of F. Scott Fitzgerald's novel, The Great Gatsby. A gloriously shot and styled story set in 1922, It's a story of love and deceit among the rich. In addition to Leo, Tobey Maguire and Carey Mulligan also star.
Writer/producer/director Baz Luhrmann knows how to tell a beautifully visual story. THAT SAID: It was initially scheduled for release at Christmas time 2012, and so the sudden release date change has some insiders wondering if the film needed major surgery, or worse yet – is a stinker.
STAR TREK INTO DARKNESS  (May 17th)
The rebooted Star Trek movie franchise has found new life – this is the second installment employing the talents of Chris Pine as Captain Kirk. J.J. Abrams Directs.
Synopsis: When the crew of the Enterprise is called back home, they find an unstoppable force of terror from within their own organization has detonated the fleet and everything it stands for, leaving our world in a state of crisis. With a personal score to settle, Captain Kirk leads a manhunt to a war-zone world to capture a one man weapon of mass destruction.
THE HANGOVER III (May 24th)
These guys haven't learned to simply stay away from one another! In this, the third installment, there's no wedding. no bachelor party… and so far, no trailer!
JUNE
THIS IS THE END (June 14th)
Seth Rogen, Jonah Hill, Paul Rudd and James Franco star in this comedy about the end of the world. The preview, which isn't really a trailer just yet – is full of expletives. So CLICK HERE if you want to see it!
AFTER EARTH (June 7th)
Marvel at how much Will Smith's son Jaden Smith has grown up as the two play opposite each other on film once again. High on special effects and suspense, the two play a pair  trying to survive a changed and dangerous earth.  M. Night Shyamalan co-wrote and directs – will it have one of his signature surprise endings?
WORLD WAR Z (June 21)
Brad Pitt is a A U.N. employee and dad who suddenly finds the world is at war – with deadly zombies – and he's somehow the best guy to fight them. No, I'm serious. Yes, I"m going to go see it.
MAN OF STEEL (June 14th)
Once again, the franchise is starting from scratch. A new lead (Henry Cavill) tells the story of an alien on earth and how he goes on to become Superman.
MONSTERS UNIVERSITY (June 21st)
It's been 12 years since Monsters Inc came out! This animated film looks at monsters Mike and Sulley (John Goodman and Billy Crystal) during their days at the University of Fear, before they got along so well.
That leads us to July, and as you probably know by now, that's when all the heroes, enemies, sequels and box office blockbusters (so studios hope) make their debut. Keep visiting POPgoesTheWeek for the next installment of our movie previews!
For more entertainment news, follow @BrianBalthazar on twitter!
Kygo and Whitney Houston's "Higher Love" Video is Full of 80's Fun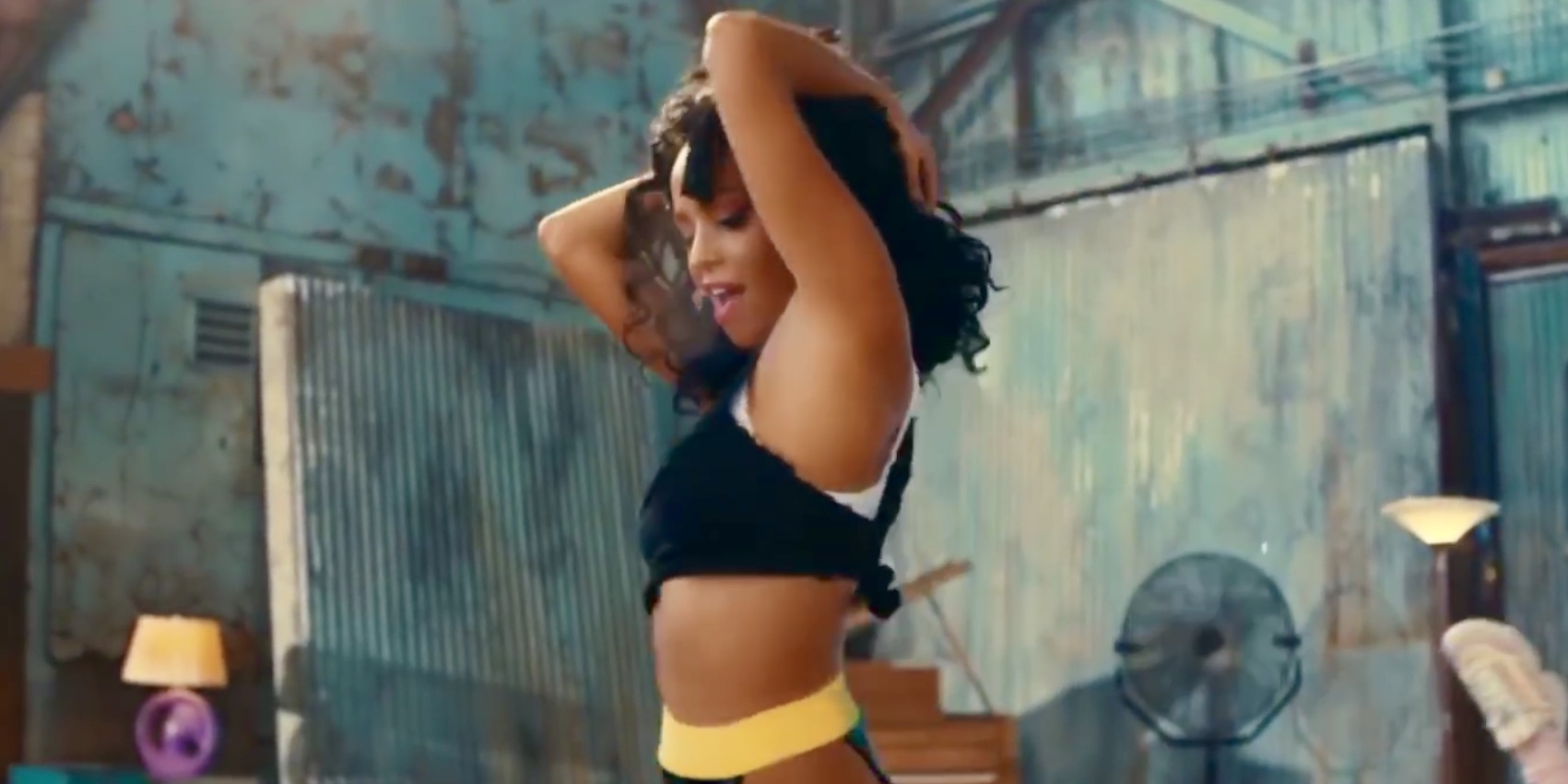 An eighties inspired dance number, a gorgeous ensemble, and the incomparable Whitney Houston come together for a fun flashback in the new video!
Houston had often performed Steve Winwood's "Higher Love" during her concert tour, and recorded the song thirty years ago. This summer, a new version re-mixed by Kygo hit the top of the dance charts.
The video stars Vanessa Morgan and Mason Cutler, both of whom are absolutely stunning to look at. See for yourself!
Compare and Decide: A Jury Decided Katy Perry's "Dark Horse" Copied Flame's Song "Joyful Noise." Do You Agree?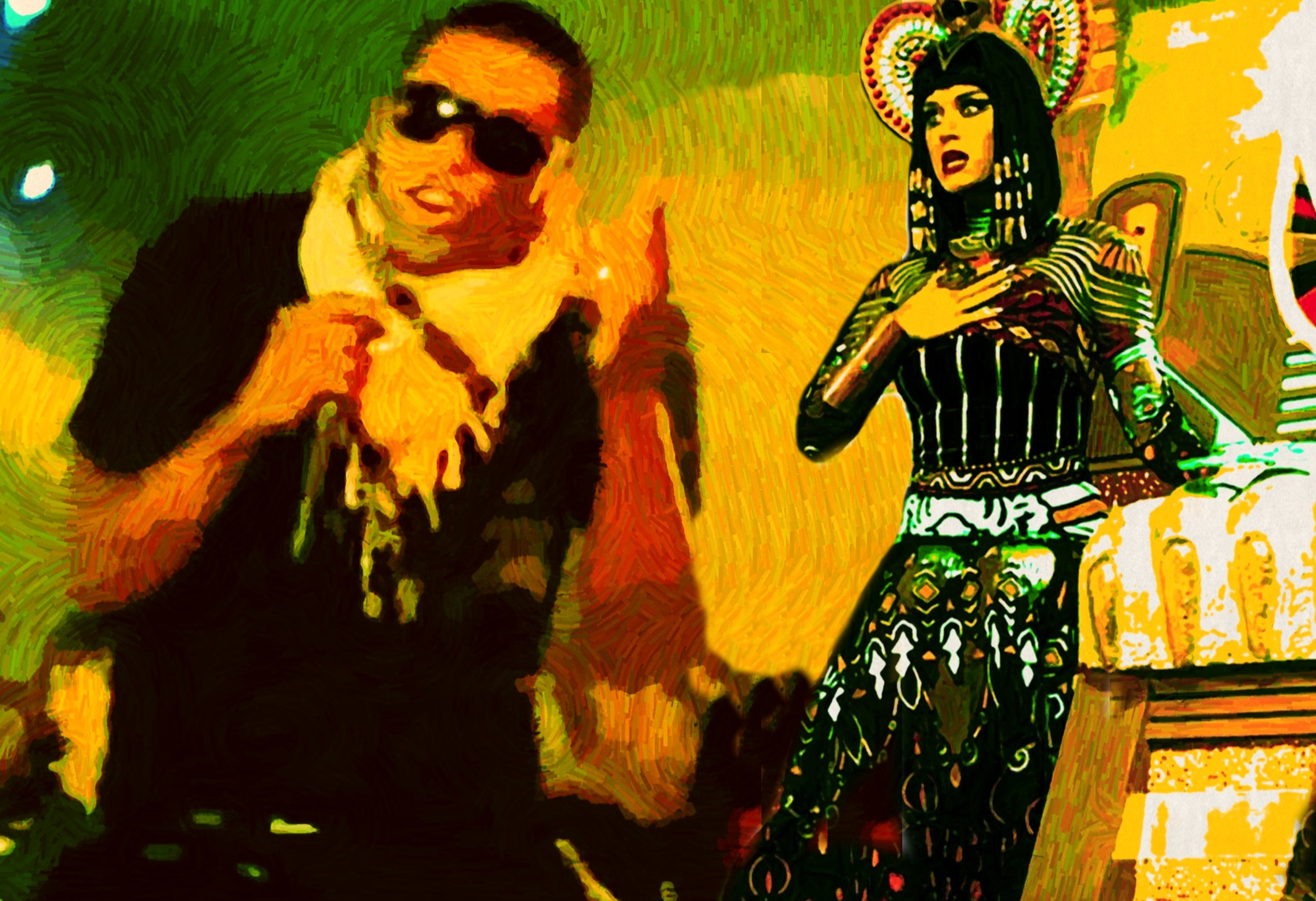 Katy Perry's got a Grammy nomination for her 2013 hit "Dark Horse." But a jury says the tune lifted a riff from a Christian rapper's 2009 song "Joyful Noise."
There's little doubt there is a part of the song that is similar in both tunes. The question is, how much will it cost Perry's camp. The jury was unanimous that there was some ample borrowing going on. (I'm paraphrasing.) And ultimately decided that Perry and her collaborators should pay him $2.78 million.
For your consideration, the two songs are below. Listen to at least a minute of both. You'll hear the part they're talking about.
The price of that little riff could be a high one. Last year, Robin Thicke and Pharrell Williams were ordered to pay nearly $5 million to Marvin Gaye's family over similarities in their 2013 hit "Blurred Lines."
Videos below.
Lizzo Is An Icon In The Making – And Here's Why
Mirror, mirror on the wall don't say it 'cause we know Lizzo cute. And by cute I mean extremely talented, gorgeous and totally inspiring!
A few months ago I was watching The Ellen Degeneres Show when I witnessed one of the most fun, exciting and awe-inspiring performances I've ever seen. Lizzo popped onto the screen in a sparkly, pink getup and began singing what would become her big hit song, "Juice," – I was immediately hooked (more like obsessed). During this performance she also jammed out on her flute alongside her plus-sized backup dancers and suddenly I knew I had been changed forever. I did some more research on the rapper/singer and found out I had been sleeping on this gem! Lizzo has been doing bad all by her damn self for years, having already released two albums in the past. I am suddenly mad at every single person who neglected to tell me to jump on the Lizzo train sooner! If you're like me and need a bit of catch up, I'm going to break down exactly why you need to know this icon in the making.
You can throw a stone in any direction and hit a triple threat nowadays. Lizzo's brings talents we have yet to see in the mainstream music industry.
If singing, rapping and dancing make Lizzo a triple threat, what does flute playing making her?!? A STAR THAT'S WHAT! Lizzo has displayed her abilities as a talented flautist, which is not an instrument you would necessarily think of in conjunction with the rap genre making this talent all the more extraordinary. Lizzo even used her flauting skills to compete (and defeat IMO) with Ron Burgundy. Not Will Ferrell, but Ron Burgundy.
Oh, and she can also twerk while playing the flute. 
As if playing the flute wasn't impressive enough, Lizzo can also twerk while playing. I really hope some high school kid is deciding to take band just so he/she can flutwerk their way around campus like their fav flautist, Lizzo.
Lizzo uses her platform to inspire and raise up everyone around her.
Lizzo uses her voice for more than just creating fire music, ya know. She uses her platform to defend the belief that beauty comes in all shapes and sizes. Her Twitter is filled with positivity and strong messages about acceptance.
MY MOVEMENT IS FOR EVERY 🗣BODY. IM LEAVING NO ONE EXCLUDED. "GOOD FATTYS" AND "BAD FATTYS" AND ANYONE ELSE WHO WANTS TO JUST FUCKING LIVE ARE WELCOME. NO TERMINOLOGY NO IDEOLOGY JUST FUCKING HAPPY PEOPLE IN MY MOVEMENT.

— |L I Z Z O| (@lizzo) March 4, 2019
Uhm…she's straight up gorgeous. 
We cant forget to mention that Lizzo is a straight up beauty queen. She is known to switch up her look but I've never seen a bad pic of this queen. To solidify my point, she is now officially the first, plus sized black woman to be featured in Playboy magazine!
Move over Avenger's, Lizzo has been in a comic book too!
Ok indulge the nerd in me on this one…Lizzo was even featured in a comic book!!! That's right, she has become so influential that even Marvel comics wanted a piece of the Lizzo-pie. Check out this shout-out in Unstoppable Wasp #4!
MY MOVEMENT IS FOR EVERY 🗣BODY. IM LEAVING NO ONE EXCLUDED. "GOOD FATTYS" AND "BAD FATTYS" AND ANYONE ELSE WHO WANTS TO JUST FUCKING LIVE ARE WELCOME. NO TERMINOLOGY NO IDEOLOGY JUST FUCKING HAPPY PEOPLE IN MY MOVEMENT.

— |L I Z Z O| (@lizzo) March 4, 2019
So now that you have become as obsessed as I have, you are probably wondering how you can get even more Lizzo in your life. Well lucky for you, her new album dropped TODAY! Her third studio album, Cuz I Love You, is available anywhere you listen to music and let me tell you, YOU WILL LOVE IT. The album is varied and showcases all of Lizzo's incredible range with some songs being upbeat and funky, and others being slowed down and heart wrenching. For a taste of what to expect, click below to listen to the title track of the album. If the new album still doesn't satisfy the hunger for more Lizzo, she's also on tour! You can click here for more info on tour dates.
Oh Lizzo…you are most definitely 100% that bitch.  
Like what you read? Follow @ChrisSiretz on Twitter and Instagram