POP INTERVIEW: Christopher Gaida Is Red Carpet "Arm Candy"
Meet Christopher Gaida: as an escort, (not the sex kind!) he's the Where's Waldo of the red carpet! Somehow, he lived to tell about his experiences in his new book, Arm Candy.
Meet Christopher Gaida: as an escort, he's the Where's Waldo of the red carpet! Somehow, he lived to tell about his experiences in his new book, Arm Candy. He was sweet enough to chat with me about his great new memoir and how he plans to hook me up with my man of obsession, some Titanic actor you may have heard of.
How was your January 31st book signing? Did anyone ask you any funny questions or did anything memorable happen?
My signing was INCREDIBLE! It was very overwhelming the love and support I received. There was over 150 people there and when I came out to speak everyone burst into applause. I had some amazing questions from people including something I had not thought of before which seems obvious… "What's next?" I have been so focused on the book that i have not thought about it. I know there has been some great support and talks about a movie and other speaking opportunities, but I will just have to wait and see. I also have heard from a few magazines that I could possibly write for them. Only time will tell!
To clear this up, for whoever thinks being an escort means something else, what do you do in your modern day role as a red carpet escort?
It is a professional, NON-SEXUAL job where I navigate celebrities through the crazy backstage world of award shows. People don't realize but there is a great deal of hard working people who are required to put together the great shows you see on television. We are a very small part of this group and we make sure both the Producers of the shows and the celebrities are happy. We communicate script changes, deal with timing issues and make sure the celebrity is where they need to be at the times they need to be. Its an always changing fun world.
Why would anyone hire an escort when they could have a friend or publicist bring them to an event if he or she feels nervous? Brag away about how great you are and impress us! 🙂
They often do come with a friend and/or a publicist. My job is in addition. A publicist handles only the red carpet, I handle the entire event. I make sure the star is where they need to be and handle all of productions needs for them. Also many publicist have many clients on the carpet and they can't handle everyone at once so that is when I really help the star get interviews and pull them from interviews when its time.
Why is your job as you say, "always an adventure?"
There are always changes and new challenges with every award show I work. Unexpected issues and problems occur during the course of the day from a broken strap on a dress to a celebrity having to cancel at the last minute to rain pouring down on the carpet. Also when you are working with some many personalities, things can become difficult or really fun, but you never know what you will get.
If you were to escort me, a 25 year old girl, what might you do differently? What if you escorted Brian Balthazar, my boss, how might the role change? What about an older woman?
For me personally escorting is different not just with each sex, but with each person. Everyone has different desires and needs and I am there to help them. Some people may want more press, some less. Some people may want to rehearse, some do not. Some may want five minutes of quiet before they go on and some want to chit chat so they don't have to think about it. Every person is different.
You say you help people hold it together. Why does an escort do this and not a boyfriend or grandmother? And what exactly could go wrong, anyway?
People seem to be cool at awards shows. Anything and everything could go wrong. Someone could forget their lines or the teleprompter could break or the person scrolling the teleprompter could go too fast or too slow. they could trip on stage. Someone could shout from the audience and distract them. An escort can give them reassurance because we are not biased. A grandmother will always think their grandchild is perfect. Also we understand production and all the moving parts. We know how and who to communicate to prevent problems and to fix them if they go wrong.
Your book description additionally tells your party crashing tips. What do I need to do if I want to show up at the VMAs uninvited? My own rules are actually wearing really expensive clothes, possibly going with a jock in your arm and befriending security guards in advance. I want to know your additional secrets and how they absolutely belittle mine into dust.
In my book I go over 10 great secrets that I share with everyone that have always worked for me. I warn people though that you can get into trouble breaking into a party or place that you don't belong so I am not encouraging anyone. Just sharing my personal stories and methods.
OK, I guess I won't get an answer out of him regarding THAT. 😮  Darn it! Moving on.
What happens in the dressing room? And why is it acceptable for men to be in there when women are changing? *blush and slap you with a retro 1800's fan* What funny things have happened there?
Lots of sitting around and waiting. I leave the dressing room when someone (male or female) is changing. Most of the time however we are watching the show on a monitor or just relaxing and talking. It is a fun time for me because that is where the star that i am with and myself really get to know each other. There are always private jokes and interesting stories and many times drinking!
Why did you want to write your book?
I wrote the book because I have such a unique career that so many people are interested in. Everywhere I go people want to know everything about it. I also wrote it not because I wanted to trash award shows or celebrities but to humanize them so that people know that not everyone is perfect. Celebrities make mistakes, get nervous and have worries just as the rest of us. No one is perfect and it bothers me when people try to be perfect or be like celebrities. I think people need to try to be the best at what they are passionate about, but not try to be perfect. Its impossible!
If you ever escort Leonardo DiCaprio, do you promise to put my phone number in his pocket mysteriously with a flattering, Photoshopped to tears photograph of yours truly?
No but if I see him I will 🙂
Three Words That Went So Viral That Kylie Wants To Trademark Them – And Why She's Right To Do It.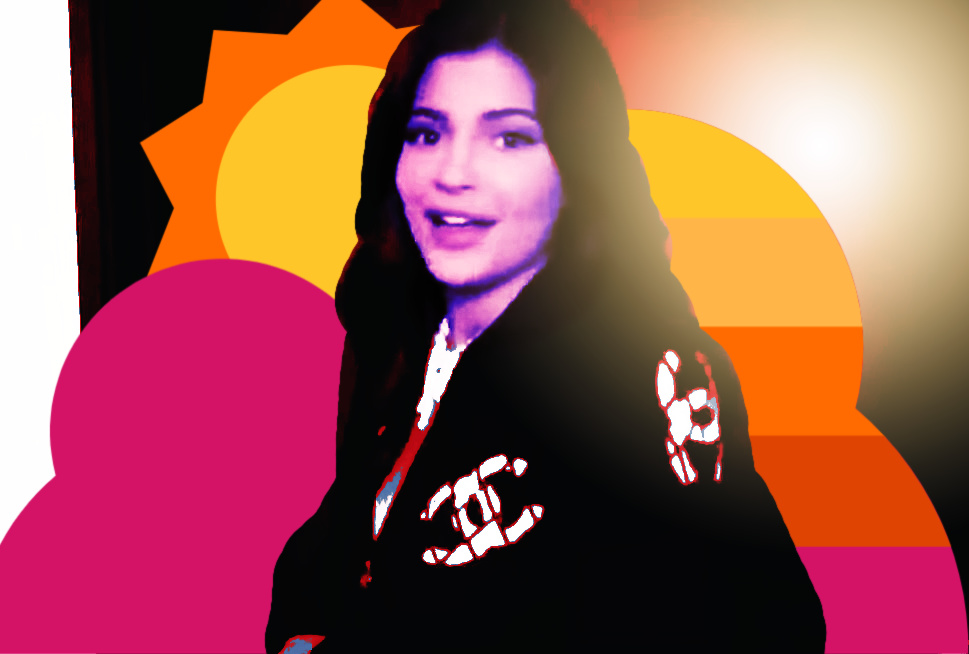 It all started when Kylie Jenner gave us a tour of her Kylie Cosmetics office on YouTube. Then, she went to wake her sleeping daughter, singing "rise and shine."
Maybe it was the way she sang it, but it went viral, memes followed, and it became the most hashtagged phrase EVER on Tik Tok. Almost immediately.
Within a week, she filed an application to trademark the phrase, hoping to turn the now viral moment into a merchandising opportunity. Folks called it excessive and silly, claiming such a common expression shouldn't be up for the taking.
Those people are wrong. What it is, is smart.
Take a look – the seemingly innocuous moment happens 15 minutes in to the tour.
Why is it smart? Because if she doesn't trademark it, someone else will. People are ALL about capitalizing on viral moments, and if she didn't, someone else would have tried to use Kylie's influence to benefit themselves, just like people are using the #RiseAndShine hashtag right now for views and likes. And that's not taking advantage of it?
In fact, she's not the first person to even apply for a trademark for the phrase. Roughly 100 applications, some active, some dead, have been filed with variations of the phrase over the years. A mattress company liked the sound of it, so did a coffee company, a beer, snack mix, and Hardee's wanted to use it to promote breakfast entrees. All of them make sense. McDonald's trademarked the common phrase "I'm Lovin' It." Emeril trademarked "Bam!" and Paris Hilton trademarked "That's hot." Having the trademark doesn't prohibit everyone else from saying it in conversation, but it does limit the ability for others to monetize it for themselves. It keeps a phrase that is uniquely attributed to another person or business from being used in a misleading way for monetary gain by others. Sports announcer Michael Buffer wisely trademarked "Let's get ready to rumble" so that others couldn't go and make t-shirts, mugs, and other merchandise with a catchphrase that he made famous. Anyone can file for a trademark on a phrase. In the end, the trademark office will decide if the application has merit. Before you do, it is suggested you seek the advice of a legal expert.
By now we know that Kylie Jenner is a successful business woman, given the enormous popularity of Kylie Cosmetics. It stands to reason that she is going to expand her scope of business. No matter WHAT she decided to name a spinoff of her brand, she would trademark it. By jumping on a phrase that is now already organically linked to her, thanks to the fans themselves, she merely did the SMART thing. Coming up with a brand name is one of the hardest things an entrepreneur does. Half of the ideas are taken, the others you don't love, and sometimes the ones you do love other people don't like.
So before we start hating on Kylie's fast acting ingenuity, we should be inspired and do some of it ourselves!
For more pop culture and entertainment analysis, follow @BrianBalthazar on twitter!
VIDEO: Why Paris Hilton Is A Chameleon.
Paris Hilton sat down with me and Makho Ndlovu at the People Now studios to talk about her new fragrance "Electrify," the first song she plays when she's DJ'ing, and what character's she likes the play… in real life!
What an amazing time it is visiting and guest co-hosting People Now. The people on camera and behind the scenes couldn't be more kind and welcoming! And Paris herself was absolutely charming and sweet.
Watch How This Hasselhoff Deepfake Takes Years Off The Actor!
Visual effects artist Chris Ume takes countless images of David Hasselhoff from his past Baywatch days, then creates a younger avator, blending the new, artificial Hof onto the real life Hoff.
The process of this crazy magic? It's called a Deepfake = combining and superimposing existing images and videos onto a source image or video. The process is incredible, and yet still relatively in its infancy. If things keep progressing this genre as we can only expect they will, it's not a stretch to imagine that we could someday see an actor actress play a younger version of themselves so convincingly we won't see how they did it.
To follow more of his work, subscribe to Chris' youtube channel.