POP INTERVIEW: "Confessions of a Marriage Counselor" Actor Zach Sale
Zach Sale refers to himself as "an up and coming actor," but his IMDB resume is incredible for someone who didn't begin acting tryouts until several years ago. His dreams of becoming a lawyer n the past and hopes for more lead roles in the future, you can catch his first big supporting role in Tyler Perry's Temptation: Confessions of a Marriage Counselor, opening March 29.
Working on a Tyler Perry film is a huge deal. I firmly believe one day people will look back on our era with greater appreciation for what he has done for African-Americans to truly rival everyone else by not only having what mainstream moviegoers (wrongly) call "black movies," but amazing movies with tremendous success. How did you feel working on "Confessions of a Marriage Counselor?"
I was just excited to work with Tyler Perry himself! Having started my acting roots in Atlanta and it being such an important place in my life, what Tyler Perry has done and brought to the actors, producers, and really just anyone in the business has been profound to the local community; there's no misrepresenting Tyler Perry when you say he's done a lot for the local entertainment industry in and around Atlanta. Meeting him for the first time was exciting and intimidating at the same time. I wanted to slap him a high-five and tell him how honored I was to get to work with him. I think T.P. has definitely made a mark for himself in history with his take on "black movies" and their great success, but also just making the niche he has in Hollywood. He really is a point of inspiration for everyone, especially an actor tackling this industry with no connections to start with, but rather building relationships throughout his career based off his talent and perseverance. I can relate to that.
What did you learn while working with him? What did you learn from other actors? And I hate to ask, but was it unbearable having all the paparazzi around the set when they covered Kim Kardashian?
Efficiency…I learned efficiency from T.P. He sets up shots, and he talks with his actors and crew with clear communication. Everyone knows what he wants when he says action. He doesn't settle either, he'll go for a shot until he sees it the way he saw it played out in his head. He really is something else to watch work. I truly look forward to my next chance to be directed by him. My co-stars were all completely fabulous. It's so relieving and rewarding to walk onto the set of a project you have passion for and work with such talented actors who bring the best out of you. The paparazzi do love Kim, as far as myself, I'm an actor and I'm use to cameras so I really didn't notice while I was on set.
As a recent Atlantan, how does/did the "Southern gentleman" aspect influence you and come out in your acting?
The "Southern Gentlemen" aspect of me can probably be seen in most everything I do as I was born and raised in the South. That was one of the big things after I moved to L.A. I remember people saying to me when I first got out here that it takes 6 months to lose the "hospitality thing." Well it's been a lot longer than that and it's still hanging on to me. Haha. If a character in the script calls for it even better!
How does doing television compare to film for you? You just did "The Vampire Diaries."
The cast and crew. When I worked on "The Vampire Diaries" and "Burn Notice" the cast and crew were just so tight, like an extended family. Everybody had been together for so many years that they just knew where everything went and where everyone needed to be. I have actually made some great friends whom I talk with frequently from both of those sets. The film sets that I have worked on have been great though. The cast and especially the crew have been awesome. I remember on the set of "Fast 5" there were a lot of practical jokes getting played.
You have since moved out to Los Angeles to further pursue your acting career. What kind of work, if you could choose which roles you land, do you want? Do you see yourself as a strong drama actor, a romantic lead or an action star?
Drama is definitely something I love and see a lot of action in. I love provoking emotion from a crowd. I want them to leave the theater with my performance still on their mind. I started exploring writing and have begun writing a feature with my wife and friend, Keith Hodder. We worked together on the award winning short, "The Tortured," and have been friends since. My wife, Jax, and I do a lot of sketch writing and ideas slinging with comedy pieces. I recently just attended The Groundlings School and have been flexing my passion for Improv; absolutely love it!
You credited your wife for your successes so far in a recent interview. What about her makes you feel like you can take on the world and succeed at work?
Jax asked me once, if I could do my dream job what would it be? Three years later I'm talking to Brian Balthazar's "Pop Goes the Week" about my part in a Tyler Perry film. There's nothing I can't do without my wife by my side. Everybody should have a "Jax" of their own. She's my own personal MUSE…not to mention my soul mate. She's the most accomplished person I've ever met. I love you Mrs. Sale.
What are your plans for the future?
Can you plan for the future? I'll continue training and pursuing what I love…
Watch How This Hasselhoff Deepfake Takes Years Off The Actor!
Visual effects artist Chris Ume takes countless images of David Hasselhoff from his past Baywatch days, then creates a younger avator, blending the new, artificial Hof onto the real life Hoff.
The process of this crazy magic? It's called a Deepfake = combining and superimposing existing images and videos onto a source image or video. The process is incredible, and yet still relatively in its infancy. If things keep progressing this genre as we can only expect they will, it's not a stretch to imagine that we could someday see an actor actress play a younger version of themselves so convincingly we won't see how they did it.
To follow more of his work, subscribe to Chris' youtube channel.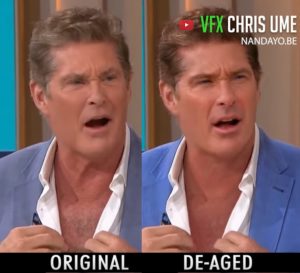 Chatting With Charo: The "Hair" Edition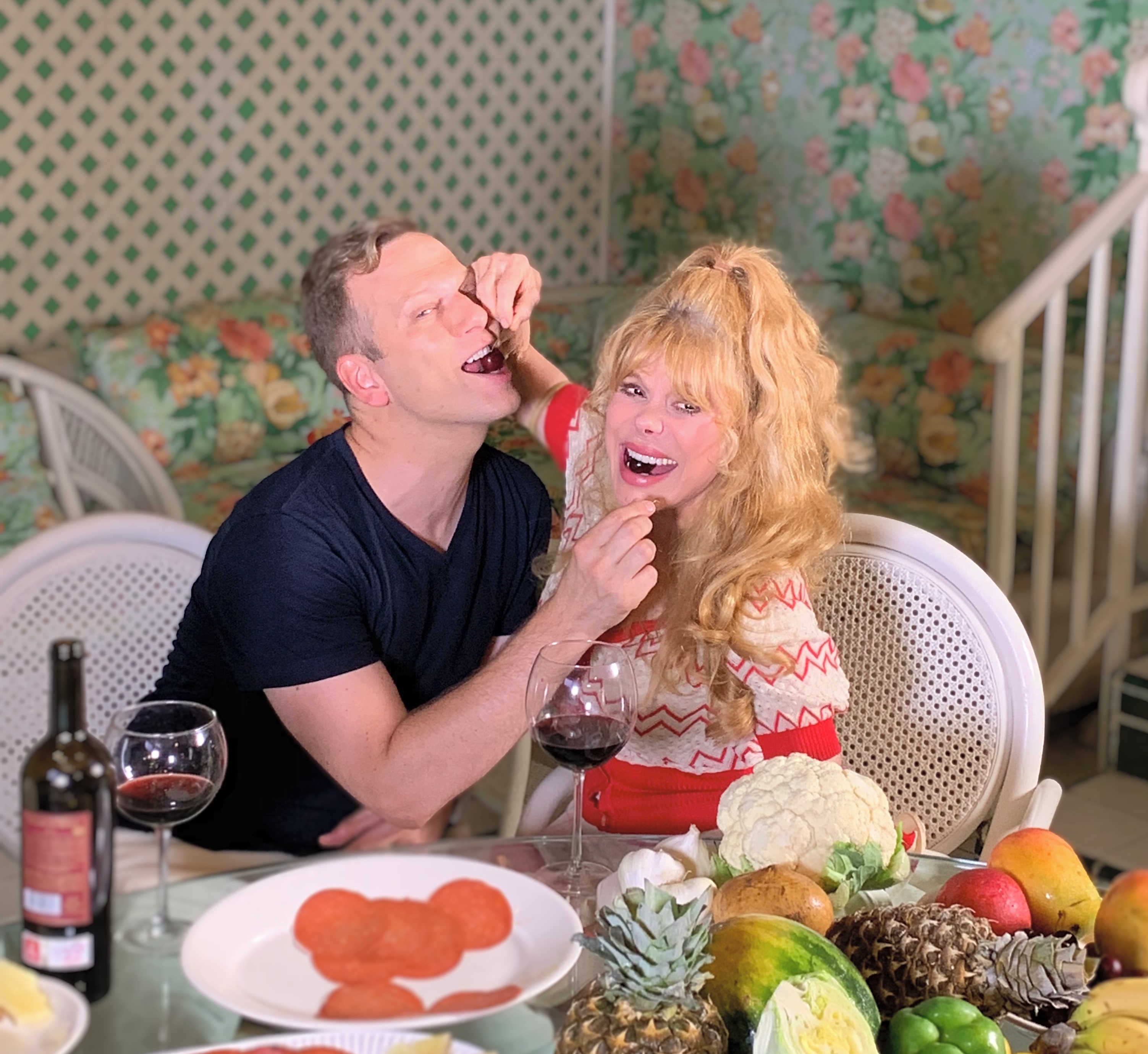 Brace yourself! There is a lot you don't know about Charo's hair! Listen, learn – and laugh your ass off – all along the way!
I got to visit Charo at her home just a week ago (I've known her wonderful family for many years) and we started out chatting about food (which explains all the tapas on the table!) But not so shockingly, we got sidetracked! This conversation about her hair had me laughing until I was crying!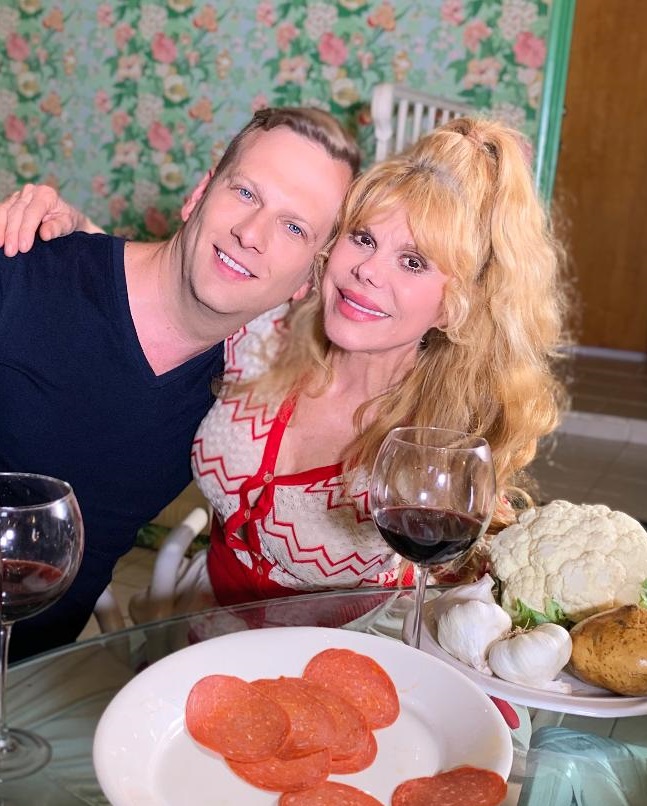 Catch more chatting with charo! Follow her on Twitter!
Follow her on Instagram!
And Hey, why not follow me too! On twitter and instagram!
Lizzo Is An Icon In The Making – And Here's Why
Mirror, mirror on the wall don't say it 'cause we know Lizzo cute. And by cute I mean extremely talented, gorgeous and totally inspiring!
A few months ago I was watching The Ellen Degeneres Show when I witnessed one of the most fun, exciting and awe-inspiring performances I've ever seen. Lizzo popped onto the screen in a sparkly, pink getup and began singing what would become her big hit song, "Juice," – I was immediately hooked (more like obsessed). During this performance she also jammed out on her flute alongside her plus-sized backup dancers and suddenly I knew I had been changed forever. I did some more research on the rapper/singer and found out I had been sleeping on this gem! Lizzo has been doing bad all by her damn self for years, having already released two albums in the past. I am suddenly mad at every single person who neglected to tell me to jump on the Lizzo train sooner! If you're like me and need a bit of catch up, I'm going to break down exactly why you need to know this icon in the making.
You can throw a stone in any direction and hit a triple threat nowadays. Lizzo's brings talents we have yet to see in the mainstream music industry.
If singing, rapping and dancing make Lizzo a triple threat, what does flute playing making her?!? A STAR THAT'S WHAT! Lizzo has displayed her abilities as a talented flautist, which is not an instrument you would necessarily think of in conjunction with the rap genre making this talent all the more extraordinary. Lizzo even used her flauting skills to compete (and defeat IMO) with Ron Burgundy. Not Will Ferrell, but Ron Burgundy.
Oh, and she can also twerk while playing the flute. 
As if playing the flute wasn't impressive enough, Lizzo can also twerk while playing. I really hope some high school kid is deciding to take band just so he/she can flutwerk their way around campus like their fav flautist, Lizzo.
Lizzo uses her platform to inspire and raise up everyone around her.
Lizzo uses her voice for more than just creating fire music, ya know. She uses her platform to defend the belief that beauty comes in all shapes and sizes. Her Twitter is filled with positivity and strong messages about acceptance.
MY MOVEMENT IS FOR EVERY 🗣BODY. IM LEAVING NO ONE EXCLUDED. "GOOD FATTYS" AND "BAD FATTYS" AND ANYONE ELSE WHO WANTS TO JUST FUCKING LIVE ARE WELCOME. NO TERMINOLOGY NO IDEOLOGY JUST FUCKING HAPPY PEOPLE IN MY MOVEMENT.

— |L I Z Z O| (@lizzo) March 4, 2019
Uhm…she's straight up gorgeous. 
We cant forget to mention that Lizzo is a straight up beauty queen. She is known to switch up her look but I've never seen a bad pic of this queen. To solidify my point, she is now officially the first, plus sized black woman to be featured in Playboy magazine!
Move over Avenger's, Lizzo has been in a comic book too!
Ok indulge the nerd in me on this one…Lizzo was even featured in a comic book!!! That's right, she has become so influential that even Marvel comics wanted a piece of the Lizzo-pie. Check out this shout-out in Unstoppable Wasp #4!
MY MOVEMENT IS FOR EVERY 🗣BODY. IM LEAVING NO ONE EXCLUDED. "GOOD FATTYS" AND "BAD FATTYS" AND ANYONE ELSE WHO WANTS TO JUST FUCKING LIVE ARE WELCOME. NO TERMINOLOGY NO IDEOLOGY JUST FUCKING HAPPY PEOPLE IN MY MOVEMENT.

— |L I Z Z O| (@lizzo) March 4, 2019
So now that you have become as obsessed as I have, you are probably wondering how you can get even more Lizzo in your life. Well lucky for you, her new album dropped TODAY! Her third studio album, Cuz I Love You, is available anywhere you listen to music and let me tell you, YOU WILL LOVE IT. The album is varied and showcases all of Lizzo's incredible range with some songs being upbeat and funky, and others being slowed down and heart wrenching. For a taste of what to expect, click below to listen to the title track of the album. If the new album still doesn't satisfy the hunger for more Lizzo, she's also on tour! You can click here for more info on tour dates.
Oh Lizzo…you are most definitely 100% that bitch.  
Like what you read? Follow @ChrisSiretz on Twitter and Instagram