POP INTERVIEW: "LIzard Lick Towing" Reality Couple Ron and Amy Shirley
Ron and Amy Shirley are without a doubt, among the select reality TV couples you end up loving for their sheer adorability factor. Besides having a much beloved, naturally entertaining show popular among young people I meet, they seem as genuine as it gets for television
Ron and Amy Shirley are without a doubt, among the select reality TV couples you end up loving for their sheer adorability factor. Besides having a much beloved, naturally entertaining show popular among young people I meet, they seem as genuine as it gets for television. The dynamic duo answered questions about everything from the show to how to make my dad less of a loser. Ron graciously provided a knock out BBQ chicken recipe for you to try at home, no truck towin' toughness required!
Lizard Lick Towing currently airs Monday Nights at 10pm on truTV.
Your show is so popular among jocks and the sporty set, it's crazy. I'll ask people about what they're watching, and they all say, "Lizard Lick Towing." I mean, also beyond men, I've had a girl tell me she loves your show. Why do you think it appeals so much to this niche of young people and shockingly, women? Because it's so hard getting girls to watch anything that isn't in your face girly.
Amy: I think people love our show because we are just like the average everyday person. We work we have a family and we also bring different personalities and opinions to the show. We are real people out there busting our butts to make a dollar just like everyone else in society. If you meet us in person we are no different than the show, we do not fake who we are or try to sell something we are not and that is why people love us.
When you were approached to be on reality television, was it a shock? Because we get used to seeing glamorous ladies on TV, and here, you have a towing business, the antithesis of Beverly Hills extravagance.
Amy: When they first called us, I thought this is a joke, but heck what do we have to lose? They sent down a camera guy and after the first repo he was high stepping it back to NYC as fast as he could go. HAHA I told him the south is a lot different than the Bronx, but he did not believe me. Some people just have to see it to believe it!As for the glamorous ladies on TV, everyone in life has to be their own kind of beautiful. Just because you do your hair, paint your nails and throw on a thousand dollar dress, heck anyone can do that. It's the inner beauty that counts. The only difference between me and them is that my dress would be Camo!
How do you two manage such a large staff?
Amy: I personally train my staff so that everyone knows how I like things to run. I try to keep my company like my life, Black and White with very little gray. I like to keep thing cruising steadily. I always tell everyone, when in doubt ask me, my business runs 24 hrs 7 days a week so my phone stays on. I never get a day off. I hire people that are honest and true to their roots and care to be there, not just there to get a pay check.
I heard when I grew up in the Midwest, about repossessions going on in the middle of the night. And sometimes, a scuffle ensued! Yikes! What is your worst ever moment when someone tried to get back at you for taking their vehicle?
Amy: WOW we could be here all day with this question, and it depends on what you think worst is… As for me any repo that involves a women and gun can get real messy real quick. That reminds of the old lady that came out of the house one night. She was in her mid-sixties and said you can take the car, just let me get my Bible. Of course I said, if you give my guy over there the keys you can get the Bible so she does but little did I know that as soon as she had that Bible, did opened it up, and the middle was cut out. Suddenly, she pulled a gun out said ok, now put down my car! We did, because there is no car worth losing your life over. You just have to be smarter than who you are working with, so the boys went back 3 hours later after she had gone to sleep and hooked it up. There is always another way to doing business.
I see you do a big BBQ party bash. As someone who also does cookbooks, I am dying to know what you do! Can you share any BBQ recipes or secrets, Ron? Call me Guy Fieri. 😉
Ronnie: Lizard Lickin Chicken (so good it will run a bulldog off the back of a meat wagon at lunch time)
bar_b_q grill 3 whole chickens with no sauce, make sure to salt both sides of chickens before putting on grill and cook skin side up to start with. It is best to use whole chickens cut in half on a heat-infused grill. Cooking should take about an hour.
De-bone chickens (but leave on skin for flabor). Put them in a pot . You can separate white meat and dark meat if you prefer.
Note: if you do separate, split the sauce evenly between the two dishes. You will need glass or deep side small cooking pans. I recommend a pan with at least a two inch lip, which holds the sauce and the flavor better
Warm oven to 400
In a small pot combine, 2 sticks of butter
1 and 1/2 cups of White House apple cider vinegar. (Thee type of vinegar you use will always change the flavor, so experiment with different types).
1 cup water
2 tsp crushed red pepper
1/2 tsp of salt bring to a slow boil and then remove from the heat(remember if you like a little more vinegar cut the water by 1/4 cup and add 1/4 cup more vinegar)
And, add more crushed red pepper if you want the sauce way hotter!
This is how we like it in the Lick
Add 1/2 the sauce to each pan filled with the white and dark meat chicken and stir it around to try and soak it
Put the pans in the oven for approximate an hour stirring every 15 minutes
This is to infuse the chicken with the sauce, cut down the temperature to 325 or 300 and let it simmer
After the hour, turn the oven on broil and brown the top. Stir and repeat twice so some of the chicken gets slightly crispy.
Remove let sit five minutes stir and serve very warm. This is a very old family recipe and will make your tongue drill a hole in the top of your mouth and slap your brain around it's so good!
Wow, readers, are you going to try it in your own kitchens? *I WILL FOR MY FAMILY NEXT WEEKEND!* Meanwhile, Amy, what are your favorite homestyle dishes you make that could be found at any good Southern diner?
Amy: I love to eat, My favorite meal is chopped chicken covered in our POP's sauce, but cooked in the oven until it is brown. Cabbage in a vinegar-based sauce with hot peppers (also browned in the oven), cabbage that have cornbread, Sweet Tea and Banana pudding or Orange Cake Ummm I am getting hungry already
The TruTV site has a whole thing going about "Ron-isms." Ron, is this something you ever got in trouble for at school, being sort of the nasty, mouthy kid? How did this start?
Ronnie: I lived a very hard life growing up. Not because I had a bad home. My parents were gooder than grits and loved us unconditionally. I just chose a darker side, and became a bouncer who loved to fight and a successful powerlifter (that is where I met Amy). Size and intimidation were great tools, and I used to be verbally-aggressive and could talk a wooden Indian outta his mind. My mouth became dirtier than a boarding house toilet.
I've always used my Ronnie-isms because God didn't give me money or good looks but he did give me that gift of gab! I've cleaned up the language since I met Jesus. It was one of the better transformations I made because, I have discovered you can teach someone so much with just a little saying. You you can tell someone to be nice or it will come back to haunt them OR you can say even a dog knows the difference in being stepped on or kicked, they will never remember the first but will always remember the latter. Try telling someone to stay outta trouble or say never kick a fresh turd on a hot day. It is easy to see what will stick in their minds. so I started developing the Ron-ism more and more so that when I talk or when I interact with people, they get to keep a little of the Lick Life with them forever. I want them to be able to repeat it, so you will never hear a foul word used in a Ron-ism or in any of my conversations.
Amy, I was going to ask you the same thing about that. What attracted you to Ron? Was it his "Ron-isms" initially? How do you handle being married to someone who has a lot of personality?
Amy: haha NO His Ronisms did not attracted me to Ronnie, To be honest I am attracted to a very smart person, I love a guy that put his sentences together. Ronnie writes a lot of poetry and thinks outside the box, he always has a underline meaning to his thought process, So don't let his redneck nature fool you he can go head to head with any debate team you want to put him against… He will surprise you. As for personality I have such an outgoing personality myself minus the smart mouth that I promise you if he gets out of line he will not like the end results, so it does not happen much haha
I guess on the plus, it's a good thing, because I can't get my sluggish dad to go out roller skating with me at the moment. I really want him to do something outrageous and active. What are your suggestions for getting me to make him do something other than going to the mall with a book, eating out and going to church? He does that in every city when we are together, and it is driving me crazy how boring he's becoming at a young age. He is this awful stick in the mud. How can I give him a bit of "Lizard Lick" spirit?
Amy: In life I have always been taught you have to give a little to get a little, so if it was my dad I would say hey I understand you do not like skating hence you will not go with me but If I agree to go with you to the mall, out to dinner the least you could do is just come watch me skate. All you got to do is get him there show him how much fun you are having, then I bet ten to one he will want to give it a try.
You two seem really sweet as a couple. And despite reality shows often creating splits a la Bethenny Frankel, you seem like you will be together long term. What are your secrets to a happy relationship? Is it all about surprising each other?
Amy: Well, I have to say when you get married, you repeat your vows for better or worse, rich or poor,etc..So if you are true to what you are saying and not just up there playing the Young & the Restless Than throughout your relationship you have to stand strong and cruise steady, keep yourself out of the ditches, do not let gray invade your life and Know everyday is not perfect but it is what you and your spouse make it that counts. Being married is not easy you have to trust, love & keep the fire going to make it work. But nothing in life is worth having if you did not work for it. Everyone is a kid at heart.
What can we look forward to seeing on "Lizard Lick Towing" in the future?
Amy: haha at the rate we are going anything can happen, of your course you know out of control is how we roll. Ronnie, Bobby are gonna always give me a hard time and I am Always gonna make sure they know I am not the one! Other than that you have to tune in to see what our day may hold.
What's Brian Tryin'? The Crispy Sandwich Maker by Apod!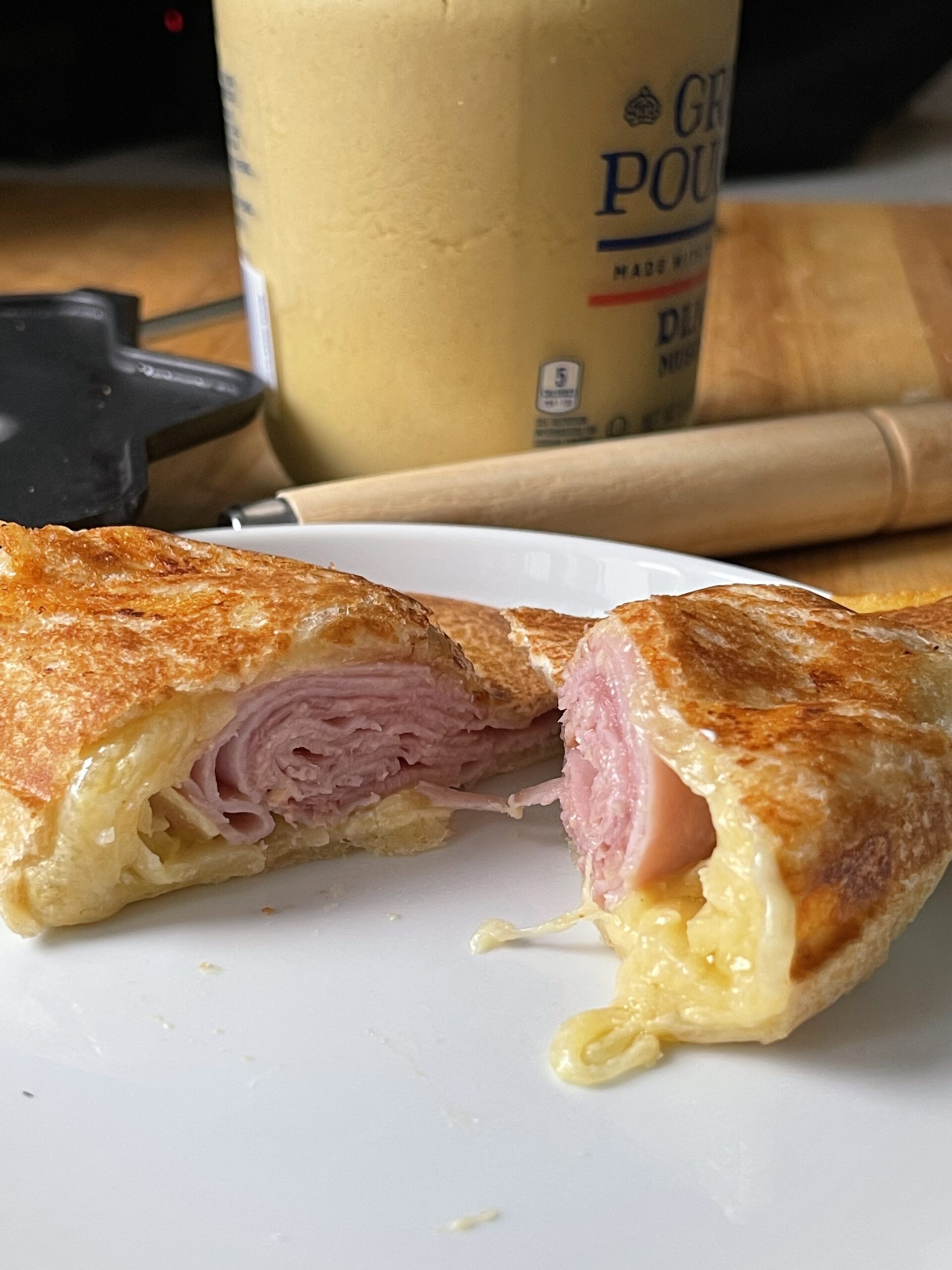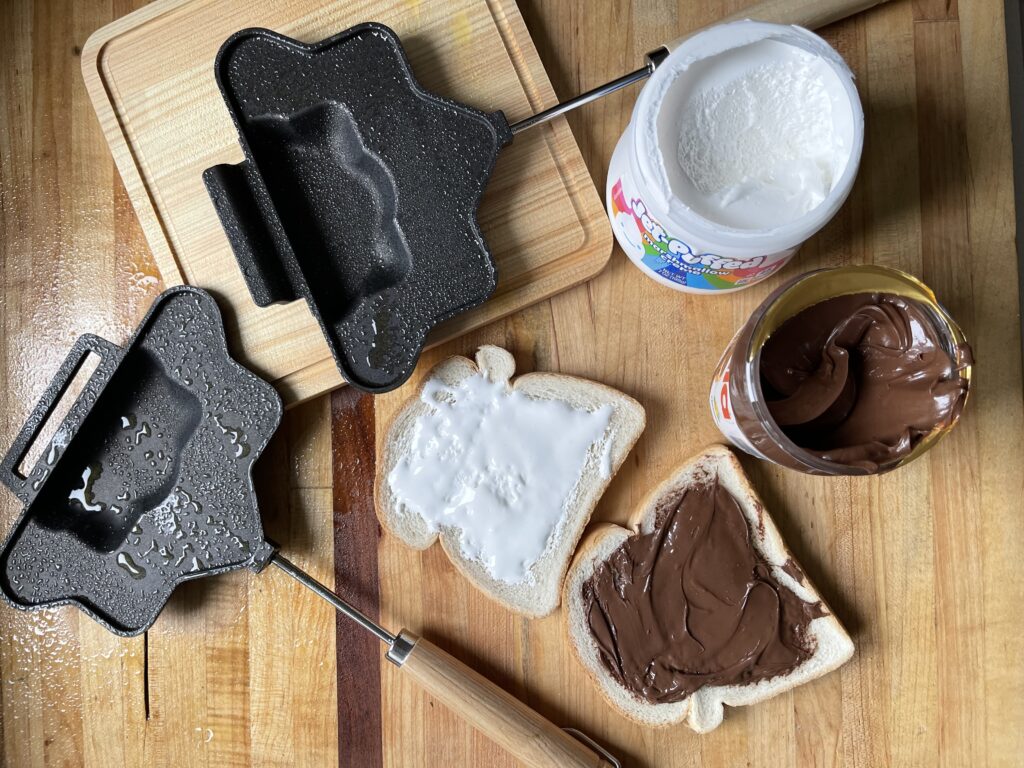 This weekend I tried out a new product that's been crowdsourcing on IndieGogo. (The link is here.)
It's called a Crispy Sandwich Maker, made by Apod.
I always love trying out a new gadget, so it was fun to see how this one would play out.  What makes this one a bit different than most sandwich makers is that this only requires just one single slice of bread to make a compact, easy to eat snack that can be sweet or savory. It can be used over a gas stove flame, or, with caution, a campfire, although the design's arm length better lends itself to a smaller flame like a home kitchen stove.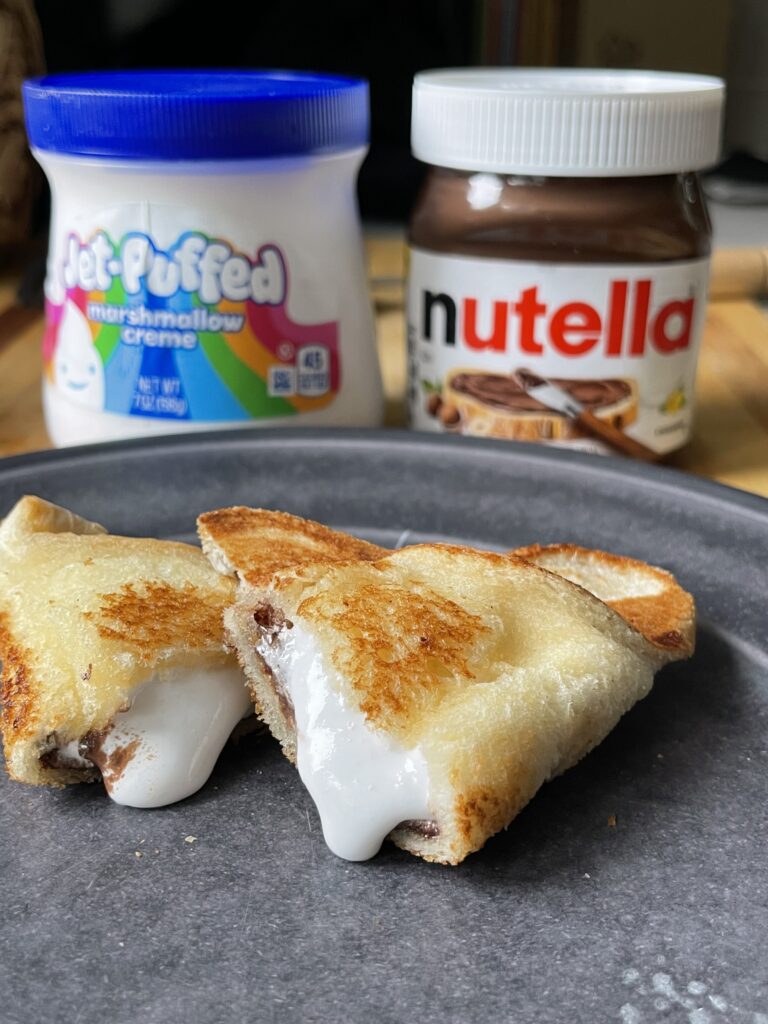 Because I love a s'more, I decided to do an interpretation of that using  nutella spread and marshmallow spread. My friend John and I were happily making these little sandwiches in the kitchen while I friends taste tested the results along the way.
While the product description says that it requires no oil, we did decide to butter the bread to give a nice brown color to the sandwich, although it could easily be done without it.
The results of the nutella and marshmallow spread crispy sandwiches were consistent and delicious. After about two minutes per side, sandwiches were golden brown and the inside filling was oozy and delicious.
Then it was on to make a savory snack in the form of a crispy ham and cheese with dijon. Again, about two minutes on each side over the flame was just enough to brown the bread and warm up the savory fillings.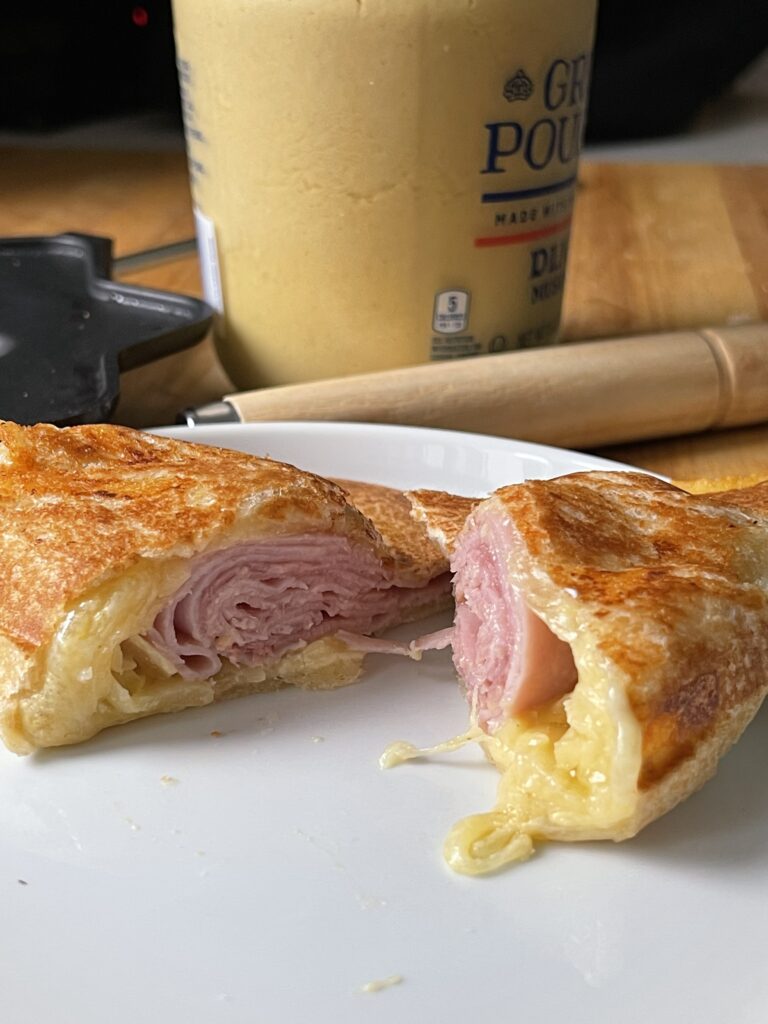 This was a fun gadget to play with, and the results were delicious. All in all, everyone gave the results a thumbs up!
Get The Look! A Buyer's Guide To Brian Balthazar's Philadelphia Home Redesign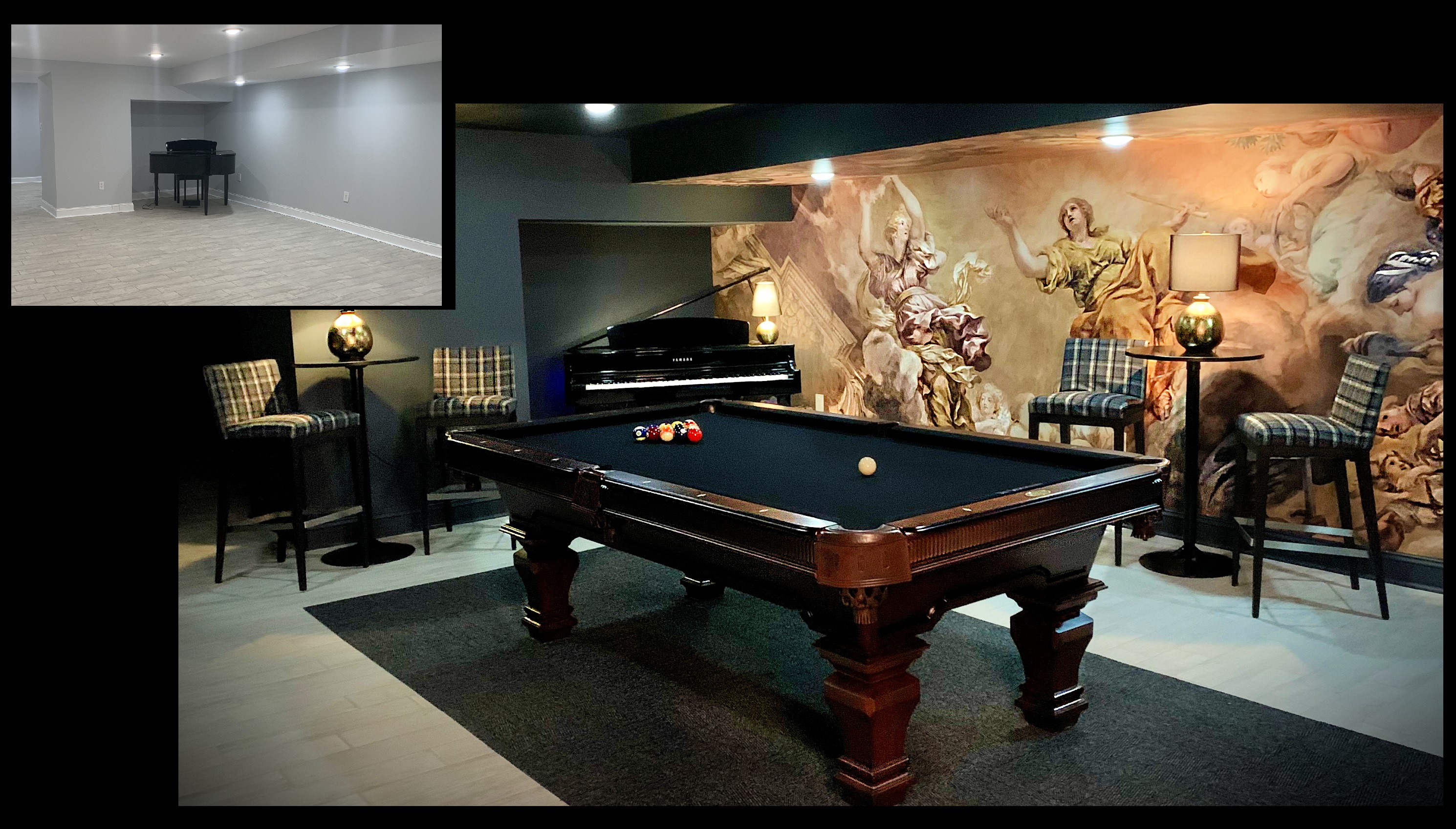 As the world was forced to spend more time at home, Brian Balthazar found himself in a position where he had sold a house before the lockdown and had to find a new one.
"We sold our home with all the furniture in it, so not only did we find ourselves struggling to find a new place, once we found one we didn't have any furniture to put in it."
And so, Brian and partner Dennis got resourceful, turning to refurbishing and buying store floor models. They were inspired to make bold, fun choices in color and style when they started shopping around for wallpaper.
Below is the segment as it appeared on the Today Show, and further down, a rundown of where you can find the pieces or ones with a similar look!
THE DINING ROOM
Let's start with the Dining Room!
Move the slider dividing the image to see all of the before or all of the after!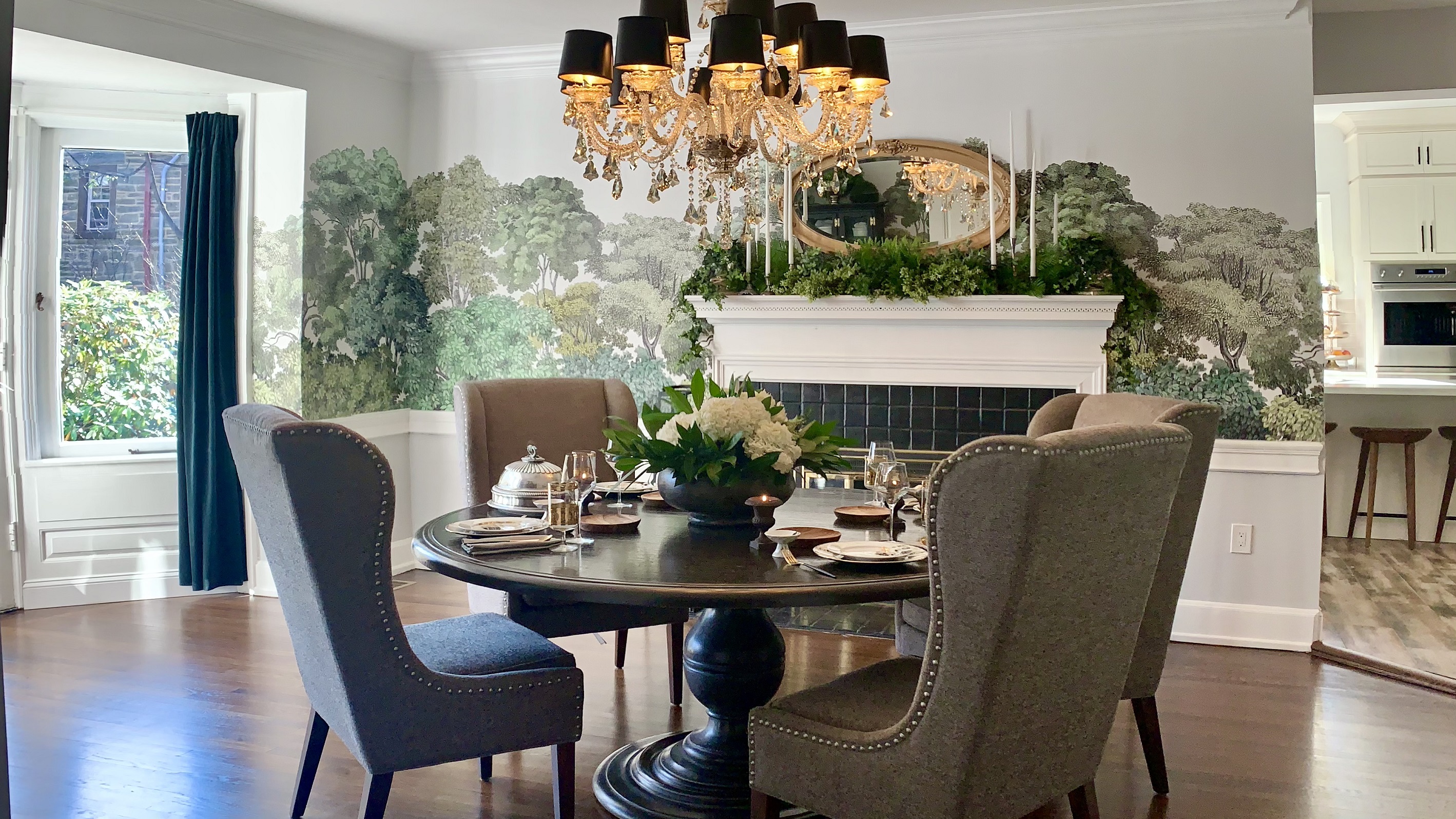 Brian says: The dining room was the first space we wanted to do. I haven't had a true dining room since I was a kid, and I've always wanted a big table for dinner parties! There were no tables within the price range we wanted, so we found a floor model at one of our favorite go-to stores, Arhaus. We easily saved 75 percent on this table by getting the one that they weren't going to carry anymore. The chairs are from Wayfair.  On each side of the fireplace (not seen in the photo, but visible in the Today Show video) are two black tall lanterns flanking the fireplace. I got them at Target. I can't currently find them on their app, but similar versions pop up every year. Get thee to Homegoods! Homegoods and Homesense (same parent company) are my go-to spots for home accessories for virtually every room in the house. You never know what you're going to find, which is part of the fun.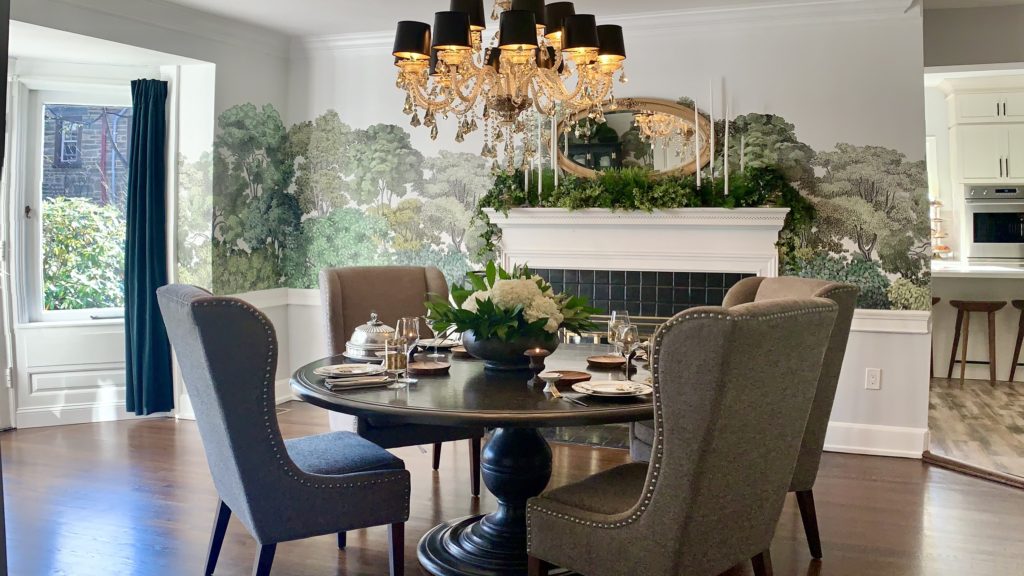 But let's focus on the real WOW element to this room – the wallpaper! This pattern is called Bellewood, by RebelWalls.   As you will soon see, I'm sort of obsessed with their patterns. To me, this room is magical with the added whimsy of this forest pattern. (They also have a more muted version with grays and even one with blues.) I also love that by hanging the paper from the chair rail up, you almost get the feeling that you're standing on a balcony overlooking the forest. I surrounded the whole room with this paper, which I love, but you could easily add the same magical feeling by just doing one feature wall. Their website shows how it can translate to a bedroom or office. You might be intimidated by hanging wallpaper but don't be! This pattern has so much going on that it really looks perfect when it goes up!
ON TO THE GUEST BEDROOM!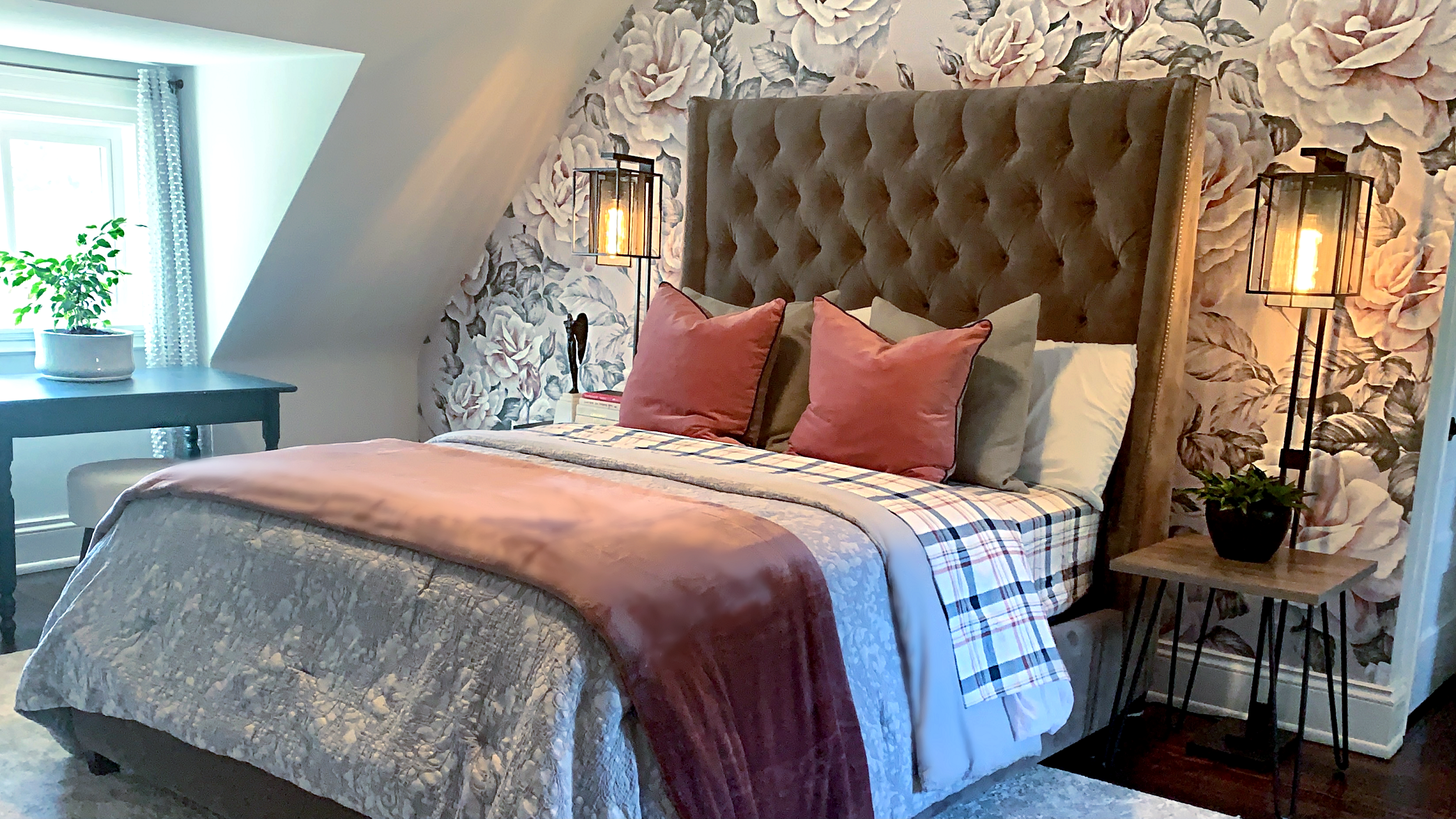 Brian says: The guest bedroom is on the top floor of the house, so it's got roof lines on two sides that make it a tricky space to navigate if you're not careful. The planning of this space alone resulted in a few bonked heads. On the upside, the wall where the bed goes is tall, so it was an obvious place to create some visual pop. Again, the wallpaper takes the spotlight.  Called "Nude Roses," also by RebelWalls, I love this design. Floral wallpaper was 'big' in popularity back in the 1920s when this house was built, but the patterns at that time were smaller, repeated more often, and were often really bold in color. This interpretation is so fun to me! Gone are the small roses in favor of oversized blooms, and the bold colors are more subdued pink and gray hues, with touches of dark green and creamy whites.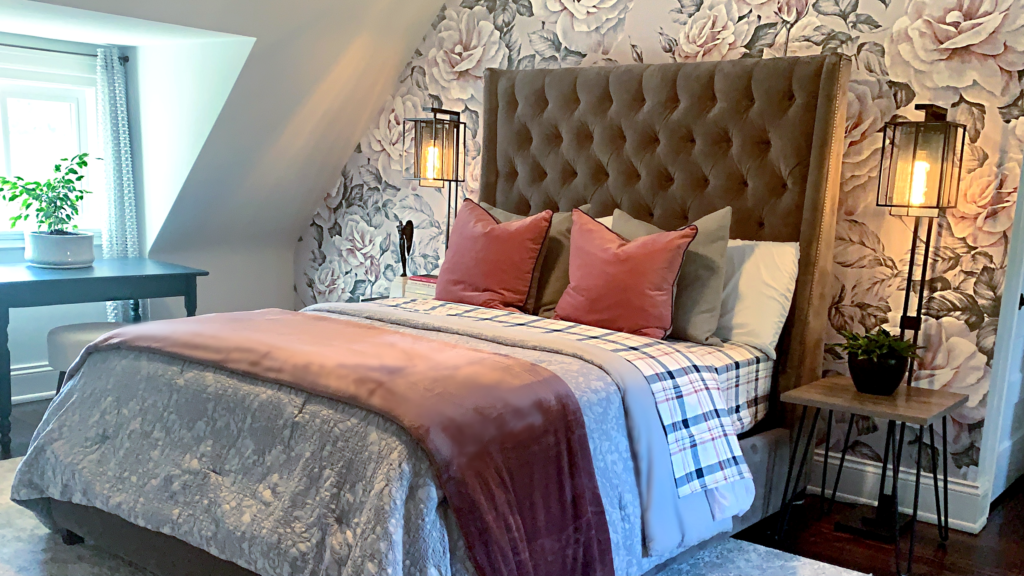 While roses can inherently feel feminine, the plaid bedding (30 dollars for a queen set from Target) are a surprising complement that keeps everything from feeling a little stereotypical. The side tables are mismatched – partly because we didn't want to go too "matchy=matchy" – but also to save some money – the one on the left side (hard to catch here) was from West Elm. Normally $199, we got it for half off as the floor model. The one on the right we found in the trash. It was perfectly fine, clearly someone had just gotten tired of it! Nothing some disinfectant can't fix. That gave us some extra money to spend – To reduce the softeness we went with industrial lamps and edison bulbs. The lamps  are called "Ginyard," from Wayfair. The headboard was on sale at Arhaus. The dark gray takes balances out the pink hues well. The pillows are from Target and Homegoods.
For the 360 degree view of this room, watch the Instagram reel below!  You'll see the dresser, on sale for $599 from Arhaus, a lamp from Homegoods, and mobiles from Amazon which we fashioned into a 'piece of art' that keeps you from hitting your head on the angled wall opposite the bed. Watch the video to check it out!
View this post on Instagram
THE GAME ROOM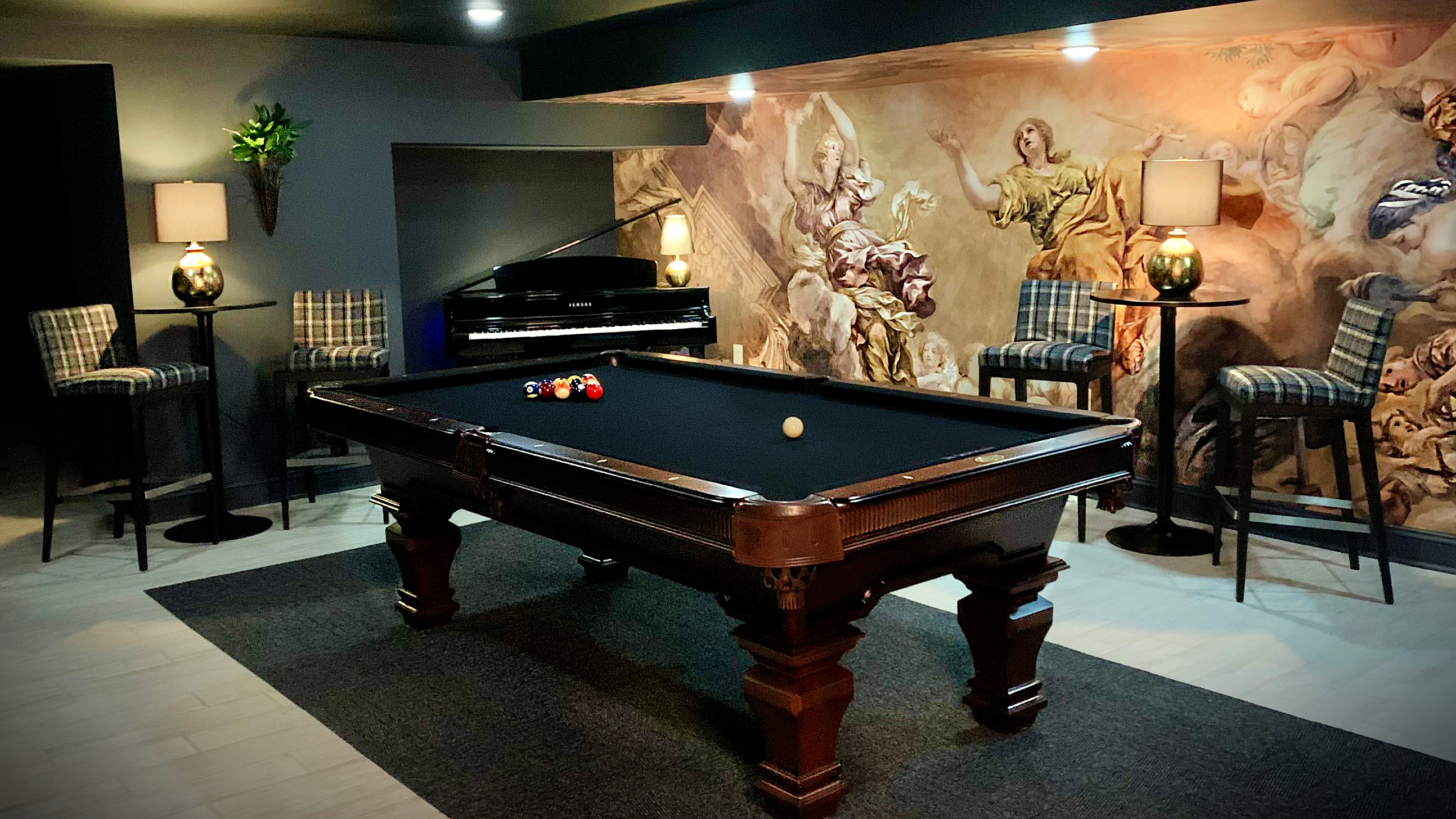 Brian says: The idea for the basement game room was to create a space that feels like a lounge you might find if you went out with friends. When you go into this basement it definitely feels like you've gone someplace unique! Believe it or not, I found out the Today Show had invited me to to record my house tour just a few days in advance, and so we turned around this spot in just THREE days! There was literally no pool table at the time, (although it had already been scheduled to come on Friday, the wallpaper came on Saturday, (as well as the floor tiles!) and by Sunday we were covered in paint and glue and drinking wine to celebrate it's completion! I recorded the final video that Monday.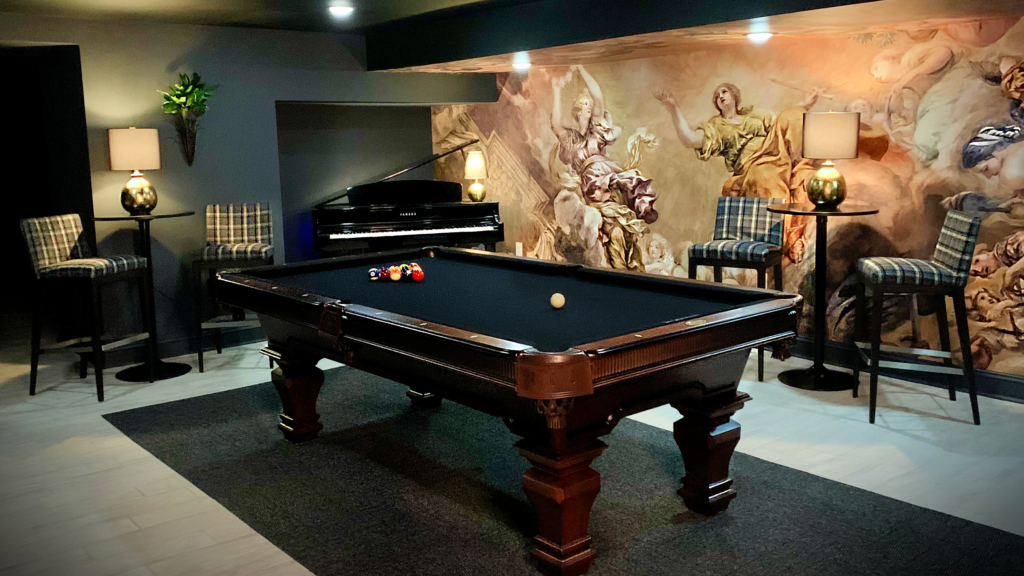 Some people might not think to take a bright basement and make it dark, but that was our first instinct. Clubs are dark and moody, and we wanted this to feel like that. We painted the walls Wrought Iron by Benjamin Moore, which is a very dark gray that seems to take on different hues based on where you paint it and the light that shines on it. We painted the ceiling black. This was Thursday night! Then Friday the pool table came. The floor tiles ("Tweed Indeed" in black by Flor) hadn't arrived until the next day, so when they did arrive I meticulously trimmed four tiles to fit around the pool table legs so it looks like they were there the whole time. I had ordered the pool table online weeks before from PoolTables.com and by sheer coincidence it was scheduled to arrive in time for me to shoot the redesign. This was the second time I have ordered a pool table from them (which was initially scary because you're not even seeing it beforehand!) but it always arrives in perfect condition to your specific selections. I love that the felt jet black and keeps things dark and moody. In the time that has passed since this photo was taken, I've added more of the carpet tiles to make the carpeted floor area darker and bigger.
But once again, the wall mural steals the show in a marvelous way! This mural is called "A Priori" from Rebelwalls, and is inspired by The Allegory of Divine Providence and Barberini Power, a famous fresco by Italian artist Pietro da Cortona. Fitting, because this house is Italian in style on the outside. You can't see it from this photo but the wallpaper runs up part of the ceiling as well. It truly gives the room a wow factor when you enter it. The lamps are from Homegoods, (we've since added some industrial floor lamps for extra mood lighting) and the piano was something we brought with us. The bar tables are from Amazon ($72 each) and the stools we brought with us – they were discards from someone who didn't like their original bright colors and thought they were dated! We covered them ourselves with gray plaid fabric and they're better than they were new!
So there you have it! Hope you enjoyed the rooms and find something you like!
Well Sh-t, Leslie Jordan Has Shared Three Videos Of Himself Dancing In One Week And They're All Perfect
Doing much better now, Leslie.
If you've never believed that "good things come in small packages" then you've never seen Leslie Jordan's instagram. The 4'11" actor known for his iconic roles in shows like Will & Grace and American Horror Story has recently developed a whole new fanbase who loves him for his viral Instagram videos. Usually starting each video by greeting fans with "Well shit, how y'all doing?", viewers have grown to anticipate Jordan's hilarious recounting of stories from his time in show biz or growing up in the south. This week, however, the Tennessee native has shared 3 videos of himself dancing within 5 days and honestly it's precisely what we all need right now.
The first video was posted on August 12th and shows Jordan taking part of the "Git up and dance challenge" which swept the internet about a year ago. Even though he is a little late, the video is still perfection.
On August 13th, Jordan does a dance to "You Can't Stop The Beat" from Hairspray a with special guest dance partner Katie Couric!
Finally, on August 15th, Jordan does an epic "tootsie roll" and challenges Real Housewives Of Beverly Hills star, Lisa Rinna, to do the tootsie roll herself. Of course Rinna commented with a big "ON IT ❤️😂." Who could say no to the viral star?!?
The moral of the story here is that the world is going through some tough times right now but maybe, even for a few seconds, we could all feel better if we'd just dance it out. Thanks for the inspo Leslie Jordan!
Like what you read? Follow me on Instagram