POP INTERVIEW: "The Voice" Season 3's Mycle Wastman
Mycle Wastman impressed The Voice audiences on season three. Now the Desert Storm veteran is touring the country.
Mycle Wastman impressed The Voice audiences with his three appearances on the show, ultimately being eliminated by his TV roommate, Nicholas David. Growing up in Seattle with his grandparents, he performed in church and with high school music groups before anyone knew what Glee was. Wastman's live talents are not solely for a studio audience; the Desert Storm veteran will be performing in Seattle on March 31!
If I were in the judges' place, having a blind spot, and I heard you sing that intro song, "Let's Stay Together," I might have thought you were an elderly New Orleans jazz performer. The show is so beautiful for this very reason: people aren't judged by their appearances. When you were developing your sound, did you practice with different enunciations, styles, where you sing from (chest or throat) and your technique to sound this way? Originally, did you sing differently?
As far as the earliest I can remember singing I tried to imitate Michael Jackson's style. I was a pop radio child so I grew up on radio hits and never really listened to those magnificent B- sides till much later. My grandparents raised me but they both worked all day so my aunt took care of me in the day. Her and I would listen to R and B radio all day long. I would try to sound like any and every artist that inspired me at the time. My uncles were into 70's rock music and my grandpa always had old school country music playing in his workshop. All of these outlets you could say formed a "musical soup" of influence! It took a long time to find my own sound and I would say its pieces of this from those influences that that i have sewn together to make my own.
Why did you choose a very popular song? People end up comparing you to the original and more often than not, hate the new versions because for no reason but that they're new.
All covers old or new will always be compared to the original. Ultimately its how you reinvent the song that really counts. Being a song writer and original artist for the last 6 years I have devoted my time to my own creations so learning newer songs is something I haven't strived to do. In an Ideal world I would have loved to have been allowed to sing my own music on the show. In reality thats the end game anyway!
Your website talks about you being "a singer's singer." While absolutely a good quality, many people like that don't make it in the industry or if they do, struggle to stay at the top for one reason: they don't sell like Justin Bieber. How are you going to be the exception to the rule?
The only thing that I can do is create the best music I can make. Music that I can be proud of. How well it sells is completely out of my hands, but I hope for the best.
You have a show coming up on March 31st in Seattle. What may surprise people when they finally see you live compared to watching you on a TV set?
My hope is that everyone that see's me at the Triple door will leave thinking that I was much better live than on tv. I also hope they appreciate my original music and the amazing talent pool of seattle musicians that will be backing me up.
After that, you're headed to Nashville for a few more performances. Wile there, are you going to change your set any to give it a more Nashville tone? People there see everything; they're hard to impress! You can't compete with people who can say, "Big deal, new boy. I saw Johnny Cash live at the Opry."
Absolutely, Nashville is a hard town to impress however, my set wont change much. I'm not the type of artist to put on a big show. People really just want to hear honest music, so I sing from the heart and hope that I can connect.
You're my third Team Cee Lo contestant I've talked with this week! Everyone who's met him or worked with him says something different about him. What was your experience with him as your mentor?
Honestly I couldn't say that I had enough one on one time with him to give an accurate assessment of his character, but the little time i did I would say he's a pretty genuine and spiritual kind of guy.
Let's pretend I am a big record exec. I really want you to work your voice into a different genre. I'm telling you, "You could do something like Justin Timberlake or maybe a dark rock style." Which would you choose? Would you have it in you to take up a challenge?
Interesting question! I guess I would have to say I would experiment with both and figure out if either style works for me at all. I'm always up to the challenge, something great might happen. Ultimately you never know till you try, but I would not want to release something I hated!
Why should people come see you live this year?
I've been writing songs that I am truly proud of and will be carrying a passion live that will be hard to capture in the studio. The audience at a live show will get to pull the curtain and truly see me connect to a song and in return connect with them.
Justin Carter Accidentally Killed With Gun During Music Video Shoot
Country/rap singer Justin Carter was carrying a gun in his pocket during for the video when it went off and hit him in the corner of the eye. His mother Cindy McClellan spoke with Fox News of the incident, which reportedly took place in his apartment in Houston.
Carter had recently signed with a management company. The 35-year-old singer left behind two young children.
Below is one of this recent songs.
LISTEN: Lizzo And Missy Elliott's 'Tempo' Serves Bass By The Pound
Lizzo must have taken a page right out of Missy Elliott's book because she definitely put her thang down, flipped it and reversed it with this new single!
One of music's brightest, new stars has joined forces with a certified music legend to create a hot new single that will have everyone body-rollin' at the club. Yes, Lizzo has been blowing up after the release of her two consecutive hits "Juice" and "Cuz I Love You," and it seems she has no intentions of slowing down anytime soon. The third single off of her upcoming album, Cuz I Love You, is entitled "Tempo" and features the one and only Missy Elliot.  Lizzo told Travis Mills on Apple Music Beats I that she first heard Missy's verse via text message.
"She sent me a memoji of herself singing her verse, thats how I got the verse. I got a memoji of Missy like smiling and then she just started rapping, and I was like, 'OMG what the hell' so I had to hook it up to my speaker system. But it wasn't even the actual track, it was like her going along in her studio."
So Lizzo has Missy Elliott's phone number?!? Jealous. The new single's heavy bass will definitely make you want to move those hips. Crank up the volume…unless you're in an office or library or something because the song is kinda NSFW…and click below to hear "Tempo"
Cuz I Love You drops on April 19th.
Like what you read? Follow @ChrisSiretz on Twitter and Instagram
VIDEO: Keira Knightley Can Play 'Despacito'…On Her Teeth!?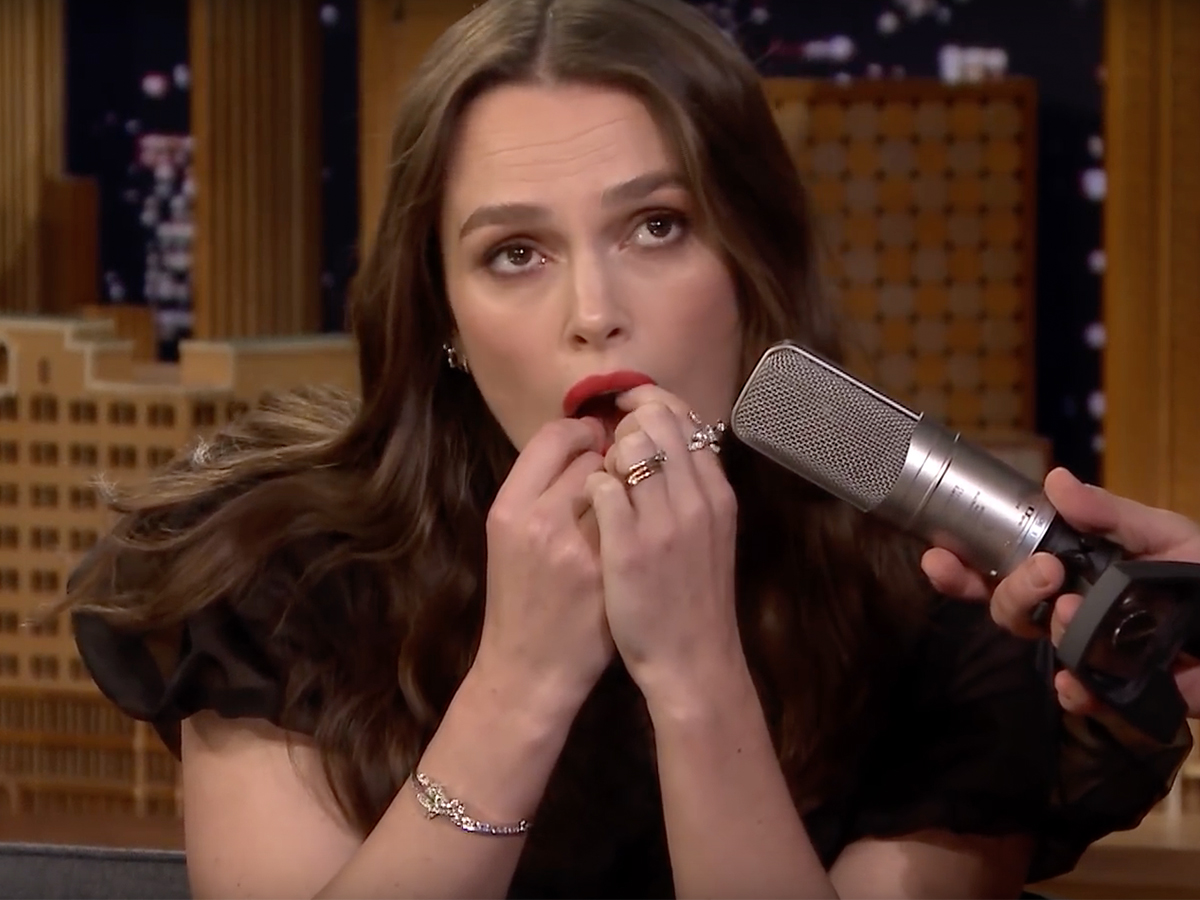 Chew on this! Keira Knightley has a secret talent…she can make music with her teeth!
The beautiful Keira Knightley stopped by The Tonight Show Starring Jimmy Fallon to talk about her upcoming war film, The Aftermath. While the film sounds enticing, it was Keira's unusual talent that stole the show. Jimmy Fallon casually asked if Keira had any musical abilities to which she confessed to playing the flute back in her schooling days. That wasn't exactly the answer the host was hoping for. After a gentle nudge, Keira proudly boasts about her ability to "play [her] teeth." She demonstrated her ability with a quick rendition of "Raindrops Keep Falling On My Head" but then brings her talents to the 21st Century and makes the crowd go wild with a little "Despacito." You have to click below to check out this bizarre talent for yourself! Jump to 2:40 to dive right into the action!
Like what you read? Follow @ChrisSiretz on Twitter and Instagram