POP INTERVIEW: From the "Blowtorch" Film Set! Director Kevin Breslin, Actress Lois Robbins and Actor Jared Abrahamson
Blowtorch, filming during April in Brooklyn and starring William Baldwin, tells the story of a new widow hunting down the gangsters who killed her son. Pop Goes the Week! helps you virtually tag along with interviews from the set featuring director Kevin Breslin, soap actress Lois Robbins in her first film lead role and the on the verge of being someone big actor Jared Abrahamson.
Kevin Breslin

You're a director now, but way back when, you had a small role in "The Pope of Greenwich Village." Bet you didn't think a girl like me would know that film. 😉 How did that set you up for anything you're doing today, as far as making people as excited on a film set as you probably were then?
I learned from a master, Stuart Rosenberg, who directed the film. Stuart brought an easy way to the set. He also knew about moments and beats. I was hi assistant. I tried to understand how he related to actors and the crew. I remember thinking, wow, this is a great way to have to make a living. I remember he did not like any meanness on the set or egos. Nor do I.
You co-produced the Weird Al film "UHF." When I grew up, your movie was a favorite of many, many kids. My classmates and I loved it. When you took on his screenplay, did you ever think it did poorly before becoming a cult classic because audiences weren't ready for it at the time?
I read the story with my partner Deren Getz and we knew it would be a crazy movie. I didn't have the chops to direct it at the time, but we knew we had to get it made and went to Gene Kirkwood, a big time producer who knew how to make movies. He helped us to make it happen. I'm happy for Weird Al…
Your short film, "Living for 32," debuted at Sundance a couple years ago. When handling difficult subject matter -and it seems the hard to please film industry types thought you did an outstanding job – what so you do so you won't not only avoid offending the victims' families but people who knew the gunman and the gunman's parents? How do you approach it from a well rounded point?
I was making a film about 32 dead and a young man, Colin Goddard, who was shot five times by Cho. Colin relived every moment of the massacre and how moment by moment he tried to stay alive during all the gun fire. I was sensitive to his needs. While I was filming he told me his back and leg was killing him. The shrapnel from the bullets shift in his body and he lives with the pain. Both in his leg and in his mind. He is so young and strong. I just listened and sensed his emotional pain as we walked and filmed on the Virginia Tech campus. It is not easy standing in a spot where a short time ago all your friends were murdered. When I direct people in sensitive or painful moments, I care about them. I don't talk too much. And I look them in the eye and relate. They know it. I have lived a little and understand people. This works for me with documentaries and fiction material.
"Blowtorch" is a genre done many times. How are you aiming to please women who might love action and mystery but may prefer "How to Lose a Guy in 10 Days," regular men who like tough guy movies and an easily distracted young audience?
Women have backbone. They are carrying much of this nation. I wrote the film about a mother wanting an answer in a man's world about who murdered her son. She asked, got a dopey answer, and asked again. Then said "Hell with everyone, from cops to DA's." She wanted an answer and became inexorable until she got the answer, I know a mother's strength. This story is about a mom who was not afraid to stand up against men. Women will like this. There is no sugar coating. This is about a mother or any woman not backing down. I don't' know if it's a genre film. I know it is a hard, real New York story about teenagers, bathsalts, drugs and a murder. I am not aiming to please women. It just happens the mother has no choice but to hit the streets of Brooklyn day and night for an answer. I think not having an answer about who killed your teenage son could demolish the rest of her life.
When you are directing a sequence that may not have much dialogue, what do you do so they remain riveting?
Well, a great camera angle is vital. A moment, a gesture…from the actor will bring the moment to the scene. I quietly roll. Actors who are good use their eyes.
When you were a kid, did you and other boys ever play robber, chase people, imagine the old west, etc? As an adult, do you ever rewind your memories to see what was so honest in those days and put it in your work?
No, I can't be that eloquent discussing my youth. I came out of fistfights on schoolyards and playing ball. I do have a peculiar recall for memory and poignant moments. Even smells.
This week, I referenced "The Professional" in another interview. It's absolutely a great "man's man" film maybe with elements similar to what you're doing, from seeing your film's current production description. If you could describe your movie for anyone, what elements from other beloved films are apparent in your work? And what about your film and work in general, then, now and in the future, is enough to spawn imitations?
I think Lumet and Scorsese have given New York an energy that I like. Too many others to mention here also have a great impact. My film is about the waterfront streets in Sunset Park, Brooklyn. It is about an innocent working class kid who needed some cash. He started dealing bathsalts to keep his single mom with money on the kitchen table. She is a struggling waitress. He was in with the wrong crew and he ended up getting killed. The film has a raw energy. Violence, passion and great performances. The music will also wow people.
What are you up to after this film wraps?
I have a new film, "Forsaking All Others," a love story based off the novel. I worked a long time in production and wrote scripts. I always figured I would start directing them.
Lois Robbins

When you grew up in New York, you probably saw TV and film productions often. When you were a little girl, did you ever dream you were part of it? When did childish desires, if any, become a serious career choice?
Absolutely! I always had a very active imagination and was always singing and performing. Starting at the age of five I was performing in talent shows and plays. There was never a doubt in my mind that acting was my destiny.
You've done plenty of day and night soaps. Your co-star, William Baldwin, is coming fresh off "Gossip Girl." What is different about television experience than film, and how does a cast with TV experience work more cohesively?
The thing about doing daytime is that you have to make fast choices and have the discipline to learn a lot of material in a short amount of time. Billy and the rest of the cast have a great work ethic and love to rehearse and run lines with whatever time we had available to us. It was a joy.
The "Sex and the City" episode you were on, "The Baby Shower," has a character learning another woman "stole my secret baby name." This has happened to me in the past, in real life! Of all the productions you have been a part of, which has hit you hard or have you related to in a funny way? And have you ever had a secret baby name stolen by a friend or a grandmother you told?
Actually, I did have a friend use the middle name I had chosen for my eldest daughter and it is a very unusual name. I was kind of shocked but decided to be flattered instead! Also, I love to entertain and have a thing about punctuality. So, in the 'baby shower" scene, I understood how my character felt about the girls being late!!
You had a role in a stage version of "Cactus Flower." Did you compare yourself to the Goldie Hawn movie?
With Cactus Flower I was, frankly more excited my reviving Lauren Bacall's role from the Broadway production than thinking about the movie. Obviously, I hadn't seen it but I am such a huge fan and felt a big responsibility to do the role justice. I read her biography and learned that she loved Zabar's. So, I went there, put together a goodie basket and sent it to her apartment at the Dakota with a note saying how excited I was about playing the role. I got a lovely note back which I will always treasure!
"Blowtorch" is your first film lead. Why do you believe it happened at this point in life when you have done so much theater and previous TV work?
I think like most things in life, opportunities come when you are ready to receive them. I was ready for this.
In the film, you're chasing after these really rough criminals. You're out for vengeance. As someone who probably has little real life experience with that sort of thing – hopefully not! – where did you draw your inspiration?
I have children. All I had to do was imagine someone hurting one of my kids. A mother's instincts are pretty raw.
What has surprised you about working on this film?
I can't say anything surprised me. Maybe I surprised myself at how calm I was with the weight of carrying a film. I thought I'd be more nervous working with people who had more film experience than me. But, I was ready and they were all generous and supportive.
In the future, now that you have a great starring role under your belt, how are you going to choose your future film roles? How do you want to see yourself on film? How far would you go to play against type?
I hope I have lots to choose from! Roles like this one don't happen that often. But now that I've played Ann Willis, I'm ready to glam it up a bit in my next role! I love playing against type and relish the opportunity to do more of that.
Jared Abrahamson

You originally trained in martial arts. Is there anything in eastern philosophy that has helped you become a better actor?
Definitely. My martial arts training goes hand in hand with my acting. I try and approach every project I do the same way I would a fight. Both require intense focus, discipline, and loss of all ego. I recently read this book "Bushido: Soul of Japan" that I highly recommend for any artist or professional.
As opposed to the people who run off to California and take acting lessons there, you went to film school first. How does this give you a better understanding of how to use yourself as an important Chess piece in a team project? Rather than "it's all about me?"
Well the school I went to was Monday through Friday, 9 to 5, for a year and a half. We were able to cover all aspects of film which has given me a greater appreciation of what goes on behind the camera. I have no patience for actors who think they're "Gods Gift". Every job on a film set is equally important. Can you imagine if the boom operator refused to come to set if they didn't have their mocha late? No actor should get away with that nonsense either. Takes all links to make the chain.
Have you ever had meetings with directors, understanding where they are coming from, and changed their minds about either how your character may need to be played or a line?
Actually on "Blowtorch" our director Kevin Breslin would sit down with us before every scene to hear out our thoughts and then we'd build from there. I trusted him as a director to the fullest. It was awsome to have him give that trust right back. Also there's Simon Davidson out of Vancouver who has a very similar style. Haha I'm definitely not always right with my ideas but its great to have that open communication.
Your first big role was a Hallmark movie with a tough story. How did you bring out hidden parts of yourself to better relate to the character and therefore, play the character with more integrity?
It was an "Underdog" story, and I'm the "Underdogs Underdog"(shout out to Joel Ortiz). Coming from where I'm from and getting to where I'm at, where I'm going, is an "against all odds" journey itself. If people knew my story, the things I've gone through and am still going through they'd see that's its easy for me to relate to these characters.
And now, you get killed on screen! Is it harder to "play dead" than we think in the actual scene where you're lying on the ground? What is required to make it realistic? As much as I love "Titanic," the Jack Dawson floating into the ocean doesn't convince me.
Haha that's a great question. I haven't seen it yet. I hope its realistic! I just remember trying not to breath, slowing my heart rate, and thinking to myself "You shouldn't be thinking right now, your dead buddy!". But if Leo didn't sell it in Titanic I might be in trouble. He's one of the best.
When you learned you were playing a criminal, did you think about any of your favorite gangster or crime films? Did you base your acting on any bullies you remember from high school in your demeanor?
Yeah for sure, I went back and watched a bunch of my fave's "Carlito's Way", "A Bronx Tale", "Juice", "New Jersey Drive" to name a few. All these films are based around characters who are struggling with situations very similar to Dave. And as far as my demeanor in the film, that's just coming from Flin Flon Manitoba. Its definitely not Brooklyn, but you have to be tough coming from the North. I've known a lot of outlaws throughout my life. In Blowtorch you'll get to see a grittier side of me.
Have you worked with any weapons on set? If so, how was the training?
Yeah we worked with a few guns on set. I didn't actually handle any in the film but when they were around our first A.D. was very strict on the procedures of dealing with them. Only the people who absolutely needed to were able to touch them. I've had Firearms training growing up though so I know they're no joke.
You used to be a coal miner. For kids or adults who don't want to be stuck in rural towns and work in Hollywood, what should they do?
Yeah, I was actually working in a copper/zinc mine, but underground is underground regardless of what your drilling for. I think if you have a dream or a goal you want to accomplish, you just gotta go. Don't make excuses. Cause majority of the time, people aren't gonna listen. I'm still workin my ass off, but I'm loving every second of it. The highs and lows are all part of the journey. Go hard, be humble, and rumble young man rumble!
You seem perfect for action films or action-meets-sci-fi flicks like "John Carter." If you had your pick, what types of films would you star in?
Haha thank you, I'd make one hell of a ninja turtle hey? I like all different genre's. Lately I've been more drawn into the indy world. Exploring real people struggling with real situations. Stories people will be able to relate to. I have to play a fighter at some point though. I can't wait for that script to come along.
LOOK FOR YOURSELF: See some set photos below!
Get The Look! A Buyer's Guide To Brian Balthazar's Philadelphia Home Redesign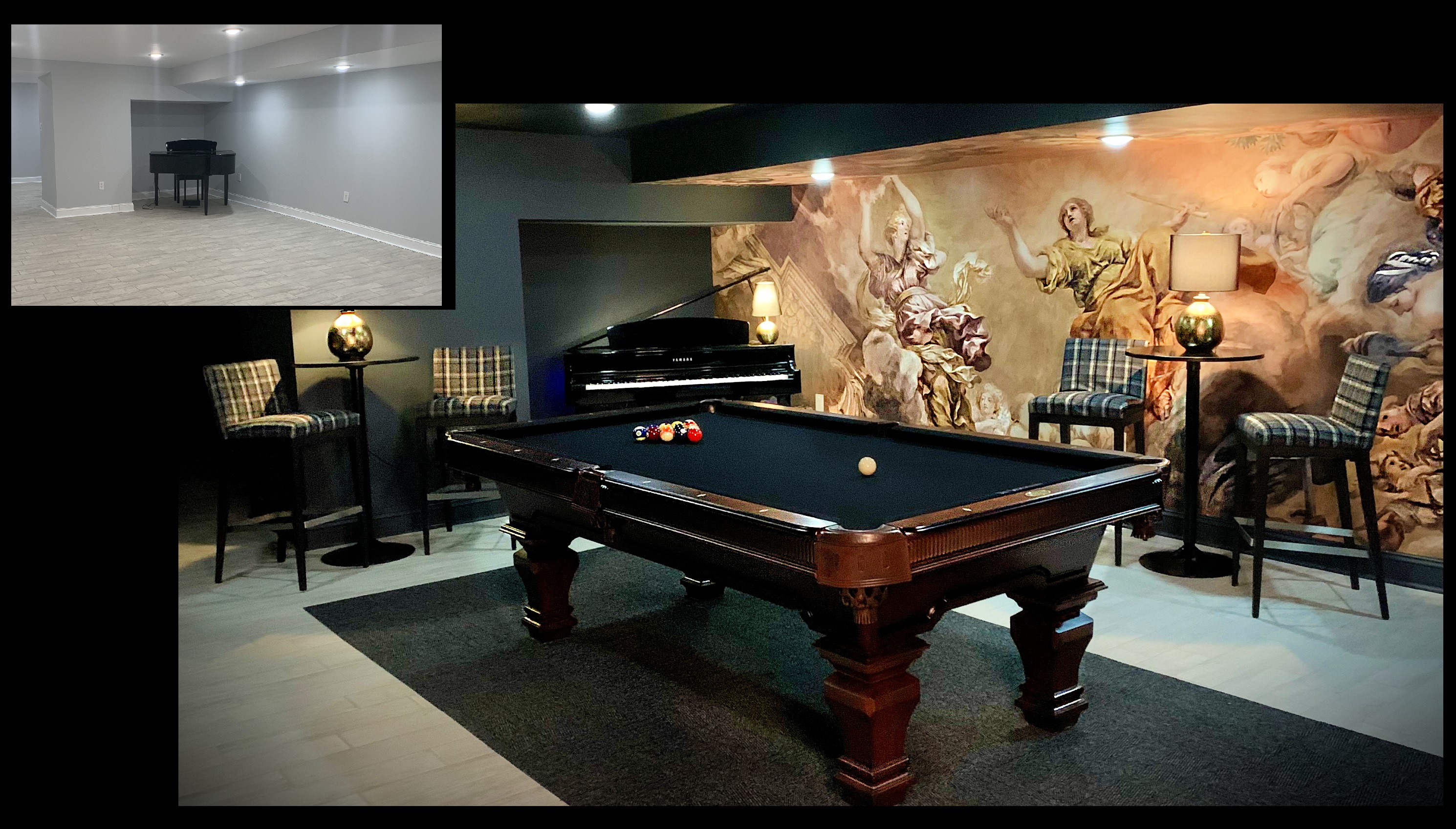 As the world was forced to spend more time at home, Brian Balthazar found himself in a position where he had sold a house before the lockdown and had to find a new one.
"We sold our home with all the furniture in it, so not only did we find ourselves struggling to find a new place, once we found one we didn't have any furniture to put in it."
And so, Brian and partner Dennis got resourceful, turning to refurbishing and buying store floor models. They were inspired to make bold, fun choices in color and style when they started shopping around for wallpaper.
Below is the segment as it appeared on the Today Show, and further down, a rundown of where you can find the pieces or ones with a similar look!
THE DINING ROOM
Let's start with the Dining Room!
Move the slider dividing the image to see all of the before or all of the after!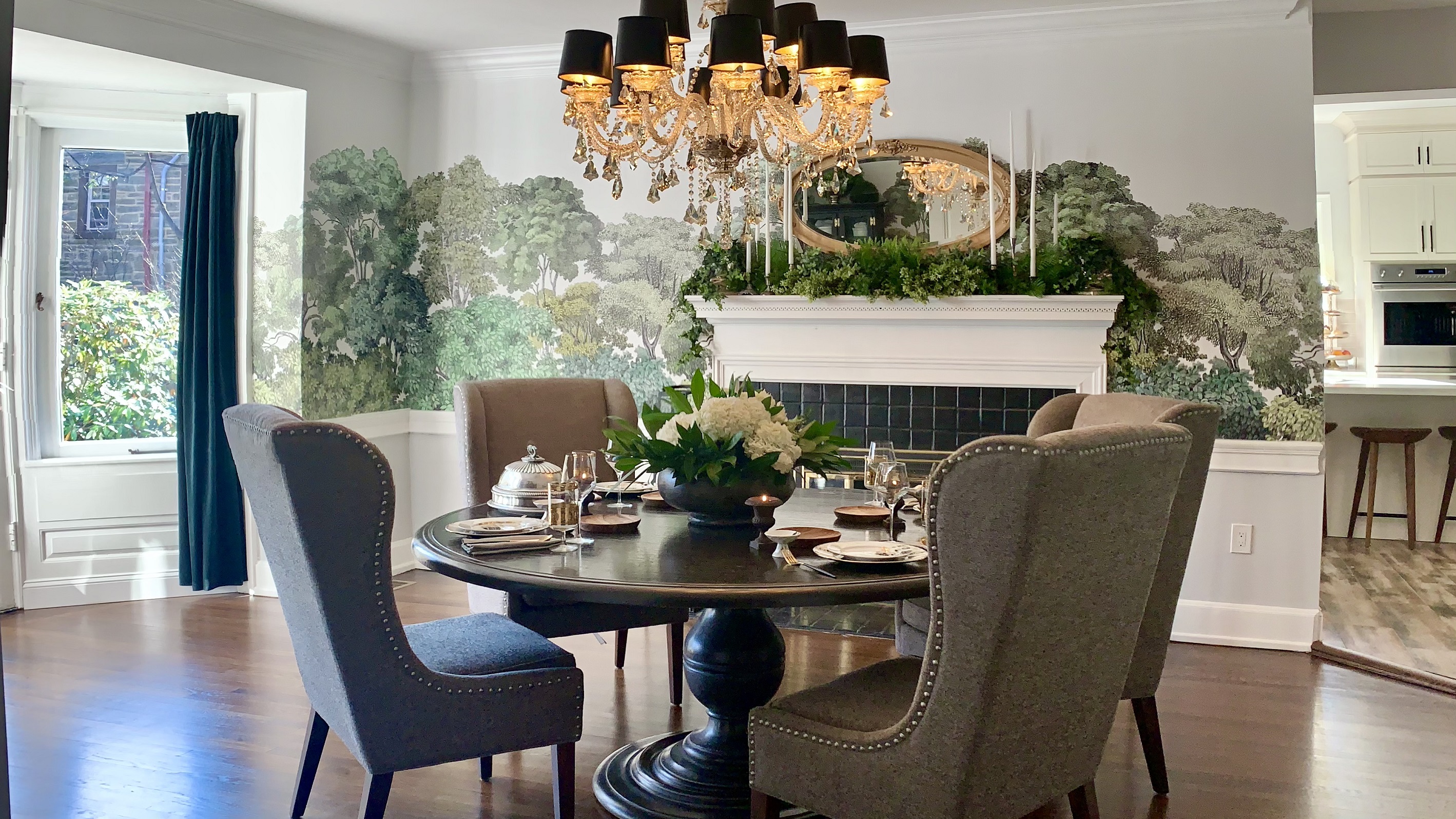 Brian says: The dining room was the first space we wanted to do. I haven't had a true dining room since I was a kid, and I've always wanted a big table for dinner parties! There were no tables within the price range we wanted, so we found a floor model at one of our favorite go-to stores, Arhaus. We easily saved 75 percent on this table by getting the one that they weren't going to carry anymore. The chairs are from Wayfair.  On each side of the fireplace (not seen in the photo, but visible in the Today Show video) are two black tall lanterns flanking the fireplace. I got them at Target. I can't currently find them on their app, but similar versions pop up every year. Get thee to Homegoods! Homegoods and Homesense (same parent company) are my go-to spots for home accessories for virtually every room in the house. You never know what you're going to find, which is part of the fun.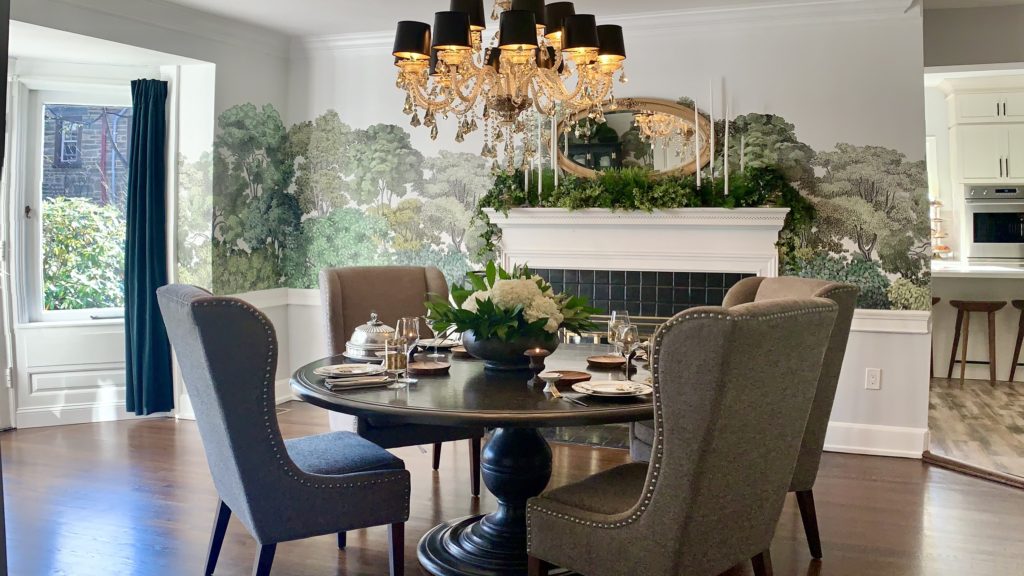 But let's focus on the real WOW element to this room – the wallpaper! This pattern is called Bellewood, by RebelWalls.   As you will soon see, I'm sort of obsessed with their patterns. To me, this room is magical with the added whimsy of this forest pattern. (They also have a more muted version with grays and even one with blues.) I also love that by hanging the paper from the chair rail up, you almost get the feeling that you're standing on a balcony overlooking the forest. I surrounded the whole room with this paper, which I love, but you could easily add the same magical feeling by just doing one feature wall. Their website shows how it can translate to a bedroom or office. You might be intimidated by hanging wallpaper but don't be! This pattern has so much going on that it really looks perfect when it goes up!
ON TO THE GUEST BEDROOM!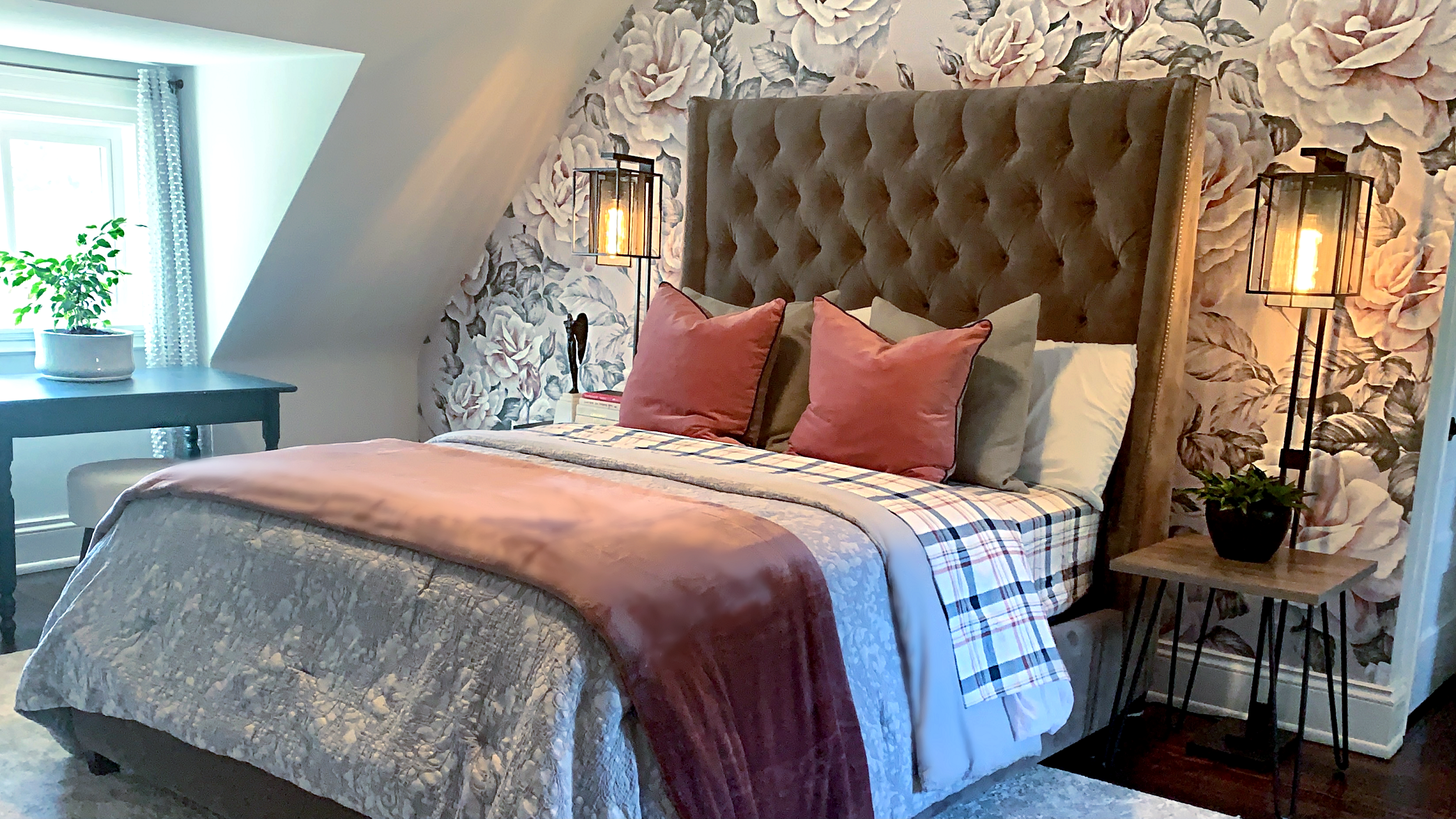 Brian says: The guest bedroom is on the top floor of the house, so it's got roof lines on two sides that make it a tricky space to navigate if you're not careful. The planning of this space alone resulted in a few bonked heads. On the upside, the wall where the bed goes is tall, so it was an obvious place to create some visual pop. Again, the wallpaper takes the spotlight.  Called "Nude Roses," also by RebelWalls, I love this design. Floral wallpaper was 'big' in popularity back in the 1920s when this house was built, but the patterns at that time were smaller, repeated more often, and were often really bold in color. This interpretation is so fun to me! Gone are the small roses in favor of oversized blooms, and the bold colors are more subdued pink and gray hues, with touches of dark green and creamy whites.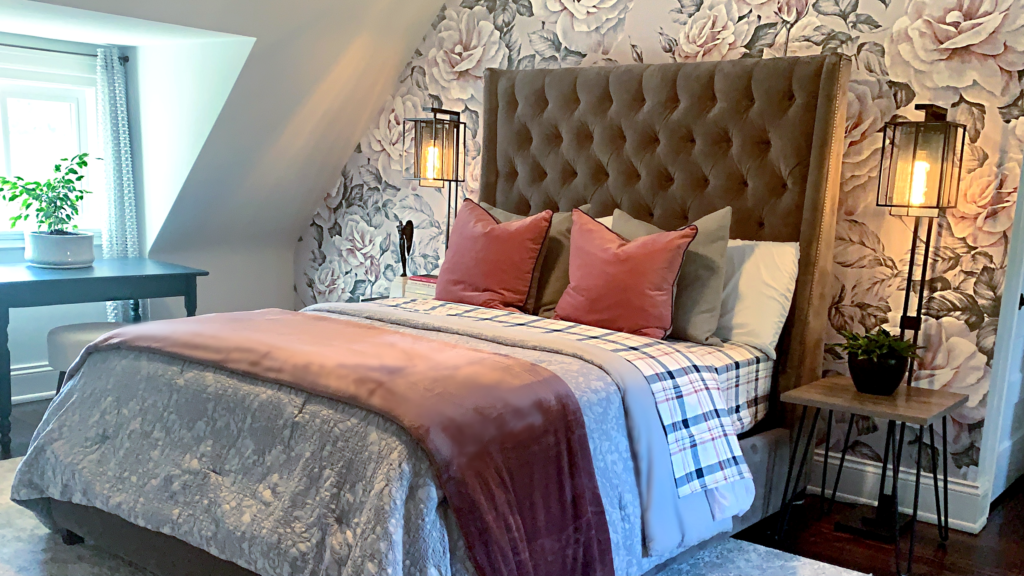 While roses can inherently feel feminine, the plaid bedding (30 dollars for a queen set from Target) are a surprising complement that keeps everything from feeling a little stereotypical. The side tables are mismatched – partly because we didn't want to go too "matchy=matchy" – but also to save some money – the one on the left side (hard to catch here) was from West Elm. Normally $199, we got it for half off as the floor model. The one on the right we found in the trash. It was perfectly fine, clearly someone had just gotten tired of it! Nothing some disinfectant can't fix. That gave us some extra money to spend – To reduce the softeness we went with industrial lamps and edison bulbs. The lamps  are called "Ginyard," from Wayfair. The headboard was on sale at Arhaus. The dark gray takes balances out the pink hues well. The pillows are from Target and Homegoods.
For the 360 degree view of this room, watch the Instagram reel below!  You'll see the dresser, on sale for $599 from Arhaus, a lamp from Homegoods, and mobiles from Amazon which we fashioned into a 'piece of art' that keeps you from hitting your head on the angled wall opposite the bed. Watch the video to check it out!
View this post on Instagram
THE GAME ROOM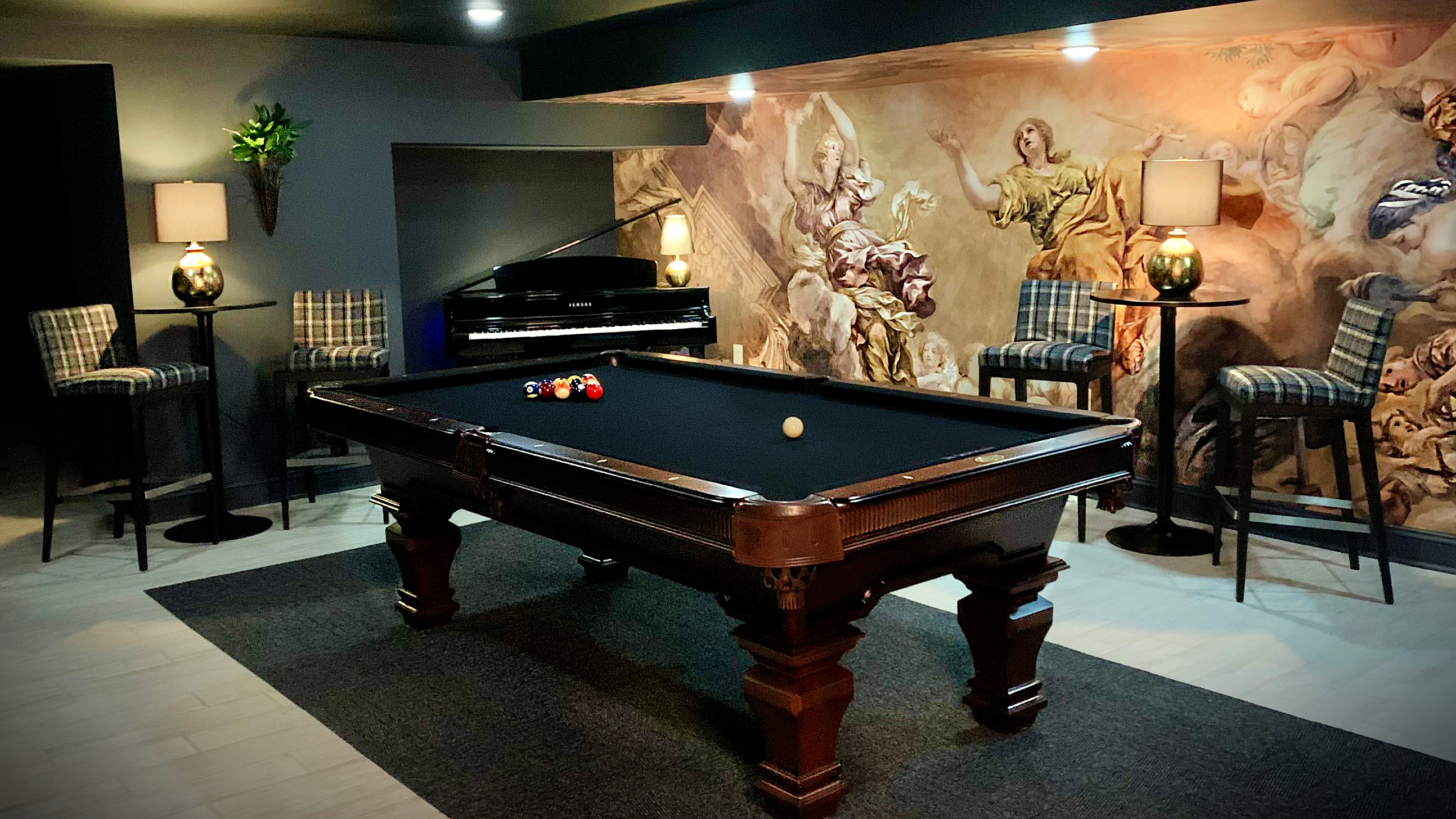 Brian says: The idea for the basement game room was to create a space that feels like a lounge you might find if you went out with friends. When you go into this basement it definitely feels like you've gone someplace unique! Believe it or not, I found out the Today Show had invited me to to record my house tour just a few days in advance, and so we turned around this spot in just THREE days! There was literally no pool table at the time, (although it had already been scheduled to come on Friday, the wallpaper came on Saturday, (as well as the floor tiles!) and by Sunday we were covered in paint and glue and drinking wine to celebrate it's completion! I recorded the final video that Monday.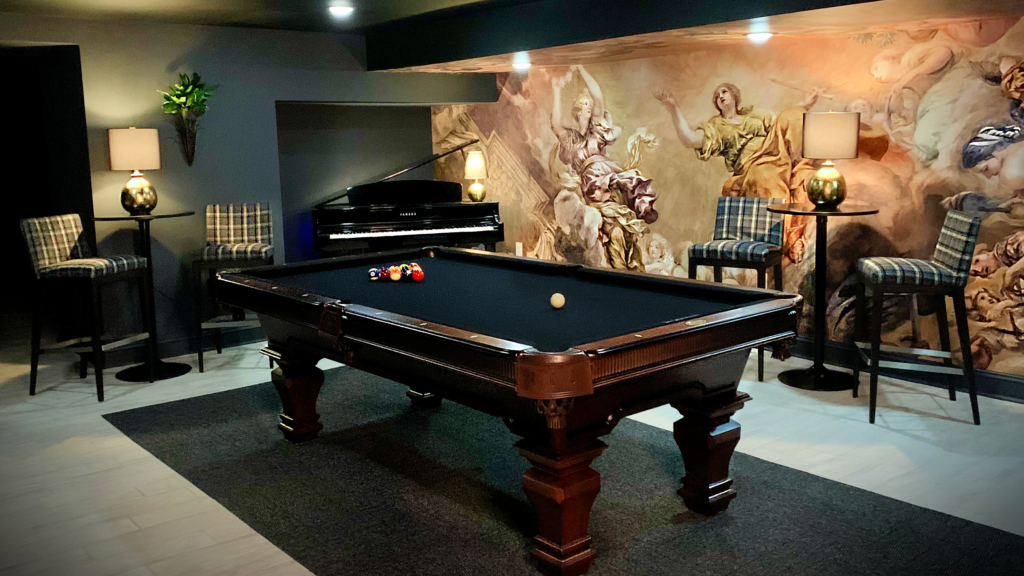 Some people might not think to take a bright basement and make it dark, but that was our first instinct. Clubs are dark and moody, and we wanted this to feel like that. We painted the walls Wrought Iron by Benjamin Moore, which is a very dark gray that seems to take on different hues based on where you paint it and the light that shines on it. We painted the ceiling black. This was Thursday night! Then Friday the pool table came. The floor tiles ("Tweed Indeed" in black by Flor) hadn't arrived until the next day, so when they did arrive I meticulously trimmed four tiles to fit around the pool table legs so it looks like they were there the whole time. I had ordered the pool table online weeks before from PoolTables.com and by sheer coincidence it was scheduled to arrive in time for me to shoot the redesign. This was the second time I have ordered a pool table from them (which was initially scary because you're not even seeing it beforehand!) but it always arrives in perfect condition to your specific selections. I love that the felt jet black and keeps things dark and moody. In the time that has passed since this photo was taken, I've added more of the carpet tiles to make the carpeted floor area darker and bigger.
But once again, the wall mural steals the show in a marvelous way! This mural is called "A Priori" from Rebelwalls, and is inspired by The Allegory of Divine Providence and Barberini Power, a famous fresco by Italian artist Pietro da Cortona. Fitting, because this house is Italian in style on the outside. You can't see it from this photo but the wallpaper runs up part of the ceiling as well. It truly gives the room a wow factor when you enter it. The lamps are from Homegoods, (we've since added some industrial floor lamps for extra mood lighting) and the piano was something we brought with us. The bar tables are from Amazon ($72 each) and the stools we brought with us – they were discards from someone who didn't like their original bright colors and thought they were dated! We covered them ourselves with gray plaid fabric and they're better than they were new!
So there you have it! Hope you enjoyed the rooms and find something you like!
Well Sh-t, Leslie Jordan Has Shared Three Videos Of Himself Dancing In One Week And They're All Perfect
Doing much better now, Leslie.
If you've never believed that "good things come in small packages" then you've never seen Leslie Jordan's instagram. The 4'11" actor known for his iconic roles in shows like Will & Grace and American Horror Story has recently developed a whole new fanbase who loves him for his viral Instagram videos. Usually starting each video by greeting fans with "Well shit, how y'all doing?", viewers have grown to anticipate Jordan's hilarious recounting of stories from his time in show biz or growing up in the south. This week, however, the Tennessee native has shared 3 videos of himself dancing within 5 days and honestly it's precisely what we all need right now.
The first video was posted on August 12th and shows Jordan taking part of the "Git up and dance challenge" which swept the internet about a year ago. Even though he is a little late, the video is still perfection.
On August 13th, Jordan does a dance to "You Can't Stop The Beat" from Hairspray a with special guest dance partner Katie Couric!
Finally, on August 15th, Jordan does an epic "tootsie roll" and challenges Real Housewives Of Beverly Hills star, Lisa Rinna, to do the tootsie roll herself. Of course Rinna commented with a big "ON IT ❤️😂." Who could say no to the viral star?!?
The moral of the story here is that the world is going through some tough times right now but maybe, even for a few seconds, we could all feel better if we'd just dance it out. Thanks for the inspo Leslie Jordan!
Like what you read? Follow me on Instagram
Planters 'Baby Nut' Has Somehow Already Turned 21 And People Are Not Loving The News
2020 keeps getting nuttier.
The world was shocked when the iconic Mr. Peanut was killed during a pre-Super Bowl ad earlier this year. There wasn't much time to mourn, however, before a new nut was thrust onto us like back-to-school commercials in July. Yes, after the 59-year-old mascot met his untimely death consumers were introduced to his reincarnate, Baby Nut. With big, expressive eyes and a tiny stature fans began to swoon over the cute branding revamp and accepted him as the new mascot. Well as if 2020 hasn't been crazy enough, Planters just released a new commercial celebrating Baby Nut's 21st birthday and I'm not sure how to feel about it.
I'm officially 21, my friends! Before you ask, yes, I was just a baby. What can I say? It's been a nutty year. Now someone get this peanut a beer! #MakeMyBirthdayNuts pic.twitter.com/P1UfBIi4N8

— Peanut Jr. (@MrPeanut) August 11, 2020
According to a quick Google search, a peanut plant takes 4-5 months to reach maturity. So with Baby Nut being born in February, he is technically right on track in his growth cycle. The OG Mr. Peanut was the reigning mascot for 59 years so does that mean he was actually over 3,000 peanut-years old? The accelerated aging is not explained in the new ad with Baby Nut (Young Adult Nut?) simply saying "it's been a weird year." Reactions on Twitter are largely negative but as always, hilarious. Here are some of the best: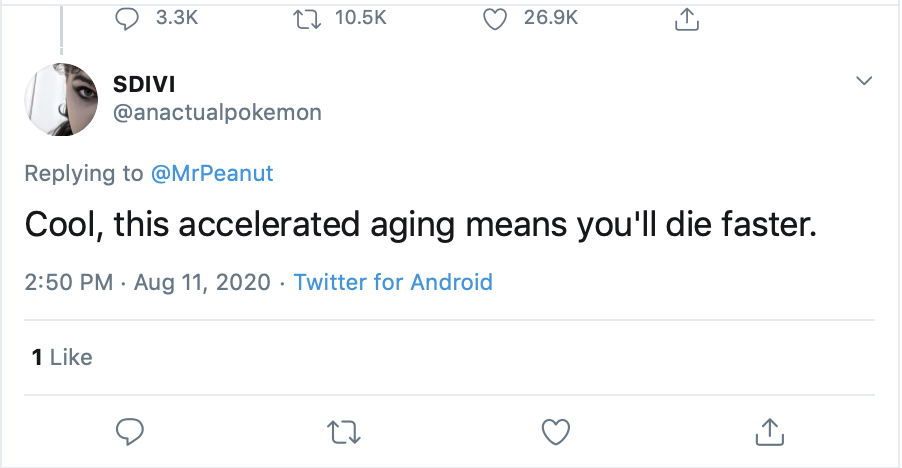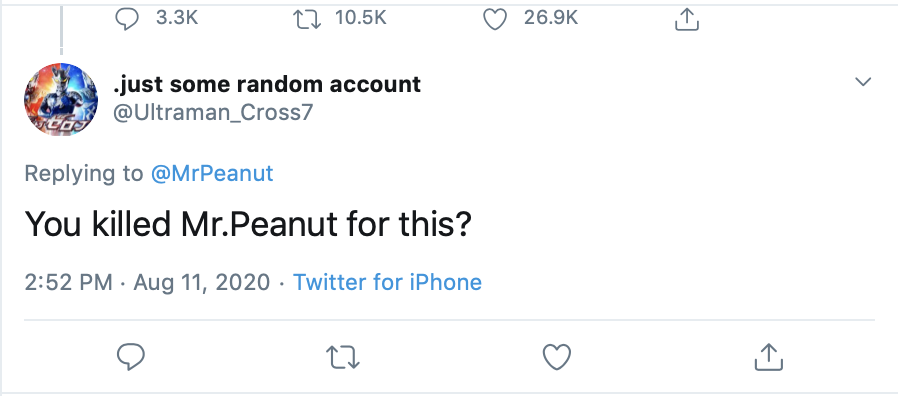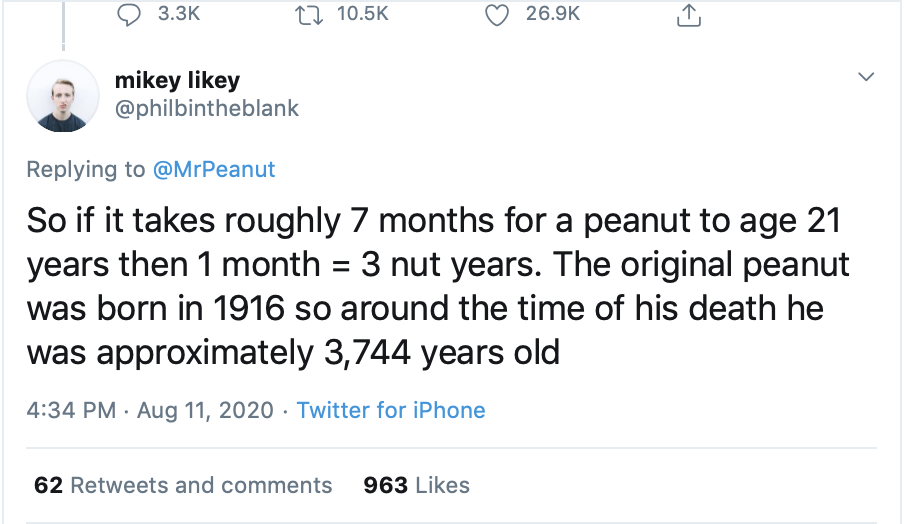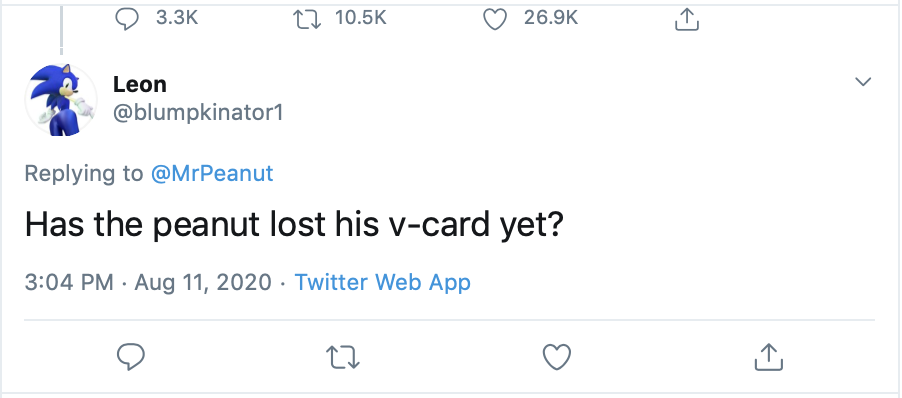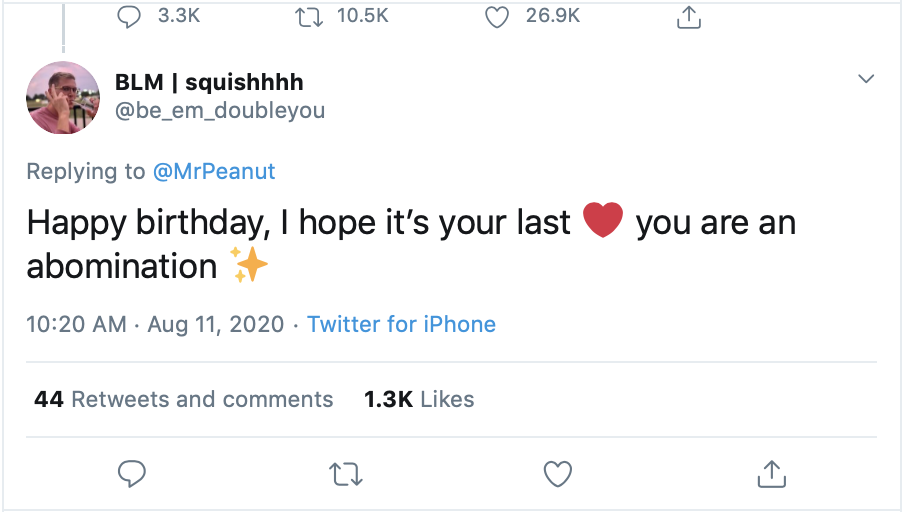 Yikes. Good thing Baby Nut is old enough to drink now…looks like he might need to throw back a few to handle some of these reactions.
To follow Peanut Jr.'s official account click here.
Like what you read? Follow me on Instagram