POP INTERVIEW: Screenwriter Bill Borchert on Lindsay Lohan and Other Celebrities Suffering from Addictions
Emmy-nominated screenwriter William G. Borchert, also known by his nickname "Bill," wrote the made for television movie, My Name Is Bill W. Based on the real life founder of Alcoholics Anonymous, the James Garner film was more than familiar.
Emmy-nominated screenwriter William G. Borchert, also known by his nickname "Bill," wrote the made for television movie, My Name Is Bill W. Based on the real life founder of Alcoholics Anonymous, the James Garner film was a little too familiar: Borcher himself was an alcoholic in the past. Through his work since, he tries to help people understand and combat alcoholism with his books and scripts.
I've been rooting for Amanda Bynes all this time, sort of, arguing she's not crazy. I believe(d) she was doing all this for publicity. Do you think she has addiction issues, or am I right?
Most people don't go around burning driveways or spending $1.2 million in a year on lavish and frivolous behavior like Amanda Bynes did just to get attention. In my opinion, as a recovered alcoholic for many years, such people either have some serious mental problems or a serious alcohol or drug addiction problem which can manifest itself like real insanity. Since I'm not an addiction counselor or psychiatrist, I can't say what's really going on except that based upon my experience I don't believe she's acting out like this just to get some God awful publicity. It's much easier than this to attract coverage in the tabloids.
Lindsay Lohan has admitted to needing treatment. How can the actress see her career flourish again after rehab?
When it comes to Lindsay Lohan's career, there's a parallel example she should take a look at. Many in the business asked the same thing about Robert Downey, Jr.: "Will his career ever flourish again after most of Hollywood had given up on him and no insurance company would write a completion bond for any of his movies?" Today, he's a megastar once again because he totally surrendered to the fact that he was powerless over alcohol and drugs, went for treatment and today, he earnestly works a 12-step program of recovery. If Lindsay Lohan seriously follows in Robert Downey Jr.'s footsteps, her career can flourish again too.
Why do artists like Amy Winehouse ultimately and unintentionally kill themselves when they know drugs and alcohol are bad?
Asking why an artist like Amy Winehouse killed herself under the influence of alcohol and drugs is like asking how many stars there are in the night sky. How can anyone possibly know? When I was an active alcoholic, I tried to commit suicide myself under the influence and didn't know why. I don't believe Amy did either. Addiction to alcohol or drugs is a disease that affects the mind, body and soul. Many say it's a soul sickness that leads to confusion, self-hatred and total despair. You just want out of the pain. And when there seems to be no hope of finding a way out of this dark and frightening mental state, suicide too often seems like the only solution. The problem is, it's usually a permanent solution to a temporary problem. For there is a solution, and millions like myself have found it. I write about it in great detail in my new book, When Two Loves Collide.
Does substance abuse really improve one's art?
As an author and screenwriter, I would often write while under the influence, then pass out and wake up to pages filled with words that made no sense. Still, my alcoholism continued to try and convince me that I was a much better writer drunk than sober. No. Substance abuse does not improve one's art, and I have many sober friends in the world of acting, music, writing and painting who will testify to that statement. They will tell you that alcohol and drug abuse gradually steals your talent and abilities, and only continued total sobriety can bring it all back.
How can we tell if celebrities have substance abuse problems if the news isn't reporting on it? Can we see it in their faces and bodies?
Some people can hide or control their substance abuse problem to a large degree for quite some time, yet with many others, it explodes early and ugly and in many painful ways. For many celebrities, it becomes the kind of car wreck the press seems to enjoy covering. However, when a celebrity finally becomes serious about getting sober, they usually don't announce it to the world – if they're serious, that is. They begin to quietly work an anonymous 12-step recovery program and simply suit up and show up to face life as a sober person. So, if you can't always tell if someone is still drinking or drugging, you can almost always tell when they're not. They begin to live honest, productive and meaningful lives.
How many Hollywood types do you think are secret alcoholics and/or drug users?
There are more than 40 million alcoholics and drug addicts in the United States today. I'm sure Hollywood has its pro rata share. However, it may seem like filmdom has a larger percentage at times only because when the malady of alcoholism or drug addiction manifests itself in a celebrity, they usually hit the limelight, and their escapades hit the headlines at the same time.
Why does society glamorize binge drinking and partying but condemn being an alcoholic?
On one hand, most of society still doesn't understand or accept the fact that alcoholism and drug addiction are diseases and not moral lapses or a weakness of the will. On the other hand, many in society still see drinking and even certain illegal drugs as a way to foster camaraderie, fun and social relaxation. They glamorize it. But when that camaraderie and fun begin to turn into lost jobs, broken homes, divorces and child abuse, society has a tendency to deny the problem exists because they have labeled the disease with a stigma and with shame. In my new book, When Two Loves Collide, I talk from experience about the effects of addiction on innocent spouses and children, the stigma of denial and what can be done to find a way out.
What's Brian Tryin'? The Crispy Sandwich Maker by Apod!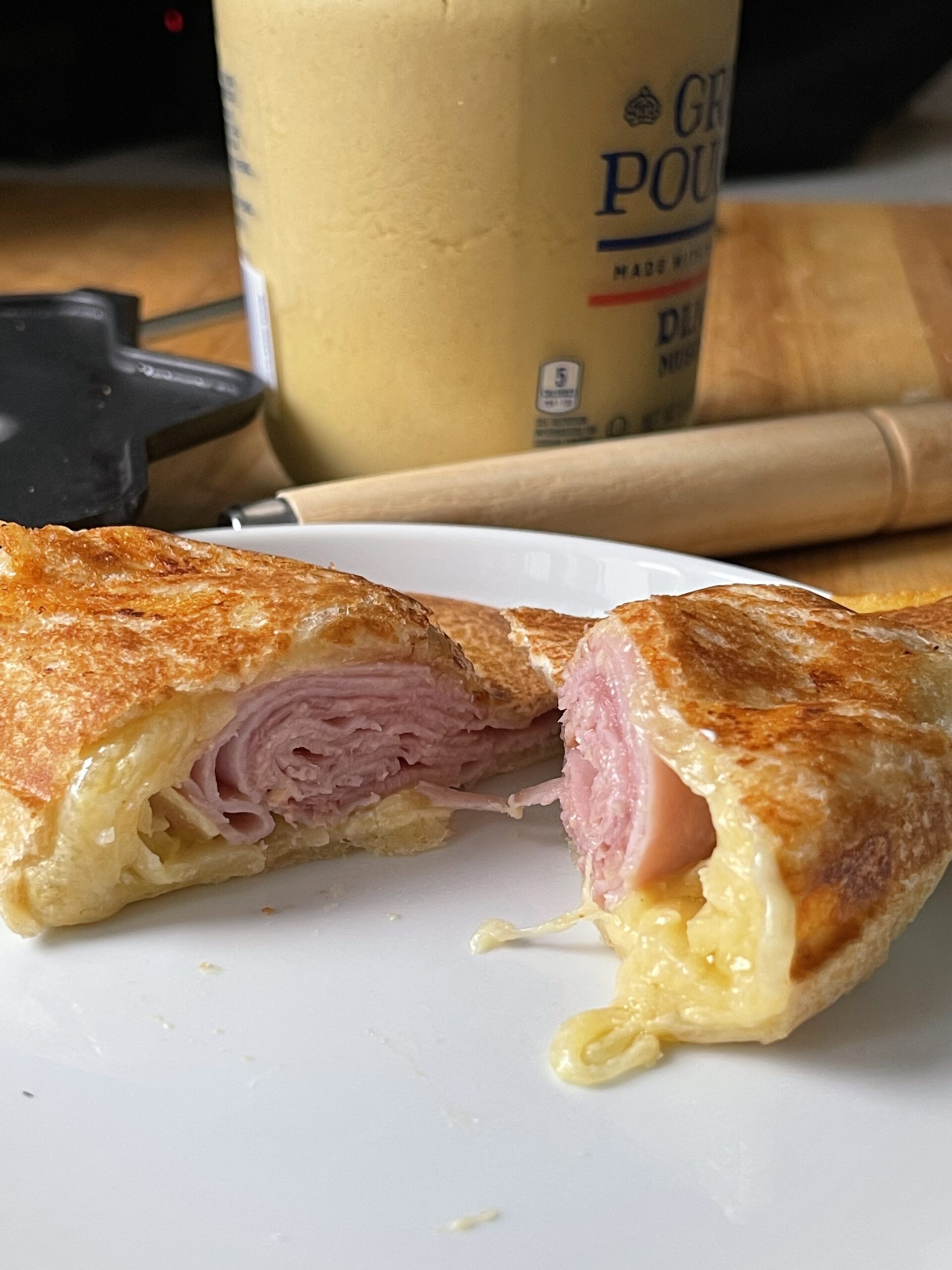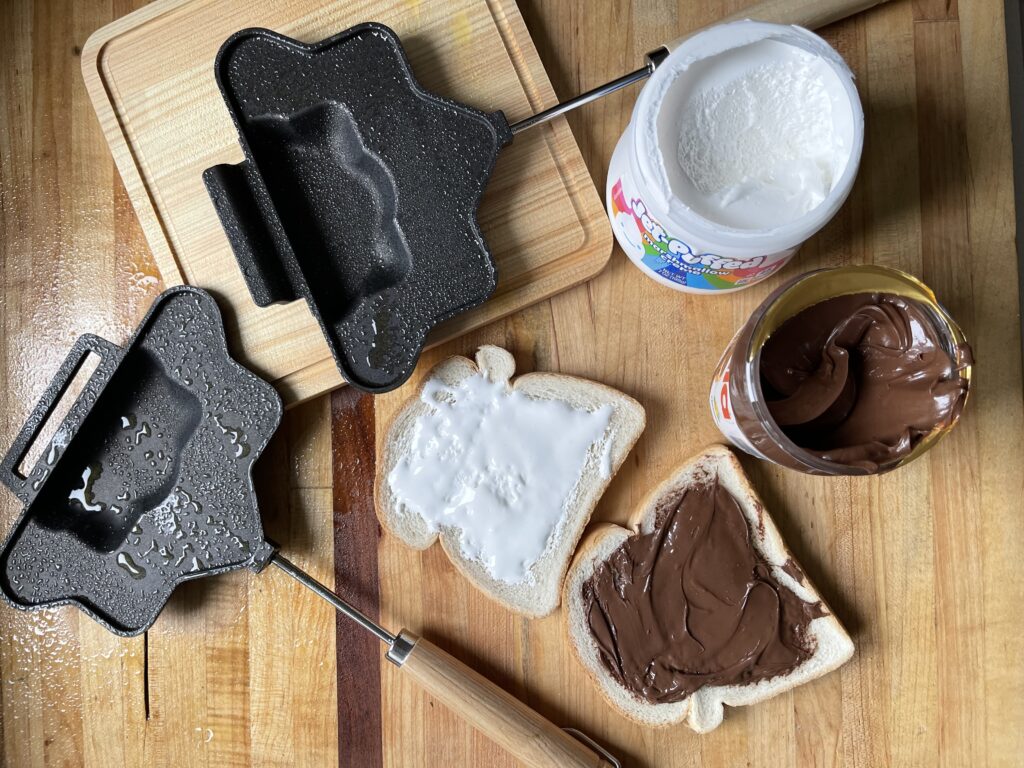 This weekend I tried out a new product that's been crowdsourcing on IndieGogo. (The link is here.)
It's called a Crispy Sandwich Maker, made by Apod.
I always love trying out a new gadget, so it was fun to see how this one would play out.  What makes this one a bit different than most sandwich makers is that this only requires just one single slice of bread to make a compact, easy to eat snack that can be sweet or savory. It can be used over a gas stove flame, or, with caution, a campfire, although the design's arm length better lends itself to a smaller flame like a home kitchen stove.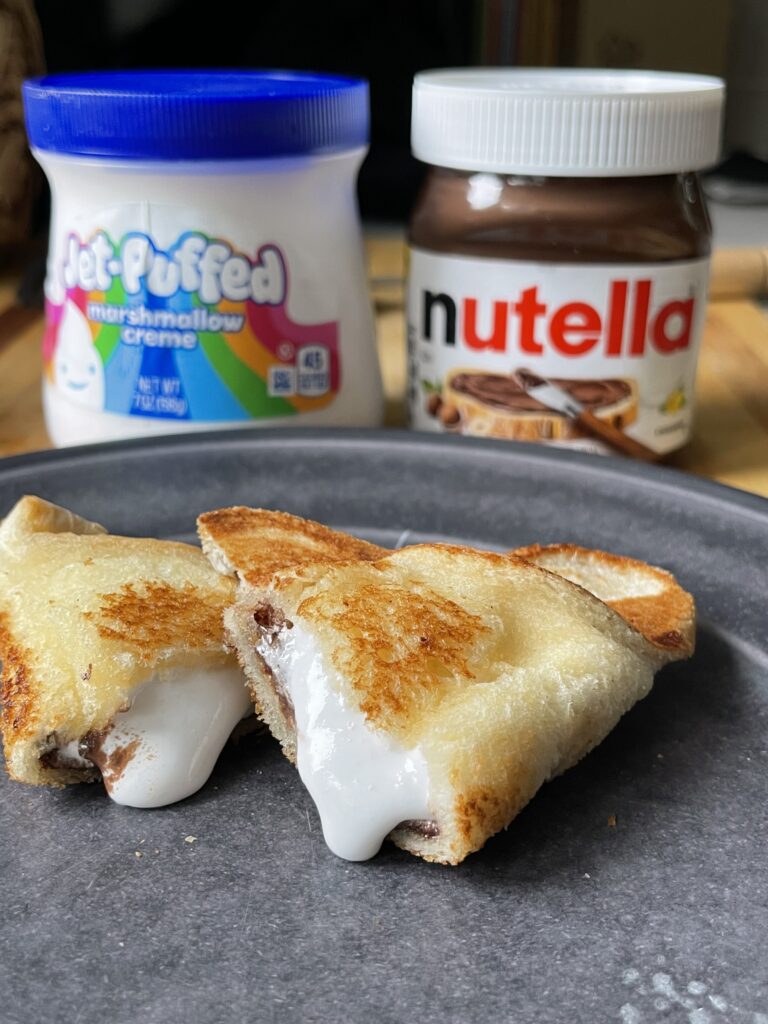 Because I love a s'more, I decided to do an interpretation of that using  nutella spread and marshmallow spread. My friend John and I were happily making these little sandwiches in the kitchen while I friends taste tested the results along the way.
While the product description says that it requires no oil, we did decide to butter the bread to give a nice brown color to the sandwich, although it could easily be done without it.
The results of the nutella and marshmallow spread crispy sandwiches were consistent and delicious. After about two minutes per side, sandwiches were golden brown and the inside filling was oozy and delicious.
Then it was on to make a savory snack in the form of a crispy ham and cheese with dijon. Again, about two minutes on each side over the flame was just enough to brown the bread and warm up the savory fillings.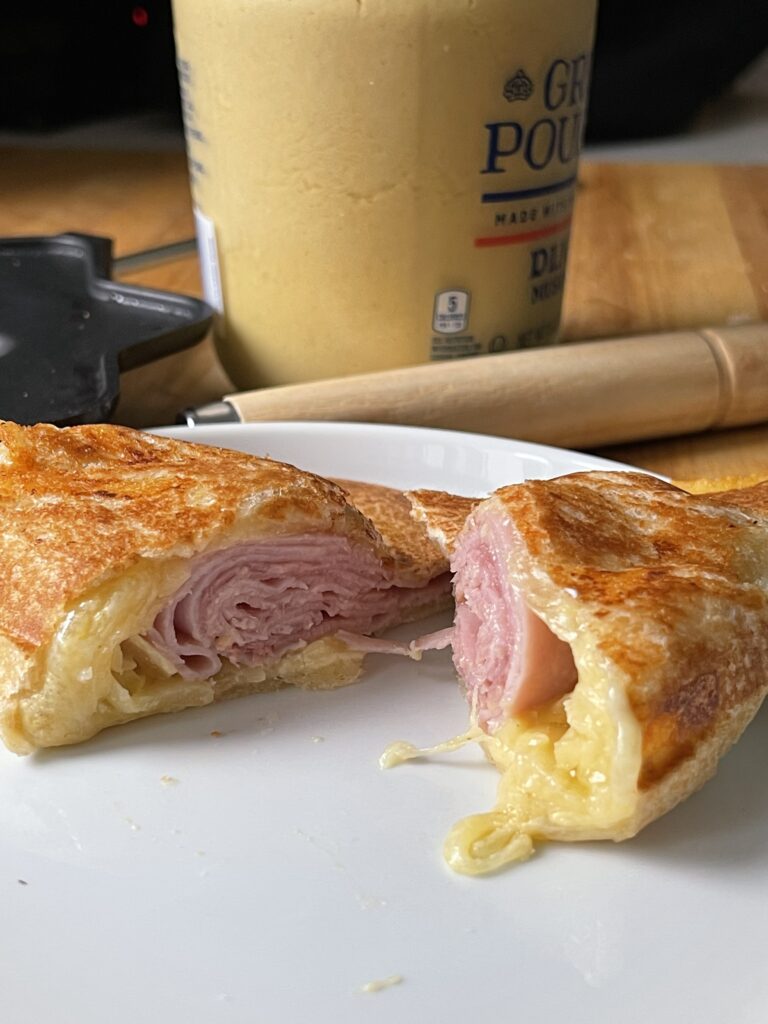 This was a fun gadget to play with, and the results were delicious. All in all, everyone gave the results a thumbs up!
Get The Look! A Buyer's Guide To Brian Balthazar's Philadelphia Home Redesign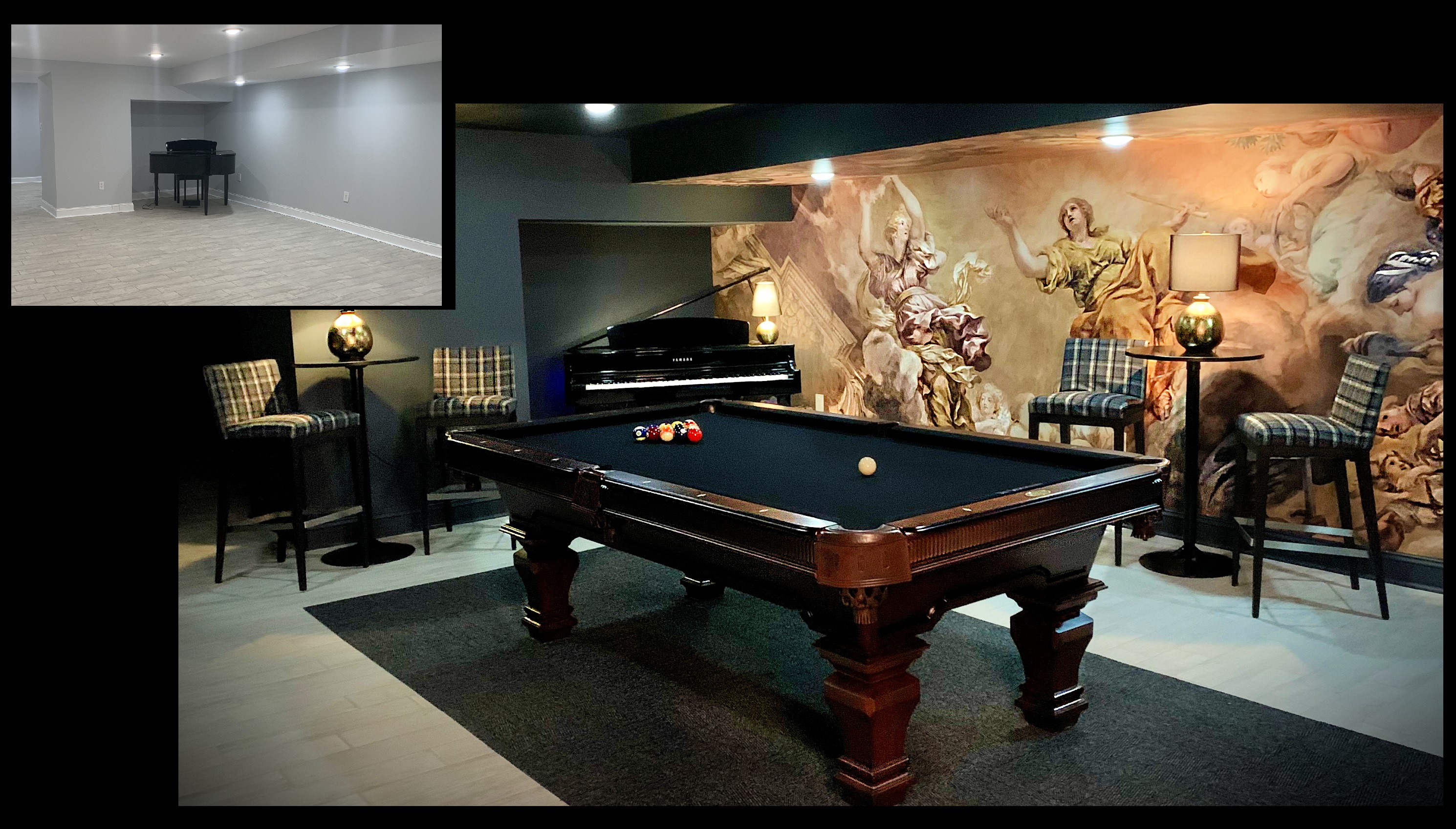 As the world was forced to spend more time at home, Brian Balthazar found himself in a position where he had sold a house before the lockdown and had to find a new one.
"We sold our home with all the furniture in it, so not only did we find ourselves struggling to find a new place, once we found one we didn't have any furniture to put in it."
And so, Brian and partner Dennis got resourceful, turning to refurbishing and buying store floor models. They were inspired to make bold, fun choices in color and style when they started shopping around for wallpaper.
Below is the segment as it appeared on the Today Show, and further down, a rundown of where you can find the pieces or ones with a similar look!
THE DINING ROOM
Let's start with the Dining Room!
Move the slider dividing the image to see all of the before or all of the after!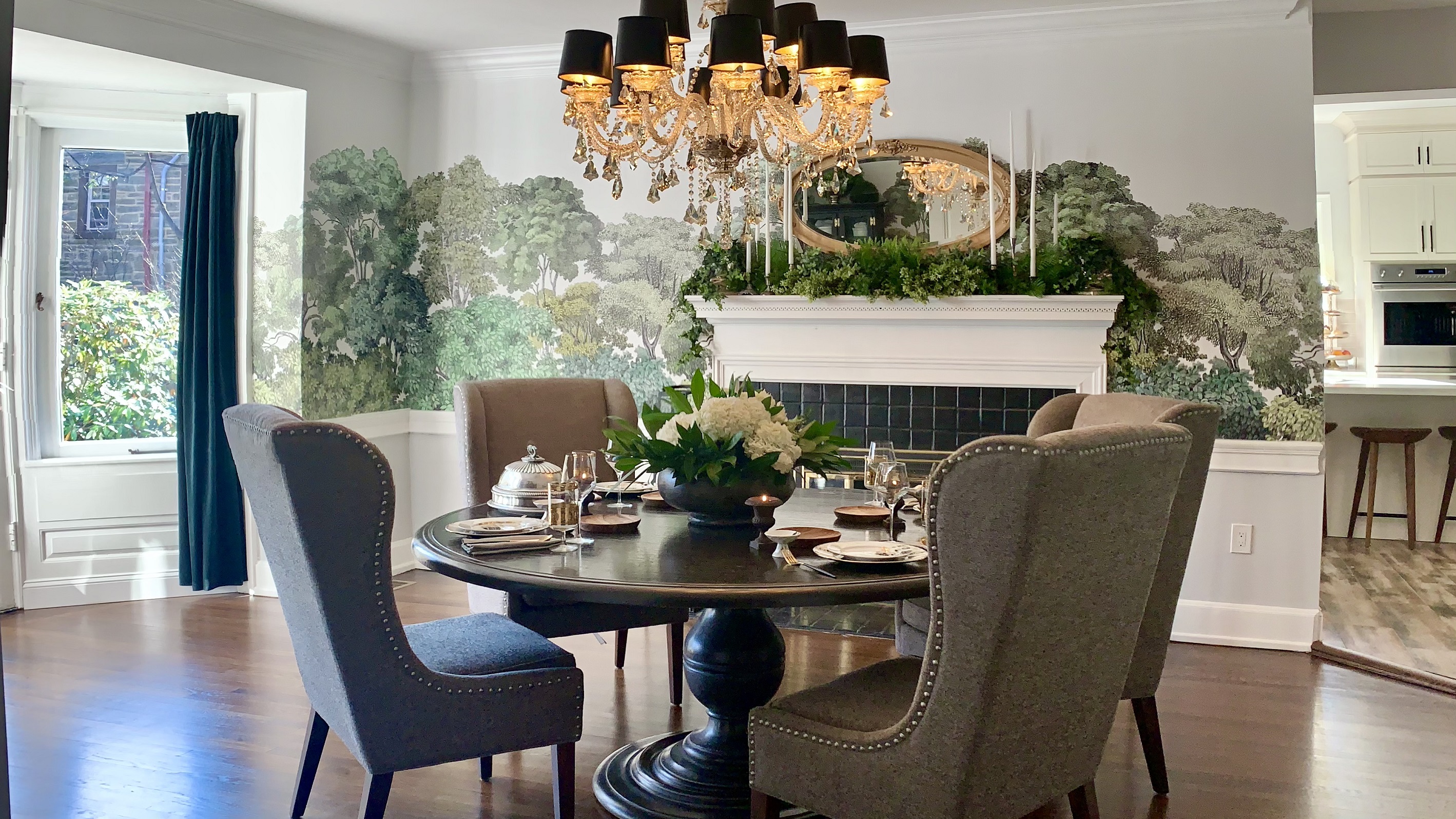 Brian says: The dining room was the first space we wanted to do. I haven't had a true dining room since I was a kid, and I've always wanted a big table for dinner parties! There were no tables within the price range we wanted, so we found a floor model at one of our favorite go-to stores, Arhaus. We easily saved 75 percent on this table by getting the one that they weren't going to carry anymore. The chairs are from Wayfair.  On each side of the fireplace (not seen in the photo, but visible in the Today Show video) are two black tall lanterns flanking the fireplace. I got them at Target. I can't currently find them on their app, but similar versions pop up every year. Get thee to Homegoods! Homegoods and Homesense (same parent company) are my go-to spots for home accessories for virtually every room in the house. You never know what you're going to find, which is part of the fun.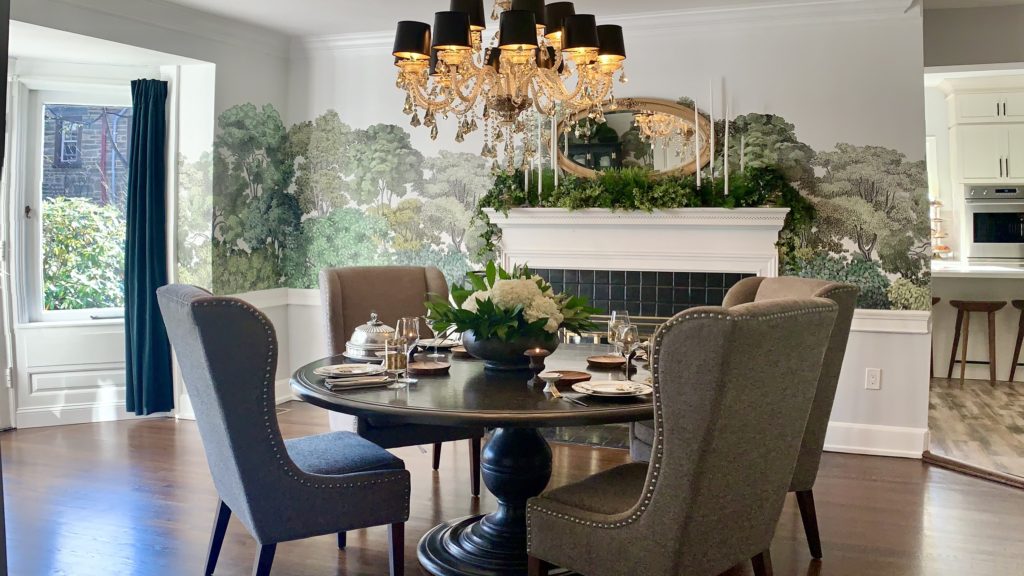 But let's focus on the real WOW element to this room – the wallpaper! This pattern is called Bellewood, by RebelWalls.   As you will soon see, I'm sort of obsessed with their patterns. To me, this room is magical with the added whimsy of this forest pattern. (They also have a more muted version with grays and even one with blues.) I also love that by hanging the paper from the chair rail up, you almost get the feeling that you're standing on a balcony overlooking the forest. I surrounded the whole room with this paper, which I love, but you could easily add the same magical feeling by just doing one feature wall. Their website shows how it can translate to a bedroom or office. You might be intimidated by hanging wallpaper but don't be! This pattern has so much going on that it really looks perfect when it goes up!
ON TO THE GUEST BEDROOM!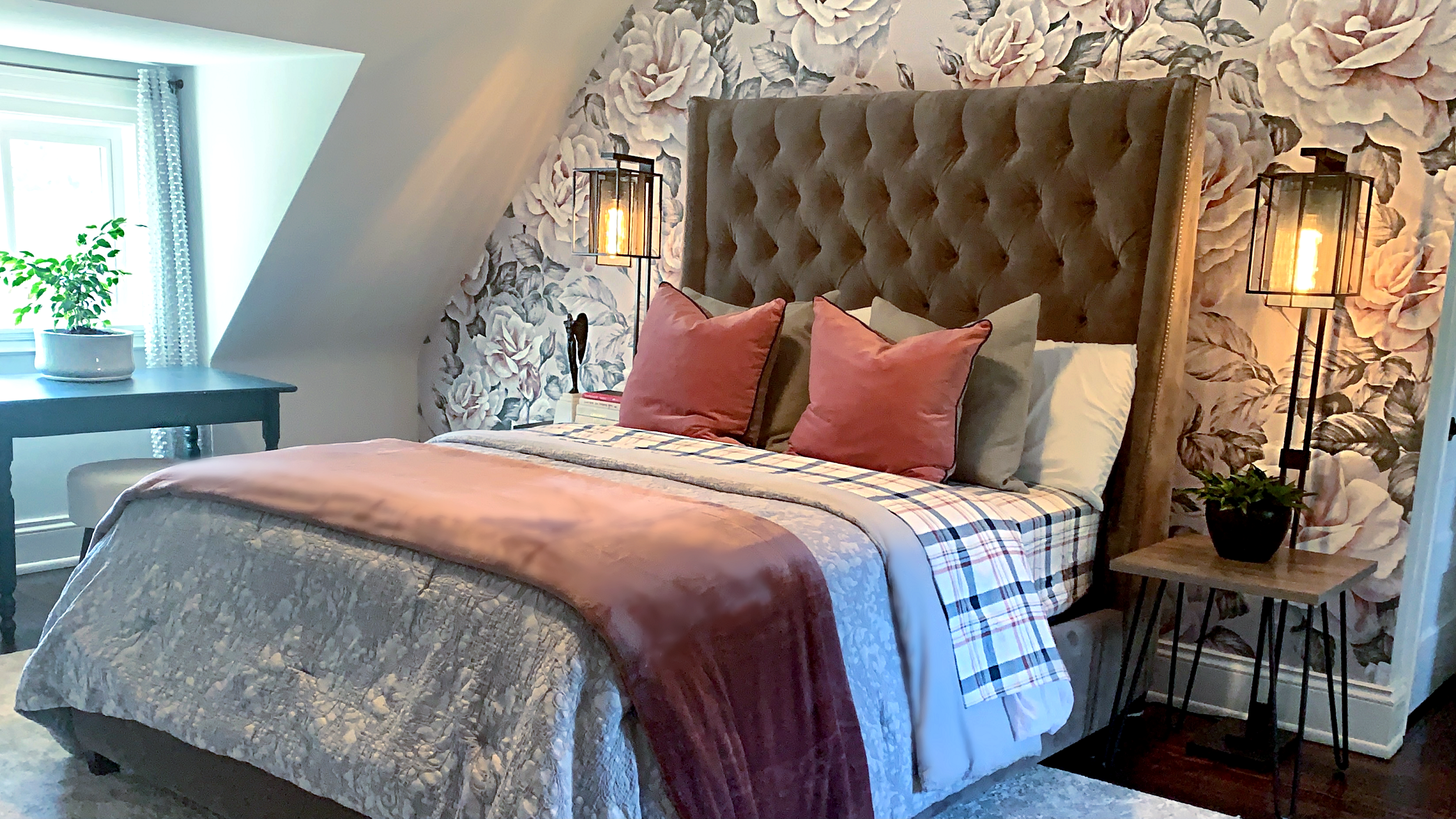 Brian says: The guest bedroom is on the top floor of the house, so it's got roof lines on two sides that make it a tricky space to navigate if you're not careful. The planning of this space alone resulted in a few bonked heads. On the upside, the wall where the bed goes is tall, so it was an obvious place to create some visual pop. Again, the wallpaper takes the spotlight.  Called "Nude Roses," also by RebelWalls, I love this design. Floral wallpaper was 'big' in popularity back in the 1920s when this house was built, but the patterns at that time were smaller, repeated more often, and were often really bold in color. This interpretation is so fun to me! Gone are the small roses in favor of oversized blooms, and the bold colors are more subdued pink and gray hues, with touches of dark green and creamy whites.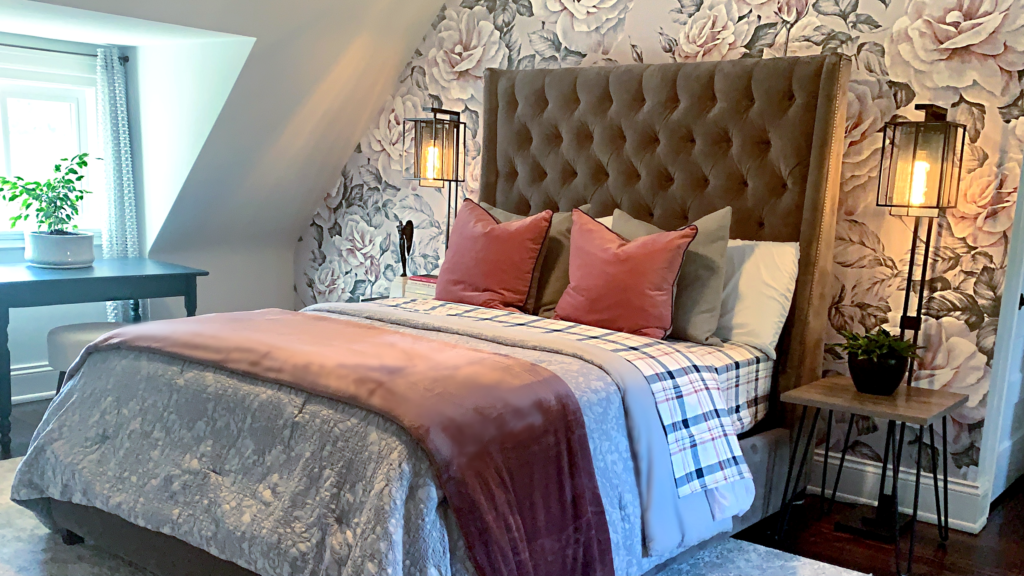 While roses can inherently feel feminine, the plaid bedding (30 dollars for a queen set from Target) are a surprising complement that keeps everything from feeling a little stereotypical. The side tables are mismatched – partly because we didn't want to go too "matchy=matchy" – but also to save some money – the one on the left side (hard to catch here) was from West Elm. Normally $199, we got it for half off as the floor model. The one on the right we found in the trash. It was perfectly fine, clearly someone had just gotten tired of it! Nothing some disinfectant can't fix. That gave us some extra money to spend – To reduce the softeness we went with industrial lamps and edison bulbs. The lamps  are called "Ginyard," from Wayfair. The headboard was on sale at Arhaus. The dark gray takes balances out the pink hues well. The pillows are from Target and Homegoods.
For the 360 degree view of this room, watch the Instagram reel below!  You'll see the dresser, on sale for $599 from Arhaus, a lamp from Homegoods, and mobiles from Amazon which we fashioned into a 'piece of art' that keeps you from hitting your head on the angled wall opposite the bed. Watch the video to check it out!
View this post on Instagram
THE GAME ROOM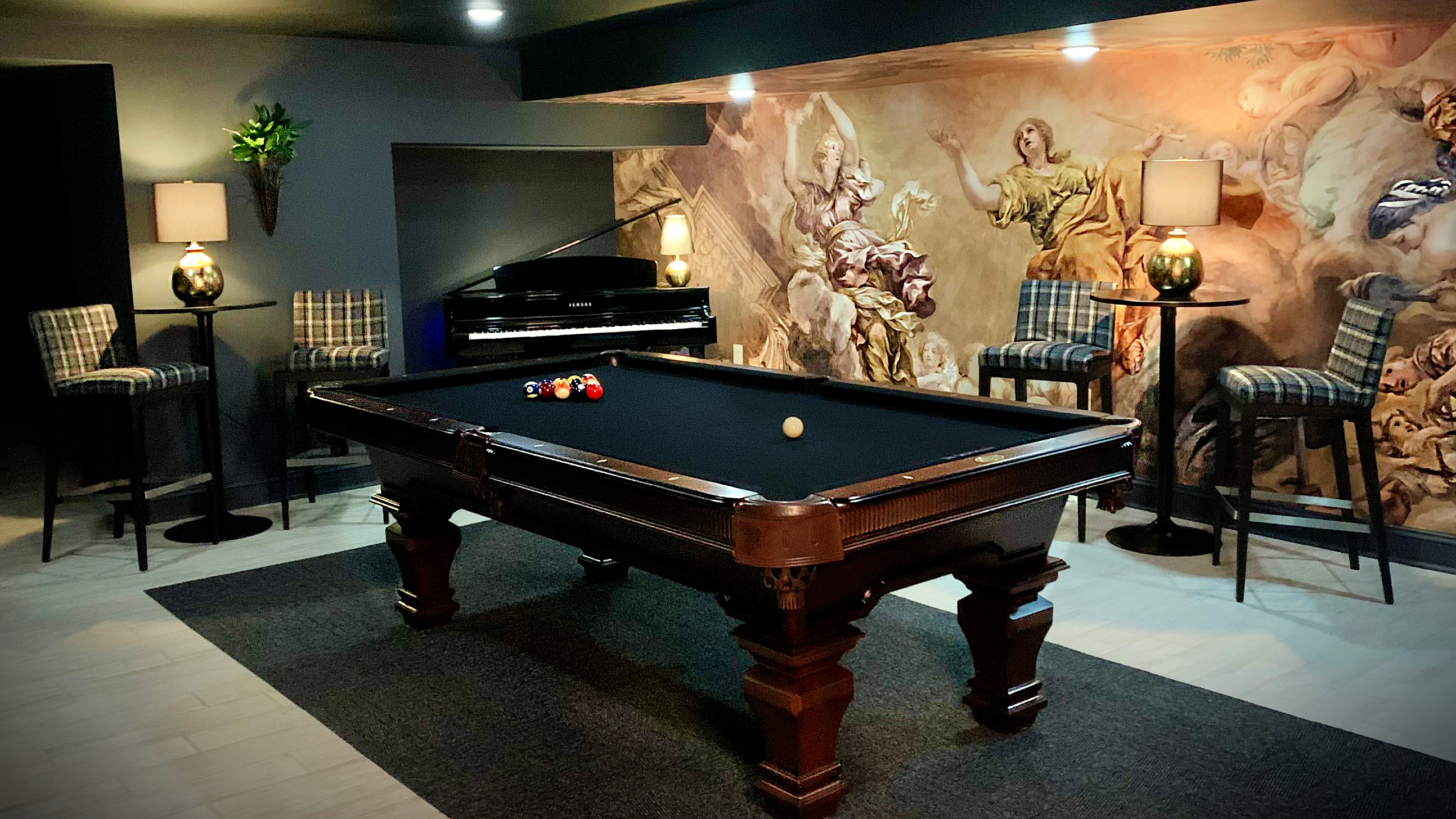 Brian says: The idea for the basement game room was to create a space that feels like a lounge you might find if you went out with friends. When you go into this basement it definitely feels like you've gone someplace unique! Believe it or not, I found out the Today Show had invited me to to record my house tour just a few days in advance, and so we turned around this spot in just THREE days! There was literally no pool table at the time, (although it had already been scheduled to come on Friday, the wallpaper came on Saturday, (as well as the floor tiles!) and by Sunday we were covered in paint and glue and drinking wine to celebrate it's completion! I recorded the final video that Monday.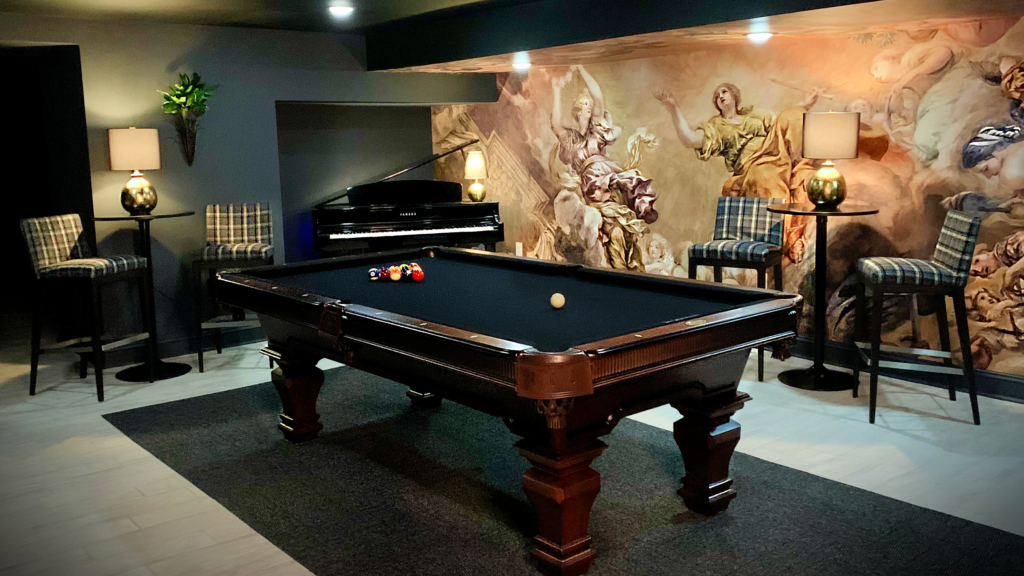 Some people might not think to take a bright basement and make it dark, but that was our first instinct. Clubs are dark and moody, and we wanted this to feel like that. We painted the walls Wrought Iron by Benjamin Moore, which is a very dark gray that seems to take on different hues based on where you paint it and the light that shines on it. We painted the ceiling black. This was Thursday night! Then Friday the pool table came. The floor tiles ("Tweed Indeed" in black by Flor) hadn't arrived until the next day, so when they did arrive I meticulously trimmed four tiles to fit around the pool table legs so it looks like they were there the whole time. I had ordered the pool table online weeks before from PoolTables.com and by sheer coincidence it was scheduled to arrive in time for me to shoot the redesign. This was the second time I have ordered a pool table from them (which was initially scary because you're not even seeing it beforehand!) but it always arrives in perfect condition to your specific selections. I love that the felt jet black and keeps things dark and moody. In the time that has passed since this photo was taken, I've added more of the carpet tiles to make the carpeted floor area darker and bigger.
But once again, the wall mural steals the show in a marvelous way! This mural is called "A Priori" from Rebelwalls, and is inspired by The Allegory of Divine Providence and Barberini Power, a famous fresco by Italian artist Pietro da Cortona. Fitting, because this house is Italian in style on the outside. You can't see it from this photo but the wallpaper runs up part of the ceiling as well. It truly gives the room a wow factor when you enter it. The lamps are from Homegoods, (we've since added some industrial floor lamps for extra mood lighting) and the piano was something we brought with us. The bar tables are from Amazon ($72 each) and the stools we brought with us – they were discards from someone who didn't like their original bright colors and thought they were dated! We covered them ourselves with gray plaid fabric and they're better than they were new!
So there you have it! Hope you enjoyed the rooms and find something you like!
Well Sh-t, Leslie Jordan Has Shared Three Videos Of Himself Dancing In One Week And They're All Perfect
Doing much better now, Leslie.
If you've never believed that "good things come in small packages" then you've never seen Leslie Jordan's instagram. The 4'11" actor known for his iconic roles in shows like Will & Grace and American Horror Story has recently developed a whole new fanbase who loves him for his viral Instagram videos. Usually starting each video by greeting fans with "Well shit, how y'all doing?", viewers have grown to anticipate Jordan's hilarious recounting of stories from his time in show biz or growing up in the south. This week, however, the Tennessee native has shared 3 videos of himself dancing within 5 days and honestly it's precisely what we all need right now.
The first video was posted on August 12th and shows Jordan taking part of the "Git up and dance challenge" which swept the internet about a year ago. Even though he is a little late, the video is still perfection.
On August 13th, Jordan does a dance to "You Can't Stop The Beat" from Hairspray a with special guest dance partner Katie Couric!
Finally, on August 15th, Jordan does an epic "tootsie roll" and challenges Real Housewives Of Beverly Hills star, Lisa Rinna, to do the tootsie roll herself. Of course Rinna commented with a big "ON IT ❤️😂." Who could say no to the viral star?!?
The moral of the story here is that the world is going through some tough times right now but maybe, even for a few seconds, we could all feel better if we'd just dance it out. Thanks for the inspo Leslie Jordan!
Like what you read? Follow me on Instagram