OBSESSED: 10 Reasons To Watch Season 10 Of RHONY
"If it's info you seek, follow me on Pop Goes The Week."
What? I can't be the only one who sits at my desk and fantasizes about what my Real Housewife tagline would be! Well, I probably won't be holding a golden apple anytime soon, but I can still share in the excitement for season 10 of the Real Housewives of New York. You'd think after a decade of drama, the ladies would have lost a bit of steam, but it looks like this season will be even more exciting than the last. Here are 10 things that caught my eye in the season's sneak peek:
Tinsley is still dating Scott! While Tinsley had a lukewarm reception by both cast members and fans, it's nice that someone is genuinely excited to see her. I predict that this season will show more layers to the socialite (seen when she finally lays into Sonja) and will become more popular with viewers.
Sonja seriously tries to use the pickup line "are you sure you're not bisexual?…if I buy you something, will you get sexual?" It is the cringe-equivalent of having your drunk uncle ask to pull his finger.
Carole's sexy, vegan chef boyfriend…or friend that's a boy…or ex(?) has a new love interest! We knew the relationship took a "step back" last season, when Adam moved out of Carole's apartment but this sounds like  a more official break up. Rip Radziadam.
There is a trip to Puerto Rico to aid in recovery efforts after Hurricane Maria, which seems to bring a dose of reality to the reality show. With all of the millions of dollars circulating this particular clique of ladies, it is nice to see them aiding those who are going through a tough time. I always enjoy when the series takes a moment to get serious, and show the more charitable side of the wealthy.
Carole runs the marathon she alluded to at the end of last season! The feat is an emotional accomplishment for her. That, or she caught the dreaded runners diarrhea. Either way, I'd be crying at the end of that race too.
The housewives in every franchise, seem to love a themed party. This season's looks to be a murder mystery set in the 20's.
Bethenny and Carole are feuding?!?!? Say it ain't so! The pair became fast friends when Bethenny made her triumphant return to the show in season 7. The two were so tightly knit that the other cast-mates often felt threatened by the exclusivity of their friendship. We know Bethenny can quickly cut ties with a friend, just ask Jill Zarin, but this bond seemed so authentic that it will be truly be shocking if Carole gets dumped too.
Dorinda's drunk again. This season, however, Dorinda's drinking is addressed and even called a "problem" by Bethenny. Is a dinner party even a party without Dorinda's slurred speeches and flailing arms though?!?
Perhaps I spoke too soon about the friendship of Jill and Bethenny. Jill's husband Bobby, passes away  and we see Bethenny and Jill emotionally reconnecting over the devastation. Will this lead to Jill Zarin holding the golden apple next season?
Saving the best (worst?) for last, Luann is arrested for drunkenly assaulting a cop. The aftermath, which includes a stint in rehab and potentially prison, will be played out on our tv's. The Countess' glamorous life has taken a turn for the worst, and her efforts to right her wrongs will be on display. Also on display, her mugshot, which I can only assume is being mass produced onto coffee mugs as we speak.
So there it is! Season 10 of the Real Housewives of New York seems to be another big bite in the Big Apple. Take a look at the trailer below.
AWWW: A Rescue Team Of 9 Was Needed To Rescue 1 Adorably Chubby Rat
Over in Bensheim, Germany a rotund rodent got herself into a jam when she tried to squeeze through a hole of a manhole cover only to get stuck…and honestly, I can relate. When I was 8 years old I tried to squeeze my thunder-thighs-in-training into a children's swing and it took my dad and three other grown men to get me out. I am the German fat-rat!
Volunteer firefighters were called when a young girl noticed the fat rat was stuck and no time was wasted to help the poor critter. Eight firefighters and at least one animal rescuer appeared on the scene to safely extract the chubby critter. Animal rescuer Michael Sehr told BBC "She had a lot of winter flab and was stuck fast at her hip. There was no going forward or back." When asked why anyone would even want to save something so many are repulsed by Sehr said "Even animals that are hated by many deserve respect."
Alls well that ends well! Hopefully no authorites will be needed to help me shimmy out of these skinny jeans I thought looked cute this morning…in the meantime, check out the entire rescue below!
Elton John And Taron Egerton Performed A Fantastic Duet Of 'Tiny Dancer'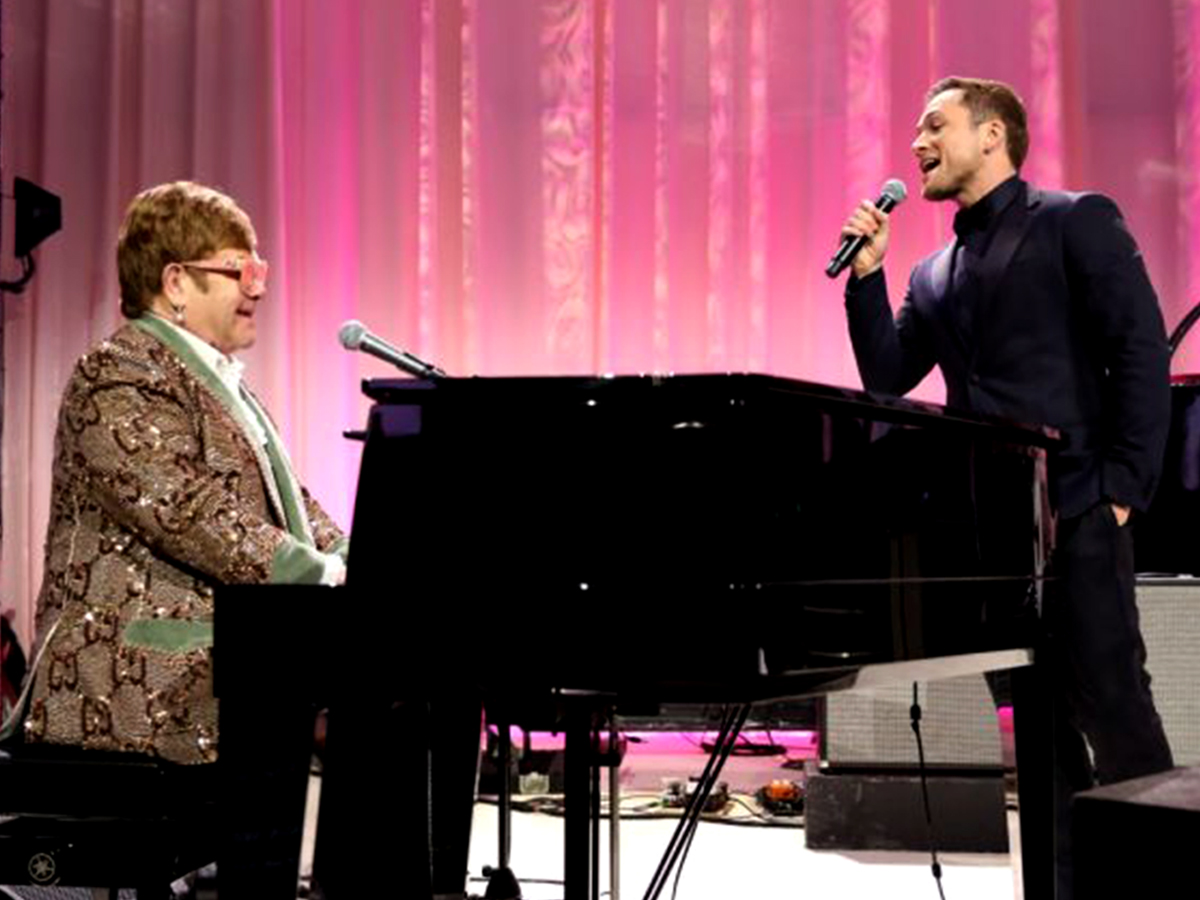 The dancer may be tiny but the talent on stage was massive! Taron Egerton and Elton John gave a fantastic performance of "Tiny Dancer" last night at the 27th Annual Elton John AIDS Foundation Academy Awards Viewing Party.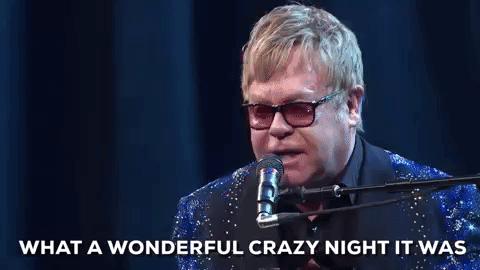 If you've been looking for a reason to toss on your bedazzled cape and brightly colored sunglasses then boy do I have good news for you. An "epic musical fantasy" about Elton John's life, entitled Rocketman, is expected to hit theaters in May 2019. Taron Egerton, from Robin Hood fame, plays the musical legend and judging by his performance last night, we are all in for a treat. The audience of the charity event felt like a candle in the wind when Taron suggested an off-the-cuff performance of "Tiny Dancer." There isn't even a pun creative enough to embody what the audience must have felt when Elton John himself volunteered to accompany Taron on the piano!
In addition to a truly moving performance, the 27th Annual Elton John AIDS Foundation Academy Awards Viewing Party raised more than $6.3 million for an effort to end AIDS.
Click below to take a look at the magical performance from last night!
VIRAL: There Is No Room For Love When This Dog Protects His Barney
I think this dog missed the whole "I love you, you love me" message Barney was trying to teach all those years ago…
In this viral video posted to Twitter, an adorable pup channels his inner Cujo anytime his owner gets close to the Barney the Dinosaur stuffed animal. While the frenzied attacks are comical in themselves, this video should definitely be played with the sound up. While we never see more than the dog owner's hand, we hear his high pitched screams of terror every time the dog take a lunge.
Click below to laugh along!