POP INTERVIEW: Maya Ezratti from Rewarding Relationships
Katy Perry! Miley Cyrus! Failed relationships! Author and relationship expert Maya Ezratti gave us her opinions on what's wrong in Hollyweird romance lately.
Katy Perry! Miley Cyrus! Failed relationships! Author and relationship expert Maya Ezratti gave us her opinions on what's wrong in Hollyweird romance lately.
Why do most reality show marriages end in divorce?
There's too much pressure on the relationship. It can feel very forced. There's too much exposure of a couple's private life. The expectations are askew as well and when the cameras aren't rolling anymore and people are no longer directed to behave in certain ways and the attention has been refocused and shifted off the couple. Reality couples tend to have a hard time with the post-show transition. There are no more fantasy dates being created for the couple, finances come into play and real life, away from TV, sets in and it's not always as glamorous as it was on television.
Why don't people in Hollywood ever spend time not dating anyone? Some celebrities are in the tabloids with a new boyfriend every month.
Be single? That's a ghastly notion in Hollywood apparently. Celebrities need it for publicity. It's also an ego boost to be paired up with someone so soon when you're down in the dumps from a recent public breakup. Someone new can serve as a distraction in the meanwhile and keep the media talking about you. Gotta keep it hot!
How can someone be happy with themselves when not in a serious relationship?
I always like to think of the freedom we have when we are single! Singlehood rocks. No one tells you what to do! You can come and go as you please. Date, date, date, date, date when you're single! It's like being in the buffet line people! Take a bite outta everything that's offered until you found the flavor of love! Stop thinking of what or who you don't have and go wild on all you do have! Many people place their self-worth and value on their relationship status rather than on who they are as an individual and what they have personally accomplished in life. You've got to be happy with yourself first and always, with or without someone. I know it's cliché and all, but it's so basic and so true. You can't be a hater and expect to be happy at the same time. Fill your time with things you love to do. Travel, sports, exercise, social and hobby clubs etc. Change the meaning of happiness for yourself. Are you happy at work? Great! Are you happy as a college student? Wonderful! Are you any less of a person if you're not involved with someone right now? NO. Be happy, be free and make the choices that best suit you! Why settle?
Katy Perry says she couldn't get out of bed for weeks after her divorce. She had critics before the wedding saying it was happening too soon. Is she being sincere about the level of her depression, or is this an act to sell her new album?
She's being sincere. Divorce is gut wrenching. She did have a whirlwind romance with her ex, Russell Brand, but she thought she was in it for the long haul. Quick romances are hard because it's too much too soon and then the relationship unravels at an even faster pace and things end badly. In Katy's case it's even worse because it's a public humiliation. Katy's lucky it was only a matter of weeks that she felt she couldn't get out of bed. Thank g-d for her that she is a busy woman and had a career to get back to! That saved her. It can be months or years where people are just severely depressed and don't have the wherewithal to deal with anything. Divorce sucks the life out of you! It's truly unimaginable. It's the worst to go through, but on the other hand, when you're done, you're DONE! You're out. You're free. No more emotional imprisonment. I'm happy for Katy that she's moved on. She's amazing. And if she used any of her pain to promote sales in her industry, then bravo! She was able to avenge her heartbreak by creating a profit! Sounds like a final win to me.
Can negatively perceived publicity break an already failing relationship? Is it possible that Miley Cyrus broke up with her boyfriend after the VMAs because he couldn't handle the media pressure of dating a Top 40 star?
Sure it's possible. They were on and off again at that point. Rumors were flying about Liam Hemsworth having been unfaithful with January Jones. Miley's ex is gorgeous! Did she cheat? Did he cheat? Yes, negative publicity can totally break up a couple. It causes strains on the relationship and gets into he-said/she-said and the couple starts blaming one another and that's dangerous territory. Between bruised egos and emotional vulnerability, strains on the relationship become evident.
"The Millionaire Matchmaker" is returning for a new season. Is it possible for anyone to find true love on TV, and on this show, where the whole premise is women dating men because they have millions in the bank?
Great question! Yes it's possible for people to find true love on TV. It may not seem like the standard, more ordinary, traditional way for people to fall in love. But when it comes to falling in love, who cares how or where you fell in love?! You're in love! BRAVO! And that's the best part! You could meet on the bus, in the office, walking to your car back from lunch, at the gym, on vacation, in college, ANYWHERE and EVERYWHERE! And yes, even on TV. Look at Trista Rehn and Ryan Sutter from ABC's The Bachelorette. They met on reality TV and fell in love. They married in 2003 and have two children and are happily married still today in October 2013. ABC's The Bachelorette Ashley Hebert fell in love on the show with J.P. Rosenbaum and they got married in 2013. ABC's The Bachelor Sean Lowe also fell in love with the cameras rolling and he is set to marry his fiancé Catherine Guidici. Look at Snooki Nicole Polizzi. She fell in love on MTV's reality TV show, Jersey Shore, got engaged to fellow cast member Jionni LaValle and the couple now have a baby boy. So love does exist and last on TV. Not every TV relationship works out but not every non-TV relationship works out either. Yes, the premise of the show is matchmaking millionaires and the people meeting one another on the show are looking for love just like the rest of us, they are just willing to take a bigger, more public gamble in the game of love. Sure, people can be opportunists, but that happens in front of the cameras and off. When it comes to finding true love, don't be afraid to try all options. Maximize the playing field.
The program's host, Patti Stanger, has all kinds of rules she makes contestants follow about what they say and what they wear. Call me cheesy, but I think someone should like you with any hairstyle or mannerisms. They'll eventually find out anyway. Who's right: Patti with her strict dating rules…or me?
Sorry to disappoint you, but yes, Patti is correct in this case. Patti's not changing someone's personality. She's just toning down the volume or conversely, bringing it up when it comes to showcasing and highlighting each person's best attributes whether relating to physical appearance or to personality. Some people talk too much and others not enough. People get nervous on dates, inadvertently, and end up saying ridiculous things or they forget to inquire about their date or they don't know how to have a fun, easy going conversation and they end up being boring (the worst) or too aggressive and sound like reporters interviewing their subject instead of just getting to know one another. That is why they seek Patti's help or the help of relationship coaches like me. They are unsuccessful in dating love and relationships. MEN ARE VISUAL!!! So are women by the way. On first dates, you don't have much to go on, so you are judging on looks and style and hair and mannerisms. The guy can be the nicest guy in the world, but if he looks like a putz and hasn't updated his look since the year of the flood, then the girl won't care how nice and amazing he is. She's already checked out! And the same goes with men. Men don't want their dates to show up looking masculine or looking like they just came out of a business meeting. Men don't want their dates showing up with bad hair and cheap looking attire which sends messages to men that "I don't care about myself, I don't care about how I look, why would I care about you? I'm not even worthy of this date. I couldn't even be bothered to look good." And to your point about people eventually finding out how you really behave and look irregardless of the initial dating phase, yes, that may be true, but by then hopefully each person has fallen in love with the other and can accept a little bit of a less unkempt look if you will. Although, I caution you, never get too unkempt! You're in a relationship or marriage for the long haul (hopefully). Don't make it boring right off the bat. It's never attractive to date or be married to someone who just doesn't ever care or make ANY modicum of effort to dress up for his or her partner. It's unromantic. It sends of signals of "I'm not so interested in you or in us anymore." That's dangerous!
Celebrate Memorial Day By Watching Cynthia Erivo Perform This Touching Tribute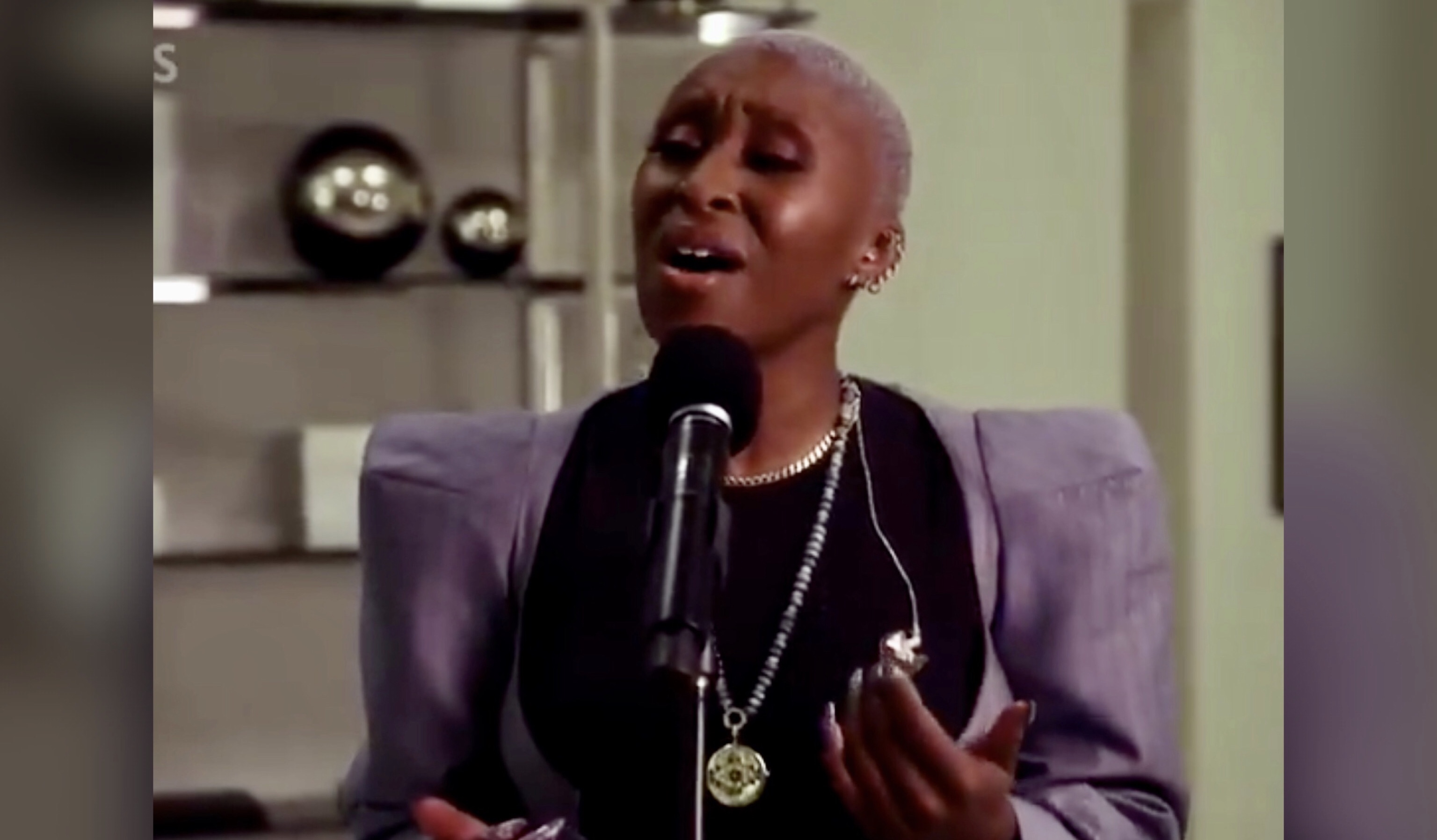 To all the heroes.
On this Memorial Day, as with every Memorial Day, it's important to take a moment to reflect on the sacrifices made to keep all of us safe. This year the the global coronavirus pandemic has the holiday feeling a bit more hefty since we are all forced to celebrate a little differently. Regardless, it is a day worth celebrating and what better way to celebrate than a special tribute from the incomparable Cynthia Erivo.
Musicians from the National Symphony Orchestra as well as stars like Erivo, Kelli O'Hara, Renée Fleming, CeCe Winans and Trace Adkins all took part in a special event for PBS called the "National Memorial Concert." This year's socially distant version of the celebration paid a special tribute to the healthcare workers on the front lines of the coronavirus crisis. Erivo performed a cover of the Mariah Carey classic "Hero" and it was obviously amazing. Watching the tribute is the perfect way to reflect on exactly why this holiday is so important.
Check out the heartfelt performance below!
Their life lives in our memory and gives us our breath. Thank you #MemDayPBS for allowing me to honor ALL of our heroes. pic.twitter.com/yfr5DYSLaY

— Cynthia Erivo (@CynthiaEriVo) May 25, 2020
Like what you read? Follow me on Instagram
POLL: Musical Theater Fans, Which Are You Most Excited To Watch From Home?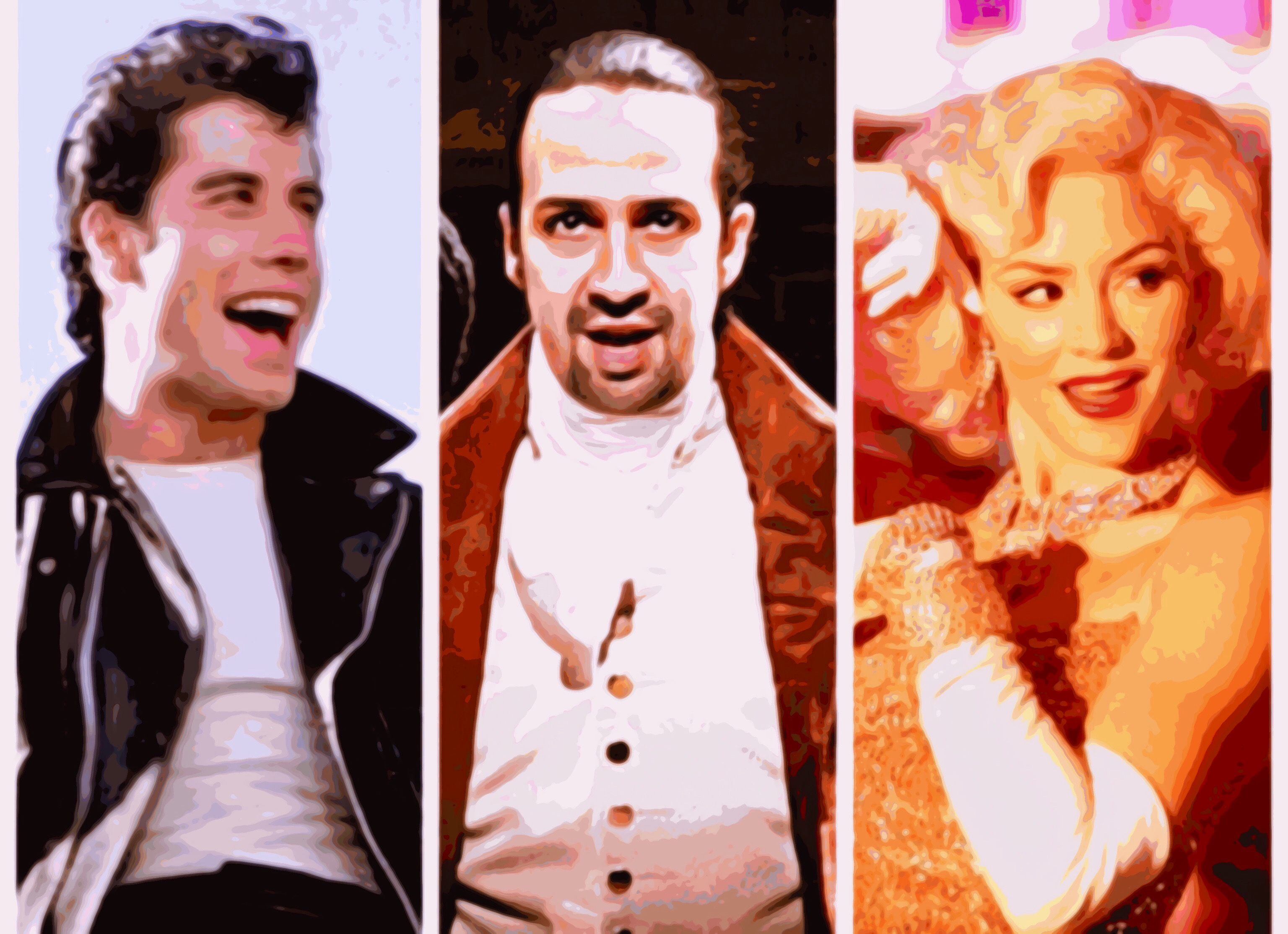 Now I understand why parent's can't pick a favorite child.
It has been a week filled with highs and lows for musical theater fans. For starters, it was just announced that the coronavirus-related closures on Broadway will remain in effect until at least September. Then, Disney announced that their musical Frozen, based on the hit animated film, will not reopen at all even after the social distancing guidelines are loosened, an announcement that has Broadway fans concerned for the fate of other beloved shows on the Great White Way.  Amidst all the darkness there is always a glimmer of hope (any good Broadway musical will teach you that) and this week's glimmer…or glimmers I should say…came in the form of three exciting announcements.
First, Lin-Manuel Miranda and Disney announced that a previously-recorded Broadway production of Hamilton will be available for streaming on on Disney+ starting July 3rd…which is ironically right before Independence Day and yet I will be tethered to my couch watching this masterpiece on repeat for at least a week.  Then, it was announced that the cast of NBC's Smash is going to virtually reunite for a benefit concert on PeopleTV on May 20th, giving us just enough time to dust off our old Marilyn wigs. And finally, musical theater geeks everywhere were screaming "a wop baba lumop a wap bam boom" when CBS announced they will be airing a sing-along version of the 1978 musical-movie classic, Grease on June 7th. So. Much. Good. Content.
I truly could not pick which one I am most excited to watch but because curious minds have questions so I have to know…which musical event are you most excited for? Click on the poll below to submit your answer and see what everyone else is thinking!
Like what you read? Follow me on Instagram
Kevin James Keeps Inserting Himself Into Famous Movies As A Boom Operator And It's Hilarious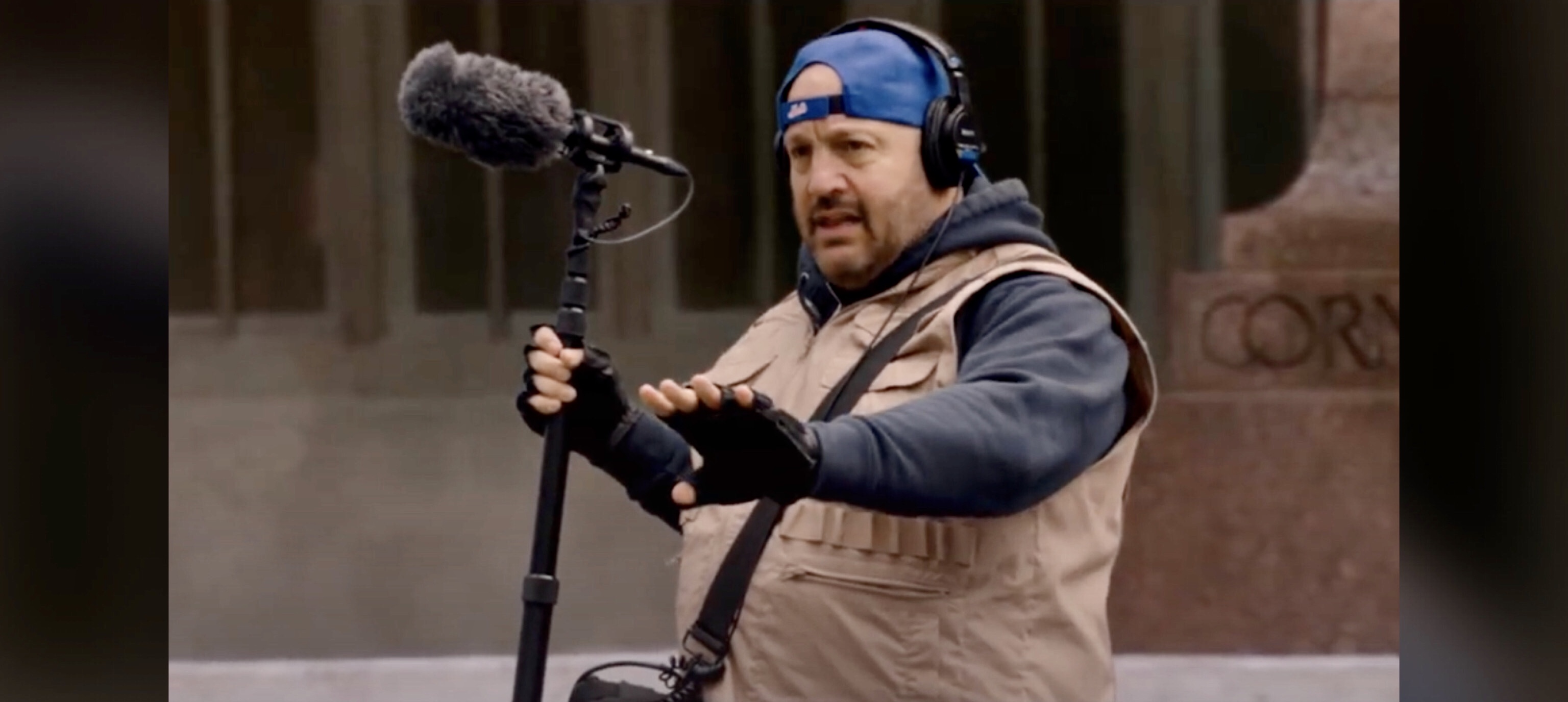 The King Of Queens is now the King of the green screen.
Plenty of people fantasize about making it big in the movies some day but not everyone hopes to be working the boom mic when they do. While it's definitely an integral part of the movie making process, it's not quite as flashy as being the Ryan Gosling or the Bradley Cooper. And yet somehow, Kevin James has found a way to shine a bright spotlight on boom operators in his YouTube series appropriately entitled Sound Guy.
The concept is pretty brilliant. James and his production team use a green screen to insert the actor into famous scenes from iconic films. After what I can only assume is hours and hours of editing, James appears seamlessly as a sound guy just trying to get some good audio from stars like Lady Gaga and Will Smith. The original dialogue flows perfectly with the bits James is edited into so the end result is pretty damn hilarious.
The Notebook
The Joker
A Star Is Born
I Am Legend
Who would have guessed Paul Blart was capable of such cinema mastery?! There is no denying the genius behind these movies shorts! To see more of the Sound Guy click here!
Like what you read? Follow me on Instagram