Today's Unintentional Sexual Reference Brought To You By This Weather Guy.
Little needs to be said. But this is certainly not what he meant to say. Warning of an unintentionally salty language necessary here.
A Twenty-Five Year Old Can Of Spider-Man Chef Boyardee Was Opened And It's Contents Were Disturbing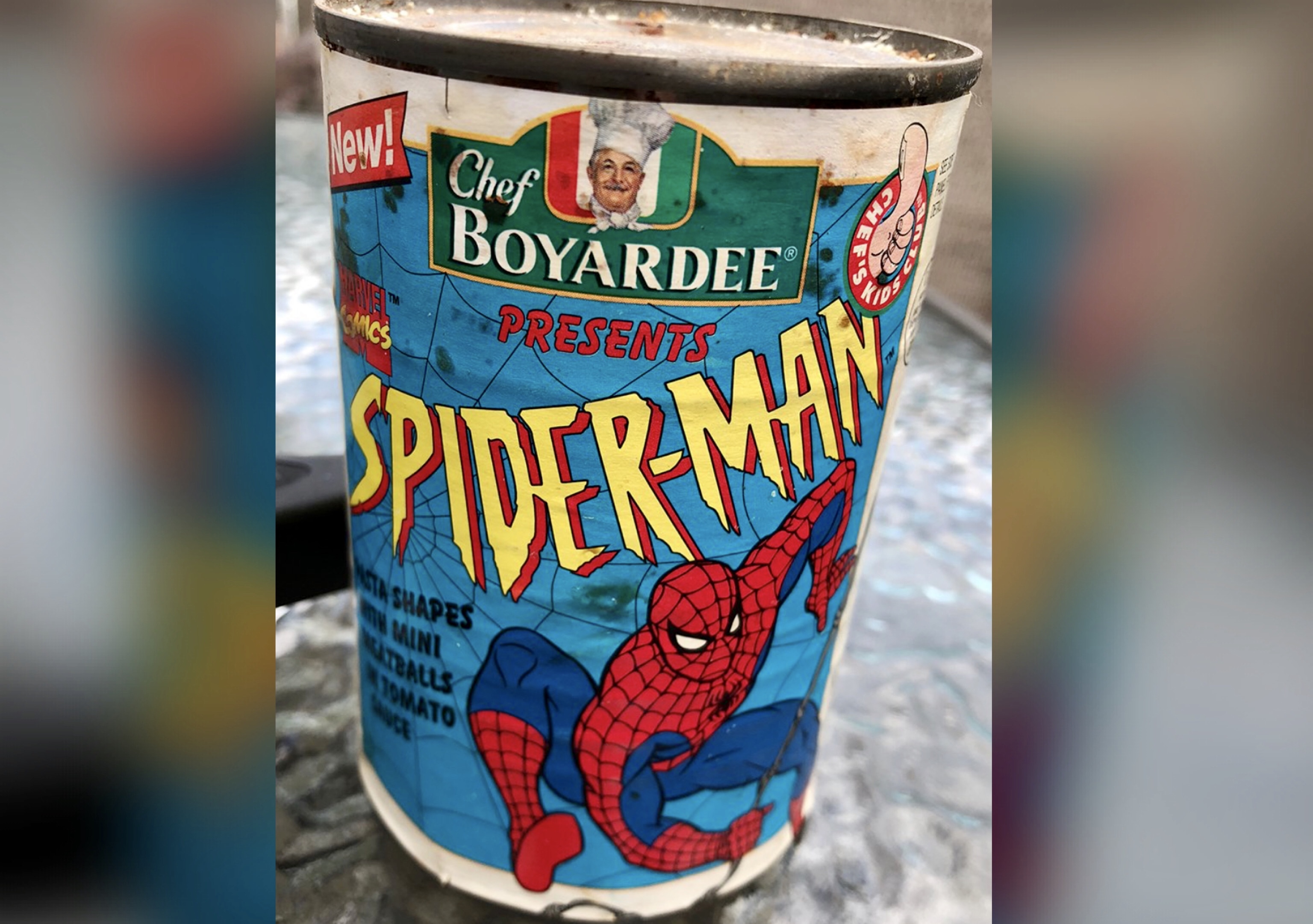 Spider-man, Spider-man…spent 25 years rotting in a tin can.
Remember when a good Saturday afternoon meant cracking open a can of Chef Boyardee, plopping down on a beanbag and watching some action-packed, comic book cartoons? Well, I do…except we never had a beanbag…a grudge I've carried into my 30's. In any event, one retro-enthusiast shared on Twitter an event that would make any 90's kid giddy. Matt aka @DinosaurDracula opened a "wildly corroded" can of 25-year-old, Spider-Man Chef Boyardee soup and the contents would have even Peter Parker panicking.
It began with a simple announcement.
Opening a wildly corroded can of Spider-Man Pasta from 1995: a thread. (1/5) pic.twitter.com/DW7w7ALMO4

— Dinosaur Dracula (@DinosaurDracula) April 16, 2020
You can practically smell the anticipation…or is that decades old soup?
I put the can opener to work, unsettled by the rust, but emboldened by the lack of noxious fumes. I turn the knob and wince, unable to rule out the possibility that the contents have mutated into something alive & malevolent. (2/5) pic.twitter.com/IBmJXBWZI2

— Dinosaur Dracula (@DinosaurDracula) April 16, 2020
Ok…who knew soup could fossilize?!?
They say tragedy plus time equals comedy, but there's nothing funny about 15 ounces of Spider-Man Pasta reduced to a rotted 3-ounce chunk. Recalling the fate of Jordy Verrill in Creepshow, I'm thankful for my rubber gloves. (3/5) pic.twitter.com/W5WqQ7wEHs

— Dinosaur Dracula (@DinosaurDracula) April 16, 2020
The soup-fossil was rock solid and came out of the can in one piece!
I carefully remove the mass, which looks like a cross between Big Thunder Mountain and one of those Geonosian hives from Attack of the Clones. (4/5) pic.twitter.com/PIchW9mdMy

— Dinosaur Dracula (@DinosaurDracula) April 16, 2020
Alas, only one part of the original contents survived…
I think I notice something, but consult the label on the can to be sure. Indeed, there's poor Spider-Man, trapped in this godforsaken toxic monstrosity. I'm sorry, Peter. With old pasta comes great instability.

Thank you all for taking this journey with me. (5/5) pic.twitter.com/6UcfRcN9tz

— Dinosaur Dracula (@DinosaurDracula) April 16, 2020
What a wild ride! I have never been so intrigued. Who knew nostalgia could be so nasty?
Like what you read? Follow me on Instagram
You Can Actually Pop The Pimples On This 'Dr. Pimple Popper' Inspired Cake
There is a good reason why the words "cake" and "pimples" rarely exist in the same sentence…
Over in Toronto, cake decorator, Mark Robillard, just created a cake that will have you bursting with excitement. After his husband asked for a cake inspired by the popular, new tv series Dr. Pimple Popper, Robillard took to his YouTube page to show off his gnarly creation. On his channel, Epic Confections, the cake decorator based his cake design on the board game "Pimple Pete," complete with POPPABLE PIMPLES! That's right, using fondant and Venetian cream, Robillard covers "Pete's" face in pimples that once squeezed, will ooze just enough to make you lose your appetite.
This acne-covered confectionary is just one of the impressive cakes that Robillard displays on his channel. The other's are more awe-inspiring than stomach churning, I swear. If you aren't too squeamish, click the video below to see just how this zit hit was made!
Like what you read? Follow @ChrisSiretz on Twitter and Instagram for more!
WATCH: Today Show's Jeff Rossen Shows Just How Germ-Filled Your Gym Is
Face it. We all know gyms are gross. We're all sweating. We barely clean the equipment after using it. Now, the Today Show's Jeff Rossen has proven just how gross they are. With some sort trusty bacteria measurer in hand, he measured how bad it is. It's bad. Watch, and guess which equipment nearly took the meter off the charts. Watch! You won't be able to look away!