Charlie Sheen's House Raided By Police
So Charlie Sheen is basically the new reality show that isn't…
It is now being reported by TMZ that police stormed Sheen's house Thursday night.
TMZ reports that members of the LAPD were responding to a call stating that Sheen had threatened to harm himself with a gun.  At least five police cars showed up and a helicopter was seen flying overhead.  (Woah…)  Apparently, according to a spokesman, Sheen is not allowed to own firearms under the terms of his restraining order filed by soon-to-be ex-wife Brooke Mueller.
The spokesperson is quoted saying,
"It came to the attention of the LAPD that Sheen is a registered owner of firearms. LAPD is conducting an investigation to determine if Mr. Sheen is in possession of firearms or ammunition that would violate terms of the TRO."
Sheen's attorney Mark Gross said that police found one rifle, which dated back to the 1800s, and "a few bullets." No other weapons were found in the house.
Radar is quoting an LAPD officer who said,
"Mr. Sheen was very cooperative, and he is at home. He is not being arrested. The LAPD has completed their investigation. They will not be releasing their findings."
Sheen, in perfect fashion with his 2 Million plus followers, later tweeted about the entire experience:
"#fastball; the LAPD were AWESOME. Absolute pros! they can protect and serve this Warlock anytime!!!"
Wow…it really seems like somehow, Sheen really is coming out on top with all of this.  A random supposedly bogus 911 call just makes him look even better, and with all the ridiculousness that is him, people are rooting him on just because they want to see what he does next.  I really don't want to say this, but I have to…
Charlie Sheen is winning…
Laura Dern Honors Her Parents In Touching Academy Award Win Speech
Laura Dern, who has been slaying awards season this year for her role in "Marriage Story," took home the ultimate prize – a Best Supporting Actress Academy Award – and thanked her actor parents in a touching acceptance speech.
Her parents, actors Diane Ladd and Bruce Dern brought her to the Oscars with them when she was just 7 years old.
"Some say never meet your heroes. I say if you're really blessed, you get them as your parents. I share this with my acting hero my legends, Diane Ladd and Bruce Dern. You got game. I love you."
Dern's mother has been nominated three times, her father twice, but neither have won. Her mother can be seen during the speech crying in the audience.
Congrats Laura!!!
POP UPDATE: Justin Bieber, "Friends" For Life, And The Critics Choice Awards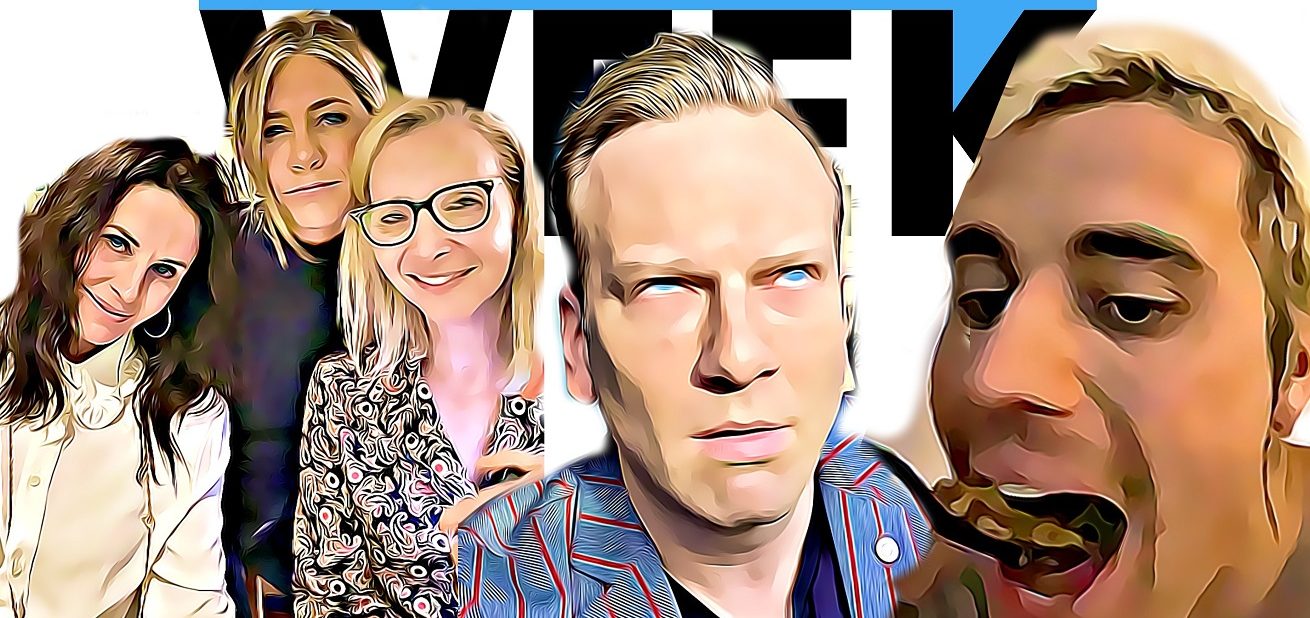 We're going to be doing some quick video updates whenever we can! Here's the latest! Justin Bieber begging for streams, (while you can hear him chew – ew), the ladies of Friends reunited, and mother nature. Take a look!
Courteney Cox's Instagram Caption Is Every Parent With A Teenage Kid
Have you heard? It's 2020 and we're all supposed to music videos on TikTok. Courteney Cox is no exception. The TV star posted an instagram of her and her daughter Coco dancing it out, with the hilarious caption, "Wanna see your child lose their patience? Do a TikTok with them."
Also, how long does it take to actually learn one of these routines? It seems very time consuming.
What I was really hoping for was video of her daughter losing her patience, but what we got was a pretty strong routine!