Katie Holmes VS Star Magazine: Who's Right?
Katie Holmes' rep issued a statement on Tuesday saying that she was filing a libel suit against Star Magazine, which her attorney claims "Falsely suggesting that she is a drug addict."
Entertainment Weekly has broken down the article to see if Holmes has a case… and apparently it all comes down to to some clever wording that the tabs have become famous for:
"…the story itself doesn't outright label Holmes as a drug addict. At least not inside the magazine. The cover, however, is emblazoned with a headline that gives Holmes' lawsuit some heft: "Katie Drug Shocker!" On the cover is also a small chip: "Addiction Nightmare." Inside, the story suggests Holmes might be addicted to Scientology's well-documented e-meter "auditing," a treatment that, according to Star, gives church-goers a natural high. But nowhere does the cover clarify that Star is referring to Holmes alleged e-meter use, something noted duly by the actress' lawyer, Bert Fields. "Star magazine's malicious claims about Katie are untrue, unethical, and unlawful," Fields said in a statement released Tuesday. "Not only do they cruelly defame Katie, they play a cheap trick on the public, making ridiculously false claims on the cover unsupported by anything inside. Someone should bring a class action to get all buyers their money back."
The magazine concludes thatreaders are smart enough to read between clever semantics, and that Holmes is probably going to come up short in the justice department – While simultaneously declaring that Star Magazine does a weak job at presenting their case… whether it be accidental or deliberate:
Sorry readers, the only "Drug Shocker" you'll get reading Star's cover story… is that Star has presented no evidence that Holmes is addicted to drugs at all.
Now am I the only one curious about this e-meter? If they were so great, you can't tell me they wouldn't be on an infomercial somewhere…
Laura Dern Honors Her Parents In Touching Academy Award Win Speech
Laura Dern, who has been slaying awards season this year for her role in "Marriage Story," took home the ultimate prize – a Best Supporting Actress Academy Award – and thanked her actor parents in a touching acceptance speech.
Her parents, actors Diane Ladd and Bruce Dern brought her to the Oscars with them when she was just 7 years old.
"Some say never meet your heroes. I say if you're really blessed, you get them as your parents. I share this with my acting hero my legends, Diane Ladd and Bruce Dern. You got game. I love you."
Dern's mother has been nominated three times, her father twice, but neither have won. Her mother can be seen during the speech crying in the audience.
Congrats Laura!!!
POP UPDATE: Justin Bieber, "Friends" For Life, And The Critics Choice Awards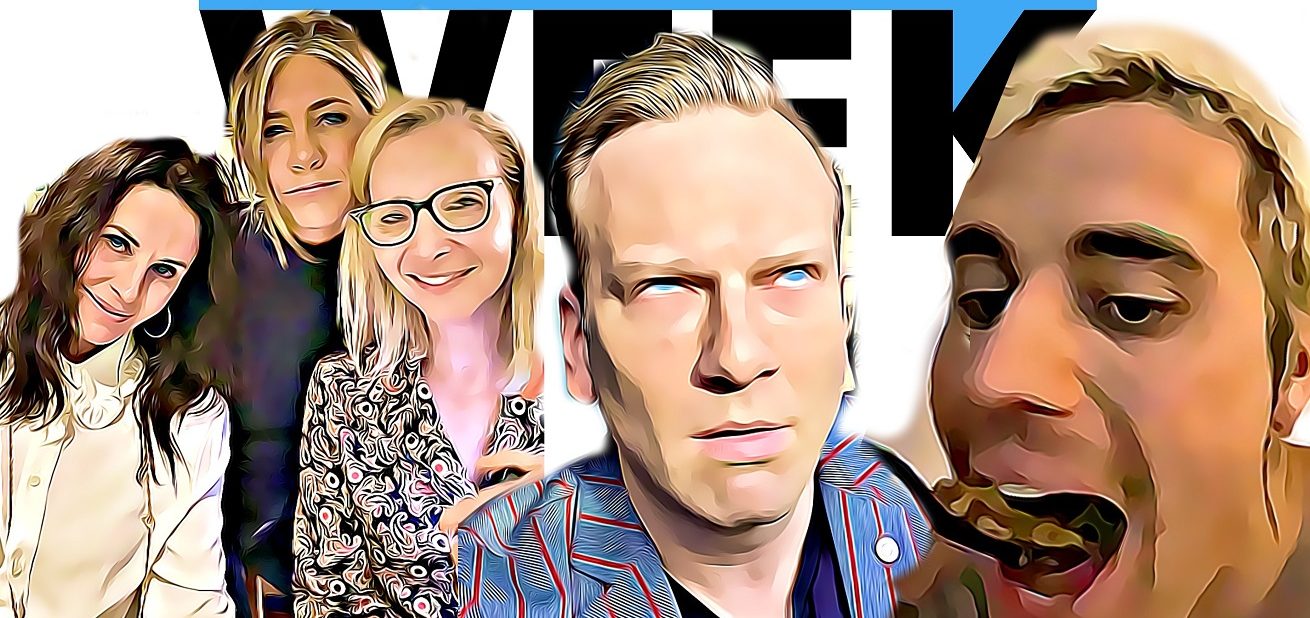 We're going to be doing some quick video updates whenever we can! Here's the latest! Justin Bieber begging for streams, (while you can hear him chew – ew), the ladies of Friends reunited, and mother nature. Take a look!
Courteney Cox's Instagram Caption Is Every Parent With A Teenage Kid
Have you heard? It's 2020 and we're all supposed to music videos on TikTok. Courteney Cox is no exception. The TV star posted an instagram of her and her daughter Coco dancing it out, with the hilarious caption, "Wanna see your child lose their patience? Do a TikTok with them."
Also, how long does it take to actually learn one of these routines? It seems very time consuming.
What I was really hoping for was video of her daughter losing her patience, but what we got was a pretty strong routine!