Linda Hamilton Asks Betty White's Rejected Marine to Ball?!
And it takes another strange turn!
We've had an interesting week with all these marines asking celebrities to the Marine Corps Ball.  Now, when Betty White turned out Sgt. Ray Lewis' invitation because of a conflicting schedule, actress Linda Hamilton decided that she wanted to offer herself up as a consolation date!
Ms. Sarah Connor posted a YouTube video last night in which she says she spent a whole night crying over White turning down Lewis' invitation, and wanted to throw her hat in the ring:
"Betty called and I talked to her for hours and I know she feels terrible…So I just decided that I would try to reach out to you and say, 'Look, I know that I am no Betty White, but I would be really, really thrilled if you can't find anything else, and I know that it's unlikely, but if you can't find anybody else to go to the ball with you I could go.'"
Lewis commented on Hamilton's video, writing, "You are amazing," but hasn't officially responded with a yes on no.
Be afraid, Lewis…Sarah Conner can kick some major butt…
Laura Dern Honors Her Parents In Touching Academy Award Win Speech
Laura Dern, who has been slaying awards season this year for her role in "Marriage Story," took home the ultimate prize – a Best Supporting Actress Academy Award – and thanked her actor parents in a touching acceptance speech.
Her parents, actors Diane Ladd and Bruce Dern brought her to the Oscars with them when she was just 7 years old.
"Some say never meet your heroes. I say if you're really blessed, you get them as your parents. I share this with my acting hero my legends, Diane Ladd and Bruce Dern. You got game. I love you."
Dern's mother has been nominated three times, her father twice, but neither have won. Her mother can be seen during the speech crying in the audience.
Congrats Laura!!!
POP UPDATE: Justin Bieber, "Friends" For Life, And The Critics Choice Awards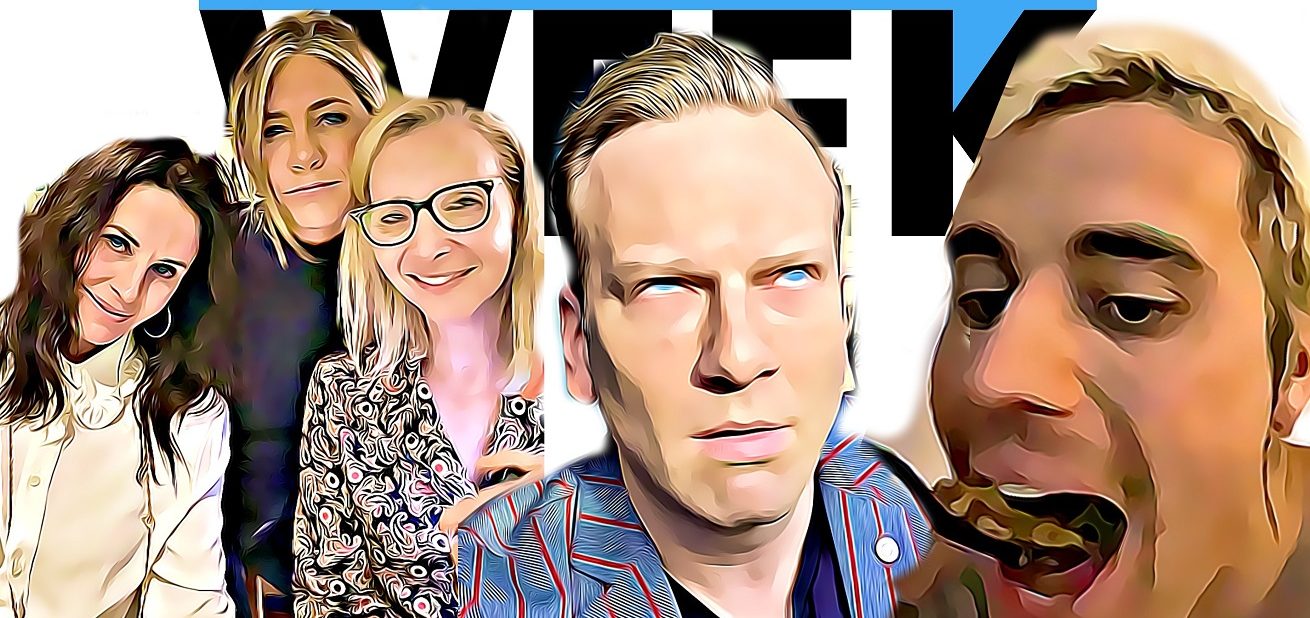 We're going to be doing some quick video updates whenever we can! Here's the latest! Justin Bieber begging for streams, (while you can hear him chew – ew), the ladies of Friends reunited, and mother nature. Take a look!
Courteney Cox's Instagram Caption Is Every Parent With A Teenage Kid
Have you heard? It's 2020 and we're all supposed to music videos on TikTok. Courteney Cox is no exception. The TV star posted an instagram of her and her daughter Coco dancing it out, with the hilarious caption, "Wanna see your child lose their patience? Do a TikTok with them."
Also, how long does it take to actually learn one of these routines? It seems very time consuming.
What I was really hoping for was video of her daughter losing her patience, but what we got was a pretty strong routine!