In Defense Of Tyra Banks.
It's well known that former model and America's Next Top Model judge Janice Dickinson says whatever she wants, whenever she wants. As a result, crass remarks pretty much eject regularly. This time she is going off on Tyra Banks and the series in what seems more like a jealous rant than anything insightful.
It's well known that former model and America's Next Top Model judge Janice Dickinson says whatever she wants, whenever she wants. As a result, crass remarks pretty much erupt regularly. (Kind of like a cold sore – just when you think you haven't seen her in a while, she pops up and makes an appearance.) This time she is going off on Tyra Banks and the series in what seems more like a jealous rant than anything insightful.
In an interview on Janice TV at FilmOn.com, Dickinson talked about a revelation regarding how the series America's Next Top Model is made. One that shouldn't be that shocking. But she also takes such a low road in doing so that it's Dickinson herself that looks like the fool.
In her 'shocking revelation,' she reveals what she claims made her leave the show:
"CoverGirl are the ones who choose the model — not any of the judges. People don't know that! … When I found that out, I split. It's rigged!"
First of all, I doubt that she spent as many seasons as she did on the show without knowing that CoverGirl would have an enormous impact on who won, whether or not they actually choose the winner. They are the show's largest sponsor, they provide a six figure contract to the winner, and they have a brand to protect. They also provide a lot of credibility to the show. It stands to reason that they are not going to blindly allow people who don't have an investment in CoverGirl to just gratuitiously decide who should be the face of their brand without their input. Still, you can't underestimate the input and value of Tyra, a seasoned model and businesswoman, and her various judges to translate what works as a model and a brand in the world of fashion, TV and marketing. They will add insights that CoverGirl execs won't have. The truth is, it is more than likely a synergistic relationship where everyone has discussion about what makes for good television (characters) and good business (beauty, grace, and personality that fits the brand.) You can bet that CoverGirl signs off on the winner.
But step back for a moment and consider – what IF CoverGirl was the sole decider? (The network denies the claim.) Would that be such a big deal? As a television executive producer myself who has worked on reality shows, I can tell you that TV isn't free. When a major sponsor is integrating themselves into your show, you can bet they will have an impact on the show's direction to some extent.
Additionally, Dickinson implies she 'left' the show on her own volition in light of this realization. But it has been previously reported that she was actually fired from the show back in 2005 after four seasons. That's a long time working on the show in complete ignorance. I don't buy it.
Dickinson did not take kindly to the ouster, reportedly calling Banks a "huge, big woman," and a "man" in later interviews. (How professional!) Honestly, for kids who think the cattiness and rudeness of high school ends after graduation, look no further than Janice Dickinson. The sour grapes she's been eating is evident in the expression she uses in most of her photos.
It seems the former supermodel is bitter about the money Banks makes lincensing the series internationally, but Dickinson wouldn't be complaining so much if the concept was her own idea, and she were selling it to the world.
"The fact of the matter is [Tyra Banks] makes like $90 million," Dickinson said. "She makes a lot of money per year still hawking that franchise worldwide — they're doing it in every country — and it's CoverGirl who chooses the winner…F*** you Tyra!"
Really, Janice? Banks makes cash on the show because she developed a smart concept that works. Networks don't throw money at people out of kindness. Frankly, this wreaks of jealousy and competitiveness and ulimately it's Dickinson who ends up looking like the fool.
As campy and silly and dramatic as Tyra can get on ANTM, don't forget that she is also a businesswoman who is keenly aware of her own brand and image, how to 'work it,' and when. Note how she presents herself on the series versus interviews on other programs. She behaves differently. She's adapting to each audience at any given moment.
In Dickinson's own way, she herself is keeping her own, trash talking image in tact by sounding off. She knows it. She's built a brand based on being brassy bitch. Mission accomplished. Given the choice, I'll take Banks – who opts for professionalism and fun. (And, it's worth noting, generally takes the high road, avoiding comment on her detractors, but isn't afraid to speak up when she deems necessary.) Her success in of itself is a testament to what works.
For more entertainment news and commentary, follow @BrianBalthazar on twitter.
For Tyra Banks twitter updates, follow @TyraBanks on twitter.
Get The Look! A Buyer's Guide To Brian Balthazar's Philadelphia Home Redesign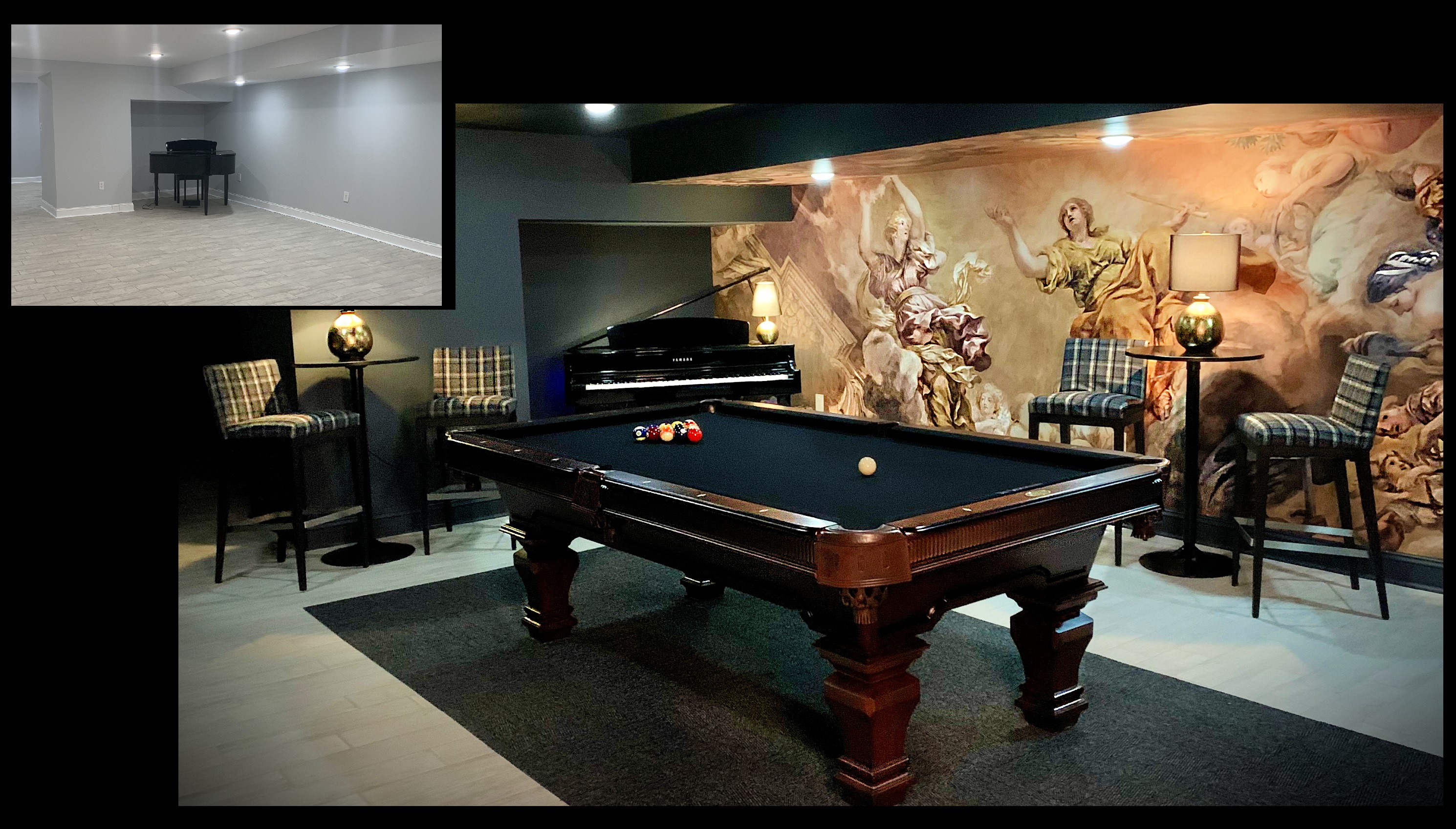 As the world was forced to spend more time at home, Brian Balthazar found himself in a position where he had sold a house before the lockdown and had to find a new one.
"We sold our home with all the furniture in it, so not only did we find ourselves struggling to find a new place, once we found one we didn't have any furniture to put in it."
And so, Brian and partner Dennis got resourceful, turning to refurbishing and buying store floor models. They were inspired to make bold, fun choices in color and style when they started shopping around for wallpaper.
Below is the segment as it appeared on the Today Show, and further down, a rundown of where you can find the pieces or ones with a similar look!
THE DINING ROOM
Let's start with the Dining Room!
Move the slider dividing the image to see all of the before or all of the after!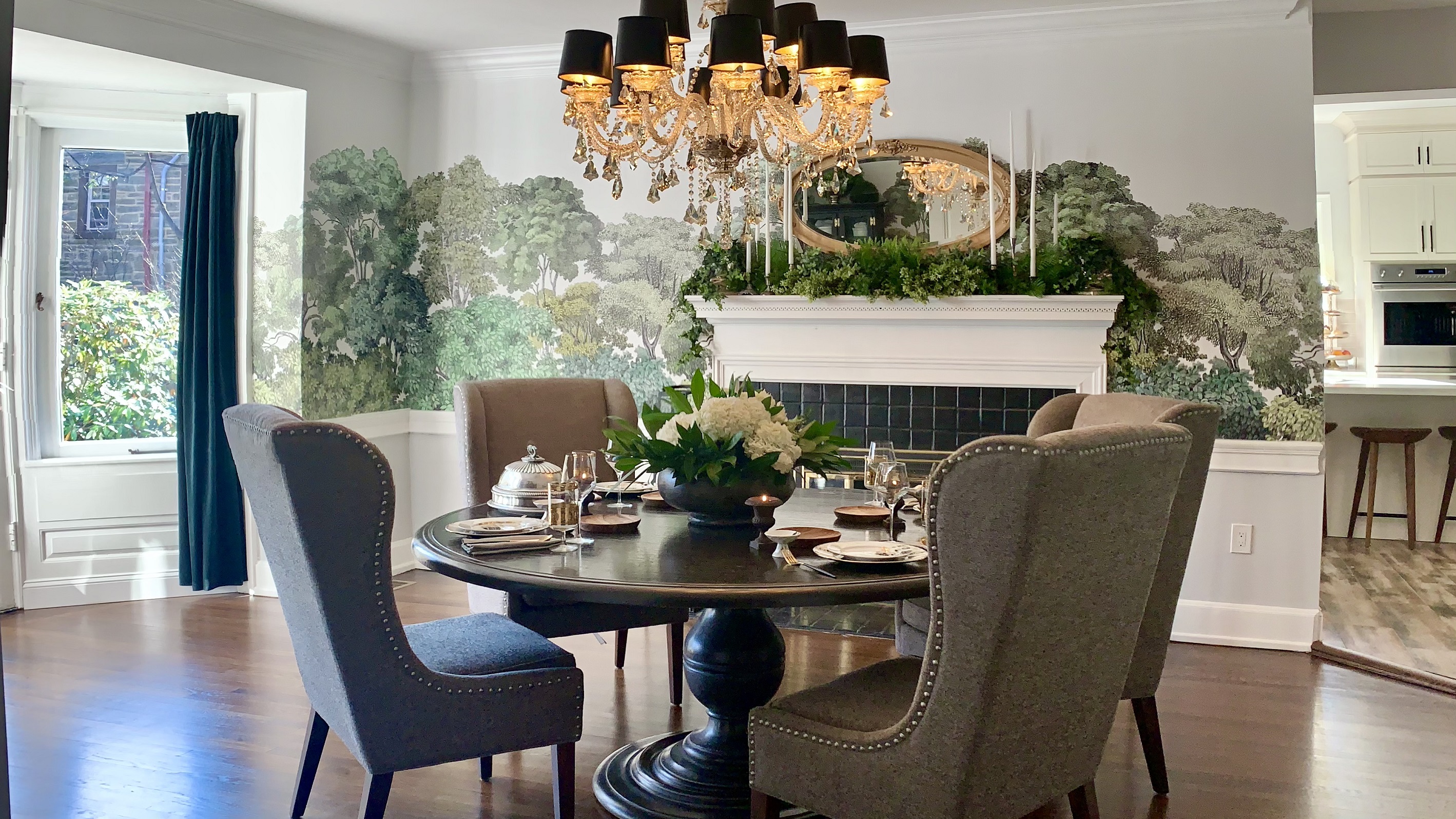 Brian says: The dining room was the first space we wanted to do. I haven't had a true dining room since I was a kid, and I've always wanted a big table for dinner parties! There were no tables within the price range we wanted, so we found a floor model at one of our favorite go-to stores, Arhaus. We easily saved 75 percent on this table by getting the one that they weren't going to carry anymore. The chairs are from Wayfair.  On each side of the fireplace (not seen in the photo, but visible in the Today Show video) are two black tall lanterns flanking the fireplace. I got them at Target. I can't currently find them on their app, but similar versions pop up every year. Get thee to Homegoods! Homegoods and Homesense (same parent company) are my go-to spots for home accessories for virtually every room in the house. You never know what you're going to find, which is part of the fun.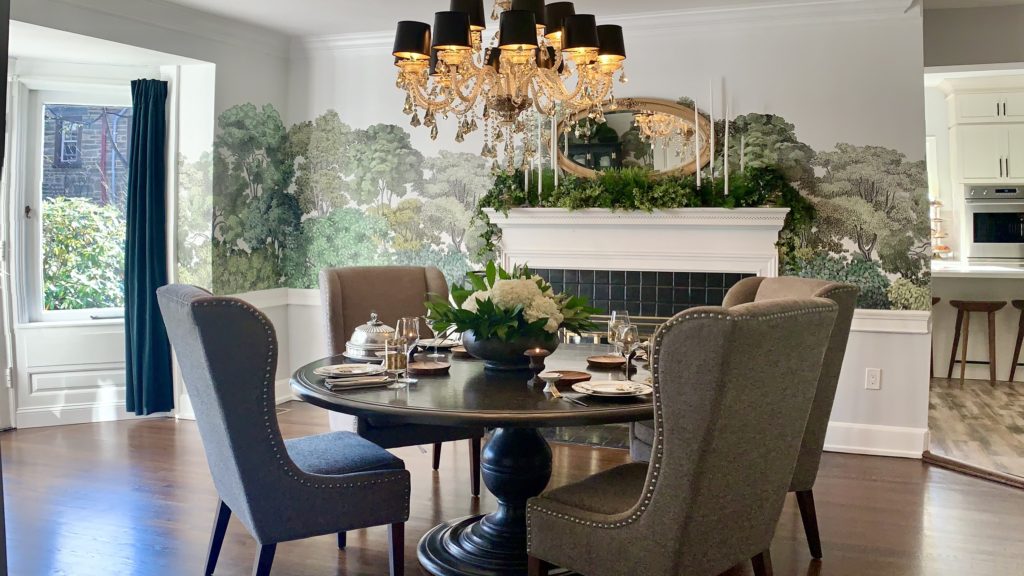 But let's focus on the real WOW element to this room – the wallpaper! This pattern is called Bellewood, by RebelWalls.   As you will soon see, I'm sort of obsessed with their patterns. To me, this room is magical with the added whimsy of this forest pattern. (They also have a more muted version with grays and even one with blues.) I also love that by hanging the paper from the chair rail up, you almost get the feeling that you're standing on a balcony overlooking the forest. I surrounded the whole room with this paper, which I love, but you could easily add the same magical feeling by just doing one feature wall. Their website shows how it can translate to a bedroom or office. You might be intimidated by hanging wallpaper but don't be! This pattern has so much going on that it really looks perfect when it goes up!
ON TO THE GUEST BEDROOM!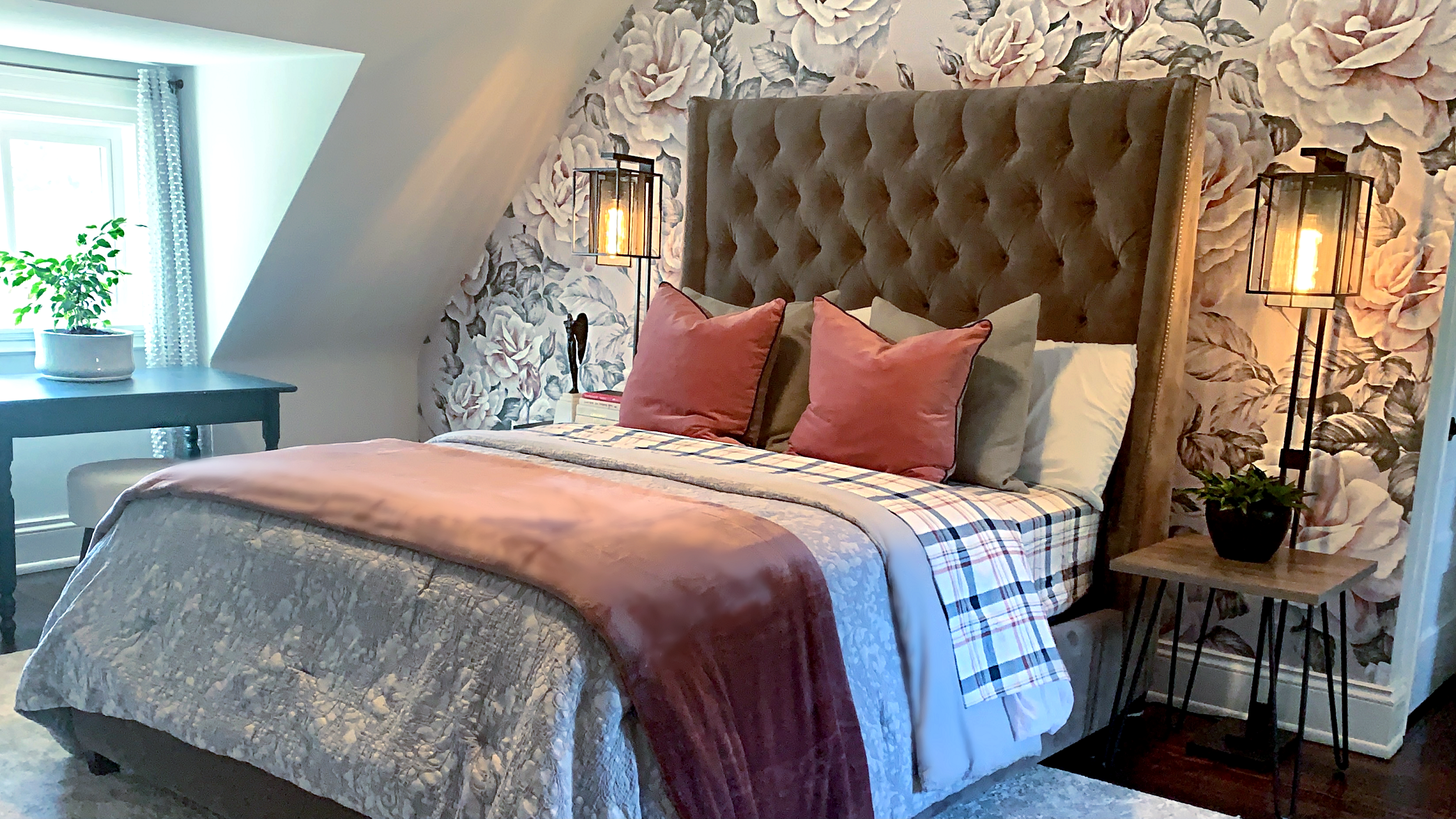 Brian says: The guest bedroom is on the top floor of the house, so it's got roof lines on two sides that make it a tricky space to navigate if you're not careful. The planning of this space alone resulted in a few bonked heads. On the upside, the wall where the bed goes is tall, so it was an obvious place to create some visual pop. Again, the wallpaper takes the spotlight.  Called "Nude Roses," also by RebelWalls, I love this design. Floral wallpaper was 'big' in popularity back in the 1920s when this house was built, but the patterns at that time were smaller, repeated more often, and were often really bold in color. This interpretation is so fun to me! Gone are the small roses in favor of oversized blooms, and the bold colors are more subdued pink and gray hues, with touches of dark green and creamy whites.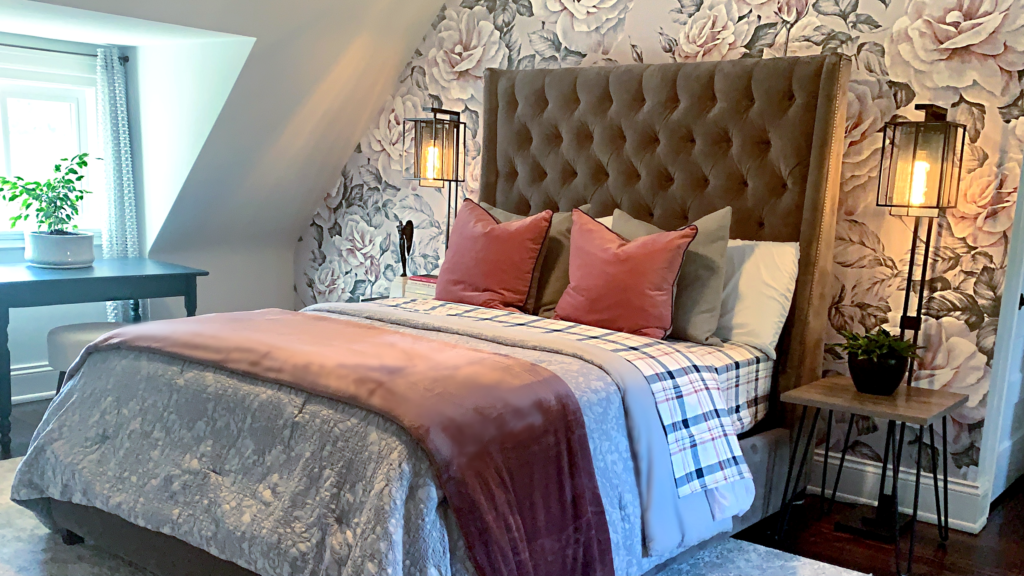 While roses can inherently feel feminine, the plaid bedding (30 dollars for a queen set from Target) are a surprising complement that keeps everything from feeling a little stereotypical. The side tables are mismatched – partly because we didn't want to go too "matchy=matchy" – but also to save some money – the one on the left side (hard to catch here) was from West Elm. Normally $199, we got it for half off as the floor model. The one on the right we found in the trash. It was perfectly fine, clearly someone had just gotten tired of it! Nothing some disinfectant can't fix. That gave us some extra money to spend – To reduce the softeness we went with industrial lamps and edison bulbs. The lamps  are called "Ginyard," from Wayfair. The headboard was on sale at Arhaus. The dark gray takes balances out the pink hues well. The pillows are from Target and Homegoods.
For the 360 degree view of this room, watch the Instagram reel below!  You'll see the dresser, on sale for $599 from Arhaus, a lamp from Homegoods, and mobiles from Amazon which we fashioned into a 'piece of art' that keeps you from hitting your head on the angled wall opposite the bed. Watch the video to check it out!
View this post on Instagram
THE GAME ROOM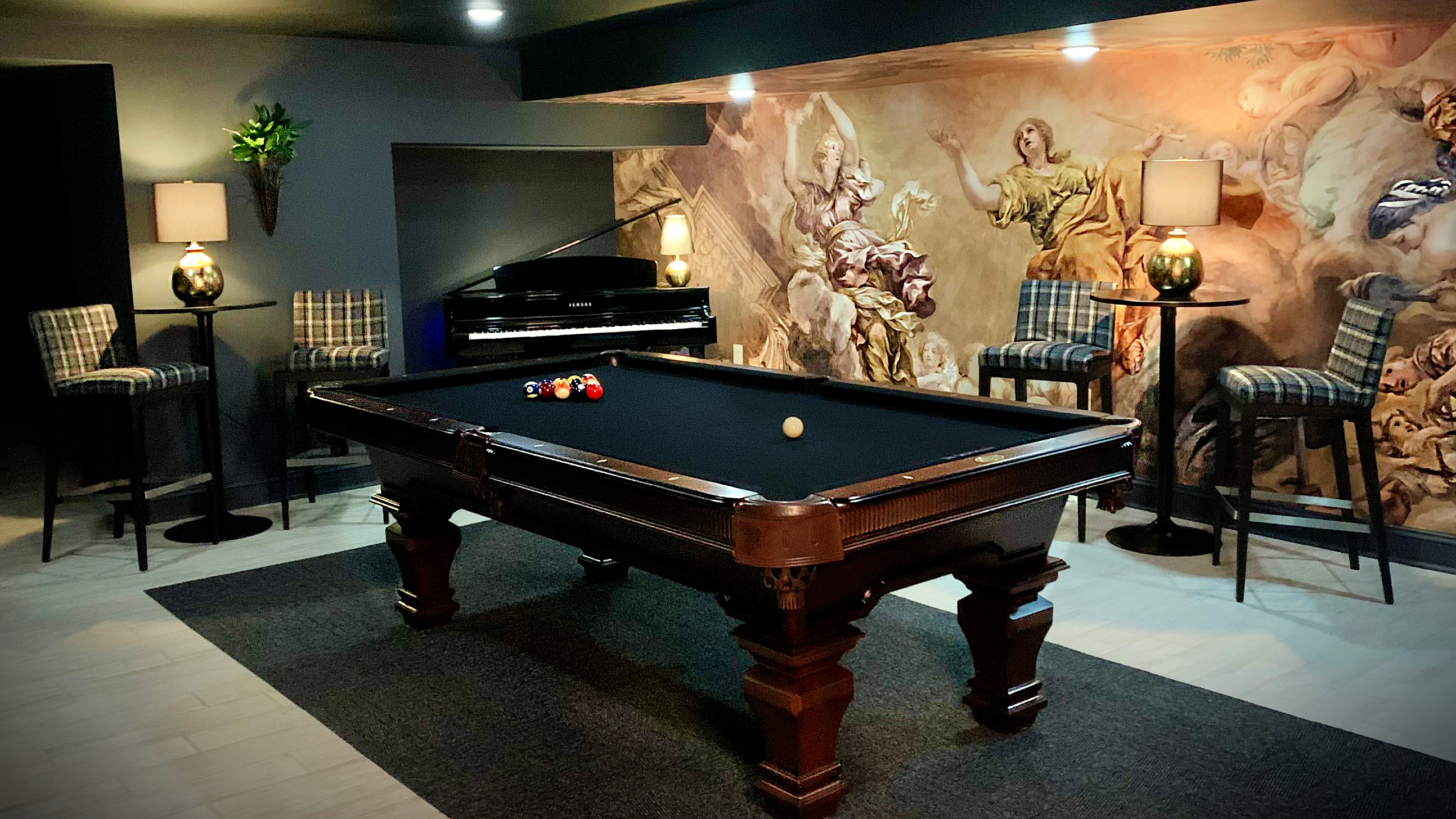 Brian says: The idea for the basement game room was to create a space that feels like a lounge you might find if you went out with friends. When you go into this basement it definitely feels like you've gone someplace unique! Believe it or not, I found out the Today Show had invited me to to record my house tour just a few days in advance, and so we turned around this spot in just THREE days! There was literally no pool table at the time, (although it had already been scheduled to come on Friday, the wallpaper came on Saturday, (as well as the floor tiles!) and by Sunday we were covered in paint and glue and drinking wine to celebrate it's completion! I recorded the final video that Monday.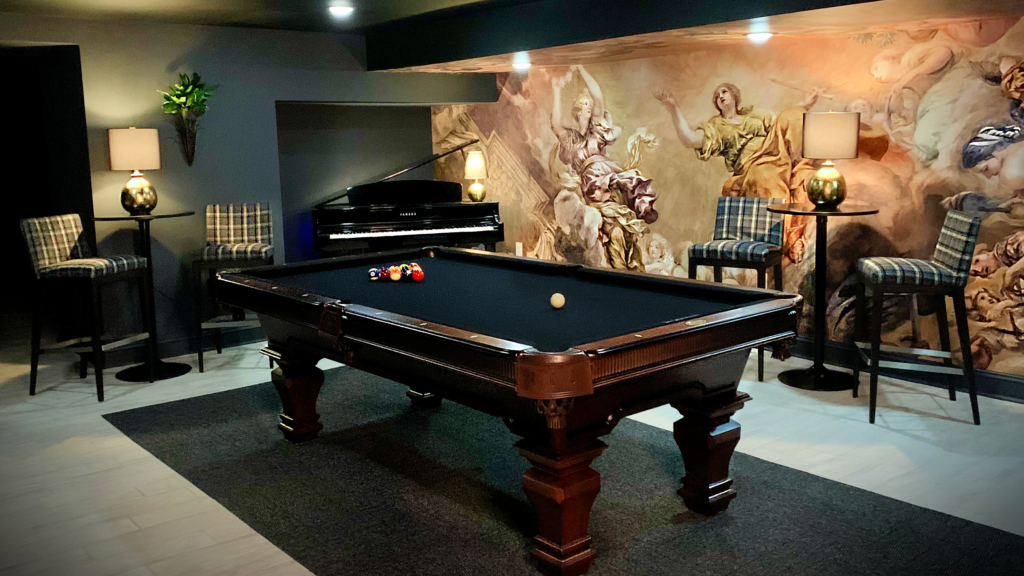 Some people might not think to take a bright basement and make it dark, but that was our first instinct. Clubs are dark and moody, and we wanted this to feel like that. We painted the walls Wrought Iron by Benjamin Moore, which is a very dark gray that seems to take on different hues based on where you paint it and the light that shines on it. We painted the ceiling black. This was Thursday night! Then Friday the pool table came. The floor tiles ("Tweed Indeed" in black by Flor) hadn't arrived until the next day, so when they did arrive I meticulously trimmed four tiles to fit around the pool table legs so it looks like they were there the whole time. I had ordered the pool table online weeks before from PoolTables.com and by sheer coincidence it was scheduled to arrive in time for me to shoot the redesign. This was the second time I have ordered a pool table from them (which was initially scary because you're not even seeing it beforehand!) but it always arrives in perfect condition to your specific selections. I love that the felt jet black and keeps things dark and moody. In the time that has passed since this photo was taken, I've added more of the carpet tiles to make the carpeted floor area darker and bigger.
But once again, the wall mural steals the show in a marvelous way! This mural is called "A Priori" from Rebelwalls, and is inspired by The Allegory of Divine Providence and Barberini Power, a famous fresco by Italian artist Pietro da Cortona. Fitting, because this house is Italian in style on the outside. You can't see it from this photo but the wallpaper runs up part of the ceiling as well. It truly gives the room a wow factor when you enter it. The lamps are from Homegoods, (we've since added some industrial floor lamps for extra mood lighting) and the piano was something we brought with us. The bar tables are from Amazon ($72 each) and the stools we brought with us – they were discards from someone who didn't like their original bright colors and thought they were dated! We covered them ourselves with gray plaid fabric and they're better than they were new!
So there you have it! Hope you enjoyed the rooms and find something you like!
Well Sh-t, Leslie Jordan Has Shared Three Videos Of Himself Dancing In One Week And They're All Perfect
Doing much better now, Leslie.
If you've never believed that "good things come in small packages" then you've never seen Leslie Jordan's instagram. The 4'11" actor known for his iconic roles in shows like Will & Grace and American Horror Story has recently developed a whole new fanbase who loves him for his viral Instagram videos. Usually starting each video by greeting fans with "Well shit, how y'all doing?", viewers have grown to anticipate Jordan's hilarious recounting of stories from his time in show biz or growing up in the south. This week, however, the Tennessee native has shared 3 videos of himself dancing within 5 days and honestly it's precisely what we all need right now.
The first video was posted on August 12th and shows Jordan taking part of the "Git up and dance challenge" which swept the internet about a year ago. Even though he is a little late, the video is still perfection.
On August 13th, Jordan does a dance to "You Can't Stop The Beat" from Hairspray a with special guest dance partner Katie Couric!
Finally, on August 15th, Jordan does an epic "tootsie roll" and challenges Real Housewives Of Beverly Hills star, Lisa Rinna, to do the tootsie roll herself. Of course Rinna commented with a big "ON IT ❤️😂." Who could say no to the viral star?!?
The moral of the story here is that the world is going through some tough times right now but maybe, even for a few seconds, we could all feel better if we'd just dance it out. Thanks for the inspo Leslie Jordan!
Like what you read? Follow me on Instagram
Planters 'Baby Nut' Has Somehow Already Turned 21 And People Are Not Loving The News
2020 keeps getting nuttier.
The world was shocked when the iconic Mr. Peanut was killed during a pre-Super Bowl ad earlier this year. There wasn't much time to mourn, however, before a new nut was thrust onto us like back-to-school commercials in July. Yes, after the 59-year-old mascot met his untimely death consumers were introduced to his reincarnate, Baby Nut. With big, expressive eyes and a tiny stature fans began to swoon over the cute branding revamp and accepted him as the new mascot. Well as if 2020 hasn't been crazy enough, Planters just released a new commercial celebrating Baby Nut's 21st birthday and I'm not sure how to feel about it.
I'm officially 21, my friends! Before you ask, yes, I was just a baby. What can I say? It's been a nutty year. Now someone get this peanut a beer! #MakeMyBirthdayNuts pic.twitter.com/P1UfBIi4N8

— Peanut Jr. (@MrPeanut) August 11, 2020
According to a quick Google search, a peanut plant takes 4-5 months to reach maturity. So with Baby Nut being born in February, he is technically right on track in his growth cycle. The OG Mr. Peanut was the reigning mascot for 59 years so does that mean he was actually over 3,000 peanut-years old? The accelerated aging is not explained in the new ad with Baby Nut (Young Adult Nut?) simply saying "it's been a weird year." Reactions on Twitter are largely negative but as always, hilarious. Here are some of the best: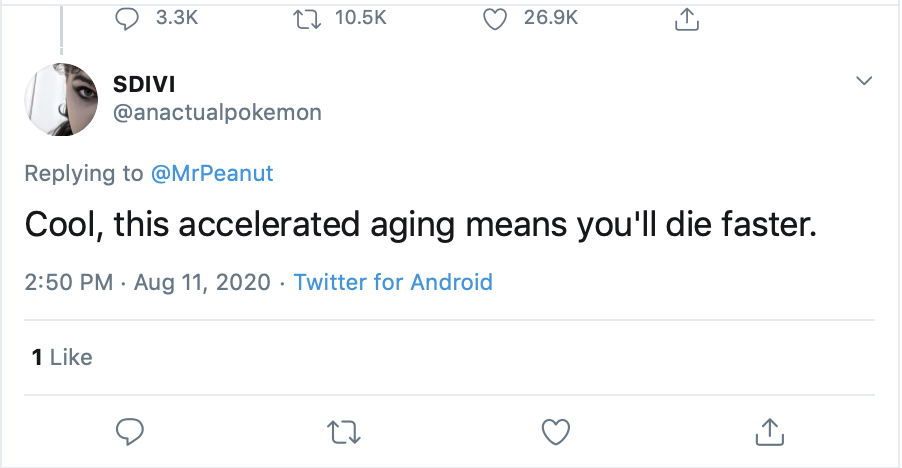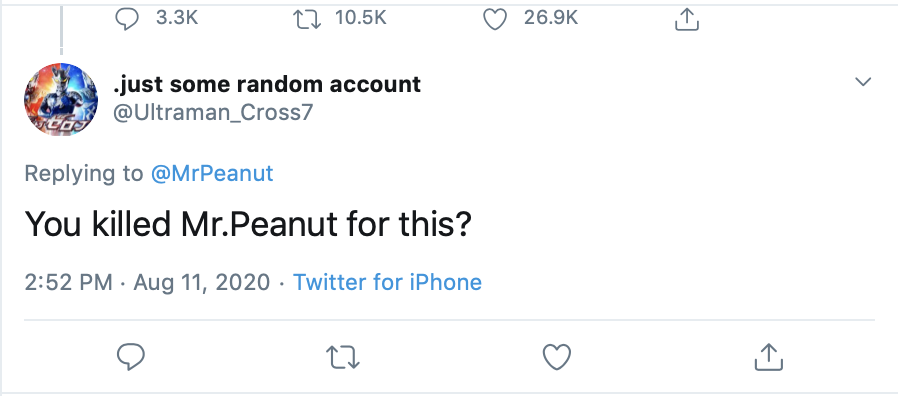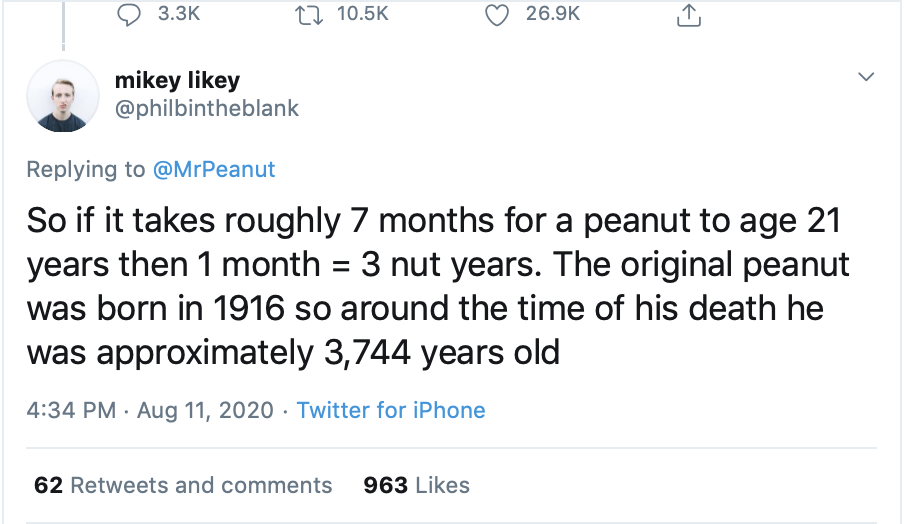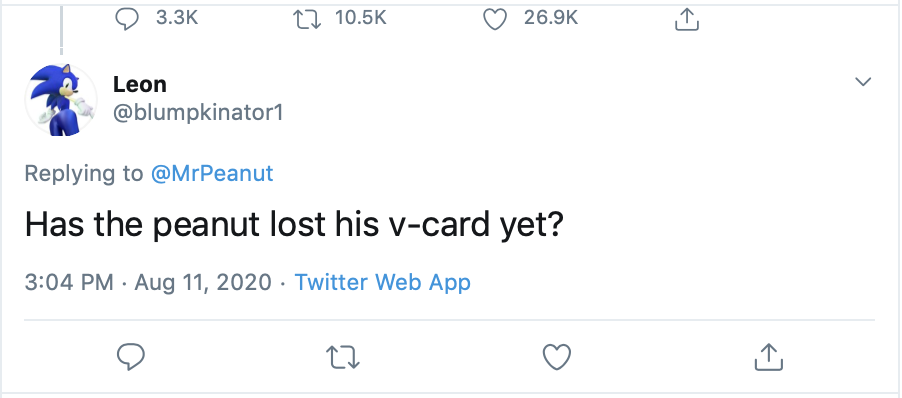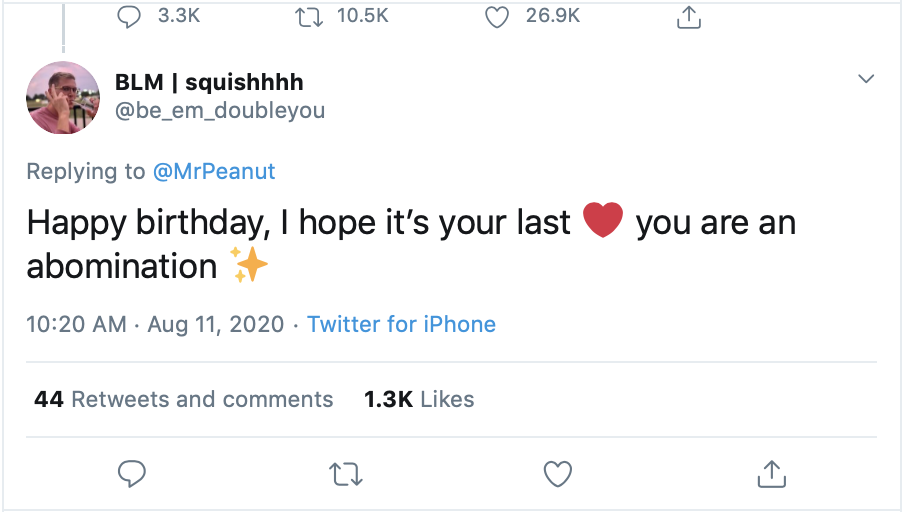 Yikes. Good thing Baby Nut is old enough to drink now…looks like he might need to throw back a few to handle some of these reactions.
To follow Peanut Jr.'s official account click here.
Like what you read? Follow me on Instagram