Charlie Sheen Says "Two and a Half Men" Should End After This Season
Charlie Sheen may have had supportive words for "Two and a Half Men" a few months ago, but now, he's saying that his former show needs to end.
Charlie Sheen may have had supportive words for "Two and a Half Men" a few months ago, but now, he's saying that his former show needs to end.
In a new interview with the New York Post, Sheen says that "Men" has run its course:
"I don't think they should go on past this year…I just think that people are there because there's nowhere else to go yet."
Sheen said that the show's overall quality has declined, not because of his replacement, Ashton Kutcher, but because Chuck Lorre has his hands in the pot:
"I don't think that [replacement Ashton Kutcher] is working with the best writing because Chuck is doing too many shows…He and Jon [Cryer] and Angus [T. Jones] deserve better material."
As for Ashton, Sheen actually had only kind words, saying that he remembers having to replace Michael J. Fox on "Spin City," and how hard that was:
"It's so f—ing hard you can't believe it…It's all you're thinking about, and you're surrounded by these ghosts. So hats off to him for doing the best job that he can."
No matter what Charlie says, according to the facts, ratings for "Men" are apparently up, and earlier this month, Kutcher said he is eager and ready to work on some more seasons.
Something tells me "Men" may be on for a while more…
Laura Dern Honors Her Parents In Touching Academy Award Win Speech
Laura Dern, who has been slaying awards season this year for her role in "Marriage Story," took home the ultimate prize – a Best Supporting Actress Academy Award – and thanked her actor parents in a touching acceptance speech.
Her parents, actors Diane Ladd and Bruce Dern brought her to the Oscars with them when she was just 7 years old.
"Some say never meet your heroes. I say if you're really blessed, you get them as your parents. I share this with my acting hero my legends, Diane Ladd and Bruce Dern. You got game. I love you."
Dern's mother has been nominated three times, her father twice, but neither have won. Her mother can be seen during the speech crying in the audience.
Congrats Laura!!!
POP UPDATE: Justin Bieber, "Friends" For Life, And The Critics Choice Awards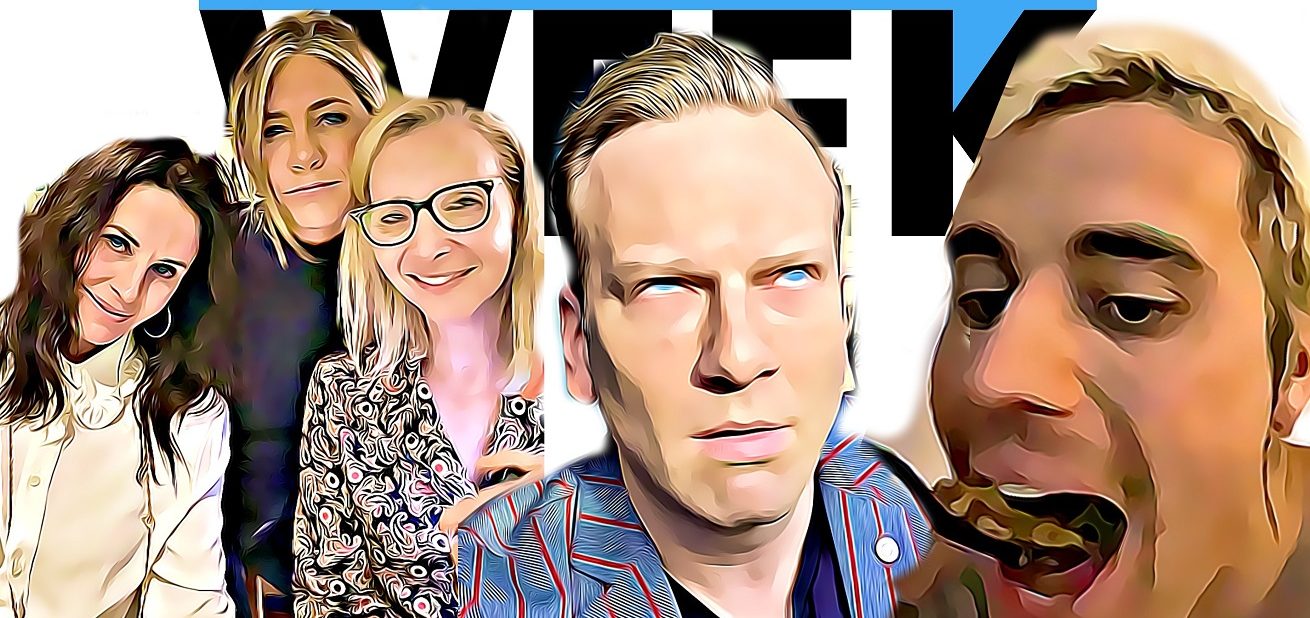 We're going to be doing some quick video updates whenever we can! Here's the latest! Justin Bieber begging for streams, (while you can hear him chew – ew), the ladies of Friends reunited, and mother nature. Take a look!
Courteney Cox's Instagram Caption Is Every Parent With A Teenage Kid
Have you heard? It's 2020 and we're all supposed to music videos on TikTok. Courteney Cox is no exception. The TV star posted an instagram of her and her daughter Coco dancing it out, with the hilarious caption, "Wanna see your child lose their patience? Do a TikTok with them."
Also, how long does it take to actually learn one of these routines? It seems very time consuming.
What I was really hoping for was video of her daughter losing her patience, but what we got was a pretty strong routine!