POP Grooves: DJ Blacklow Picks His Top 10 Dance Remixes To Groove On This Weekend
Your favorite songs, remixed.
Editor's note: Even though many of us here at Pop Goes The Week (not naming names) have iPods that, if stolen, might be promptly returned after looking at the bizarre collection of tunes, – we still wanna sound like we know what we're talking about when someone asks us what we're listening to these days. Now we're beefing up our music coverage with regular contributions from DJ Blacklow, an LA based DJ and longtime friend! Whether you're hitting a club this weekend or need a great mix to put your dishes away to, he's got your covered!
Take it away Blacklow!!!
I'm excited to be penning my first music column for my old friend Brian Balthazar's PopGoesTheWeek. Brian and I go way back — from 2002 to 2004 we sat next to each other as producers at NBC News. In fact, for a while, both of us booked all of the music acts that appeared in concert on the Weekend Editions of The Today Show. We had so much fun back then. I will never forget the weekend that Brian booked and produced "Captain & Tenille" to perform in the area where the Rockefeller Center ice skate rink is… it was, in a word, legendary. To date, that remains one of the best jobs of my life and Brian was a huge joyful part of it.
(Brian's note: I'm so busted by my Captain and Tennille booking! But I stand by it! Anyone who hasn't enjoyed a slow 'Muskrat Love' jam is totally missing out! Okay, back to you, Jeremy!):
Nowadays, I live in LA, still working in the entertainment side of media. And in 2012, I set a resolution that I was going to at long last launch a DJ career as side project. I've always been passionate about music, and I've been listening to what now is popularly referred to as "Electronic Dance Music" (EDM) since around 1995. I grew up in the New York City clubs — in Chelsea and the East Village — and the music that I heard in my decade living in NYC shaped my tastes for the years that followed.
While I had always known I wanted to DJ, I never made the time for it in my life. Sometimes though, life throws you curve balls and when that happens it makes your realize that you don't have too many years to do whatever it is that you really want to do. There are moments when you say to yourself, "If you don't do it now, it's never gonna happen," and this past year was a wake up call for me.
For years, my close friends have always asked me which remixes of their favorite songs they should download to listen to at the gym, and I always had the answers. So, for those of you readers who don't know what to download, I'm going to provide you with the Top 10 remixes that are moving me each week. I'm going to share the (very public) Soundcloud links to listen to each of these songs — in some cases, the tracks are also downloadable. You can easily download the more "hard-to-find mixes" with some creative Google work.
You can check out mixed Podcasts (available for download, or in iTunes). I'll also be DJ'ing in West Hollywood at Eleven nightclub on Sunday, May 6th, from Noon – 3 PM for promoter Justin David's 30th birthday, and at Here lounge on May 20th from 4 – 7 PM. So, if you're in LA, stop by!
My musical choices for this inaugural post are highly-influenced by the lingering memories of an amazing year at the Coachella music festival in Indio, CA. I hope you enjoy these tunes, and if Brian gets a good response, I'll keep going.
Without further delay, DJ Blacklow's Top 10 of the week ending May 4th, 2012
10) I Can Only Imagine (R3hab Remix) — David Guetta feat. Chris Brown & Lil Wayne
The latest from French mega-producer Guetta, this was the one they performed during the Grammys. Chris even stopped by during weekend 2 of Coachella to "almost" perform it, but then ultimately didn't.
Listen to it, HERE:
New York rapper Azealia was a break-out star at Coachella this year, and was recently signed by Lady Gaga's manager. Her debut album is due this fall on Universal. Although the original of this track is amazing, this mash-up with Afrojack takes it to the next level.
Listen to it, HERE:
The 3rd single from Kelly's debut album is certainly an interesting choice for Top 40 release, but its darker tone reminds me of her "My December" album, which was critically-panned, but I absolutely loved. This first remix stays true to the track's aptly-named darker tone.
Listen to the unfinished demo version, HERE:
The Saturdays are poised to be the second coming of The Spice Girls and this might just be the hit that puts them over the top. Brit producing duo Sanna & Pitron have been on a roll lately, and this is one of their strongest productions.
Listen to it, HERE:
6) Titanium (Alesso Remix) – David Guetta feat. Sia
Yes, the song has been out since last August, but the remix by young up-and-comer DJ Alesso was one of THE anthems of Coachella 2012. The musical refrain is just so beautiful and gorgeous, it can almost bring me to tears. Listen to it, HERE:
Yes, the Tedder-penned song from the NBC show "Smash," as sung by an "American Idol" alum. Didn't see this one coming, but I'm glad it arrived.
Listen to it, HERE:
Levels is the ubiquitous Avicii track which has been mashed up with just about everything in the past year. But place it with Gotye's still #1 song on the Billboard Hot 100, and magic erupts.
Listen to it, HERE:
I admit it, Carly Rae Jepsen — current guilty pleasure of most pop music enthusiasts, who isn't everyone's cup of tea — is my current obsession. I have no idea who Jad Descenchanntee is…. but I discovered this remix when searching for remixes online, and its the best remix yet that I've heard of this little pop ditty.
Listen to it, HERE:
Scissor Sisters… Calvin Harris… pure brilliance. It speaks for itself.
It's Coldplay week in LA!… the band is in the midst of a 3-night stand at the legendary Hollywood Bowl. And believe it or not, their songs remix magically. While there are more popular songs from "Mylo Xyloto," Dave Aude worked magic with his mix of the song that Gwyneth has called her favorite from the band's latest album. 
Want more Blacklow? Follow Jeremy Blacklow on twitter!
Want more POP culture and entertainment updates? Follow @BrianBalthazar on twitter!
LISTEN: Tina Turner And Kygo Collaborate On A Fun Remix Of 'What's Love Got To Do With It'
You must understand how this remixed up jam makes my pulse react.
Did you wake up today thinking "man, what does love really have to do with it?" Then you're in luck because after 36 years from its original debut, Tina Turner's mega hit song "What's Love Got To Do With It" has been remixed and released by the Norwegian DJ and producer Kygo. And let me tell you, I may not know what love has go to do with it but I do know this remix is fire!
You might remember Kygo from his previous remix of Whitney Houston's "Higher Love" and just like he did with that bop, he turned Turner's classic into a surefire dance floor hit. In a statement about the exciting collaboration the 28-year old said "I couldn't be more excited to collaborate with Tina Turner, who is an icon that I grew up listening to. 'What's Love Got To Do With It' is one of my all-time favorite songs so to have a chance to rework it has been a very special moment in my career. I love working around timeless vocals and although it's challenging to preserve elements of the original track and adding my own touch, I'm extremely happy with how it turned out!"
The updated song is also accompanied by a new music video directed by Sarah Bahbah and starring Laura Harrier and Charles Michael Davis. The sexy duo portray a pair of star crossed lovers who have all the makings of a perfect couple but just can't seem to dig down deep enough to make the relationship last. And while the subject matter might be heartbreaking, the video is beautiful and pairs perfectly with Turner's iconic voice.
Check out the music video below!
Like what you read? Follow me on Instagram
Pentatonix's Cover Of Billie Eilish's 'When The Party's Over' Will Give You Chills
We could all use a bit more harmony these days…a 5-part harmony that is.
Billie Eilish is known to have a bit of a darker tone to her music but this cover of "When The Party's Over" by Pentatonix will absolutely send chills down your spine.
The a capella quintet is known for their amazing covers and unique arrangements and this one is no different. Collaborating from a distance, Scott Hoying, Mitch Grassi, Kirstin Maldonado, Kevin Olusola, and Matt Sallee perform the somber tune with an individual closeup in front of a simple white background before being edited together to create perfect harmonies. The Eilish song is already a fan favorite with the original music video being viewed over 500,000,000 times and I'm sure this cover will rack up the views as well.
The track is featured on the a capella group's latest EP, At Home, which was release back in June. Check out the music video for "When The Party's Over" below!
Like what you read? Follow me on Instagram
Lin-Manuel Miranda Just Shared The Original Demo For 'Moana' Hit Song And It Features A Big 'Hamilton' Star!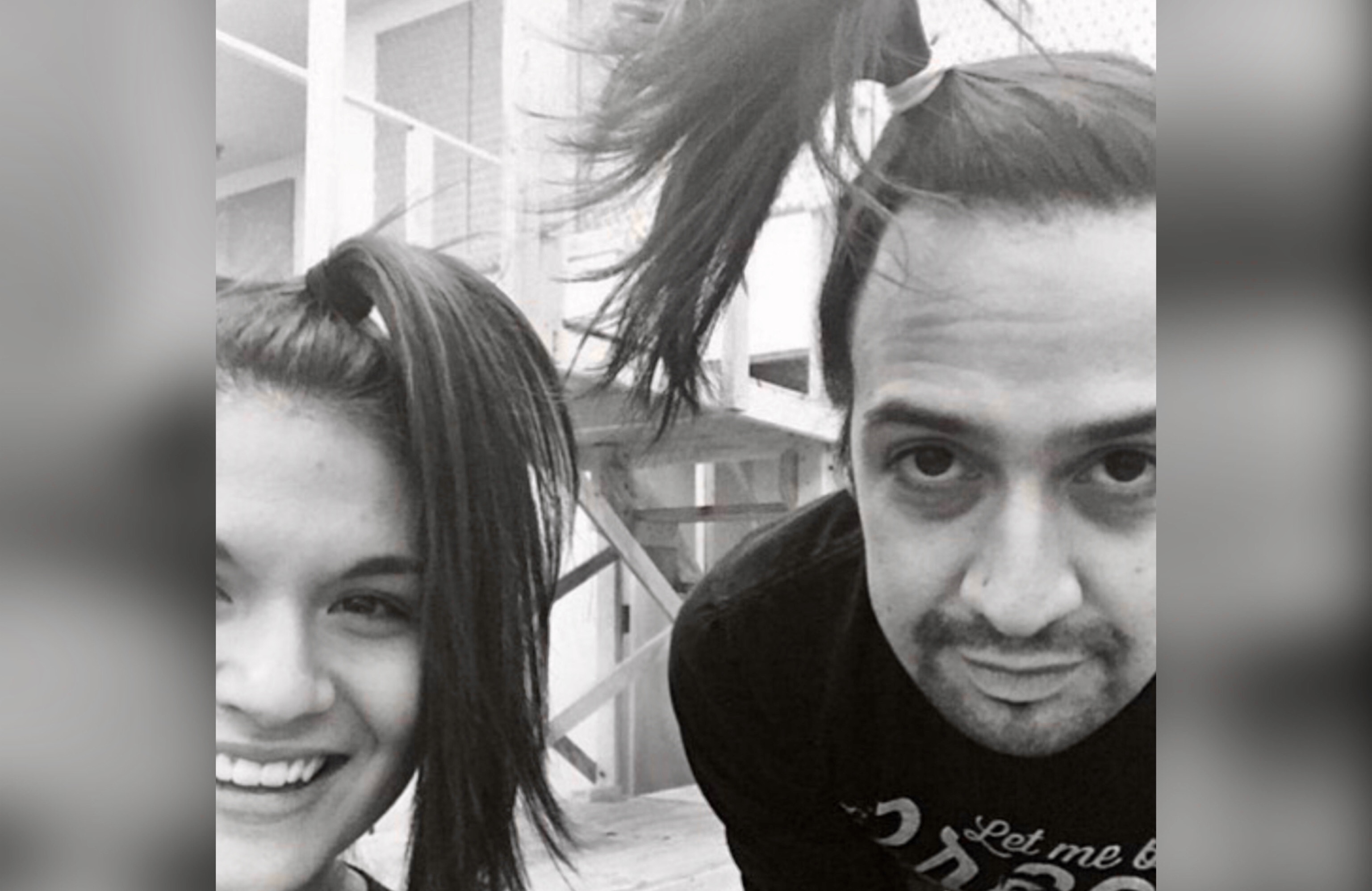 Another gem from the wonderful world of Miranda.
If there are two things musical lovers are forever grateful for it's Disney and Lin-Manuel Miranda.
Disney scooped up Miranda to write songs for the 2016 hit film Moana which told the story of a young princess chosen by the ocean to reunite an ancient relic with a powerful goddess. Unsurprisingly, the film's standout song "How Far I'll Go" won the Oscar for "Best Original Song" because everything Miranda touches turns to gold. What's even more exciting than the award winning content Miranda creates, however, is the glimpses into the creative process he often shares with fans. After Hamilton became a smash hit, Miranda shared countless original demos and compositions of songs from the musical just to show fans the growth of his creativity. Well, moments ago Miranda took to Twitter to once again give us a peek into his process but this time it's for the hit Disney film.
Found it. Thank you for giving permission to repost, @Phillipasoo! I love you, and I'm sorry this demo was so HIGH. You can sing ANYTHING. Recorded in the basement of @PublicTheaterNY, in our dressing room: https://t.co/zma3sJSAXq https://t.co/vgWDmepeWM

— Lin-Manuel Miranda (@Lin_Manuel) May 21, 2020
While Hamilton was still in it's pre-Broadway run, Miranda was writing songs for Disney. He enlisted the help of his costar Phillipa Soo, the original Eliza Schuyler, to record the demo for "How Far I'll Go" from their dressing room at the Public Theater. Finally after all these years, Miranda has decided to share the demo with us and it's enough to make any theater geek freak out! In his tweet he apologizes for making the demo so "high" but applauds Soo because she "can sing ANYTHING." And by the sound of this demo she really can!
Check out some Disney magic…or Miranda magic…or both(?) by listening to the original demo below!