Everything You Need To Know About Lindsay Lohan's Arrest: The Other Charges, Drunk Or Not Drunk, And Where Does The Wanted and Gloria Allred Fit In?!?
So are you wondering what exactly is going on with Lindsay Lohan this week? Well, POPgoesTheWeek has a full rundown of all the points YOU need to know to be up-to-date with the troubled starlet!
So are you wondering what exactly is going on with Lindsay Lohan this week?  Well, POPgoesTheWeek has a full rundown of all the points YOU need to know to be up-to-date with the troubled starlet!
As we reported earlier this week, Lohan was arrested yet again Wednesday night for allegedly punching Tiffany Mitchell in the face.  There were two basic descriptions of the exact incident:
—According to Tiffany, who is a well-known psychic, she and her friend approached Lindsay to tell her about a premonition.  Tiffany backed away when Lindsay asked her to "give [her] space", but when the 26-year-old called her a "f**king Gypsy", Tiffany's friend snapped and called Lohan a "whore" and said that "Liz & Dick sucked."  Lindsay then threw the punch. 
–Other sources contest that Lindsay actually snapped over Tiffany getting close to "The Wanted" bandmate Max George.  Lindsay and the band met up after they opened for Justin Bieber at Madison Square Garden earlier in the night, but apparently, Lindsay was so drunk, it turned Max off, and he started talking to other women, including Tiffany. (Despite Lindsay's troubles, Max ended up heading home with yet another woman…)
Then, there is also the issue of Lindsay's soberness.  The morning after the incident, Lindsay's lawyer was adamant in saying that his client was clean, sober and completely coherent when he spoke to her earlier in the day, and she had not been drinking at all leading up to the arrest.  On the other hand, sources are telling TMZ that Lindsay has been so stressed with her financial issues and career that she has been drinking up to two bottles of vodka a day, from morning till night. 
Whatever the case may be, this arrest is a massive blow to the clean track Lindsay was trying to make for herself.  Tiffany has officially hired star lawyer Gloria Allred to press charges, and in a case of perfect timing, three new criminal charges were just filed in connection with Lindsay's car accident last June on the Pacific Coast Highway.  (Lindsay allegedly lied to police, telling them that she wasn't driving when her Porsche slammed into the back of a big rig.)  These charges include:
— giving false information to a peace officer … punishable by up to 6 months in jail.
— obstructing or resisting a police officer in the performance of his duty … punishable by 1 year in jail.
— reckless driving … punishable by 90 days in jail.
Lindsay will be arraigned in L.A. probably next week, and only time will tell if she will serve any real jail time for violating probation, and if good behavior (or attempted good behavior) will play any part in the decision.
And that, my friends, is one week in the life of Lindsay Lohan.
Laura Dern Honors Her Parents In Touching Academy Award Win Speech
Laura Dern, who has been slaying awards season this year for her role in "Marriage Story," took home the ultimate prize – a Best Supporting Actress Academy Award – and thanked her actor parents in a touching acceptance speech.
Her parents, actors Diane Ladd and Bruce Dern brought her to the Oscars with them when she was just 7 years old.
"Some say never meet your heroes. I say if you're really blessed, you get them as your parents. I share this with my acting hero my legends, Diane Ladd and Bruce Dern. You got game. I love you."
Dern's mother has been nominated three times, her father twice, but neither have won. Her mother can be seen during the speech crying in the audience.
Congrats Laura!!!
POP UPDATE: Justin Bieber, "Friends" For Life, And The Critics Choice Awards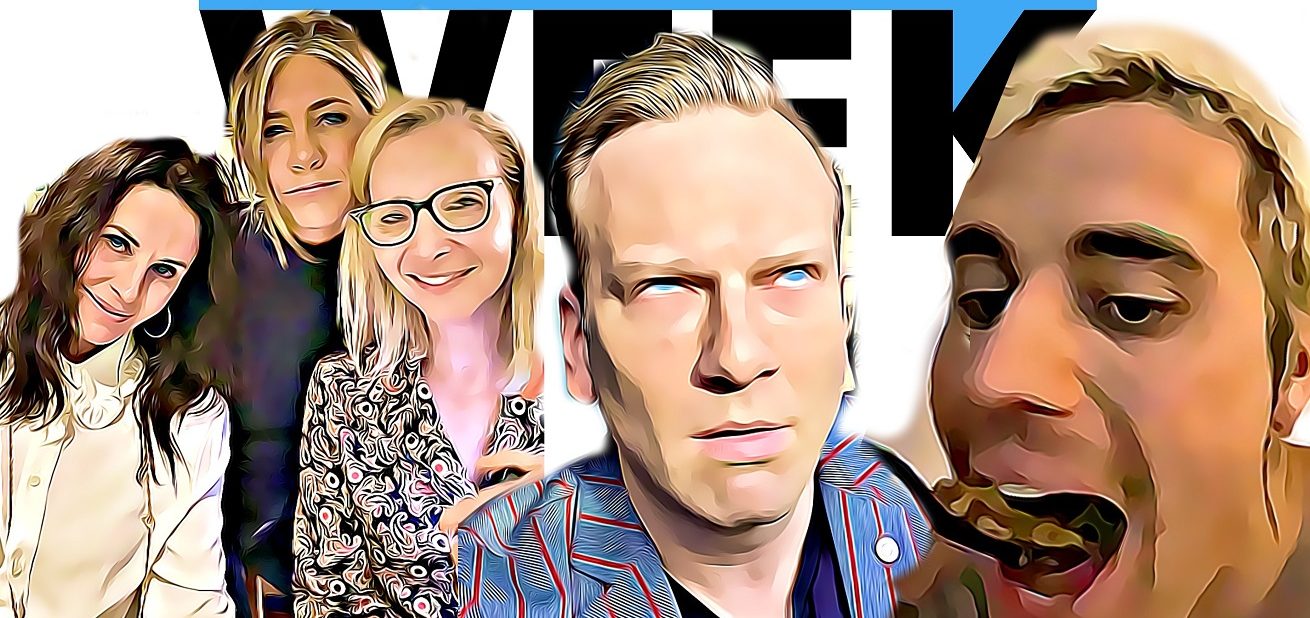 We're going to be doing some quick video updates whenever we can! Here's the latest! Justin Bieber begging for streams, (while you can hear him chew – ew), the ladies of Friends reunited, and mother nature. Take a look!
Courteney Cox's Instagram Caption Is Every Parent With A Teenage Kid
Have you heard? It's 2020 and we're all supposed to music videos on TikTok. Courteney Cox is no exception. The TV star posted an instagram of her and her daughter Coco dancing it out, with the hilarious caption, "Wanna see your child lose their patience? Do a TikTok with them."
Also, how long does it take to actually learn one of these routines? It seems very time consuming.
What I was really hoping for was video of her daughter losing her patience, but what we got was a pretty strong routine!