POP INTERVIEW: Finn Riggins' Husband and Wife Bandmates Talk Songwriting
If you fight with your wife over who bought the worst canned tuna ever last weekend, consider yourself lucky: at least you aren't arguing over creative differences! Finn Riggins is made up of husband and wife, Eric Gilbert and Lisa Simpson, with drummer Cam Bouiss. The band is inspired by The Cars, John Hartford, Hello Shark, World's Greatest Ghosts, Jared Mees and the Grown Children and Built To Spill. And that isn't all of the artists they named!
"Our first couple mini tours were done in a full size 1968 Gillig school bus that our drummer owns – it was bigger than most of the venues we were playing at that time. on our 80 day US tour in spring 2010 we only stayed in hotels twice, slept in our van 7 times, and otherwise were graciously hosted by amazing and generous people all over this great country. that's been the case on most of our tours, and we can never thank all these great people enough," Eric, the keyboardist, said via e-mail.
"We've played to a dance party in a yurt. We've played outside in a snow storm, full on snow drifts on my keyboards. We've played on a moving river boat in Austin during SXSW. We've played some of the wildest warehouse parties in tiny La Grande, OR and Athens, GA. We played in Washington D.C. the night that Obama won the presidential election and banged our drums in the streets and danced and partied on the tops of cars and in the streets till the sun came up with a huge crowd of ecstatic people — easily one of the most powerful experiences for all three of us on tour or otherwise. We've met plenty of famous people, but are just as enamored with all the other amazing musicians and show-goers and community members of all sorts that we've gotten to know and hung out with over the years. I'm so thankful to have been a part of so many incredible events both large and small all over this country and to have seen so many incredible bands that most people will never see much less ever hear about."
His wife, Lisa, takes lead singer duties. "We work in collaboration for the majority of our songwriting. Each song is different, but usually there is an idea brought in by one of us, either a section or a more completed song form. Then we work on it together, fleshing it out, trying different things. Sometimes it goes back to get refined outside of the group. Sometimes songs just pop up in the practice setting. We are able to push things, try things as a group, and then to step back and edit. Our previous albums have been recorded as "live" as possible, We are looking forward to more studio time as we work on our current projects. I've always enjoyed music, always sung. I started playing guitar when I was 16. It was just natural for me to do this. I played piano and flute as a girl, and was involved in band and choir throughout my public school years. I went onto study voice in college, and got my masters degree in music history," she wrote.
Lisa continued, "Our subject matter is a mixed bag. We try not to take ourselves too seriously, but at the same time there is depth to the lyrics. There isn't a subject that is off limits per se, but we also don't narrow our focus when we bring songs together for an album. I approach my lyrics by writing about things that inspire me, arts, literature, moments that I have experienced. I've always enjoyed that songs can mean different things to different people. Songwriting can be very cathartic, but I like that people can feel connected by that meaning that gets attached to a song. Then when we are playing and people are singing along to the song, I know that it means something to them as well. I love that feeling."
" I played a little bit of piano as a kid, but really didn't dive in until college. Music and live concerts bit into me hard and never let go when i was 18 or so. I didn't necessarily choose to get into the "music industry" per se, just kept playing music because of a deep deep love for music and the community building around it. Over recent years, I have reconciled the need to make a living as well and have enjoyed the challenge of finding a way to still make the art i love, and play live music in all kinds of unique situations while being able to make ends meet. Thus, i am now part of the "music industry" and although hard to actually make much money, it is incredibly rewarding in so many other ways that all the hard work is more than worth it," Eric said.
If you want to catch this great indie band live or download their songs, visit finnriggins.com.
In A Gripping Interview, Selma Blair Talks Frankly About Her MS Diagnosis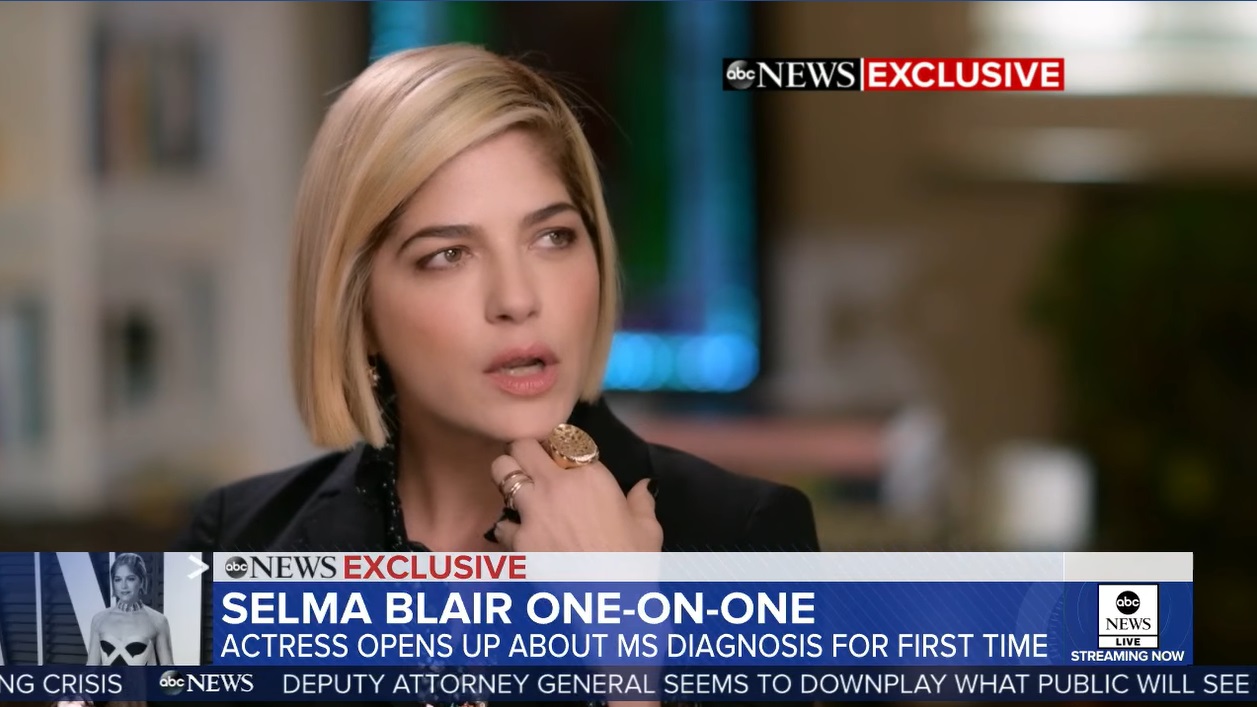 In a powerful interview with GMA's Robin Roberts, Selma Blair faces the interview head on, even while in the midst of an MS flare up.
SCROLL DOWN FOR THE FULL INTERVIEW
The 46 year old actress has not been seem much since revealing her diagnosis on social media, only to stun fans and photographers looking gorgeous on the red carpet of the Vanity Fair Oscar party. Days before she had given the interview, indicating that Blair is ready to talk openly about her disease. The interview is a testament to her strength, as she spoke articulately and openly about what it has been like for her.
"Ever since my son was born, I was in an MS flare-up and didn't know, and I was giving it everything to seem normal..And I was self-medicating when he wasn't with me. I was drinking. I was in pain. I wasn't always drinking, but there were times when I couldn't take it."
"I was a little scared of talking, and my neurologist said 'no' – this will bring a lot of awareness because no one has the energy to talk when they're in a flare up," she confessed. "But I do, because I love a camera!" she joked.
The interview is a must see:
TOUCHING VIDEO: 20 Years After A Judge Set Him On The Right Path, Man Returns To Court With A Message Of Gratitude
This legitimately got me choked up. Judge Frank Caprio is a municipal judge in Providence, Rhode Island whose cases often go viral, generally as a result of his compassion and empathy. Based on this clip, it's clear that they're traits he has possessed for more than a decade.
A defendant arrives to fight a parking ticket, but also to think the judge for changing the course of his life. Even the judge can't help but be moved. 
Wendy Williams And Kevin Hunter Give Back Year Round – Now You Can Help Too.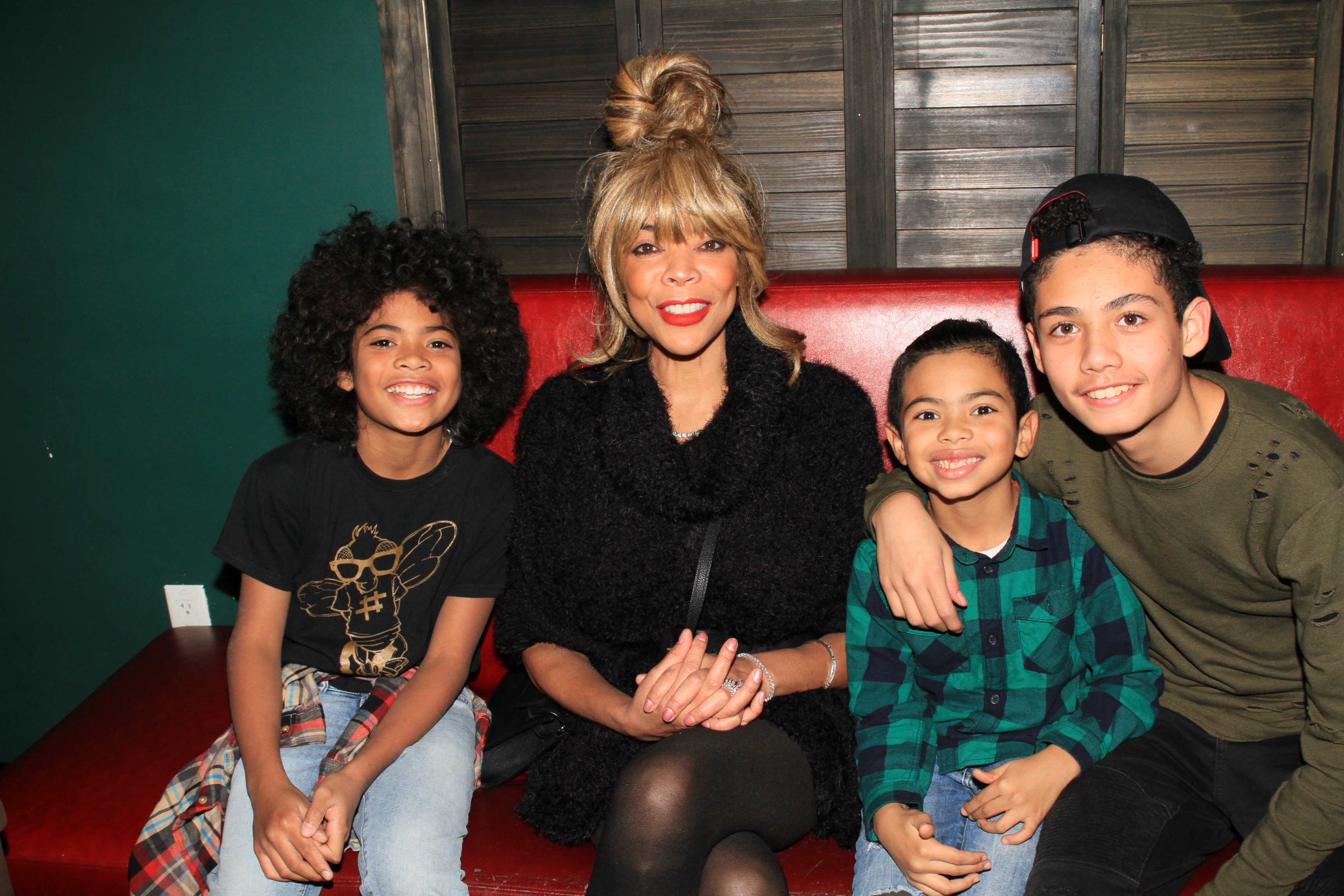 Wendy Williams' signature phrase may be 'How you doin?' – but make no mistake, she knows that the answer, for a lot of young kids (and adults for that matter) living today – is a complicated one. That may explain why she and her husband Kevin Hunter are working so hard to give back via their nonprofit group 'The Hunter Foundation.'
"Starting a foundation is hard,' she told me at her recent event at Bowlmor Lanes. "But we've been going at this for a few years now and it's really getting better every year."
The event on this cool November evening was teeming with children and families. Sponsored by Wendy and Kevin, she brought in many of her friends to help serve countless meals and provide free bowling and toys for all. But that's just a small part of what they're doing.
On top of her goal of serving two thousand meals, The Hunter Foundation already sponsors summer camps for children in need,  drug rehabilitation programs serving adolescents and young women with children, and youth development programs for children in inner city communities. Her family services program provides food, clothing, shelter, or emergency assistance to families in need and supports programs serving Lesbian, Gay, Bisexual, or Transgender youth. (Click here for more.)
Williams understands how tough it can be growing up. "I had a very tortured childhood," she once told ABC news. What she is doing now is an effort to help make lives for kids as much easier as she can.
Her "Summer Campership" is part of that effort. As a little girl, Wendy remembers the fun she had at summer camp. She learned how to swim, and enjoyed hiking, outdoor sports, and campfire songs. But more importantly she learned what it was like to be independent. Her Summer Campership program provides girls ages 10-16 a chance to experience the outdoors for 13 straight days. The foundation works with non-profit community-based organizations that qualify and refer girls who come from families that cannot afford to send their girl to camp.
In order to help all theses programs thrive, she's asking for your help: From November 21st to January 3rd, The Hunter Foundation will be participating in the Newman's Own Foundation $500,000 Holiday Challenge on CrowdRise.com. If they raise the most money during the entire challenge, The Hunter Foundation wins the grand prize of $150,000 Smaller cash prizes will be award to charities during weekly bonus challenges. Donors can support Wendy and The Hunter Foundation by CLICKING HERE.