POP INTERVIEW: Lady Gaga's New Shoe Queen, Kira Bundlie, of Hourglass Footwear
Currently, she and her team are working on a pair of custom shoes for Lady Gaga, but the Hourglass Footwear shoes made by Kira Bundlie and her business partner Lisa Ström, all about $200 a pair, are easily affordable and provide a unique look. No worrying about someone else having your same logo shoes here! Each pair is vibrant and hand painted. Some pairs, like my personal favorites online I am pasting below, have bold colors, cute flowers and an almost Bohemian look.
Check these out. They seem like I'd become a Celtic goddess in them. I just love forest green.
Kira is also a great example of a non-stereotypical LGBT role model. Unlike the "rough cut, tough and rude" LGBT characters the media shows us on TV reality shows, she doesn't fit the shoe mold. Kira is a hardworking businesswoman all right, but she is someone who also happens to be super girly-pretty and runs, well, a company all about looking hot for yourself or a significant other through your footwear choices. Because as we who wear these crazy, tall shoes know well, you're nothing without a great pair of shoes that look professional for work and great for fun!
When you were researching footwear, what did you have to do?
We launched our company with the help of a successful Kickstarter campaign. Through that process we got a ton of feedback on what types of shoe shapes women wanted to see on our site–turns out, everyone wanted something different! We settled on five of the most popular heel heights (platforms, stilettos, mid-heels, flats and Mary Janes), and also offer a "Your shoes, our paint" option on our website, which lets our customers send in their own shoes for us to paint.
Did you work with foot fit models? (How's that for a tongue twister.)
Absolutely. Us! We started our little company-that-could on a very tight, shoestring (ha) budget. Lisa and I wear Hourglass shoes every day, and our artists pretty much do the same. We can personally vouch for their fit and durability.
Did you take shoes apart? Did you obsess over shoes and their construction until you dreamed about them when you went to sleep?
We currently wholesale most of our "blank" shoes, which means that we glue in our own custom labels to each shoe bed before they ship. We're working towards sourcing our shoes–having them made and branded for us–and have already chosen our leather and insole material. Since we've only been in business for six months, we're just waiting until our bank account to tell us we're ready to take that leap. And yes. We are perma-sleep deprived and dizzy with images of shoes swimming in our heads. But in a good way. 🙂
Which of your designs is the most popular?
Right now, the Sriracha-inspired Rock Out design is uber-popular and getting a ton of attention. Some of our other really big sellers are Smoke and Mirrors, Force Majeure, Champagne Supernova, Silk Stockings, and Anime-trix.
How can women wear your shoes?
We carry everything from flats to platforms–they can pretty much be worn in every way imaginable. Maybe not hiking, though. But you'd want to keep them in your backpack for photo opps at least.
What kinds of clothing?
Lisa wears a lot of cute, girly dresses with Hourglass platforms. I'm partial to pencil skirts with stilettos, and skinny jeans or leggings look great with both flats and platforms.
If people want to order a pair of shoes, how do they run? How can someone determine the best fit at home so they won't have to return them due to the wrong size, fit or width?
Our flats, mid-heels and Mary Janes run very true to size and are also available in wide width. Our platforms are also true to size, but don't come in wide at this point. Our stilettos run about a half size small, so we usually recommend ordering a half size up–in that case, we always include heel guards to be safe. We also have a very fair exchange policy–if your shoes don't fit, we'll swap them out for a pair that does.
How many of your own shoes do you own?
We probably own about 15 pairs each. We both need bigger closets! It's a burden we'll just have to suffer, I guess.
How do you personally wear them and make them your own special wardrobe?
The shoes speak for themselves. They really compliment and enhance both of our individual styles. We like to say that they make any occasion a special occasion–cheesy maybe, but true! They are one-of-a-kind, work-of-art, walking signature pieces.
Your shoes aren't extremely cheap, but they aren't terribly expensive either. Do you ever want to be in a store like Nordstrom?
SO many people have asked us when we're going to partner with Nordstrom in particular! We really wanted to tighten our business model and be 100% confident in our product before we approached a dream company to work with like Nordstrom. We now know the right combination of paint brands, and the perfect way to prep and seal our shoes, and our behind-the-scenes, daily business operations are pretty seamless. It's just a matter of timing.
I could totally see you blending in with the price range and styles at Nordstrom Chicago…the ultimate shoe paradise.
Absolutely!
I love that you are openly lesbian with a straight business partner and nobody makes a big deal of it, as most people think it's either two straight women or two lesbian women working together.
Yeah, it's really never come up as an issue at all…except that we have to be very careful to stress the business part of "business-partners" when we're referring to each other in interviews! Seriously, though, Hourglass Footwear is made up of some pretty amazing, open-minded, wonderful people. It has never felt weird at all.
How do you think you can change the world so more people can be OK with people as business partners?
I think the only way to change the world is to be genuinely yourself as much as possible, and perhaps be patient with people who are simply scared of the unknown. It's central to our company's mission to help women be more fully who they are.
Why do you think people think all LGBT women wear frumpy flats and look, paraphrasing Legally Blonde's infamous pool line on how she wanted to go to law school, "boring, ugly and serious?" Embarrassing but true. Men seem to have that idea!
Lisa and I are both blondes. There's a stereotype that all blonde women are dumb. There's also a stereotype that all lesbian women are frumpy and humorless. I will tell you from experience that neither is the rule. Also, we were very recently commissioned by Xcel Energy Center in Minneapolis to design and paint a custom pair of shoes for Lady Gaga as a thank you gift for performing there next month. We're going to be traveling to Minnesota ourselves to hand-deliver the shoes. The concept for the totally brilliant design comes from Hourglass artist Debbie Faas, and she and the talented Rachel J. E. Sprague are collaborating and painting the shoes together. They're going to be amazing!
Ina Garten Makes The Perfect Quarantine Cocktail In Funny Video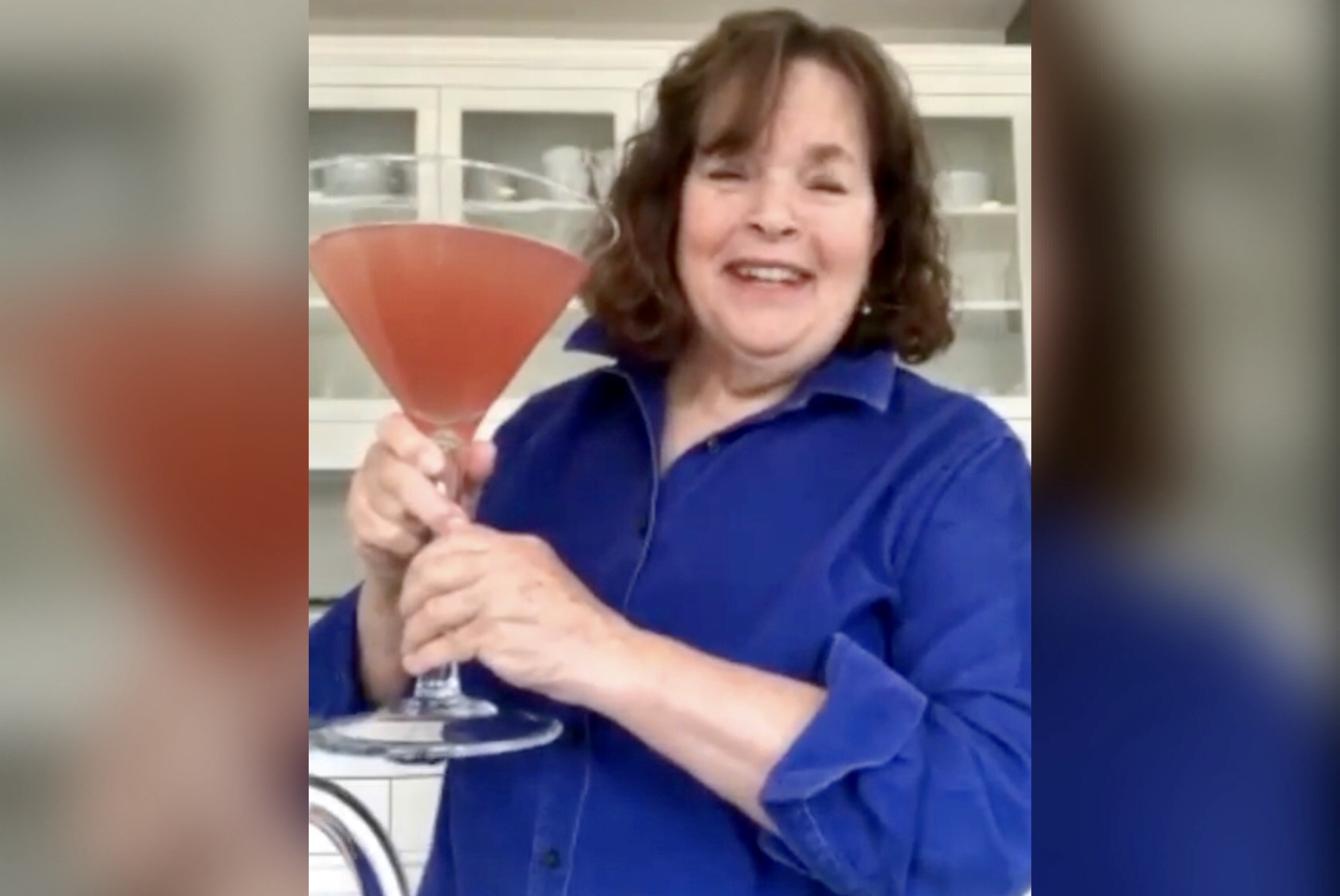 If the Barefoot Contessa says any hour is cocktail hour then who are we to argue?!
Ina Garten, The Barefoot Contessa herself, took to Instagram to "keep tradition alive" during these stressful, isolated times. What tradition is she most concerned with? One near and dear to all of us of course, cocktail hour! In the two-minute video, Ina gives a tutorial on how to whip up a batch of her favorite cosmopolitans. We all watch the contessa for her signature brand of calm speaking tones and party planning panache and while this video delivers on what we'd expect, Ina throws in a couple funny jokes that you would never see coming. She begins the tutorial by instructing viewers to grab a big pitcher because "you never know who is going to stop by – wait – nobody is going to stop by." She goes on later to remind viewers that "during a crisis, you know, cocktail hour can be almost any hour."  Ina wraps up the demonstration by advising viewers to choose the right martini glass when making this drink before pulling out a giant one for herself! Look at Ina getting all loosey-grey-goosey with us!
Enjoy any-hour happy-hour and check out the funny video below!
Like what you read? Follow me on Instagram
'Will & Grace' Star, Leslie Jordan, Has The Funniest Instagram Account Ever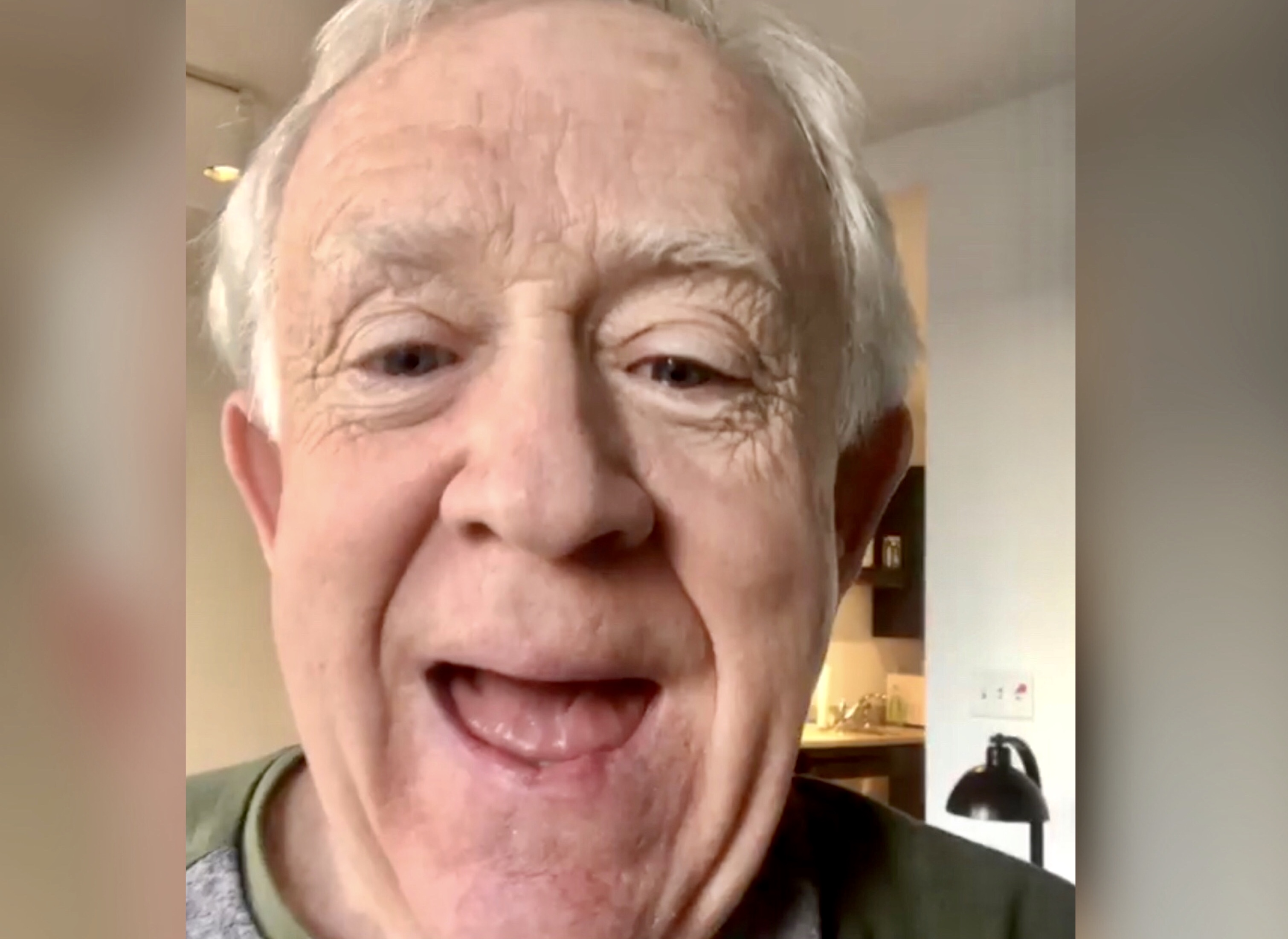 "Well, well, well…if it isn't Beverly Leslie."
Any sitcom-lover will instantly recognize Leslie Jordan as Karen Walker's vertically challenged nemesis on Will & Grace. And while he always managed to steal the scene as Beverly Leslie, the funny actor actually has quite the lengthy resume filled with all sorts of interesting roles. Well at the age of 64, Jordan may have just found his most exciting role yet…a viral video star!
Jordan chatted with Today discussing his new found internet fame. He shared that he did not even want to join social media initially but was encouraged to do so by producers when working on Cool Kids. His social media didn't become the hotspot it is now until the coronavirus pandemic however, when Jordan says he was encouraged by a friend to use his humor to bring levity to his fans. Now on his Instagram, which has grown over 400,000 followers since the quarantines were put in place, Jordan posts a bunch of hilarious content which includes stories about famous friends, tales of his flamboyant childhood and even baton twirling.
We can all use a laugh right now so do yourself a favor and check out the hilarious videos below! To keep the laughs coming be sure to follow Leslie Jordan here!
Betty White and the freezer queen.
View this post on Instagram
The over-haulin' ass.
View this post on Instagram
That time in the pokey.
View this post on Instagram
Bringing sexy back(scratch)
Beverly Leslie saves the twirl.
Like what you read? Follow me on Instagram 
Nick Lachey Rewrites Hit 98 Degrees Song Amid Coronavirus Quarantine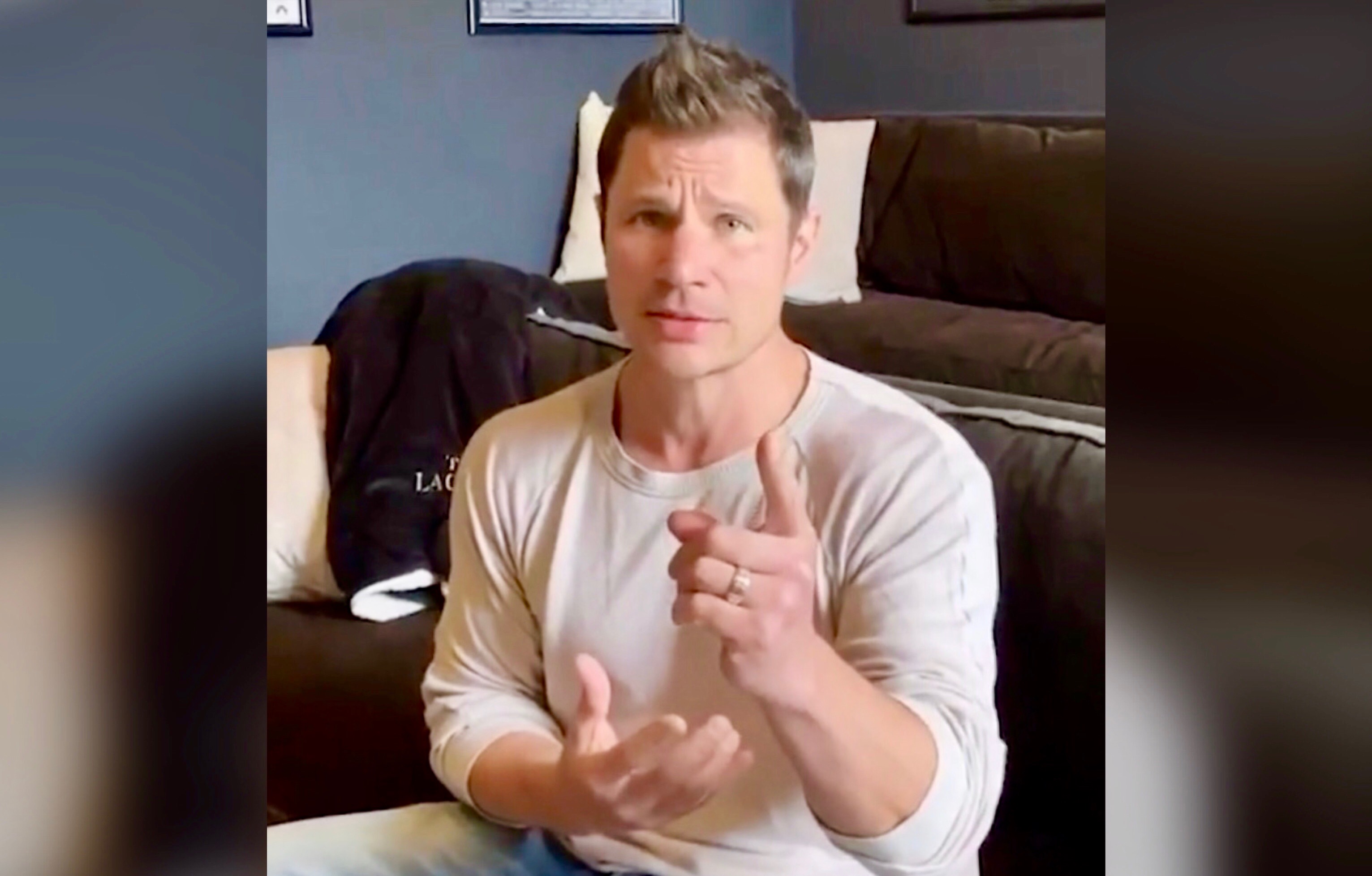 This video will remind you of two things: Nick Lachey is actually a gifted singer. And at age 46 he is still quaran-FINE!
Picture it. The year is 1998 and the boy band craze is at its peak. You turn on the radio. Your ears perk up as you hear the four beautiful men of 98 Degrees sing about the torture of having to let down their side pieces so they can try to be true to the girlfriends that love them. The word "coronavirus" has never even been uttered. It was a simpler time.
Fast forward to 2020 when it seems like you can't turn on the tv without some sort of news break interrupting your scheduled programming to warn you about the latest dangers of the viral pandemic. With the spread of the virus ever growing, celebrities have been taking to social media to urge fans to isolate themselves so we can all stay safe and healthy. Nick Lachey, 98 Degrees heartthrob and host of the new dating show Love Is Blind, is the latest Hollywood star to jump on this bandwagon.
Lachey took to Instagram to debut his updated rendition of "The Hardest Thing," the boy band's certified gold single. "Yeah, it's the hardest thing we've ever had to do. To stay stuck in our house, just watching all this bad news. It's the hardest thing we've ever had to try. To stay six feet apart when we go outside," the blue eyed beaut sings. "Nothing to do, no sports on TV. Washed my hands so much that they started to bleed. Damn this quarantine. It's the hardest thing we've ever had to do. But in the end it's worth it. Together we will get through" he continues. The video ends with Lachey reminding fans to stay safe before being jumped on by his enthusiastically adorable son.
Click below to see the full video!
View this post on Instagram
Like what you read? Follow me on Instagram