POP INTERVIEW: The Agency Group's Alisa Preisler
Alisa Preisler is a shining example of young women succeeding on the other, less talked about side of the music industry – in her role as an agent.
Alisa Preisler is a shining example of young women succeeding on the other, less talked about side of the music industry in her role as an agent with New York firm, The Agency Group. A regular traveler for her job, she just returned from SXSW 2013 and lived to tell about it.
What is your job description?
Simply – I book tours for bands. There's a lot more involved though. there is the whole process of scouting bands, signing them, coordinating with their team (manager, label, publicist, etc) on when and where to tour, who to tour with, etc. Routing the tours, getting offers in, and finally then confirming the tour dates. Coordinating the announce date for the tour. Then of course making sure the promoters are doing their job to promote the shows. Getting bands support slots on larger tours. Getting them on festivals. Issuing contracts. Hounding promoters for signed contracts and deposits. Getting ticket counts to see how the shows are selling in advance.
What made you want to do this?
I have known since I was pretty young that I wanted to work in the entertainment industry. I have always loved to turn people on to new music – so A+R has always appealed to me. I majored in Music Industry in college and was pretty set on trying to get a job doing A+R at a label. One of my professors told me though that the position is not only one of the most difficult jobs to get, but also has the highest turnover rate. I knew I wanted to work in Music Business regardless and all the women I knew in music either worked or got their start in Music PR – it is definitely one of, if not the most, female friendly sector in the music business. I never wanted to do music PR, but was just desperate to get a job in the biz. After I graduated, I moved from Philadelphia to New York and interned at 3 didn't music pr companies. During that time, I interviewed to be the receptionist at The Agency Group and got the job. Despite studying music business in college, I wasn't very knowledgeable about booking agencies. Live music has always been a passion of mine – I have been going to rock shows regularly since I was 14 years old. I've always felt that the live aspect of music is really where you can tell the true talent of an artist – at this point, anyone can put a decent enough record together if they have the money and resources. But to put on an amazing live show is really what shows an artist's true talent. So when I realized that being a booking agent has everything to do with live music and that there is A+R involved as well – well I was pretty much sold and decided I was going to do everything in my power to move up the chain at the company. After being the receptionist for a year, I became an assistant, and then at the end of last year, I was promoted to associate agent.
It's really exciting to see a young woman out and about at SXSW, which as we know, is ruled by middle aged tech men. Please tell about everything you've been doing with your artists this week.
It has been incredibly hectic, to say the least. I have 16 artists that I work with down here – so there is a lot of me running around town, from show to show, saying hello to the bands and making sure everything is going smoothly. I wish I had more time to spend with each band – but between going to shows, going to meetings, trying to see new bands, etc – there is just not enough time in the day.
Which acts have you caught that have left you floored by their talent?
Well, I love all of the bands I work with – I wouldn't work with them if I didn't. There are a few that I hadn't been able to see live before and it was pretty incredible to get to see them for the first time after listening to their music for so long – Toy, Swim Deep, and Feathers. I also got the opportunity to see the Stooges who are my favorite band of all time. And of course The Yeah Yeah Yeahs were amazing as always.
What do you think someone should work on if he or she is in a band saying, "I badly want to have a record deal?"
With the current state of the music business – a record deal isn't really necessary to get your name out there. The best thing you can do is write and record some quality music, self release it if you have to, and just play as many shows as possible. If you have the talent – touring is what is going to develop your fan base and get you ready for the next level. Sitting around and hoping for a record deal just doesn't cut it. You need to be proactive.
Austin used to have a guy running around in his underwear who, I kid you not, became this cult figure in town and the guy scared me half to death when I went to school here the first time I saw him parading in a diaper thing. The town motto is "Keep Austin Weird!" So with that, what is the weirdest or funniest thing you've seen all week?
Seeing The Allah-Las, who I work with, playing the Doritos stage was pretty weird. And awesome. I have never seen so many Doritos as I did backstage too.
If someone wants to have your job, what should he or she do?
One of the easiest ways to get into booking is to book shows. If you are in college – become involved with your school's concert committee. Get a job or internship at a venue and try to get involved with the booking process. Through that – you will develop contacts at booking agencies . Get an internship at a booking agency – I would say at least 80% of the time we hire someone it is either a current or former intern that gets the job. Go to shows – go to A LOT of shows – networking is one of the most important aspects of working in the music business and the best place to meet people in the music business is by going to shows.
What are you going to be doing with your own artists this year?
As far as tours – I have Shannon + The Clams supporting Mikal Cronin in June, The Black Angels are doing a tour in April and May with Allah-Las and Hanni El Khatib supporting, NOBUNNY is going to have a new record out this summer and will be doing a headline tour in July, Hunx + His Punx are also putting out a new record and will be touring in August – I could go on – everyone is going to be pretty busy.
As for other events/festivals – I am very excited to be returning to Austin at the end of April for Austin Psych Fest. The Black Angels throw the festival every year and it continues to grow in popularity. I went last year for the first time, and it was one of the best festivals I have ever been to. This year I have Black Angels, The Raveonettes, Roky Erickson, Night Beats, Dead Skeletons, and Young Magic all playing. And then in May – I am going to be going to Great Escape Festival in Brighton, UK. It is considered the SXSW/CMJ of UK/Europe. I have a bunch of bands playing that as well – Allah-Las, Swim Deep, Temples, Feathers, and Big Deal. Will also be going to catch some new bands as well and meet some lovely Europeans!
'Baby Shark' Is Back With A New Song About Hand Washing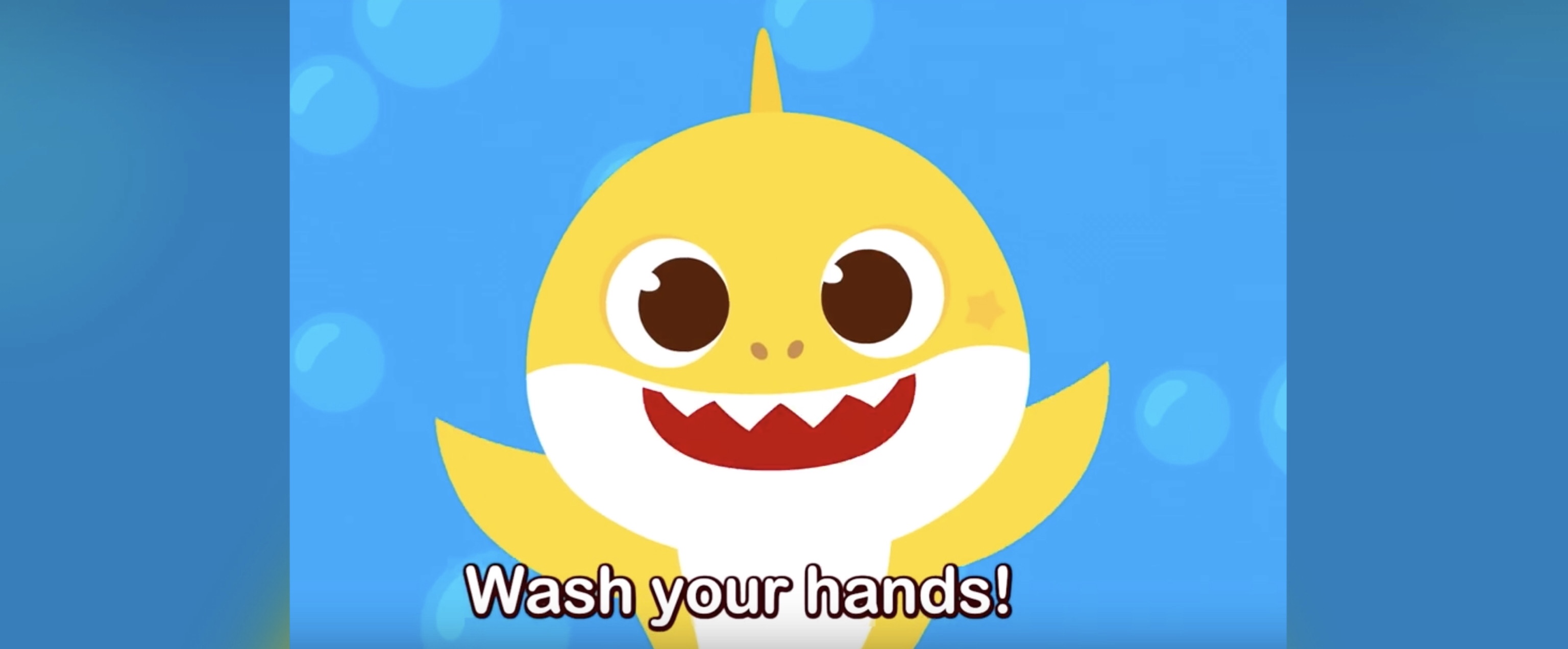 Washing your hands is something we should all doo doo doo doo doo.
Back before we were afraid of what infectious germs might be crawling on our hands there was a dance craze that swept the nation. The "Baby Shark" phenomenon, which had dancers recreating different sharks with their hands, grew wildly popular in 2019, racking up over 5 billion views on YouTube and even reached number 32 on the Billboard Hot 100. While the catchy, little ear worm is definitely hard to un-hear, the latest coronavirus-related rendition is using it's memorable lyrics to emphasize the importance of hand washing. That's right, PinkFong has just released an appropriately-timed sequel entitled "Wash Your Hands."
The song is meant to encourage children to wash their hands, which in the midst of this pandemic could not be more important. The updated lyrics are a perfect step by step guide for little fishies everywhere:
"Grab some soap, doo doo doo doo doo"

"Rub your hands, doo doo doo doo doo"

"Rinse your hands, doo doo doo doo doo."

"Cover your sneeze, doo doo doo doo doo"

"Cough into your elbow, doo doo doo doo doo."
While I am sure I will have this tune stuck in my head until quarantine is up, it is nice to see creative solutions for some troubling issues. Take a listen to the song below and WASH YOUR HANDS!
Like what you read? Follow me on Instagram
JoJo Remixes Hit Song To Warn You To "Chill (Stay In)"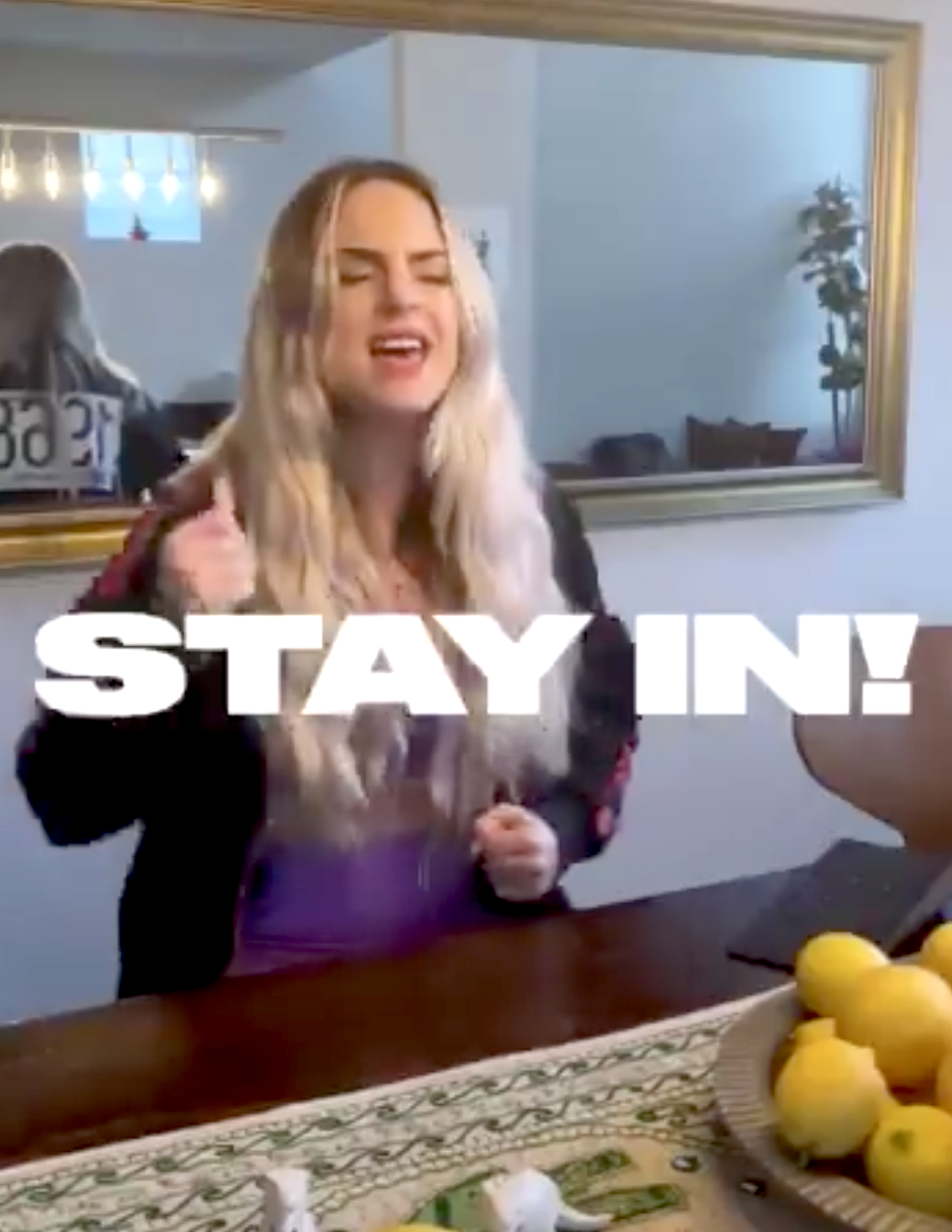 Sure we all are itching to leave (get out) of our houses right now but pop singer JoJo reminds us why that isn't a good idea.
In 2004 you couldn't turn on the radio or listen to your friend's illegally download playlist without hearing JoJo's angst-filled lyrics about a romance gone south. That's right, "Leave (Get Out)" was the pop single that swept the nation and skyrocketed JoJo's career. Well during these times of social distancing and self-quarantining the pop singer has changed her tune. JoJo tik-took to Tik Tok to release an updated version of her big hit now entitled "Chill (Stay In).
The fun remix contains new lyrics urging fans to stay indoors and away from others amid the COVID-19 pandemic. She sings "I never thought corona could be such a nasty bitch. But now that she's here boy all I want is for you use common sense. Stay in (no!) right now, do it for humanity!"
The 1-minute snippet is just a tease according to JoJo, who promises a full version to be available for streaming sometime soon. You'll remember this isn't the first time the pop star has re-recorded her music. After her initial rise to fame, JoJo made it clear that she was not exactly happy with the sound of her early music. On her 28th birthday in 2018 she announced the re-release of her debut and sophomore albums with all new re-recorded vocals and production to reflect her more authentic vibe.
Like what you read? Follow me on Instagram
VIDEO: "Quarantine With Me" Is The Perfect Song For Social Distancing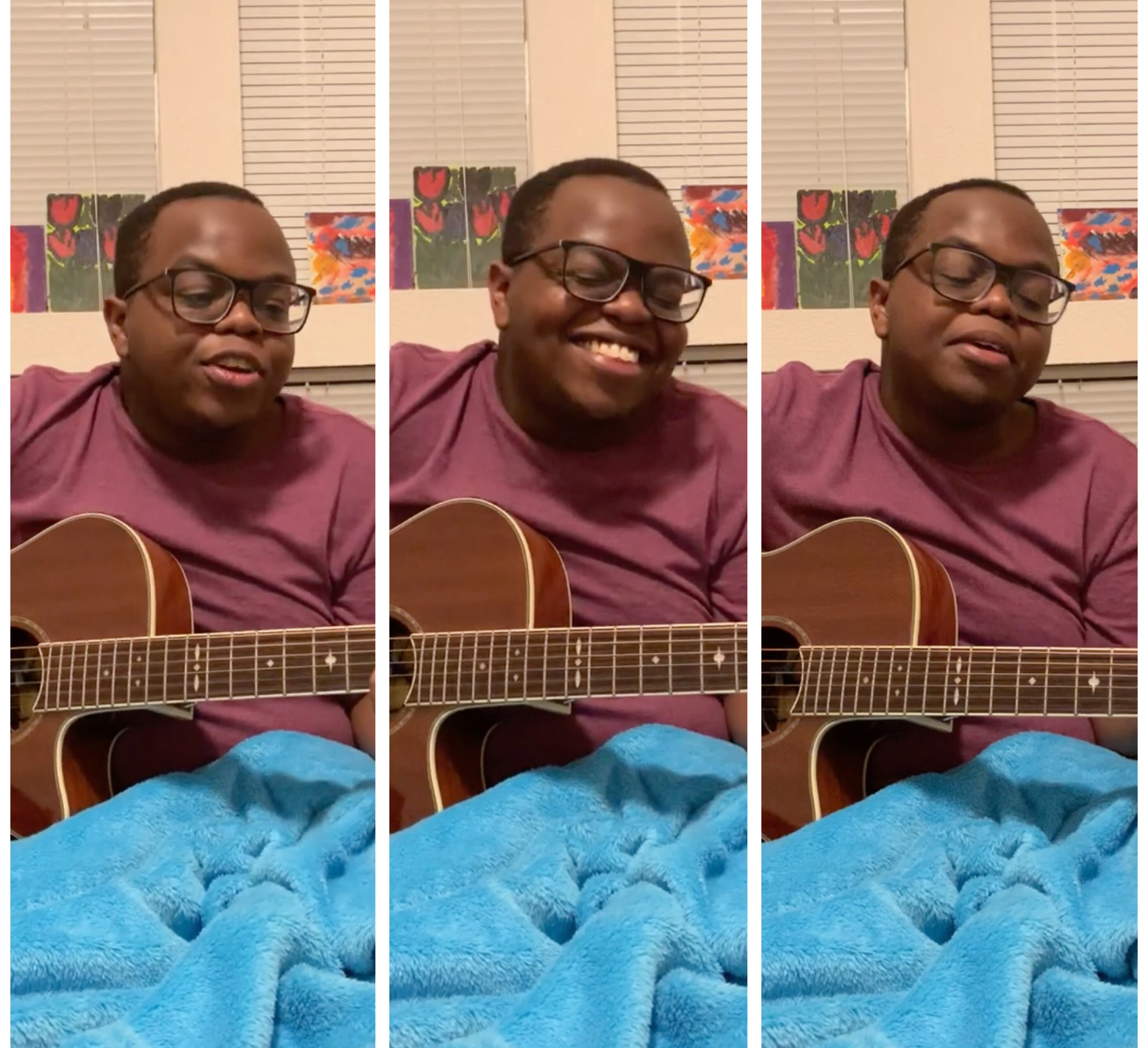 "You can put your hand in mine…once you washed it for the recommended 20 seconds time" is just the first line of this comically informative, coronavirus-themed ballad.
They say "necessity is the mother of invention." Well, you may not have known you needed a coronavirus-themed ballad but once you hear it, your quarantine will never be the same.  David Sikabwe, a 22-year-old student at UT Austin, took to Twitter to give a little corona-concert with a charming song he wrote entitled "Quarantine With Me." The song is oddly beautiful while still chock filled with good information about staying healthy during the global pandemic.
When speaking with Mashable, Sikabwe said the reasoning behind writing the song was sort of random:
"The song was really just a random idea I had. There are a lot of songs written about staying home with someone you care about like 'Nothing' by Bruno Mars an 'Do You Wanna Do Nothing with Me' by Lawrence. I figured that sentiment had a special significance with the looming specter of this disease."
Hope this song helps bring some levity to your quarantine. Be sure to share with friends…FROM A SAFE DISTANCE!
Like what you read? Follow me on Instagram