After 5 Cast Deaths, Dr. Drew Says No To Another Season Of "Celebrity Rehab"
It's the kind of topic you would expect to be debated on Dr. Drew's CNN show, except that Dr. Drew is the subject of the debate. After five Celebrity Rehab cast members have died, is Dr. Drew's commitment to their recovery being unfairly criticized?
It's the kind of topic you would expect to be debated on Dr. Drew's CNN show, except that Drew is the center of the debate. After five Celebrity Rehab cast member deaths, is Dr. Drew's commitment to their recovery being unfairly criticized?
In a radio interview with  Zach Sang and the Gang, Drew fires back:  "To have people questioning my motives and taking aim at me because people get sick and die because they have a life-threatening disease, and I take the blame? Rodney King has a heart attack and I take blame for that?"
Citing the emotional strain and unfair critcism, Drew has had enough of his cable series Celebrity Rehab, and opting against more seasons. "I'm tired of taking all the heat. It's just ridiculous."
Five former cast members of the series have died, some in ways that appear to be related to their substance or emotional problems. In February, country singer Mindy McCready committed suicide after a long battle with substance abuse, Rodney King died of accidental drowning, with cocaine and alcohol found in his system. Taxi star Jeff Conaway, Alice in Chains bassist Mike Starr and Real World cast member Joey Kovar have also died. 
Some have criticized Pinksy, claiming the series exploits the personal problems of the stars.
The issue is a complicated one. The personal addictions of these entertainers are long standing, its safe to say that they will no be able to kick their problems in the two months or less that are required to shoot a TV show. It's unclear just how much counseling went on after shooting concluded, or how their treatment continued. It could be that the series does in fact make matters worse by simply 'ending' the treatment when production wraps.  Does the show exploit celebrities with problems? It sensationalizes the drama that accompanies it, that's for sure, but it also provides the stars with an income that they probably weren't getting for some time… and could very well have put them on a path to recovery. Whether or not you agree with the premise of the series, no one forces them into being on the show, their participation is simply born out of their own desperation.
"It's very stressful and very intense for me," said Pinsky.
What do you think?
Mariah Carey Is Nearly 'Crushed' In Blooper From Last Year's #BottleTopChallenge
That's one high-octane octave.
Mariah Carey has a vocal range that leaves even dogs cheering for more, so it was no surprise when she took part in last year's #BottleTopChallenge. The social media challenge forced singers to open a bottle top with only the use of their voices. Well obviously there isn't a bottle top big enough to stand up to Carey's whistle register so she shared a video demonstrating just how easy it was for her to complete the challenge.
Challenge accepted! #bottletopchallenge pic.twitter.com/Rygijd6z5W

— Mariah Carey (@MariahCarey) July 7, 2019
I bet you she has never needed help opening a jar of pickles. It has been one year since the 5-time Grammy winner shared the original post and to commemorate the occasion Carey shared an outtake in which she is nearly "crushed" by the bottle. Of course the word "crushed" is a bit over-dramatized but it makes for a good post, darling.
Last year I tried to crush the bottle cap challenge, but the bottle almost crushed me 😬😳 Here's the take you didn't see… https://t.co/VKGKnIXkLl pic.twitter.com/mkCVrbbG65

— Mariah Carey (@MariahCarey) July 7, 2020
Quite possibly the most impressive blooper ever. Knocking over a bottle of champagne is way more exciting then just spinning off the cap!
You can follow all of Mariah Carey's social media adventures here.
Like what you read? Follow me on Instagram
Chrissy Teigen's 'World Famous T***y Biscuit's' Receive Some Hilarious Reactions
Hey, her biscuits are down there man.
Does your mouth ever water when you watch cooking shows like Barefoot Contessa or 30 Minute Meals? Well if you saw the dough-rolling-hack Chrissy Teigen posted over the weekend, you might be drooling for a whole different reason.
The supermodel mom is not only known for her beauty and her humor, she is a great chef too. Her website CravingsByChrissyTeigen features dozens of fun recipes that all look delicious. Well one recipe you won't find on her website (although I really hope she puts it in her next cookbook) is her "World Famous Titty Biscuits." On Twitter, Teigen shared a video where she is rolling out biscuit dough with a wine bottle and let's just say the blouse she is wearing highlights her biscuits perfectly. Biscuits which have recently been reduced by the way. Teigen took to social media in June to share the news that she would be removing her breast implants to improve her quality of life.
Making my world famous titty biscuits! pic.twitter.com/rJiOkBOFIj

— chrissy teigen (@chrissyteigen) July 4, 2020
Leave it to Twitter to come up with some priceless reactions to the video of course. Some haters chimed in but we can only assume it's out of jealousy as they just wish their biscuits were as fluffy as Teigen's. The rest of the comments were pure comedy. Take a look at some of the funniest.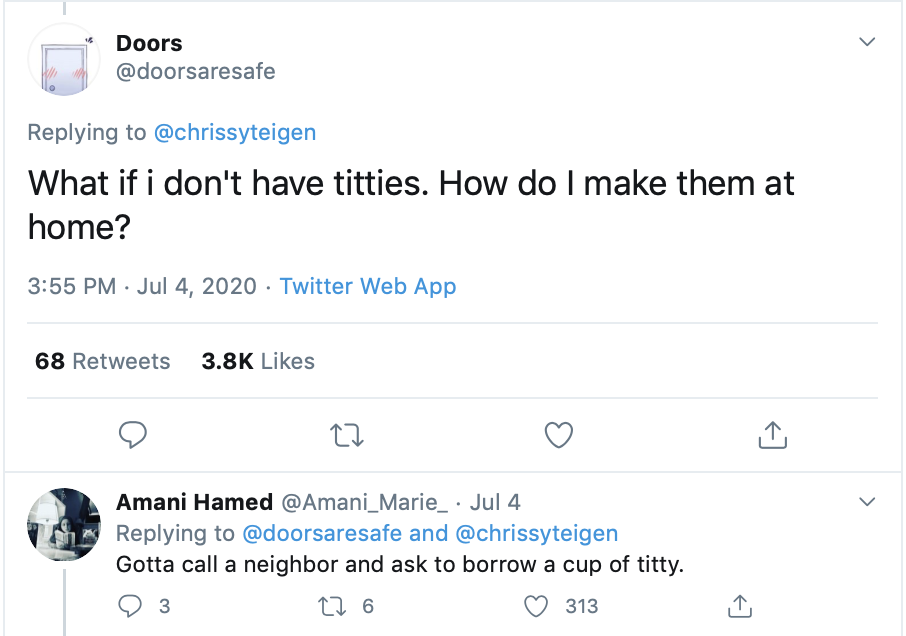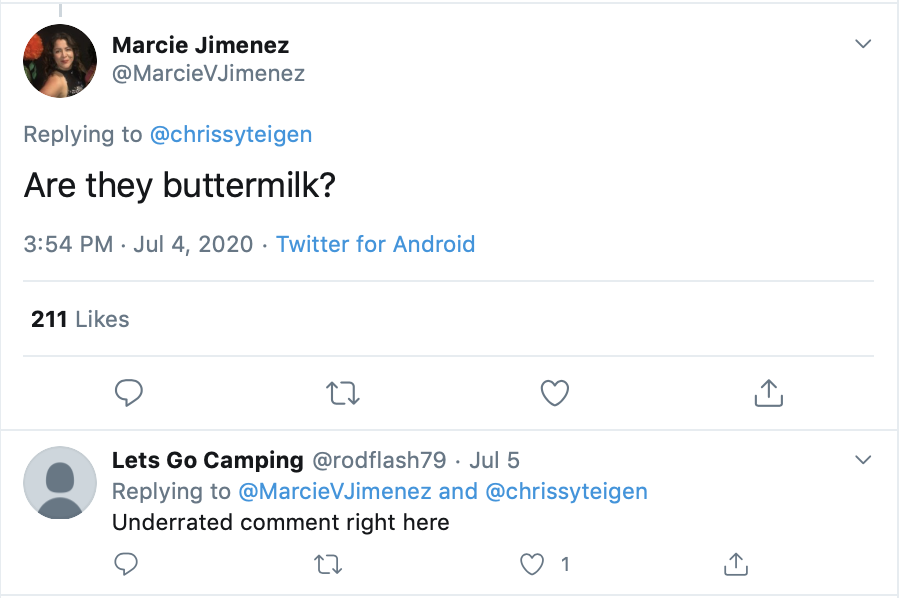 To follow Chrissy Teigen in all of her comedic adventures click here. For more cooking tips and tricks click here.
Like what you read? Follow me on Instagram
Kelly Ripa Shared A Sexy Picture Of Marc Consuelos And Warns More Male Nudity To Come!
July's heat ain't got nothing on Mr. Consuelos.
Ok let's be honest when someone shares a thirsty photo of their new man on social media it's cause for an immediate eye roll…unless of course you're Kelly Ripa showing off your hunky husband of over twenty years in which case that eye roll turns into tongue wag.
On Wednesday, the Emmy award winning talk show host took to Instagram to show off a photo of her incredibly buff husband Marc Consuelos. The 49-year old actor has bulked up for a two reasons; 1. He plays an ex-fighter on Kingdom which is now available for streaming on Netflix and 2. I needed a new wallpaper on my phone. In any event, the impeccable physique is obviously stunning as is the affection this couple shares after their nearly 25 years of marriage. In her caption Ripa wrote:
"KINGDOM is out on @netflix today! Warning: this show is brilliantly written, beautifully acted and jam packed with male nudity 🔥🔥🔥 you've been warned."
Now that's a heat advisory I can get behind. Check out the hunky photo below and tune into Kingdom on Netflix!
Like what you read? Follow me on Instagram