Sassy Scootin' 2-Year-Old Is Exactly What You Need To See If You Haven't Smiled Today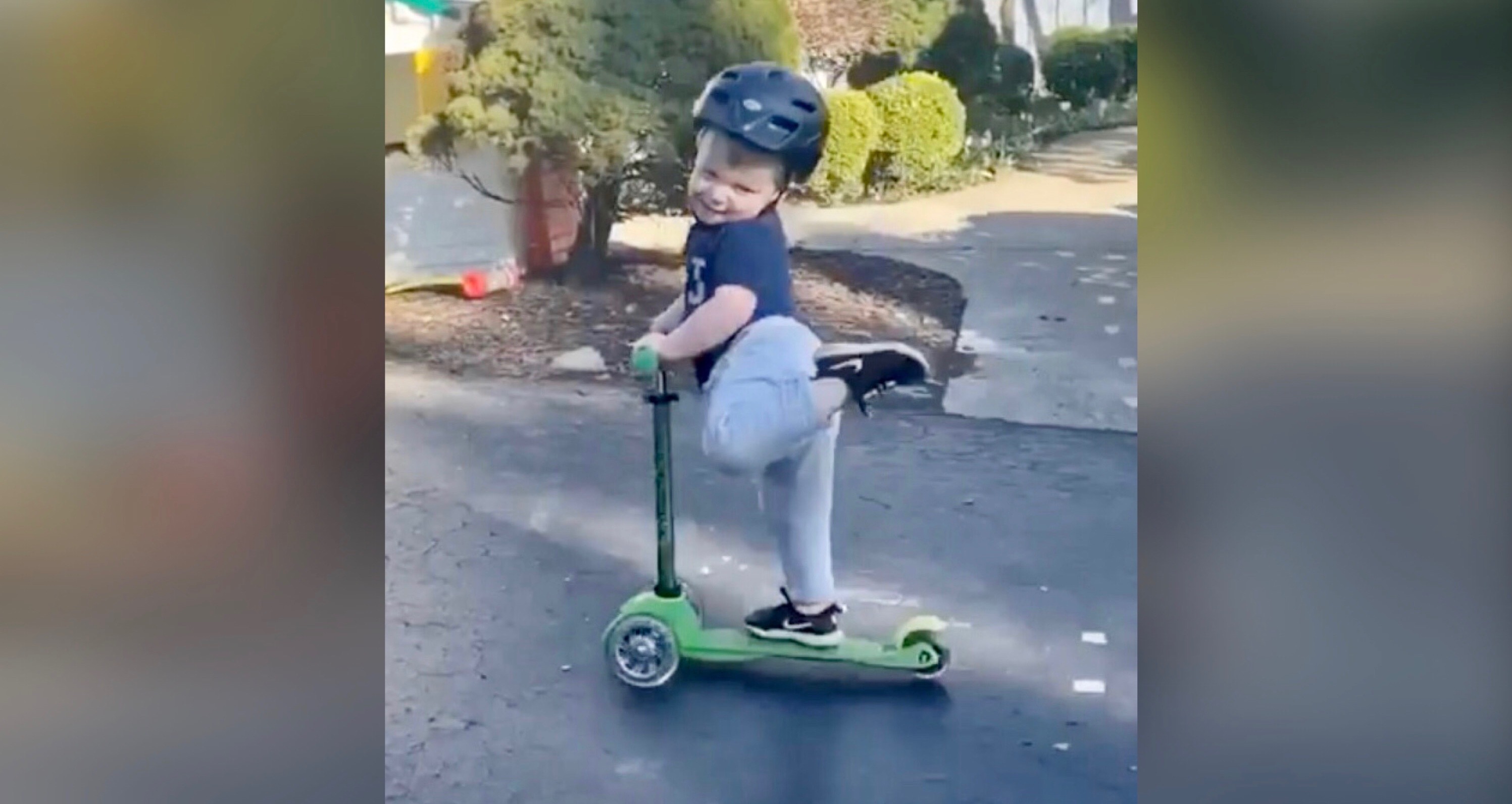 This kid's got a leg up on the cuteness competition.
Have you ever walked away from someone during an argument right after saying the perfect thing that left your foe speechless? Were you ever called to the front of the class to answer an impossible question only to get it right? Did your mom ever yell at you to clean your room but "ha-ha too late" you already cleaned it? Well, if you have done any of these things you will totally relate to this high kicking, sassy scootin', viral video star.
Blogger Mik Zazon shared to social media a montage of her nephew serving leg on a bright green scooter as Young Bae's "Bad Boy" blares in the background. Her caption reads "my nephew is making people all around the world smile with this video and I think we all needed it" and she couldn't be more right! Something about the 2-year-old's righteous expression as he kicks on by totally reads "victory!" He is totally crushing this scooting thing.
Take a look at the adorable video below!
Like what you read? Follow me on Instagram
Adorable Little Girl Pretends To Be Asleep When She Is Caught Sneaking Snacks
The defense rests.
One little girl has devised a completely new defense to being caught with her hand in the cookie jar, or pantry I should say, and it is so brilliant that I might just use it the next time I get asked to take the garbage out.
Grandma Chris J. Vaughn caught her grand baby red-handed sneaking a snack and when she called her out, the little girl pretended to be asleep! The little girl sticks to her act for nearly 15 seconds before breaking character by flashing grandma the cutest mischievous smile. The video has gone viral and has already been viewed over 1.3 million times on Facebook!
Check out the adorable video below!
Like what you read? Follow me on Instagram
TikToker Goes Viral As He Transforms Into Favorite Superheroes In Amazing Video
Slap a cape on this video because it's just super.
TikTok videos are like Halloween costumes. Some are cute, some are scary but 9 out of 10 are just plain bad. So it's exciting when a video from the social platform goes viral for being so well done and that's exactly what happened with Julian Bass.
On his account @TheJulianBass, Bass shared a video of himself transforming into three different superheroes. The first is a Jedi, the second is Ben10 and the third is Spiderman. Not only are the costumes impressive but so are the special effects. The Jedi slices through the scene to cut to Ben10 who transforms into a computer animated alien who backflips into Spiderman. Trust me, it's so much cooler than some awkward dance challenge.
In less than a day the post has already garnered over 1.7 million views on TikTok and a whopping 10million views on Twitter. On Twitter Bass wrote "if y'all can retweet this enough times that Disney calls, that'd be greatly appreciated." Get on this Disney!
Check out the video below!
if y'all can retweet this enough times that Disney calls, that'd be greatly appreciated pic.twitter.com/GrKlIRxg3J

— Julian Bass (@thejulianbass) July 2, 2020
Like what you read? Follow me on Instagram
Randy Rainbow Wants You To 'Cover Your Freakin' Face' In Hilarious New Parody
Is it really such a daunting task to wear a freakin' mask?!
I don't know about you but my preferred method of learning is through song. If they put the pythagorean theorem to the tune of the ABC's I might have actually passed high school geometry. Well perhaps the board of education could take a few notes from Randy Rainbow because his latest viral video is teaching everyone an important lesson all to the tune of "Put On A Happy Face."
The comedian's latest post tackles the unreasonably controversial subject of wearing a mask during the ongoing coronavirus pandemic. While I'm not entirely sure why there are people who want to put their health and the health of others at risk, Rainbow uses his signature style of comedy singing to ask everyone to sincerely "Cover Your Freakin' Face." The video takes place at a presidential press hearing where Trump speaks about his refusal to mask up which leaves Rainbow with no choice but to burst into song. Wasn't it Newton that said "Singing is fundamental"?
The over 3-minute video is filled with hilarious quips to the president such as "so back up gurl, don't get in my space and cover your freakin' face." And this friendly reminder, "it's not taboo, think of your poor old ailing nana she's counting on you." The list goes on and on but the message is clear, wear a mask!
Check out the hilarious video below!
🎶Don't spread droplets all over the place, just cover your freakin' face🎶 #CoverYourFreakinFace #WearAMask 😷🙄 pic.twitter.com/KsdLbrkRkj

— Randy Rainbow (@RandyRainbow) June 29, 2020
Like what you read? Follow me on Instagram