You Can Actually Watch Joe Exotic's Entire Three-Way Wedding On YouTube!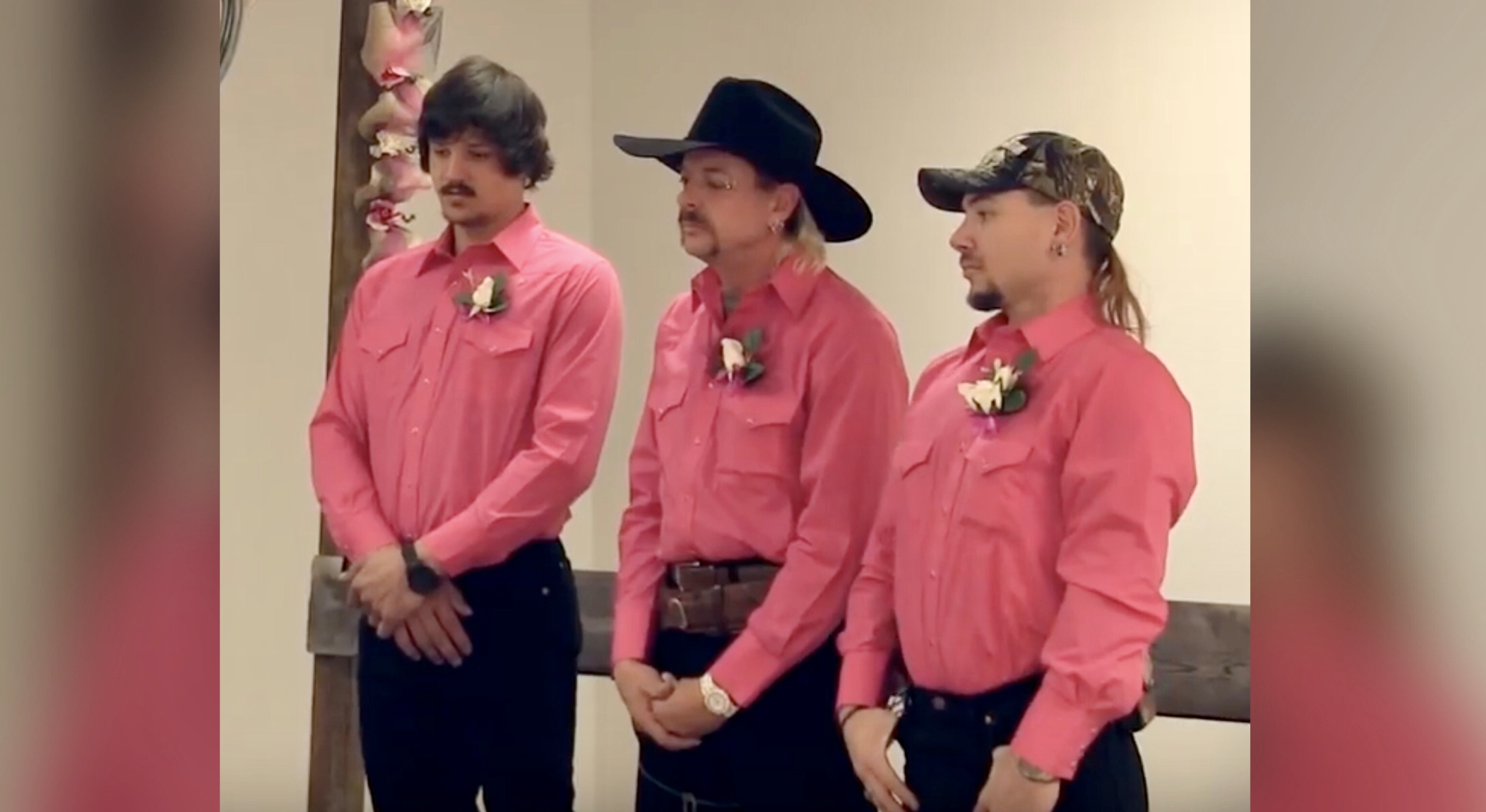 The wild life of Joe Exotic is truly the gift that keeps on giving.
Hey all you cool cats and kit…oh can't possibly start a story about Joe Exotic with that greeting. Let's try again.
Hey all you Tiger King super fans! You've binged the Netflix docu-series more times than Joe Exotic curses Carole "F***ing" Baskin and yet you still can't get enough of the sequined clad, mullet sporting, oddly pierced, "tiger king." Well luckily for us it seems like there is no shortage of big-cat-content in sight. Netflix just announced that another episode of the hit docu-series will be airing soon. There is a scripted film adaption of the docu-series already in the works. And most recently, there has been talk of a documentary about the disappearance of Carole Baskin's first husband being produced. This is great news for those of us who wait for Tiger King updates like they are a truck filled with expired Walmart meat, but is there anything that can hold us over in the meantime? As a matter of fact there is.
Fans of the series have done some digging and found the actual footage from Joe Exotic's three-way wedding. The wedding between Joe and his partners John Finlay and Travis Maldonado. The wedding where all three grooms wore matching bright pink shirts and white corsages. The wedding which made the ordained minister herself catch a case of the giggles. The wedding I WISH I was invited to! The wedding video was posted on Joe Exotic's YouTube channel back in 2014, shortly after the ceremony and has since racked up over 227,000 views. If you've watched the series (who hasn't?!) you'll remember that this polyamorous marriage unfortunately did not last and Joe is currently married to a young man named Dillon Passage. No footage of the wedding between Joe and Dillon has surfaced yet but you can bet I have my google alerts set.
Joe Exotic is still serving a 22-year sentence for falsifying wildlife records, violating the Endangered Species Act by killing five tiger cubs and federal charges for a murder-for-hire scheme where he targeted arch-nemesis Carole Baskin…who was the only thing missing from another wise perfect wedding video. Joe was recently transferred from an Oklahoma prison to a Texas prison-medical center after being exposed to the coronavirus.
Like what you read? Follow me on Instagram
Amber Riley Performs Beautiful Tribute To Naya Rivera On 'Jimmy Kimmel Live!'
RIP.
Whenever Amber Riley and Naya Rivera combined their insurmountable talents on the hit show Glee there was an almost tangible magic that left fans in awe of the powerhouse duo. Playing Mercedes Jones and Santana Lopez respectively, the two characters may not have always seen eye to eye but when they joined you knew you were in for a memorable performance. It is sad to think that we will never get another "River Deep, Mountain High" or "The Boy Is Mine" moment after Rivera's passing last month but there is something special in knowing Riley will carry the torch for her fallen costar forever.
On Thursday night introduced by guest-host Lil Rel, Riley virtually appeared on Jimmy Kimmel Live!  to perform a new song from her EP entitled "A Moment" which was dedicated to Rivera. "Not too long ago we both lost a really amazing friend in a tragic accident and we both will miss her forever," said Lil Rel. The performance is displayed in black and white and features Riley singing in front of a montage of photos of her former co-star. It is truly stunning.
Check out the tribute below.
Like what you read? Follow me on Instagram
You Will Have Hearts In Your Eyes When You See Cardi B's New Hair Do
Wait till you see her WAP (Wonderfully Artistic Pigtails)
Cardi B has never shied away from a bold look and her latest hair do is proof of that.
The 27-year-old "WAP" singer…song of the year IMO…took to Instagram Tuesday night to show off her pink, heart-shaped pigtails and people are loving the look. In the short video Cardi asks fans if they would "go to the club with your hair like this" and I think we can all agree that this look would definitely turn heads at the clurb.
https://www.instagram.com/p/CEVgLpyAHCp/?utm_source=ig_embed&utm_campaign=embed_video_watch_again
The artistic hair do was crafted by Cardi's long time longtime stylist Tokyo Stylez and took at least three hours to complete. Fans commented about how beautiful the unique hairstyle is but questioned how the rapper was going to sleep that night. Let's hope those pigtails can be twisted off and be thrown on the nightstand.
Like what you read? Follow me on Instagram
Check It Out, Joe Jonas Has Shocked His Fans With His New Look
I'm a sucker for his new do.
It doesn't matter if you are more of a "Nick" or a "Kevin" or a "Joe" when it comes to loving the Jonas Brothers. All that matters is that you all agree with me that Joe is obviously the most attractive of the three brothers and that's just a fact. I'm sorry but I don't make the rules.
The 31-year old stunned fans today earlier today when he debuted a shocking new look on his Instagram. Sporting a black t-shirt and those signature dark, furry-Murray eyebrows, Joe flashed his new platinum blond buzzcut. I know I might be in the minority here but I do love when these Hollywood hotties switch it up and do the blond thing. I loved it on Adam Levine. I loved it on Zac Efron. I even found myself oddly drawn to the OG platinum stud, James Michael Tyler aka Gunther from Friends.
Perhaps the new do is a part of Joe's daddy-makeover as he and his wife, Sophie Turner, recently welcomed their first child, Willa. A source told ET "Sophie and Joe have named their daughter Willa. The couple's bond has gotten even stronger since the addition of their daughter. Although circumstances are different right now because of the [coronavirus] pandemic, Joe was there for the birth of his daughter. The couple is happy they now have time to spend at home with their daughter and get used to their new life together."
Be still my heart.
Like what you read? Follow me on Instagram