Chrissy Teigen's 'World Famous T***y Biscuit's' Receive Some Hilarious Reactions
Hey, her biscuits are down there man.
Does your mouth ever water when you watch cooking shows like Barefoot Contessa or 30 Minute Meals? Well if you saw the dough-rolling-hack Chrissy Teigen posted over the weekend, you might be drooling for a whole different reason.
The supermodel mom is not only known for her beauty and her humor, she is a great chef too. Her website CravingsByChrissyTeigen features dozens of fun recipes that all look delicious. Well one recipe you won't find on her website (although I really hope she puts it in her next cookbook) is her "World Famous Titty Biscuits." On Twitter, Teigen shared a video where she is rolling out biscuit dough with a wine bottle and let's just say the blouse she is wearing highlights her biscuits perfectly. Biscuits which have recently been reduced by the way. Teigen took to social media in June to share the news that she would be removing her breast implants to improve her quality of life.
Making my world famous titty biscuits! pic.twitter.com/rJiOkBOFIj

— chrissy teigen (@chrissyteigen) July 4, 2020
Leave it to Twitter to come up with some priceless reactions to the video of course. Some haters chimed in but we can only assume it's out of jealousy as they just wish their biscuits were as fluffy as Teigen's. The rest of the comments were pure comedy. Take a look at some of the funniest.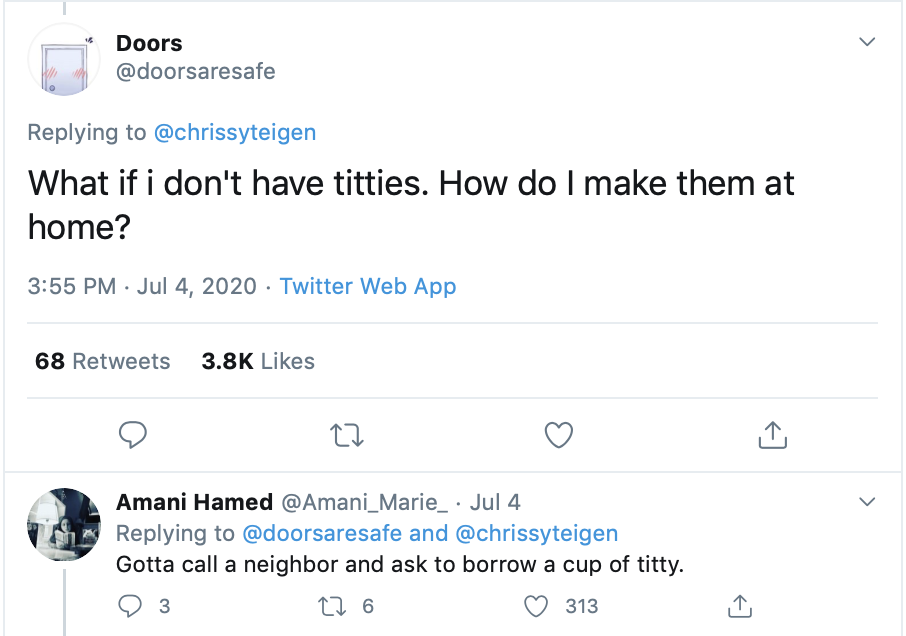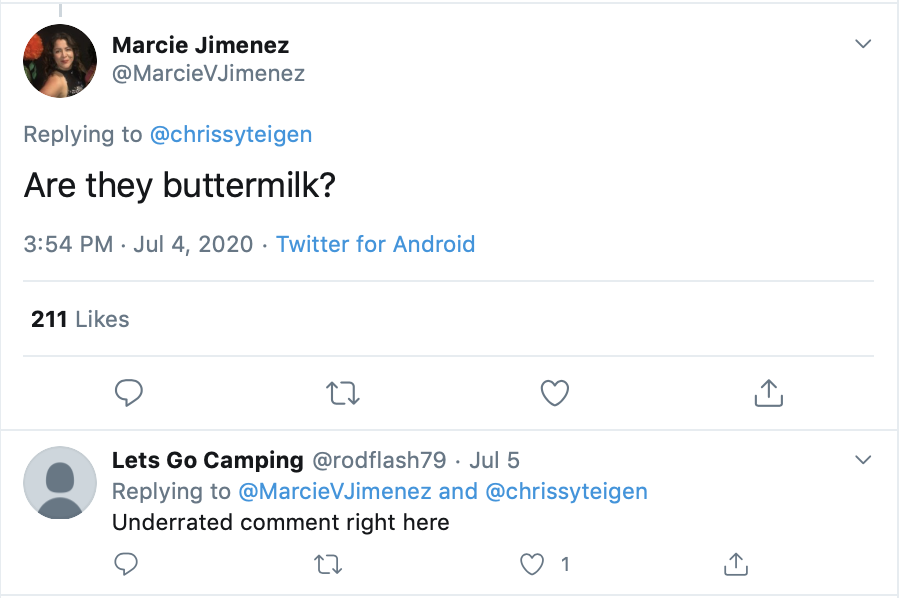 To follow Chrissy Teigen in all of her comedic adventures click here. For more cooking tips and tricks click here.
Like what you read? Follow me on Instagram
Jason Momoa Was Hosed Down After A Dirty Dune Buggy Ride And The Photos Are As Hot As They Sound
We couldn't love him any Momore.
Social media is a bit of a double edged sword. Some days it feels like all there is to scroll through is overused quotes or endless tirades expressing personal opinions that no one cares about. But just when you think you might need to take a little social media sabbatical something like this happens.
Earlier today, Jason Momoa took to Instagram to share photos of himself being hosed off after a particularly messy round of dune bugging riding. And when I say hosed off I mean…shirtless…with a hose. Of the ride the Aquaman star wrote "like a pig in shit. 🤣🤣🤣hard to explain this one. but i had an amazing day. now i need a dune buggy. dune coming soon aloha j. @schaeffersgarmenthotel dirty pink 😭🤣😂" I fully support the idea of Momoa purchasing a dune buggy if it means he will share more content like this.
This slideshow requires JavaScript.
Of course fans went wild for the sizzling pics. One Instagrammer asked "Where do I apply for the hose guy's job?" Another pointed out the obvious by saying "good god that is a man right there." And finally one brought offered this very sage advice and said "wash your hands like you're washing Jason Momoa." Definitely wouldn't mind washing for the full recommended 20 seconds am I right?
To see more of the stars sizzling snaps click here!
Like what you read? Follow me on Instagram
Disney+ Series 'Muppets Now' Reveals Shocking Detail About The Swedish Chef
Bork, Bork, Bork?!
If you haven't taken the time to check out the new Disney+ series Muppets Now, stop reading and start streaming! The improv sitcom is an unscripted, segmented series in which our favorite fur-covered friends put together a digital show. Think The Muppet Show meets millennials. I watched the first episode, which became available for streaming as of July 31st, and I smiled through the entire thirty minutes. It's cute and campy and reminds us all why we love The Muppets so much. I was enjoying the childhood nostalgia of seeing Kermit the Frog, Fozzie Bear, Miss Piggy and the rest of the gang when suddenly our favorite gibberish-spewing chef came on the screen to partake in a cooking challenge. Of course I was prepared to giggle at the Swedish Chef's horrendous attempt at cooking but I was immediately distracted and could only focus on one shocking detail!
Did you see it? Can you see what I was distracted by?! The stached Swede is wearing a wedding ring on his left hand! The Swedish Chef is married?!?!
I mean, sure, it's not surprising with the sexy foreign accent and killer eyebrows but still, I would have never guessed the chef had someone waiting at home for him! Since the chef is one of the few Muppets to actually feature human hands, I first thought the ring might have belonged to a neglectful puppeteer who forgot to take off their ring. But I did a quick Wikipedia search and apparently the Swedish Chef has been donning the gold ring since 2010 and is known to be married!
I guess there truly is a lid for every pot.
Muppets Now is now available for streaming on Disney+.
Like what you read? Follow me on Instagram
Martha Stewart Responded To Chelsea Handler Recreating Her Sultry Pool Selfie With Some Shade, Compliments And An F-Bomb!
We are all Martha-Stewart-Livinggggg for this.
Domestic goddess Martha Stewart has turned into a spicy septuagenarian and it has only made her fans love her more. She is besties with Snoop Dogg, she has no trouble roasting celebs and most recently, she posted a selfie that left the internet buzzing. At 78, Stewart posted this stunner to Instagram earlier this week:
Peep that pout! It's safe to say that any of us would kill to look this good when we reach our seventies. Hell I'd give my left foot to look this good now. It came as no shock that the selfie went viral, so viral in fact, comedian Chelsea Handler took the time to recreate the selfie. With a caption that read "I'm here to take @marthastewart48's swimming lesson. If I look this good at 78 I better still have a pool to show myself off in" the 45-year old shared this to Instagram:
Along with tips for party throwing and scenic tablescapes, Stewart is also known to have quite the funny bone and can give a backhanded compliment better than most. In a response to Handler's recreation Stewart wrote "Dear Chelsea, I'm so happy that you like my post well enough to emulate it. I do think my pool is a little bit prettier than yours and that my facial expression is a little bit more relaxed." THE SHADE! "Nevertheless you are a beautiful girl and F–KING too young to be emulating me," Stewart continued dropping a wholehearted F-Bomb, "Continue with your comedy, your humor, and your amazing ability to gather around you political liberals. We need it!" And because she is the queen of good manners, Stewart finished the comment with "Love Martha."
All of this is just goals.
Like what you read? Follow me on Instagram