Judd Apatow Rips Ricky Gervais at Producers Guild Awards
So it seems as if Ricky Gervais has one definite foe in the world of Hollywood…
Judd Apatow, the man behind KNOCKED UP, THE 40-YEAR-OLD VIRGIN, and an entire subtle genre of comedy over the past decade, was hosting the Producers Guild Awards this weekend.  The show wasn't aired for television, but in his opening monologue, he had a lot to say about Gervais.  The highlights are below:
—"What did you think of Ricky Gervais?…I didn't like him. I thought he was mean."
—"He had that joke about the guy on Lost…He said he ate everybody else. Let's be honest — Ricky Gervais just lost weight. Even now he's four pounds away from not being allowed to do a joke like that. Did he lose weight just to make fat jokes? You think that's how mean he is?"
—"(Gervais) says the characters (in The Tourist) were two-dimensional…Then he says he hasn't seen The Tourist. So as a comedian, that's not fair, is it? To make jokes about a movie you haven't seen. I can't do a joke about The Invention of Lying because I haven't seen it. You haven't seen it. None of us have seen it. So the joke would not work."
—"(Gervais) made a joke about Tim Allen who was standing next to Tom Hanks…Who looks good standing next to Tom Hanks? We all look like a piece of shit standing next toTom Hanks. Warren Buffet would look like a piece of shit next to Tom Hanks."
—"Tim Allen did 200 episodes of Home Improvement. He was in three of the highest grossing movies of all time. And his latest just crossed the one billion mark. Whereas The Invention Of Lying made $18 million dollars worldwide…Leave Tim Allen alone."
So far, Apatow's monologue seems to be the most direct response to Gervais' "Golden Globes" job, but the question is, did he go too far himself?  On one hand, it could all be jokes.  On the other, much of it just seemed like he was telling Gervais to shut up.  It's all up to you to decide.
Laura Dern Honors Her Parents In Touching Academy Award Win Speech
Laura Dern, who has been slaying awards season this year for her role in "Marriage Story," took home the ultimate prize – a Best Supporting Actress Academy Award – and thanked her actor parents in a touching acceptance speech.
Her parents, actors Diane Ladd and Bruce Dern brought her to the Oscars with them when she was just 7 years old.
"Some say never meet your heroes. I say if you're really blessed, you get them as your parents. I share this with my acting hero my legends, Diane Ladd and Bruce Dern. You got game. I love you."
Dern's mother has been nominated three times, her father twice, but neither have won. Her mother can be seen during the speech crying in the audience.
Congrats Laura!!!
POP UPDATE: Justin Bieber, "Friends" For Life, And The Critics Choice Awards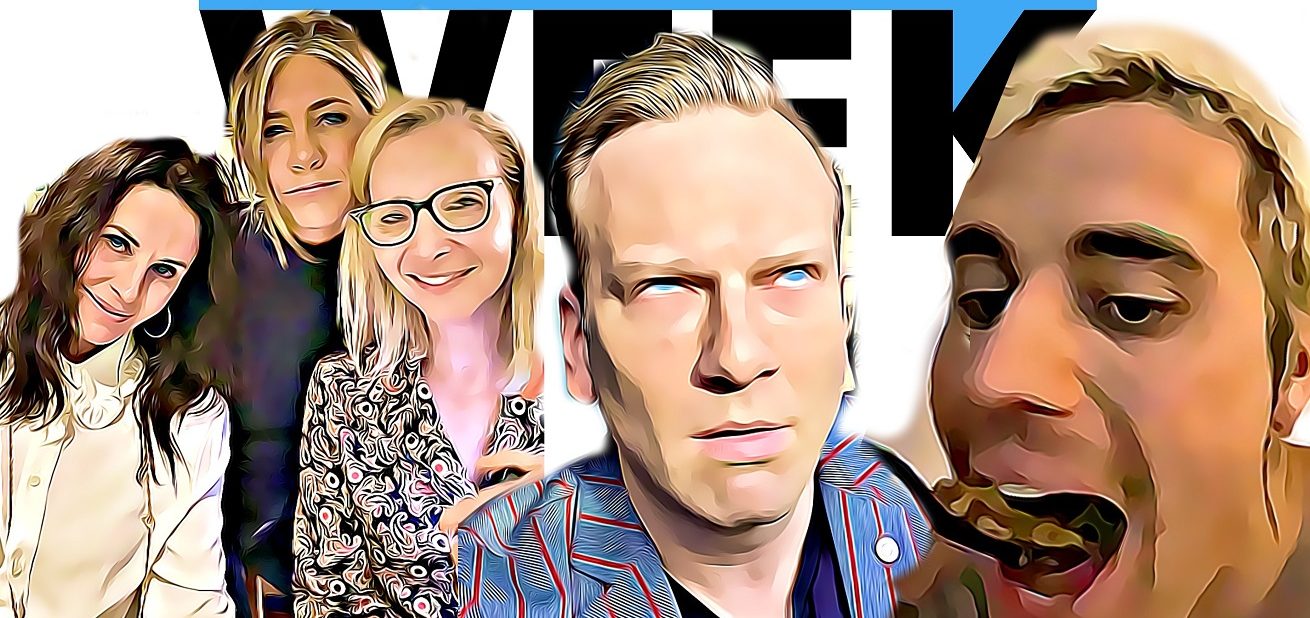 We're going to be doing some quick video updates whenever we can! Here's the latest! Justin Bieber begging for streams, (while you can hear him chew – ew), the ladies of Friends reunited, and mother nature. Take a look!
Courteney Cox's Instagram Caption Is Every Parent With A Teenage Kid
Have you heard? It's 2020 and we're all supposed to music videos on TikTok. Courteney Cox is no exception. The TV star posted an instagram of her and her daughter Coco dancing it out, with the hilarious caption, "Wanna see your child lose their patience? Do a TikTok with them."
Also, how long does it take to actually learn one of these routines? It seems very time consuming.
What I was really hoping for was video of her daughter losing her patience, but what we got was a pretty strong routine!