Justin Bieber's Controversial Statement About Abortion and Why People Need To Cut Him A Break.
THERE'S AN UPDATE ON THIS STORY! READ IT BY CLICKING HERE.
THERE'S AN UPDATE ON THIS STORY! READ IT BY CLICKING HERE.
Every now and then a celebrity says something that they will subsequently be asked about over and over and over again for years. And often it's justified. I think Mel Gibson should be asked about whether he's really an angry bigot (and why) until he finally leaves showbiz.
That said, Justin Bieber may have been a bit over his head in the new Rolling Stone interview that has just come out, where he talks sex, politics and even abortion in cases of rape. That's right – a sixteen year old boy is being asked to weigh in on where he stands on abortion if someone was raped. It's a subject that few adults can navigate artfully.
According to the interview, Bieber (like so many teen stars before him) was asked about sex… and like so many before him, he gave the ubiquitous Britney Spears / Jonas Brothers answer…
"I don't think you should have sex with anyone unless you love them…I think you should just wait for the person you're…in love with."
You know what?  That's what any teen pop star should say! No one wants to hear a sixteen year old kid say all they can do is think about sex. (Even though every sixteen year old boy is practically obsessed with the idea, but is smart enough not to talk about it in an interview) This is really the only acceptable answer.
Then, somehow, the topic turned to whether or not he was pro-life…saying: (direct quote via ONTD)
"I really don't believe in abortion," Bieber says. "It's like killing a baby?" How about in cases of rape? "Um. Well, I think that's really sad, but everything happens for a reason. I guess I haven't been in that position, so I wouldn't be able to judge that."
Already, some media outlets have pulled out the line where he says "I wouldn't be able to judge that." And really – that line is key… And while the "everything happens for a reason" line – in this case, he's including rape - is regrettable, I have to remind critics that this kid is SIXTEEN and he's entitled to be pro-life without judgement, and he handled the question, for the most part, fairly well for a kid his age.
And yet – it's likely that Bieber will be asked about this remark for many interviews to come. I think people need to cut him a break. He's a talented guy that's talking to Rolling Stone… not Meet The Press. When Bieber decides to run for President, (I'm guess that he'll do that somewhere around his twenties) then we can get all up in his junk about where he stands on the legalization of marijuana and stem cell research and human trafficking. But for now, let the kid comb his hair and hold hands with Selena Gomez and make millions of dollars singing around the world.
Laura Dern Honors Her Parents In Touching Academy Award Win Speech
Laura Dern, who has been slaying awards season this year for her role in "Marriage Story," took home the ultimate prize – a Best Supporting Actress Academy Award – and thanked her actor parents in a touching acceptance speech.
Her parents, actors Diane Ladd and Bruce Dern brought her to the Oscars with them when she was just 7 years old.
"Some say never meet your heroes. I say if you're really blessed, you get them as your parents. I share this with my acting hero my legends, Diane Ladd and Bruce Dern. You got game. I love you."
Dern's mother has been nominated three times, her father twice, but neither have won. Her mother can be seen during the speech crying in the audience.
Congrats Laura!!!
POP UPDATE: Justin Bieber, "Friends" For Life, And The Critics Choice Awards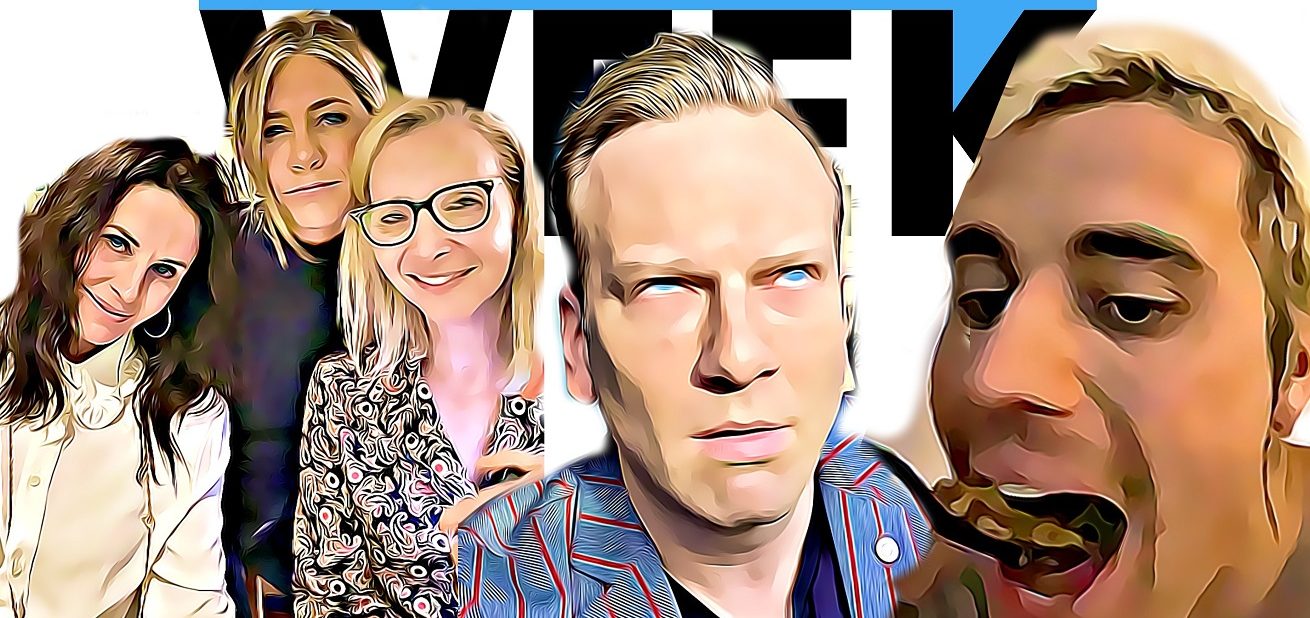 We're going to be doing some quick video updates whenever we can! Here's the latest! Justin Bieber begging for streams, (while you can hear him chew – ew), the ladies of Friends reunited, and mother nature. Take a look!
Courteney Cox's Instagram Caption Is Every Parent With A Teenage Kid
Have you heard? It's 2020 and we're all supposed to music videos on TikTok. Courteney Cox is no exception. The TV star posted an instagram of her and her daughter Coco dancing it out, with the hilarious caption, "Wanna see your child lose their patience? Do a TikTok with them."
Also, how long does it take to actually learn one of these routines? It seems very time consuming.
What I was really hoping for was video of her daughter losing her patience, but what we got was a pretty strong routine!