David Hyde Pierce Like You've Never Seen Him Before: Creepy and Disturbed in THE PERFECT HOST
You remember David Hyde Pierce as Fraiser's brother, Niles on the hit TV show.  You probably also know him from all of his great roles on Broadway.  However, I guarantee, you've never seen him like this.
Below is a new trailer for the movie, THE PERFECT HOST, and Pierce is just downright insane.  He is disturbing, unhinged, and makes you forget for about two minutes that he was ever Fraiser's mild-mannered brother.
The synopsis of the movie is as follows:
"Warwick Wilson is the consummate host. He carefully prepares for a dinner party, the table impeccably set and the duck perfectly timed for 8:30 p.m. John Taylor is a career criminal. He's just robbed a bank and needs to get off the streets. He finds himself on Warwick's doorstep posing as a friend of a friend, new to Los Angeles, who's been mugged and lost his luggage. As the wine flows and the evening progresses, we become deeply intertwined in the lives of these two men and discover just how deceiving appearances can be. With outstanding performances by David Hyde Pierce and Clayne Crawford, cowriter/director Nick Tomnay takes us on a suspense-filled ride where nothing is as it seems. THE PERFECT HOST is a slippery psychological thriller that exposes true human nature and reveals just how far we're willing to go to satisfy our needs."
Check out the trailer below, and let us know what you think of this new, dark side.
Laura Dern Honors Her Parents In Touching Academy Award Win Speech
Laura Dern, who has been slaying awards season this year for her role in "Marriage Story," took home the ultimate prize – a Best Supporting Actress Academy Award – and thanked her actor parents in a touching acceptance speech.
Her parents, actors Diane Ladd and Bruce Dern brought her to the Oscars with them when she was just 7 years old.
"Some say never meet your heroes. I say if you're really blessed, you get them as your parents. I share this with my acting hero my legends, Diane Ladd and Bruce Dern. You got game. I love you."
Dern's mother has been nominated three times, her father twice, but neither have won. Her mother can be seen during the speech crying in the audience.
Congrats Laura!!!
POP UPDATE: Justin Bieber, "Friends" For Life, And The Critics Choice Awards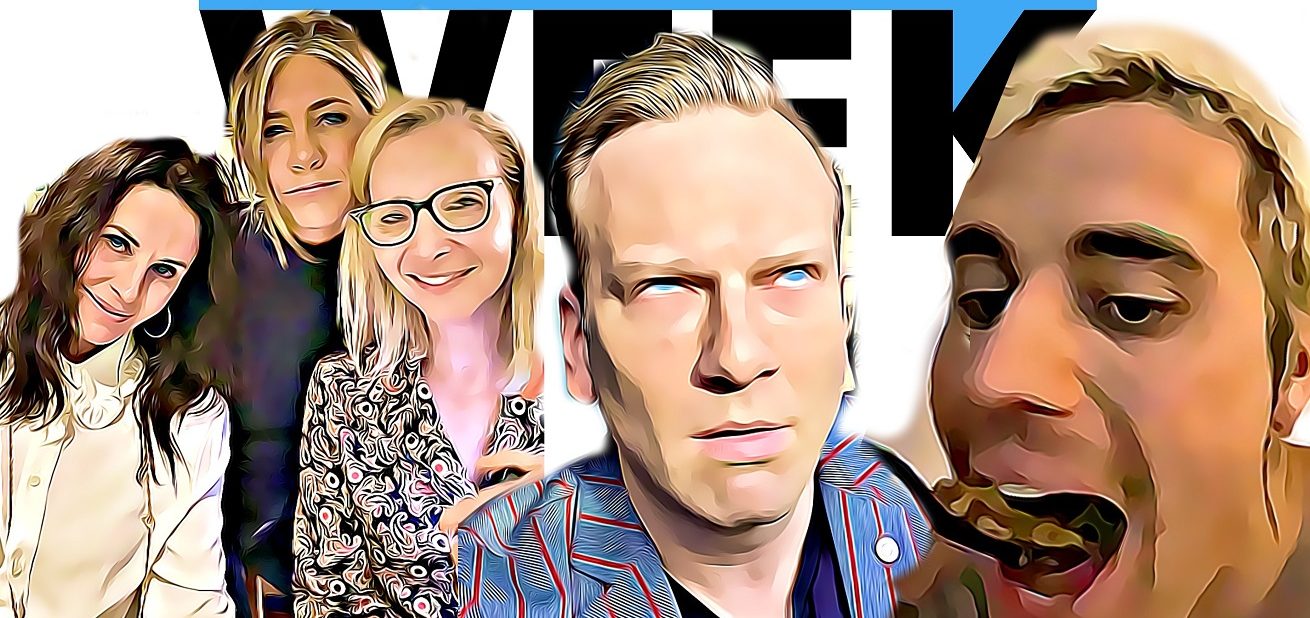 We're going to be doing some quick video updates whenever we can! Here's the latest! Justin Bieber begging for streams, (while you can hear him chew – ew), the ladies of Friends reunited, and mother nature. Take a look!
Courteney Cox's Instagram Caption Is Every Parent With A Teenage Kid
Have you heard? It's 2020 and we're all supposed to music videos on TikTok. Courteney Cox is no exception. The TV star posted an instagram of her and her daughter Coco dancing it out, with the hilarious caption, "Wanna see your child lose their patience? Do a TikTok with them."
Also, how long does it take to actually learn one of these routines? It seems very time consuming.
What I was really hoping for was video of her daughter losing her patience, but what we got was a pretty strong routine!