Jihadist Calls for David Letterman's Assassination
I guess the Late Show has a much bigger audience than we expected…
A website frequently used by Al Qaeda has posted an assassination threat against the one and only David Letterman.
According to the SITE Intelligence Group, a private company that tracks extremist websites, a  poster calling himself Umar al-Basrawi called on Muslims to kill the CBS late-night host after taking offense at a joke made on the program:
"Is there not amongst you a Sayyid Nosair al-Masri (may Allah release him) to cut the tongue of this lowly Jew and shut it forever. Just as Sayyid (may Allah release him) did with the Jew Kahane."
SITE analyst Adam Raisman tells EW the threat was made on Shumukh-al-Islam, a site where messages from Al Qaeda frequently first appear online in the United States.
"It's a clearing house for Al Qaeda material, it gets the most Al Qaeda supporters,"
Raisman also said that the threat should cause a bit more worry than the warning against "South Park" creators Trey Parker and Matt Stone:
"This was a more explicit threat…It was direct and to the point."
Letterman, despite not being Jewish, apparently recently mocked the death of accused terrorist leader Ilyas Kashmiri, who was killed by a U.S. airstrike in Pakistan in June by putting a hand to his neck and demonstrated the "way of slaughter."
"He showed his evil nature and deep hatred for Islam and Muslims, and said that Ilyas Kashmiri was killed and he joined bin Laden…We ask Allah to paralyze his tongue and grant the sincere monotheists his neck."
I really feel like there'd be more important people to go after than a late night talk show comedian…but that's just me…
Laura Dern Honors Her Parents In Touching Academy Award Win Speech
Laura Dern, who has been slaying awards season this year for her role in "Marriage Story," took home the ultimate prize – a Best Supporting Actress Academy Award – and thanked her actor parents in a touching acceptance speech.
Her parents, actors Diane Ladd and Bruce Dern brought her to the Oscars with them when she was just 7 years old.
"Some say never meet your heroes. I say if you're really blessed, you get them as your parents. I share this with my acting hero my legends, Diane Ladd and Bruce Dern. You got game. I love you."
Dern's mother has been nominated three times, her father twice, but neither have won. Her mother can be seen during the speech crying in the audience.
Congrats Laura!!!
POP UPDATE: Justin Bieber, "Friends" For Life, And The Critics Choice Awards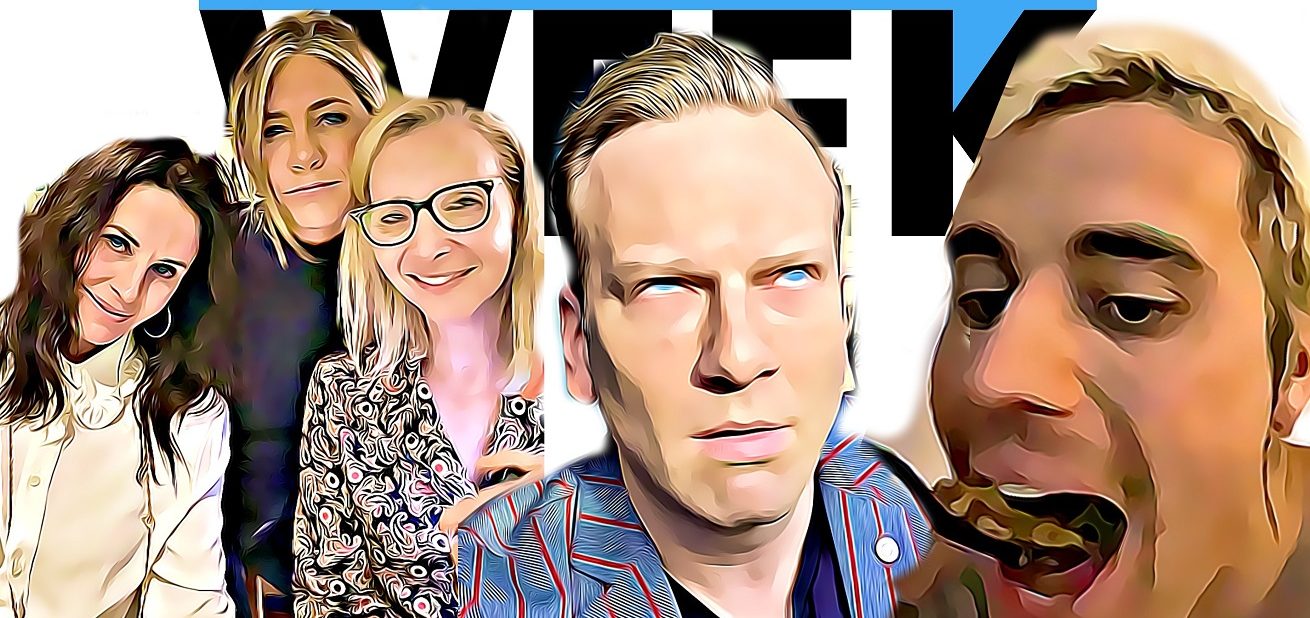 We're going to be doing some quick video updates whenever we can! Here's the latest! Justin Bieber begging for streams, (while you can hear him chew – ew), the ladies of Friends reunited, and mother nature. Take a look!
Courteney Cox's Instagram Caption Is Every Parent With A Teenage Kid
Have you heard? It's 2020 and we're all supposed to music videos on TikTok. Courteney Cox is no exception. The TV star posted an instagram of her and her daughter Coco dancing it out, with the hilarious caption, "Wanna see your child lose their patience? Do a TikTok with them."
Also, how long does it take to actually learn one of these routines? It seems very time consuming.
What I was really hoping for was video of her daughter losing her patience, but what we got was a pretty strong routine!