FUNNY VIDEO: Dad Interrogates Daughter To Find Out Her Favorite Parent
In this cute video, daddy puts baby on lockdown for a "Law and Order" style interrogation on just WHO is the favorite parent… mommy or daddy.
In this cute video, daddy puts baby on lockdown for a "Law and Order" style interrogation on just WHO is the favorite parent… mommy or daddy.  Some clever audio editing and an adorable baby make this a viral winner!
For more viral videos, follow @BrianBalthazar on twitter!
Need Some Good News? Millions Of Baby Turtles Just Made Their Way To The Ocean

Finally, the universe shells out some good news.
Nature is pretty scary right now. There's a mysterious virus wafting through the air around the world. There are things called murder hornets zipping to places they shouldn't be zipping to. At any moment I am waiting for the dust bunnies under my bed to grow fangs and turn on me. Alas, among all the bad news there is bound to be some good news and today's good news comes in the form of baby turtles.
Over on India's eastern coast lies Odisha's Gahirmatha Beach, a nesting spot for the endangered Olive Ridley turtles. Each year around this time millions of turtle hatchlings scamper through the sand and make their way to the ocean. The mass nesting typically attracts thousands of tourists who tend to disturb the nesting turtles but because the coronavirus pandemic has reduced the human activity on the beach, more turtles were able to lay their eggs resulting in one of the highest turtles births ever! Perhaps every grey cloud does have a hardened, turtle-shelled lining.
Check out the video of the amazing good news below!
While we were inside today morning nearly 2 crore plus olive #Ridley #turtle hatchlings have emerged & made their way to sea from the coats of #Odisha.

One of nature's incredible extravaganza. Via @susantananda3 sir. pic.twitter.com/BhAZzLbI8o

— Parveen Kaswan, IFS (@ParveenKaswan) May 8, 2020
Like what you read? Follow me on Instagram
'Six Feet Apart' Is A Heartbreakingly Relatable Coronavirus Song

You can fit a whole lot of emotions in the social distance between us.
Quarantine has a way of jumbling up emotions leaving you unsure of exactly how you are feeling at times. Well, singer-songwriter Alec Benjamin took that jigsaw puzzle of feelings and laid them out into a beautiful, albeit heartbreaking, new song entitled "Six Feet Apart." In the song, the Phoenix-based singer recounts the challenges of being apart from family, friends and loved ones and the emotional toll the distance is taking on all of us. He begins the song on the verge of a breakdown singing "they say distance is relative and relative to relatives I have I'd say I'm relatively close to breaking down because right now I feel so alone." The chorus, however, gives a particularly hard tug on the old heart strings.
"Oh I miss you most at six feet apart when you're right outside my window but can't ride inside my car and it hurts to know just how lovely you are and be too far away to hold but close enough to break my heart. I miss your smile. Feels like miles. Six feet apart."
Benjamin posted the song to YouTube and it has already racked up over 800,000 views with many of the comments praising how relatable the song is. One user commented "This hits different when you're in quarantine listening to this understanding every word and feeling it." Another simply said "This is what quarantine feels like."
Sometimes sinking into your feels for a few isn't such a bad thing. We have to remember that every colorful emotion is important during this time and deserves acknowledgement. If listening to this song once doesn't fill your emotional quota for the day take a listen to another one of Benjamin's songs, "I Built A Friend." Oooooh that will make you feel some things I promise!
Check out the quarantine-themed song below and remember even thought it's hard, stay home!
Like what you read? Follow me on Instagram
Adorable Pair Of Puppies Take A Field Trip To Georgia Aquarium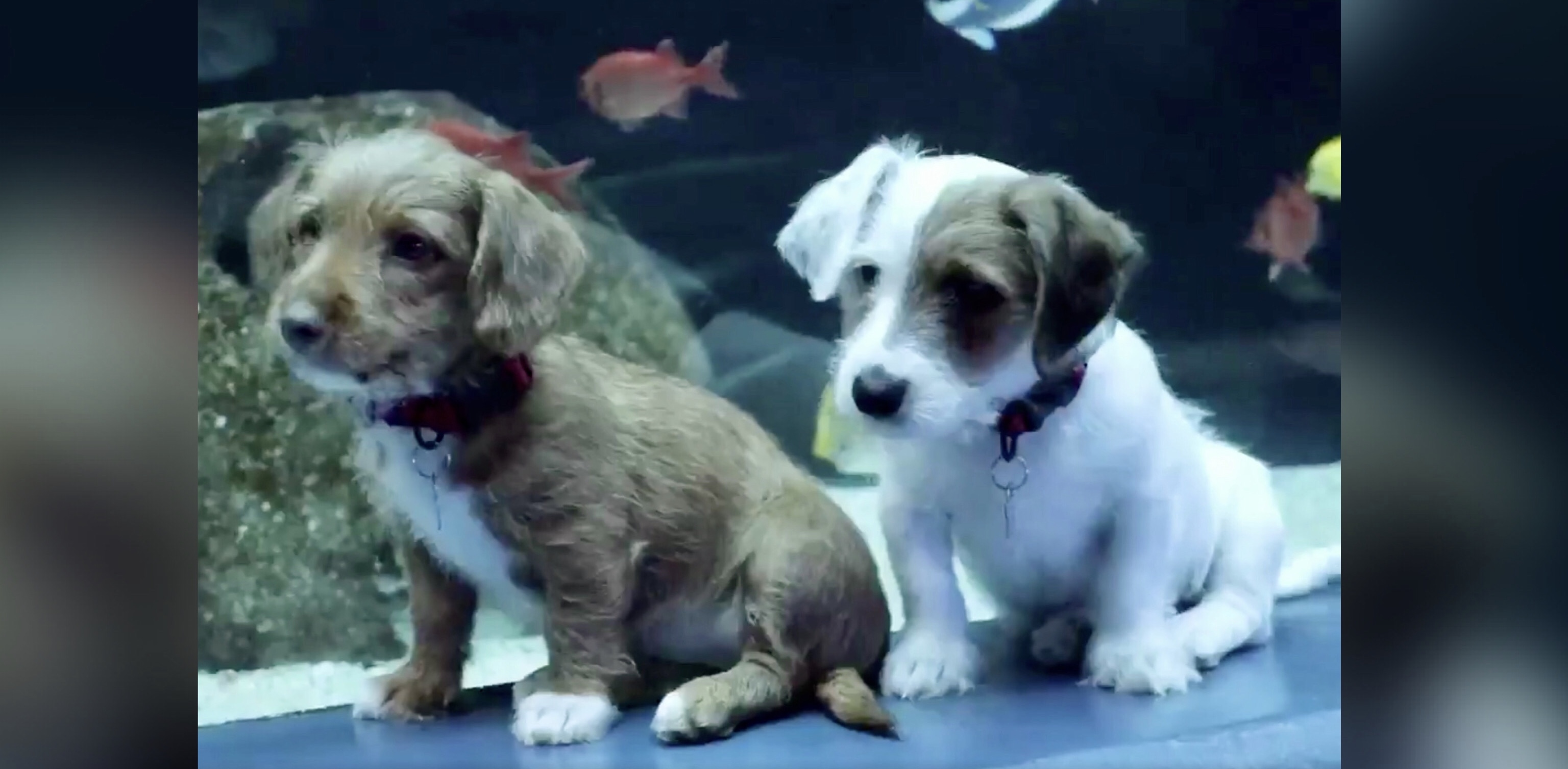 Puppies. Field trips. Aquariums. What more do you need?!
Since the coronavirus pandemic is still running ramped, businesses across the world are shut down. The Georgia Aquarium is one of the businesses being affected but luckily for Odie and Carmel…the two cutest distractions you'll see today…there was a private tour scheduled today. The Atlanta Humane Society posted a video of the furry field day on their social media and it is racking up thousands of views by the minute. The adorable pair of pups don't seem to be all that interested in the aquatics around them but who cares they still look like they are having the best day ever!
Take your mind off of the crisis in the world and check out the pups below!
Our puppies just had the best. day. ever.

They got to explore the @GeorgiaAquarium while it is closed to the public. They made all sorts of exciting discoveries and lots of new friends! pic.twitter.com/f0iHXfq3AF

— Atlanta Humane (@atlantahumane) March 26, 2020
Like what you read? Follow me on Instagram