Adele Flips the Bird to Producers at the Brit Awards
Oh Adele…so charming, even when you accidentally give the finger to the entire world…
Oh Adele…so charming, even when you accidentally give the finger to the entire world!
Let me explain…
The British soul singer took home the big awards for Best British Album and Best British Female artist at the 2012 Brit Awards in London last night.  Obviously, with such wins come acceptance speeches, and Adele was keeping it classy, expressing her gratitude about her success, saying:
"Nothing makes me prouder than coming home with six Grammys and then coming to the Brits and winning album of the year. I'm so proud to be British and to be flying our flag."
Suddenly, host James Cordon rushed in and interrupted the 22-year-old so they could move on to the next musical guest.  Met by boos from the crowd, Adele simply turned, asked "Can I just say, then, goodbye and I'll see you next time round?" and flipped off the cameras before heading off stage.  followed by her flipping off the cameras.and very rudely cut off by host James Cordon.
Adele later explained the incident to the BBC, saying that the gesture was not to the audience at home, but to the suits in charge:
"I flung the middle finger. That was for the suits at the Brit Awards, not my fans. I'm sorry if I offended anyone but the suits offended me."
Well at least that makes more sense than MIA just randomly flipping the bird to everyone watching the Super Bowl…and now, everyone loves Adele just a little bit more.  *Walks down the hall humming "Rolling in the Deep"*
Take a look at the video below and let us know what you think!
CAUGHT ON TAPE: Ryan Seacrest Falls Out Of His Chair On Live TV, Goes Viral
Ryan Seacrest was just trying to catch a flying beach ball. What he caught was the stage floor. This is why people watch live TV…anything can happen, and when it does, you can't tape it over again! Let's see how he feels tomorrow because that looked like it could have hurt! (Is it just my imagination or does it look like his ankle might have gotten caught in the chair?)
Video of Taylor Swift On Painkillers, And Her Reaction To It, Is Adorable.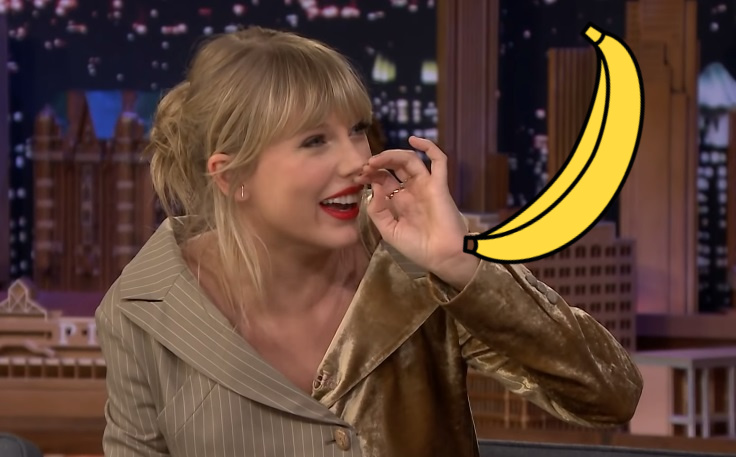 Jimmy Fallon played the ultimate trick on Taylor Swift… somehow managing to get video her own MOTHER took of her after getting Lasik surgery. The result, which captures Swift having an emotional moment over a banana, was played before her eyes on The Tonight Show.
Her reaction is just another reason to love Taylor Swift.
WATCH: Ducks Adorably Eat Peas With The Same Terrifying Fervor As Piranhas Eating Meat
I've never seen ducks eat peas before, but now that I know, I would never get in their way.
Seriously, I've never seen ducks eat peas before, but now that I know, I would never get in their way.
A imgur user named Conniverse has ducks. We're used to feeding ducks when we were kids, things like bread, etc. and that's not a great thing. Ducks need nutrition too, and it turns out peas are just the thing. And GOD do they love them. Get out of their way! They're cute, but holy hell.