Jennifer Love Hewitt's (Virtual) Boob Job
Usually, folks are photoshopping a woman's breasts to make them BIGGER. But Jennifer Love Hewitt unknowingly had her own breasts REDUCED in an ad for her show The Client List.
Now you see 'em… now you don't!
Usually, folks are photoshopping a woman's breasts to make them bigger. But Jennifer Love Hewitt unknowingly had her breasts reduced in an ad for her show The Client List. 
In one ad, you can clearly see Hewitt's girls are out in full force, with ample cleavage, in a black slip.  In the other, they're significantly shrunken down and cleavage is kept to a minimum. Wha? This is Hollywood, right? And here I thought they always made 'em bigger out there.
So who gets the D cup and who gets the B cup? Glad you asked. Entertainment Weekly featured the shrunken down version, while The Hollywood Reporter opted for the whole package. (hmm… EW is based out of NYC, while THR is based out of, well… Hollywood – maybe it's a regional thing!)
Hewitt was on a radio show recently and admitted the 'adjustment' was news to her. She told KROQ's Kevin & Bean Show:
"Somebody sent me a copy of the photograph, and I was like, 'Um, what happened?' … "I'm not quite sure what's going on … but apparently somebody wanted me to have a boob reduction."
It's not a total loss. Hey, publicity is publicity.
You can see the real things  (covered up, at least) by watching The Client List on Lifetime, Sunday nights at 10/9c. I think you'll find that Hewitt's character 'takes care' of clients that are far better looking that most of the clients you might expect in real life.  (see below.)
For more entertainment news follow @BrianBalthazar on twitter!
Laura Dern Honors Her Parents In Touching Academy Award Win Speech
Laura Dern, who has been slaying awards season this year for her role in "Marriage Story," took home the ultimate prize – a Best Supporting Actress Academy Award – and thanked her actor parents in a touching acceptance speech.
Her parents, actors Diane Ladd and Bruce Dern brought her to the Oscars with them when she was just 7 years old.
"Some say never meet your heroes. I say if you're really blessed, you get them as your parents. I share this with my acting hero my legends, Diane Ladd and Bruce Dern. You got game. I love you."
Dern's mother has been nominated three times, her father twice, but neither have won. Her mother can be seen during the speech crying in the audience.
Congrats Laura!!!
POP UPDATE: Justin Bieber, "Friends" For Life, And The Critics Choice Awards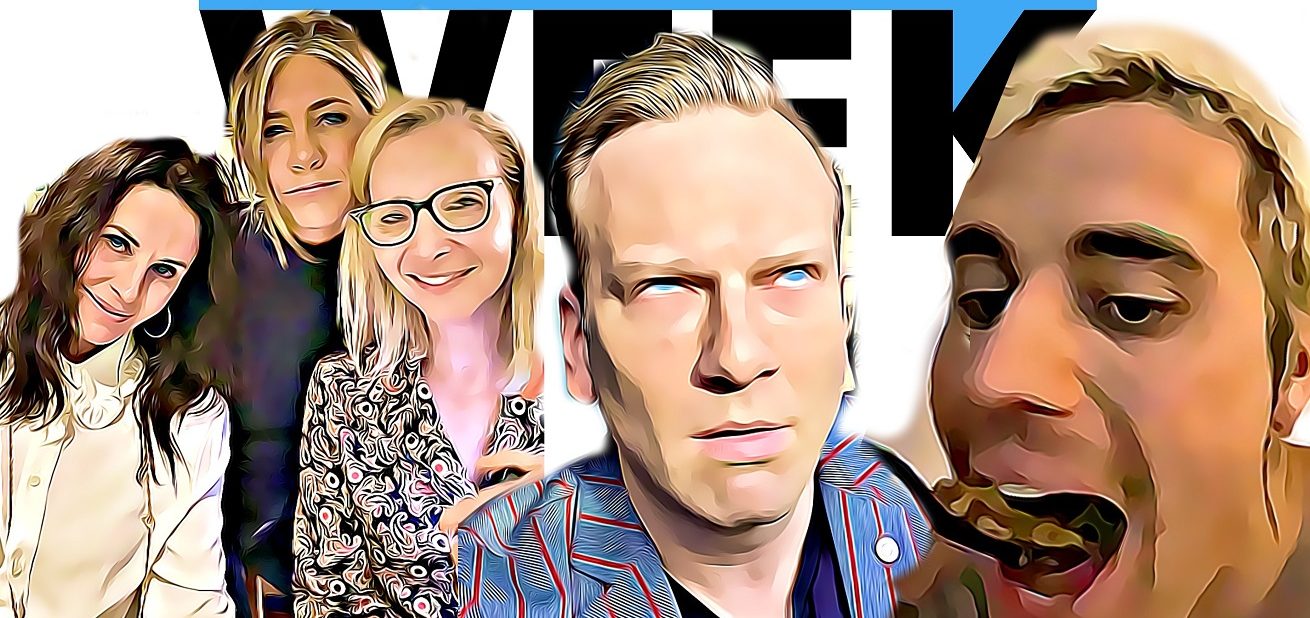 We're going to be doing some quick video updates whenever we can! Here's the latest! Justin Bieber begging for streams, (while you can hear him chew – ew), the ladies of Friends reunited, and mother nature. Take a look!
Courteney Cox's Instagram Caption Is Every Parent With A Teenage Kid
Have you heard? It's 2020 and we're all supposed to music videos on TikTok. Courteney Cox is no exception. The TV star posted an instagram of her and her daughter Coco dancing it out, with the hilarious caption, "Wanna see your child lose their patience? Do a TikTok with them."
Also, how long does it take to actually learn one of these routines? It seems very time consuming.
What I was really hoping for was video of her daughter losing her patience, but what we got was a pretty strong routine!