Does Flight Information Get John Travolta Off The Hook?
In the time that has passed since two separate men accused actor John Travolta of sexual battery during massage appointments, Team Travolta has provided some evidence suggesting that Travolta wasn't even in the same city as one of the accusers. Still, some are questioning whether that evidence removes all doubt.
In a civil suit filed Friday in U.S. District Court, Travolta was accused by a "John Doe" plaintiff of sexual battery and assault allegedly committed during a 10 a.m. private massage-therapy session at a Beverly Hills Hotel bungalow April 16. A second accuser, "John Doe No. 2," also a masseur, filed suit shortly thereafter using the same attorney as John Doe No.1, claimed he'd been sexually assaulted by the actor in Atlanta on April 28.
The LA Times reports that evidence supporting Travolta's denial of the Beverly Hills incident has been building,with private flight-tracking information being offered in the actor's defense and a costume designer vouching for his whereabouts:
Early Thursday, flight information showing the actor's plane leaving L.A. the evening of April 15 and arriving at a New York airport around 4 a.m. local time was published by TMZ, which had previously posted photos and a dinner receipt provided to several outlets by Travolta's legal team that also indicated he was on the East Coast on the date the assault is alleged to have occurred.
"Killing Season" costume designer Denise Wingate went on the record Thursday on the actor's behalf, telling TMZ that she had taken the wardrobe shots and was in Travolta's Greenwich Hotel suite with four other people for more than three hours on the afternoon of April 16. She said she also fitted "Killing Season" costar Robert De Niro at the hotel that same day and observed Travolta running lines for the movie.
Before Wingate spoke up, the flight information appeared to close a small window of opportunity left open by the time-stamp on the photos. One caveat: As People pointed out, the flight info on the G2 cannot be cross-checked against public records, because Travolta participates in a blocking programdesigned for private-jet fliers who have registered security concerns.
But still, there are some that say that evidence isn't necessarily proof positive. The photos don't have any 'definitively New York' characteristics, as they were shot in a bathroom or similar marble tiled area.
Still, a manager at Mr. Chow's restaurant, where the restaurant receipt came from, vouched for the actor.
There is yet to be evidence provided contesting the validity of the alleged incident in Atlanta.
Each accuser is seeking $2 million in general damages plus unspecified damages for emotional distress. Their attorney Okorie Okorocha insists that he has been contact by additional potential plaintiffs from different resorts featuring massage services, and that once he goes through all their evidence, they will be lining up additional cases against Travolta.
Martin Singer, Travolta's attorney, calls both men's allegations "absurd and ridiculous."
Laura Dern Honors Her Parents In Touching Academy Award Win Speech
Laura Dern, who has been slaying awards season this year for her role in "Marriage Story," took home the ultimate prize – a Best Supporting Actress Academy Award – and thanked her actor parents in a touching acceptance speech.
Her parents, actors Diane Ladd and Bruce Dern brought her to the Oscars with them when she was just 7 years old.
"Some say never meet your heroes. I say if you're really blessed, you get them as your parents. I share this with my acting hero my legends, Diane Ladd and Bruce Dern. You got game. I love you."
Dern's mother has been nominated three times, her father twice, but neither have won. Her mother can be seen during the speech crying in the audience.
Congrats Laura!!!
POP UPDATE: Justin Bieber, "Friends" For Life, And The Critics Choice Awards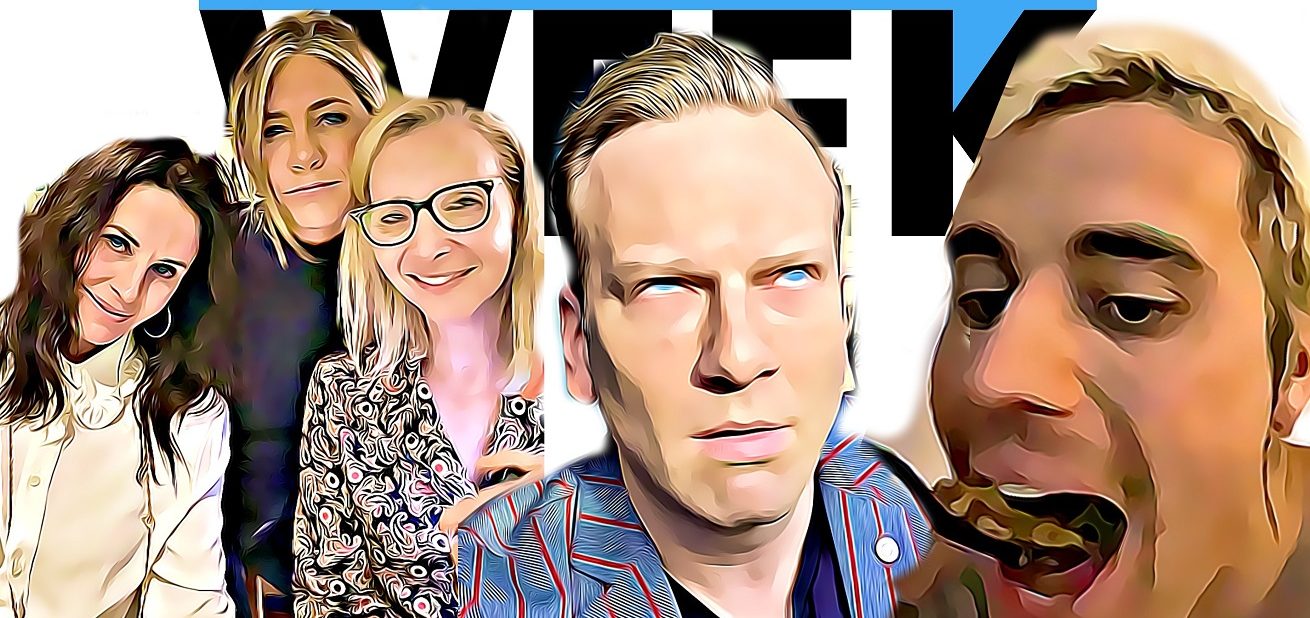 We're going to be doing some quick video updates whenever we can! Here's the latest! Justin Bieber begging for streams, (while you can hear him chew – ew), the ladies of Friends reunited, and mother nature. Take a look!
Courteney Cox's Instagram Caption Is Every Parent With A Teenage Kid
Have you heard? It's 2020 and we're all supposed to music videos on TikTok. Courteney Cox is no exception. The TV star posted an instagram of her and her daughter Coco dancing it out, with the hilarious caption, "Wanna see your child lose their patience? Do a TikTok with them."
Also, how long does it take to actually learn one of these routines? It seems very time consuming.
What I was really hoping for was video of her daughter losing her patience, but what we got was a pretty strong routine!