Check Out Your Complete List of 2012 Primetime Emmy Winners!
Check out the complete list of nominees and winners below, and take a look at all your favorite comedic moments right here!
The 2012 Primetime Emmy Awards have come and gone, and among the big show winners were "Modern Family" with its third straight Best Comedy win, "Homeland" with its first Best Drama win, and "The Daily Show" with its 10th consecutive Best Variety Series.
Check out the complete list of nominees and winners below, and take a look at all your favorite comedic moments right here!
COMEDY SERIES:
Modern Family
The Big Bang Theory
Curb Your Enthusiasm
Girls
30 Rock
Veep
LEAD ACTRESS IN A COMEDY SERIES:
 Julia Louis-Dreyfus – Veep
Lena Dunham – Girls
Melissa McCarthy – Mike and Molly
Zooey Deschanel – New Girl
Edie Falco – Nurse Jackie
Amy Poehler – Parks And Recreation
Tina Fey – 30 Rock
LEAD ACTOR IN A COMEDY SERIES:
Jon Cryer – Two And A Half Men
Jim Parsons – The Big Bang Theory
Larry David- Curb Your Enthusiasm
Don Cheadle – House Of Lies
Louis C.K. – Louie
Alec Baldwin – 30 Rock
SUPPORTING ACTRESS IN A COMEDY SERIES:
Julie Bowen – Modern Family
Mayim Bialik- The Big Bang Theory
Kathryn Joosten – Desperate Housewives
Sofia Vergara – Modern Family
Merritt Wever – Nurse Jackie
Kristen Wiig – Saturday Night Live
SUPPORTING ACTOR IN A COMEDY SERIES:
Eric Stonestreet – Modern Family
Ed O'Neill – Modern Family
Jesse Tyler Ferguson – Modern Family
Ty Burrell – Modern Family
Max Greenfield – New Girl
Bill Hader – Saturday Night Live
GUEST ACTRESS IN A COMEDY SERIES:
Kathy Bates – Two And A Half Men
Dot-Marie Jones – Glee
Maya Rudolph – Saturday Night Live
Melissa McCarthy – Saturday Night Live
Elizabeth Banks – 30 Rock
Margaret Cho – 30 Rock
GUEST ACTOR IN A COMEDY SERIES:
Jimmy Fallon – Saturday Night Live
Michael J. Fox – Curb Your Enthusiasm
Greg Kinnear – Modern Family
Bobby Cannavale – Nurse Jackie
Will Arnett – 30 Rock
Jon Hamm – 30 Rock
DRAMA SERIES:
Homeland
Boardwalk Empire
Breaking Bad
Downton Abbey
Game Of Thrones
Mad Men
LEAD ACTRESS IN A DRAMA SERIES:
Claire Danes – Homeland
Glenn Close – Damages
Michelle Dockery – Downton Abbey
Julianna Margulies – The Good Wife
Kathy Bates – Harry's Law
Elisabeth Moss – Mad Men
LEAD ACTOR IN A DRAMA SERIES:
Damian Lewis – Homeland
Steve Buscemi – Boardwalk Empire
Bryan Cranston – Breaking Bad
Michael C. Hall – Dexter
Hugh Bonneville – Downton Abbey
Jon Hamm – Mad Men
SUPPORTING ACTRESS IN A DRAMA SERIES:
Maggie Smith – Downton Abbey
Anna Gunn – Breaking Bad
Joanne Froggatt – Downton Abbey
Archie Panjabi – The Good Wife
Christine Baranski – The Good Wife
Christina Hendricks – Mad Men
SUPPORTING ACTOR IN A DRAMA SERIES:
Aaron Paul – Breaking Bad
Giancarlo Esposito – Breaking Bad
Brendan Coyle – Downton Abbey
Jim Carter – Downton Abbey
Peter Dinklage – Game Of Thrones
Jared Harris – Mad Men
GUEST ACTRESS IN A DRAMA SERIES:
Martha Plimpton – The Good Wife
Loretta Devine – Grey's Anatomy
Jean Smart – Harry's Law
Julia Ormond – Mad Men
Joan Cusack – Shameless
Uma Thurman – Smash
GUEST ACTOR IN A DRAMA SERIES:
Jeremy Davies – Justified
Mark Margolis – Breaking Bad
Dylan Baker – The Good Wife
Michael J. Fox – The Good Wife
Ben Feldman – Mad Men
Jason Ritter – Parenthood
MINISERIES OR MOVIE:
Game Change
American Horror Story
Hatfields and McCoys
Hemingway and Gellhorn
Luther
Sherlock: A Scandal In Belgravia
LEAD ACTRESS IN A MINISERIES OR A MOVIE:
Julianne Moore – Game Change
Connie Britton – American Horror Story
Nicole Kidman – Hemingway and Gellhorn
Ashley Judd – Missing
Emma Thompson – The Song Of Lunch
LEAD ACTOR IN A MINISERIES OR A MOVIE:
Kevin Costner – Hatfields and McCoys
Woody Harrelson – Game Change
Bill Paxton – Hatfields and McCoys
Clive Owen – Hemingway and Gellhorn
Idris Elba – Luther
Benedict Cumberbatch – Sherlock: A Scandal In Belgravia
SUPPORTING ACTRESS IN A MINISERIES OR A MOVIE:
Jessica Lange – American Horror Story
Frances Conroy – American Horror
Sarah Paulson – Game Change
Mare Winningham – Hatfields and McCoys
Judy Davis – Page Eight
SUPPORTING ACTOR IN A MINISERIES OR A MOVIE:
Tom Berenger – Hatfields and McCoys
Denis O'Hare – American Horror Story
Ed Harris – Game Change
David Strathairn – Hemingway and Gellhorn
Martin Freeman – Sherlock: A Scandal In Belgravia
VARIETY SERIES:
The Daily Show With Jon Stewart
The Colbert Report
Jimmy Kimmel Live
Late Night With Jimmy Fallon
Real Time With Bill Maher
Saturday Night Live
VARIETY SPECIAL:
The Kennedy Center Honors
Betty White's 90th Birthday: A Tribute To America's Golden Girl
Kathy Griffin: Tired Hooker
Mel Brooks And Dick Cavett Together Again
Tony Bennett: Duets II
SPECIAL CLASS PROGRAMS:
65th Annual Tony Awards
84th Annual Academy Awards
The 69th Annual Golden Globe Awards
The 54th Annual Grammy Awards
Herbie Hancock, Gustavo Dudamel And The LA Phil Celebrate Gershwin
Louis C.K. Live At The Beacon Theatre
SHORT-FORMAT LIVE-ACTION ENTERTAINMENT PROGRAMS:
Childrens Hospital
The Daily Show Correspondents Explain
Parks And Recreation: April And Andy's Road Trip
30 Rock: The Webisodes
Web Therapy
ANIMATED PROGRAM:
The Penguins Of Madagascar: The Return Of The Revenge Of Dr. Blowhole
American Dad!
Bob's Burgers
Futurama
The Simpsons
SHORT-FORMAT ANIMATED PROGRAM:
Regular Show
Adventure Time
Disney Phineas And Ferb
MAD
Robot Chicken
CHILDREN'S PROGRAM:
Wizards Of Waverly Place
Degrassi
Good Luck Charlie
iCarly
Victorious
CHILDREN'S NONFICTION, REALITY OR REALITY-COMPETITION PROGRAM:
Sesame Street: Growing Hope Against Hunger
It Gets Better
The Weight Of The Nation For Kids: The Great Cafeteria Takeover
REALITY PROGRAM:
Undercover Boss
Antiques Roadshow
Jamie Oliver's Food Revolution
MythBusters
Shark Tank
Who Do You Think You Are?
REALITY-COMPETITION PROGRAM:
The Amazing Race
Dancing With The Stars
Project Runway
So You Think You Can Dance
Top Chef
The Voice
HOST FOR A REALITY OR REALITY-COMPETITION PROGRAM:
Tom Bergeron – Dancing With The Stars
Phil Keoghan – The Amazing Race
Ryan Seacrest – American Idol
Betty White – Betty White's Off Their Rockers
Cat Deeley – So You Think You Can Dance
NONFICTION SERIES:
Frozen Planet
American Masters
Anthony Bourdain: No Reservations
Inside The Actors Studio
The Weight Of The Nation
NONFICTION SPECIAL:
George Harrison: Living In The Material World
Bobby Fischer Against The World
Gloria: In Her Own Words
Paul Simon's Graceland Journey: Under African Skies
6 Days To Air: The Making Of South Park
SHORT-FORMAT NONFICTION PROGRAMS:
DGA Moments In Time
Bravo's Top Chef: Last Chance Kitchen
Jay Leno's Garage
Thank A Vet
30 Rock: Ask Tina
COMMERICIAL:
Best Job – Procter and Gamble Corporate Brand
The Bark Side – Volkswagen
Color Changes Everything – Target
The Dog Strikes Back – Volkswagen
It's Halftime In America – Chrysler Brand
Source: Academy of Television Arts and Sciences
POP in the Kitchen! The Perfect Snack and Cocktail Pairings.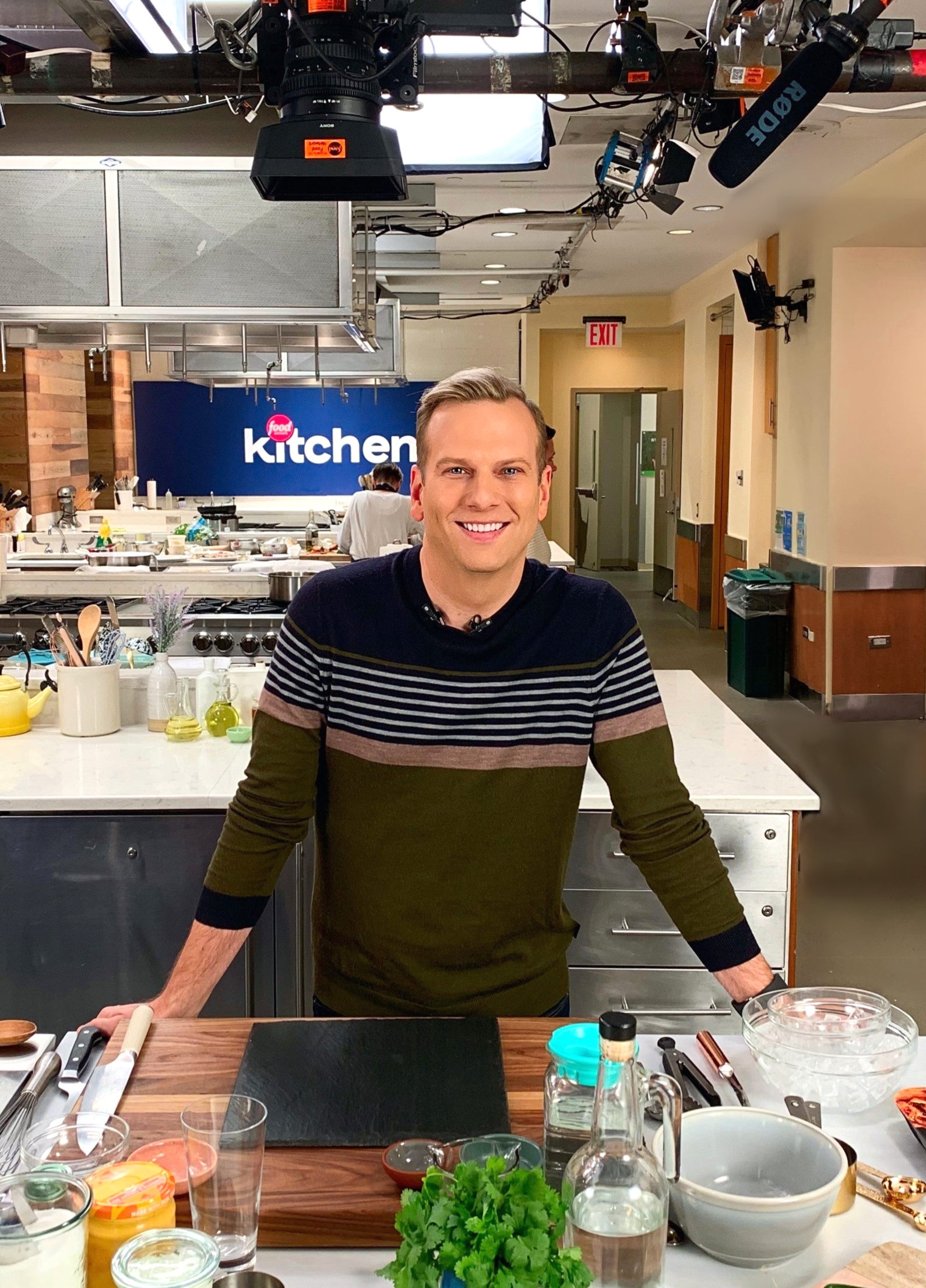 POP Goes The Week's Brian Balthazar is part of the all new Food Network Kitchen App! Cook LIVE alongside Brian as he makes get party food and the drinks that go perfectly with them!
Hey everyone! I'm so excited for this – I was thrilled to be a part of the new app, which is an all new way to cook with your favorite chefs and cooking experts. In the app, you can get the recipe and ingredients and recipe in advance, check the live class schedule, then cook at the very same time as your instructor!
I was fortunate enough to be invited to do a live snack and cocktail pairing, which you can still watch – and cook along with me! Trust me, these all start out as live, which means anything can happen! (I have an adventure with the broiler in one of them!)
For my recipes, I made a pulled pork toast with queso, sour cream radishes and green onions, along with a smoky mezcal paloma.
In another class, I make lavender honey that gets drizzled right on top of baked brie with herbs, then use that same lavender honey for my own interpretation of a "Bees Knees" cocktail that I call a "Bees Knees Breeze." I came up with the variation because the original recipe, simply gin, honey and lemon was just TOO strong for me and I found myself always getting plastered!
Check out the gallery of what I made, all available on the FNK app!
This slideshow requires JavaScript.
I hope you can check them out, AND all your favorite instructors like Bobby Flay, Giada de Laurentiis and Ree Drummond!
Who Is This Brian Balthazar Guy, Anyway?
Did you see Brian on TV today? Wondering who he is? Here's much more than you wanted to know. They leave the part out that he loves a well mixed Dark And Stormy, but let's keep things professional…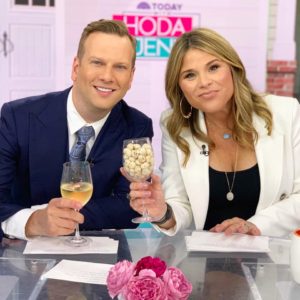 You may have seen Brian Balthazar on television this morning, heard him on the radio, or read about some recent developments in the world of media and pop culture. But who the hell is this guy? Brian Balthazar leads a double – triple – okay, maybe quadruple life. Part journalist, actor and comic, he appears on many TV shows as a guest, but is also a developer and creator of several television shows behind the scenes. This when he's not renovating homes and making snacks for his websites, POPgoesTheWeek.com and Snackist.com.
After launching the fourth hour of the Today Show with Kathie Lee Gifford and Hoda Kotb, he turned his attention to cable television, overseeing the direction and development of several shows on HGTV, including Flip or Flop, Love It Or List It, Christina On The Coast, House Hunters, Hit Properties with Nathan Morris, Flea Market Flip and dozens more.
As a comic he served as the opening act for Russell Brand In New York City and the MTV series Man and Wife featuring hype man Fatman Scoop.  He has performed at The Comic Strip, Caroline's On Broadway, Gotham Comedy Club and more.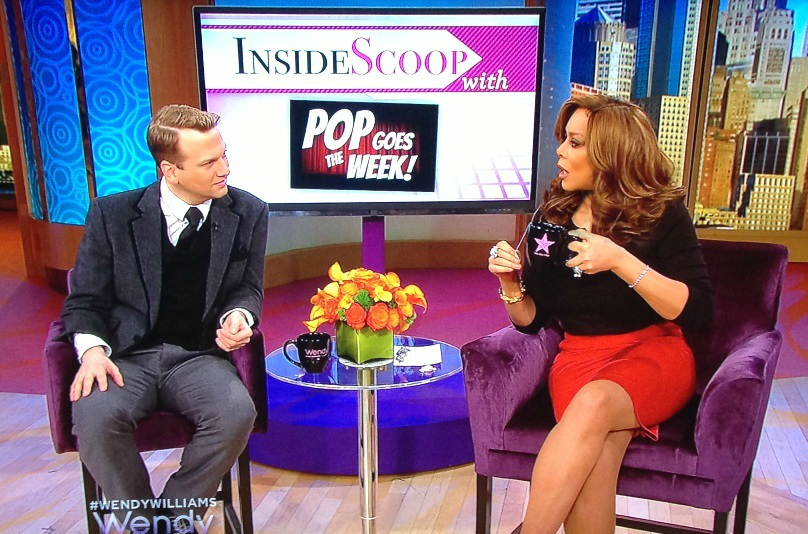 In addition to being a frequent guest on "The Wendy Williams Show," (he co-hosted several times during Williams' three week break) and appearing on the "Today" show, where he guest co-hosted with Jenna Hager-Bush,  Brian has frequently been seen co-hosting the syndicated TV gossip show Page Six TV.
Additionally, he was the sideline reporter for HGTV's Rose Parade Coverage, hosted the HGTV Special I Bought A Famous House, and has appeared on CBS's The Talk, HLN's Showbiz Tonight, MSNBC's Caught On Camera, The Joy Behar Show, and more.
An appearance on the fourth hour of the TODAY show with Kathie Lee and Hoda.
He has also been an emcee for many notable events and sponsors, including work as a brand ambassador for Bombay Company, the co-host of the Miss Tennessee and Miss Mississippi USA pageants, and a red carpet host at the Daytime Emmy Awards.
You may also have seen Brian in some viral videos, most notably a recent parody of Bird Box, and a satirical look at House Hunters' Writers' Room.
HGTV – House Hunters Writer's Room from Buffalo Picture House on Vimeo.
Appearing in a series of videos for Bombay Company.
Brian has provided analysis, interviews and helped co-host the Tony Awards backstage show. He also followed all the backstage madness at the launch of Fashion Week in New York City while co-hosting the Red Dress Event. He has been a roving reporter for the Dr. Oz show. Earlier in his career he was a features reporter and contributor on NBC, MSNBC, United Airlines In-Flight Entertainment and more.
For A&E network, Brian appeared in an episode of Biography about Jim Carrey. He also provided play by play of some of film's greatest car chases for a documentary about, well, car chases. (Ask his family and they will tell you: NO one would have expected to see him in a show about cars. We'll leave it at that.)
Before 'finding himself' professionally, Brian was a singer on a ship, a publicist for a trance medium, an insurance customer service rep, waiter, bartender, activities director, substitute teacher, website programmer, pianist at a camp for spoiled children, and college mascot. None of them worked out. Let's hope this does.
To contact Brian, email BrianBalthazar@aol.com.
To check out his video clips from NBC, HLN, and MSNBC, click HERE…
And – become his friend on facebook! www.facebook.com/brianbalthazar
For a more extensive listing of his TV appearances visit his IMDB page.
And he's apparently getting better about Twitter. So he says. He's @BrianBalthazar.
Thanks for reading POP GOES THE WEEK!
For his TV Appearances, Click on the TV APPEARANCES page.
'Saved By The Bell' Cast Reunited For 30th Anniversary – And I'm So Excited
If you think your high school experience feels like ancient history then it won't bring you any comfort to know that Saved By The Bell debuted 30 years ago!
Back in 1989, Saved By The Bell hit the small screen and quickly became a television staple. Over the course of its four seasons, the sitcom followed Zach Morris and his unique blend of friends as they navigated the tricky waters of high school. Everyone had a favorite Bayside Tiger and the series spawned many memorable scenes…but you are a liar if you didn't say your favorite scene was where Jessie broke down crying after coming to terms with her caffeine pill addiction while crying out the most iconic line ever, "I'm so excited…I'm so excited…I'm so…scared"
In any event, some of Bayside's most memorable students reunited over the weekend to celebrate the 30th anniversary of the hit sitcom. Mark-Paul Gosselaar (Zach Morris), Tiffany Thiessen (Kelly Kapowski), Mario Lopez (A.C. Slater) and Elizabeth Berkley (Jessie Spano) all gathered together to hit us right in the nostalgia. Notably missing were Lark Voorhies (Lisa Turtle) and Dustin Diamond (Screech). Berkley wrote on her Instagram "FRIENDS FOREVER!!!" along with some sweet and fun hashtags. Lopez upped the ante and posted a video recapping the fun time the gang had as they reminisced on the days way back when. WHY WASN'T THIS TELEVISED?!? Many are speculating the reunion to be the beginnings of a reboot or revival but nothing of the sort has yet been confirmed.
View this post on Instagram
Like what you read? Follow @ChrisSiretz on Twitter and Instagram