2012 HOLIDAY MOVIE PREVIEW. What We'll Be Watching And Talking About This Holiday Season.
It's officially one long, stuff yourself silly and watch movies weekend. Here are the films we'll be watching, talking about, nominating, and inevitably, in some cases – regretting – this season.
It's officially one long, stuff yourself silly and watch movies weekend. Here are the films we'll be watching, talking about, nominating, and inevitably, in some cases – regretting – this season.
LINCOLN     (opened November 16th)
This one has already been up nearly a week, and is struggling to get the attention being thrown upon Twilight and James Bond – but is one that we'll definitely hear about come Oscar time. The movie tells the story of our 16th President Abraham Lincoln.  As the Civil War continues to rage, America's president struggles with continuing carnage on the battlefield and as he fights with many inside his own cabinet on the decision to emancipate the slaves.
Why we'll be talking: Daniel Day Lewis is a dead ringer for the guy. This kind of role is custom made for Oscar Buzz. Directed by Steven Spielberg, it also stars Sally Field as Mary Todd Lincoln and Tommy Lee Jones as Thadeus Stevens.
THE TWILIGHT SAGA BREAKING DAWN PART 2  (opened November 16th)
If you're a teenage girl, (okay,  a fair share of adults love it too) this is the highly anticipated next chapter of the Twilight Saga. The married bliss of Bella Swan (Kristen Stewart) and vampire Edward Cullen (Robert Pattinson) couldn't last forever – so why be surprised to learn that the honeymoon is cut short be a series of unfortunate betrayals and all around bad things threaten to destroy their world. Bella gets preggers and why wouldn't that provide some problems during delivery, given that the dad is a vampire and all. but their new daughter causes more problems than she may be worth with Volturi, the fearsome council of vampire leaders, setting the stage for an all-out battle.
Why we'll be talking: Well, you know how it is – when Twilight movies come out – we seem to talk about them! They make far too much money to be ignored!
THE SILVER LININGS PLAYBOOK  (November 21)
Synopsis: Pat Peoples (Bradley Cooper) is a man always trying to look on the bright side of life –but finds himself in a mental hospital after losing his wife to another man, Then the former teacher moves back in with his parents while trying to reconcile with his now ex-wife. But things get more complicated when he meets Tiffany, (Jennifer Lawrence of "The Hunger Games") a mysterious girl with problems of her own.
Why we'll be talking – Cooper and Lawrence are both red hot right now- and this 'anti-blockbuster' has an innocence and emotional journey that is already getting good buzz.
THE RISE OF THE GUARDIANS (November 21st)
Childhood icons like the Easter Bunny, Santa, Jack Frost and the Sandman join forces to protect children from something or other. It's CGI and kid friendly, plus a clever concept, so  it should do well with families.
Synopsis: Set during the period in which Alfred Hitchcock was making the movie 'Psycho,' this is the story of a love triangle of sorts: That between Alfred Hitchcock and his wife Alma Reville – and the 'other woman' in his life – filmmaking itself.
Why we'll be talking: This is starting in limited released – but the remarkable peformance from star Anthony Hopkins will likely lead to an Oscar nomination. Helen Mirren plays his wife with equal aplomb.
THE HOBBIT: AN UNEXPECTED JOURNEY  (December 14th)
Synopsis: This prequel to The Lord of the Rings trilogy follows Bilbo Baggins, an upstanding member of the "little people" Hobbits, on a dangerous journey to the Lonely Mountain with Gandalf the Grey. They aim to take back a treasure stolen from them by a dragon.
Expect lots of foes: dragons, giant spiders, hostile elves, ravenous wolves, and even more we can't explain. You just have to see it.
Trivia: Daniel Radcliffe, Shia LaBeouf, James McAvoy, and Tobey Maguire were among those considered for the role of Bilbo Baggins. The role ultimately went to Martin Freeman – an English actor relatively unknown in the U.S.
Why we'll be talking: this will be a blockbuster, much like the first installments of the series. End of story!
 JACK REACHER  (December 21, 2012)
Synopsis: Ex-military homicide investigator Jack Reacher (Cruise) seeks the truth behind what seems an open-and-shut murder case after a trained military sniper is arrested for shooting five random victims. Not surprisingly, things aren't what they seem to be. Based on a book in Lee Child's crime series.
Why we'll be talking: Tom Cruise is a good actor who makes great movies – but while his box office returns are still respectable, he is no longer the sure thing he used to be. Given that he has come under more scrutiny about Scientology and his split from Katie Holmes, people will be watching to see if the career of this one-time golden boy will survive another PR hit.
LES MISERABLES   (December 25th)
An adaptation of the successful stage musical based on Victor Hugo's classic novel set in 19th-century France, in which a paroled prisoner named Jean Valjean seeks redemption. It was a hit on Broadway for years. Hugh Jackman plays ex-prisoner Jean Valjean, hunted for decades by the ruthless policeman Javert (Russell Crowe) after he breaks parole. When Valjean agrees to care for factory worker Fantine's (played by Anne Hathaway) young daughter, Cosette,  their lives change forever. (Helena Bonham Carter and Amanda Seyfried also star.)
Why we'll be talking: It's truly an epic film – and the director used a remarkable new technique to get the actors to bring even more passion to their performances. They sang live on set, with earpieces and minimal orchestration – not in a studio. The lush ochestral flourishes were added in later.
Have fun, and save me some popcorn!
For more movie updates, follow @BrianBalthazar on twitter!
Who Is This Brian Balthazar Guy, Anyway?
Did you see Brian on TV today? Wondering who he is? Here's much more than you wanted to know. They leave the part out that he loves a well mixed Dark And Stormy, but let's keep things professional…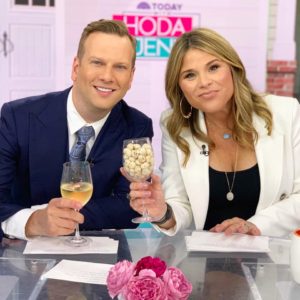 You may have seen Brian Balthazar on television this morning, heard him on the radio, or read about some recent developments in the world of media and pop culture. But who the hell is this guy? Brian Balthazar leads a double – triple – okay, maybe quadruple life. Part journalist, actor and comic, he appears on many TV shows as a guest, but is also a developer and creator of several television shows behind the scenes. This when he's not renovating homes and making snacks for his websites, POPgoesTheWeek.com and Snackist.com.
After launching the fourth hour of the Today Show with Kathie Lee Gifford and Hoda Kotb, he turned his attention to cable television, overseeing the direction and development of several shows on HGTV, including Flip or Flop, Love It Or List It, Christina On The Coast, House Hunters, Hit Properties with Nathan Morris, Flea Market Flip and dozens more.
As a comic he served as the opening act for Russell Brand In New York City and the MTV series Man and Wife featuring hype man Fatman Scoop.  He has performed at The Comic Strip, Caroline's On Broadway, Gotham Comedy Club and more.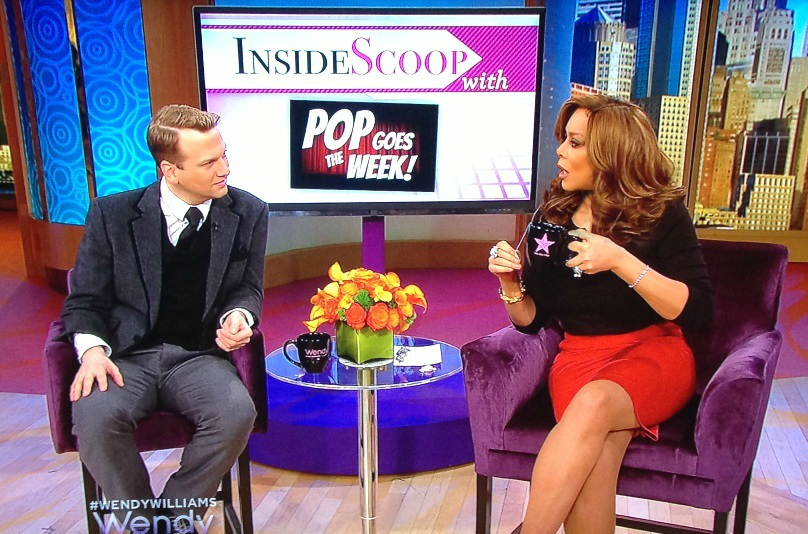 In addition to being a frequent guest on "The Wendy Williams Show," (he co-hosted several times during Williams' three week break) and appearing on the "Today" show, where he guest co-hosted with Jenna Hager-Bush,  Brian has frequently been seen co-hosting the syndicated TV gossip show Page Six TV.
Additionally, he was the sideline reporter for HGTV's Rose Parade Coverage, hosted the HGTV Special I Bought A Famous House, and has appeared on CBS's The Talk, HLN's Showbiz Tonight, MSNBC's Caught On Camera, The Joy Behar Show, and more.
An appearance on the fourth hour of the TODAY show with Kathie Lee and Hoda.
He has also been an emcee for many notable events and sponsors, including work as a brand ambassador for Bombay Company, the co-host of the Miss Tennessee and Miss Mississippi USA pageants, and a red carpet host at the Daytime Emmy Awards.
You may also have seen Brian in some viral videos, most notably a recent parody of Bird Box, and a satirical look at House Hunters' Writers' Room.
HGTV – House Hunters Writer's Room from Buffalo Picture House on Vimeo.
Appearing in a series of videos for Bombay Company.
Brian has provided analysis, interviews and helped co-host the Tony Awards backstage show. He also followed all the backstage madness at the launch of Fashion Week in New York City while co-hosting the Red Dress Event. He has been a roving reporter for the Dr. Oz show. Earlier in his career he was a features reporter and contributor on NBC, MSNBC, United Airlines In-Flight Entertainment and more.
For A&E network, Brian appeared in an episode of Biography about Jim Carrey. He also provided play by play of some of film's greatest car chases for a documentary about, well, car chases. (Ask his family and they will tell you: NO one would have expected to see him in a show about cars. We'll leave it at that.)
Before 'finding himself' professionally, Brian was a singer on a ship, a publicist for a trance medium, an insurance customer service rep, waiter, bartender, activities director, substitute teacher, website programmer, pianist at a camp for spoiled children, and college mascot. None of them worked out. Let's hope this does.
To contact Brian, email BrianBalthazar@aol.com.
To check out his video clips from NBC, HLN, and MSNBC, click HERE…
And – become his friend on facebook! www.facebook.com/brianbalthazar
For a more extensive listing of his TV appearances visit his IMDB page.
And he's apparently getting better about Twitter. So he says. He's @BrianBalthazar.
Thanks for reading POP GOES THE WEEK!
For his TV Appearances, Click on the TV APPEARANCES page.
'Saved By The Bell' Cast Reunited For 30th Anniversary – And I'm So Excited
If you think your high school experience feels like ancient history then it won't bring you any comfort to know that Saved By The Bell debuted 30 years ago!
Back in 1989, Saved By The Bell hit the small screen and quickly became a television staple. Over the course of its four seasons, the sitcom followed Zach Morris and his unique blend of friends as they navigated the tricky waters of high school. Everyone had a favorite Bayside Tiger and the series spawned many memorable scenes…but you are a liar if you didn't say your favorite scene was where Jessie broke down crying after coming to terms with her caffeine pill addiction while crying out the most iconic line ever, "I'm so excited…I'm so excited…I'm so…scared"
In any event, some of Bayside's most memorable students reunited over the weekend to celebrate the 30th anniversary of the hit sitcom. Mark-Paul Gosselaar (Zach Morris), Tiffany Thiessen (Kelly Kapowski), Mario Lopez (A.C. Slater) and Elizabeth Berkley (Jessie Spano) all gathered together to hit us right in the nostalgia. Notably missing were Lark Voorhies (Lisa Turtle) and Dustin Diamond (Screech). Berkley wrote on her Instagram "FRIENDS FOREVER!!!" along with some sweet and fun hashtags. Lopez upped the ante and posted a video recapping the fun time the gang had as they reminisced on the days way back when. WHY WASN'T THIS TELEVISED?!? Many are speculating the reunion to be the beginnings of a reboot or revival but nothing of the sort has yet been confirmed.
View this post on Instagram
Like what you read? Follow @ChrisSiretz on Twitter and Instagram
Dr. Phil Shaved Off His Mustache And Suddenly I Don't Phil So Good
If it ain't broke, don't fix it…or shave it in this case.
Talk show host Dr. Phil is known for three things: Giving advice. A strong southern drawl. And an mustache so thick, it could have a milkshake named after it. I mean just take a look at that furried upper lip in all of it's glory!
For as long as Dr. Phil has been on television he has that mustache, so you could imagine the worldwide hysteria that ensued when he posted a video with his stache slathered in shaving cream while holding a razor dangerously close to it. I mean…what could have inspired this sudden fit of rash behavior?!
He wouldn't really go through with it though right? I mean no one likes change…right? Wrong! Here's what the tv host looks like without his stache…and let's just say, it is most certainly not what the doctor ordered!
After sharing his most traumatizing content since the "Cash Me Outside" girl, Dr. Phil posted this video insuring that the entire stunt was actually just an April Fool's joke.
APRIL PHILS! 😏😂 pic.twitter.com/9Zg800QEBj

— Dr. Phil (@DrPhil) April 2, 2019
I'm definitely going to need some mood elevators to recover from this one! I love a makeover as much as the next guy, but some things are better left alone!
Like what you read? Follow @ChrisSiretz on Twitter and Instagram