2012 HOLIDAY MOVIE PREVIEW. What We'll Be Watching And Talking About This Holiday Season.
It's officially one long, stuff yourself silly and watch movies weekend. Here are the films we'll be watching, talking about, nominating, and inevitably, in some cases – regretting – this season.
It's officially one long, stuff yourself silly and watch movies weekend. Here are the films we'll be watching, talking about, nominating, and inevitably, in some cases – regretting – this season.
LINCOLN     (opened November 16th)
This one has already been up nearly a week, and is struggling to get the attention being thrown upon Twilight and James Bond – but is one that we'll definitely hear about come Oscar time. The movie tells the story of our 16th President Abraham Lincoln.  As the Civil War continues to rage, America's president struggles with continuing carnage on the battlefield and as he fights with many inside his own cabinet on the decision to emancipate the slaves.
Why we'll be talking: Daniel Day Lewis is a dead ringer for the guy. This kind of role is custom made for Oscar Buzz. Directed by Steven Spielberg, it also stars Sally Field as Mary Todd Lincoln and Tommy Lee Jones as Thadeus Stevens.
THE TWILIGHT SAGA BREAKING DAWN PART 2  (opened November 16th)
If you're a teenage girl, (okay,  a fair share of adults love it too) this is the highly anticipated next chapter of the Twilight Saga. The married bliss of Bella Swan (Kristen Stewart) and vampire Edward Cullen (Robert Pattinson) couldn't last forever – so why be surprised to learn that the honeymoon is cut short be a series of unfortunate betrayals and all around bad things threaten to destroy their world. Bella gets preggers and why wouldn't that provide some problems during delivery, given that the dad is a vampire and all. but their new daughter causes more problems than she may be worth with Volturi, the fearsome council of vampire leaders, setting the stage for an all-out battle.
Why we'll be talking: Well, you know how it is – when Twilight movies come out – we seem to talk about them! They make far too much money to be ignored!
THE SILVER LININGS PLAYBOOK  (November 21)
Synopsis: Pat Peoples (Bradley Cooper) is a man always trying to look on the bright side of life –but finds himself in a mental hospital after losing his wife to another man, Then the former teacher moves back in with his parents while trying to reconcile with his now ex-wife. But things get more complicated when he meets Tiffany, (Jennifer Lawrence of "The Hunger Games") a mysterious girl with problems of her own.
Why we'll be talking – Cooper and Lawrence are both red hot right now- and this 'anti-blockbuster' has an innocence and emotional journey that is already getting good buzz.
THE RISE OF THE GUARDIANS (November 21st)
Childhood icons like the Easter Bunny, Santa, Jack Frost and the Sandman join forces to protect children from something or other. It's CGI and kid friendly, plus a clever concept, so  it should do well with families.
Synopsis: Set during the period in which Alfred Hitchcock was making the movie 'Psycho,' this is the story of a love triangle of sorts: That between Alfred Hitchcock and his wife Alma Reville – and the 'other woman' in his life – filmmaking itself.
Why we'll be talking: This is starting in limited released – but the remarkable peformance from star Anthony Hopkins will likely lead to an Oscar nomination. Helen Mirren plays his wife with equal aplomb.
THE HOBBIT: AN UNEXPECTED JOURNEY  (December 14th)
Synopsis: This prequel to The Lord of the Rings trilogy follows Bilbo Baggins, an upstanding member of the "little people" Hobbits, on a dangerous journey to the Lonely Mountain with Gandalf the Grey. They aim to take back a treasure stolen from them by a dragon.
Expect lots of foes: dragons, giant spiders, hostile elves, ravenous wolves, and even more we can't explain. You just have to see it.
Trivia: Daniel Radcliffe, Shia LaBeouf, James McAvoy, and Tobey Maguire were among those considered for the role of Bilbo Baggins. The role ultimately went to Martin Freeman – an English actor relatively unknown in the U.S.
Why we'll be talking: this will be a blockbuster, much like the first installments of the series. End of story!
 JACK REACHER  (December 21, 2012)
Synopsis: Ex-military homicide investigator Jack Reacher (Cruise) seeks the truth behind what seems an open-and-shut murder case after a trained military sniper is arrested for shooting five random victims. Not surprisingly, things aren't what they seem to be. Based on a book in Lee Child's crime series.
Why we'll be talking: Tom Cruise is a good actor who makes great movies – but while his box office returns are still respectable, he is no longer the sure thing he used to be. Given that he has come under more scrutiny about Scientology and his split from Katie Holmes, people will be watching to see if the career of this one-time golden boy will survive another PR hit.
LES MISERABLES   (December 25th)
An adaptation of the successful stage musical based on Victor Hugo's classic novel set in 19th-century France, in which a paroled prisoner named Jean Valjean seeks redemption. It was a hit on Broadway for years. Hugh Jackman plays ex-prisoner Jean Valjean, hunted for decades by the ruthless policeman Javert (Russell Crowe) after he breaks parole. When Valjean agrees to care for factory worker Fantine's (played by Anne Hathaway) young daughter, Cosette,  their lives change forever. (Helena Bonham Carter and Amanda Seyfried also star.)
Why we'll be talking: It's truly an epic film – and the director used a remarkable new technique to get the actors to bring even more passion to their performances. They sang live on set, with earpieces and minimal orchestration – not in a studio. The lush ochestral flourishes were added in later.
Have fun, and save me some popcorn!
For more movie updates, follow @BrianBalthazar on twitter!
The Pentagon Has Released Official UFO Videos Because 2020 Is The Absolute Worst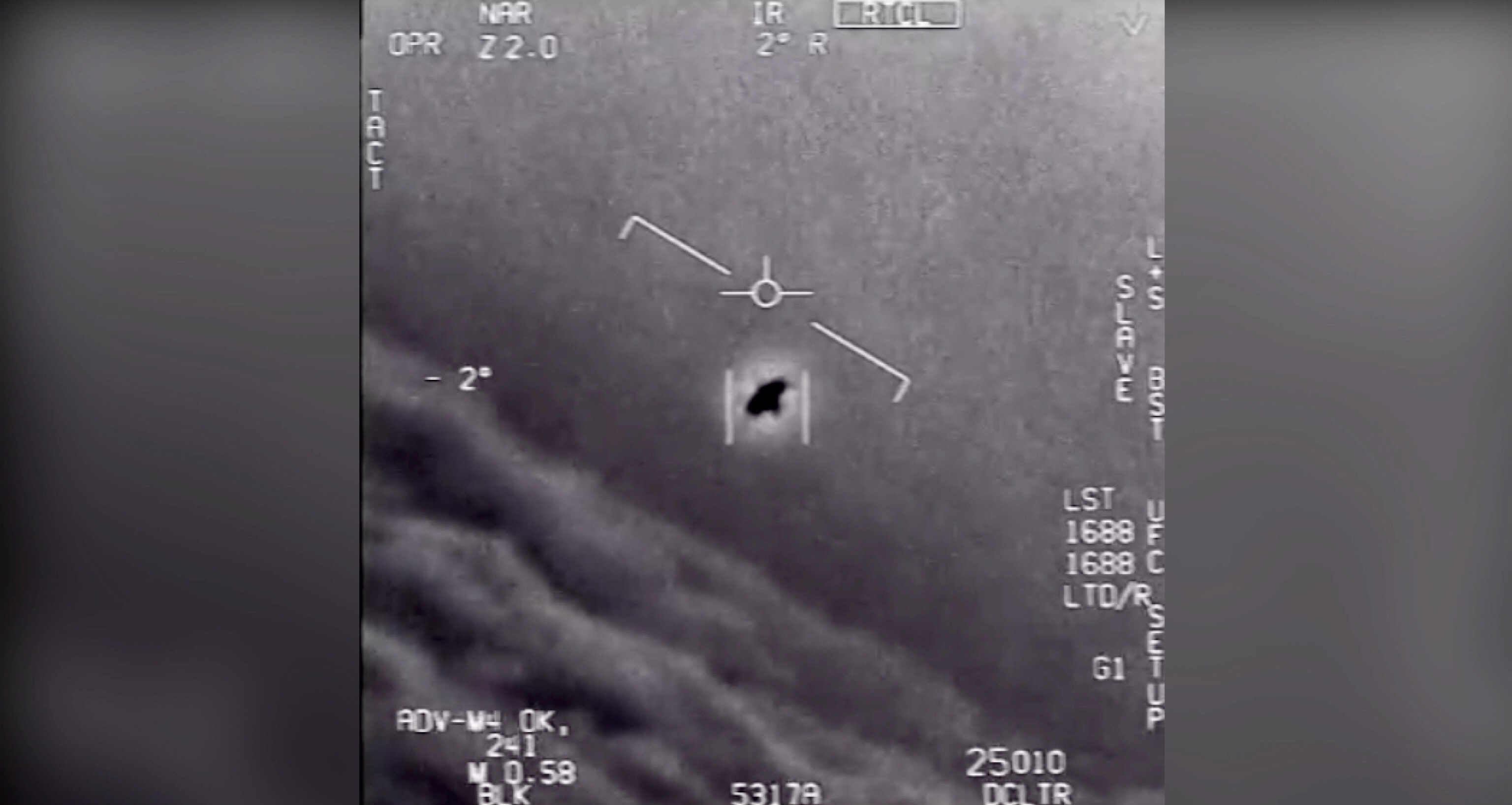 Aren't swarms of locusts supposed to be the next installment of this plague?!
Can we finally declare 2020 as the worst year ever? In January there were fears of a third World War. In February the coronavirus began its rapid spread. In March the world essentially shut down due to social distancing and quarantining. And now in April…with only two days left in the month…we have official government footage of unidentified flying objects. I'm sorry but Milton Bradley's game of "Life" never prepared me for any of this!
The Pentagon has confirmed the authenticity of three videos that have been circulating the web but didn't really answer what is visible in them. In the videos, now declassified by the Department of Defense, navy pilots capture "unidentified aerial phenomena" aka unidentified flying objects aka UFOs! Pentagon officials were sure to state that the videos do not show "any sensitive capabilities or systems," meaning we probably won't be seeing any little green men any time soon.
"Look at that thing!"

Pentagon declassifies three previously leaked top secret U.S. Navy videos of "unexplained aerial phenomena"—and that some believe could show UFOs. https://t.co/YTuvaPHykM pic.twitter.com/YaKImrnl5M

— ABC News (@ABC) April 27, 2020
The first video dates back to November 2004 and the other two from January 2015. Of the Pentagon's confirmation of authenticity, Pentagon spokesperson Sue Gough said the videos were released "in order to clear up any misconceptions by the public on whether or not the footage that has been circulating was real, or whether or not there is more to the videos."
So great. We now know that these strange videos are real but what exactly are we looking at? Well, the Department of Defense says it has no concrete answer as to what might be floating around the skies and has classified the phenomena as "unidentified." And…just like that I suddenly feel less defended.
Social media is having a field day with this revelation of course. The #AliensAreReal has been trending high on Twitter since the news broke. One user referenced Independence Day and said the aliens are "getting ready for July 4th." Of the bad timing, another wrote "Et tu aliens?" And finally one user couldn't help avoid sarcasm and wrote"Where's the space force when you need it?"
Well 2020, you have worked your awful black magic once again. What's next, cat videos get banned from the internet?! You've taken everything else from us!
Like what you read? Follow me on Instagram
Priest Accidentally Forgets To Turn Off Filters Before Live Streaming Mass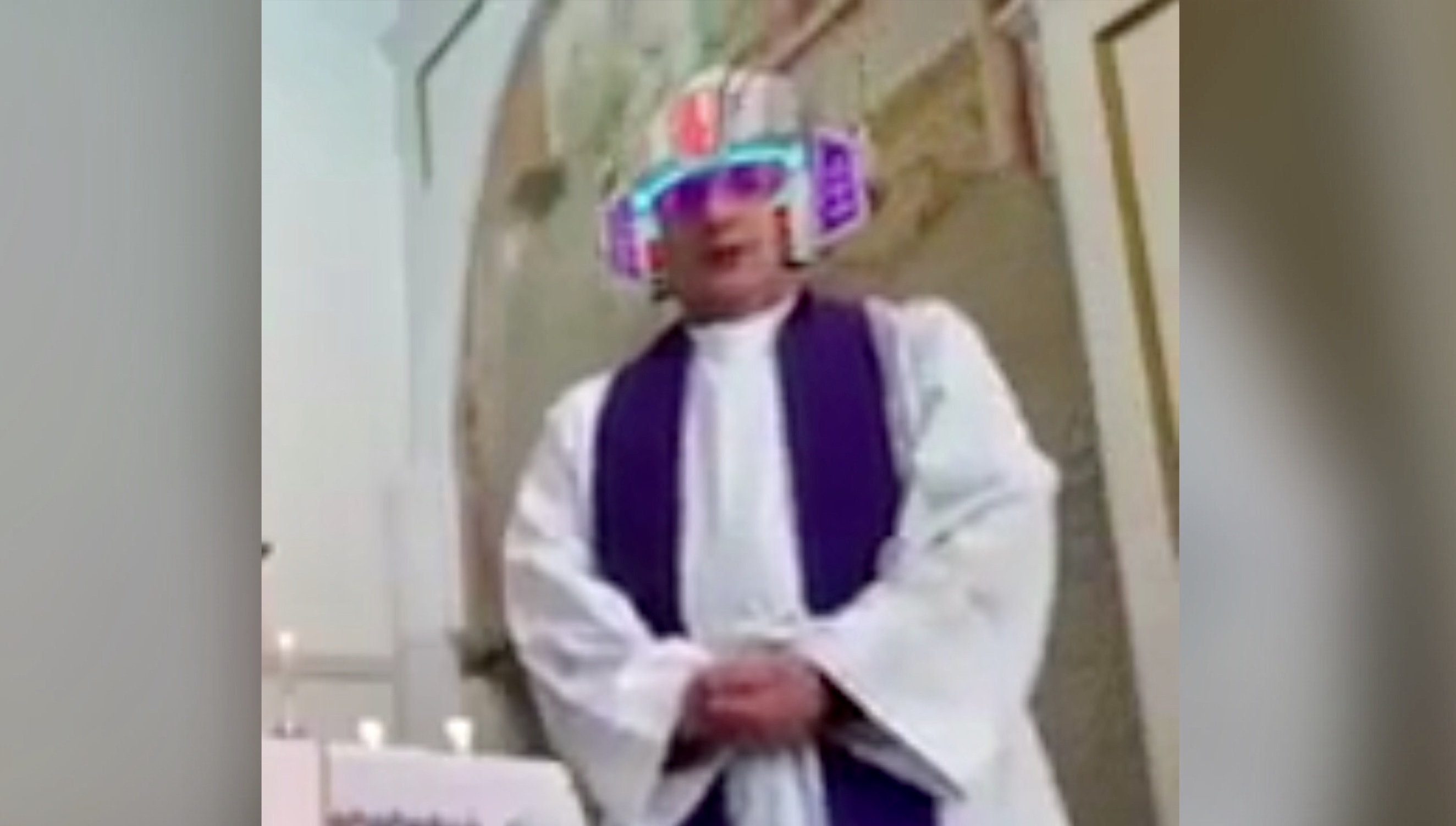 The internet is having a field day with the innocent mistake of biblical proportions.
With new social distancing guidelines, many churches have closed to help prevent the spread of the coronavirus. And while that doesn't justify all the wine you've been chugging during your self quarantine, it does have many people practicing their faith from their homes. One Italian priest was just trying to recite a little prayer for his followers when he accidentally left a filter feature on during the broadcast! In the clip the priest is digitally adorned with a space helmet, workout gear, a fedora and sunglasses and more.
Social media went nuts for the video, which has now gone viral. One comment reads "He just doubled his holy power." Another reads "Father, Son and Holy Influencer." One commenter couldn't resist a good pun and said the video is having a "Mass effect."
Enjoy your daily blessing and take a look at the funny video below!
Priest in Italy live streams mass, activates filters by mistake from r/funny
Like what you read? Follow me on Instagram 
Danny DeVito Passionately Urges New Yorkers To Stay Home…And Twitter Agrees!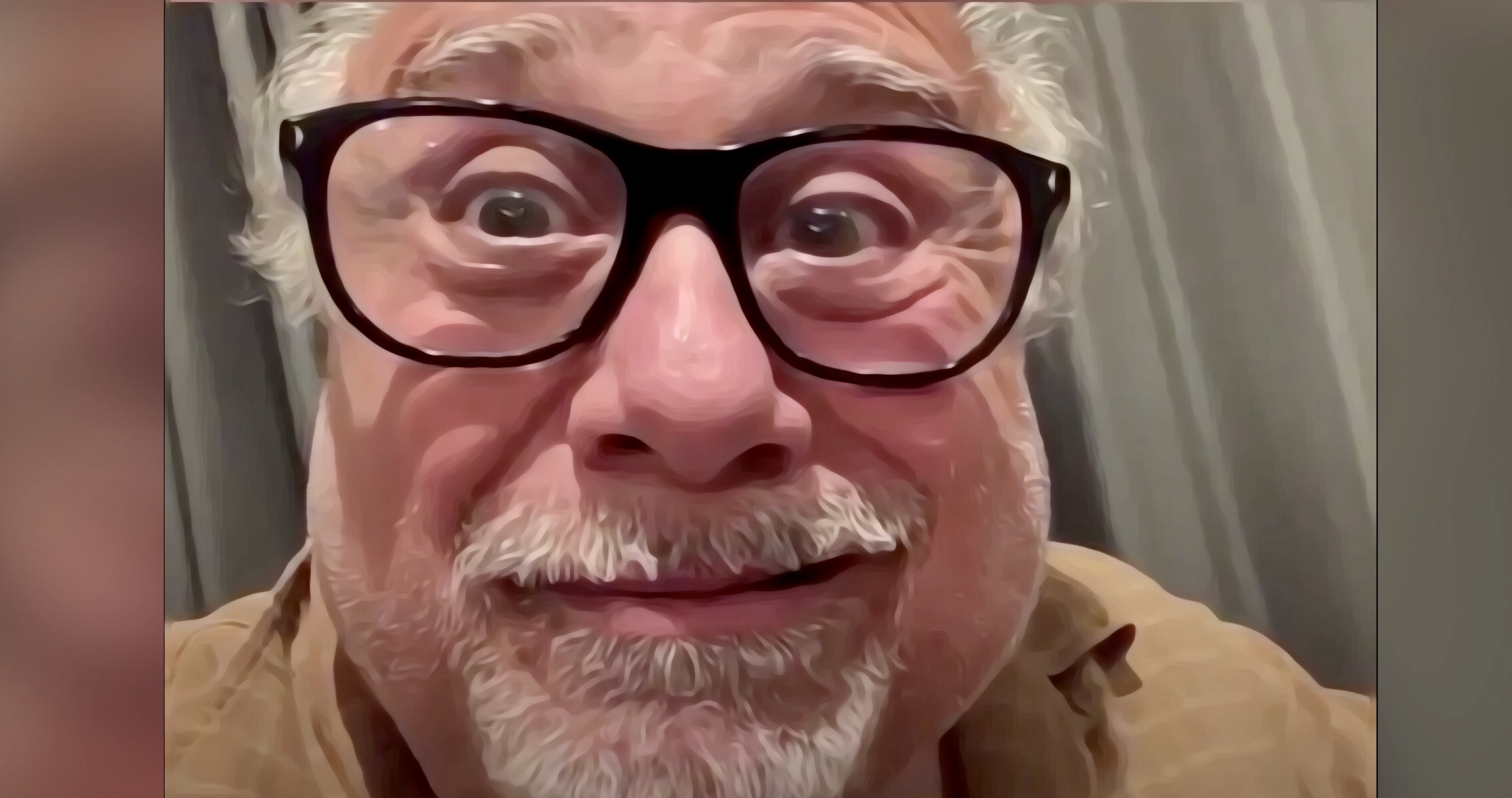 For the love of Danny DeVito, stay home!
The world is in a dark place right now and I am not sure how much more bad news we can handle. That's why when I saw Danny DeVito's name trending on Twitter I froze. Our great nation could very well crumble if anything bad was to happen to such an icon right now. With extreme trepidation I clicked on the social media link and was relieved to see that good ol' Danny boy is just strumming up hype because he is passionately urging New Yorkers to stay home.
Amid the coronavirus outbreak, Governor Andrew Cuomo has been driving New Yorkers to stay home and has taken every precaution short of shutting the state down completely to help prevent the virus from spreading. Because New Yorkers can be hard headed, it doesn't hurt to have some famous friends reiterate your message. Big names like Lala Anthony, Robert De Niro and Ben Stiller have all made appearances on Cuomo's social media pleading with New Yorker's to heed the governors warning. Only one celebrity was able to make it to Twitter's trending page however and that was none other than Danny DeVito. DeVito's message is simple…stay home! In the two minute video, DeVito reminds fans that it's not just up to the elderly to isolate themselves. "Young people can get it and they can transmit it to old people and the next thing you know – I'm out of there" says the actor. We must save him!
Twitter went into a frenzy with many users agreeing that we need to stay home for Danny. One user wrote "When Danny speaks, I listen." Another passionately wrote "If you idiots kill Danny DeVito I SWEAR TO GOD." One promoted DeVito from the icon status I previously awarded him and said "WE GOTTA PROTECT WORLD TREASURE DANNY DeVITO." 
Take a look at the video below and for the love of the newly minted national treasure, stay home!
Danny DeVito wants you to stay home and save lives.#NewYorkStateStrongerTogether @DannyDeVito pic.twitter.com/7V8yXbqHwB

— Andrew Cuomo (@NYGovCuomo) March 22, 2020
Like what you read? Follow me on Instagram