STAR TREK INTO DARKNESS Gets Its First Official Plot Synopsis
After months of waiting with almost no hint or peek of what was to come, we finally have the first official plot synopsis for STAR TREK INTO DARKNESS.
After months of waiting with almost no hint or peek of what was to come, we finally have the first official plot synopsis for STAR TREK INTO DARKNESS.
Granted, the plot below still has no information on the questions most fans are asking (who the hell is the villain?!), but after only seeing a three-framed clip and some random on-set pictures, an official piece of marketing is a nice change of place.
Read the full synopsis below, and let us know what you think!
STAR TREK INTO DARKNESS teleports into theaters May 17, 2013.
"In Summer 2013, pioneering director J.J. Abrams will deliver an explosive action thriller that takes 'Star Trek Into Darkness.' When the crew of the Enterprise is called back home, they find an unstoppable force of terror from within their own organization has detonated the fleet and everything it stands for, leaving our world in a state of crisis. With a personal score to settle, Captain Kirk leads a manhunt to a war-zone world to capture a one man weapon of mass destruction. As our heroes are propelled into an epic chess game of life and death, love will be challenged, friendships will be torn apart, and sacrifices must be made for the only family Kirk has left: his crew."
Check Out The Trailer For HUSTLERS, Starring J Lo, Lizzo, and Cardi B!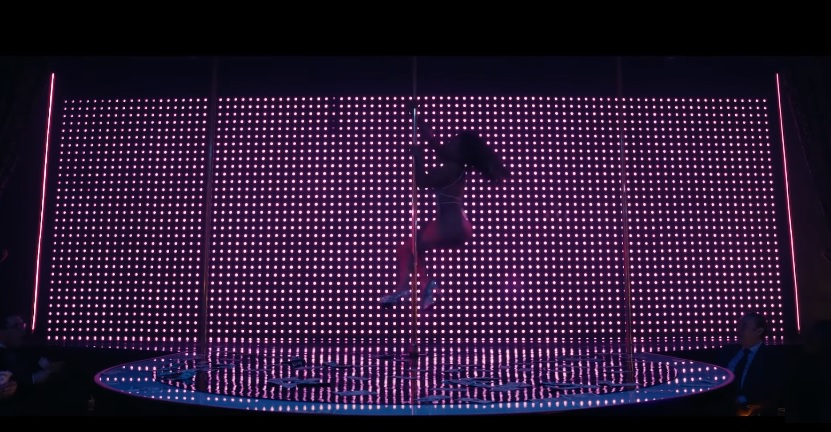 At long last, we are getting a look at the star-studded film "Hustlers."
The movie seems to have it all for the 2019 world – stripping, revenge and a great heist.
Constance Wu of Crazy Rich Asians is the lead character, but today the buzz is all about Jennifer Lopez and Cardi B.
Let's also give a shout for girl power! "Hustlers" is directed and scripted by Lorene Scafaria.
The movie hits US Screens on September 13.
TRAILER: The New 'Child's Play' Movie Looks So Chuckin' Scary
The new Child's Play movie launches Chucky into the 21st century for some technologically advanced terror.
After watching this trailer, you may be packing your bags and heading to Amish country because Child's Play looks like a technological nightmare brought to life. In the reboot of the classic 1988 film, Buddi Dolls are the toy on every child's wishlist because their connection to technology allows them to truly become your best friend. These new and improved Buddi Dolls come complete with an app that links the doll to every electronic device in your home…enter updated, terrifying plot twist! When a young boy's Buddi Doll, Chucky, becomes corrupt, he goes on a killing spree that promises to be even more gory than the film's original!
Mark Hamill voices the murderous Buddi Doll, Chucky, as the film stars Gabriel Bateman as Andy, Chucky's 13-year old owner, Aubrey Plaza as Andy's mom and Brian Tyree Henry as the detective investigating the strange string of murders. The film is set to release on June 21 and you can bet I will be avoiding toy stores for the entire summer.
Check out the frightening trailer below!
Like what you read? Follow @ChrisSiretz on Twitter and Instagram
B'WAY BUZZ: Ryan Murphy Announces Netflix Film Adaptation Of 'The Prom'
At a charity performance on Tuesday, Ryan Murphy took to the stage to announce his plans to adapt the Broadway musical for Netflix. Theater lovers everywhere were like:
Back in November a new musical hit Broadway and before you knew it everyone wanted to be back in high school. The Prom follows an Indiana teen who simply wants to bring her girlfriend to her high school prom. Once the PTA catches wind of the news, the openly gay teen is banned from going to dance altogether. A gaggle of Broadway performers with questionable intentions decide to head to Indiana to help the teen get to the prom of her dreams. The musical made history when the cast performed at the Macy's Thanksgiving Day Parade and featured the parade's first same-sex kiss ever. The shows jam packed with talent as it is directed and choreographed by Casey Nicholaw and features such stars as Beth Leavel, Brooks Ashmanskas, Christopher Sieber, Caitlin Kinnunen, Angie Schworer, Josh Lamon, Michael Potts and Isabelle McCalla.
On Tuesday, there was a benefit performance at the Longacre Theatre which helped raise money for the Hetrick-Martin Institute, GLAAD and the Trevor Project. Ryan Murphy hosted the special performance and it was there where he made the big announcement. Murphy obtained the rights to turn The Prom into a Netflix film! It's no surprise that Murphy has chosen to take on this project as he is a huge advocate for LBGT+ community having created such inclusive projects such as Pose, The Normal Heart, and Glee. The audience – filled with celebs such as Sarah Jessica Parker, Glenn Close, Jane Krakowski, Ben Platt, Gus Kenworthy, Sandra Bernhard, Laura Dreyfuss, Janet Mock, Matthew Morrison, Bernadette Peters, Billy Porter, Andrew Rannells, MJ Rodriguez, and Christian Siriano – went wild when they heard the news. Murphy told the overjoyed crowd:
"I know, it's exciting. I'm really tired of hearing about bad news and Trump. I want to see entertainment that is optimistic and uplifting. I was absolutely blown away by Casey's work and the incredible cast. I cried at the end from pure joy, which has not happened to me since Patti LuPone was the flower girl at my wedding. I wish this show was around when I was a kid."
It remains to be seen if any of the Broadway cast will appear in the film but what has been confirmed is the expected release date; September 2020. It's no coincidence that the release date falls right around the 2020 election as Murphy closed his speech by saying "We want to change hearts, minds and votes."
Like what you read? Follow @ChrisSiretz on Twitter and Instagram