POP INTERVIEW: Firebird Chef Paul Joseph Brings Russian Food to Midtown West Manhattan
Chef Paul Joseph takes NYC diners on a culinary journey.
"My change of career came when I'd realized that I was doing the same thing day in and day out, crunching numbers as an accountant," says Paul Joseph, the 41-year old Haitian chef. "One day, I took a part time job at a very unusual place for a future chef to start a career in culinary arts. From that moment, my first cooking job, I knew there was no turning back for me. I became fascinated with my work as a cook and my culinary environment. "This is it, this right here: cooking makes me very happy, filled me with joy by doing what I'm doing" I recall telling myself. There, the adventure/passion/love affair begins."
 Joseph, as he explains, stresses making food from scratch – a rarity in our age of high fructose corn syrup-preserved ingredients. "I aim for simplicity with elegance while always using what's fresh and local, incorporating only organic grown produce, free range meats and sustainable ingredients. I put a lot of respect and understanding in each ingredient making sure the dish is balanced and support each other intrinsic flavor. My preparation starts with an organized kitchen that includes a well structure culinary staff, daily meeting with my Sous Chefs, and checking with vendors and farmers for product availability."
When visiting, you should try dishes like Herring under a Fur Coat, Lobster Versasia, Armenian Lamb Rack & Filet Duo, Fennel Dusted Muscovy Duck Breast with Honey Vodka Fondue, Day Boat Scallops with Orange Scented Vanilla Jus or the classic staple, Chicken Kiev!
"My method of preparation is Classical French. The steps and procedures always bring the best out of every dish, yet I will never use most of the ingredients as they used in the past. Nowadays, everything has to be lighter and healthier. FireBird is best known for its décor, collectable arts, rare Russian books, and mostly for being named after the famous Russian Ballet by the late Baroness Irina von der Launitz. My cooking is an art. My art at FireBird is not just for the food to look pretty on the plate, but to create a symphony of flavors in the mouth to enhance our guests' overall Russian dining experience," he writes.
"Our cuisine is best described as Russia without borders. The menu is designed to influence every surrounding corners of the old Soviet (which is now Russia). I focus on the well-known regions like Georgia, Armenia, Ukraine and the Baltics, and occasionally, I will add a not-well familiar region to the mix. Every dish is composed to surpass our guests' expectations, while remaining authentic and true to the region and the dish itself."
Although he serves up fine meat entrees, Joseph does not eat meat himself. "I'm a vegetarian. Most of my dishes (pork & shellfish), I'd never tasted. Yet, thru my research and continued studies, I fully understand the full aspect and essence of any ingredient of which I intend to use; whether it's variation of spices and herbs, meat, fish and game animals. I cook with the aspiration of guest satisfaction, not personal preference."
Firebird is located in NYC on 365 West 46th Street. As a restaurant that will delight both picky NYC locals and tourists alike, you can study the menu before you go at FireBirdRestaurant.com.
VIDEO:Rolled Ice Cream, Cheetos Bagels And Grasshoppers Are Just Some Of The Unusual Things Brian Balthazar Has Eaten On 'The Wendy Williams Show'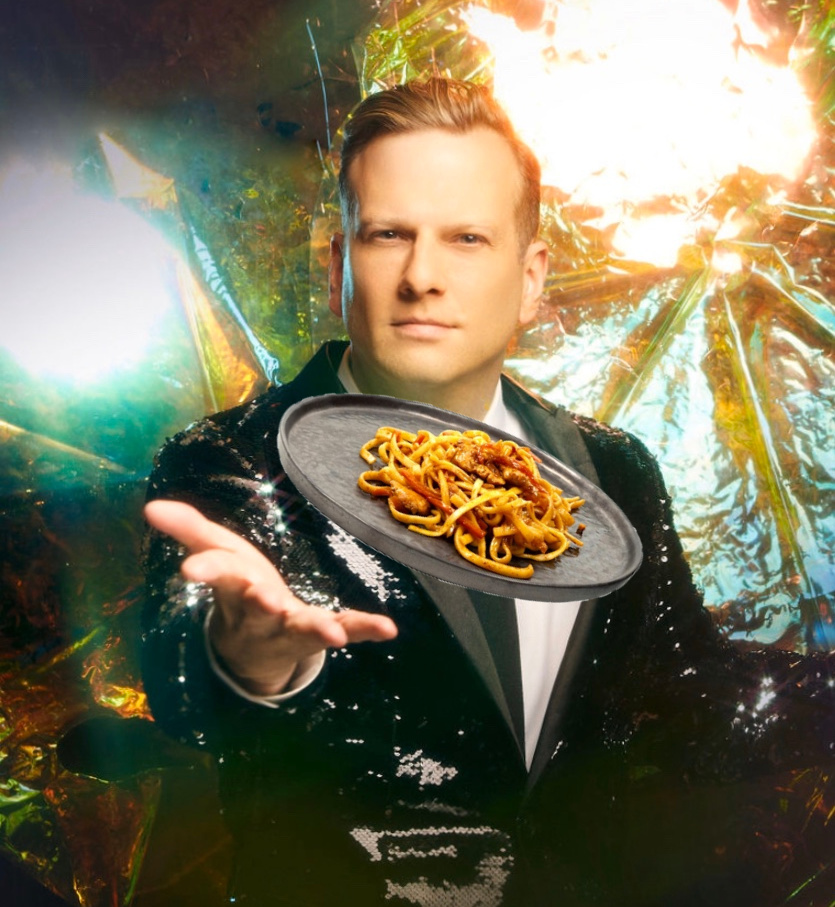 You've seen pop culture expert, Brian Balthazar, appear on The Wendy Williams Show quite a bit over the last few years. He even co-hosted the show on three separate occasions. It wasn't until his last visit where he and Jason Biggs chowed down on a KFC Cheetos Chicken Sandwich that it hit me: Being on the daytime talk show makes Brian Balthazar hungry!

The proof is in the pudding…pun definitely intended. Carla Hall made sure to bring some snacks for Brian when they cohosted together.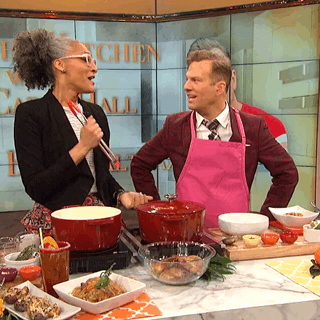 Sure, Wendy is known for telling us to "grab a snack and come on back"…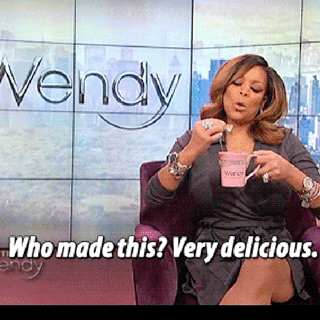 But you'd have to be absolutely famished to want to eat fish sliders at 10am.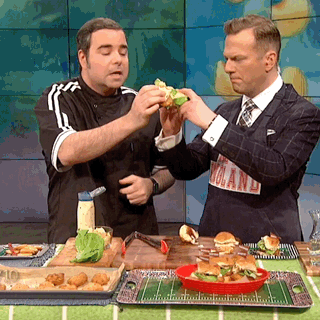 He's gotten so hungry he resorted to eating GRASSHOPPER TACOS on the show!

Could it be that Brian isn't actually hungry though? Could he just be a brave soul willing to be the taste tester so we don't have to? Could my theory be flawed?!
I suddenly feel like maybe we owe Brian a big thanks…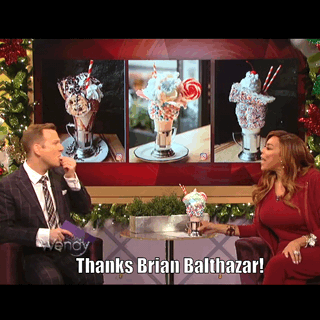 Either way, it's fun to watch! Click below to take a look at a compilation of all the fun stuff Brian Balthazar has eaten on The Wendy Williams Show!
No One Asked For It But Brach's Just Launched 'Thanksgiving Dinner' Candy Corn That Tastes Like Turkey, Stuffing And Green Beans
This year, give thanks for meat-flavored candy.
Ever sat at the dinner table on Thanksgiving thinking "hmm, everything in this meal would make for excellent candy flavors"? Me neither. Somehow, someone over at Brach's did think that and now "Thanksgiving Dinner" flavored candy corn is hitting shelves across the nation.
The new bags of candy corn are available at Walgreens and include flavors such as roasted turkey, green beans, ginger-glazed carrot, sweet potato pie and cranberry sauce. Yum. The candies are sold in 12oz bags so you can enjoy those fantastic flavors swirling around your mouth for a while.
Instagram account @puppreviews tried all six flavors and shared that most of them were surprisingly quite tasty. The glazed carrot, sweet potato pie, green beans and cranberry sauce were all said to be delicious while the turkey and stuffing were described as "taboo" and "downright wrong to be in candy."
Well if you can't wait three months to feast on a real Thanksgiving dinner, head over to your local Walgreens for the next best(?) thing.
Like what you read? Follow me on Instagram
Cheetos Is Making Dinner Dangerously Cheesy With New Line Of Mac 'N Cheese
Can hardly wait to try this cheetah's cheddar.
Whether you like it creamy, crumb-coated or conventional, macaroni and cheese is a dish that is hard to improve on. Sure you can add bacon or lobster or try something wacky like frying it up but when it comes down to it, mac and cheese is pretty much perfect as is. Or so I thought. Frito Lay just announced their new line of Cheetos flavored Mac 'n Cheese and I take back everything I just said.
The dangerously cheesy new line is exploding into pasta aisles with three exciting flavors all "made with authentic Cheetos cheesiness using Chester's Top-Secret Seasoning." You'll be able to choose from Bold and Cheesy, Cheesy Jalapeño and Flamin' Hot. Oh choosing just one is practically like Sophie's Choice. Of the new product line Rachel Ferdinando, SVP, CMO Frito-Lay North America said "We've seen incredible culinary creativity from our Cheetos fans through the years, taking our product and using as an actual ingredient in recipes—whether at restaurants, or now more than ever, at home. Cheetos Mac 'n Cheese borrows that culinary inspiration to provide a mischievous mashup of an ordinary fan favorite. We're putting our orange-dusted fingerprints on an at-home staple at a time when home mealtime occasions are on the rise."
To get your fingers, which ironically won't be covered in Cheetos dust after eating this, on a box of Cheetos Mac 'n Cheese simply head to your closest Walmart or order online here. All three flavors come in either 5.7 ounce boxes or a smaller, single serving cup. Although, whoever can simply have one single serving cup deserves a medal to be honest.
Like what you read? Follow me on Instagram