POP INTERVIEW: Producer And Actor David Barckhoff on His Winston Churchill Film
Did you catch producer/actor David Barckhoff's roles as a police officer in the Tom Cruise film, Jack Reacher, or as a basketball referee in Matt Damon's Promised Land? For his new Winston Churchill film which he is producing…
Did you catch producer/actor David Barckhoff's roles as a police officer in the Tom Cruise film, Jack Reacher, or as a basketball referee in Matt Damon's Promised Land? For his new Winston Churchill film which he is producing, Struggle to the Light, Barckhoff will film with Slumdog Millionaire associate producer Jenn Nkiru…and he may, if negotiations work out, be working with top notch talent like Academy Award winning director Tom Hooper of The King's Speech fame. The movie will be shooting in several locations from July to September, aiming for a 2014 release date.
The premise of this film sounds great, if not pretty difficult to make happen precisely. How are you making this film look, sound and if it were possible, smell like the past?
We are going to use period costumes and wardrobe that are either close to or exactly what people were wearing in London & New York City during the May 1929-May 1940 time line of the film's story. We are also using period vehicles, trains, and film in and on locations that were built prior to this time period and on actual locations that were used by the Churchill family during this time. Such as their family home called Chartwell, The war room bunker in London, HMS Belfast Battleship moored in the Thames river & near The Parliament, Buckingham Palace, London Bridge, (William Penn Hotel, Benedum & Heinz Hall in Pittsburgh). Strasburg, PA Train. We are also building some interior sets in the famous Pinewood studios. Also we are using the last remaining airfield still in operation from the Battle of Britain. We will use music from that time period or use music that sounds like that it came from that era. Some good movie & TV examples with similar look to our film are "Boardwalk Empire", The Kings Speech, The Untouchables from 1987, Gangland, Miller's Crossing, History Channel's "Men Who Built America"(I acted & was 2nd Assistant Director in two episodes) . There maybe some scenes that CGI- Computer Generated Imagry-Computer Graphics will be needed to provide the appropriate time period backdrop.
What did you learn while researching Churchill in this time period before you worked on the film?
Winston's Mother was an American and his Father was British. So technically he had dual citizenship of the USA and England. Also most of the events in this movie had actually occurred. It is very close to historically accurate as possible.
In the years leading up to World War II, both England & France followed a similar diplomatic path of appeasement of Germany. As Nazi intentions became clear, France pushed for a harder line but the British demurred, believing diplomacy could solve the disputes. The result was the Munich Agreement of 1938 that gave Germany control of parts of Czechoslovakia settled by Germans. In early 1939 Germany took over all of Czechoslovakia and began threatening Poland. Appeasement had failed, and both Britain and France raced to catch up with Germany in weaponry.
The film's web description talks about the "toll it takes on his family, friends and closest advisors." How did you demonstrate this? How did you also demonstrate this throughout the film in nonverbal gestures with the script and your planning?
Some of Winston's advisors end up arrested for treason for speaking out against the appeasement policy.
 Winston's family starts to leave him for a short time because they can't handle the stress.
Sarah Churchill moves to New York City from London to marry stage actor Victor Oliver(the character I'm playing), despite her parents Winston & Clementine's disapproval & is vehemently opposed to. They want her to do into politics like her father Winston. Sarah is opposed to that "life style". There is a subtext that both Father & Daughter are alike in someways and both overcome opposition to get what they want. Father wants England & USA to go to war against Germany while Sarah wants to be an actress and not be a politician like her father.
At the time, he wasn't always popular. Why do you think we look back differently on him, other than obvious reasons? What about him as a man?
He has resolve. He remains true to his moral principles and fights to preserve the interests of his fellow citizens and his country. He has an underlying premonition of the impending doom that will soon plunge almost every country into taking sides during World War 2 a few short years later.
The agonizing decisions that are made and those that will have to be made during these very troubling times, will weigh heavily on one man. Do to the circumstances, these events will bring about one man that-despite great opposition, will rise up as leader of a nation to unite his country and the world to fight, oppose and ultimately defeat a fierce and determined enemy and the tyranny that was left behind by Germany and Japan. That one man is Sir Winston Churchill.
While others use fake backdrops, big studio productions like James Cameron's work included, you're going to be on location in Pittsburgh, London and Manhattan. Wow! How are you going to take advantage of this? What do the planned sets and backgrounds look like?
We plan on building sets in the famous Pinewood Studios that closely resemble the 1930's time period.
What do you anticipate when you begin shooting? What about for the finished, edited film? Why do you think Winston Churchill is an exciting personality who stands the test of time?
We anticipate everyone to be prepared to have fun, learn and to give 110% to make this movie story come alive in the spirit of the now deceased person's that our actor's will be portraying. Along with making this one of the best or the best movie's of the year that will be seen worldwide during it's release in May 2014. To coincide with the 69th Anniversary of the end of the World War 2 in Europe.
During the 1930's there was a strong appeasement and isolationism philosophy among many countries. Most had a small military and were inadequately prepared to defend themselves in a time of war. The preferred peace instead of conflict. Sometimes standing up to an aggressor is not the only thing to do but is the right thing to do under those circumstances. Sir Winston Churchill had to over come many people who had this peace mentality so he kept saying and warning everyone he can to strengthen their military & to oppose the aggressive nature of the Nazi Regime, Mussolini's Italy, and Japan.
John Krasinski Virtually Gathers 'Hamilton' Cast To Give A Surprise Performance To A Young Fan

These Broadway stars did not throw away their shot to give one young fan a very memorable birthday surprise.
Everyone's favorite The Office star, John Krasinski (don't tell Steve Carrell), has been delivering some good news on his new, appropriately titled  YouTube show, Some Good News. With the world practically in suspended animation due to the coronavirus pandemic, Krasinski is using the platform to share some positivity and provide a distraction from the saturation of bad going on right now. You could even say his shows gives viewers a chance to quiet themselves for a bit…turn their minds into A Quiet Place if you will. Gotta love low-hanging fruit. In any event, the latest episode shows Krasinki delivering some really good news to a young fan who was facing a birthday disappointment.
The nine-year old Aubrey had plans to see the mega hit musical Hamilton for her birthday. And in case you've been living in suspended animation for much longer than this quarantine, tickets for the hottest show around are still nearly impossible to come by. Imagine how bummed little Aubrey must have been to find that all theaters have been shut down due to the social distancing guidelines. Well, Krasinski had a way to combat that sadness and brought Hamilton to Aubrey.
Krasinski gathered the cast of Hamilton, including stars like Anthony Ramos, Daveed Diggs and Renée Elise Goldsberry and show creator/star/genius Lin-Manuel Miranda, to give a virtual performance to the young fan via Zoom. The icing on the birthday cake? Krasinski also promised to fly Aubrey out to NYC to see the musical live when all of this is over. See…I told you he was The Office favorite.
Takes minute to take in some good today and watch the video below!
Like what you read? Follow me on Instagram
Ben Platt Performs A Choral Beyoncé Cover And Of Course It's Amazing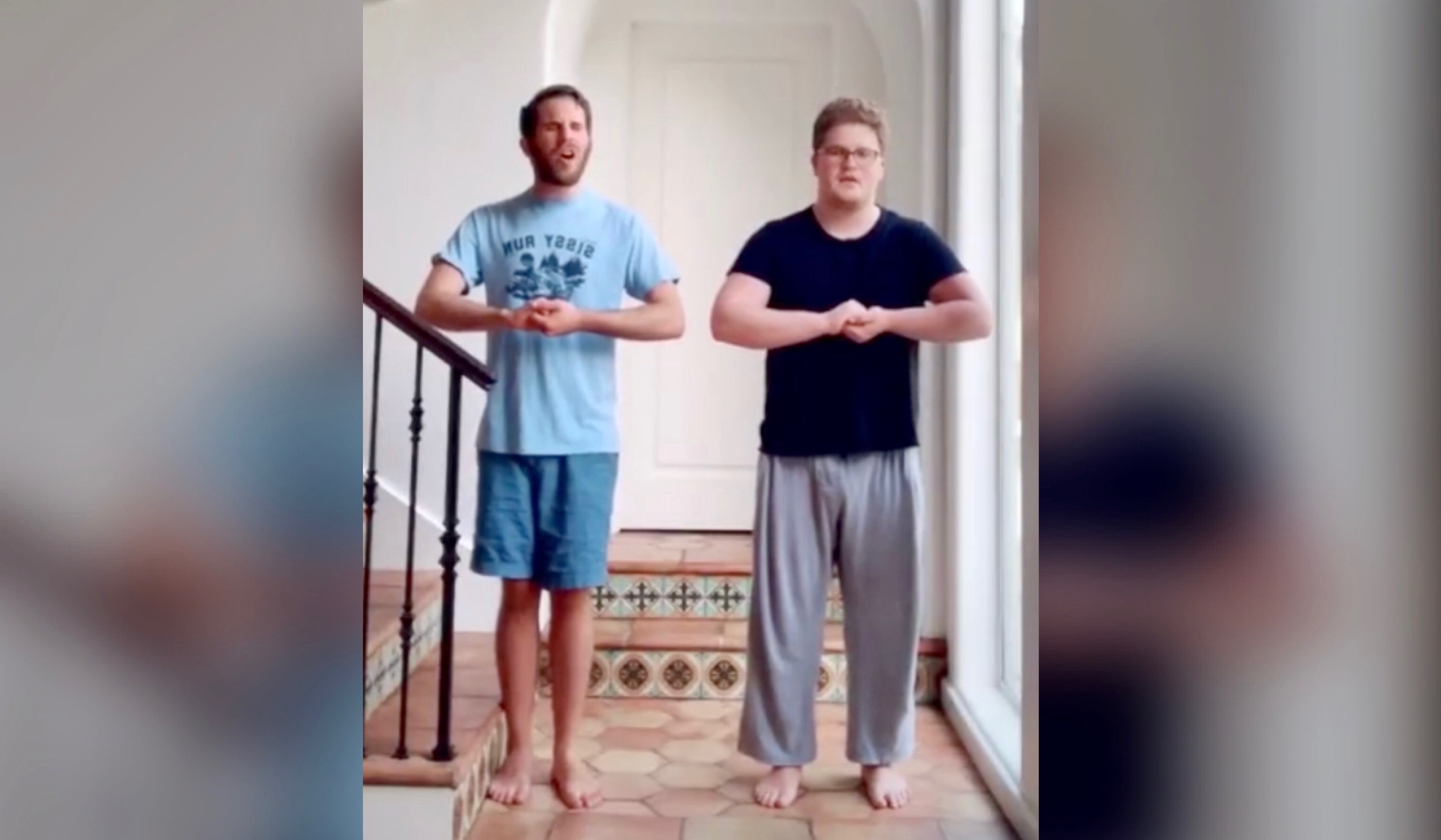 Like Queen B said if you got it, flaunt it.
He made you cry in Dear Evan Hansen. He made you laugh in Pitch Perfect. And lately he has just been impressing the hell out of us with his viral videos. Ben Platt has got some golden pipes and always delivers big feels when he sings. Just a few days ago, Ben and the cast of Dear Evan Hansen went viral for their at home performance of "You Will Be Found," which I may or may not still be misty eyed from. Well, Ben has gone viral again but this time it won't provoke tears…unless they are tears of happiness because you never thought a Beyoncé song could get any better yet here we are. Ben and his pal tik-took to TikTok to share a choral version of Beyoncé's hit song "Check On It." The duo absolutely nails the cover and my only complaint is that the performance isn't long enough. How can we convince Ben to do a choral reprisal of Beyoncé's entire Coachella performance?!
Check out the impressive video below!
Like what you read? Follow me on Instagram
Ina Garten Makes The Perfect Quarantine Cocktail In Funny Video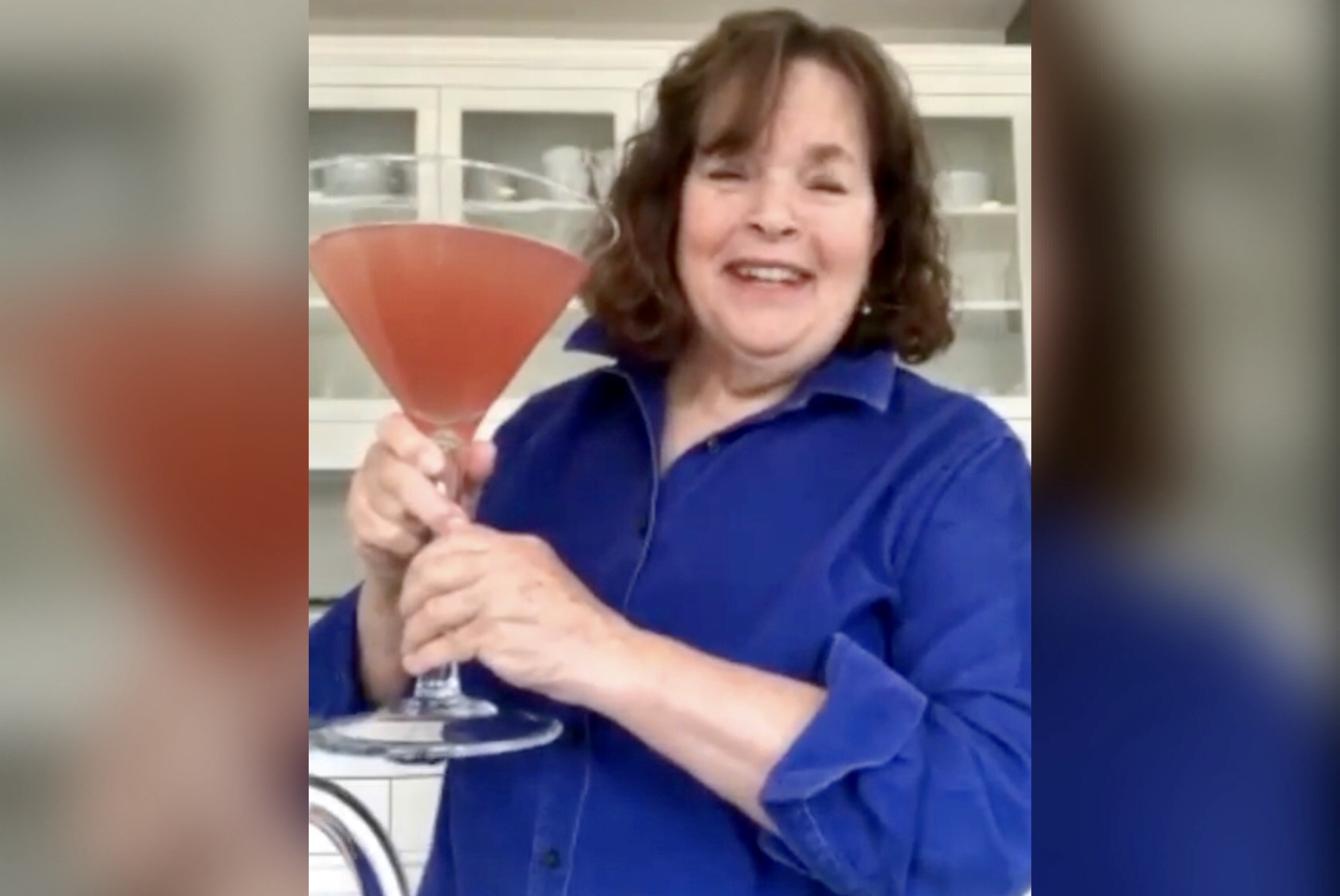 If the Barefoot Contessa says any hour is cocktail hour then who are we to argue?!
Ina Garten, The Barefoot Contessa herself, took to Instagram to "keep tradition alive" during these stressful, isolated times. What tradition is she most concerned with? One near and dear to all of us of course, cocktail hour! In the two-minute video, Ina gives a tutorial on how to whip up a batch of her favorite cosmopolitans. We all watch the contessa for her signature brand of calm speaking tones and party planning panache and while this video delivers on what we'd expect, Ina throws in a couple funny jokes that you would never see coming. She begins the tutorial by instructing viewers to grab a big pitcher because "you never know who is going to stop by – wait – nobody is going to stop by." She goes on later to remind viewers that "during a crisis, you know, cocktail hour can be almost any hour."  Ina wraps up the demonstration by advising viewers to choose the right martini glass when making this drink before pulling out a giant one for herself! Look at Ina getting all loosey-grey-goosey with us!
Enjoy any-hour happy-hour and check out the funny video below!
Like what you read? Follow me on Instagram