POP INTERVIEW: Publicist Michael Gartenlaub Has the Recipe for Finding Work Happiness
Benvenuti's clients have included Mario Batali, Nobu Matsuhisa, the Trump Soho Hotel and a round of the city's other top chefs – the foodie found his calling when he could merge his love for fine cuisine and his PR day job. Ha buona fortuna!
Michael Gartenlaub, associate publicist at Benvenuti Public Relations, has to spin his clients into publicity gold. At a firm where he has to work with high profile clients, even by Manhattan standards – Benvenuti's clients have included Mario Batali, Nobu Matsuhisa, the Trump Soho Hotel and a round of the city's other top chefs – the foodie found his calling when he could merge his love for fine cuisine and his PR day job. Ha buona fortuna!
Did you go to spring fashion week? What did your firm do this year there?
I personally couldn't make it over to the shows this season, but my firm, Benvenuti PR, is very involved with Mercedes Benz Fashion Week every season and we have our clients do catering for the American Express card member show and whatever other opportunities are available. The AMEX show is with a different designer every season and it's a really great opportunity for our clients to get in with the fashion crowd and the designers. We always have a great time organizing the catering for the shows and getting to actually see the shows are a lot of fun. I loved the show they did with Tommy Hilfiger a few seasons back – they had everyone from the commercials walking the runway, including the dog, and Cobra Starship was there performing live. It was really cool! We also work with the fashion shows at Milk Studios.
How did you get started with public relations? Why do you love it?
I fell into it in college. My major had a sequence of courses in public relations and I immediately fell in love with it. What I loved was how there were so many sides to it, other than the flashy celebrity side they always show on TV. I loved the idea of being able to promote products and lifestyle clients. But when I found Benvenuti PR and saw they specialized mostly in restaurants and food & beverage, I knew that was my calling. I've always been in love with food and I even considered becoming a chef at one point, so food & restaurant PR just seemed like a natural fit for me. It's really such an interesting job, and you're always being introduced to new types of people and being exposed to new cultures and new foods you might not have otherwise tried. I've become so adventurous in my eating since starting this job.
With all the chefs at your firm, you probably eat all kinds of food. What cuisine is your favorite?
Oh yeah, I eat everything from Italian and Peruvian to Indian. The President of my firm and the VP (they're both sisters) are actually part Brazilian, so they have a really strong connection to Brazil and to doing business there and because of that, I actually got to go to Brazil and try all the traditional dishes they have there—they were amazing!
Lately I've been working with a lot of talented Indian chefs and restaurateurs, so I'd have to say that's probably my favorite cuisine right now. They really opened my eyes to the authentic dishes and flavors of the country and they're incredible. And this is coming from someone who really never liked Indian cuisine at all, but it really is such a different and pleasurable experience when you have a chef who is cooking from tradition, using authentic ingredients and recipes.
What fun food experiences have you had trying food? Anything in particular you just love?
I had some really great experiences in Brazil. Our firm works with a prominent coffee roaster in New York, which owns a 12,000-acre proprietary coffee farm in Brazil, and as part of my role as an Associate Publicist at Benvenuti PR, I organized a press trip down there. It was really fun being an unofficial coffee farmer for the days we were there. They took us out to the fields and had us pick coffee cherries (where coffee beans come from) off the trees. They made a competition out of it, so we were picking like crazy trying to beat the other team. We also had to use these giant screens that helped remove leaves and twigs from the coffee cherries. You toss everything in the air and catch the cherries in the screens while the wind blows away the rest (see picture). It sounds easy, but it's really hard and let's just say being a coffee farmer is not in my future. As part of the experience, they also had a group of women cook amazing traditional Brazilian meals for us, like delicious stews and savory pastries. But definitely the most fun experience was the pig roast they had for us on our last night. They had a whole pig slowly cooking on an open flame all day and at the end we gathered around as they cut the ropes and the skin started crackling all over. It was so delicious!
Chefs really don't say anything "bad" regarding PR standards. That's the good thing! Food is a very positive environment, and really, any honesty may be viewed as a positive if it is something like dos and don'ts in the kitchen. When you are coaching chefs though, and I know people already have cooking show camera coaches too, what do you have to do to prep them when PR opportunities arise?
The great thing about working with chefs is that many times you have chefs who are very experienced with being on TV and other PR opportunities, so they are really helpful when an opportunity arises and they get it right away. Some chefs definitely need a little coaching though and given my President's background in the industry, she's a pro at prepping chefs for TV appearances, interviews, and whatever and she taught me everything I know. Mostly chefs just need a bit of encouragement and we'll remind them to be enthusiastic, or they may look to us for advice on how to answer a question. Whenever we have a TV shoot, we always make sure the chef knows beforehand what he or she needs to do, and we're always there during the shoot to jump in when we need to.
Out of your lifestyle clients, who, past or present, has had the greatest influence on getting you to try something new?
Well, we worked with a talented celebrity trainer who taught us the rights and wrongs to proper exercise, so I definitely learned something new from him. He opened an academy for personal training that's board certified and it's a really important touch, especially since he told us there's a lot of trainers out there who get certified online and don't get the proper training, which can lead to serious health problems and injuries.
What have you learned from your physician clients that you didn't know about health?
We worked with an established periodontist who debunked some common misconceptions about proper oral care. We learned that proper oral hygiene could lead to increased heart health, for instance.
When working with hotels, or at least having a co-worker do so, do you get to tour the hotel rooms and venues? How is PR for a hotel different than a chef?
Yes, definitely! It's like working with a restaurant; you have to experience it first-hand in order to properly pitch it to press. It's a real treat to tour the hotels, especially if it's a luxury hotel. We were recently working with a new luxury hotel in Manhattan, the Trump SoHo, and the rooms, the suites and the private party spaces were all gorgeous. I wish I lived there! The views of Manhattan were stunning too.
Working with a hotel isn't too different from working with a chef or restaurant, especially if you're handling publicity and marketing for all of the food and beverage operations. You're also exposed to working with so many different sides and especially with the Trump SoHo; we were able to handle everything from the restaurant and lounges to the private dining spaces, the spas and the rooms. Sometimes though, especially with a prestigious hotel, you have a lot more people to coordinate with and there's more of a rigid, corporate structure to it. Also, when you're dealing with the media there are going to be certain publications that'll apply to a hotel but wouldn't be appropriate for a restaurant or a chef, and vice versa. But there's also a lot of overlap.
What events have you put on last year/this year or plan to soon, and what goes on when you run PR for a food or lifestyle event?
One major event we coordinated last year was the "Brasil: A Magical Journey" event at Macy's Herald Square. It was a huge celebration to launch a new Brazilian campaign nationwide and given Benvenuti PR's connections to Brazil, we were able to handle the food and beverage for the event. We flew one of our celebrity chefs in from Brazil to do a demo and showcase Brazilian cuisine, and our coffee client showcased their Brazilian coffee. It was a really amazing event with many Brazilian celebrities, including Sergio Mendez and Calvin Klein's designer Francisco Costa, and the event was a huge success.
Generally, we handle everything from giant events like the Brazil event to smaller events that our clients hold at their restaurants. We've done everything from a wine/coffee/food pairing dinner to an Ostrich dinner. Working with such diverse clients really opens the door to so many possibilities. Depending on what the event is, we'll do everything from consulting on the menus for the event to coordinating sponsors, creating guest lists and sending out invitations to media and VIP contacts, and pitching for media coverage pre and post-event, etc. People don't realize how much work goes into pulling off an event, regardless of how large or small it is. There are so many things to stay on top of!
Which has been your favorite food festival and why?
I love the NYC Wine & Food Festival. There are so many fun food events and competitions that take place during the festival and it's a great opportunity for our clients to showcase their food to thousands of hungry people. Plus you're always seeing big celebrity chefs and food personalities. But there are so many other food festivals that come about each year and I love the diversity of them—there are some devoted to wine and beer, others that mix in music and some that are BBQ-centric, which I'm a huge fan of! We always work to get our clients involved with these festivals.
What is the funniest thing in recent memory that happened on the job?
Ok, this is going to sound horrible but hands down it was when my President and I were in Brazil. After the farm, we flew to Sao Paolo where our client had some food-related sightseeing activities planned for the journalists who were with us. We were checking out of our hotel, which was 40 minutes outside of the city, and one of our group members wandered off in the hotel as we were boarding the bus. We totally didn't realize and drove off without her! We were 20 minutes into our drive when we got a call that she was left behind. We felt terrible, but at the same time we had to laugh about it. Let's just be thankful it didn't happen at the airport!
Get The Look! A Buyer's Guide To Brian Balthazar's Philadelphia Home Redesign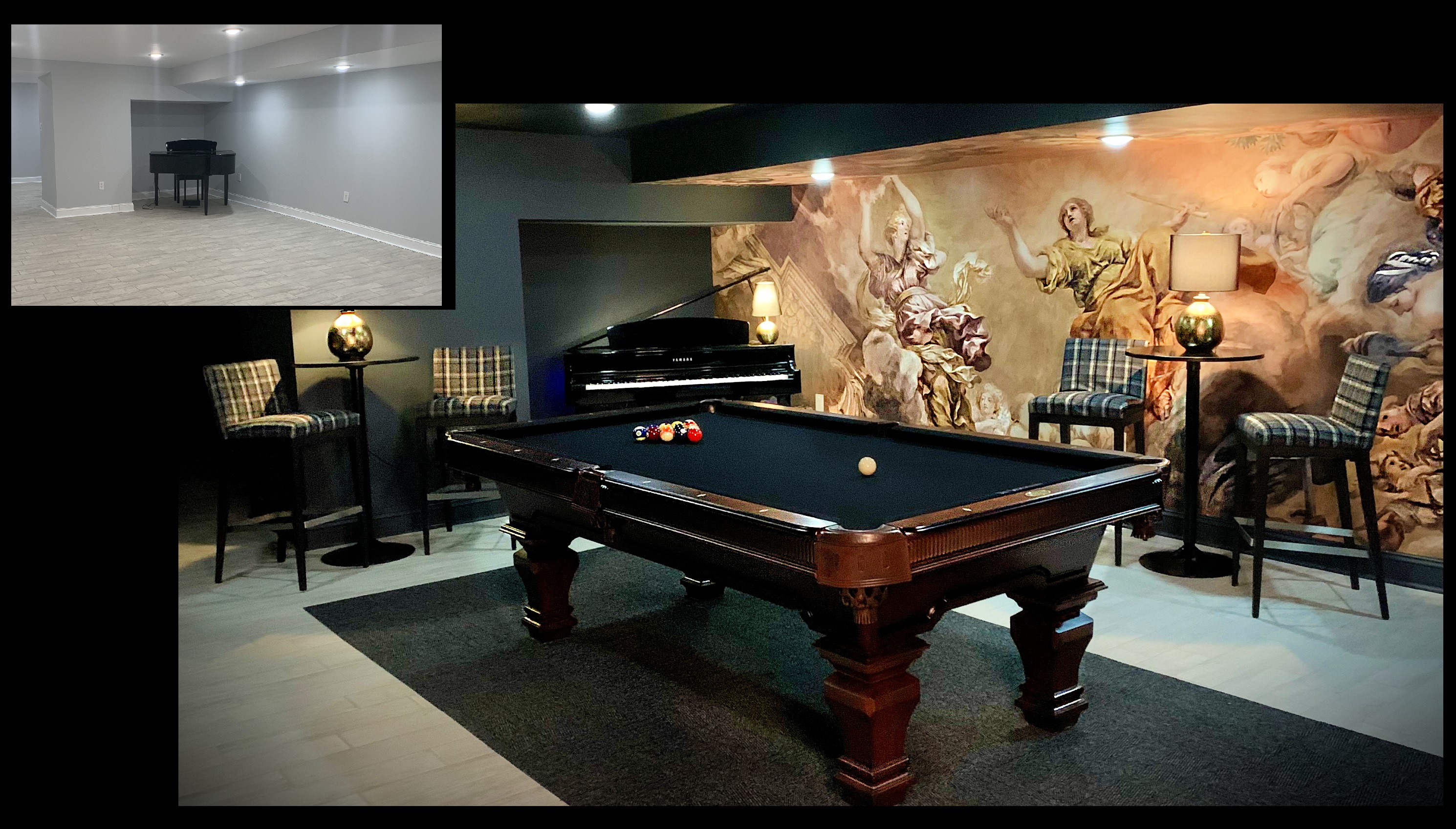 As the world was forced to spend more time at home, Brian Balthazar found himself in a position where he had sold a house before the lockdown and had to find a new one.
"We sold our home with all the furniture in it, so not only did we find ourselves struggling to find a new place, once we found one we didn't have any furniture to put in it."
And so, Brian and partner Dennis got resourceful, turning to refurbishing and buying store floor models. They were inspired to make bold, fun choices in color and style when they started shopping around for wallpaper.
Below is the segment as it appeared on the Today Show, and further down, a rundown of where you can find the pieces or ones with a similar look!
THE DINING ROOM
Let's start with the Dining Room!
Move the slider dividing the image to see all of the before or all of the after!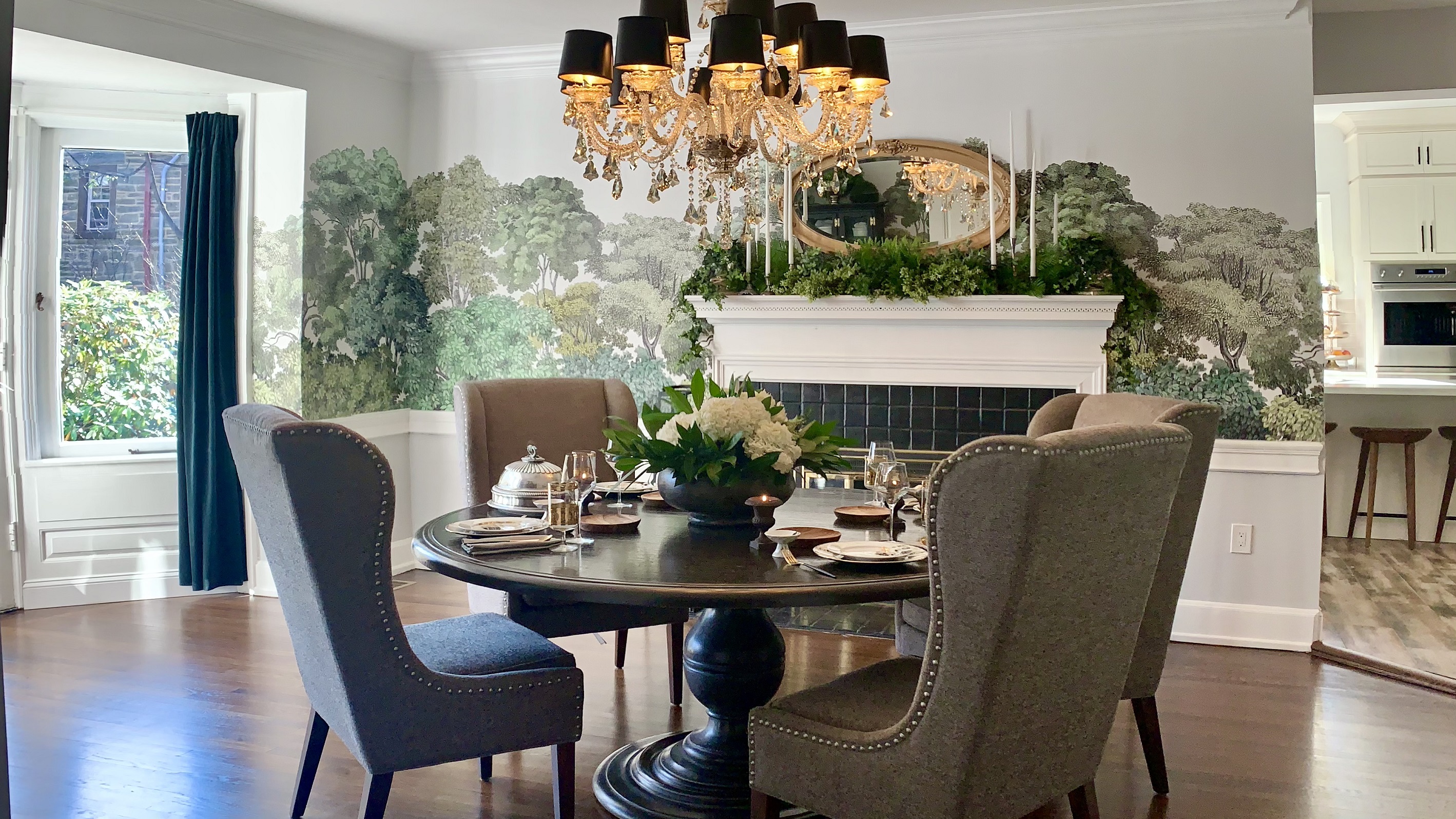 Brian says: The dining room was the first space we wanted to do. I haven't had a true dining room since I was a kid, and I've always wanted a big table for dinner parties! There were no tables within the price range we wanted, so we found a floor model at one of our favorite go-to stores, Arhaus. We easily saved 75 percent on this table by getting the one that they weren't going to carry anymore. The chairs are from Wayfair.  On each side of the fireplace (not seen in the photo, but visible in the Today Show video) are two black tall lanterns flanking the fireplace. I got them at Target. I can't currently find them on their app, but similar versions pop up every year. Get thee to Homegoods! Homegoods and Homesense (same parent company) are my go-to spots for home accessories for virtually every room in the house. You never know what you're going to find, which is part of the fun.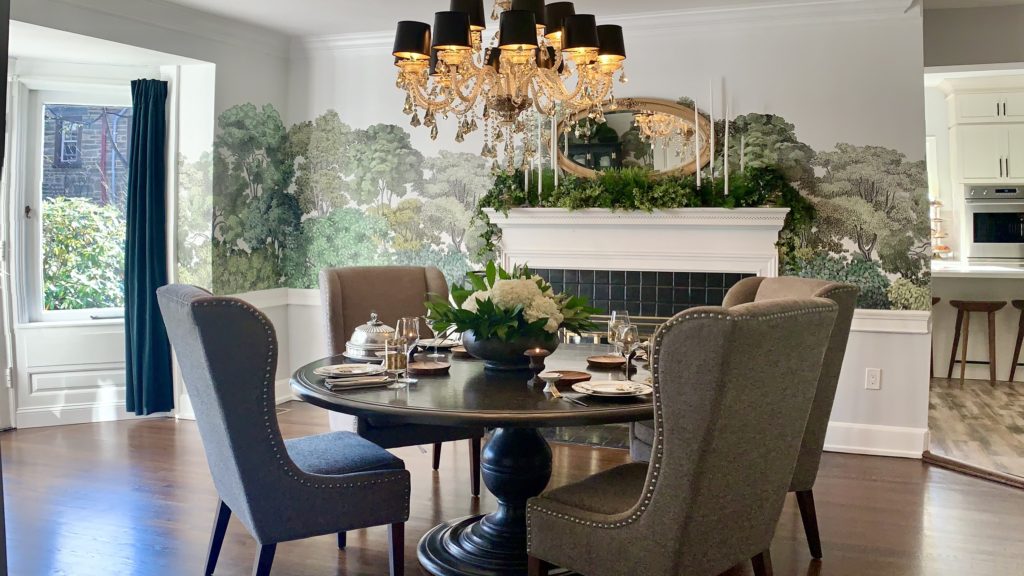 But let's focus on the real WOW element to this room – the wallpaper! This pattern is called Bellewood, by RebelWalls.   As you will soon see, I'm sort of obsessed with their patterns. To me, this room is magical with the added whimsy of this forest pattern. (They also have a more muted version with grays and even one with blues.) I also love that by hanging the paper from the chair rail up, you almost get the feeling that you're standing on a balcony overlooking the forest. I surrounded the whole room with this paper, which I love, but you could easily add the same magical feeling by just doing one feature wall. Their website shows how it can translate to a bedroom or office. You might be intimidated by hanging wallpaper but don't be! This pattern has so much going on that it really looks perfect when it goes up!
ON TO THE GUEST BEDROOM!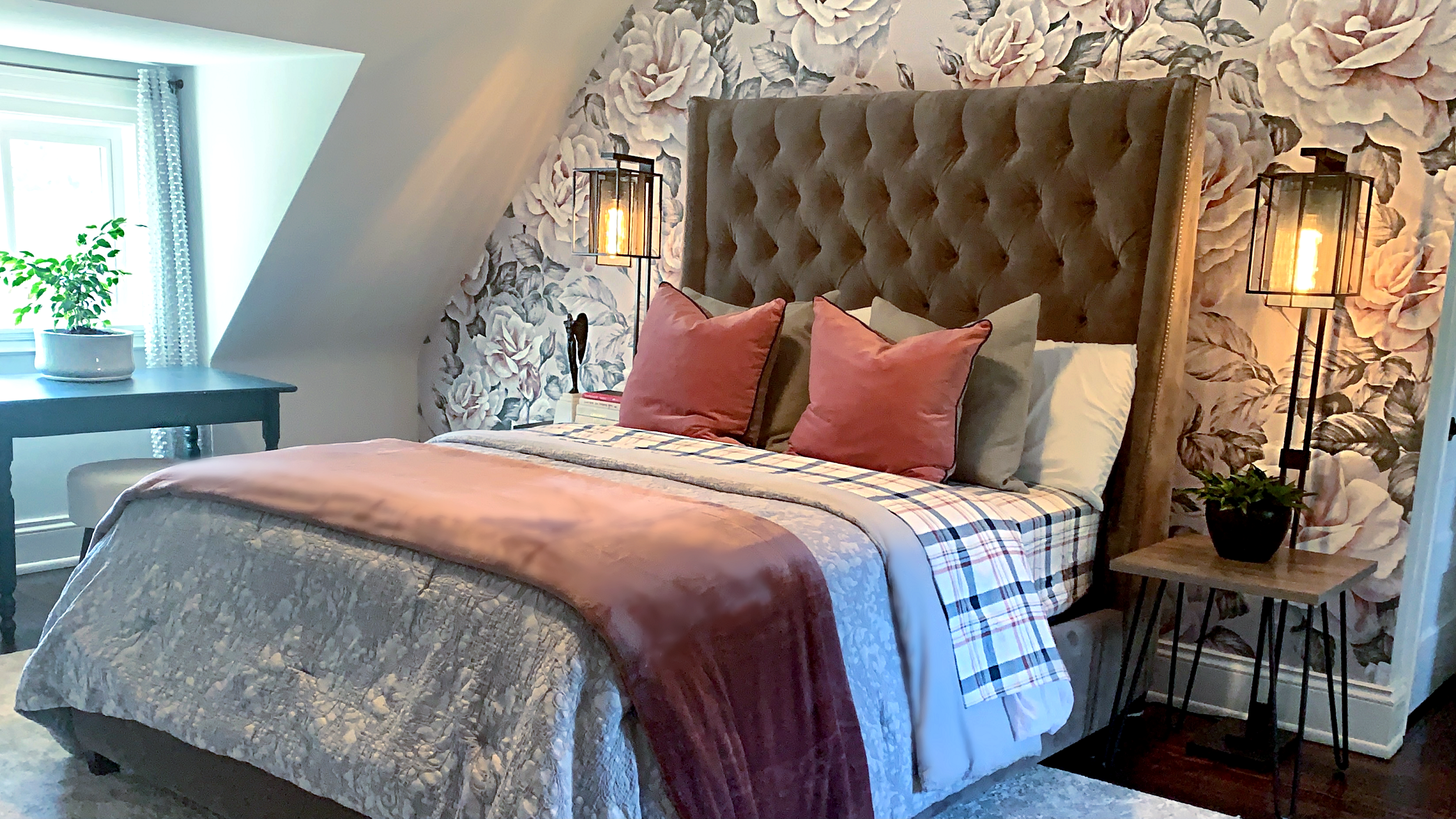 Brian says: The guest bedroom is on the top floor of the house, so it's got roof lines on two sides that make it a tricky space to navigate if you're not careful. The planning of this space alone resulted in a few bonked heads. On the upside, the wall where the bed goes is tall, so it was an obvious place to create some visual pop. Again, the wallpaper takes the spotlight.  Called "Nude Roses," also by RebelWalls, I love this design. Floral wallpaper was 'big' in popularity back in the 1920s when this house was built, but the patterns at that time were smaller, repeated more often, and were often really bold in color. This interpretation is so fun to me! Gone are the small roses in favor of oversized blooms, and the bold colors are more subdued pink and gray hues, with touches of dark green and creamy whites.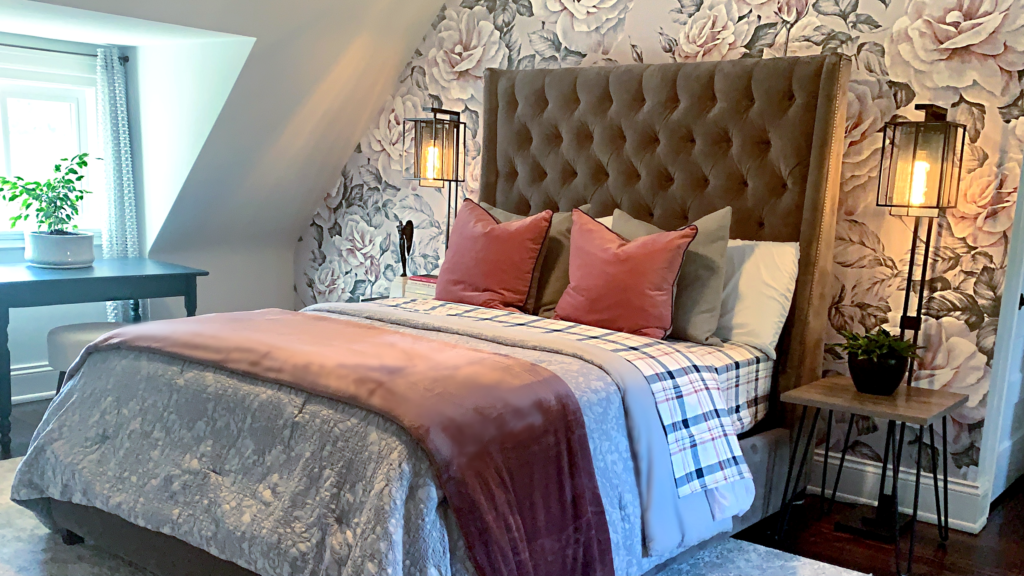 While roses can inherently feel feminine, the plaid bedding (30 dollars for a queen set from Target) are a surprising complement that keeps everything from feeling a little stereotypical. The side tables are mismatched – partly because we didn't want to go too "matchy=matchy" – but also to save some money – the one on the left side (hard to catch here) was from West Elm. Normally $199, we got it for half off as the floor model. The one on the right we found in the trash. It was perfectly fine, clearly someone had just gotten tired of it! Nothing some disinfectant can't fix. That gave us some extra money to spend – To reduce the softeness we went with industrial lamps and edison bulbs. The lamps  are called "Ginyard," from Wayfair. The headboard was on sale at Arhaus. The dark gray takes balances out the pink hues well. The pillows are from Target and Homegoods.
For the 360 degree view of this room, watch the Instagram reel below!  You'll see the dresser, on sale for $599 from Arhaus, a lamp from Homegoods, and mobiles from Amazon which we fashioned into a 'piece of art' that keeps you from hitting your head on the angled wall opposite the bed. Watch the video to check it out!
View this post on Instagram
THE GAME ROOM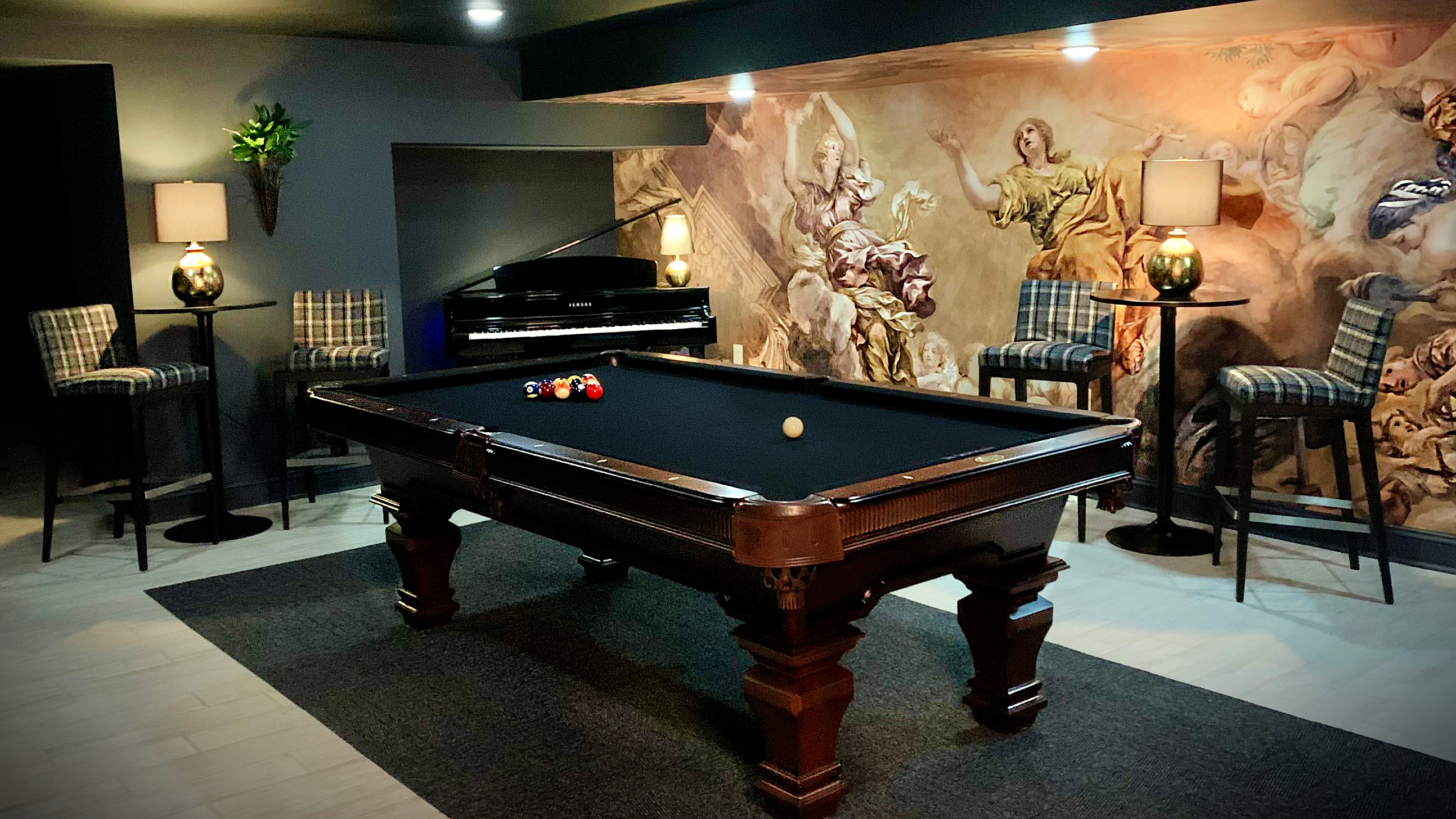 Brian says: The idea for the basement game room was to create a space that feels like a lounge you might find if you went out with friends. When you go into this basement it definitely feels like you've gone someplace unique! Believe it or not, I found out the Today Show had invited me to to record my house tour just a few days in advance, and so we turned around this spot in just THREE days! There was literally no pool table at the time, (although it had already been scheduled to come on Friday, the wallpaper came on Saturday, (as well as the floor tiles!) and by Sunday we were covered in paint and glue and drinking wine to celebrate it's completion! I recorded the final video that Monday.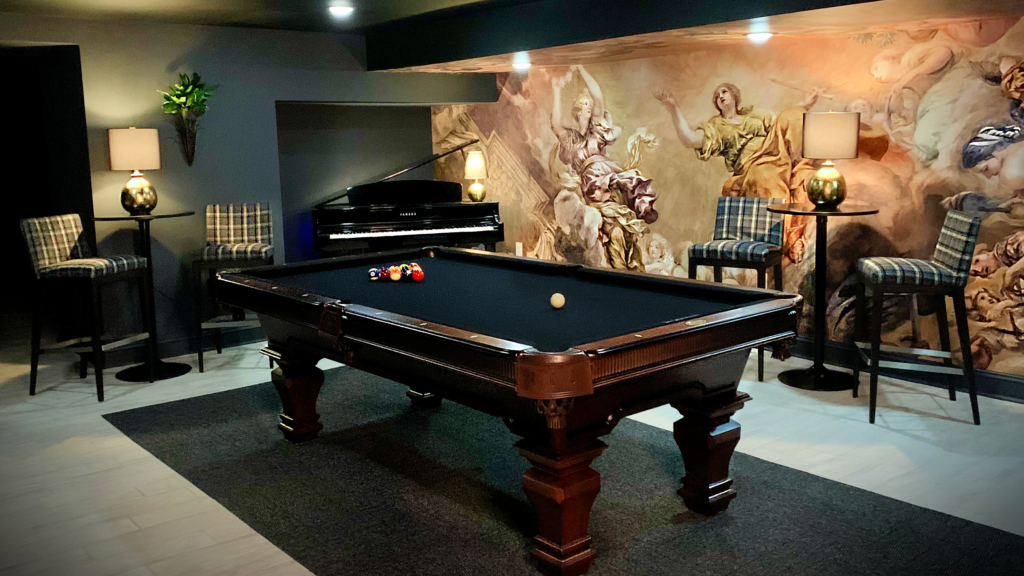 Some people might not think to take a bright basement and make it dark, but that was our first instinct. Clubs are dark and moody, and we wanted this to feel like that. We painted the walls Wrought Iron by Benjamin Moore, which is a very dark gray that seems to take on different hues based on where you paint it and the light that shines on it. We painted the ceiling black. This was Thursday night! Then Friday the pool table came. The floor tiles ("Tweed Indeed" in black by Flor) hadn't arrived until the next day, so when they did arrive I meticulously trimmed four tiles to fit around the pool table legs so it looks like they were there the whole time. I had ordered the pool table online weeks before from PoolTables.com and by sheer coincidence it was scheduled to arrive in time for me to shoot the redesign. This was the second time I have ordered a pool table from them (which was initially scary because you're not even seeing it beforehand!) but it always arrives in perfect condition to your specific selections. I love that the felt jet black and keeps things dark and moody. In the time that has passed since this photo was taken, I've added more of the carpet tiles to make the carpeted floor area darker and bigger.
But once again, the wall mural steals the show in a marvelous way! This mural is called "A Priori" from Rebelwalls, and is inspired by The Allegory of Divine Providence and Barberini Power, a famous fresco by Italian artist Pietro da Cortona. Fitting, because this house is Italian in style on the outside. You can't see it from this photo but the wallpaper runs up part of the ceiling as well. It truly gives the room a wow factor when you enter it. The lamps are from Homegoods, (we've since added some industrial floor lamps for extra mood lighting) and the piano was something we brought with us. The bar tables are from Amazon ($72 each) and the stools we brought with us – they were discards from someone who didn't like their original bright colors and thought they were dated! We covered them ourselves with gray plaid fabric and they're better than they were new!
So there you have it! Hope you enjoyed the rooms and find something you like!
Well Sh-t, Leslie Jordan Has Shared Three Videos Of Himself Dancing In One Week And They're All Perfect
Doing much better now, Leslie.
If you've never believed that "good things come in small packages" then you've never seen Leslie Jordan's instagram. The 4'11" actor known for his iconic roles in shows like Will & Grace and American Horror Story has recently developed a whole new fanbase who loves him for his viral Instagram videos. Usually starting each video by greeting fans with "Well shit, how y'all doing?", viewers have grown to anticipate Jordan's hilarious recounting of stories from his time in show biz or growing up in the south. This week, however, the Tennessee native has shared 3 videos of himself dancing within 5 days and honestly it's precisely what we all need right now.
The first video was posted on August 12th and shows Jordan taking part of the "Git up and dance challenge" which swept the internet about a year ago. Even though he is a little late, the video is still perfection.
On August 13th, Jordan does a dance to "You Can't Stop The Beat" from Hairspray a with special guest dance partner Katie Couric!
Finally, on August 15th, Jordan does an epic "tootsie roll" and challenges Real Housewives Of Beverly Hills star, Lisa Rinna, to do the tootsie roll herself. Of course Rinna commented with a big "ON IT ❤️😂." Who could say no to the viral star?!?
The moral of the story here is that the world is going through some tough times right now but maybe, even for a few seconds, we could all feel better if we'd just dance it out. Thanks for the inspo Leslie Jordan!
Like what you read? Follow me on Instagram
Planters 'Baby Nut' Has Somehow Already Turned 21 And People Are Not Loving The News
2020 keeps getting nuttier.
The world was shocked when the iconic Mr. Peanut was killed during a pre-Super Bowl ad earlier this year. There wasn't much time to mourn, however, before a new nut was thrust onto us like back-to-school commercials in July. Yes, after the 59-year-old mascot met his untimely death consumers were introduced to his reincarnate, Baby Nut. With big, expressive eyes and a tiny stature fans began to swoon over the cute branding revamp and accepted him as the new mascot. Well as if 2020 hasn't been crazy enough, Planters just released a new commercial celebrating Baby Nut's 21st birthday and I'm not sure how to feel about it.
I'm officially 21, my friends! Before you ask, yes, I was just a baby. What can I say? It's been a nutty year. Now someone get this peanut a beer! #MakeMyBirthdayNuts pic.twitter.com/P1UfBIi4N8

— Peanut Jr. (@MrPeanut) August 11, 2020
According to a quick Google search, a peanut plant takes 4-5 months to reach maturity. So with Baby Nut being born in February, he is technically right on track in his growth cycle. The OG Mr. Peanut was the reigning mascot for 59 years so does that mean he was actually over 3,000 peanut-years old? The accelerated aging is not explained in the new ad with Baby Nut (Young Adult Nut?) simply saying "it's been a weird year." Reactions on Twitter are largely negative but as always, hilarious. Here are some of the best: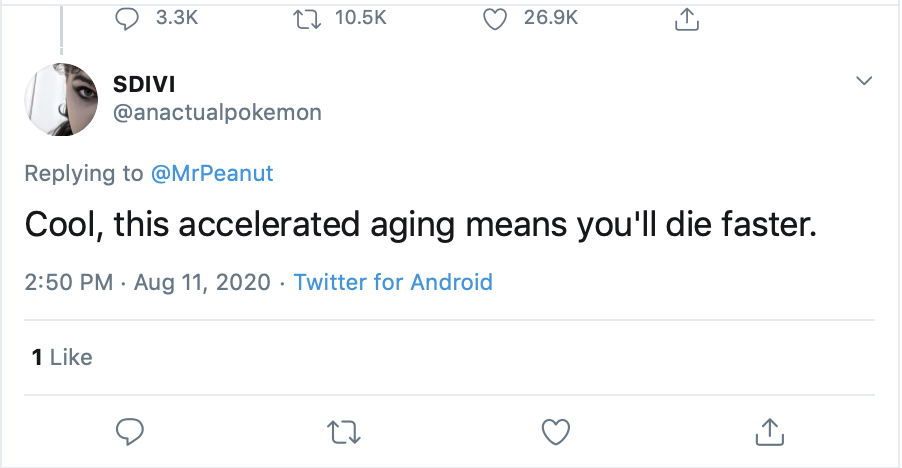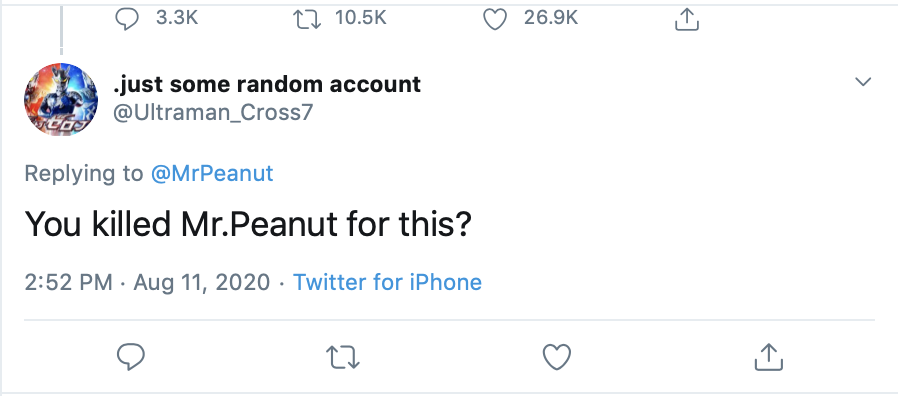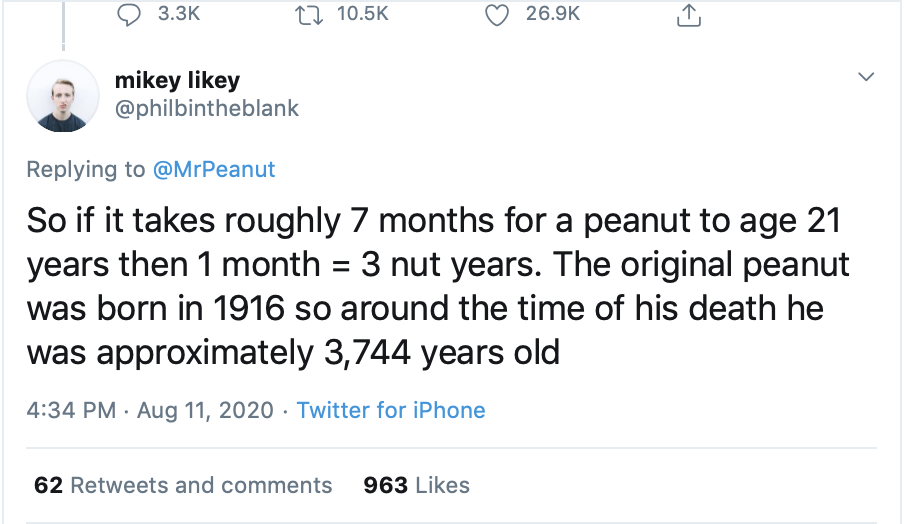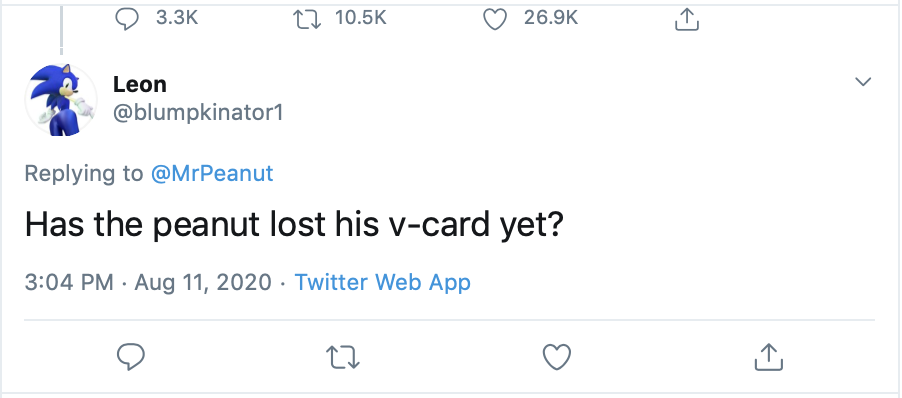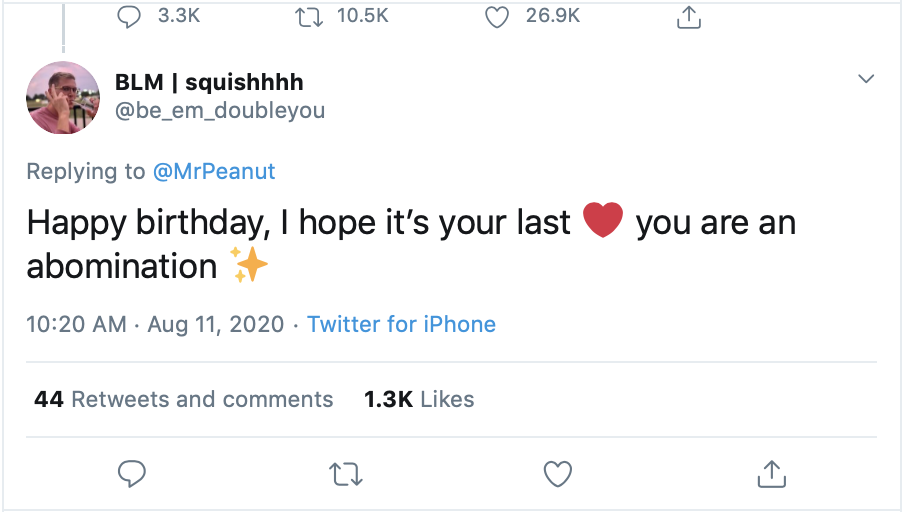 Yikes. Good thing Baby Nut is old enough to drink now…looks like he might need to throw back a few to handle some of these reactions.
To follow Peanut Jr.'s official account click here.
Like what you read? Follow me on Instagram