POP INTERVIEW: Ricky Schroder Goes from "Silver Spoons" to (Literally) Calling His Own Shots
Rick "Ricky" Schroder may live forever in some TV fans' memories thanks to his Silver Spoons role, but as an adult, he has become a commanding presence. He directed, starred in and produced the new Hallmark Channel movie, Wild Hearts, airing March 9
Rick "Ricky" Schroder may live forever in some TV fans' memories thanks to his Silver Spoons role, but as an adult, he has become a commanding presence on screen for shows like NYPD Blue, Scrubs and 24, and off screen, as a director and screenwriter. He directed, starred in and produced the new Hallmark Channel movie, Wild Hearts. The TV film, airing March 9, is about a Malibu teenager discovering life doesn't have to be about doing something cool but actually living it when she meets her father in the scenic Sierra Nevada Mountains.
With experience comes wisdom. As a child and later young adult, you already had more experience on screen than most well-known people in Hollywood. It was like you had your own life already lived at a much faster pace, in terms of work anyway. Unfortunately, people don't listen to kids or teens. What was the first moment when you were able to really have a voice on set? How did you eventually work that into being a director and when not behind the camera, an actor who was able to speak his mind?
That's a question I've never been asked before and I've answered quite a few questions. I was fortunate to have worked with a lot of talented people as a young actor. One common trait amongst talented people is confidence. So I was able to follow my instincts when I performed because of the people around me. The directors and other actors would allow me a chance to show them my ideas for any given "scene" and then a collaborative dialogue would start. Actors must commit to whatever emotion or behavior they are performing. So smart directors understand that the more committed and involved the performer, the better the end performance.
The Hallmark Channel is famous for its movies that leave you with a good, fuzzy, happy feeling. What about "Wild Hearts" keeps in touch with the Hallmark tradition?
"Wild Hearts" is an honest story about people. People who care about each other enough to work thru their differences. Not just walk away. The horses and dogs have to make you smile.
You have a really solid television background. But this time around, you served as a co-writer. How did you pour out your heart and mind into this script in a way you never could before as an on screen-only production member?
Writing is such a satisfying process. Cause at the end of the day you can see what you've accomplished. I was also quite motivated since my daughter Cambrie is the star and I am her co­‐star.
It seems you challenged yourself additionally by working with your wife on screen and off, in the writing process. A group of friends can often split up when collaborating on a project! What happened so you made sure your disagreements were settled peacefully, and were there ever times you backed down to please her, realizing, "Wow, she was right?"
I loved working with my wife, Andrea. She would write separate scenes, from those which I wrote. When we had a difference of opinion, it was key to really listen to what each other was saying. Sometimes what you think someone is saying, isn't exactly what they're saying. So clear communication is a must.
What fun moments happened on set?
Everyday to see my sons working in the camera department or on camera and my three girls was great. But the single biggest memory I have and I still laugh when I think of this, is when Cambrie (Willow) had to slap Luke (Duke). They had practiced it so she could lightly touch him and he would whip his head to make it look like a harder slap. Well after a few takes I wanted to see what kind of reaction we would get from Luke if she hit him really hard. Well, she let him have it and the shock in his reaction was real! Priceless!
Of your former show, "Silver Spoons," Fox News described it as "in the classic formula of role reversal between parent and child, Ricky Stratton teaches his immature dad to be a grown-up while the latter teaches him how to be a kid." As a former child actor, what do you teach your own children about the important of balancing work, childhood and family life? More so, because you worked with your wife and children on "Wild Hearts?"
Just try to keep it all balanced. Too much play or to much work gets you into trouble.
In the foreseeable future, what projects do you want to take on as a director, writer or producer? What about acting? How do you plan to challenge yourself so life won't be solely a series of one genre? Are you ever going to write a film that may involve you feeling uneasy, sad, lonesome or tragic, so much that you might almost be unable to work on it because it pulls out your emotions? Because those are always the best films.
I'm writing a few different scripts actually right now, mostly dramas. They're all special in their own way.
Mandy Moore Sings "Only Hope" From "A Walk To Remember" and I'm Not Crying, You're Crying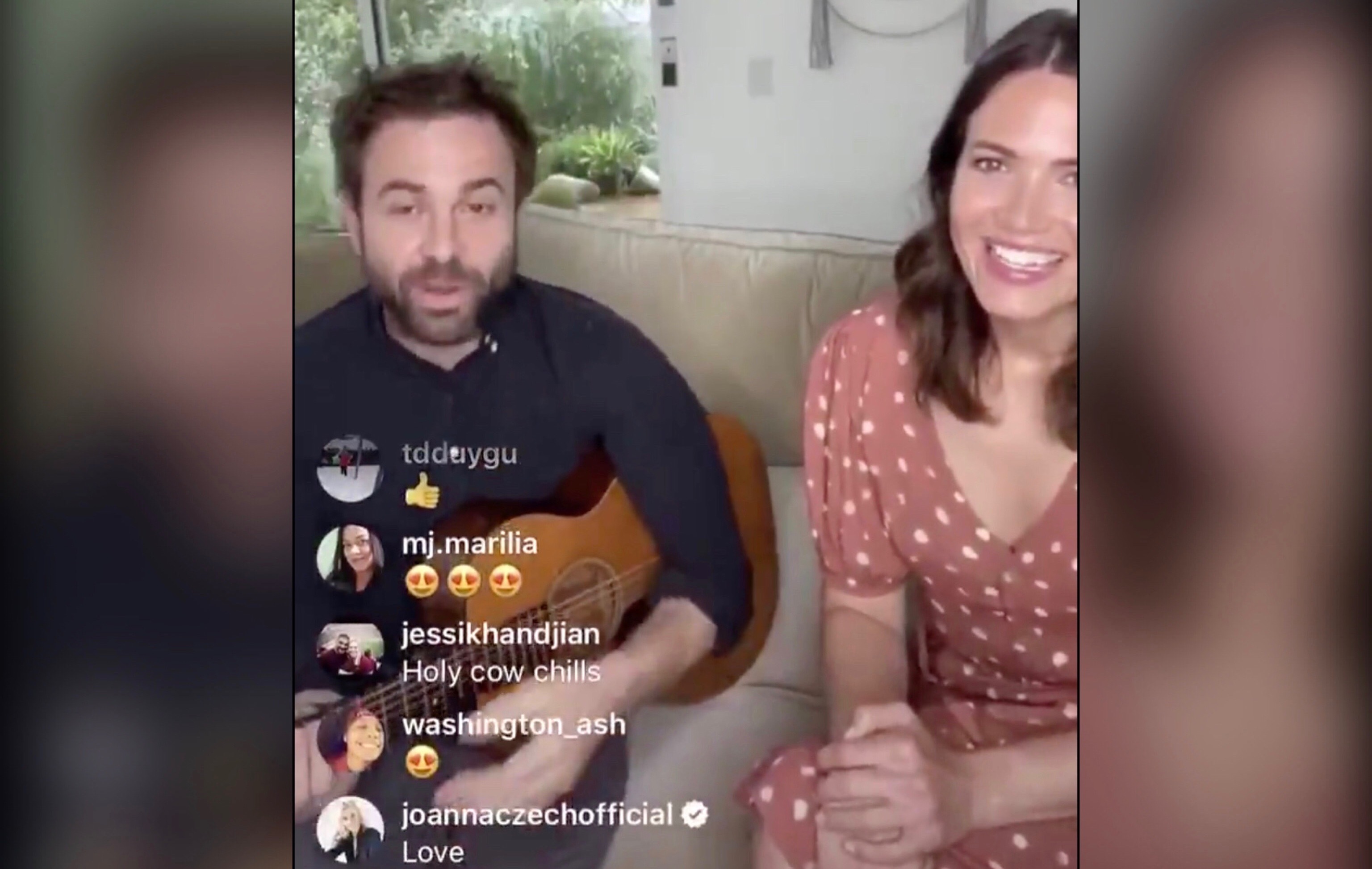 We should have known to turn to Mandy MOORE while we've been feeling so hopeLESS.
The multitalented multi-hyphenate Mandy Moore has managed to tug at everyone's heart strings this past Sunday. While the world is still figuring out how to remain positive during the coronavirus pandemic, Moore took to Instagram to provide a beacon of hope…"Only Hope" that is.
Back in the early 2000's Moore starred in the heartbreaking teen drama A Walk To Remember and gave everyone the feels when she sang "Only Hope" during one of the film's most pivotal moments. During the Instagram Live concert, Moore admits that she has only sang the song twice before, once while recording it for the film and once at a concert in the Philippines. Do you understand the history we are witnessing here?! Accompanied by her acoustic-guiatr playing husband Taylor Goldsmith, Moore belts out the beautiful ballad and suddenly hope is reignited.
Take a look at the performance below…I'm sure you'll want to watch it MOORE than once.
‼️Mandy Moore just sang "Only Hope" from A Walk to Remember for the first time in almost 20 years, and it was perfect. pic.twitter.com/Stxlmw63Pp

— Ashley Spencer (@AshleyySpencer) April 6, 2020
Like what you read? Follow me on Instagram
John Krasinski Virtually Gathers 'Hamilton' Cast To Give A Surprise Performance To A Young Fan

These Broadway stars did not throw away their shot to give one young fan a very memorable birthday surprise.
Everyone's favorite The Office star, John Krasinski (don't tell Steve Carrell), has been delivering some good news on his new, appropriately titled  YouTube show, Some Good News. With the world practically in suspended animation due to the coronavirus pandemic, Krasinski is using the platform to share some positivity and provide a distraction from the saturation of bad going on right now. You could even say his shows gives viewers a chance to quiet themselves for a bit…turn their minds into A Quiet Place if you will. Gotta love low-hanging fruit. In any event, the latest episode shows Krasinki delivering some really good news to a young fan who was facing a birthday disappointment.
The nine-year old Aubrey had plans to see the mega hit musical Hamilton for her birthday. And in case you've been living in suspended animation for much longer than this quarantine, tickets for the hottest show around are still nearly impossible to come by. Imagine how bummed little Aubrey must have been to find that all theaters have been shut down due to the social distancing guidelines. Well, Krasinski had a way to combat that sadness and brought Hamilton to Aubrey.
Krasinski gathered the cast of Hamilton, including stars like Anthony Ramos, Daveed Diggs and Renée Elise Goldsberry and show creator/star/genius Lin-Manuel Miranda, to give a virtual performance to the young fan via Zoom. The icing on the birthday cake? Krasinski also promised to fly Aubrey out to NYC to see the musical live when all of this is over. See…I told you he was The Office favorite.
Takes minute to take in some good today and watch the video below!
Like what you read? Follow me on Instagram
Ben Platt Performs A Choral Beyoncé Cover And Of Course It's Amazing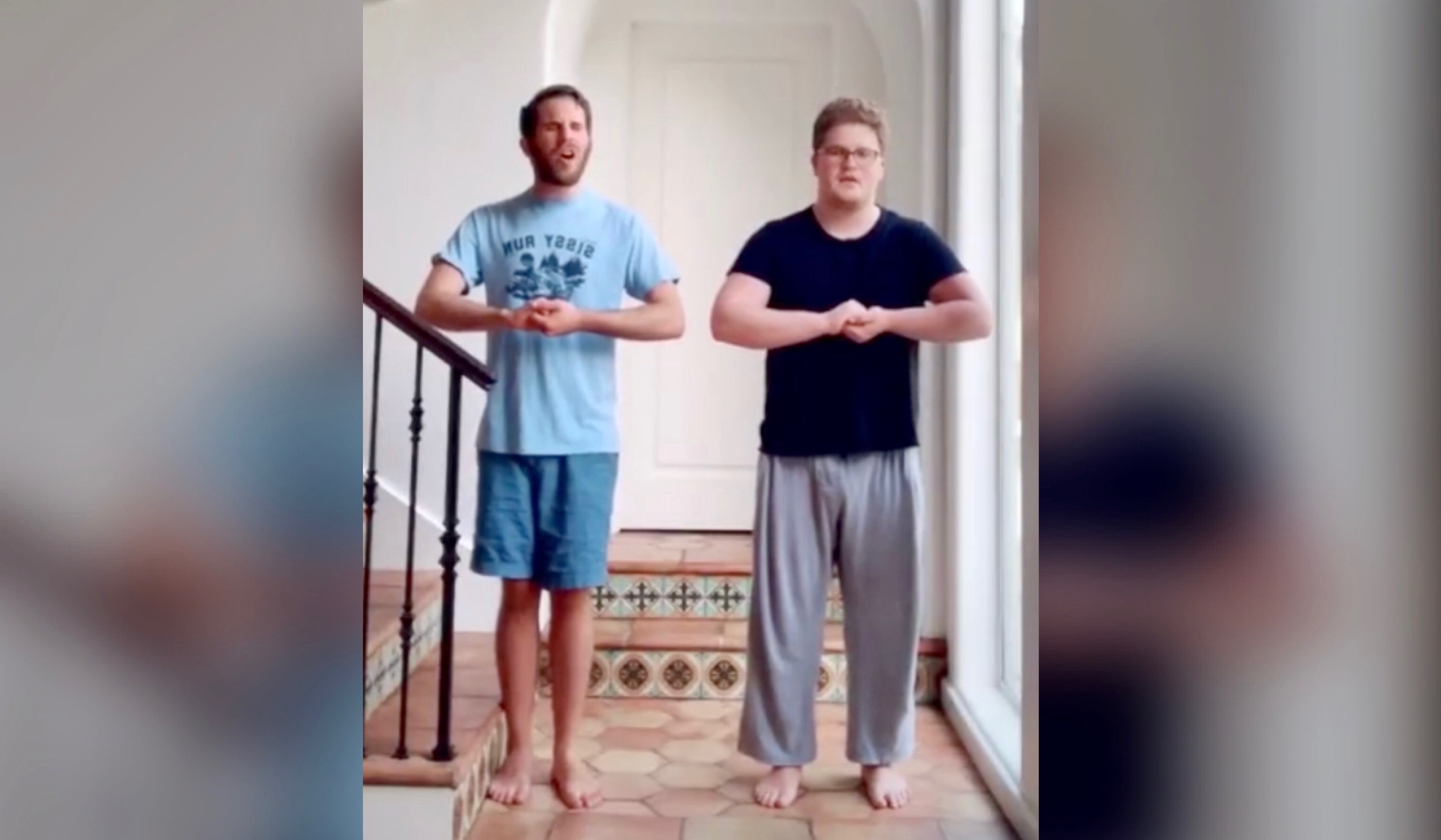 Like Queen B said if you got it, flaunt it.
He made you cry in Dear Evan Hansen. He made you laugh in Pitch Perfect. And lately he has just been impressing the hell out of us with his viral videos. Ben Platt has got some golden pipes and always delivers big feels when he sings. Just a few days ago, Ben and the cast of Dear Evan Hansen went viral for their at home performance of "You Will Be Found," which I may or may not still be misty eyed from. Well, Ben has gone viral again but this time it won't provoke tears…unless they are tears of happiness because you never thought a Beyoncé song could get any better yet here we are. Ben and his pal tik-took to TikTok to share a choral version of Beyoncé's hit song "Check On It." The duo absolutely nails the cover and my only complaint is that the performance isn't long enough. How can we convince Ben to do a choral reprisal of Beyoncé's entire Coachella performance?!
Check out the impressive video below!
Like what you read? Follow me on Instagram