POP INTERVIEW: Joe Wenke Teaches Us How to Become Culture Arsonists!
Comedian Joe Wenke is the author of You Got to Be Kidding, described as a Bill Maher take on religion, shutting down myths and stories as he probably irritates the entire Bible belt. The very second I heard he referred to himself as a "culture arsonist," I wanted to be one. As it turns out, I was sad upon learning setting random things on fire is not involved – the book description says it is actually about "causing trouble" – but pleased I can be at once angry-bitter and living in Hello Kitty Land.
What does a "cultural arsonist" actually do? Is this anything like a help wanted ad put out by Ann Coulter? Why did you want to call yourself this moniker?
A cultural arsonist is somebody who sets fire to stupidity and burns up bigotry, metaphorically, of course. That's what I do, so that's what I call myself. I have lots of rhetorical tools at my disposal, but the primary tool is satire. Ann Coulter? No, she is definitely not a cultural arsonist. In fact, she trades on stupidity and bigotry, so she's the opposite of a cultural arsonist.
Did being a cultural arsonist derive from your years working as a speechwriter, sort of being silent while you told other people what to say, essentially? Or did it strengthen your opinions more so?
It didn't derive from my having been a speechwriter. I've always been very outspoken and questioned everything since I was a kid. I have to say, though, that being a speechwriter is a weird job. You have to have a huge ego to deal with CEO types and other so-called big shots, but then you have to pretend to have no ego when they set about changing what you've written. But you do learn to be very persuasive and adept at arguing different positions. Being a speechwriter also helped me to become a very fast writer.
Is being angry required, or can I be a cultural arsonist too in a Pollyanna sort of way? I kind of want to crack jokes while I'm attacking culture and hand out healthy, low calorie cupcakes I decorated before I grill people. With Sanrio products somehow involved. What steps are involved in my path to being one?
My own style is playful rather than angry. My artistic models are the Beatles early press conferences and Muhammad Ali's rope-a-dope. I mean, sometimes the best way to win a debate is to just let the other person do all of the talking. Actually, being a cultural arsonist is more about pushing limits and boundaries than being angry—sort of like, if you see a line, cross it, or if you think you've gone too far, go further. It's also about how you live, how you present yourself to the world, as much as it is about writing. I'm very girly in how I present myself to the world. I have long hair, wear mascara, eye shadow, pink fingernail polish and girls clothes. That look definitely pushes boundaries and is very edgy and funny. It's very disarming—like handing out cupcakes before grilling your next victim.
Your book info says it "tempts readers to more closely examine the stories they think they know about the Bible." What is an example of a Biblical story that needs to be restudied?
How about Noah's Ark? Scientists have identified more than a million species, so how big was that boat? It's just a guess, but I'm thinking something along the lines of the state of Rhode Island. And just how did Noah round up all of the animals? I mean who went out and picked up the polar bears and penguins. And what about the kangaroos and kiwis? Also, was every insect species on board, or was there a cut off point? Did roaches and mosquitoes make it? How about bed bugs?
Why did you want to focus on Christianity? Why not other religions?
I wrote about the Bible, which is the foundation of the Judeo-Christian tradition, because that's the belief system that I was brought up in. I wanted to expose the absurdity of the Bible. How is the Bible absurd? Well, the most absurd thing about the Bible is that in all probability nothing of importance described in it ever actually happened. Also, Old Testament morality is really more like tribal code like we get today from the Taliban. I also wanted to call out people who use the Bible to justify their own bigotry against gay and transgender people as well as their contempt for women. If God did write the Bible as the fundamentalists contend, then my message to them is just because God is a bigot doesn't make it right.
And while we discuss other religions, what do you want to pick apart from Buddhism or other religions?
Absurd beliefs of any kind are worthy targets of satire. At the same time, I really don't care about what people believe. People believe all sorts of crazy things. That's fine with me. That's what makes the world go round. I object when somebody thinks that their religion is the one, true religion or when they use what they view as scripture to justify their own bigotry against people who are different from them.
What are some great things people have told you about your book? What have the worst critics, or possibly a group of people you may call "haters," told you?
There have been more than 40 reviews of the book, and almost all of them have been very positive. I love that people find the book to be very funny. I think that the humor of the book is very disarming. It opens up people's minds to entertain new ideas. One reviewer said the book should be part of any library, particularly a religious library. I like that. One guy trashed the book, and said it was sophomoric. That was good too since it reminded me of how much I like the word "sophomoric."
I like the book cover art interpretation. Somehow, it speaks a lot for being so subdued. How did you declare this to be what you were thinking? Because people really do judge a book by its cover in the publishing world.
I absolutely love the cover of my book! My good friend, Gisele Xtravaganza, who is a very beautiful and successful transgender model, is the nun on the cover. The original cover designer had proposed the idea of having a laughing, scandalized nun on the cover. I thought the attitude was a little heavy handed and obvious, but I liked the nun idea itself. I bought a nun costume online and gave it to Gisele. She tried it on and took a picture of herself. She looked so beautiful and angelic, very close to the image that we have on the cover, and I though, oh, my God! That's it. Jeffrey Michelson, the ultimate cover designer and the designer of my website, loved the image too but said quite rightly that it also had to be funny. He came up with the idea of having a cartoon balloon with the book's title coming out of Gisele's head. So, to me, the cover art really captures the point of view of the book, which is very funny while at the same time calling out bigotry against gay and transgender people.
Other than religion, how can we find sarcasm, wit and humor in life?
Objects of satire are everywhere around us—politicians, celebrities, our family, friends, people at work—the list goes on. Life is crazy and difficult, but humor is very powerful. It exposes hypocrisy and absurdity, and it makes everybody feel good at the same time. We argue about everything, but if something's funny, it's funny. It's hard to argue about that.
What's Brian Tryin'? The Crispy Sandwich Maker by Apod!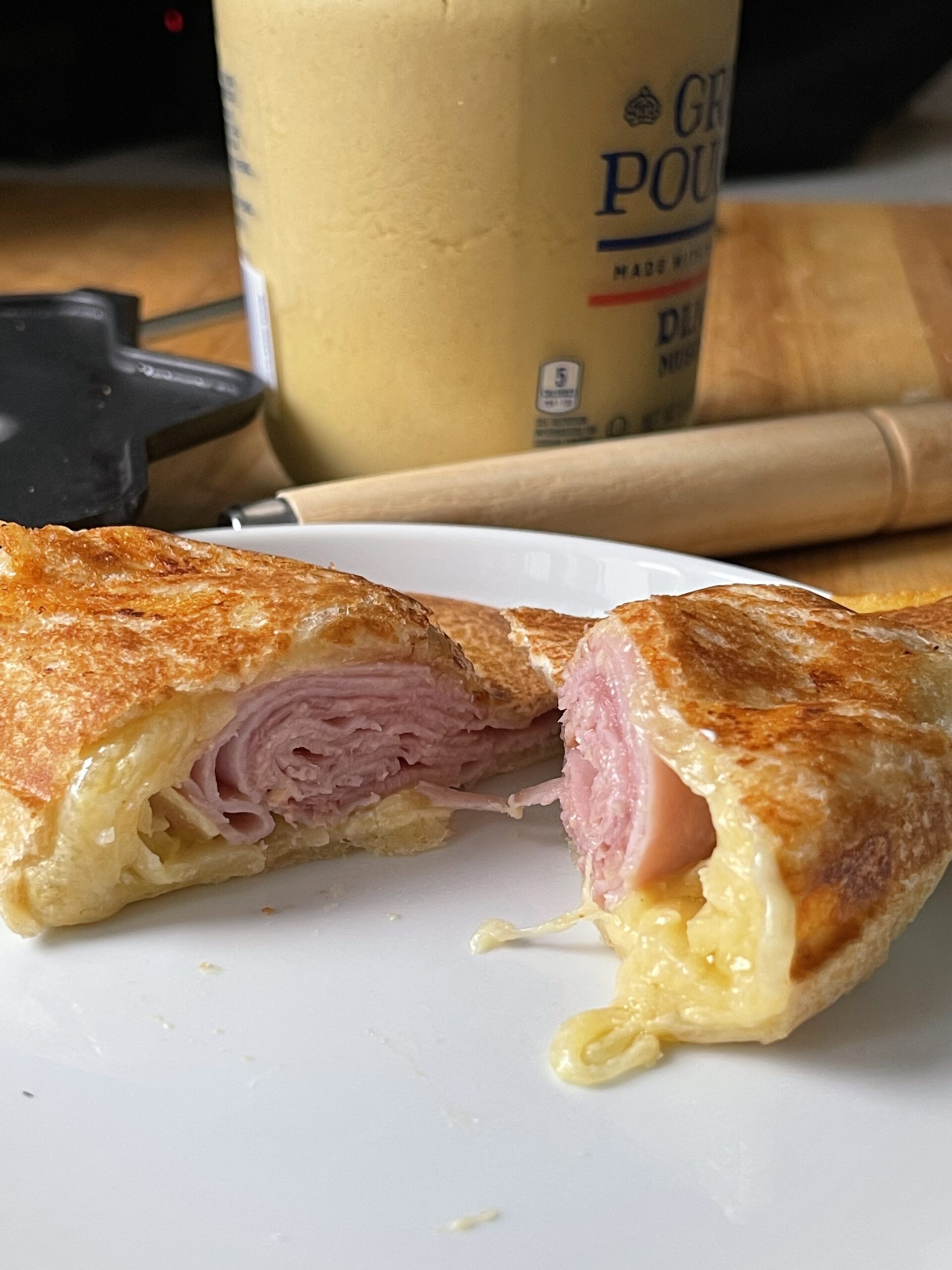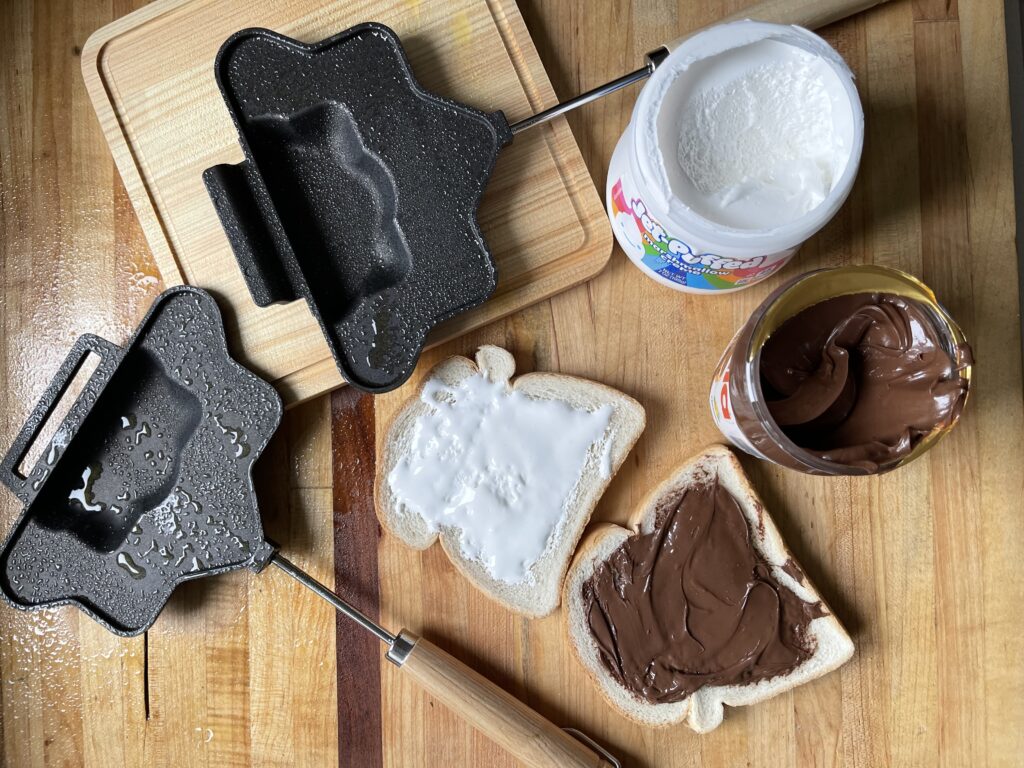 This weekend I tried out a new product that's been crowdsourcing on IndieGogo. (The link is here.)
It's called a Crispy Sandwich Maker, made by Apod.
I always love trying out a new gadget, so it was fun to see how this one would play out.  What makes this one a bit different than most sandwich makers is that this only requires just one single slice of bread to make a compact, easy to eat snack that can be sweet or savory. It can be used over a gas stove flame, or, with caution, a campfire, although the design's arm length better lends itself to a smaller flame like a home kitchen stove.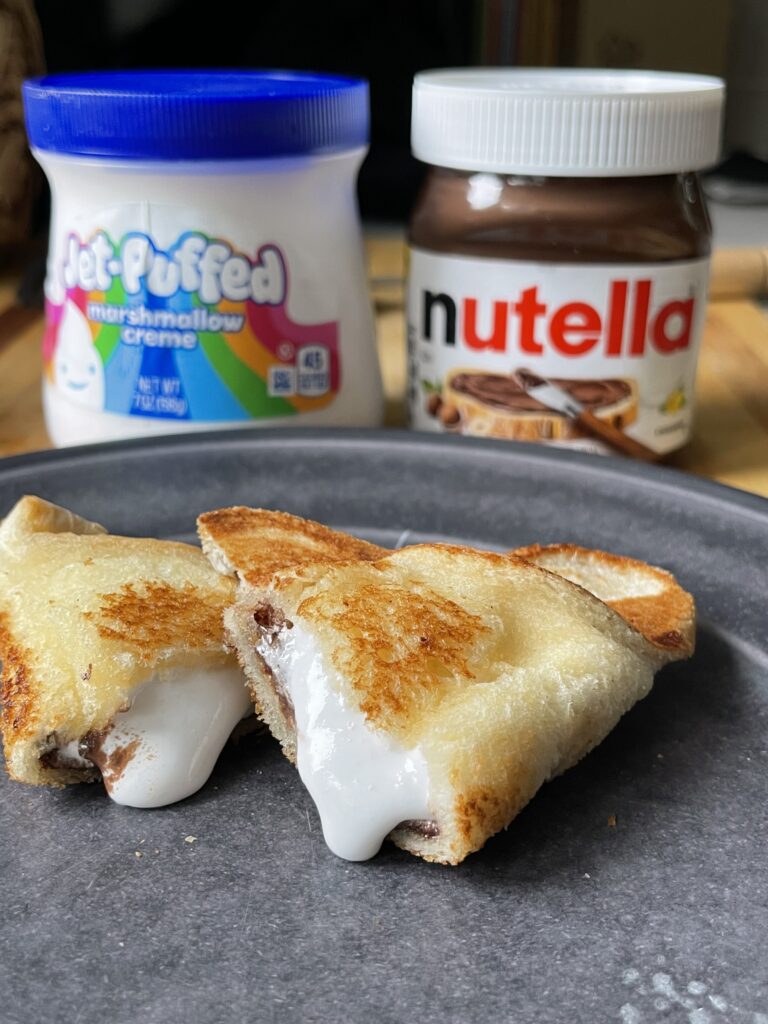 Because I love a s'more, I decided to do an interpretation of that using  nutella spread and marshmallow spread. My friend John and I were happily making these little sandwiches in the kitchen while I friends taste tested the results along the way.
While the product description says that it requires no oil, we did decide to butter the bread to give a nice brown color to the sandwich, although it could easily be done without it.
The results of the nutella and marshmallow spread crispy sandwiches were consistent and delicious. After about two minutes per side, sandwiches were golden brown and the inside filling was oozy and delicious.
Then it was on to make a savory snack in the form of a crispy ham and cheese with dijon. Again, about two minutes on each side over the flame was just enough to brown the bread and warm up the savory fillings.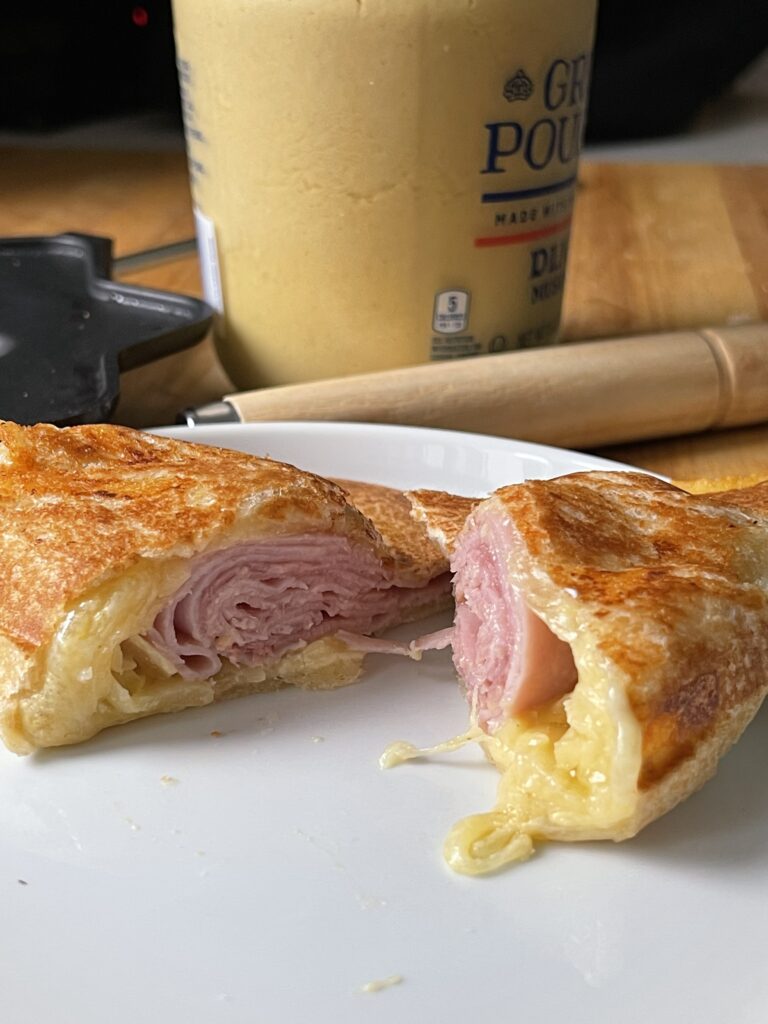 This was a fun gadget to play with, and the results were delicious. All in all, everyone gave the results a thumbs up!
Get The Look! A Buyer's Guide To Brian Balthazar's Philadelphia Home Redesign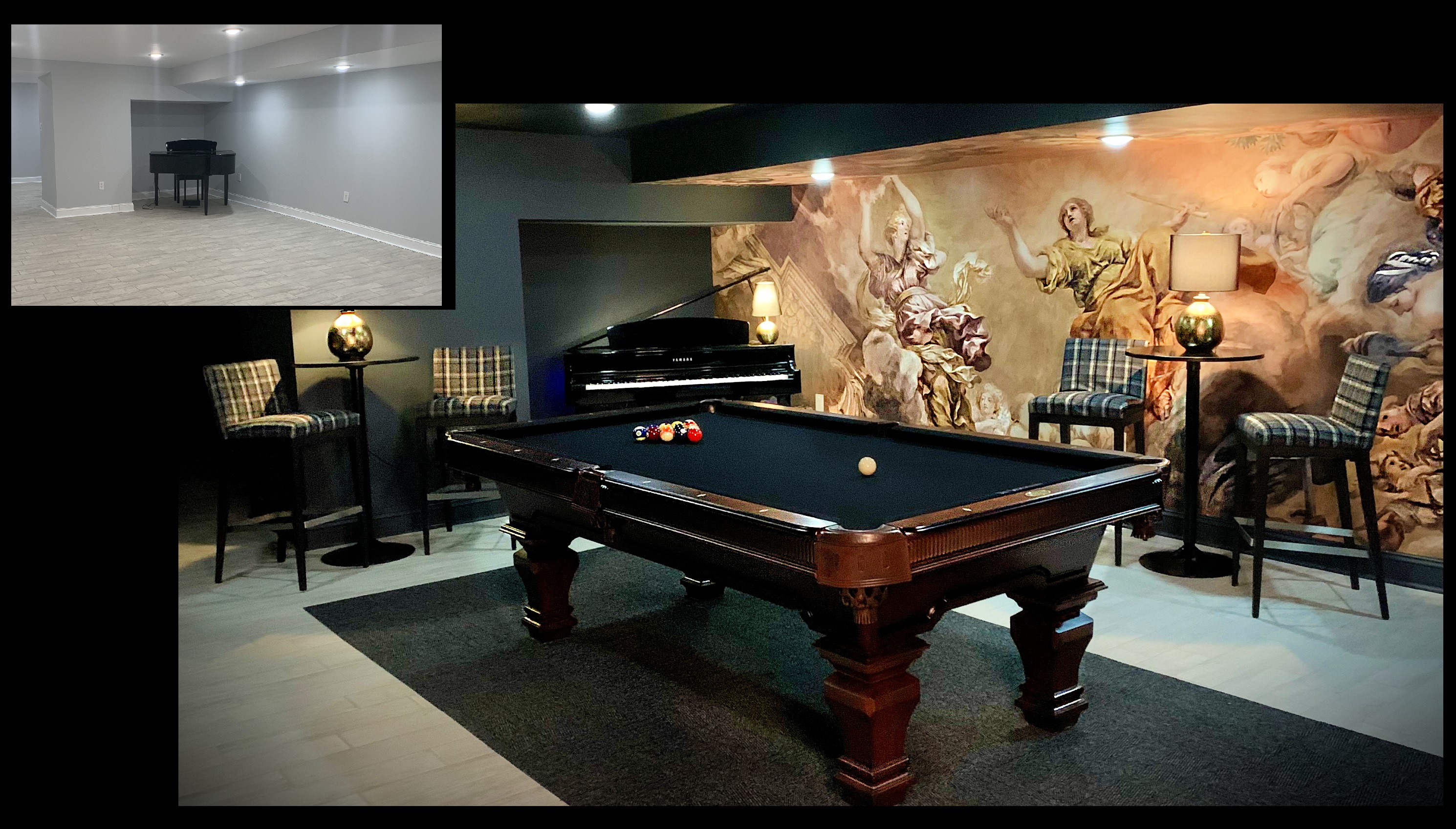 As the world was forced to spend more time at home, Brian Balthazar found himself in a position where he had sold a house before the lockdown and had to find a new one.
"We sold our home with all the furniture in it, so not only did we find ourselves struggling to find a new place, once we found one we didn't have any furniture to put in it."
And so, Brian and partner Dennis got resourceful, turning to refurbishing and buying store floor models. They were inspired to make bold, fun choices in color and style when they started shopping around for wallpaper.
Below is the segment as it appeared on the Today Show, and further down, a rundown of where you can find the pieces or ones with a similar look!
THE DINING ROOM
Let's start with the Dining Room!
Move the slider dividing the image to see all of the before or all of the after!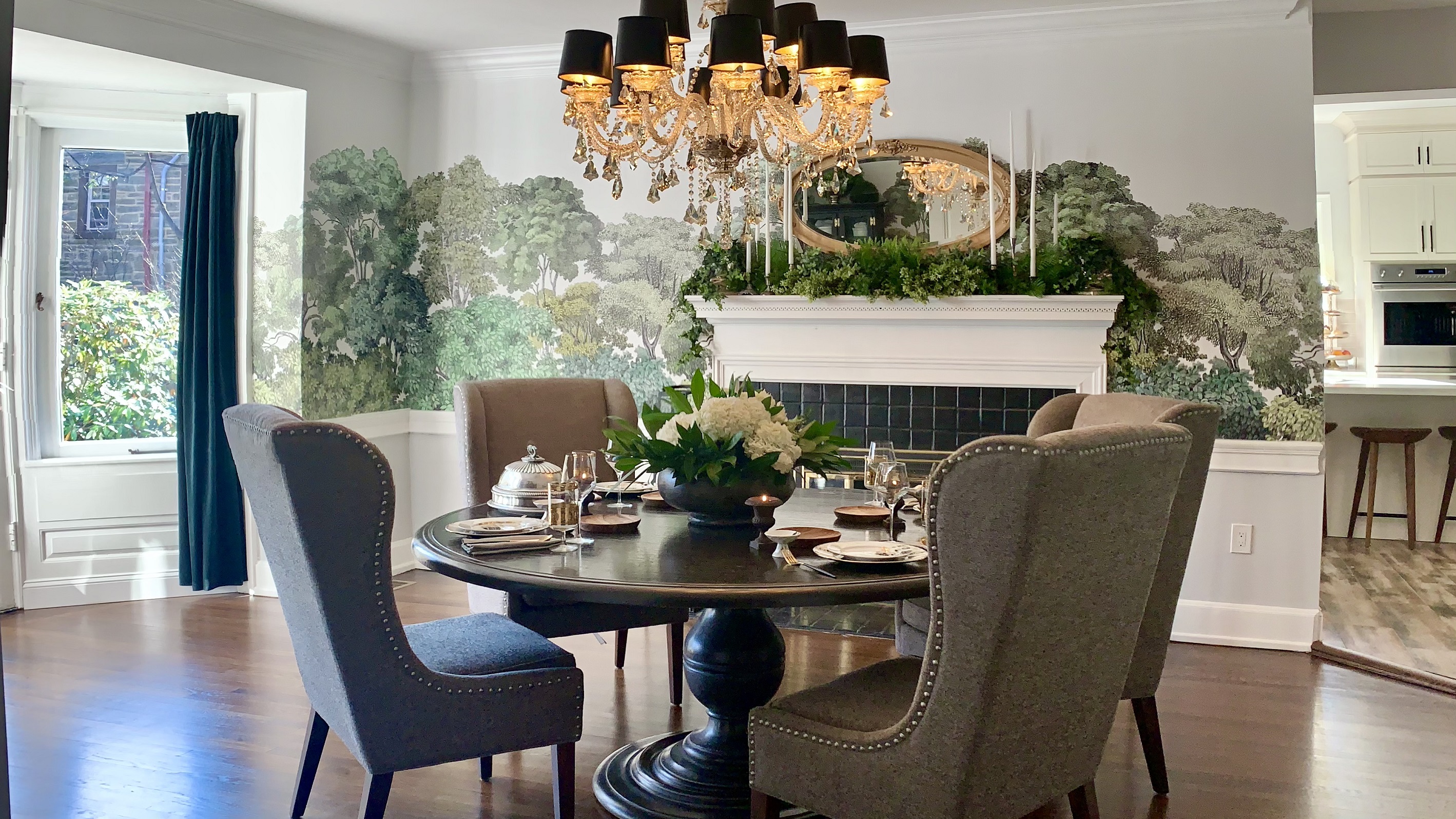 Brian says: The dining room was the first space we wanted to do. I haven't had a true dining room since I was a kid, and I've always wanted a big table for dinner parties! There were no tables within the price range we wanted, so we found a floor model at one of our favorite go-to stores, Arhaus. We easily saved 75 percent on this table by getting the one that they weren't going to carry anymore. The chairs are from Wayfair.  On each side of the fireplace (not seen in the photo, but visible in the Today Show video) are two black tall lanterns flanking the fireplace. I got them at Target. I can't currently find them on their app, but similar versions pop up every year. Get thee to Homegoods! Homegoods and Homesense (same parent company) are my go-to spots for home accessories for virtually every room in the house. You never know what you're going to find, which is part of the fun.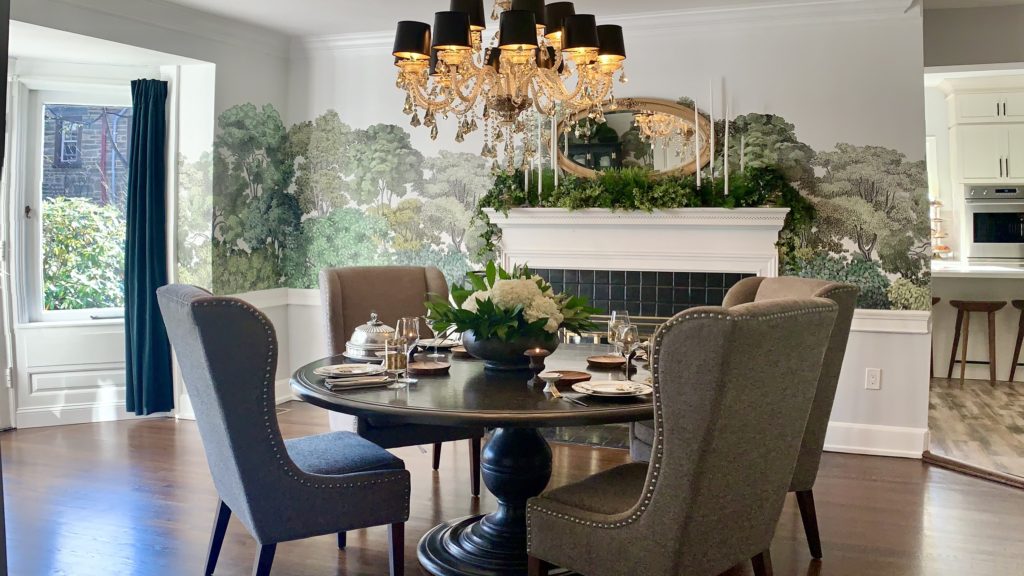 But let's focus on the real WOW element to this room – the wallpaper! This pattern is called Bellewood, by RebelWalls.   As you will soon see, I'm sort of obsessed with their patterns. To me, this room is magical with the added whimsy of this forest pattern. (They also have a more muted version with grays and even one with blues.) I also love that by hanging the paper from the chair rail up, you almost get the feeling that you're standing on a balcony overlooking the forest. I surrounded the whole room with this paper, which I love, but you could easily add the same magical feeling by just doing one feature wall. Their website shows how it can translate to a bedroom or office. You might be intimidated by hanging wallpaper but don't be! This pattern has so much going on that it really looks perfect when it goes up!
ON TO THE GUEST BEDROOM!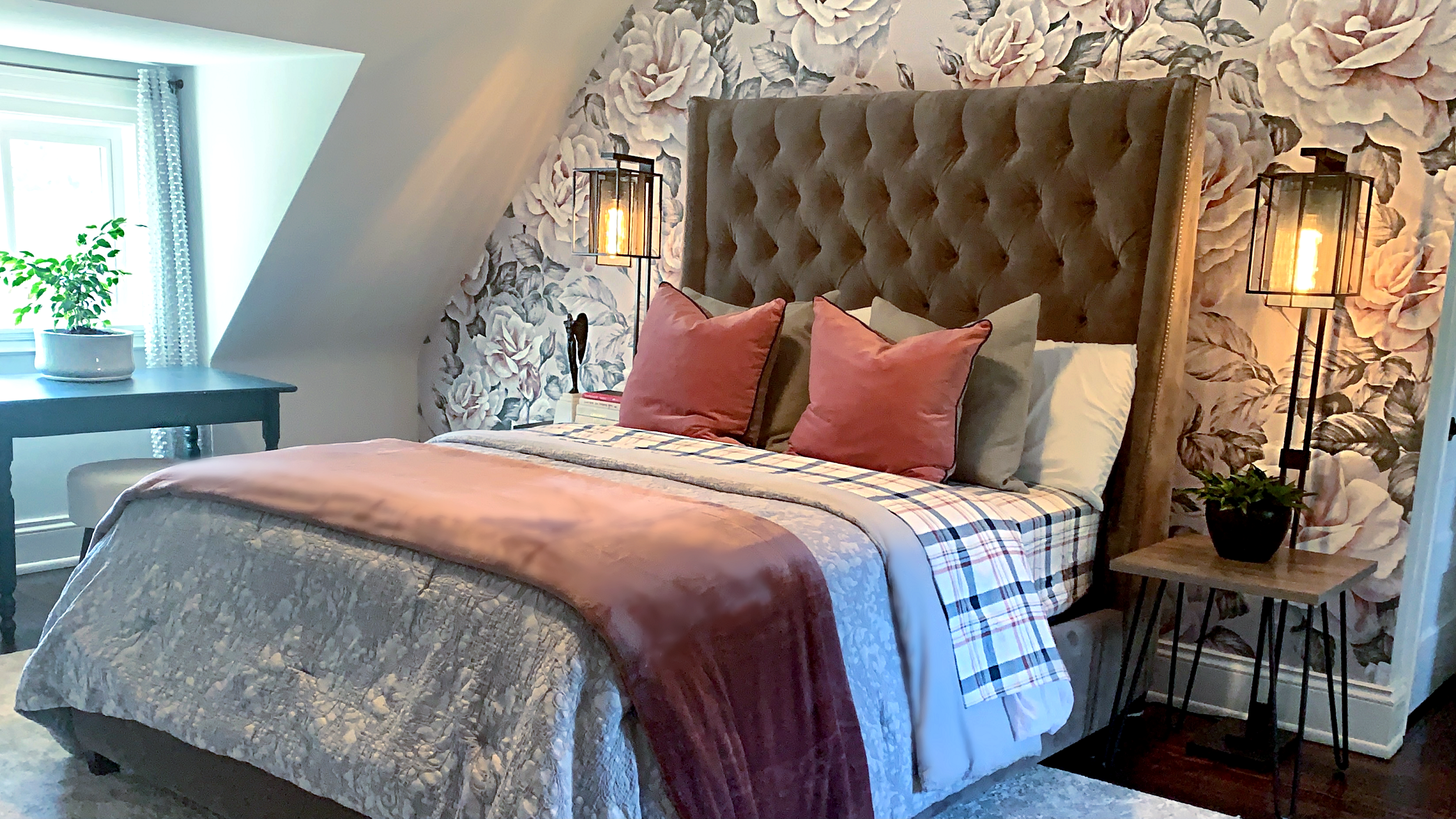 Brian says: The guest bedroom is on the top floor of the house, so it's got roof lines on two sides that make it a tricky space to navigate if you're not careful. The planning of this space alone resulted in a few bonked heads. On the upside, the wall where the bed goes is tall, so it was an obvious place to create some visual pop. Again, the wallpaper takes the spotlight.  Called "Nude Roses," also by RebelWalls, I love this design. Floral wallpaper was 'big' in popularity back in the 1920s when this house was built, but the patterns at that time were smaller, repeated more often, and were often really bold in color. This interpretation is so fun to me! Gone are the small roses in favor of oversized blooms, and the bold colors are more subdued pink and gray hues, with touches of dark green and creamy whites.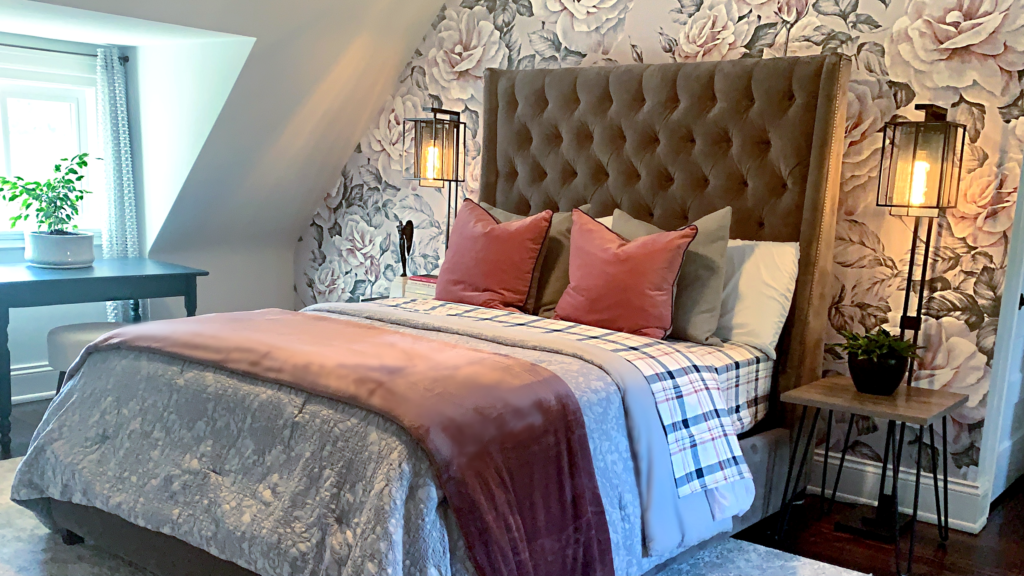 While roses can inherently feel feminine, the plaid bedding (30 dollars for a queen set from Target) are a surprising complement that keeps everything from feeling a little stereotypical. The side tables are mismatched – partly because we didn't want to go too "matchy=matchy" – but also to save some money – the one on the left side (hard to catch here) was from West Elm. Normally $199, we got it for half off as the floor model. The one on the right we found in the trash. It was perfectly fine, clearly someone had just gotten tired of it! Nothing some disinfectant can't fix. That gave us some extra money to spend – To reduce the softeness we went with industrial lamps and edison bulbs. The lamps  are called "Ginyard," from Wayfair. The headboard was on sale at Arhaus. The dark gray takes balances out the pink hues well. The pillows are from Target and Homegoods.
For the 360 degree view of this room, watch the Instagram reel below!  You'll see the dresser, on sale for $599 from Arhaus, a lamp from Homegoods, and mobiles from Amazon which we fashioned into a 'piece of art' that keeps you from hitting your head on the angled wall opposite the bed. Watch the video to check it out!
View this post on Instagram
THE GAME ROOM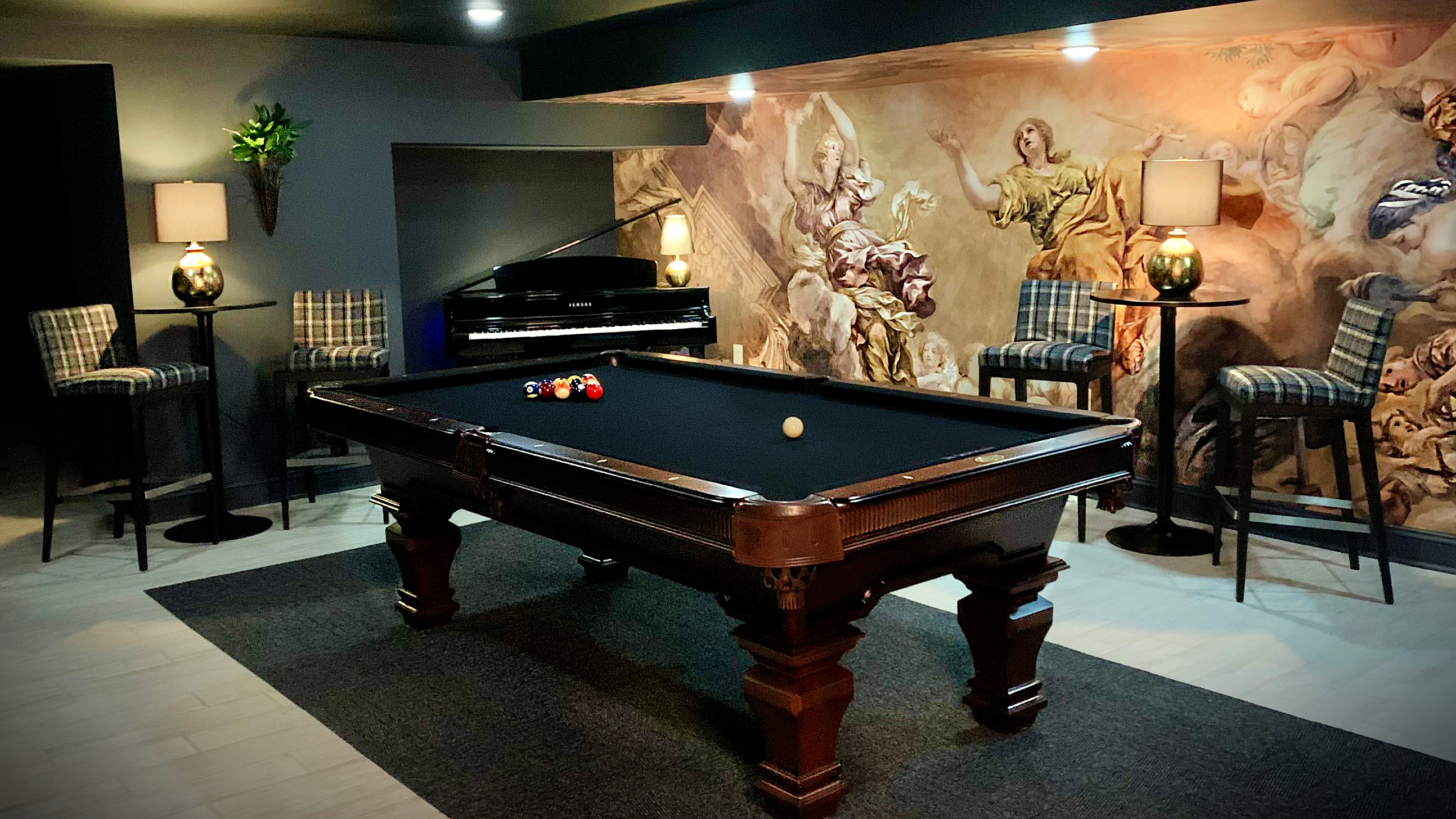 Brian says: The idea for the basement game room was to create a space that feels like a lounge you might find if you went out with friends. When you go into this basement it definitely feels like you've gone someplace unique! Believe it or not, I found out the Today Show had invited me to to record my house tour just a few days in advance, and so we turned around this spot in just THREE days! There was literally no pool table at the time, (although it had already been scheduled to come on Friday, the wallpaper came on Saturday, (as well as the floor tiles!) and by Sunday we were covered in paint and glue and drinking wine to celebrate it's completion! I recorded the final video that Monday.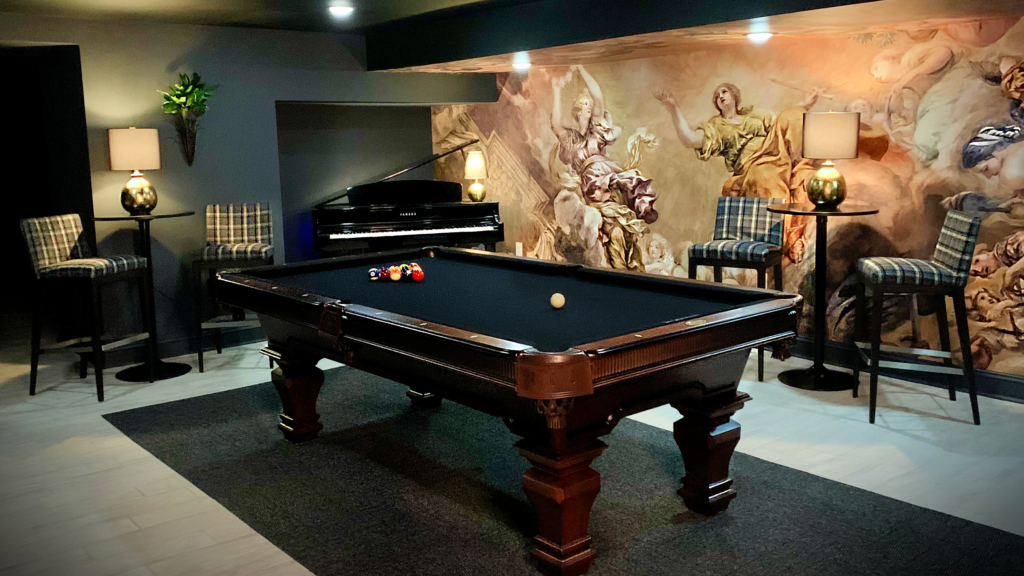 Some people might not think to take a bright basement and make it dark, but that was our first instinct. Clubs are dark and moody, and we wanted this to feel like that. We painted the walls Wrought Iron by Benjamin Moore, which is a very dark gray that seems to take on different hues based on where you paint it and the light that shines on it. We painted the ceiling black. This was Thursday night! Then Friday the pool table came. The floor tiles ("Tweed Indeed" in black by Flor) hadn't arrived until the next day, so when they did arrive I meticulously trimmed four tiles to fit around the pool table legs so it looks like they were there the whole time. I had ordered the pool table online weeks before from PoolTables.com and by sheer coincidence it was scheduled to arrive in time for me to shoot the redesign. This was the second time I have ordered a pool table from them (which was initially scary because you're not even seeing it beforehand!) but it always arrives in perfect condition to your specific selections. I love that the felt jet black and keeps things dark and moody. In the time that has passed since this photo was taken, I've added more of the carpet tiles to make the carpeted floor area darker and bigger.
But once again, the wall mural steals the show in a marvelous way! This mural is called "A Priori" from Rebelwalls, and is inspired by The Allegory of Divine Providence and Barberini Power, a famous fresco by Italian artist Pietro da Cortona. Fitting, because this house is Italian in style on the outside. You can't see it from this photo but the wallpaper runs up part of the ceiling as well. It truly gives the room a wow factor when you enter it. The lamps are from Homegoods, (we've since added some industrial floor lamps for extra mood lighting) and the piano was something we brought with us. The bar tables are from Amazon ($72 each) and the stools we brought with us – they were discards from someone who didn't like their original bright colors and thought they were dated! We covered them ourselves with gray plaid fabric and they're better than they were new!
So there you have it! Hope you enjoyed the rooms and find something you like!
Well Sh-t, Leslie Jordan Has Shared Three Videos Of Himself Dancing In One Week And They're All Perfect
Doing much better now, Leslie.
If you've never believed that "good things come in small packages" then you've never seen Leslie Jordan's instagram. The 4'11" actor known for his iconic roles in shows like Will & Grace and American Horror Story has recently developed a whole new fanbase who loves him for his viral Instagram videos. Usually starting each video by greeting fans with "Well shit, how y'all doing?", viewers have grown to anticipate Jordan's hilarious recounting of stories from his time in show biz or growing up in the south. This week, however, the Tennessee native has shared 3 videos of himself dancing within 5 days and honestly it's precisely what we all need right now.
The first video was posted on August 12th and shows Jordan taking part of the "Git up and dance challenge" which swept the internet about a year ago. Even though he is a little late, the video is still perfection.
On August 13th, Jordan does a dance to "You Can't Stop The Beat" from Hairspray a with special guest dance partner Katie Couric!
Finally, on August 15th, Jordan does an epic "tootsie roll" and challenges Real Housewives Of Beverly Hills star, Lisa Rinna, to do the tootsie roll herself. Of course Rinna commented with a big "ON IT ❤️😂." Who could say no to the viral star?!?
The moral of the story here is that the world is going through some tough times right now but maybe, even for a few seconds, we could all feel better if we'd just dance it out. Thanks for the inspo Leslie Jordan!
Like what you read? Follow me on Instagram