POP INTERVIEW: "Hell's Kitchen" Chef Clemenza Caserta
Clemenza Caserta took on the infamously hot tempered Gordon Ramsey on Hell's Kitchen. This year, the gentleman who says he learned his love of food from his family is hard at work traveling and working as executive chef at Stuzzi in Richmond, Virginia.
Clemenza Caserta took on the infamously hot tempered Gordon Ramsey on Hell's Kitchen. This year, the gentleman who says he learned his love of food from his family is hard at work traveling and working as executive chef at Stuzzi in Richmond, Virginia.
How did your demo in Allentown, Pennsylvania go? What's next up your sleeve as far as demos?
The demo went great. Got to meet some really awesome people and have lots of fun. The Chef of Roma restaurant was very accommodating. The restaurant its self was amazing. As far as more demos way to busy right now but will love to do some.
Your former boss was Robert DeNiro at TriBeCa Grill. As an actor, he seems to seek incredible perfection. What was he hard on his staff doing at the restaurant? How did it make you a stronger chef?
Although Bob wasn't there much, the owner Drew Nieporent was there and made sure that there was nothing less than perfection. Having people like that in your corner make you strive to become a better chef. I was humbled by being able to work there.
What is Gordon Ramsey like in person? Is his persona halfway an act? What did you feel inadequate doing beforehand that the show brought out brilliantly, improving your skills? And what strengths did it really play up well?
Gordon is exactly how you see him on TV but he is one of the most kindest, professional person that I had the privilege to work with. The show brought out the good and bad in everyone, but the one thing that you really learned is how far you're capable of pushing yourself. As far as my strengths being a natural leader was definitely very beneficial.
What was the shining moment on "Hell's Kitchen" where you feel, "I really showed them what I know?"
My shining moment was just winning the challenges and constantly pushing forward and being able to bounce back after being put up for elimination so many times.
The big dish the website mentions of yours is the Stuffed Veal Chop. Normally, I am fearless with cooking anything, but veal scares me like mad. I'm afraid I will mess it up. What can I do if I am making veal for my family not to disturb its natural flavor?
What you can do is just simply season with your favorite spices and cook with love. It's not at all difficult as it seems. Most people get scared of cooking chops and large cuts of meat BUT its really not that hard! Just put yourself on a plate.
There is a lot of emphasis on meat dishes in Italian cuisine. Now that I no longer eat meat and haven't for a few years for dieting purposes, what can I still enjoy that is delicious, nutritious and authentic, that takes me away from my beloved Irish food?
Try some eggplant parm, even grilled portobello's, zuchini and other vegetables simply marinated in extra virgin olive oil, garlic and balsamic vinegar are absolutely wonderful.
Of course, everything Italian apparently has cheese on it. For someone so is lactose intolerant or dislikes eating cheese, how can people maintain the integrity of real Italian-American food while eliminating the cheese?
TOUGH question! but having big bold flavors can help when you eliminate the cheese. Don't be afraid to spice things up.
What are your favorite Italian restaurants? In New York, California, etc? What are your favorite dishes to order when you aren't eating your own food?
As far as Italian restaurants New York by far! Not going to say which one is my favorite but here are some of my favorite things to eat. Baked clams. Eggplant Parm. A great slice of pizza. Some really good tacos.
With being a chef, a career notorious for creating its "heat in the kitchen" personalities, and your intimidating presence, what is your hidden teddy bear side when you aren't working? Do you play golf, enjoy video games, like adopting kittens…?
I love love love my puppies that's why I have four dogs. I love playing video games. I like to think of new dishes. Relaxing is big. Spending time with my family and friends. Being able to mentor and help my co-workers.
Please talk about your next move and feel free to brag endlessly! You're fantastic.
Working at the redzone in nj huge sports bar with a 190 seat restaurant in it and a pool hall and of course, Chef Clemenza.
POP in the Kitchen! The Perfect Snack and Cocktail Pairings.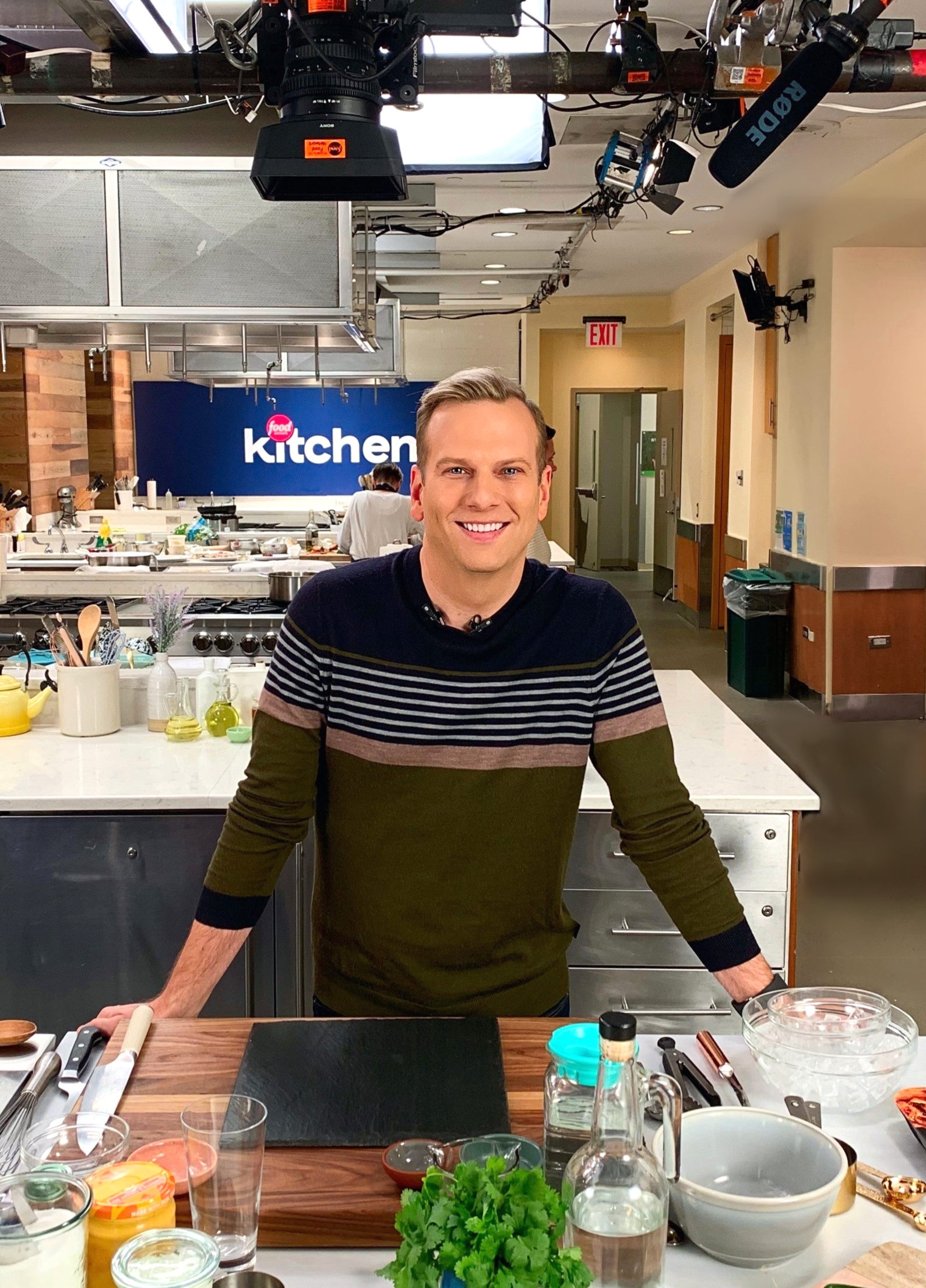 POP Goes The Week's Brian Balthazar is part of the all new Food Network Kitchen App! Cook LIVE alongside Brian as he makes get party food and the drinks that go perfectly with them!
Hey everyone! I'm so excited for this – I was thrilled to be a part of the new app, which is an all new way to cook with your favorite chefs and cooking experts. In the app, you can get the recipe and ingredients and recipe in advance, check the live class schedule, then cook at the very same time as your instructor!
I was fortunate enough to be invited to do a live snack and cocktail pairing, which you can still watch – and cook along with me! Trust me, these all start out as live, which means anything can happen! (I have an adventure with the broiler in one of them!)
For my recipes, I made a pulled pork toast with queso, sour cream radishes and green onions, along with a smoky mezcal paloma.
In another class, I make lavender honey that gets drizzled right on top of baked brie with herbs, then use that same lavender honey for my own interpretation of a "Bees Knees" cocktail that I call a "Bees Knees Breeze." I came up with the variation because the original recipe, simply gin, honey and lemon was just TOO strong for me and I found myself always getting plastered!
Check out the gallery of what I made, all available on the FNK app!
This slideshow requires JavaScript.
I hope you can check them out, AND all your favorite instructors like Bobby Flay, Giada de Laurentiis and Ree Drummond!
You Can Actually Pop The Pimples On This 'Dr. Pimple Popper' Inspired Cake
There is a good reason why the words "cake" and "pimples" rarely exist in the same sentence…
Over in Toronto, cake decorator, Mark Robillard, just created a cake that will have you bursting with excitement. After his husband asked for a cake inspired by the popular, new tv series Dr. Pimple Popper, Robillard took to his YouTube page to show off his gnarly creation. On his channel, Epic Confections, the cake decorator based his cake design on the board game "Pimple Pete," complete with POPPABLE PIMPLES! That's right, using fondant and Venetian cream, Robillard covers "Pete's" face in pimples that once squeezed, will ooze just enough to make you lose your appetite.
This acne-covered confectionary is just one of the impressive cakes that Robillard displays on his channel. The other's are more awe-inspiring than stomach churning, I swear. If you aren't too squeamish, click the video below to see just how this zit hit was made!
Like what you read? Follow @ChrisSiretz on Twitter and Instagram for more!
Have You Tried REAL Wasabi? Probably Not.
This 7 minute documentary will teach about more about wasabi than you've ever thought possible. What you're eating in restaurants probably isn't it. Creating the real thing is virtually a sacred process, and has amazing healing properties.