POP INTERVIEW: "Hell's Kitchen" Chef Clemenza Caserta
Clemenza Caserta took on the infamously hot tempered Gordon Ramsey on Hell's Kitchen. This year, the gentleman who says he learned his love of food from his family is hard at work traveling and working as executive chef at Stuzzi in Richmond, Virginia.
Clemenza Caserta took on the infamously hot tempered Gordon Ramsey on Hell's Kitchen. This year, the gentleman who says he learned his love of food from his family is hard at work traveling and working as executive chef at Stuzzi in Richmond, Virginia.
How did your demo in Allentown, Pennsylvania go? What's next up your sleeve as far as demos?
The demo went great. Got to meet some really awesome people and have lots of fun. The Chef of Roma restaurant was very accommodating. The restaurant its self was amazing. As far as more demos way to busy right now but will love to do some.
Your former boss was Robert DeNiro at TriBeCa Grill. As an actor, he seems to seek incredible perfection. What was he hard on his staff doing at the restaurant? How did it make you a stronger chef?
Although Bob wasn't there much, the owner Drew Nieporent was there and made sure that there was nothing less than perfection. Having people like that in your corner make you strive to become a better chef. I was humbled by being able to work there.
What is Gordon Ramsey like in person? Is his persona halfway an act? What did you feel inadequate doing beforehand that the show brought out brilliantly, improving your skills? And what strengths did it really play up well?
Gordon is exactly how you see him on TV but he is one of the most kindest, professional person that I had the privilege to work with. The show brought out the good and bad in everyone, but the one thing that you really learned is how far you're capable of pushing yourself. As far as my strengths being a natural leader was definitely very beneficial.
What was the shining moment on "Hell's Kitchen" where you feel, "I really showed them what I know?"
My shining moment was just winning the challenges and constantly pushing forward and being able to bounce back after being put up for elimination so many times.
The big dish the website mentions of yours is the Stuffed Veal Chop. Normally, I am fearless with cooking anything, but veal scares me like mad. I'm afraid I will mess it up. What can I do if I am making veal for my family not to disturb its natural flavor?
What you can do is just simply season with your favorite spices and cook with love. It's not at all difficult as it seems. Most people get scared of cooking chops and large cuts of meat BUT its really not that hard! Just put yourself on a plate.
There is a lot of emphasis on meat dishes in Italian cuisine. Now that I no longer eat meat and haven't for a few years for dieting purposes, what can I still enjoy that is delicious, nutritious and authentic, that takes me away from my beloved Irish food?
Try some eggplant parm, even grilled portobello's, zuchini and other vegetables simply marinated in extra virgin olive oil, garlic and balsamic vinegar are absolutely wonderful.
Of course, everything Italian apparently has cheese on it. For someone so is lactose intolerant or dislikes eating cheese, how can people maintain the integrity of real Italian-American food while eliminating the cheese?
TOUGH question! but having big bold flavors can help when you eliminate the cheese. Don't be afraid to spice things up.
What are your favorite Italian restaurants? In New York, California, etc? What are your favorite dishes to order when you aren't eating your own food?
As far as Italian restaurants New York by far! Not going to say which one is my favorite but here are some of my favorite things to eat. Baked clams. Eggplant Parm. A great slice of pizza. Some really good tacos.
With being a chef, a career notorious for creating its "heat in the kitchen" personalities, and your intimidating presence, what is your hidden teddy bear side when you aren't working? Do you play golf, enjoy video games, like adopting kittens…?
I love love love my puppies that's why I have four dogs. I love playing video games. I like to think of new dishes. Relaxing is big. Spending time with my family and friends. Being able to mentor and help my co-workers.
Please talk about your next move and feel free to brag endlessly! You're fantastic.
Working at the redzone in nj huge sports bar with a 190 seat restaurant in it and a pool hall and of course, Chef Clemenza.
VIDEO:Rolled Ice Cream, Cheetos Bagels And Grasshoppers Are Just Some Of The Unusual Things Brian Balthazar Has Eaten On 'The Wendy Williams Show'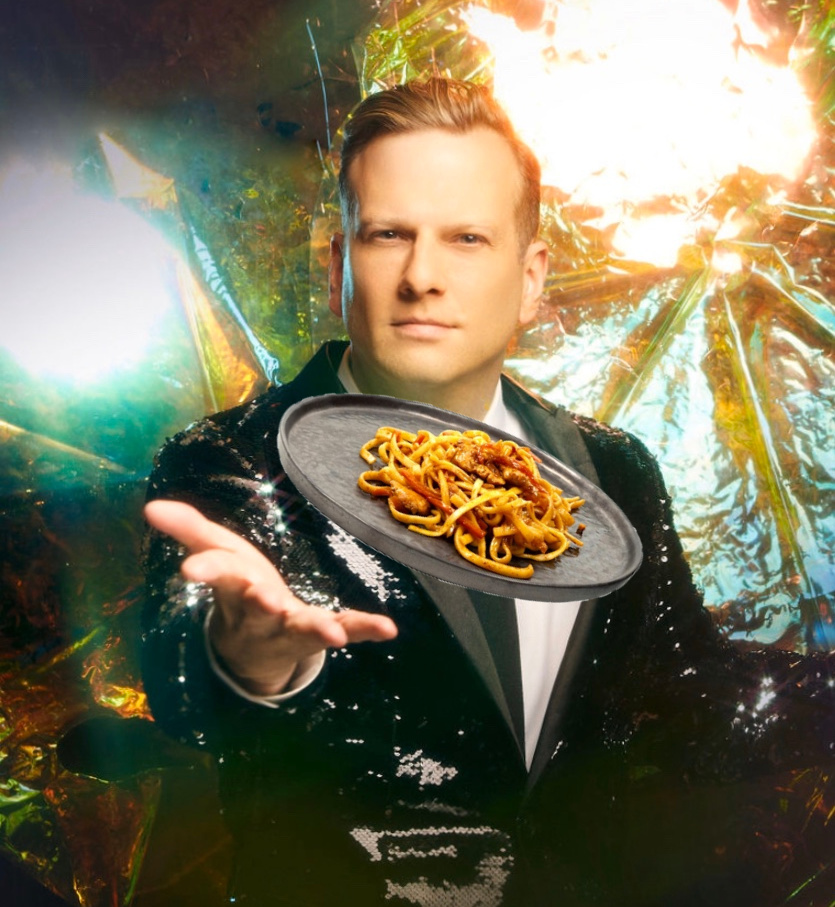 You've seen pop culture expert, Brian Balthazar, appear on The Wendy Williams Show quite a bit over the last few years. He even co-hosted the show on three separate occasions. It wasn't until his last visit where he and Jason Biggs chowed down on a KFC Cheetos Chicken Sandwich that it hit me: Being on the daytime talk show makes Brian Balthazar hungry!

The proof is in the pudding…pun definitely intended. Carla Hall made sure to bring some snacks for Brian when they cohosted together.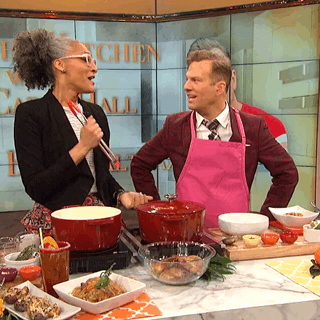 Sure, Wendy is known for telling us to "grab a snack and come on back"…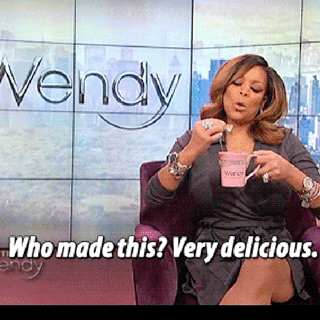 But you'd have to be absolutely famished to want to eat fish sliders at 10am.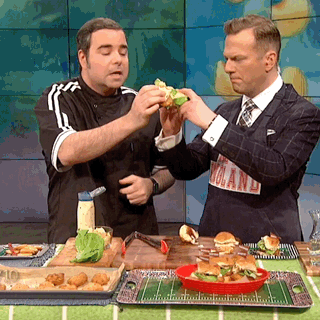 He's gotten so hungry he resorted to eating GRASSHOPPER TACOS on the show!

Could it be that Brian isn't actually hungry though? Could he just be a brave soul willing to be the taste tester so we don't have to? Could my theory be flawed?!
I suddenly feel like maybe we owe Brian a big thanks…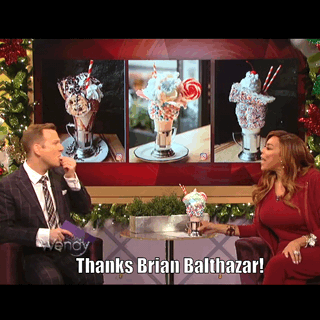 Either way, it's fun to watch! Click below to take a look at a compilation of all the fun stuff Brian Balthazar has eaten on The Wendy Williams Show!
No One Asked For It But Brach's Just Launched 'Thanksgiving Dinner' Candy Corn That Tastes Like Turkey, Stuffing And Green Beans
This year, give thanks for meat-flavored candy.
Ever sat at the dinner table on Thanksgiving thinking "hmm, everything in this meal would make for excellent candy flavors"? Me neither. Somehow, someone over at Brach's did think that and now "Thanksgiving Dinner" flavored candy corn is hitting shelves across the nation.
The new bags of candy corn are available at Walgreens and include flavors such as roasted turkey, green beans, ginger-glazed carrot, sweet potato pie and cranberry sauce. Yum. The candies are sold in 12oz bags so you can enjoy those fantastic flavors swirling around your mouth for a while.
Instagram account @puppreviews tried all six flavors and shared that most of them were surprisingly quite tasty. The glazed carrot, sweet potato pie, green beans and cranberry sauce were all said to be delicious while the turkey and stuffing were described as "taboo" and "downright wrong to be in candy."
Well if you can't wait three months to feast on a real Thanksgiving dinner, head over to your local Walgreens for the next best(?) thing.
Like what you read? Follow me on Instagram
Cheetos Is Making Dinner Dangerously Cheesy With New Line Of Mac 'N Cheese
Can hardly wait to try this cheetah's cheddar.
Whether you like it creamy, crumb-coated or conventional, macaroni and cheese is a dish that is hard to improve on. Sure you can add bacon or lobster or try something wacky like frying it up but when it comes down to it, mac and cheese is pretty much perfect as is. Or so I thought. Frito Lay just announced their new line of Cheetos flavored Mac 'n Cheese and I take back everything I just said.
The dangerously cheesy new line is exploding into pasta aisles with three exciting flavors all "made with authentic Cheetos cheesiness using Chester's Top-Secret Seasoning." You'll be able to choose from Bold and Cheesy, Cheesy Jalapeño and Flamin' Hot. Oh choosing just one is practically like Sophie's Choice. Of the new product line Rachel Ferdinando, SVP, CMO Frito-Lay North America said "We've seen incredible culinary creativity from our Cheetos fans through the years, taking our product and using as an actual ingredient in recipes—whether at restaurants, or now more than ever, at home. Cheetos Mac 'n Cheese borrows that culinary inspiration to provide a mischievous mashup of an ordinary fan favorite. We're putting our orange-dusted fingerprints on an at-home staple at a time when home mealtime occasions are on the rise."
To get your fingers, which ironically won't be covered in Cheetos dust after eating this, on a box of Cheetos Mac 'n Cheese simply head to your closest Walmart or order online here. All three flavors come in either 5.7 ounce boxes or a smaller, single serving cup. Although, whoever can simply have one single serving cup deserves a medal to be honest.
Like what you read? Follow me on Instagram