POP INTERVIEW: Emeril's Restaurant Chefs Tim Doolittle, Anthony Scanio and Brian Mottola
The food industry might have never reached its peak after Julia Child's reign if Emeril Lagasse had never taught America how to cook with a "bam!" during the 90's. These three chefs are carrying on the great tradition of excellence in food.
Any time cooking show viewers watch TV favorites like Rachael Ray, Guy Fieri, Bobby Flay or Giada De Laurantiis, what they don't realize is their beloved food personalities arrived because someone else pioneered the celebrity chef market first. The food industry might have never reached its peak after Julia Child's reign if Emeril Lagasse had never taught America how to cook with a "bam!" during the 90's. His legacy has continued, spanning over TV shows like Emeril Green, his latest, Emeril's Florida on Cooking Channel, a cookwares line, his new Good Morning America appearances and 13 restaurants in five cities. We talked with three chefs about carrying Emeril's trademark Big Easy flair in each of the Emeril's restaurants and discovered who they are away from the work week.
Tim Doolittle
Chef de Cuisine
Table 10
Las Vegas
Just being in Las Vegas pressures chefs into madness, creating dishes that need to please tourists from all over America and all over the world. How do you accomplish this at Table 10?
This is a challenge, to be sure. But it is one we welcome. The essence of my job is to make people happy—that's the spirit of the hospitality industry. In order to accomplish this we must listen to our guests' needs and wants. We are a fresh-to-order kitchen, so we can make quick adjustments and meet our guests' needs. Happiness ensues.
Your hometown, Kansas City, while an amazing place for its local flair all the times my dad took me as a kid, is a very meat and potatoes town. How did you go about discovering life beyond our Midwestern food?
I think most people would be surprised at the sophistication Kansas City (and the rest of the Midwest) has developed in the last 20 years. Thankfully, I was paying attention to not only what was happening there, but in Chicago, New York, and even Europe as I cultivated my culinary knowledge base. The show "Great Chefs, Great Cities" [on PBS] was a helpful tool—I loved that show.
Were you scared to venture out into other ethnic styles?
I'm not scared to explore ethnic cuisine outside of the traditional Euro/American realm, but I am usually not comfortable with it. I leave sushi to the sushi experts. But taking notes from Chef Emeril's style of "New New Orleans" cuisine is really a culmination of several cultural styles of food—the different cultures that comprise New Orleans.
What was the first dish you really loved?
Mom's lasagna, of course!
The commonality among all the Emeril restaurants is "New New Orleans" cooking. Yet, and you probably experience this too, not every restaurant tastes the same when you visit each location, although you order the same dish. When you work with him on maintaining the flavor integrity found across every location, what had to be done?
I imagine that every grandmother's kitchen in Louisiana has slightly different smells and flavors than the neighbor's kitchen. The lovely thing about soulful cooking is that the individual cook's mark is made on each plate, whether from the subtleties in seasoning, slightly different ingredients, or just our own impression on any given day.
This process of maintaining flavor integrity is never "done." Chef Emeril is forever absorbing cooking ideas, flavors, and techniques that can improve our food. When he arrives in the restaurant, I expect him to have input and criticism on our dishes. We are continually moving forward and pushing the culinary bar.
Is your favorite food to cook seafood, meat or vegetarian cuisine? What are your top choices – food so specialized, it is only found at Table 10?
I honestly love cooking all food. When it all comes together and is as close to perfect as we are capable of, that is very satisfying. A well-blanched broccolini with aromatic clam broth, a crispy fish fillet & well-made sausage … I love seeing all these disciplines come together in the end. I have a supremely talented staff that makes this a reality for our guests every day.
One delicious dish you'll find only at Table 10 in Las Vegas is our candied farm bacon appetizer—so good! Come in taste it sometime!
Your wife gave an interview to Las Vegas City Life about how ironically, your home refrigerator has random cheese, eggs and lame food, if any. Doing cookbooks sometimes, I absolutely know the feeling of wanting to hurl all my cupcakes out the window in an Incredible Hulk-like rage because you get so sick of whatever you're making for two months. I cannot imagine how you feel doing the same things all over on a daily basis like you do. Although your food is good, the same thing grows obnoxious. When you want to escape, what do you do for eating out?
Vegas is a treasure trove of Asian cuisine. I love it! Thai, Japanese (and Korean, if my wife has her way) are always possibilities. The food never gets old—I'm getting excited just thinking about it.
And what food do you make at home for yourself? Is your secret pleasure something simple like a grilled cheese, cheap popcorn, fast food, Doritos….?
Pasta. I am a pasta junky. I also use my little grill at least once a week to grill vegetables and fish. Simple food like that makes me happy when I'm relaxing at home.
While we are on the subject of her interview, she talked about how becoming head chef at any restaurant implies long hours. When someone commits to a career path like yours, what should they expect from a normal work day…or work night? More so in a high traffic restaurant in Vegas?
Expectations are about as close to reality as dreams. Every kitchen is different. Expect to work hard, see emotion, and hopefully feel great about the work you do as well.
When young people visit your restaurant, do they ever meet you and want to be like you when they grow up? What do you recommend for children and teens who naturally have a passion for food but are too young to either take adult cooking classes at Whole Foods or attend culinary school?
We have a lot of kids in our restaurant, since a lot of families visit Vegas.
I think home is the logical place to learn about food. It's where we learn social skills, and eat most of our food, especially as children. So my advice to children who want to cook is really more for the parents: To teach your children about cooking and let them help prepare family dinner in the kitchen. I know most chefs have great memories of watching a parent or grandparent in the kitchen.
When you aren't working, sleeping or watching TV, what exciting things do you do in Las Vegas? Do you attend concerts, go shopping, etc.? What are your favorite things, sort of your Oprah style "Tim's Favorite Things," for Las Vegas tourists? Other than getting married by Elvis of course. (Although yes, I desperately hope one day I get married by Elvis at Denny's somehow now that it's an option.)
The Denny's on Fremont will marry you. I ride/build/drool over vintage motorcycles (and also love old cars), so usually if I have time off I am out ripping across the desert on my Triumph or trying to find some hot rod to stalk. For tourists, they should rent a motorcycle and call me! I will show you a Vegas most people don't get to see.
Anthony Scanio
Chef de Cuisine
Emeril's Delmonico
New Orleans
People often come to New Orleans on business trips and don't have time to eat everything. If they only have time for one or two visits in their whole lives to your restaurant, what should they eat?
The combination of different cultures that have shaped New Orleans—the Native, the African and the European—is often referred to as a gumbo. Well, gumbo is not simply a metaphor but is probably the best culinary distillation of the unique culture we refer to as Creole. Hence, you gotta have some gumbo.
Now after that, things become much more difficult. It's like having to pick favorites amongst your children. The New Orleans way with seafood is wonderful and should definitely be enjoyed. Our local fish, shrimp, crab, oysters and crawfish are justly famous, and the way we cook them in New Orleans and at Delmonico is something every guest should experience. On the other hand, we take great pride in our housemade salumi and charcuterie program here at Delmonico. The French and Spanish and later the Italians—especially southern Italians and Sicilians—shaped a large part of our culture, and our salumi and charcuterie program reflects this heritage. Our Old and New World Andouille appetizer combining Louisiana andouille (itself a French-German Creolized sausage) and southern Italian-style 'nduja salami expresses deliciously our Creole links with the Old World. Basically, you really have to figure out how to come to Delmonico more than once or twice…
Most people working in places like LA and Manhattan aren't from there, but you really grew up in New Orleans. It probably upsets you when other people make a catfish with extra black pepper and call it Louisiana style. What separates the real from the knock off cuisine?
Catfish has a role in New Orleans cuisine but only a very small one. It is a more typically Southern dish, and we in New Orleans like to say that the South is north of here. We have our own distinct cultural and culinary identity. Essentially, Creole cuisine and its rustic country Cajun cousin is well seasoned but balanced. Heat and spice play a role but are not overwhelming. In short, making a dish really spicy does not make it Louisiana style.
Soup is a huge classic. It makes children happy, old people love it and ladies who may not want to eat a five course dinner can still have big flavor in a smaller portion. Your gumbo sounds fantastic. Can you tell us anything about it? Also, if a soup aficionado were to walk into the restaurant, could you make him or her anything? Please, tell us about the ever changing soup of the day and why they are so tasty…you only get good soup like that in a few spots, and you happen to be in the soup epicenter, NOLA!
Gumbo! Whole books could be written about New Orleans and southern Louisiana's most emblematic dish. Gumbo is a somewhere between a soup and a stew. Some are some thinner while others are thicker. All are thickened with roux (except when they're not). Some contain okra as a thickener, and the Bantu word for okra, "kingombo," gives the stew its name. The dried, ground sassafras leaves known as file'—the Native American contribution to gumbo—are a third thickener sometimes used to thicken and flavor gumbo.
Some gumbos are all meats and sausages, others are all seafood, some are combinations of both, while finally there is a Lenten variation called gumbo z'herbes, which traditionally contains no meat or seafood but only various leafy greens. Gumbo is always served with rice (except when it is not). Some Cajuns prefer potato salad in their gumbo. We at Delmonico do pretty much all the variations of gumbo. And they are all delicious. However, the final word on gumbo is that one's Mama or Grandma always makes the best gumbo.
Of course, if you were to come in we could make a soup for you or any other guest. Nevertheless, our gumbo and our daily soup are invariably so delicious sounding that we rarely get such a request. Generally, our daily soups reflect the bounty of south Louisiana. That could mean an oyster stew or shrimp bisque or it could mean a sweet potato soup with house made tasso.
I noticed your menu has dishes inspired by cultures outside Louisiana too, like the Lomo, a dish my great uncle cooks for himself and he learned from South American food. I know other people collaborate, but when you are working with the dish favors and creations, where in the world do you find your inspiration?
Our inspiration here at Delmonico is New Orleans. The cultures that shaped our Creole cuisine, the storied dishes of New Orleans past, the cultural and culinary kinship New Orleans Creole shares with the other Creole cuisines of the New World—the Caribbean and various points in Latin America.
Your wife was nice enough to move around the world while you were training as a chef. Some people break up with a boyfriend over him wanting to do something smaller, like eating vegetarian! As a huge thank you, what do you cook to romance her for a meal at home every now and then?
Romantic dinner at home? That means Jennifer and our six- and four-year-old sons, Rocco and Luca. Molto Romantico. Maybe the boys and I will make pizza. Or perhaps gnocchi. The boys also like twice-fried green plantains, called "tostones." People don't often think of plantains and New Orleans, but there are recipes in many of the old cookbooks and banana trees are very common in backyards here. Oh yeah, back to romantic. Spending time with my family is romantic. Although last September my wife and I spent a week in Cartagena, Colombia without the boys. Muy romantico! It's a gorgeous Spanish Colonial Afro-Caribbean Creole city–reminded me of both southern Italy and New Orleans.
Back in 2005, you were a line cook. Over the years, you were promoted to several jobs until now, and you run the restaurant. In the future, who knows, we could possibly see you doing bigger things like your own TV shows and more, I am sure! What advice do you have about patience for people in the food industry that you can make it after all?
In the kitchen, you must have plenty of patience. You also need a passion for food and cooking, very thick skin, and an immense drive and intensity. Those are essential characteristics for success in a kitchen.
Thanks so much. Now to impress everyone with your "Jeopardy" skills, what is a really amazing literary quote you learned from English studies that sums up your great experiences at Delmonico?
Funny you should ask, because there's a wonderful quote the sums up what we are attempting to do here at Delmonico. In a book about the colorful, former Louisiana Governor Earl K. Long, famous journalist A.J. Liebling wrote about New Orleans' uniqueness in American culture. He wrote, "The Mediterranean, Caribbean and Gulf of Mexico form a homogeneous, though interrupted sea." It is these connections that we are exploring in culinary terms at Delmonico. It is these connections that make New Orleans unique and special and have created—and continue to create—wondrous, only-in-New Orleans cuisine.
Brian Mottola
Chef de Cuisine
e2 emeril's eatery
Charlotte, N.C.
In North Carolina, you have easy access to the ocean. As a result, this means great seafood. How do you emphasize local history and flavored in your seafood dishes?
We're still seven hours from the coast but we work with a guy who lives in Charlotte and has a boat in Wilmington, and when prices are right and he's available, we buy seafood from him. We source out the best, freshest seafood and that means we get scallops from New Bedford, Mass.; calamari from Point Judith, R.I., and crab and redfish from the Gulf of Mexico.
You're originally from New Jersey. Is anything you do at e2 like Italian and other local food you grew up eating that you personally developed, or anything you have made your own?
The biggest influence I had growing up in New Jersey was that we were always eating together as a family. My mom was a huge influence on me. I'll never understand how she put so much food on the table every Sunday. The meatball sub on our menu is my best effort to imitate her meatballs. But to this day, I can't quite make her meatballs the same!
You probably love your boss' TV shows, but besides Mr. Lagasse's own work, when you see food culture today in popular media that is not his, whose work do you admire? How has food's sudden popularity within the past few years changed how you run a restaurant? Is it more difficult being successful with a more culinary knowledgeable clientele?
In addition to Chef Emeril, I admire Eric Ripert and Thomas Keller. The popularity of culinary shows has made our restaurant guests more educated and aware of the industry. But it makes me push myself harder and set higher standards for our cuisine. I live by the Vince Lobardi quote: "We're gonna chase perfection. We may never reach it, but we're gonna chase it."
You change the menu seasonally. What is coming up for summer? When you develop new entrees, what do you do to perfect them?
We just finalized our spring menu, so we are just now starting to think about our summer menu. Refining our ideas, sourcing products and getting the presentation just right takes a considerable amount of time. The team at e2 is continuing to strengthen our relationship with local farmers, and the ingredients we get from them always make it to our menus. Even when a menu is ready to go, as a chef, you always want to make it better.
You seem to have grown up in a home where family was as important as the food. With the restaurant situated in North Carolina, your customers probably have a similar expectation of being with the family or making a dinner date more intimate, whereas in Manhattan or Chicago, some of the big name restaurants are about impressing someone over an extravagant meal. At e2, how do you do the opposite, making less become more and therefore, making traditionally down home food into something special?
Charlotte is becoming more and more like the bigger cities: the city is really picking up momentum and is a new Southern city. We'll take a classic southern dish like shrimp and grits and find a way to take it to the next level. That really means making sure we get the product from the right place: for example, we like to get the grits out of Anson Mills in South Carolina. We also try to mix things up on the menu. Some dishes are all about the wow factor, yet there are others where you're going to be able to read the menu and know every ingredient listed. Others will have a little surprise. We play with flavor matches and that can often give a dish the wow factor.
It looks like you spent a long time as an apprentice of sorts, learning from great chefs. The kitchen can be very intimidating. People seek perfection, and at first, people I know who've worked at restaurants tell me they feel upset or like crying because some of the perfectionism can hurt people's feelings when, say, a head chef is yelling how you didn't season a lamb entree like he wants. What was your turning point when you moved from not understanding that sentiment to wanting to be a part of that perfectionism and implementing it in your own cuisine?
I have spent 15-plus years cooking in award-winning restaurants and have had the opportunity to learn from amazing chefs. Moving up through the ranks at chef Emeril Lagasse's restaurants clearly has driven my desire to implement perfectionism in my own cuisine. It's been great to work and grow with such a great chef-driven company. At some point, after watching and learning, you just wake up and it all starts to click—creating your own dishes and leading the kitchen team.
What do you do when you aren't working to, well, simmer down? What are your hobbies? Do you have any secret pastimes like something dorky, like a Dungeons and Dragons club or hidden talents, like almost becoming a pro athlete? Let's get you out of your (soft shell blue crab) shell!
I love to ride motorcycles and will listen to any music that's not pop. I'm really in to martial arts – both Brazilian jujustu and Muay Thai. It's definitely a stress reliever: I love to work the bag!
If I or someone else wanted to make my own Southern style food at home, not being near your restaurant, what can we do in small changes like seasoning choices to give us bit of North Carolina soul?
There are some classic Southern dishes that I think a home cook can make really well, such as shrimp and grits, mac and cheese and pimiento cheese. For mac and cheese, the thing to remember is that you can add anything to it. If you have leftover ribs from last night's dinner or bacon from this morning's breakfast, cut it all up and throw it in. It's gonna taste delicious! And I'm a big herb guy. I think herbs can elevate any dish – or cocktail for that matter! Our bar manager and mixologist, Miki, also uses all fresh ingredients and herbs in crafting his drinks.
If you want to visit any of the restaurants, click on the info above or visit Emerils.com and check out Emeril's Florida on Cooking Channel!
Hold Onto Your Bucket, You Can Visit Colonel Sanders on KFC Island In 'Animal Crossing'
Kentucky. Fried. Crossing.
If I told you to live in a tent for a few days, pull a bunch of weeds from the lawn and chop down a few trees for lumber that you will then have to turn into tools with your own two hands all while trying to pay off a ridiculous debt that you unwittingly acquired you might think I'm into corporal punishment. Yet, it's all those things that make Animal Crossing: New Horizons on the Nintendo Switch so damn addictive.
The life simulation video game has grown unbelievably popular over these last few months and it's probably because the game provides a great creative outlet that can keep players entertained for hours while remaining home during quarantine. Even some celebrities have jumped on the virtual bandwagon with Elijah Wood, T-Pain, Chrissy Tiegen and more all sharing their obsession on social media. Well scoot over movie stars, big time singers and supermodels because the biggest household name just changed the game (not literally as I'm sure the game has some sort of coding that prevents actual changes to be made but metaphorically the pun works). That's right, Colonel Sanders has an avatar and an island and is ready to serve up some chicken.
Earlier this week, the KFC Philippines Twitter account revealed the news that "KFC Island" would be opening for lucky visitors. To get to the island you have to message their Facebook account with the #KFCVirtualStore for a chance at getting a Dodo Code. Because I am one of the many who have fallen in love with this game I know that a Dodo Code is a unique code which can be shared with select visitors to grant them access to your island. I feel like such a gamer. On the Kentucky fried island there is a restaurant that is replicated to look like the real thing! There's booths, a kitchen and even promotional posters. Oh and as if this wasn't exciting enough, if you find the Colonel hiding somewhere on the island you could win an 8-piece chicken bucket from KFC…in real life! (The promotion is only valid for players in the Philippines.)
Visits to the island are only available until June 20th, so be sure to hop on this finger lickin' experience while you can!
Like what you read? Follow me on Instagram
Stan Lee Said The Only Way To Combat A Racist Is To 'Expose Them' In A Periodical From Over Fifty Years Ago
A man truly ahead of his time.
The concept of finding strength within a community has never been more pressing than it is right now. Our country is divided in so many ways but amongst the fractures you can see groups joining together in an effort to show that unity is always stronger than division. If anyone can attest to that belief it was the ingenius comic book writer, editor, publisher, and producer Stan Lee.
The man responsible for the Marvel universe we know and love today was behind a number of comic books which featured outcasts who looked beyond their differences in order to unify and protect the greater good. A concept our world might need reminding of. In the back of the comics Lee wrote for was a section entitled "Stan's Soapbox," where the wordsmith would write short articles expressing some things that were on his mind. One soapbox article from 1968 has resurfaced and gone viral because of how eerily fitting it is for today.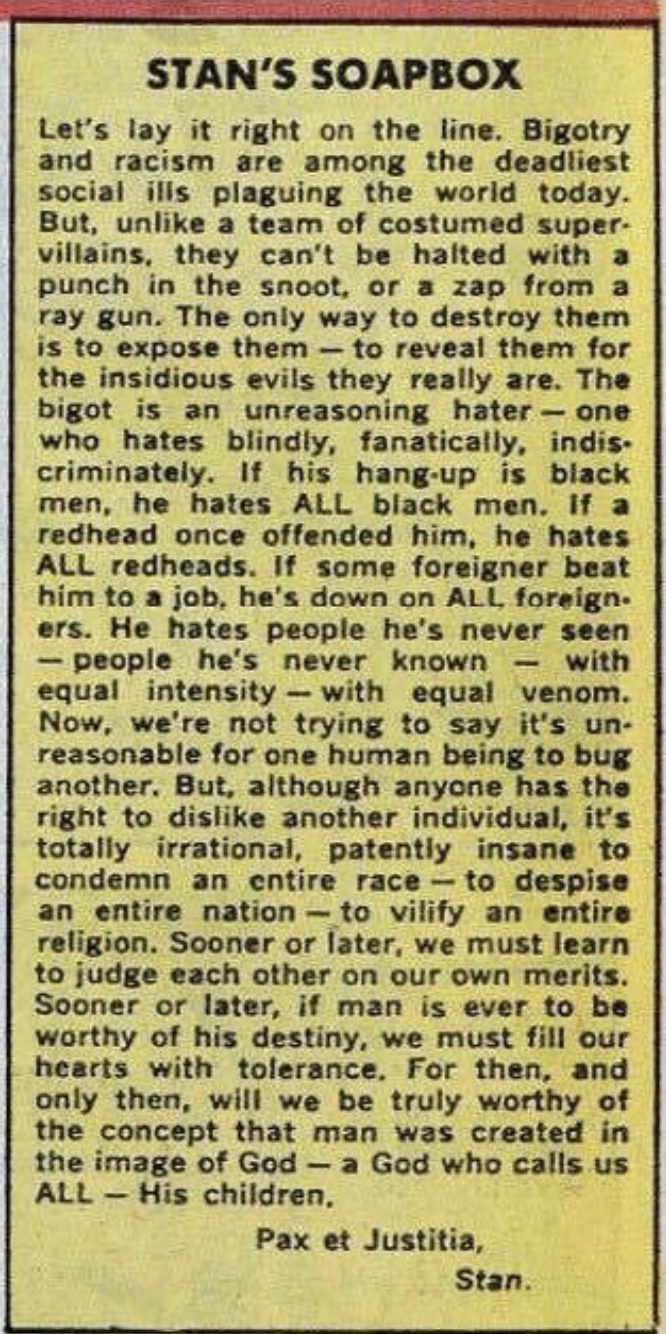 In the article Lee calls bigotry and racism "the deadliest social ills plaguing the world today." But unlike a super villain from one of his comics, racism and bigotry cannot be defeated by a "punch in the snoot, or a zap from a ray gun," he says, rather "the only way to destroy them is to expose them – reveal them for the insidious evils they really are." The comic book creator suggests the only way for our world to continue peacefully is to "judge each other on our merits" and to "fill our hearts with tolerance."
Along with the soapbox article, a clip from an interview with Larry King has gone viral with Lee once again wishing to see more tolerance in the world. When asked what the one thing he would change about the world Lee responded "I'd make people not hate each other because of their religion, because of their nationality, because of any stupid reason. If we can abolish hatred, we live on this gorgeous planet."
One thing you would change about the world?

Stan Lee: " I'd make people not hate each other because of their religion, because of their nationality, because of any stupid reason. If we can abolish hatred, we live on this gorgeous planet." pic.twitter.com/lxHzUWSkCL

— Sílvia (@JustMe_Silvia) June 9, 2020
Why couldn't he be the celebrity that ran for president!? Hopefully the villains Lee warned us about over fifty years ago will soon seem like a thing in the past and that beautiful, tolerant world he dreamed of will become a reality.
Like what you read? Follow me on Instagram
Lizzo's Performance Of 'Pomp And Circumstance' Will Make Any Graduate Feel Good As Hell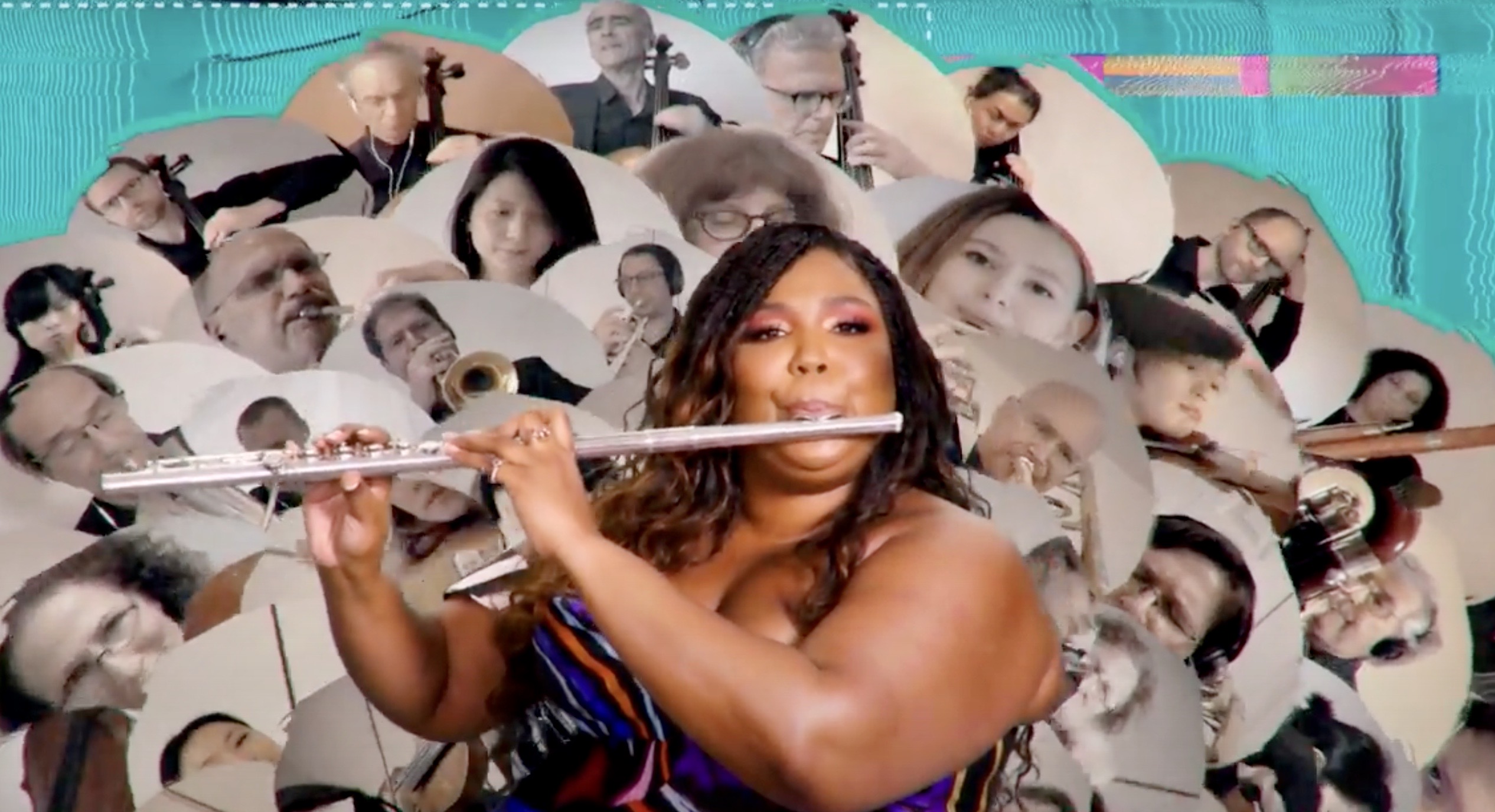 She really is a hoot with a flute.
Ah graduation, that special moment that every student dreams about where they get dressed up in an unbreathable gown and an unflattering cap and sit outside for hours somewhere on a great lawn in the middle of a heat wave just to receive that special piece of paper that says they have completed a super long chapter in their lives. While the ceremonies are not always the most exciting time ever, to be denied the chance to walk across a stage and turn the tassel on your cap due to the pandemic guidelines does seem like a real bummer. To help remedy the graduation blues of 2020, YouTube Originals live-streamed an event called Dear Class Of 2020 which featured some huge stars offering their support. One of those stars happened to be Lizzo who put her own spin on the classic graduation march "Pomp and Circumstance."
In her performance, Lizzo played the iconic two-minute section of the song that is most widely associated with graduations. After about 40-seconds, the "Juice" singer shares her congratulations to the graduating class and then lets them know it's time to "turn it up." With that, Lizzo is virtually accompanied by the New York Phil Harmonic as they jam out (is it still called jamming out when it's classical music?) to create a truly memorable performance. The performance is visually stunning showcasing some cool digital effects but what truly stands out in the video are the images of black graduates wearing their caps and gowns as they participate in Black Lives Matter protests that are happening throughout the nation. The entire video suddenly becomes much more hopeful as it becomes clear that the future of our nation rests in the hands of these courageous, intelligent and strong young people.
The video ends with a photo of Deveonte Joseph taken by photographer Nathan Aguirre, which went viral when first posted. In the photo, Joseph is wearing his graduation cap and gown on a street in St. Paul, Minnesota, with the lights of a police set up glowing behind him.
Check out the entire inspirational video below!
Like what you read? Follow me on Instagram