POP INTERVIEW: "Parks and Recreation" Actress Mara Marini
"I'm not a porn star; I just play one on TV," reads Mara Marini's Twitter bio.
"I'm not a porn star; I just play one on TV," reads Mara Marini's Twitter bio. Miss @popgloss has more to her than meets the perfectly made-up eye on set. Before she went online and found popularity on NBC's Parks and Recreation, where her character ran for city council, she worked on underground horror movies and studied at the American Academy of Dramatic Arts.
Did you ever feel like you were typecast in the indie horror genre before "Parks and Recreation?" How did you make the transition into comedy?
I don't know if it was necessarily "typecast"…it was more of people I had worked with on previous projects calling me in and casting me in their projects…which happened to be horror films at that time. ::laughs:: I do have a really awesome scream…I think that's what landed me my first one. There was a good chunk of time there where I was always either getting covered in or spitting up fake blood.
I've always loved comedy and I was in a couple of indie comedy films and a bunch of webseries, commercials, theatre and promos. I did standup for a bit of time and have trained at UCB and Groundlings. I'd always wanted to audition for "Parks and Recreation," because I love that show. At the time, I didn't have any representation, so I went to a workshop that the casting director, Dorian Frankel, was holding. After that, I'd submitted on a few roles that were kind of my type and thankfully I was called in to audition for Brandi Maxxxx.
How does someone work on his or her scream so you they become mute? You do a lot of screaming in your early work. I forgot, but saw it on TV once for a special on "I Know What You Did Last Summer" about how there's a technique for your voice.
I have taken a lot of musical theatre and voice and speech classes over the years, but I've also been perfecting my scream since I was a little girl (much to my parents' chagrin). Breathe deep and let it come from your diaphragm. It's slightly hard to describe…but I'm sure if I did it all the time I'd be mute. Thankfully, they usually get it after a couple takes. I can show you sometime…just bring earplugs. 😉
A while back when you were filming pilots, how did you keep your hopes up with the odds against you? Why do you think good actors don't give up easily?
Well, I've honestly wanted to be an actress since I was four years old. (Except for a brief dalliance where I wanted to be a dolphin trainer.) I grew up in Winnipeg, Canada and there wasn't too much going on — film/tv wise — at the time. When I was six, I started memorizing the part of Viola in Twelfth Night from my Mum's huge Shakespeare book…so my parents finally let me enroll in acting classes. I've been hooked ever since. I think that if nothing makes you happier and it's really about the joy of it rather than money or fame – all you know is to just keep going. Jennifer Coolidge and Adam Scott actually spoke at my graduation from AADA (American Academy of Dramatic Arts) and they said half the battle is persistence. I know a lot of my classmates and friends I started out with have moved on to other things. I just can't really imagine doing anything else and being fulfilled. 🙂 My parents always taught me to do what you love because life is just too short.
For "Parks and Recreation," you did not think much of your initial audition. What does this say about how we perceive ourselves?
When I got the audition I was bouncing off the walls…I was just so excited to be auditioning for the show. I felt like I "had it" before I went in – I just felt really good about it. Then I auditioned and I felt like I did okay – but I definitely didn't "rock it" like I did in my bathroom mirror. I didn't expect to hear anything back…and then I booked it! I was shocked…and screamed very loudly when I got the news. 🙂
Why do you think you made a convincing porn actress?
Haha…I'm not entirely sure how to answer that. I think above all, Brandi is a real person. She's eager, genuine and has a heart of gold. I believe she ran for city council in season four because she does have lofty ambitions. What she does for work is just business – "another day at the office". Even though some people might look down on the industry, she doesn't really acknowledge any negativity because she is proud of her hard work. She really likens herself to Leslie and is a strong female character. The show has such phenomenal hair, makeup, wardrobe and art departments that add so much richness to the characters as well.
How would someone prepare for this role? Method acting seems implausible. It isn't like you could go make a XXX movie without any career backlash. Did you meet up for lunch with real adult stars?
I've always thought that industry was fascinating and I've watched a lot of interviews and documentaries, read some books and met a couple people in the industry. The ones I met were very kind and genuine. If you had to play a heroin addict – I'd hope you wouldn't go do a bunch of heroin. Its all about research and bringing your own experiences and life into the character.
On Twitter, you write about things like Costco. You use social media a fair amount in a natural tone. It's nice seeing someone who isn't strictly talking about promotional topics. Do you ever feel like life is better with Twitter? Or do you wish an acting career would have more secrecy like the 1940s?
I adooooore Twitter! I joined in January 2007 and thought it was an amazing concept. All my friends thought I was nuts and three years later they were all on it. If you ask any of my close friends, they all originally heard about Twitter through me. ::laughs:: Twitter even sent me some official "I'm wearing my Twitter shirt" shirts in the mail when I first started. I'm a pretty open person…there's something about that openness of sharing and interacting that I really enjoy. I've met some amazing people and friends off of it too!
You were asked in another interview about your favorite words. It's amazing when you have done a lot and all someone can muster is, "Gee, what are your favorite words?" So on a greater scale off that article relating to your job, how do you make sure people are listening to you when you go on an audition? How do you make people aware of yourself as a strong actress? And how can any of us who might not be up against you for a role do the same?
Thank you. I try to go in as prepared as possible. Even though I tend to naturally be/talk a bit fast/peppy – I try to take my time and not rush. I hope that the training and preparation serve me in the room and I just try to relax and have fun…because ultimately that's what it's all about.
What's next for you? What are your career goals?
I have been writing a lot and collaborating with some very talented people, so I'm really excited so see where that goes. I just finished a fun little series with break.com called "Inside Dating," which was a funny advice-driven melange on online dating – a lot of "what not to do" for men. We ran it through the month of April and are talking about making it a more permanent fixture. I have a lot of funny stories that I've compiled. I may start doing some more standup and trying out some new material. I also hope I get asked back to "Parks and Recreation" this season – I just adore everyone over there – they are so amazing and the writing is so fantastic. It is literally the best time ever. As far as career goals down-the-line go, I'd love to be a series regular on a comedy television series. And…I've always wanted to have my own show. One day. Fingers crossed. 😉
Laura Dern Honors Her Parents In Touching Academy Award Win Speech
Laura Dern, who has been slaying awards season this year for her role in "Marriage Story," took home the ultimate prize – a Best Supporting Actress Academy Award – and thanked her actor parents in a touching acceptance speech.
Her parents, actors Diane Ladd and Bruce Dern brought her to the Oscars with them when she was just 7 years old.
"Some say never meet your heroes. I say if you're really blessed, you get them as your parents. I share this with my acting hero my legends, Diane Ladd and Bruce Dern. You got game. I love you."
Dern's mother has been nominated three times, her father twice, but neither have won. Her mother can be seen during the speech crying in the audience.
Congrats Laura!!!
POP UPDATE: Justin Bieber, "Friends" For Life, And The Critics Choice Awards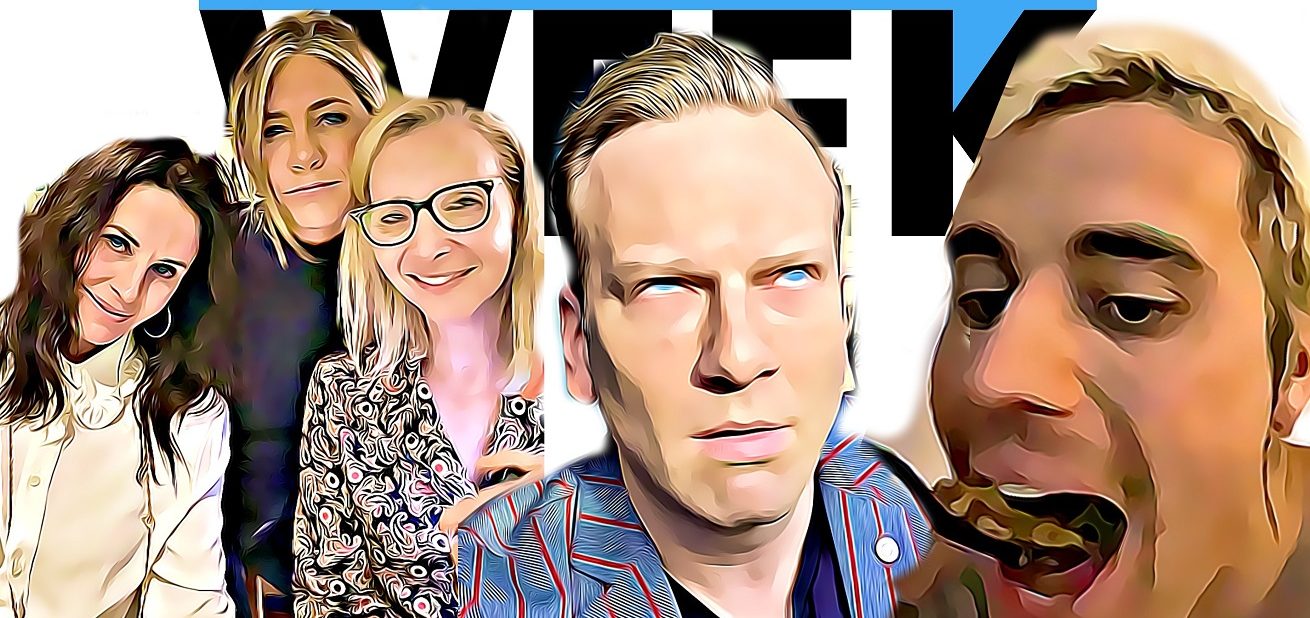 We're going to be doing some quick video updates whenever we can! Here's the latest! Justin Bieber begging for streams, (while you can hear him chew – ew), the ladies of Friends reunited, and mother nature. Take a look!
Courteney Cox's Instagram Caption Is Every Parent With A Teenage Kid
Have you heard? It's 2020 and we're all supposed to music videos on TikTok. Courteney Cox is no exception. The TV star posted an instagram of her and her daughter Coco dancing it out, with the hilarious caption, "Wanna see your child lose their patience? Do a TikTok with them."
Also, how long does it take to actually learn one of these routines? It seems very time consuming.
What I was really hoping for was video of her daughter losing her patience, but what we got was a pretty strong routine!