POP INTERVIEW: "Parks and Recreation" Actress Mara Marini
"I'm not a porn star; I just play one on TV," reads Mara Marini's Twitter bio.
"I'm not a porn star; I just play one on TV," reads Mara Marini's Twitter bio. Miss @popgloss has more to her than meets the perfectly made-up eye on set. Before she went online and found popularity on NBC's Parks and Recreation, where her character ran for city council, she worked on underground horror movies and studied at the American Academy of Dramatic Arts.
Did you ever feel like you were typecast in the indie horror genre before "Parks and Recreation?" How did you make the transition into comedy?
I don't know if it was necessarily "typecast"…it was more of people I had worked with on previous projects calling me in and casting me in their projects…which happened to be horror films at that time. ::laughs:: I do have a really awesome scream…I think that's what landed me my first one. There was a good chunk of time there where I was always either getting covered in or spitting up fake blood.
I've always loved comedy and I was in a couple of indie comedy films and a bunch of webseries, commercials, theatre and promos. I did standup for a bit of time and have trained at UCB and Groundlings. I'd always wanted to audition for "Parks and Recreation," because I love that show. At the time, I didn't have any representation, so I went to a workshop that the casting director, Dorian Frankel, was holding. After that, I'd submitted on a few roles that were kind of my type and thankfully I was called in to audition for Brandi Maxxxx.
How does someone work on his or her scream so you they become mute? You do a lot of screaming in your early work. I forgot, but saw it on TV once for a special on "I Know What You Did Last Summer" about how there's a technique for your voice.
I have taken a lot of musical theatre and voice and speech classes over the years, but I've also been perfecting my scream since I was a little girl (much to my parents' chagrin). Breathe deep and let it come from your diaphragm. It's slightly hard to describe…but I'm sure if I did it all the time I'd be mute. Thankfully, they usually get it after a couple takes. I can show you sometime…just bring earplugs. 😉
A while back when you were filming pilots, how did you keep your hopes up with the odds against you? Why do you think good actors don't give up easily?
Well, I've honestly wanted to be an actress since I was four years old. (Except for a brief dalliance where I wanted to be a dolphin trainer.) I grew up in Winnipeg, Canada and there wasn't too much going on — film/tv wise — at the time. When I was six, I started memorizing the part of Viola in Twelfth Night from my Mum's huge Shakespeare book…so my parents finally let me enroll in acting classes. I've been hooked ever since. I think that if nothing makes you happier and it's really about the joy of it rather than money or fame – all you know is to just keep going. Jennifer Coolidge and Adam Scott actually spoke at my graduation from AADA (American Academy of Dramatic Arts) and they said half the battle is persistence. I know a lot of my classmates and friends I started out with have moved on to other things. I just can't really imagine doing anything else and being fulfilled. 🙂 My parents always taught me to do what you love because life is just too short.
For "Parks and Recreation," you did not think much of your initial audition. What does this say about how we perceive ourselves?
When I got the audition I was bouncing off the walls…I was just so excited to be auditioning for the show. I felt like I "had it" before I went in – I just felt really good about it. Then I auditioned and I felt like I did okay – but I definitely didn't "rock it" like I did in my bathroom mirror. I didn't expect to hear anything back…and then I booked it! I was shocked…and screamed very loudly when I got the news. 🙂
Why do you think you made a convincing porn actress?
Haha…I'm not entirely sure how to answer that. I think above all, Brandi is a real person. She's eager, genuine and has a heart of gold. I believe she ran for city council in season four because she does have lofty ambitions. What she does for work is just business – "another day at the office". Even though some people might look down on the industry, she doesn't really acknowledge any negativity because she is proud of her hard work. She really likens herself to Leslie and is a strong female character. The show has such phenomenal hair, makeup, wardrobe and art departments that add so much richness to the characters as well.
How would someone prepare for this role? Method acting seems implausible. It isn't like you could go make a XXX movie without any career backlash. Did you meet up for lunch with real adult stars?
I've always thought that industry was fascinating and I've watched a lot of interviews and documentaries, read some books and met a couple people in the industry. The ones I met were very kind and genuine. If you had to play a heroin addict – I'd hope you wouldn't go do a bunch of heroin. Its all about research and bringing your own experiences and life into the character.
On Twitter, you write about things like Costco. You use social media a fair amount in a natural tone. It's nice seeing someone who isn't strictly talking about promotional topics. Do you ever feel like life is better with Twitter? Or do you wish an acting career would have more secrecy like the 1940s?
I adooooore Twitter! I joined in January 2007 and thought it was an amazing concept. All my friends thought I was nuts and three years later they were all on it. If you ask any of my close friends, they all originally heard about Twitter through me. ::laughs:: Twitter even sent me some official "I'm wearing my Twitter shirt" shirts in the mail when I first started. I'm a pretty open person…there's something about that openness of sharing and interacting that I really enjoy. I've met some amazing people and friends off of it too!
You were asked in another interview about your favorite words. It's amazing when you have done a lot and all someone can muster is, "Gee, what are your favorite words?" So on a greater scale off that article relating to your job, how do you make sure people are listening to you when you go on an audition? How do you make people aware of yourself as a strong actress? And how can any of us who might not be up against you for a role do the same?
Thank you. I try to go in as prepared as possible. Even though I tend to naturally be/talk a bit fast/peppy – I try to take my time and not rush. I hope that the training and preparation serve me in the room and I just try to relax and have fun…because ultimately that's what it's all about.
What's next for you? What are your career goals?
I have been writing a lot and collaborating with some very talented people, so I'm really excited so see where that goes. I just finished a fun little series with break.com called "Inside Dating," which was a funny advice-driven melange on online dating – a lot of "what not to do" for men. We ran it through the month of April and are talking about making it a more permanent fixture. I have a lot of funny stories that I've compiled. I may start doing some more standup and trying out some new material. I also hope I get asked back to "Parks and Recreation" this season – I just adore everyone over there – they are so amazing and the writing is so fantastic. It is literally the best time ever. As far as career goals down-the-line go, I'd love to be a series regular on a comedy television series. And…I've always wanted to have my own show. One day. Fingers crossed. 😉
Ariana Grande Recreated Funny 'The Waterboy' Scene and Adam Sandler Responded!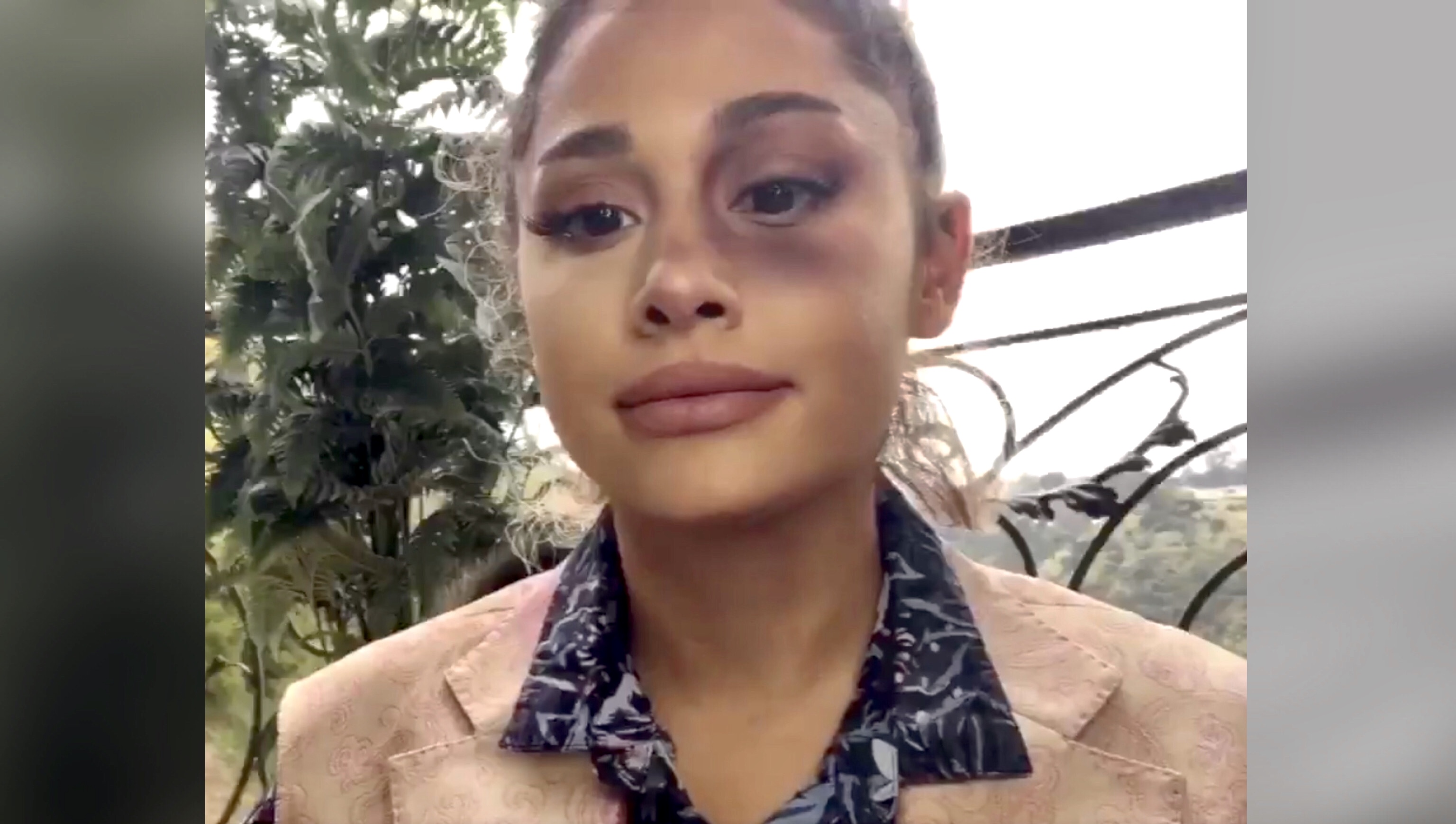 Ariana Grande has quenched internet thirst in a whole new way.
Well decorated pop star Ariana Grande is a big fan of Adam Sandler's hit film The Waterboy and took to social media to prove it. Grande transformed herself into Sandler's Bobby Boucher and performed a hilarious scene from the 1998 classic. With the help of her mom, Joan and Victorious co-star Elizabeth Gillies, Grande recreated the hostile scene where Vicki (Gillies) met Bobby's mom (Joan) for the first time. The trio lip synced the scene while socially distant but still managed to nail their character reactions. All three commit to the quirks of these unusual characters!
another super productive day pic.twitter.com/qHXK2FXGND

— Ariana Grande (@ArianaGrande) April 8, 2020
The post naturally picked up tons of views within hours. One of those viewers just happened to be Bobby Boucher himself, Adam Sandler. While he didn't say much, Sandler seemed to approve of the recreation as he reposted the video on his own Twitter!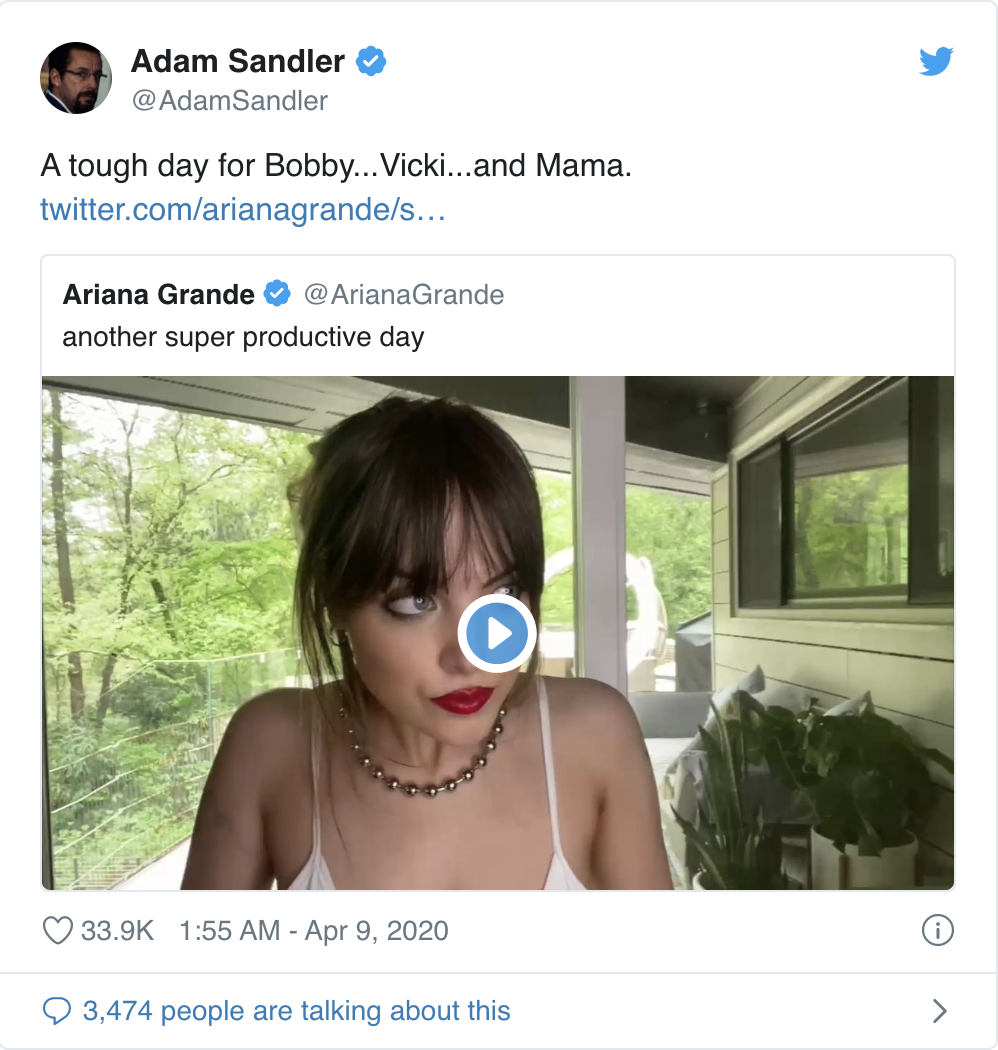 This isn't the first time Sandler responded to Grande's love for the film. A few days ago Grande shared another recreation with Sandler responding "Bobby Boucher approves this message." Maybe we will get these two on the big screen together soon?!
Like what you read? Follow me on Instagram
You Can Actually Watch Joe Exotic's Entire Three-Way Wedding On YouTube!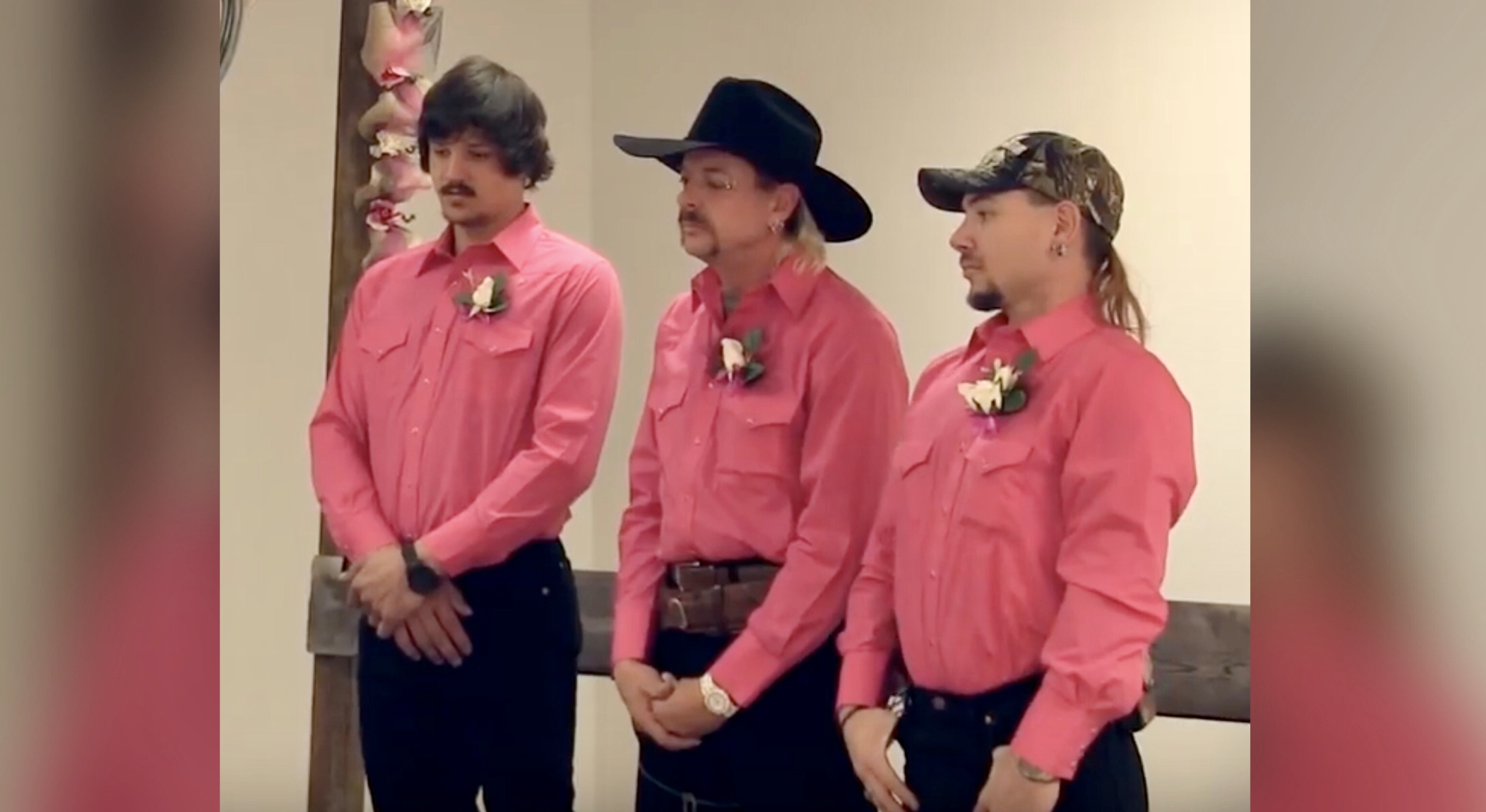 The wild life of Joe Exotic is truly the gift that keeps on giving.
Hey all you cool cats and kit…oh can't possibly start a story about Joe Exotic with that greeting. Let's try again.
Hey all you Tiger King super fans! You've binged the Netflix docu-series more times than Joe Exotic curses Carole "F***ing" Baskin and yet you still can't get enough of the sequined clad, mullet sporting, oddly pierced, "tiger king." Well luckily for us it seems like there is no shortage of big-cat-content in sight. Netflix just announced that another episode of the hit docu-series will be airing soon. There is a scripted film adaption of the docu-series already in the works. And most recently, there has been talk of a documentary about the disappearance of Carole Baskin's first husband being produced. This is great news for those of us who wait for Tiger King updates like they are a truck filled with expired Walmart meat, but is there anything that can hold us over in the meantime? As a matter of fact there is.
Fans of the series have done some digging and found the actual footage from Joe Exotic's three-way wedding. The wedding between Joe and his partners John Finlay and Travis Maldonado. The wedding where all three grooms wore matching bright pink shirts and white corsages. The wedding which made the ordained minister herself catch a case of the giggles. The wedding I WISH I was invited to! The wedding video was posted on Joe Exotic's YouTube channel back in 2014, shortly after the ceremony and has since racked up over 227,000 views. If you've watched the series (who hasn't?!) you'll remember that this polyamorous marriage unfortunately did not last and Joe is currently married to a young man named Dillon Passage. No footage of the wedding between Joe and Dillon has surfaced yet but you can bet I have my google alerts set.
Joe Exotic is still serving a 22-year sentence for falsifying wildlife records, violating the Endangered Species Act by killing five tiger cubs and federal charges for a murder-for-hire scheme where he targeted arch-nemesis Carole Baskin…who was the only thing missing from another wise perfect wedding video. Joe was recently transferred from an Oklahoma prison to a Texas prison-medical center after being exposed to the coronavirus.
Like what you read? Follow me on Instagram
Randy Rainbow Declares Himself A 'Cuomosexual' In Hilarious 'Grease' Parody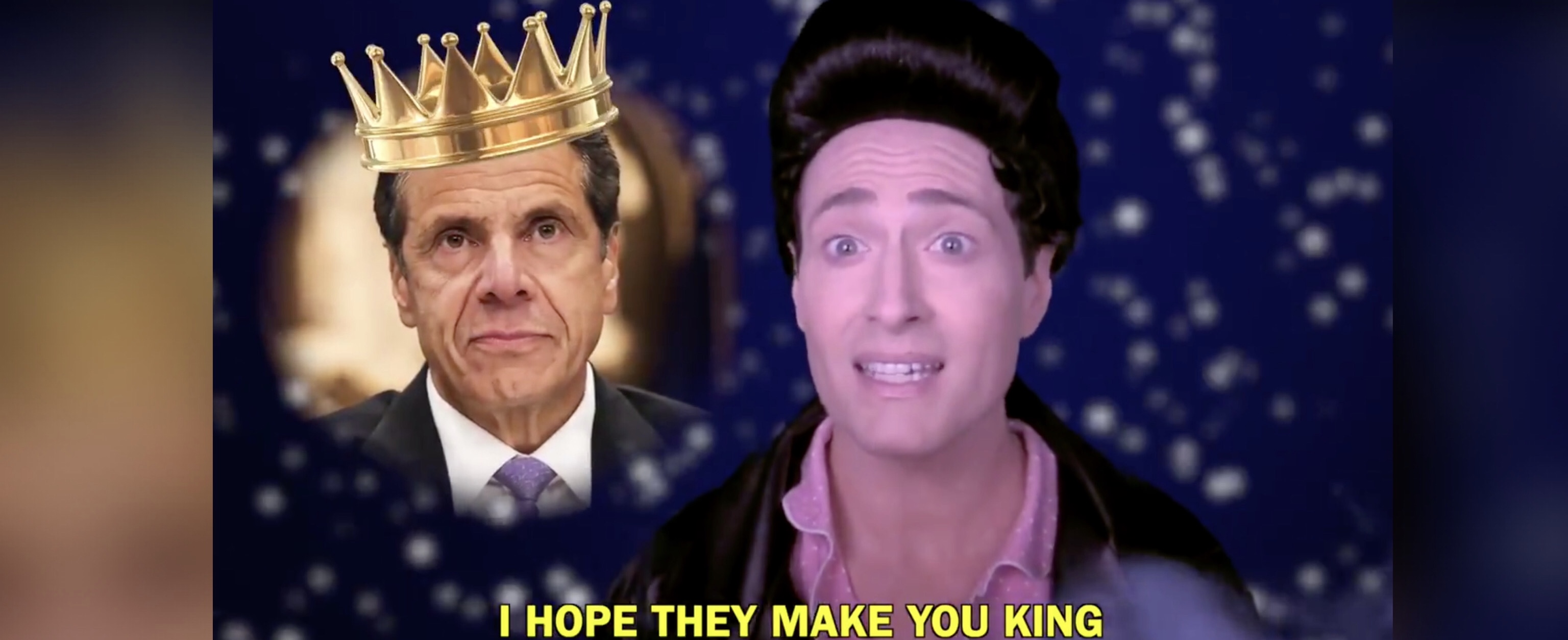 Andrew Cuomo can govern my state.
New York is one of the areas most affected by the coronavirus outbreak. The case count rises everyday which is scary to even the toughest New Yorker. Luckily, among the chaos and concern there has been a beacon of raw sexual magnetism…I mean hope…and it comes in the form of New York State Governor, Andrew Cuomo. The governor has been making headlines for his calm, effective communication and strong leadership qualities. He also made headlines for potential nipple piercings but that's not so much gubernatorial as it is something I've stored in a very special compartment of my brain. Social media has taken notice of Governor Cuomo as he trends daily with people claiming him as their new crush. Well in his latest video simply entitled "ANDY!", Randy Rainbow takes his crush one step further and declares himself a "Cuomosexual."
Parodying the classic "Alone At A Drive-In" from the movie Grease, Randy musically expresses his gratitude to the governor. The witty lyrical rewrite definitely resonates with us New Yorkers who are swooning just as hard as Randy is:
"Andy, can't ya see I'm in quarantine. A nervous wreck, and scurred as heck of COVID-19. You bring hope when I can't cope… If we're on Earth, for what's it's worth, I hope they make you king. You run my state, while I gain weight, with grace and dignity."

"The way you manage to lead and inform without scaring the living s*** out of me, or straying from the facts, and still find time to nurture my delicate spirit… You're wise level-headed, eloquent, and sexy in a time when the country needs it most."
It's not surprising that the video has gained almost 2 million views already. Randy of course, is no stranger to be going viral. His other coronavirus related content, "Social Distance" and "The Coronavirus Lament," have garnered millions of views each in mere hours.
We definitely need the laugh during these troubling times. And if we can drool and smile at the same time, even better! Take a look at the hilarious "ANDY!" video below!
🎶From now on I identify as #Cuomosexual…🎶 #StayHome #NewYorkTough ♥️🗽 pic.twitter.com/5GzJziTdnh

— Randy Rainbow (@RandyRainbow) April 6, 2020
Like what you read? Follow me on Instagram