POP INTERVIEW: "Parks and Recreation" Actress Mara Marini
"I'm not a porn star; I just play one on TV," reads Mara Marini's Twitter bio.
"I'm not a porn star; I just play one on TV," reads Mara Marini's Twitter bio. Miss @popgloss has more to her than meets the perfectly made-up eye on set. Before she went online and found popularity on NBC's Parks and Recreation, where her character ran for city council, she worked on underground horror movies and studied at the American Academy of Dramatic Arts.
Did you ever feel like you were typecast in the indie horror genre before "Parks and Recreation?" How did you make the transition into comedy?
I don't know if it was necessarily "typecast"…it was more of people I had worked with on previous projects calling me in and casting me in their projects…which happened to be horror films at that time. ::laughs:: I do have a really awesome scream…I think that's what landed me my first one. There was a good chunk of time there where I was always either getting covered in or spitting up fake blood.
I've always loved comedy and I was in a couple of indie comedy films and a bunch of webseries, commercials, theatre and promos. I did standup for a bit of time and have trained at UCB and Groundlings. I'd always wanted to audition for "Parks and Recreation," because I love that show. At the time, I didn't have any representation, so I went to a workshop that the casting director, Dorian Frankel, was holding. After that, I'd submitted on a few roles that were kind of my type and thankfully I was called in to audition for Brandi Maxxxx.
How does someone work on his or her scream so you they become mute? You do a lot of screaming in your early work. I forgot, but saw it on TV once for a special on "I Know What You Did Last Summer" about how there's a technique for your voice.
I have taken a lot of musical theatre and voice and speech classes over the years, but I've also been perfecting my scream since I was a little girl (much to my parents' chagrin). Breathe deep and let it come from your diaphragm. It's slightly hard to describe…but I'm sure if I did it all the time I'd be mute. Thankfully, they usually get it after a couple takes. I can show you sometime…just bring earplugs. 😉
A while back when you were filming pilots, how did you keep your hopes up with the odds against you? Why do you think good actors don't give up easily?
Well, I've honestly wanted to be an actress since I was four years old. (Except for a brief dalliance where I wanted to be a dolphin trainer.) I grew up in Winnipeg, Canada and there wasn't too much going on — film/tv wise — at the time. When I was six, I started memorizing the part of Viola in Twelfth Night from my Mum's huge Shakespeare book…so my parents finally let me enroll in acting classes. I've been hooked ever since. I think that if nothing makes you happier and it's really about the joy of it rather than money or fame – all you know is to just keep going. Jennifer Coolidge and Adam Scott actually spoke at my graduation from AADA (American Academy of Dramatic Arts) and they said half the battle is persistence. I know a lot of my classmates and friends I started out with have moved on to other things. I just can't really imagine doing anything else and being fulfilled. 🙂 My parents always taught me to do what you love because life is just too short.
For "Parks and Recreation," you did not think much of your initial audition. What does this say about how we perceive ourselves?
When I got the audition I was bouncing off the walls…I was just so excited to be auditioning for the show. I felt like I "had it" before I went in – I just felt really good about it. Then I auditioned and I felt like I did okay – but I definitely didn't "rock it" like I did in my bathroom mirror. I didn't expect to hear anything back…and then I booked it! I was shocked…and screamed very loudly when I got the news. 🙂
Why do you think you made a convincing porn actress?
Haha…I'm not entirely sure how to answer that. I think above all, Brandi is a real person. She's eager, genuine and has a heart of gold. I believe she ran for city council in season four because she does have lofty ambitions. What she does for work is just business – "another day at the office". Even though some people might look down on the industry, she doesn't really acknowledge any negativity because she is proud of her hard work. She really likens herself to Leslie and is a strong female character. The show has such phenomenal hair, makeup, wardrobe and art departments that add so much richness to the characters as well.
How would someone prepare for this role? Method acting seems implausible. It isn't like you could go make a XXX movie without any career backlash. Did you meet up for lunch with real adult stars?
I've always thought that industry was fascinating and I've watched a lot of interviews and documentaries, read some books and met a couple people in the industry. The ones I met were very kind and genuine. If you had to play a heroin addict – I'd hope you wouldn't go do a bunch of heroin. Its all about research and bringing your own experiences and life into the character.
On Twitter, you write about things like Costco. You use social media a fair amount in a natural tone. It's nice seeing someone who isn't strictly talking about promotional topics. Do you ever feel like life is better with Twitter? Or do you wish an acting career would have more secrecy like the 1940s?
I adooooore Twitter! I joined in January 2007 and thought it was an amazing concept. All my friends thought I was nuts and three years later they were all on it. If you ask any of my close friends, they all originally heard about Twitter through me. ::laughs:: Twitter even sent me some official "I'm wearing my Twitter shirt" shirts in the mail when I first started. I'm a pretty open person…there's something about that openness of sharing and interacting that I really enjoy. I've met some amazing people and friends off of it too!
You were asked in another interview about your favorite words. It's amazing when you have done a lot and all someone can muster is, "Gee, what are your favorite words?" So on a greater scale off that article relating to your job, how do you make sure people are listening to you when you go on an audition? How do you make people aware of yourself as a strong actress? And how can any of us who might not be up against you for a role do the same?
Thank you. I try to go in as prepared as possible. Even though I tend to naturally be/talk a bit fast/peppy – I try to take my time and not rush. I hope that the training and preparation serve me in the room and I just try to relax and have fun…because ultimately that's what it's all about.
What's next for you? What are your career goals?
I have been writing a lot and collaborating with some very talented people, so I'm really excited so see where that goes. I just finished a fun little series with break.com called "Inside Dating," which was a funny advice-driven melange on online dating – a lot of "what not to do" for men. We ran it through the month of April and are talking about making it a more permanent fixture. I have a lot of funny stories that I've compiled. I may start doing some more standup and trying out some new material. I also hope I get asked back to "Parks and Recreation" this season – I just adore everyone over there – they are so amazing and the writing is so fantastic. It is literally the best time ever. As far as career goals down-the-line go, I'd love to be a series regular on a comedy television series. And…I've always wanted to have my own show. One day. Fingers crossed. 😉
Watch How This Hasselhoff Deepfake Takes Years Off The Actor!
Visual effects artist Chris Ume takes countless images of David Hasselhoff from his past Baywatch days, then creates a younger avator, blending the new, artificial Hof onto the real life Hoff.
The process of this crazy magic? It's called a Deepfake = combining and superimposing existing images and videos onto a source image or video. The process is incredible, and yet still relatively in its infancy. If things keep progressing this genre as we can only expect they will, it's not a stretch to imagine that we could someday see an actor actress play a younger version of themselves so convincingly we won't see how they did it.
To follow more of his work, subscribe to Chris' youtube channel.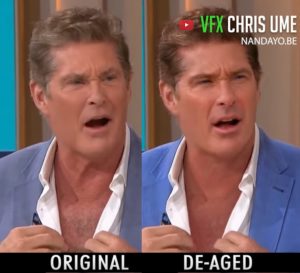 Chatting With Charo: The "Hair" Edition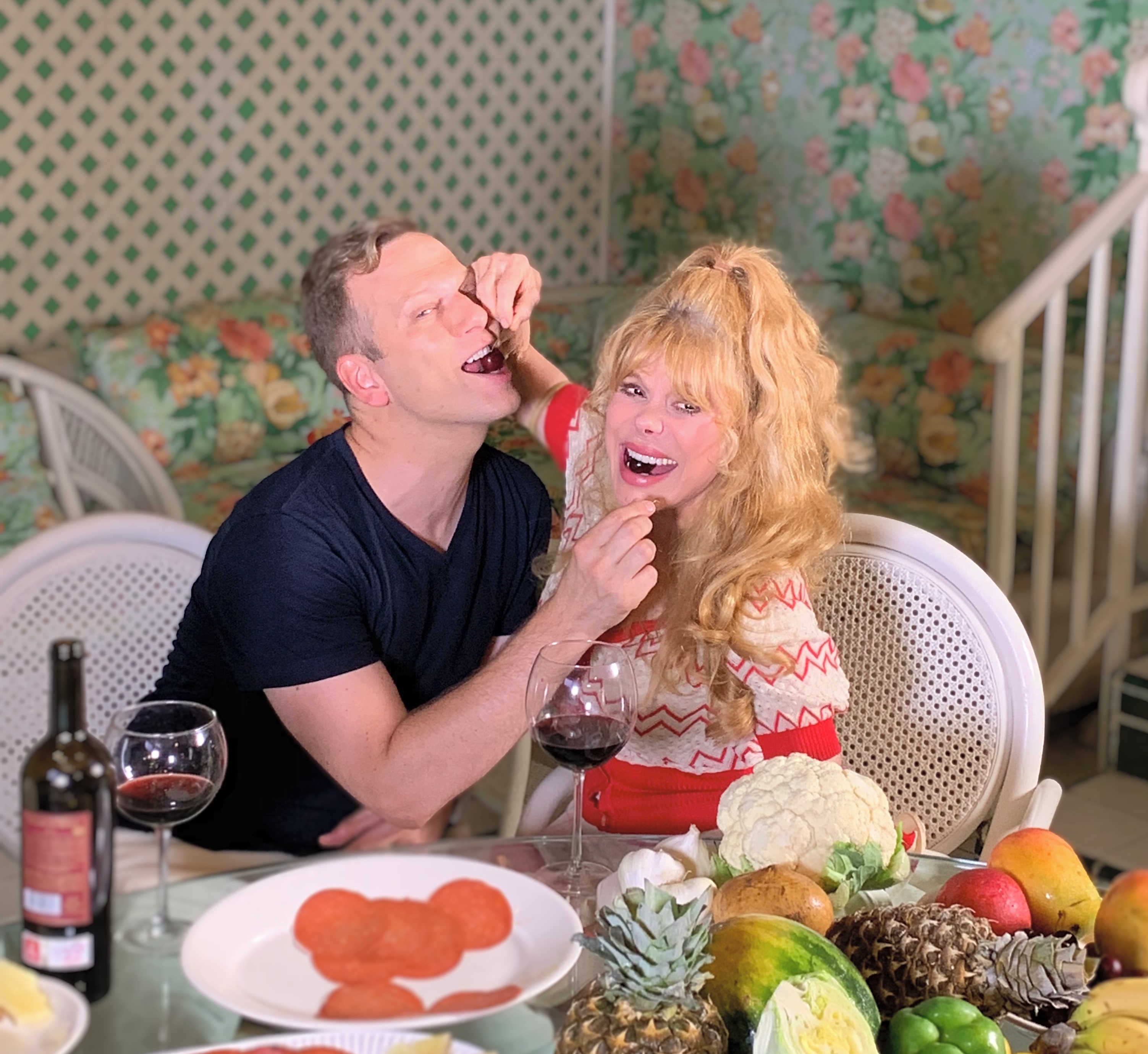 Brace yourself! There is a lot you don't know about Charo's hair! Listen, learn – and laugh your ass off – all along the way!
I got to visit Charo at her home just a week ago (I've known her wonderful family for many years) and we started out chatting about food (which explains all the tapas on the table!) But not so shockingly, we got sidetracked! This conversation about her hair had me laughing until I was crying!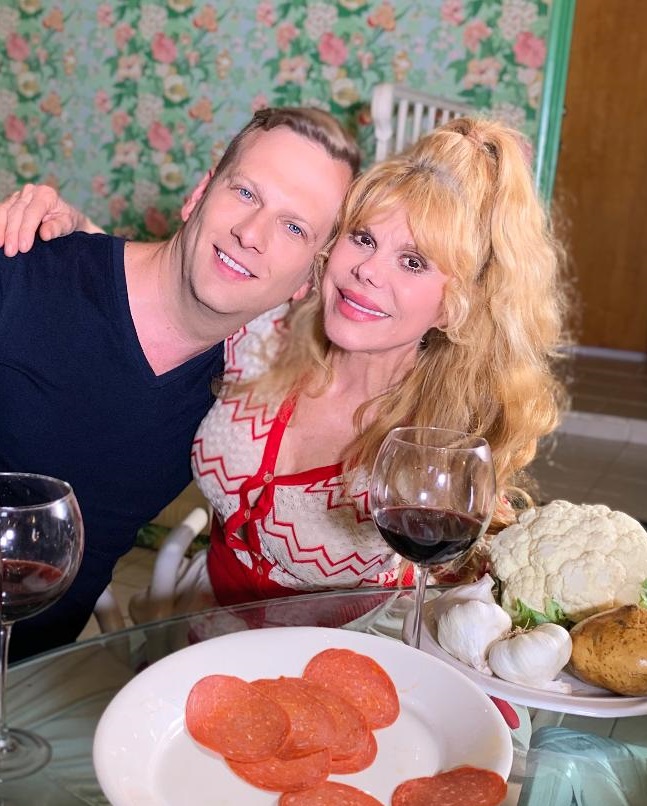 Catch more chatting with charo! Follow her on Twitter!
Follow her on Instagram!
And Hey, why not follow me too! On twitter and instagram!
Lizzo Is An Icon In The Making – And Here's Why
Mirror, mirror on the wall don't say it 'cause we know Lizzo cute. And by cute I mean extremely talented, gorgeous and totally inspiring!
A few months ago I was watching The Ellen Degeneres Show when I witnessed one of the most fun, exciting and awe-inspiring performances I've ever seen. Lizzo popped onto the screen in a sparkly, pink getup and began singing what would become her big hit song, "Juice," – I was immediately hooked (more like obsessed). During this performance she also jammed out on her flute alongside her plus-sized backup dancers and suddenly I knew I had been changed forever. I did some more research on the rapper/singer and found out I had been sleeping on this gem! Lizzo has been doing bad all by her damn self for years, having already released two albums in the past. I am suddenly mad at every single person who neglected to tell me to jump on the Lizzo train sooner! If you're like me and need a bit of catch up, I'm going to break down exactly why you need to know this icon in the making.
You can throw a stone in any direction and hit a triple threat nowadays. Lizzo's brings talents we have yet to see in the mainstream music industry.
If singing, rapping and dancing make Lizzo a triple threat, what does flute playing making her?!? A STAR THAT'S WHAT! Lizzo has displayed her abilities as a talented flautist, which is not an instrument you would necessarily think of in conjunction with the rap genre making this talent all the more extraordinary. Lizzo even used her flauting skills to compete (and defeat IMO) with Ron Burgundy. Not Will Ferrell, but Ron Burgundy.
Oh, and she can also twerk while playing the flute. 
As if playing the flute wasn't impressive enough, Lizzo can also twerk while playing. I really hope some high school kid is deciding to take band just so he/she can flutwerk their way around campus like their fav flautist, Lizzo.
Lizzo uses her platform to inspire and raise up everyone around her.
Lizzo uses her voice for more than just creating fire music, ya know. She uses her platform to defend the belief that beauty comes in all shapes and sizes. Her Twitter is filled with positivity and strong messages about acceptance.
MY MOVEMENT IS FOR EVERY 🗣BODY. IM LEAVING NO ONE EXCLUDED. "GOOD FATTYS" AND "BAD FATTYS" AND ANYONE ELSE WHO WANTS TO JUST FUCKING LIVE ARE WELCOME. NO TERMINOLOGY NO IDEOLOGY JUST FUCKING HAPPY PEOPLE IN MY MOVEMENT.

— |L I Z Z O| (@lizzo) March 4, 2019
Uhm…she's straight up gorgeous. 
We cant forget to mention that Lizzo is a straight up beauty queen. She is known to switch up her look but I've never seen a bad pic of this queen. To solidify my point, she is now officially the first, plus sized black woman to be featured in Playboy magazine!
Move over Avenger's, Lizzo has been in a comic book too!
Ok indulge the nerd in me on this one…Lizzo was even featured in a comic book!!! That's right, she has become so influential that even Marvel comics wanted a piece of the Lizzo-pie. Check out this shout-out in Unstoppable Wasp #4!
MY MOVEMENT IS FOR EVERY 🗣BODY. IM LEAVING NO ONE EXCLUDED. "GOOD FATTYS" AND "BAD FATTYS" AND ANYONE ELSE WHO WANTS TO JUST FUCKING LIVE ARE WELCOME. NO TERMINOLOGY NO IDEOLOGY JUST FUCKING HAPPY PEOPLE IN MY MOVEMENT.

— |L I Z Z O| (@lizzo) March 4, 2019
So now that you have become as obsessed as I have, you are probably wondering how you can get even more Lizzo in your life. Well lucky for you, her new album dropped TODAY! Her third studio album, Cuz I Love You, is available anywhere you listen to music and let me tell you, YOU WILL LOVE IT. The album is varied and showcases all of Lizzo's incredible range with some songs being upbeat and funky, and others being slowed down and heart wrenching. For a taste of what to expect, click below to listen to the title track of the album. If the new album still doesn't satisfy the hunger for more Lizzo, she's also on tour! You can click here for more info on tour dates.
Oh Lizzo…you are most definitely 100% that bitch.  
Like what you read? Follow @ChrisSiretz on Twitter and Instagram