POP INTERVIEW: "Parks and Recreation" Actress Mara Marini
"I'm not a porn star; I just play one on TV," reads Mara Marini's Twitter bio.
"I'm not a porn star; I just play one on TV," reads Mara Marini's Twitter bio. Miss @popgloss has more to her than meets the perfectly made-up eye on set. Before she went online and found popularity on NBC's Parks and Recreation, where her character ran for city council, she worked on underground horror movies and studied at the American Academy of Dramatic Arts.
Did you ever feel like you were typecast in the indie horror genre before "Parks and Recreation?" How did you make the transition into comedy?
I don't know if it was necessarily "typecast"…it was more of people I had worked with on previous projects calling me in and casting me in their projects…which happened to be horror films at that time. ::laughs:: I do have a really awesome scream…I think that's what landed me my first one. There was a good chunk of time there where I was always either getting covered in or spitting up fake blood.
I've always loved comedy and I was in a couple of indie comedy films and a bunch of webseries, commercials, theatre and promos. I did standup for a bit of time and have trained at UCB and Groundlings. I'd always wanted to audition for "Parks and Recreation," because I love that show. At the time, I didn't have any representation, so I went to a workshop that the casting director, Dorian Frankel, was holding. After that, I'd submitted on a few roles that were kind of my type and thankfully I was called in to audition for Brandi Maxxxx.
How does someone work on his or her scream so you they become mute? You do a lot of screaming in your early work. I forgot, but saw it on TV once for a special on "I Know What You Did Last Summer" about how there's a technique for your voice.
I have taken a lot of musical theatre and voice and speech classes over the years, but I've also been perfecting my scream since I was a little girl (much to my parents' chagrin). Breathe deep and let it come from your diaphragm. It's slightly hard to describe…but I'm sure if I did it all the time I'd be mute. Thankfully, they usually get it after a couple takes. I can show you sometime…just bring earplugs. 😉
A while back when you were filming pilots, how did you keep your hopes up with the odds against you? Why do you think good actors don't give up easily?
Well, I've honestly wanted to be an actress since I was four years old. (Except for a brief dalliance where I wanted to be a dolphin trainer.) I grew up in Winnipeg, Canada and there wasn't too much going on — film/tv wise — at the time. When I was six, I started memorizing the part of Viola in Twelfth Night from my Mum's huge Shakespeare book…so my parents finally let me enroll in acting classes. I've been hooked ever since. I think that if nothing makes you happier and it's really about the joy of it rather than money or fame – all you know is to just keep going. Jennifer Coolidge and Adam Scott actually spoke at my graduation from AADA (American Academy of Dramatic Arts) and they said half the battle is persistence. I know a lot of my classmates and friends I started out with have moved on to other things. I just can't really imagine doing anything else and being fulfilled. 🙂 My parents always taught me to do what you love because life is just too short.
For "Parks and Recreation," you did not think much of your initial audition. What does this say about how we perceive ourselves?
When I got the audition I was bouncing off the walls…I was just so excited to be auditioning for the show. I felt like I "had it" before I went in – I just felt really good about it. Then I auditioned and I felt like I did okay – but I definitely didn't "rock it" like I did in my bathroom mirror. I didn't expect to hear anything back…and then I booked it! I was shocked…and screamed very loudly when I got the news. 🙂
Why do you think you made a convincing porn actress?
Haha…I'm not entirely sure how to answer that. I think above all, Brandi is a real person. She's eager, genuine and has a heart of gold. I believe she ran for city council in season four because she does have lofty ambitions. What she does for work is just business – "another day at the office". Even though some people might look down on the industry, she doesn't really acknowledge any negativity because she is proud of her hard work. She really likens herself to Leslie and is a strong female character. The show has such phenomenal hair, makeup, wardrobe and art departments that add so much richness to the characters as well.
How would someone prepare for this role? Method acting seems implausible. It isn't like you could go make a XXX movie without any career backlash. Did you meet up for lunch with real adult stars?
I've always thought that industry was fascinating and I've watched a lot of interviews and documentaries, read some books and met a couple people in the industry. The ones I met were very kind and genuine. If you had to play a heroin addict – I'd hope you wouldn't go do a bunch of heroin. Its all about research and bringing your own experiences and life into the character.
On Twitter, you write about things like Costco. You use social media a fair amount in a natural tone. It's nice seeing someone who isn't strictly talking about promotional topics. Do you ever feel like life is better with Twitter? Or do you wish an acting career would have more secrecy like the 1940s?
I adooooore Twitter! I joined in January 2007 and thought it was an amazing concept. All my friends thought I was nuts and three years later they were all on it. If you ask any of my close friends, they all originally heard about Twitter through me. ::laughs:: Twitter even sent me some official "I'm wearing my Twitter shirt" shirts in the mail when I first started. I'm a pretty open person…there's something about that openness of sharing and interacting that I really enjoy. I've met some amazing people and friends off of it too!
You were asked in another interview about your favorite words. It's amazing when you have done a lot and all someone can muster is, "Gee, what are your favorite words?" So on a greater scale off that article relating to your job, how do you make sure people are listening to you when you go on an audition? How do you make people aware of yourself as a strong actress? And how can any of us who might not be up against you for a role do the same?
Thank you. I try to go in as prepared as possible. Even though I tend to naturally be/talk a bit fast/peppy – I try to take my time and not rush. I hope that the training and preparation serve me in the room and I just try to relax and have fun…because ultimately that's what it's all about.
What's next for you? What are your career goals?
I have been writing a lot and collaborating with some very talented people, so I'm really excited so see where that goes. I just finished a fun little series with break.com called "Inside Dating," which was a funny advice-driven melange on online dating – a lot of "what not to do" for men. We ran it through the month of April and are talking about making it a more permanent fixture. I have a lot of funny stories that I've compiled. I may start doing some more standup and trying out some new material. I also hope I get asked back to "Parks and Recreation" this season – I just adore everyone over there – they are so amazing and the writing is so fantastic. It is literally the best time ever. As far as career goals down-the-line go, I'd love to be a series regular on a comedy television series. And…I've always wanted to have my own show. One day. Fingers crossed. 😉
Ina Garten Makes The Perfect Quarantine Cocktail In Funny Video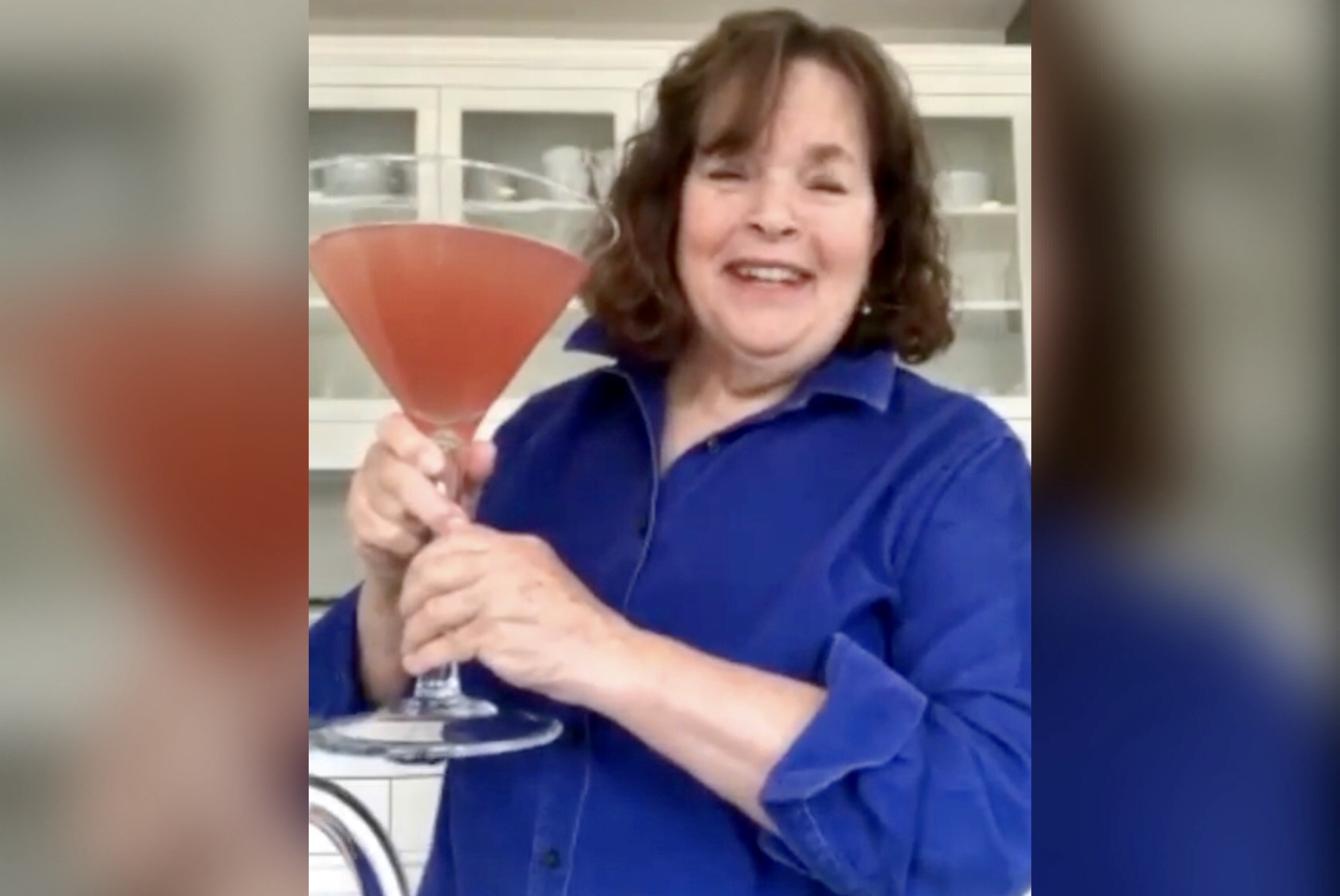 If the Barefoot Contessa says any hour is cocktail hour then who are we to argue?!
Ina Garten, The Barefoot Contessa herself, took to Instagram to "keep tradition alive" during these stressful, isolated times. What tradition is she most concerned with? One near and dear to all of us of course, cocktail hour! In the two-minute video, Ina gives a tutorial on how to whip up a batch of her favorite cosmopolitans. We all watch the contessa for her signature brand of calm speaking tones and party planning panache and while this video delivers on what we'd expect, Ina throws in a couple funny jokes that you would never see coming. She begins the tutorial by instructing viewers to grab a big pitcher because "you never know who is going to stop by – wait – nobody is going to stop by." She goes on later to remind viewers that "during a crisis, you know, cocktail hour can be almost any hour."  Ina wraps up the demonstration by advising viewers to choose the right martini glass when making this drink before pulling out a giant one for herself! Look at Ina getting all loosey-grey-goosey with us!
Enjoy any-hour happy-hour and check out the funny video below!
Like what you read? Follow me on Instagram
'Will & Grace' Star, Leslie Jordan, Has The Funniest Instagram Account Ever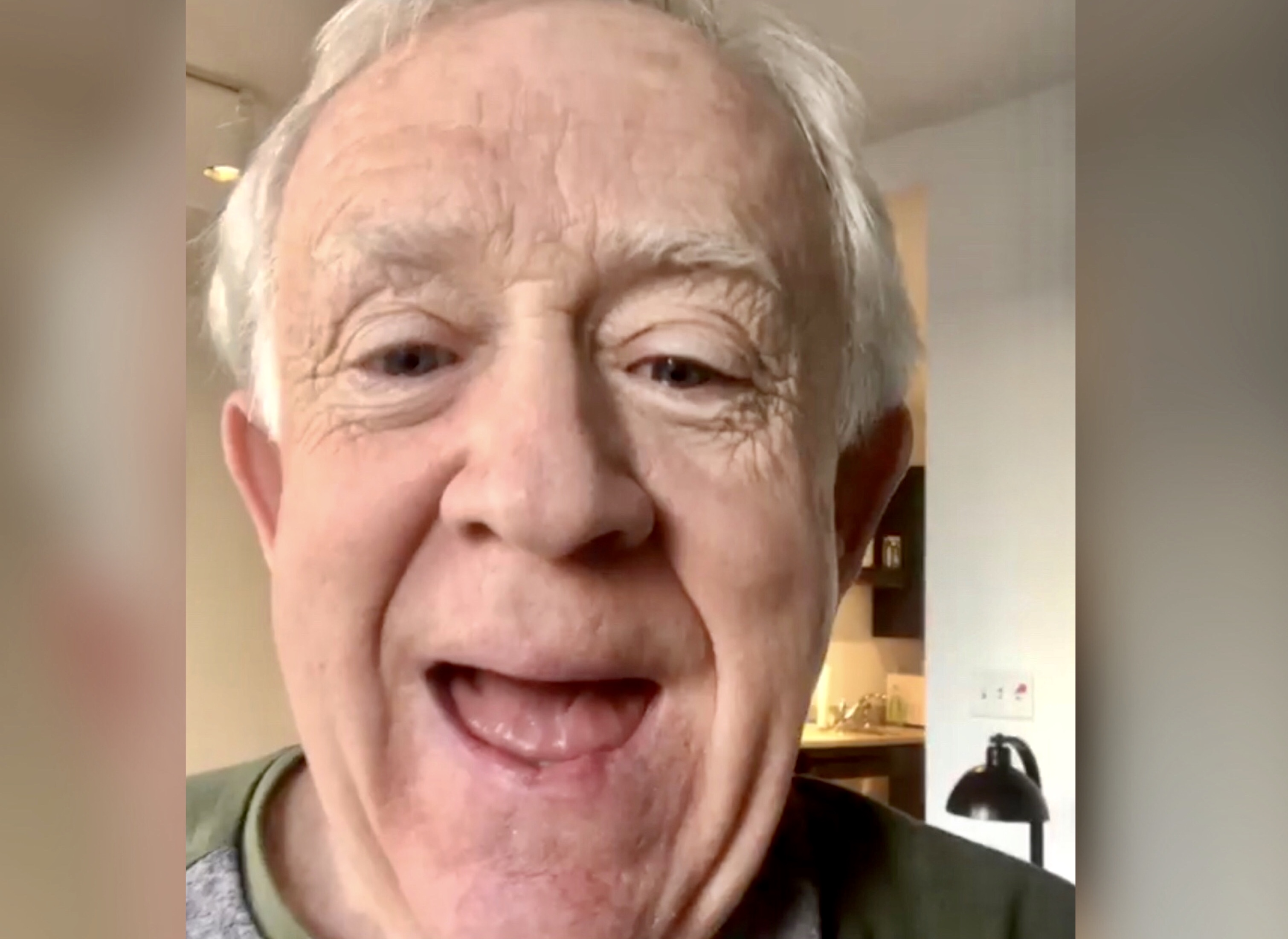 "Well, well, well…if it isn't Beverly Leslie."
Any sitcom-lover will instantly recognize Leslie Jordan as Karen Walker's vertically challenged nemesis on Will & Grace. And while he always managed to steal the scene as Beverly Leslie, the funny actor actually has quite the lengthy resume filled with all sorts of interesting roles. Well at the age of 64, Jordan may have just found his most exciting role yet…a viral video star!
Jordan chatted with Today discussing his new found internet fame. He shared that he did not even want to join social media initially but was encouraged to do so by producers when working on Cool Kids. His social media didn't become the hotspot it is now until the coronavirus pandemic however, when Jordan says he was encouraged by a friend to use his humor to bring levity to his fans. Now on his Instagram, which has grown over 400,000 followers since the quarantines were put in place, Jordan posts a bunch of hilarious content which includes stories about famous friends, tales of his flamboyant childhood and even baton twirling.
We can all use a laugh right now so do yourself a favor and check out the hilarious videos below! To keep the laughs coming be sure to follow Leslie Jordan here!
Betty White and the freezer queen.
View this post on Instagram
The over-haulin' ass.
View this post on Instagram
That time in the pokey.
View this post on Instagram
Bringing sexy back(scratch)
Beverly Leslie saves the twirl.
Like what you read? Follow me on Instagram 
Nick Lachey Rewrites Hit 98 Degrees Song Amid Coronavirus Quarantine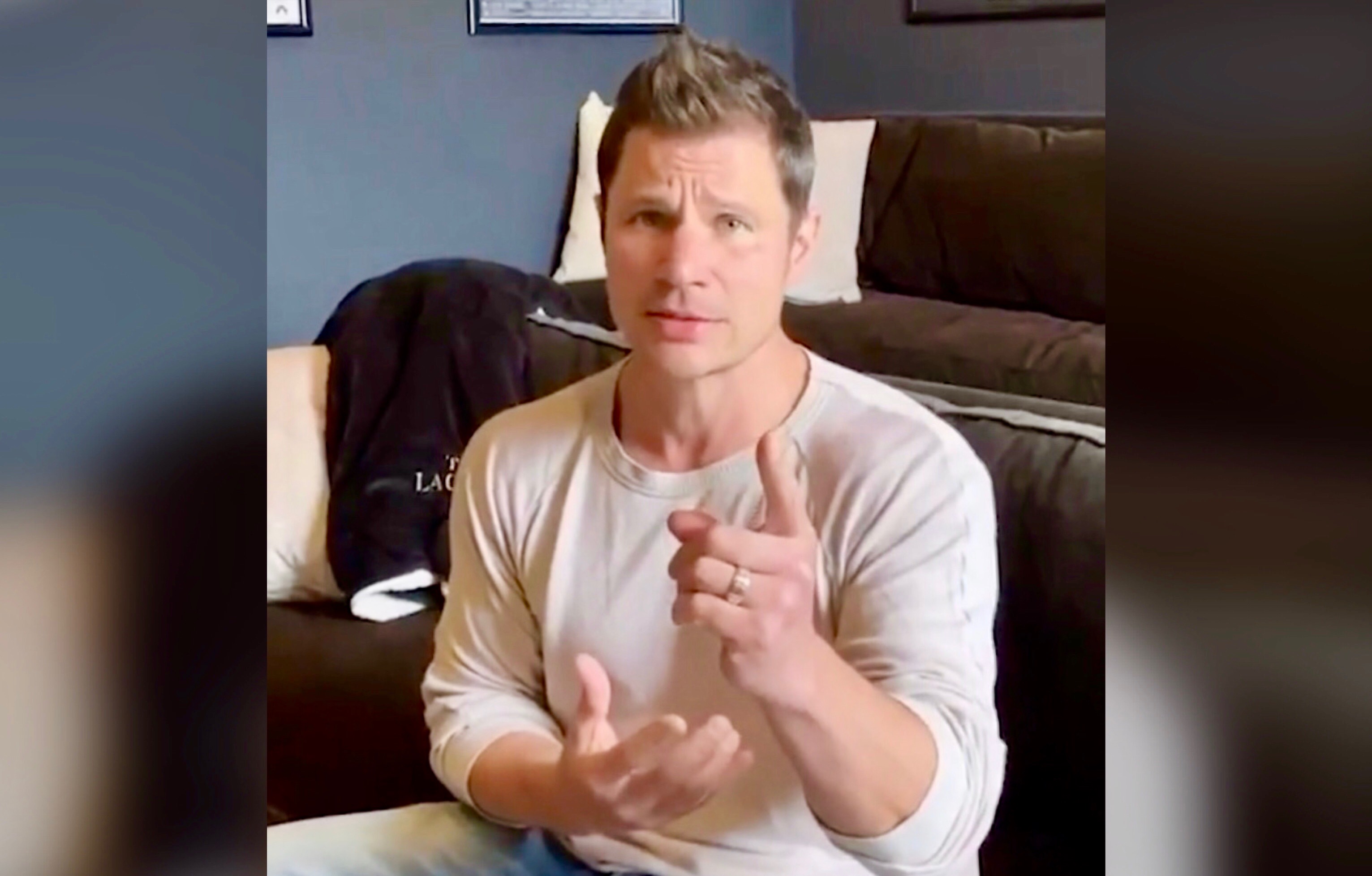 This video will remind you of two things: Nick Lachey is actually a gifted singer. And at age 46 he is still quaran-FINE!
Picture it. The year is 1998 and the boy band craze is at its peak. You turn on the radio. Your ears perk up as you hear the four beautiful men of 98 Degrees sing about the torture of having to let down their side pieces so they can try to be true to the girlfriends that love them. The word "coronavirus" has never even been uttered. It was a simpler time.
Fast forward to 2020 when it seems like you can't turn on the tv without some sort of news break interrupting your scheduled programming to warn you about the latest dangers of the viral pandemic. With the spread of the virus ever growing, celebrities have been taking to social media to urge fans to isolate themselves so we can all stay safe and healthy. Nick Lachey, 98 Degrees heartthrob and host of the new dating show Love Is Blind, is the latest Hollywood star to jump on this bandwagon.
Lachey took to Instagram to debut his updated rendition of "The Hardest Thing," the boy band's certified gold single. "Yeah, it's the hardest thing we've ever had to do. To stay stuck in our house, just watching all this bad news. It's the hardest thing we've ever had to try. To stay six feet apart when we go outside," the blue eyed beaut sings. "Nothing to do, no sports on TV. Washed my hands so much that they started to bleed. Damn this quarantine. It's the hardest thing we've ever had to do. But in the end it's worth it. Together we will get through" he continues. The video ends with Lachey reminding fans to stay safe before being jumped on by his enthusiastically adorable son.
Click below to see the full video!
View this post on Instagram
Like what you read? Follow me on Instagram