POP INTERVIEW: Tiffany Rothman on Being on Actress: Studying, Rejection and Literally, Drama
Stage actress Tiffany Rothman helps us learn what it is like being an actor before you hear your name announced at the Golden Globes.
I wanted to break with my Q&A tradition on Pop Goes the Week! to interview someone who isn't yet a household name but is striving to be one. Stage actress Tiffany Rothman helps us learn what it is like being an actor before you hear your name announced at the Golden Globes.
You're more in acting for the sake of acting, versus the glamour. How can you love a profession that doesn't pay anyone well until you "make it?"
My coach, Lenore Harris, once told me that the great Italian actress, Anna Magnani , said "All actresses are a little mad. You have to be! It's a strange fire which burns constantly and dominates you completely." I feel that the process of transforming oneself into a completely different character is wonderfully stimulating. For example, once I portrayed a character who was a madam, who had earlier been sold into prostitution as a young teenager. These sordid background circumstances were initially repellent ; but ,the actor, in the process of developing the character, must immerse herself into these circumstances in order to become the person she is portraying. This process can in turn lead to emotional, spiritual and intellectual growth in the actor.
Last but not least, Lenore also told me: "When you have a dream, a desire, a goal that is really meant to be, it gives your soul a sense that it is doing what it was meant to do. You feel "placed" on the Earth. Your reasons of choice may have psychological reasons behind them that have influenced you, that you may not even realize until later but the thing is you have found your "path" in who you are and what you want to contribute to the world. And "glamour" as you say is exciting but those are not what makes you devote your being to the acting profession."
How much of acting is facial expressions, and how much is sound?
Facial expressiveness is completely necessary for all acting. This is used to show all kinds of emotions as well as predicting the outcome of a situation. Facial expressions reveal the feelings and the thinking process of an actor. Mime movements are non- verbal;, therefore, facial as well as bodily movements must carry out the story line. Sound is extremely important. One of my greatest challenges with acting is to learn to eliminate my accent and to have better diction. I am fortunate enough to have Lenore Harris as my acting coach. An actor needs to appropriately project her voice.
When you rehearse and perform a stage play, is every performance different?
Broadly, all performances are similar; the details vary from one performance to another.
Do you ever read plays and scripts for fun? Do you have recommendations?
I do read plays and scripts outside of work. I would recommend that if a person finds it too challenging to read classics (i.e., Shakespeare) ,one should read contemporary plays such as those of Tennessee Williams, William Inge, Arthur Miller and original plays by local writers. If one's time for leisure reading is limited due to work/educational commitments, an alternative is to read brief one act plays. Since plays tend to be published in small light weight paperback books, they are quite portable (as are, of course, e-readers). For those who commute via public transportation, reading can be done during traveling time. There are many wonderful writers who are available for reading; the list of recommendations is endless.
What is a good solo way to practice acting for a totally broke person who doesn't want to or cannot afford take lessons?
If an actor refuses to take lessons, she is cheating herself. If an actor is totally broke, I would recommend her to get a job and save up money so that eventually she could afford to pay for lessons. In the meantime, the actor should read a lot of plays, perhaps try to become an usher so she can see free productions, volunteer to be a production assistant so she can learn more about theater or films and see tv shows and great movies including art films such as those directed by Ingmar Bergman and Michelangelo Antonioni . The actor must study plays, scripts, see theater and films. Films can be viewed over and over again on DVDs, You Tube and videos without incurring any significant expenses.
I'm sort of in fear of sounding depressing, but I have to ask, what is the secret of why most talented actors are unsuccessful? And why someone who is no big deal is an overnight sensation?
"Overnight sensations" are largely a myth in the acting field; the term refers to those who gain notoriety from a particular role. However, in most instances, the actor has been working for a while without achieving public notice. Acting is a business and like every other business it involves the marketing of a product. In this case, the product is the actor. Most actors who have achieved success have gone through an earlier stage when they worked in obscurity.
Acting, at one level, needs to be regarded as a business because possessing talent is only one small aspect of what may culminate in success. The actor needs to market herself and be able to work well with others and to be realistic about choices that have to be made. Those who do achieve success often tend to have a strong support system such as parents/relatives who are willing to invest time, effort and money in furthering the actor's career. Take the example of a medical doctor. The more successful ones that I know tend to have attended very good schools. One of my doctors (a dermatologist) told me that he had attended an elementary school and a high school that were both quite rigorous. Because this was all he experienced, he had become accustomed to being required to satisfy high standards and thought that this was normal. Then , when he went to college and medical school, he claimed that he had an easier time than most of his peers. He was able to enter the field of dermatology because of his academic success. Another dermatologist told me that she received a master degree in medicine in England and that helped her to achieve her position. Of course, their parents thoroughly supported their education.
What are your next goals as an actress?
I will keep on studying acting with my wonderful coach Lenore Harris and will continue to acquire additional skills through belly dance training and movement in drama from Isadora Duncan International Institute. I will also try to market myself and to continue acting in the theater productions. In addition, I am doing my doctorate in counseling psychology. My thesis is based on a play that I was in called "Flowers : A Thorny Romance". It is about domestic violence. I will be trained as a volunteer for a domestic shelter . Hopefully, I can provide some healing to others.
HILARIOUS VIDEO: This Man's Wheel Of Fortune Introduction Will: A) Make him a viral star. B) Lead to a divorce. C) Potentially both.
Blair Davis started out nice enough. Then he was asked about his family…

We appreciate a stark sense of humor. 😅 Last night's contestant Blair had us all laughing. pic.twitter.com/jwVXHSNWH0

— Wheel of Fortune (@WheelofFortune) October 15, 2019
He's clearly kidding, but ouch!
"I've been trapped in a loveless marriage for the last 12 years to an old battle-ax named Kim. She cursed my life with three stepchildren: Star, RJ, and Ryan, and I have one rotten grandson."
I'm sure this family loves his crazy sense of humor, and Wheel Of Fortune scores a great PR moment.
The College Admissions Scandal Now Has A Sexy Halloween Costume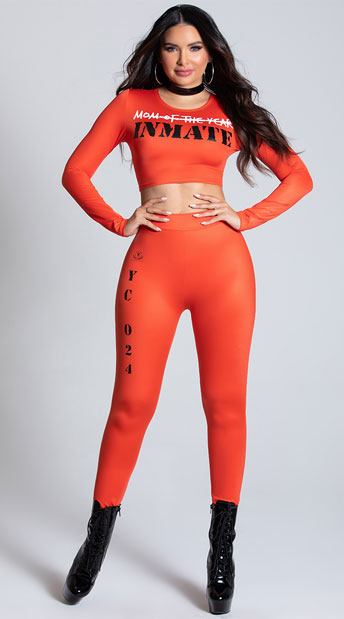 If there's one thing we can expect each year, it's that a current news story will be translated into a comical Halloween costume. In this case, the college admissions scandal did not go unnoticed by costume maker Yandy, who knows a thing or two about creating  sexualized costumes based on news events. Check out the costume being branded as "YANDY COLLEGE SCANDAL COSTUME."
A take on the mothers involved in the scandals (Felicity Huffman has already been sentenced, and Lori Loughlin awaits her hearings) the outfit is a tight fitting prisonwear look. A sleek reddish orange crop top reads "INMATE" with "Mom of The Year" crossed out.
Currently 69.95, the company also knows how to get PR!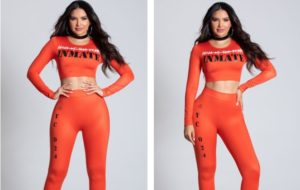 Kygo and Whitney Houston's "Higher Love" Video is Full of 80's Fun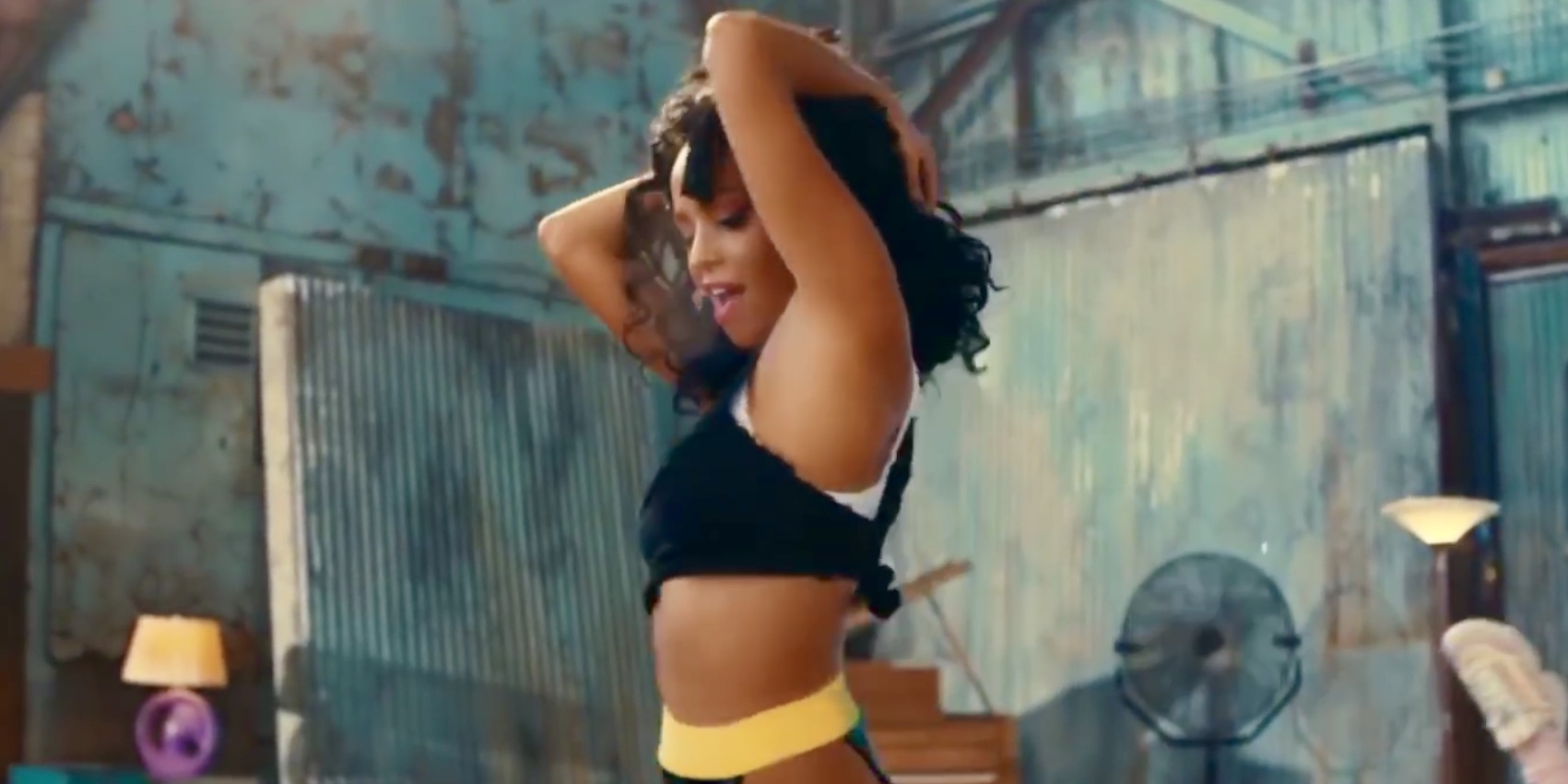 An eighties inspired dance number, a gorgeous ensemble, and the incomparable Whitney Houston come together for a fun flashback in the new video!
Houston had often performed Steve Winwood's "Higher Love" during her concert tour, and recorded the song thirty years ago. This summer, a new version re-mixed by Kygo hit the top of the dance charts.
The video stars Vanessa Morgan and Mason Cutler, both of whom are absolutely stunning to look at. See for yourself!