POP INTERVIEW: Tiffany Rothman on Being on Actress: Studying, Rejection and Literally, Drama
Stage actress Tiffany Rothman helps us learn what it is like being an actor before you hear your name announced at the Golden Globes.
I wanted to break with my Q&A tradition on Pop Goes the Week! to interview someone who isn't yet a household name but is striving to be one. Stage actress Tiffany Rothman helps us learn what it is like being an actor before you hear your name announced at the Golden Globes.
You're more in acting for the sake of acting, versus the glamour. How can you love a profession that doesn't pay anyone well until you "make it?"
My coach, Lenore Harris, once told me that the great Italian actress, Anna Magnani , said "All actresses are a little mad. You have to be! It's a strange fire which burns constantly and dominates you completely." I feel that the process of transforming oneself into a completely different character is wonderfully stimulating. For example, once I portrayed a character who was a madam, who had earlier been sold into prostitution as a young teenager. These sordid background circumstances were initially repellent ; but ,the actor, in the process of developing the character, must immerse herself into these circumstances in order to become the person she is portraying. This process can in turn lead to emotional, spiritual and intellectual growth in the actor.
Last but not least, Lenore also told me: "When you have a dream, a desire, a goal that is really meant to be, it gives your soul a sense that it is doing what it was meant to do. You feel "placed" on the Earth. Your reasons of choice may have psychological reasons behind them that have influenced you, that you may not even realize until later but the thing is you have found your "path" in who you are and what you want to contribute to the world. And "glamour" as you say is exciting but those are not what makes you devote your being to the acting profession."
How much of acting is facial expressions, and how much is sound?
Facial expressiveness is completely necessary for all acting. This is used to show all kinds of emotions as well as predicting the outcome of a situation. Facial expressions reveal the feelings and the thinking process of an actor. Mime movements are non- verbal;, therefore, facial as well as bodily movements must carry out the story line. Sound is extremely important. One of my greatest challenges with acting is to learn to eliminate my accent and to have better diction. I am fortunate enough to have Lenore Harris as my acting coach. An actor needs to appropriately project her voice.
When you rehearse and perform a stage play, is every performance different?
Broadly, all performances are similar; the details vary from one performance to another.
Do you ever read plays and scripts for fun? Do you have recommendations?
I do read plays and scripts outside of work. I would recommend that if a person finds it too challenging to read classics (i.e., Shakespeare) ,one should read contemporary plays such as those of Tennessee Williams, William Inge, Arthur Miller and original plays by local writers. If one's time for leisure reading is limited due to work/educational commitments, an alternative is to read brief one act plays. Since plays tend to be published in small light weight paperback books, they are quite portable (as are, of course, e-readers). For those who commute via public transportation, reading can be done during traveling time. There are many wonderful writers who are available for reading; the list of recommendations is endless.
What is a good solo way to practice acting for a totally broke person who doesn't want to or cannot afford take lessons?
If an actor refuses to take lessons, she is cheating herself. If an actor is totally broke, I would recommend her to get a job and save up money so that eventually she could afford to pay for lessons. In the meantime, the actor should read a lot of plays, perhaps try to become an usher so she can see free productions, volunteer to be a production assistant so she can learn more about theater or films and see tv shows and great movies including art films such as those directed by Ingmar Bergman and Michelangelo Antonioni . The actor must study plays, scripts, see theater and films. Films can be viewed over and over again on DVDs, You Tube and videos without incurring any significant expenses.
I'm sort of in fear of sounding depressing, but I have to ask, what is the secret of why most talented actors are unsuccessful? And why someone who is no big deal is an overnight sensation?
"Overnight sensations" are largely a myth in the acting field; the term refers to those who gain notoriety from a particular role. However, in most instances, the actor has been working for a while without achieving public notice. Acting is a business and like every other business it involves the marketing of a product. In this case, the product is the actor. Most actors who have achieved success have gone through an earlier stage when they worked in obscurity.
Acting, at one level, needs to be regarded as a business because possessing talent is only one small aspect of what may culminate in success. The actor needs to market herself and be able to work well with others and to be realistic about choices that have to be made. Those who do achieve success often tend to have a strong support system such as parents/relatives who are willing to invest time, effort and money in furthering the actor's career. Take the example of a medical doctor. The more successful ones that I know tend to have attended very good schools. One of my doctors (a dermatologist) told me that he had attended an elementary school and a high school that were both quite rigorous. Because this was all he experienced, he had become accustomed to being required to satisfy high standards and thought that this was normal. Then , when he went to college and medical school, he claimed that he had an easier time than most of his peers. He was able to enter the field of dermatology because of his academic success. Another dermatologist told me that she received a master degree in medicine in England and that helped her to achieve her position. Of course, their parents thoroughly supported their education.
What are your next goals as an actress?
I will keep on studying acting with my wonderful coach Lenore Harris and will continue to acquire additional skills through belly dance training and movement in drama from Isadora Duncan International Institute. I will also try to market myself and to continue acting in the theater productions. In addition, I am doing my doctorate in counseling psychology. My thesis is based on a play that I was in called "Flowers : A Thorny Romance". It is about domestic violence. I will be trained as a volunteer for a domestic shelter . Hopefully, I can provide some healing to others.
Wendy Stuart Kaplan Knows How To Party – Now She's Throwing An Epic One Of Her Own!
Wendy Stuart Kaplan knows her way around a party. In her book, 'She's The Last Model Standing," she wrote about her headline grabbing days at Studio 54, and now throws more than a few of her own. The latest is her "Reading For Filth" and her birthday extravaganza, where she, hosts Eileen Dover and Nick Lion and others (including yours truly!) will perform a collection of wildly entertaining essays, poems, comedic rants and more. The kind of person who is so 'on the go' you get exhausted just thinking about it (she, however, does not) I caught up with her as she was taking a break between a radio show, a modeling job and a party tonight. If you want to catch up with Wendy, you have to be flexible… she's probably got a full schedule that day! Her party this Friday is one that will not only celebrate a wildly varied and entertaining life, but also celebrate the spoken word from a variety of performers.
Anyone who's ready your book "She's The Last Model Standing" knows you've been partying since studio 54 – when did you first realize you were a party girl?
I first realized when I came back to New York after college! I wasn't until then, because there was no good place to party.
Where did you go to school?
SUNY Binghamton where I majored in anthropology – and then I went to Nigeria! I definitely enjoyed partying eventually, but back then I really, really wanted to go to Africa, which I did! I have gone back often, most recently to work on my documentaries.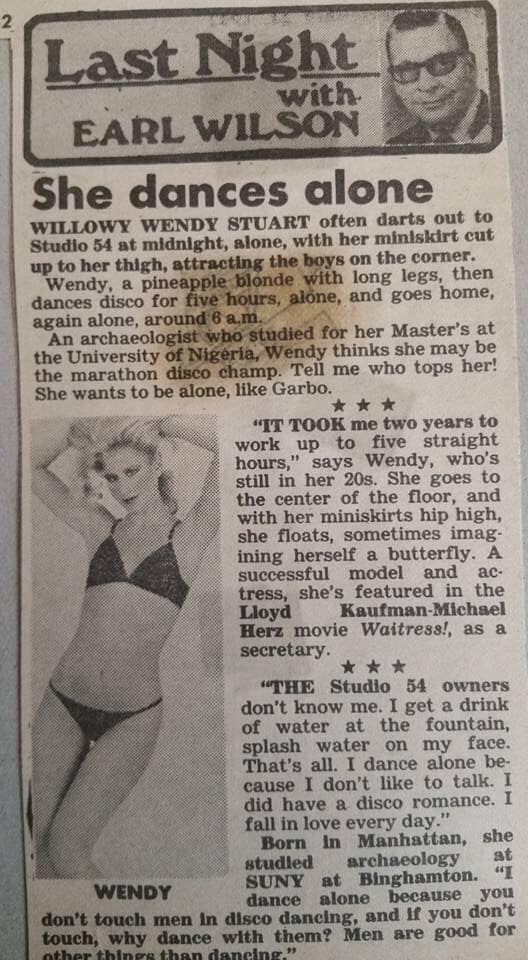 That's wild! But it's not surprising to hear of that passion since you make films about wildlife conservation there. But your festive side eventually DID come out! We all know you now as a social butterfly! Whether you're at a party, or working a film premiere – but were you as confident and comfortable in the spotlight as a kid as you are now?
I was an oddball kid. I had two things: I had my friends in the Bronx, and the ones that I had in school and they didn't mix all that well. I loved growing up there, that was home – but I remember as a kid I would get stomachaches before parties! How weird is that? Until you asked me I had forgotten all about that.
What were you worrying about?
Social pressures – what if nobody talks to me – oh my god, I'm not pretty. I had a short mop of brown hair because my mom thought I looked better with short hair, and I had chubby cheeks. I didn't love that look. I used to put on wigs as a kid and imagine myself with long blonde hair!
And here we are!
Here we are, right? Long blonde hair. I morphed into it. I'm totally self made!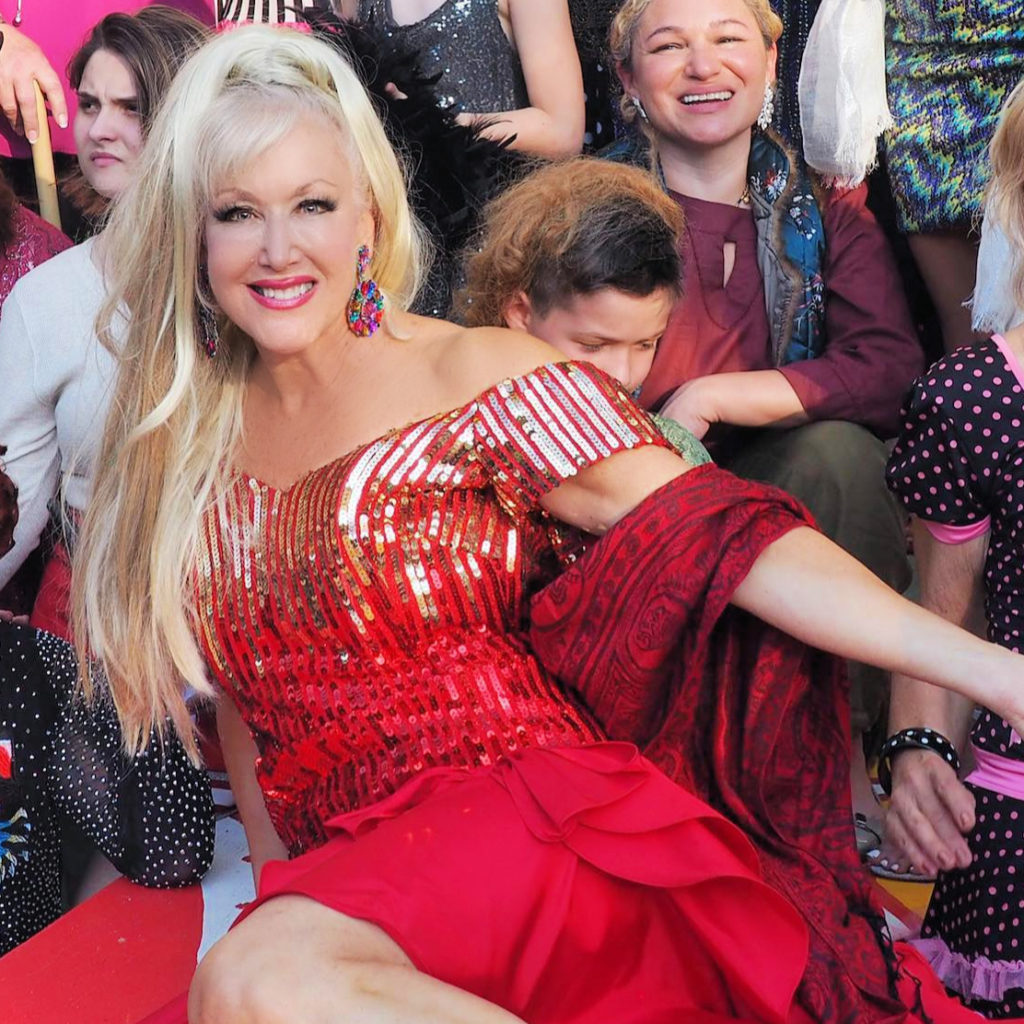 Tell me more about Reading for Filth – your event this Friday at Club Bedlam.
Reading for Filth came about when Brian Butterick, also known as Hattie Hathaway, used to have these events. One had the byline, "low rent reading for a high rent city." Reading for filth is an expression for 'I'm going to read you to filth,' as in, "I'm gonna tell you what I really think." The performers would do a reading of their choice. Something personal, maybe about an old boyfriend, or something someone else wrote, and they'd get up and read it in front of a room. At the last one we had, Michael Musto read from Suzanne Somers' poetry book. I didn't even know she wrote poetry… here the same person who wrote about African violets is also behind the Thighmaster! Brought me to tears! I imagine her thighs going back and forth as she sits next to a table with a sole African violet in its little pot, which inspired her to write the poem.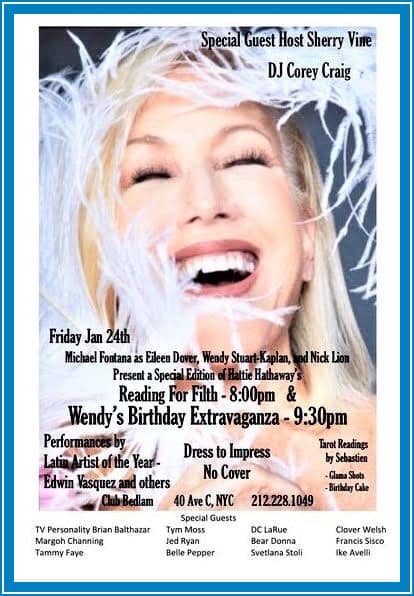 The reason we chose to open my birthday party with it is, when Hattie passed away, my friend and partner in crime Michael Fontana (Eileen Dover) really wanted to keep it going. We say it's such a downtown New York thing but it's a New York thing. It's a nationwide thing. Think about what's hot right now: storytelling. And here we have had Reading for Filth going on long before all that other stuff. Brian Butterick had been doing it for six to ten years. He was very ahead of his time. We brought it back this past year.
You love people and being around them, entertaining them, but you also love your home life – please describe your NYC living situation. You have a beautiful place… but describe your roommates.
Well, we will have to go back about 30 years when I got my first rabbit. I haven't lived without one for 30 years, so when one dies I always have one in the wings. Fast forward to now, we always have two rabbits. It's nice if they have another rabbit to hangout with. Also, 33 years ago we got a baby cockatoo, named her Louise, fed her formula, and she is now hanging out with me in my living room. Did I also mention our blue merle chihuahua?
In my New York apartment everyone is loose. No one is caged. Everybody is trained to go on those wee-wee pads you buy for dogs, and everybody goes on a wee-wee pad including the rabbits… but not the dog.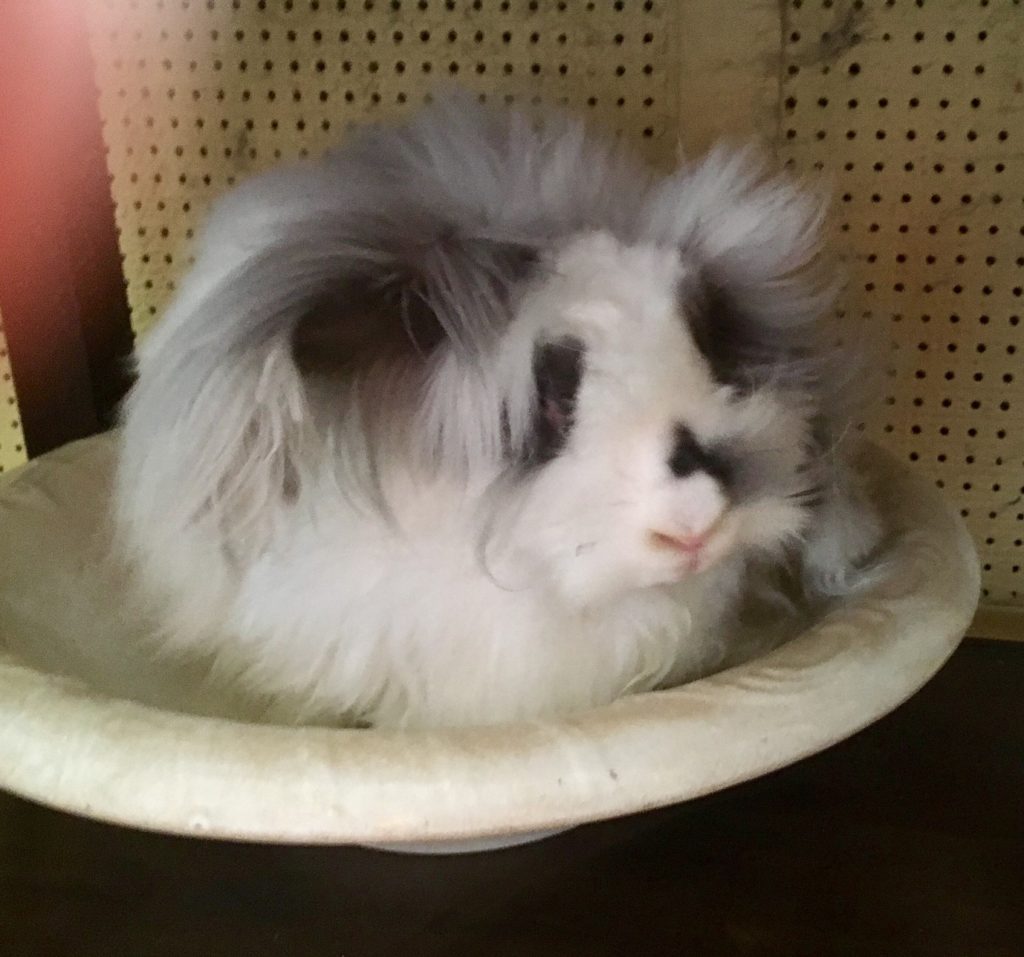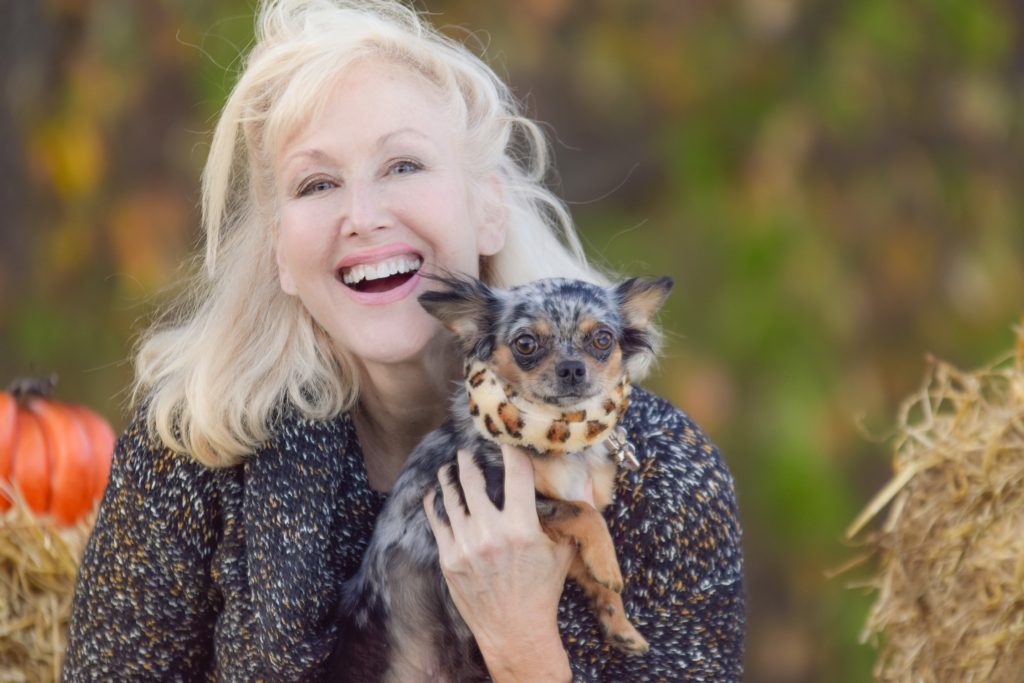 You know how to party – we know that – your wedding was no exception…describe your epic wedding.
So my wedding was 32 or so years ago. I should know that! Alan (a renowned photographer) and I got married in our huge loft, and you had to come dressed as members of a bridal party. It was on Halloween – you could be a bride, or a groom or a bridesmaid. The only problem was a lot of people thought it was a costume party and not an actual wedding. So we had people dressed as bridesmaids with five o'clock shadows and brides with full beards. They thought this was just going to be a big loft party – because we always gave huge parties – and not a wedding. But it was actually our wedding. I didn't get many gifts because no one took it seriously. I won't make that mistake again!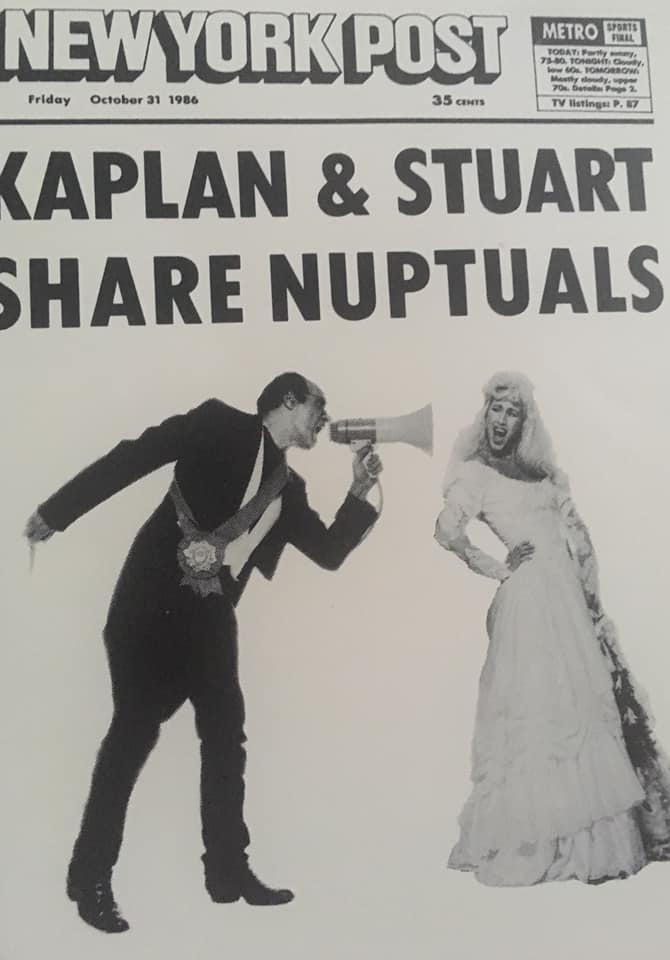 You've been modeling since you were in your twenties – what's the best thing anyone can do to look and feel like a model whether they're walking down the street or working it in the office?
You have to know who you are. What's your style? What makes you feel good? What floats your boat? When you put on a certain dress how does that make you feel? Don't go with trends, go with what you're attached to! Listen to your inner fashionista. And you know what? We all have that.
Reading For Filth is open to the public this Friday at 8pm at Club Bedlam, 40 Avenue C, NYC. For more on Wendy visit her book's Facebook page, her personal facebook page, or her instagram.
Visit her website, and buy her book on amazon!
All 18 of the BAFTA Acting Nominees Are White, All Directing Nominees Are Male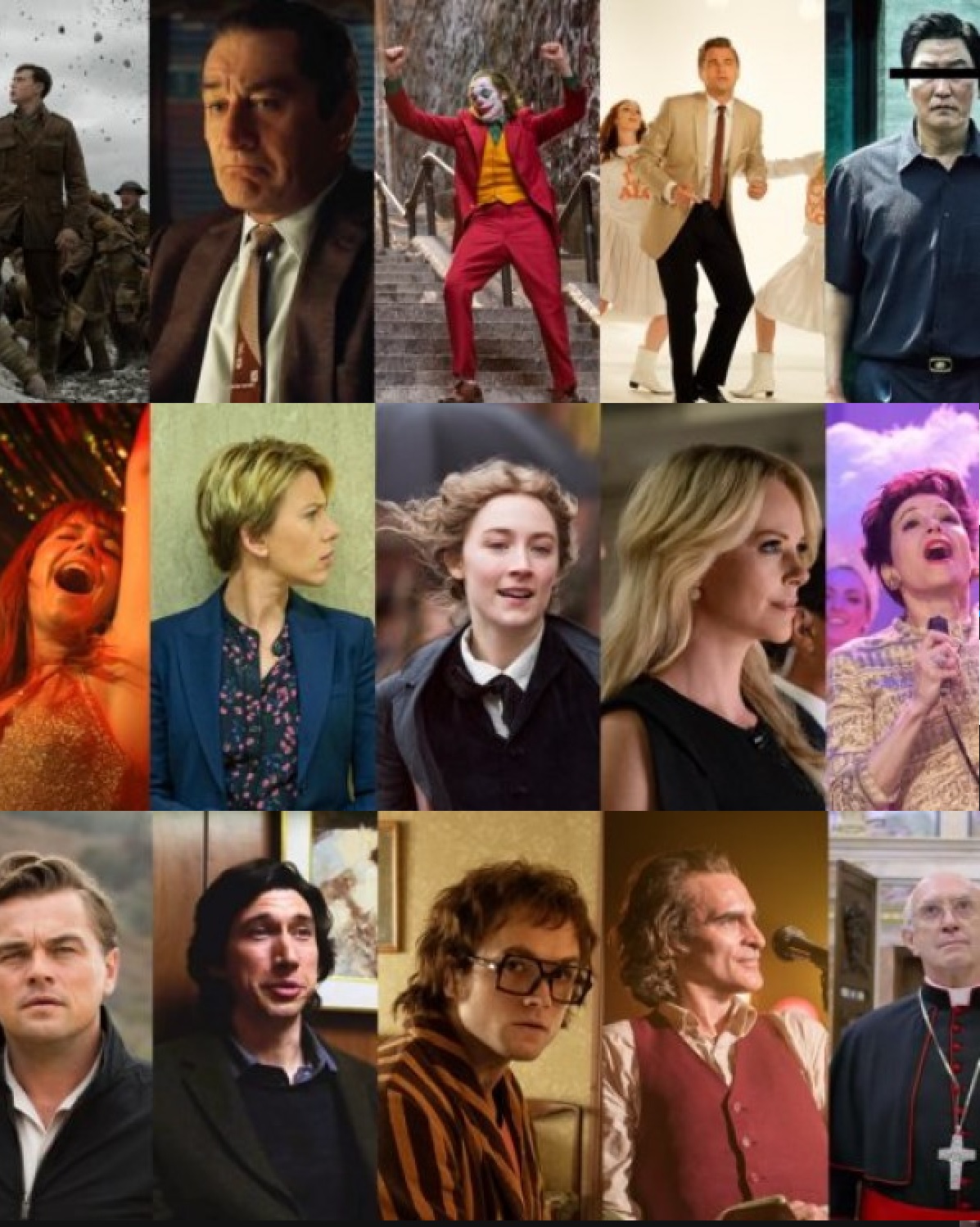 "Joker" is the one to watch at the upcoming BAFTAs, but if you're looking for diversity and female directors, sadly you'll have to look somewhere else. All the acting nominees are white, and all the directors are male.
Led by a lead actor nomination for Joaquin Phoenix, "Joker" received 11 nominations for Britain's equivalent to the Oscars, competing with familiar Golden Globe nominees Taron Egerton, "Rocketman,"  Leonardo DiCaprio for "Once Upon a Time … in Hollywood," Adam Driver for "Marriage Story," and Jonathan Pryce for "The Two Popes."
Renée Zellweger leads the nominations for the best actress category for her role in "Judy," alongside Jessie Buckley,  "Wild Rose," Scarlett Johansson, "Marriage Story," Saoirse Ronan, "Little Women," and Charlize Theron for "Bombshell."
Here are the other notable highlights:
See the full nomination page HERE.
11 nominations for Joker
10 nominations for The Irishman and Once Upon a Time… in Hollywood
Nine nominations for 1917
Six nominations for Jojo Rabbit
Five nominations for Little Women, Marriage Story and The Two Popes
Four nominations for For Sama, Parasite and Rocketman
Three nominations for Bombshell, Judy, Le Mans '66 and Star Wars: The Rise of Skywalker
The ceremony will be held on Feb. 2 at the Royal Albert Hall in London.
The Best Golden Globe GIFS That Keep On GIF-ing.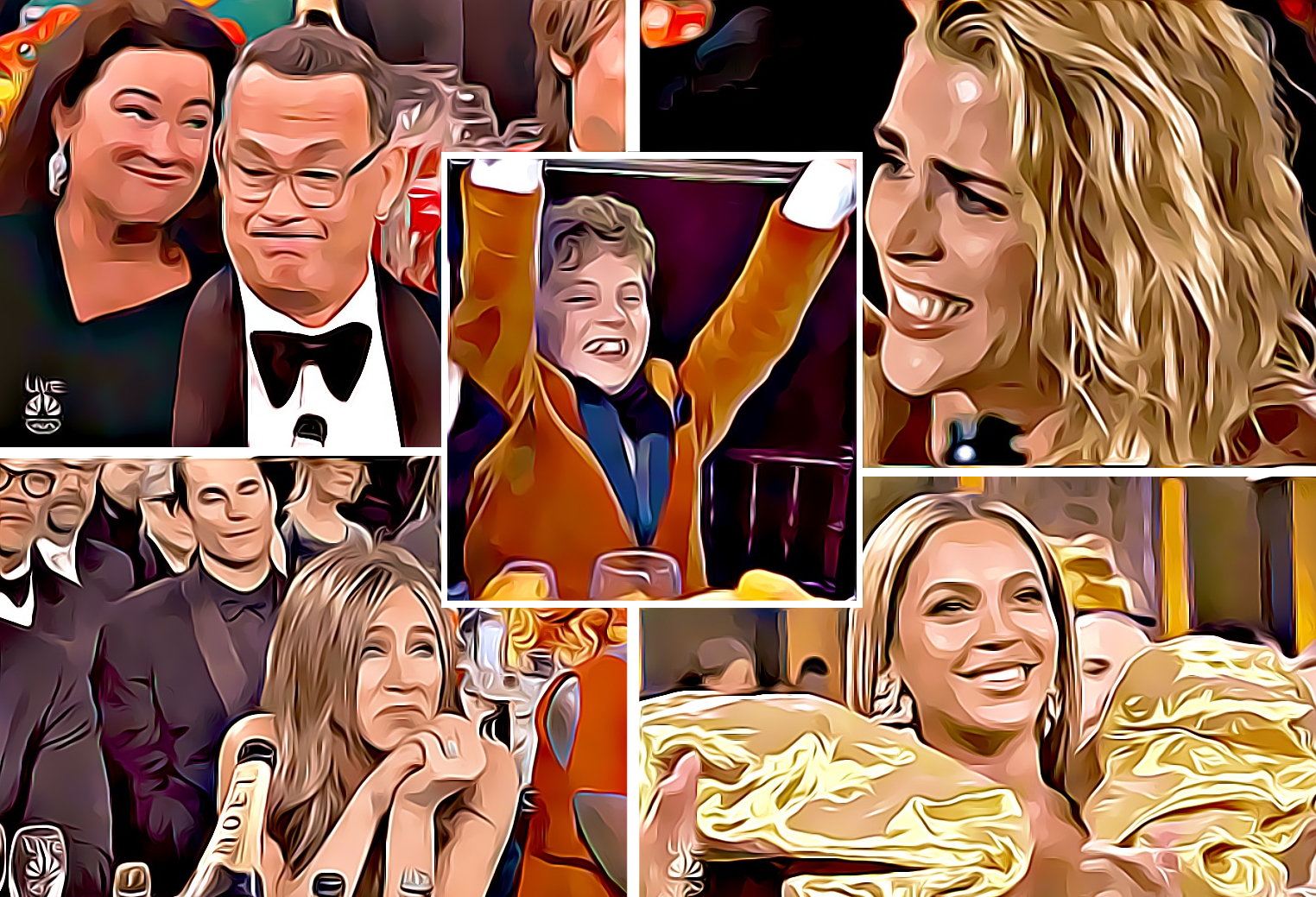 Sometimes an award show recap is best done with looping clips and no audio. Here are the best Golden Globe gifs making the rounds!
GIFS  via GIPHY  via NBC's awards coverage.
THE FIRST WINNER OF THE NIGHT,  RAMY YOUSSEF ADMITTED THAT MOST PEOPLE HAVEN'T SEEN HIS SHOW 'RAMY' ON HULU. BUT THANKS TO HIS HILARIOUS, CHARMING SPEECH, A LOT OF PEOPLE WILL BE CHECKING IT OUT NOW.

I WANNA BORROW GWYNNIE'S SHEER GOWN FOR LOUNGING POOLSIDE AND SMOKING A VIRGINIA SLIM. AND I DON'T EVEN SMOKE. IS THAT MACRAME? I AM NOT HATING ON IT. I THINK IT'S DARING.
BEYONCE LOOK TRAPPED. HERE SHE IS GIVING US THE GOLD SHOULDER…

TOBIAS MENZIES SUMS UP A LOT OF FOLKS' REACTION TO RICKY GERVAIS.

TOM HANKS FELT SIMILARLY.

WHEN YOU JUST WANNA FIND AN OPEN SPOT AT THE BAR…

BUSY PHILIPPS IS ALWAYS THERE TO SUPPORT BESTIE MICHELLE WILLIAMS. TONIGHT WAS NO EXCEPTION, AS SHE CHEERED ON MICHELLE'S SPEECH SUPPORTING A WOMAN'S RIGHT TO CHOOSE…
TIFFANY HADDISH AND SALMA HAYEK WERE FEELING IT TOO…

CAUGHT ON GIF: A MARRIAGE STORY'S ADAM DRIVER CAUGHT SMILING!

ONCE AGAIN, WHATEVER WILL FERRELL DOES IS HILARIOUS:

IF YOU DIDN'T FALL FOR ADORABLE ROMAN GRIFFIN DAVIS IN HIS MOVIE 'JOJO RABBIT,' YOU FELL FOR HIM LAST NIGHT…


WHEN A CAMERA IS TRAINED ON YOUR FACE FOR MOST OF THE NIGHT… WHAT'S YOUR GO-TO EXPRESSION? HERE'S BRAD'S:

AND HERE'S PACINO'S: LOOK CLOSELY AND YOU'LL SEE HE'S BREATHING.

AND FOR SOME REASON THIS IS THE ONE OF JEN THAT'S TRENDING. WE CAN DO BETTER.
EVEN IF YOU DON'T WIN, THERE'S STILL CHAMPAGNE.

AND THEN IT WAS OVER. LOOK HOW MUCH TIME YOU'VE SAVED!

FOR MORE OF THIS, OR SOMETHING ELSE, OR JUST BECAUSE WE LIKE YOU, FOLLOW @BRIANBALTHAZAR ON TWITTER.