POP INTERVIEW: Brian Cuban Talks To Katie Couric About Being A Man With An Eating Disorder
With his appearance on a national US TV show, he will no longer be the "brother of…" someone or the guy who was picked on in school. Cuban will be a role model to other men who have the same problems right now. His book is one of the rare reads where you really relate to the person no matter what walk of life you come from.
Shattered Image author Brian Cuban just appeared on Katie Couric's talk program, Katie. Appearing on a special themed episode with Demi Lovato, Cuban talked about being a man with an eating disorder.
With his appearance on a national US TV show, he will no longer be the "brother of…" someone or the guy who was picked on in school. Cuban will be a role model to other men who have the same problems right now. His book is one of the rare reads where you really relate to the person no matter what walk of life you come from.
How did the audience react to you? Did you talk with them between filming?
It was great! Katie was very professional and a great interview. She let me talk and gave me free range to elaborate when needed. She is a class act. I never really even focused in on the audience so I don't know how they reacted. I was looking at Katie focused in on the questions she was asking me. I had a sense that there was an audience but totally zoned that out when I sat down. There was really no opportunity to speak with them. It was three segments shot back to back so it was very busy.
Did you get to do anything else exciting or meet interesting people on your last trip to NYC? Demi Lovato, right?
Demi Lovato was part of the eating disorder series but was not at my shoot. I was told she was shooting the next day due to scheduling issues. I met very interesting people. Author Susan Barry, who lost her son to anorexia, as well as Dr. Theodore E. Weltzin, who is a renowned expert on male eating disorders. I did not get to do anything else. It was a really quick trip. They bring you in the evening before, you pack up your luggage and head over with it to the studio the next morning. When it's over your luggage is there waiting and a driver takes you back to the airport. Other than going to the shoot, I never left my hotel. I travel pretty regularly to NYC, so not getting to do anything that trip was no big deal.
Are people still surprised that men can suffer from eating disorders and self esteem issues? And who is more in denial of this: men or women?
Not suprised at all. Our society places so much emphasis on body image and physical perfection. Men are not immune. I suspect even Clint Eastwood has fat days. The pressure is much more intense media wise than when I was growing up way before Al Gore invented the Internet. (That's a joke.) There were no airbrushed digital images back then There were only three television stations.
Have you spoken at any schools since your book came out?
Yes, I speak regularly to high schools about the effects of bullying.
How are you going to inspire young people by telling your true story beyond the book? I hate to say this…not everyone in high school reads outside of class.
Just word of mouth. All I can do is just keep spreading the word that those suffering are not alone and there is hope for recovery through speaking, media and my book. It's one person at a time. Hopefully, as more an more people realize that there is no shame in stepping forward and admitting these issues publicly or privately in treatment, we will one day reach a critical mass where men's body image issues and eating disorders will be as mainstream as women's. This will result in more realistic media portrayal, better insurance coverage and a more extensive national conversation .
Do you have to make an effort every day to be healthy?
Absoutely. I still have unthealthy thoughts. I just process them differently. It took many hours in a shrink's office and dealing with the shame of my childhood to get there. Recovery is a process even now. there is good days and bad days. I just try to keep the forward motion going. :o)
What is the best way to cope with bullying?
By addressing it proactively and not simply coping with it. Our children have to be taught by example how to respond appropriate to bullies within their genetic/psychological predispositions. Two of the keys are compassion and voice. We should teach our children to have compassion for others and have a voice for those who are bullied. It's ok to say that's not ok. It all starts at home.
How can someone prevent becoming a bully or bullying back the person who is mean to you?
I'm not sure what that means but I will take a stab. I don't think children make conscious choices to "become bullies" There can be many reasons for it. I became a terrible bully at a point in my life. In my case it was a self defense mechanism from being bullied severely as a child over my weight and as a means of acceptance in my mind. If I became the bully first then not only would I not get bullied again but I would be accepted by the cool kids who bullied me. It of course does not work like that. I wasn't accepted and it made me only feel worse about myself. I think that instilling compassion and voice as well as a good sense of self in our children is a good start in providing them the framework to not become a bully.
Since I met you, you've gotten on a national daytime talk show and received plenty of positive reviews on your book. What next? Are you hitting up Rodeo Drive with Paris Hilton, as seen in People Magazine? Are you still going to talk to me when you get a Hollywood Walk of Fame star?
Nah. I am a homebody. Most days are spent hanging out at home with my girlfriend, my dog Peanut and cat Useless. I left all that party and "be-seen" stuff behind when I left the drugs and alcohol behind. I've learned to be who I really am: Boring Brian hanging out at home. You seem cool. I'd hang out at Starbucks. :o)
Well Sh-t, Leslie Jordan Has Shared Three Videos Of Himself Dancing In One Week And They're All Perfect
Doing much better now, Leslie.
If you've never believed that "good things come in small packages" then you've never seen Leslie Jordan's instagram. The 4'11" actor known for his iconic roles in shows like Will & Grace and American Horror Story has recently developed a whole new fanbase who loves him for his viral Instagram videos. Usually starting each video by greeting fans with "Well shit, how y'all doing?", viewers have grown to anticipate Jordan's hilarious recounting of stories from his time in show biz or growing up in the south. This week, however, the Tennessee native has shared 3 videos of himself dancing within 5 days and honestly it's precisely what we all need right now.
The first video was posted on August 12th and shows Jordan taking part of the "Git up and dance challenge" which swept the internet about a year ago. Even though he is a little late, the video is still perfection.
On August 13th, Jordan does a dance to "You Can't Stop The Beat" from Hairspray a with special guest dance partner Katie Couric!
Finally, on August 15th, Jordan does an epic "tootsie roll" and challenges Real Housewives Of Beverly Hills star, Lisa Rinna, to do the tootsie roll herself. Of course Rinna commented with a big "ON IT ❤️😂." Who could say no to the viral star?!?
The moral of the story here is that the world is going through some tough times right now but maybe, even for a few seconds, we could all feel better if we'd just dance it out. Thanks for the inspo Leslie Jordan!
Like what you read? Follow me on Instagram
Planters 'Baby Nut' Has Somehow Already Turned 21 And People Are Not Loving The News
2020 keeps getting nuttier.
The world was shocked when the iconic Mr. Peanut was killed during a pre-Super Bowl ad earlier this year. There wasn't much time to mourn, however, before a new nut was thrust onto us like back-to-school commercials in July. Yes, after the 59-year-old mascot met his untimely death consumers were introduced to his reincarnate, Baby Nut. With big, expressive eyes and a tiny stature fans began to swoon over the cute branding revamp and accepted him as the new mascot. Well as if 2020 hasn't been crazy enough, Planters just released a new commercial celebrating Baby Nut's 21st birthday and I'm not sure how to feel about it.
I'm officially 21, my friends! Before you ask, yes, I was just a baby. What can I say? It's been a nutty year. Now someone get this peanut a beer! #MakeMyBirthdayNuts pic.twitter.com/P1UfBIi4N8

— Peanut Jr. (@MrPeanut) August 11, 2020
According to a quick Google search, a peanut plant takes 4-5 months to reach maturity. So with Baby Nut being born in February, he is technically right on track in his growth cycle. The OG Mr. Peanut was the reigning mascot for 59 years so does that mean he was actually over 3,000 peanut-years old? The accelerated aging is not explained in the new ad with Baby Nut (Young Adult Nut?) simply saying "it's been a weird year." Reactions on Twitter are largely negative but as always, hilarious. Here are some of the best: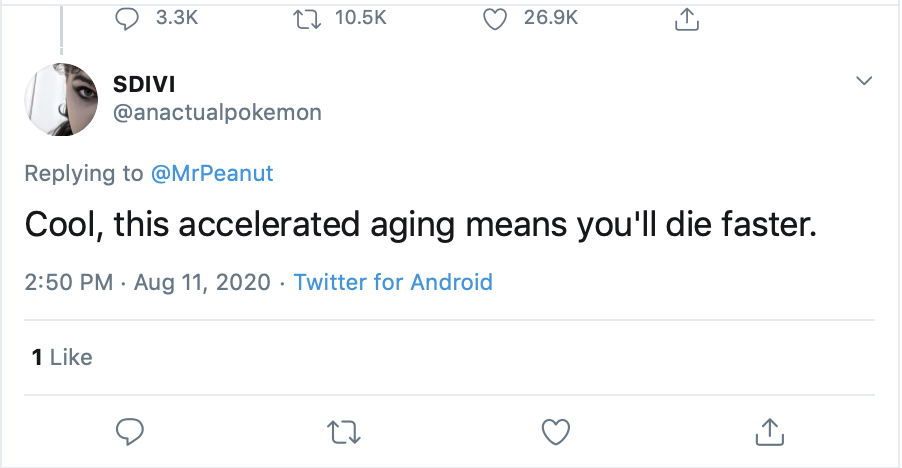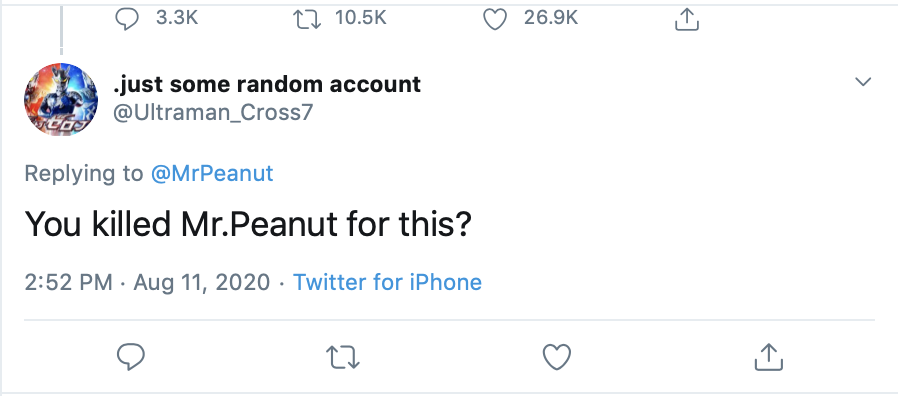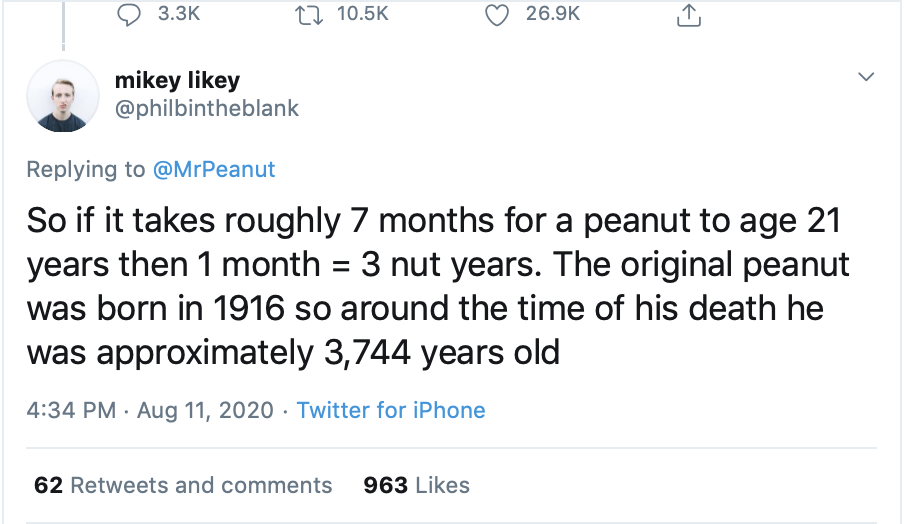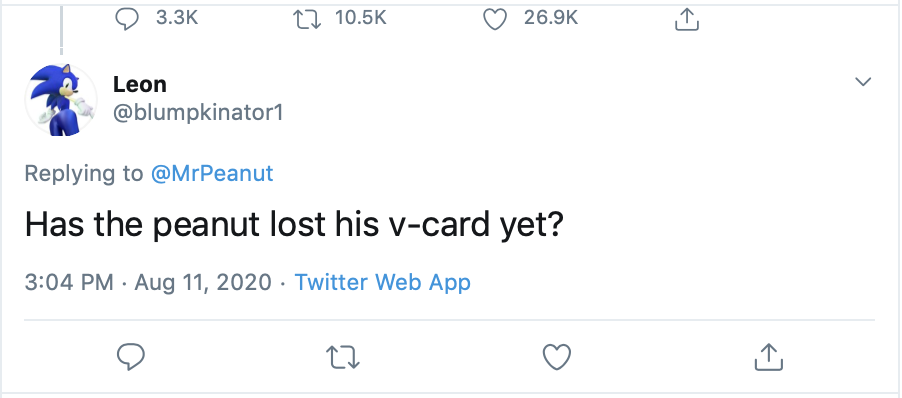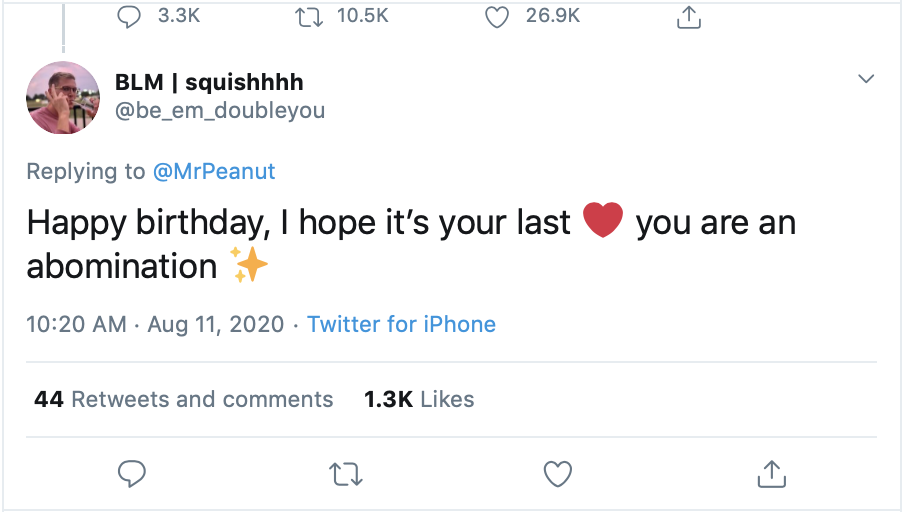 Yikes. Good thing Baby Nut is old enough to drink now…looks like he might need to throw back a few to handle some of these reactions.
To follow Peanut Jr.'s official account click here.
Like what you read? Follow me on Instagram
The Last Blockbuster Store In Existence Is Now Listed On AirBNB
Netflix could never.
Remember how exciting it was to take a trip to Blockbuster back in the 90's? You'd try to get there early enough to rent one of the latest "new releases" before everyone else in the neighborhood got to them. You'd beg your parents for some popcorn and candy which were conveniently placed on the checkout line. And if it was a whole family outing, you'd wander off to look at all the films and games that you were never going to rent but found comfort in knowing you could rent someday. Gosh, it felt like you could spend days inside one of those movie meccas. Well good news, now you can because the last Blockbuster in existence is now listed on AirBNB!
The retailer, located in Bend, Oregon is offering up three one-night stays for up to four guests for folks who want an "end of summer sleepover." The store has added an adorable living room set up which includes a pull out sofa and a big screen tv so guests can binge all their favorite films. Oh and there's snacks! Along with providing ideas for a perfect 90's night the ad also suggests that you should "help yourself to some NERDS, Raisinets and popcorn (heavy on the butter), but make sure you save room for a couple slices."
There is a catch to the whole experience though, the listing is only available to Deschutes County residents. Is it too late to move!?! Manager Sandi Harding explained that the publicity stunt is a response to the newfound economic uncertainty due to the pandemic. "Not much has changed at our store – not even our prices – and that's just how we like it! We think of ourselves as a family, and that includes everyone from the global travelers who come to visit, to the lifelong friends and couples who first met as Blockbuster employees. The Covid-19 pandemic has been a test of our community unlike any other, so we decided to list this stay to keep this tradition alive during these uncertain times."
Such a clever way to keep this iconic 90's treasure trove alive! To check out the AirBNB listing, click here!