POP INTERVIEW: Lydia McLaughlin as She Exits "Real Housewives of Orange County"
Yesterday, Lydia McLaughlin announced she was leaving The Real Housewives of Orange County…by choice. According to Us Weekly, she wanted to grow her brand, consisting of a jewelry line at the present, and possibly pursue a reality show about her entrepreneurial spirit. During our interview last weekend, she gave no obvious clues about leaving the show but the reason for the chat–branding herself with her beautiful, yet affordable jewelry pieces–could have been the first sign.
Yesterday, Lydia McLaughlin announced she was leaving The Real Housewives of Orange County…by choice. According to Us Weekly, she wanted to grow her brand, consisting of a jewelry line at the present, and possibly pursue a reality show about her entrepreneurial spirit. During our interview last weekend, she gave no obvious clues about leaving the show but the reason for the chat–branding herself with her beautiful, yet affordable jewelry pieces–could have been the first sign. Bethenny Frankel broke away from the catty Housewives storylines similarly to now become a popular daytime talk show host, diet cocktail inventor and an estimated $100 million net worth.
People love talking for the sake of gossip, and rumors are bound to conflict with McLaughlin's statement that producers asked her back though she declined. In April, Star reported that Gretchen Rossi and Alexis Bellino were kicked off the series. Of course, all talk about Lydia being forced away will be false. Her answer, when I couldn't resist asking about the king of Real Housewives, Cohen himself, was genuinely sweet. "He's exactly what he seems like when he's not on TV. If you were to have a conversation with him, it's just like you see."
Is he cute in person? "He's actually better looking!" she confirms. "He's a big sweetheart. If I called him right now, he would answer the phone. He's really accessible. He's a good producer. He's a good person. He's handsome. I only have nice things to say about Mr. Cohen."
Presented with an opportunity to join a reality show on a major network where catfights are the ratings selling point, many would say no. Anyone could argue how reality TV producers pull you in every direction, chop and edit unfairly, make you act out artificial storylines as The Hills did and stick words in your mouth to provoke drama. McLaughlin took the risk, which couldn't have been a better advertisement for her jewelry collection she was about to launch. She didn't want to be famous, nor did she desire to be infamous. She wanted to move Lydia M. Jewelry product sales.
"If you watch the show, pretty much in any scene, I'm wearing one of my own pieces. It's a commercial for my stuff. A lot of times, I post it on my Instagram. I do it a couple times a month. On my website, they can ask me different questions. I wear it on a daily basis, anyway. If you saw me at the park, I'd be wearing my bracelet. In particular with my jewelry, I wanted to be doing pieces I knew I would wear," the OC Housewife says.
"My husband has gotten me Chanel necklaces and said, 'Wait! These aren't even real pearls? Oh my gosh.' You can see that for me, it was like I know that I am not Chanel, and I don't have that name brand recognition. You are buying those types of jewelry for the name brand and logo on it. If it's a lipstick, people are buying Tom Ford, whereas M.A.C. makes beautiful lipsticks. Branding is not a new concept. I knew I wanted to focus on the materials. At the end of the day, if I'm wearing earrings, if it doesn't have a Chanel logo on it, you can't tell where it came from."
She says her pieces are for people like her with high sensitivity to typical cheaper wares. "I have sensitive skin, so you need to have good quality of things. It is costume jewelry; it's not real diamonds or anything like that. But it's the finest, and you'll see that reflected in the cost a little bit. I'm particular about the materials. I use the gold, not gold plated. It's gold filled. So there is gold throughout the braided bracelets I use. That was a big deal for me."
Going through the checkboxes of Housewives cast member stereotypes, McLaughlin already stands out from the pack by working on her public image and brand and also, in one area Frankel did not: her Christian faith is a big percentage of who she is. "I'm a role model through the way I live my life, having integrity and being authentic to who I am, being confident in who I am and who God made me to be, and giving back," she says.
McLaughlin surprised herself, saying this fact or how she saved herself for marriage wasn't something she would "normally admit" to strangers, but it felt right tearing down the misconception that all reality TV starlets must act promiscuous on television. "That was one reason why I decided to do the show. I wanted to give a different voice. I wanted to project a light and positivity. I think the Housewives franchise gives me a power. It's flattering that girls watch you and see themselves in you. You can use that power for good or bad," McLaughlin says. "To us, my husband and I, it was cool that we were both virgins when we got married. I thought that would be a cool thing to share. Other people could say, 'I'm not a freak because I don't sleep around.'"
Projecting yourself as a Christian or otherwise is definitely hard when anything you might say with humor or a slip of the tongue gets taken apart in the editing room, and later, by TV critics and viewers, she tells us. "Filming, just that you film your real life, that adds a little bit of stress to you, and the crew of people following you around, you're being nervous. I said, 'I can't believe that I said that.' Instead of embarrassing yourself, you embarrassed yourself in front of all of America, who loves to judge you."
And her gratitude extends to who she is off camera. "The coolest moment for me was one of my fans at the mall saw me and came up, and she was wearing my earrings. She wanted a picture, but I wanted a picture with her as well. Of course, you want to see it on the red carpet. You want to see it on the movie stars. I want to see my fans wearing it. It was an everyday person, and we were both wearing my earrings."
"I design my stuff for me," she says, meaning normal women doing all kinds of things in their weekly schedules. "I'll go on a play date, and then, I'll go out to dinner. I wanted to be able to design bracelets and necklaces for my daily life, but at the same time, my mother and all of her friends in their 60s love my jewelry, and we've sold it to some people who are 16. It depends on your taste. You can wear it with a ball gown at night or to a PTA meeting in the morning. It's beautiful, timeless and for all occasions. It's for a woman who wants a little bit of sparkle, which is everybody out there. It is all handmade in Orange County."
As she seeks to end up on the list of designers sold at Bloomingdale's, Lydia's surprise decision leaves a hole in the OC Housewives lineup. I nominated Brian, the PopGoestheWeek.com owner you see photographed up top, as a new castmate. He may have a shot now!
"First of all, he'd have to become a woman. We have never had a man! That would be his first step. I think there isn't really a mold. I was nervous when they asked me to be on the show." So far, so good. All Brian needs is a sex change. Continuing…
"I don't think I am a typical Housewife," McLaughlin, who is not native to Orange County but Canadian-born, says. "I like being with joyful people. This show was a lot of drama. The producers were big on me saying they wanted me to be myself. You don't have to pretend to be something you aren't. As long as he's a strong, opinionated woman, has his views and isn't afraid to say what they are, he'd be a perfect Housewife."
The last step is Brian needs to move within the filming vicinity. "You're recommended by a friend or someone you know. I knew Alexis. I think for me, particularly, the casting directors and our company are the same producers for The Real Housewives of Beverly Hills. Lisa from Beverly Hills has worked with our magazine. They just heard from the beginning that I was at Beverly Hills Lifestyle Magazine, and I moved across the street from Alexis, so it was two worlds colliding."
While Brian works on getting cast in the lineup, women who want to start a new business can work on building a brand. "I think that you need to have a good business model. It depends on the business you want to start. My whole family is entrepreneurial, so I have a lot of good mentors. I have people in my life I can ask questions to if I need it. We always had that mind frame. Google 'business models!'" she advises. McLaughlin's father founded Canada's first 24-hour network, NTV. With her husband, Lydia created the magazine and SKYLAB Media, a digital marketing/design company. All of this existed before the show ever made her known to the rest of the country.
On what fans love most about her, she replies, "You'd have to ask my fans. I know just from experience, I've gotten to go back to my old youth group. I've gotten to give my testimony there. Some girls broke into tears just from seeing me. That was a really crazy experience. The fans are really great, even on Instagram. I know on my account, if I post something, and someone say something mean, my fans defend me."
Plenty of fans are dealing with bullying in high school or college. Others face adult world bullying at the workplace or elsewhere. McLaughlin understands what it is like to be mocked for invalid reasons and says the only solution is to ignore haters and focus on positivity. "You get a lot more love than you do get hate. You have to take everything with a grain of salt, and you have to be a strong person. To step into a role like this, you can choose to focus on giving them that power or focus on the great things you want to do. I think I'm really a great mom, and I do my best. It doesn't mean you're immune to that if you're famous, but I have really good roots, and your head's on straight…"
"When you watch Sex and the City, you say, 'Are you a Charlotte or a Carrie?' It's the same type of thing like Housewives," she explained the series' phenomenon. "I'm young. I'm a Christian. I'm quirky. I beat to my own drum. Maybe, there's something about me they see in themselves. They'll gravitate towards me. I was on this show for one season, and I have over 250,000 social media fans. To me, that is so humbling and flattering."
WANT TO SEE LYDIA'S JEWELRY FOR YOURSELF OR A SPECIAL SOMEONE'S HOLIDAY GIFT? Head on over to LydiaMJewelry.com.
Hold Onto Your Bucket, You Can Visit Colonel Sanders on KFC Island In 'Animal Crossing'
Kentucky. Fried. Crossing.
If I told you to live in a tent for a few days, pull a bunch of weeds from the lawn and chop down a few trees for lumber that you will then have to turn into tools with your own two hands all while trying to pay off a ridiculous debt that you unwittingly acquired you might think I'm into corporal punishment. Yet, it's all those things that make Animal Crossing: New Horizons on the Nintendo Switch so damn addictive.
The life simulation video game has grown unbelievably popular over these last few months and it's probably because the game provides a great creative outlet that can keep players entertained for hours while remaining home during quarantine. Even some celebrities have jumped on the virtual bandwagon with Elijah Wood, T-Pain, Chrissy Tiegen and more all sharing their obsession on social media. Well scoot over movie stars, big time singers and supermodels because the biggest household name just changed the game (not literally as I'm sure the game has some sort of coding that prevents actual changes to be made but metaphorically the pun works). That's right, Colonel Sanders has an avatar and an island and is ready to serve up some chicken.
Earlier this week, the KFC Philippines Twitter account revealed the news that "KFC Island" would be opening for lucky visitors. To get to the island you have to message their Facebook account with the #KFCVirtualStore for a chance at getting a Dodo Code. Because I am one of the many who have fallen in love with this game I know that a Dodo Code is a unique code which can be shared with select visitors to grant them access to your island. I feel like such a gamer. On the Kentucky fried island there is a restaurant that is replicated to look like the real thing! There's booths, a kitchen and even promotional posters. Oh and as if this wasn't exciting enough, if you find the Colonel hiding somewhere on the island you could win an 8-piece chicken bucket from KFC…in real life! (The promotion is only valid for players in the Philippines.)
Visits to the island are only available until June 20th, so be sure to hop on this finger lickin' experience while you can!
Like what you read? Follow me on Instagram
Stan Lee Said The Only Way To Combat A Racist Is To 'Expose Them' In A Periodical From Over Fifty Years Ago
A man truly ahead of his time.
The concept of finding strength within a community has never been more pressing than it is right now. Our country is divided in so many ways but amongst the fractures you can see groups joining together in an effort to show that unity is always stronger than division. If anyone can attest to that belief it was the ingenius comic book writer, editor, publisher, and producer Stan Lee.
The man responsible for the Marvel universe we know and love today was behind a number of comic books which featured outcasts who looked beyond their differences in order to unify and protect the greater good. A concept our world might need reminding of. In the back of the comics Lee wrote for was a section entitled "Stan's Soapbox," where the wordsmith would write short articles expressing some things that were on his mind. One soapbox article from 1968 has resurfaced and gone viral because of how eerily fitting it is for today.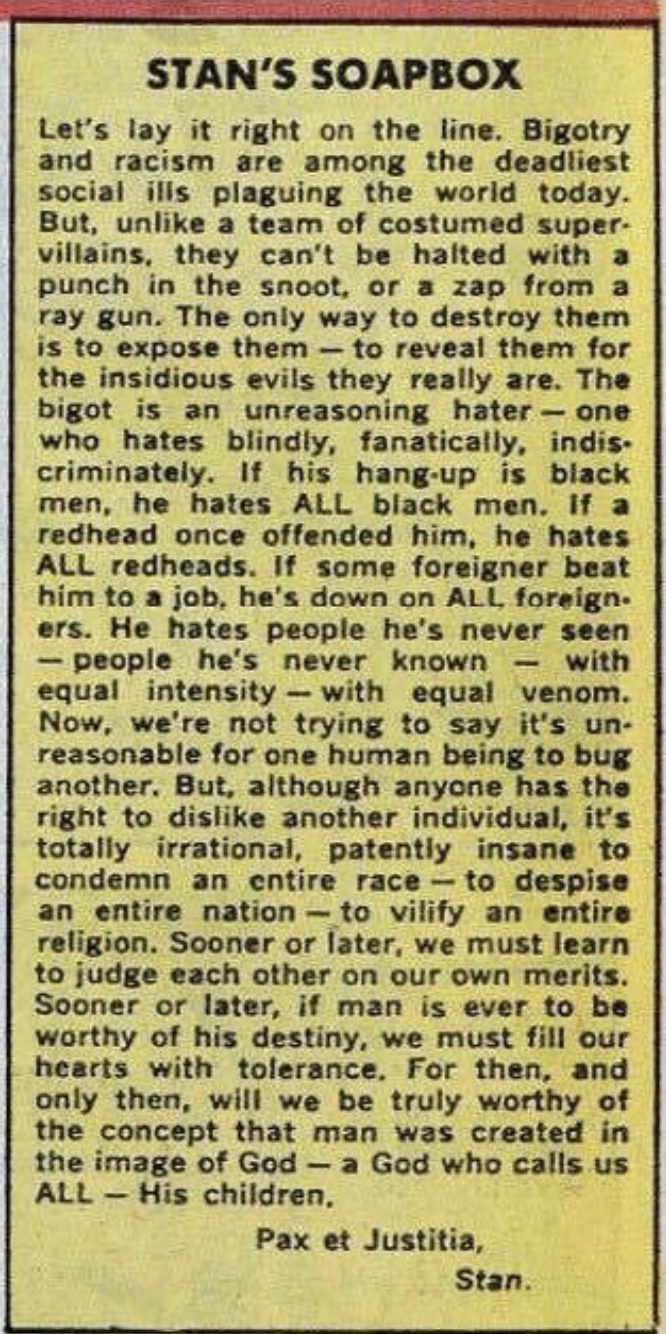 In the article Lee calls bigotry and racism "the deadliest social ills plaguing the world today." But unlike a super villain from one of his comics, racism and bigotry cannot be defeated by a "punch in the snoot, or a zap from a ray gun," he says, rather "the only way to destroy them is to expose them – reveal them for the insidious evils they really are." The comic book creator suggests the only way for our world to continue peacefully is to "judge each other on our merits" and to "fill our hearts with tolerance."
Along with the soapbox article, a clip from an interview with Larry King has gone viral with Lee once again wishing to see more tolerance in the world. When asked what the one thing he would change about the world Lee responded "I'd make people not hate each other because of their religion, because of their nationality, because of any stupid reason. If we can abolish hatred, we live on this gorgeous planet."
One thing you would change about the world?

Stan Lee: " I'd make people not hate each other because of their religion, because of their nationality, because of any stupid reason. If we can abolish hatred, we live on this gorgeous planet." pic.twitter.com/lxHzUWSkCL

— Sílvia (@JustMe_Silvia) June 9, 2020
Why couldn't he be the celebrity that ran for president!? Hopefully the villains Lee warned us about over fifty years ago will soon seem like a thing in the past and that beautiful, tolerant world he dreamed of will become a reality.
Like what you read? Follow me on Instagram
Lizzo's Performance Of 'Pomp And Circumstance' Will Make Any Graduate Feel Good As Hell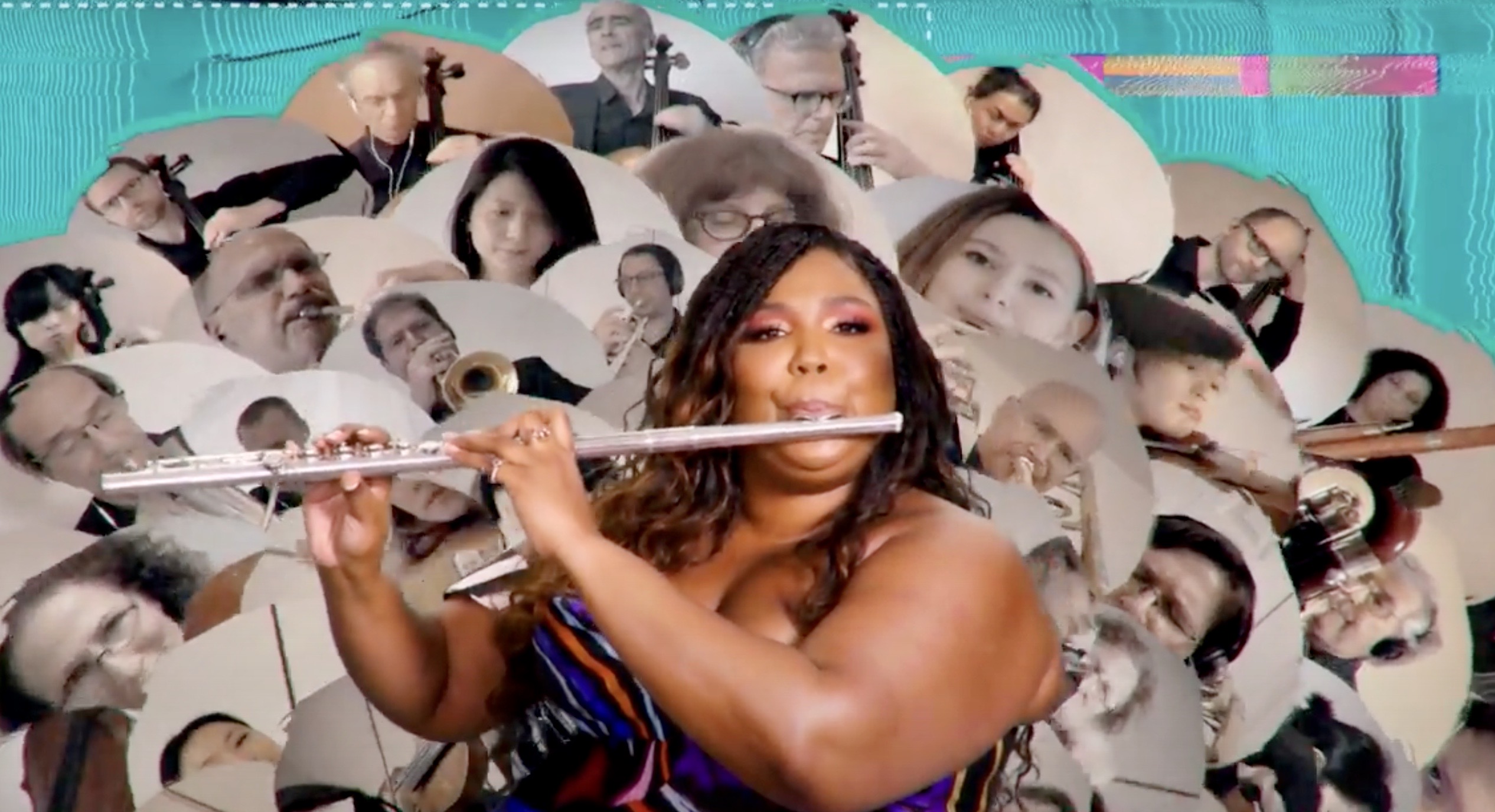 She really is a hoot with a flute.
Ah graduation, that special moment that every student dreams about where they get dressed up in an unbreathable gown and an unflattering cap and sit outside for hours somewhere on a great lawn in the middle of a heat wave just to receive that special piece of paper that says they have completed a super long chapter in their lives. While the ceremonies are not always the most exciting time ever, to be denied the chance to walk across a stage and turn the tassel on your cap due to the pandemic guidelines does seem like a real bummer. To help remedy the graduation blues of 2020, YouTube Originals live-streamed an event called Dear Class Of 2020 which featured some huge stars offering their support. One of those stars happened to be Lizzo who put her own spin on the classic graduation march "Pomp and Circumstance."
In her performance, Lizzo played the iconic two-minute section of the song that is most widely associated with graduations. After about 40-seconds, the "Juice" singer shares her congratulations to the graduating class and then lets them know it's time to "turn it up." With that, Lizzo is virtually accompanied by the New York Phil Harmonic as they jam out (is it still called jamming out when it's classical music?) to create a truly memorable performance. The performance is visually stunning showcasing some cool digital effects but what truly stands out in the video are the images of black graduates wearing their caps and gowns as they participate in Black Lives Matter protests that are happening throughout the nation. The entire video suddenly becomes much more hopeful as it becomes clear that the future of our nation rests in the hands of these courageous, intelligent and strong young people.
The video ends with a photo of Deveonte Joseph taken by photographer Nathan Aguirre, which went viral when first posted. In the photo, Joseph is wearing his graduation cap and gown on a street in St. Paul, Minnesota, with the lights of a police set up glowing behind him.
Check out the entire inspirational video below!
Like what you read? Follow me on Instagram