POP INTERVIEW: Lydia McLaughlin as She Exits "Real Housewives of Orange County"
Yesterday, Lydia McLaughlin announced she was leaving The Real Housewives of Orange County…by choice. According to Us Weekly, she wanted to grow her brand, consisting of a jewelry line at the present, and possibly pursue a reality show about her entrepreneurial spirit. During our interview last weekend, she gave no obvious clues about leaving the show but the reason for the chat–branding herself with her beautiful, yet affordable jewelry pieces–could have been the first sign.
Yesterday, Lydia McLaughlin announced she was leaving The Real Housewives of Orange County…by choice. According to Us Weekly, she wanted to grow her brand, consisting of a jewelry line at the present, and possibly pursue a reality show about her entrepreneurial spirit. During our interview last weekend, she gave no obvious clues about leaving the show but the reason for the chat–branding herself with her beautiful, yet affordable jewelry pieces–could have been the first sign. Bethenny Frankel broke away from the catty Housewives storylines similarly to now become a popular daytime talk show host, diet cocktail inventor and an estimated $100 million net worth.
People love talking for the sake of gossip, and rumors are bound to conflict with McLaughlin's statement that producers asked her back though she declined. In April, Star reported that Gretchen Rossi and Alexis Bellino were kicked off the series. Of course, all talk about Lydia being forced away will be false. Her answer, when I couldn't resist asking about the king of Real Housewives, Cohen himself, was genuinely sweet. "He's exactly what he seems like when he's not on TV. If you were to have a conversation with him, it's just like you see."
Is he cute in person? "He's actually better looking!" she confirms. "He's a big sweetheart. If I called him right now, he would answer the phone. He's really accessible. He's a good producer. He's a good person. He's handsome. I only have nice things to say about Mr. Cohen."
Presented with an opportunity to join a reality show on a major network where catfights are the ratings selling point, many would say no. Anyone could argue how reality TV producers pull you in every direction, chop and edit unfairly, make you act out artificial storylines as The Hills did and stick words in your mouth to provoke drama. McLaughlin took the risk, which couldn't have been a better advertisement for her jewelry collection she was about to launch. She didn't want to be famous, nor did she desire to be infamous. She wanted to move Lydia M. Jewelry product sales.
"If you watch the show, pretty much in any scene, I'm wearing one of my own pieces. It's a commercial for my stuff. A lot of times, I post it on my Instagram. I do it a couple times a month. On my website, they can ask me different questions. I wear it on a daily basis, anyway. If you saw me at the park, I'd be wearing my bracelet. In particular with my jewelry, I wanted to be doing pieces I knew I would wear," the OC Housewife says.
"My husband has gotten me Chanel necklaces and said, 'Wait! These aren't even real pearls? Oh my gosh.' You can see that for me, it was like I know that I am not Chanel, and I don't have that name brand recognition. You are buying those types of jewelry for the name brand and logo on it. If it's a lipstick, people are buying Tom Ford, whereas M.A.C. makes beautiful lipsticks. Branding is not a new concept. I knew I wanted to focus on the materials. At the end of the day, if I'm wearing earrings, if it doesn't have a Chanel logo on it, you can't tell where it came from."
She says her pieces are for people like her with high sensitivity to typical cheaper wares. "I have sensitive skin, so you need to have good quality of things. It is costume jewelry; it's not real diamonds or anything like that. But it's the finest, and you'll see that reflected in the cost a little bit. I'm particular about the materials. I use the gold, not gold plated. It's gold filled. So there is gold throughout the braided bracelets I use. That was a big deal for me."
Going through the checkboxes of Housewives cast member stereotypes, McLaughlin already stands out from the pack by working on her public image and brand and also, in one area Frankel did not: her Christian faith is a big percentage of who she is. "I'm a role model through the way I live my life, having integrity and being authentic to who I am, being confident in who I am and who God made me to be, and giving back," she says.
McLaughlin surprised herself, saying this fact or how she saved herself for marriage wasn't something she would "normally admit" to strangers, but it felt right tearing down the misconception that all reality TV starlets must act promiscuous on television. "That was one reason why I decided to do the show. I wanted to give a different voice. I wanted to project a light and positivity. I think the Housewives franchise gives me a power. It's flattering that girls watch you and see themselves in you. You can use that power for good or bad," McLaughlin says. "To us, my husband and I, it was cool that we were both virgins when we got married. I thought that would be a cool thing to share. Other people could say, 'I'm not a freak because I don't sleep around.'"
Projecting yourself as a Christian or otherwise is definitely hard when anything you might say with humor or a slip of the tongue gets taken apart in the editing room, and later, by TV critics and viewers, she tells us. "Filming, just that you film your real life, that adds a little bit of stress to you, and the crew of people following you around, you're being nervous. I said, 'I can't believe that I said that.' Instead of embarrassing yourself, you embarrassed yourself in front of all of America, who loves to judge you."
And her gratitude extends to who she is off camera. "The coolest moment for me was one of my fans at the mall saw me and came up, and she was wearing my earrings. She wanted a picture, but I wanted a picture with her as well. Of course, you want to see it on the red carpet. You want to see it on the movie stars. I want to see my fans wearing it. It was an everyday person, and we were both wearing my earrings."
"I design my stuff for me," she says, meaning normal women doing all kinds of things in their weekly schedules. "I'll go on a play date, and then, I'll go out to dinner. I wanted to be able to design bracelets and necklaces for my daily life, but at the same time, my mother and all of her friends in their 60s love my jewelry, and we've sold it to some people who are 16. It depends on your taste. You can wear it with a ball gown at night or to a PTA meeting in the morning. It's beautiful, timeless and for all occasions. It's for a woman who wants a little bit of sparkle, which is everybody out there. It is all handmade in Orange County."
As she seeks to end up on the list of designers sold at Bloomingdale's, Lydia's surprise decision leaves a hole in the OC Housewives lineup. I nominated Brian, the PopGoestheWeek.com owner you see photographed up top, as a new castmate. He may have a shot now!
"First of all, he'd have to become a woman. We have never had a man! That would be his first step. I think there isn't really a mold. I was nervous when they asked me to be on the show." So far, so good. All Brian needs is a sex change. Continuing…
"I don't think I am a typical Housewife," McLaughlin, who is not native to Orange County but Canadian-born, says. "I like being with joyful people. This show was a lot of drama. The producers were big on me saying they wanted me to be myself. You don't have to pretend to be something you aren't. As long as he's a strong, opinionated woman, has his views and isn't afraid to say what they are, he'd be a perfect Housewife."
The last step is Brian needs to move within the filming vicinity. "You're recommended by a friend or someone you know. I knew Alexis. I think for me, particularly, the casting directors and our company are the same producers for The Real Housewives of Beverly Hills. Lisa from Beverly Hills has worked with our magazine. They just heard from the beginning that I was at Beverly Hills Lifestyle Magazine, and I moved across the street from Alexis, so it was two worlds colliding."
While Brian works on getting cast in the lineup, women who want to start a new business can work on building a brand. "I think that you need to have a good business model. It depends on the business you want to start. My whole family is entrepreneurial, so I have a lot of good mentors. I have people in my life I can ask questions to if I need it. We always had that mind frame. Google 'business models!'" she advises. McLaughlin's father founded Canada's first 24-hour network, NTV. With her husband, Lydia created the magazine and SKYLAB Media, a digital marketing/design company. All of this existed before the show ever made her known to the rest of the country.
On what fans love most about her, she replies, "You'd have to ask my fans. I know just from experience, I've gotten to go back to my old youth group. I've gotten to give my testimony there. Some girls broke into tears just from seeing me. That was a really crazy experience. The fans are really great, even on Instagram. I know on my account, if I post something, and someone say something mean, my fans defend me."
Plenty of fans are dealing with bullying in high school or college. Others face adult world bullying at the workplace or elsewhere. McLaughlin understands what it is like to be mocked for invalid reasons and says the only solution is to ignore haters and focus on positivity. "You get a lot more love than you do get hate. You have to take everything with a grain of salt, and you have to be a strong person. To step into a role like this, you can choose to focus on giving them that power or focus on the great things you want to do. I think I'm really a great mom, and I do my best. It doesn't mean you're immune to that if you're famous, but I have really good roots, and your head's on straight…"
"When you watch Sex and the City, you say, 'Are you a Charlotte or a Carrie?' It's the same type of thing like Housewives," she explained the series' phenomenon. "I'm young. I'm a Christian. I'm quirky. I beat to my own drum. Maybe, there's something about me they see in themselves. They'll gravitate towards me. I was on this show for one season, and I have over 250,000 social media fans. To me, that is so humbling and flattering."
WANT TO SEE LYDIA'S JEWELRY FOR YOURSELF OR A SPECIAL SOMEONE'S HOLIDAY GIFT? Head on over to LydiaMJewelry.com.
Watch Brian Balthazar and Wendy Williams Talk About What's Trending Now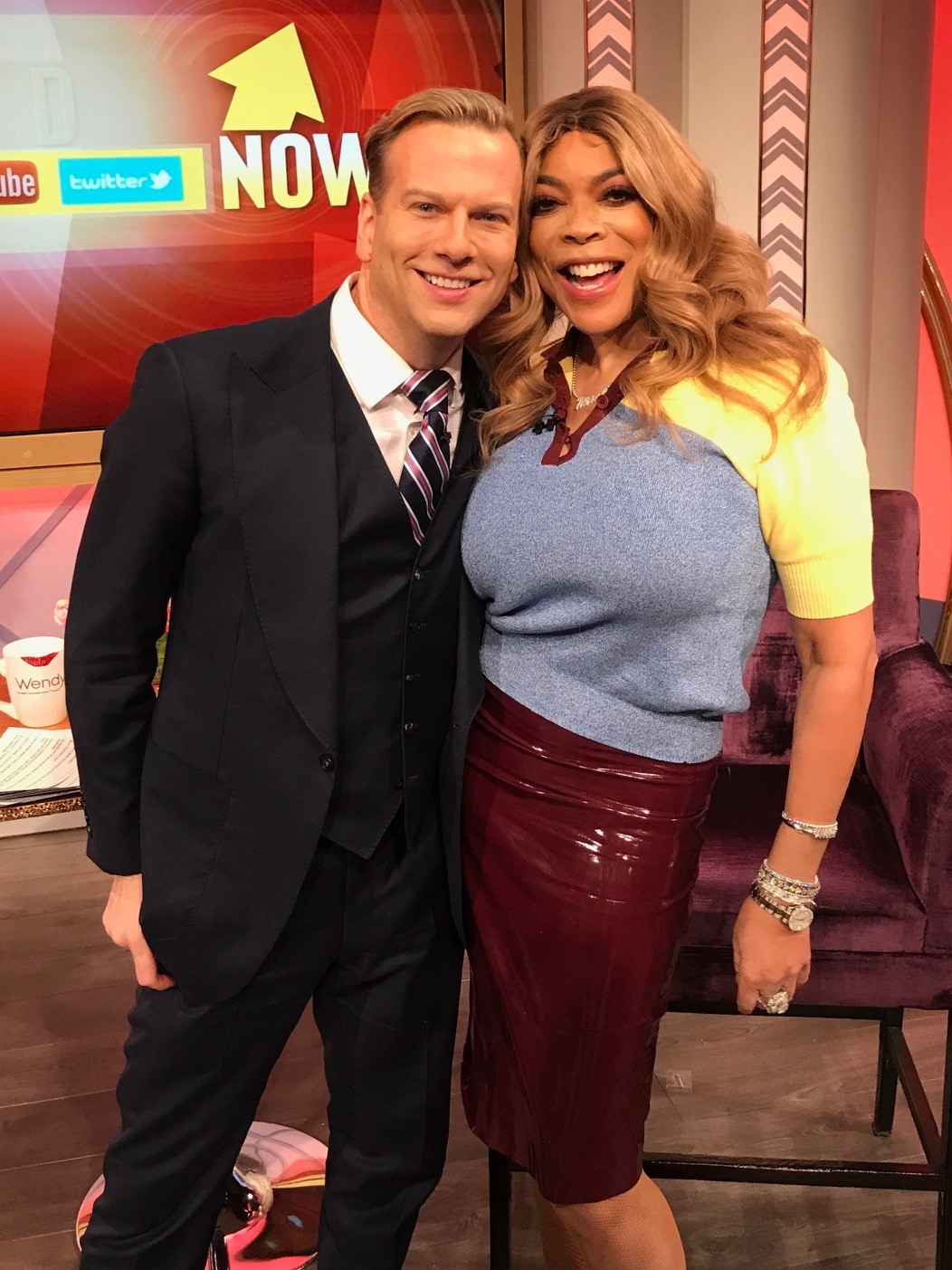 Always SO much fun going on the Wendy Williams show to talk about what's trending! In this case, the best part (for me at least!) was wearing a creating by art director Michael Lee Scott, who recreated the iconic hat worn by Billy Porter at the Grammys! What a recreation!
Brian Balthazar Billy Porter Hat
Wendy Stuart Kaplan Knows How To Party – Now She's Throwing An Epic One Of Her Own!
Wendy Stuart Kaplan knows her way around a party. In her book, 'She's The Last Model Standing," she wrote about her headline grabbing days at Studio 54, and now throws more than a few of her own. The latest is her "Reading For Filth" and her birthday extravaganza, where she, hosts Eileen Dover and Nick Lion and others (including yours truly!) will perform a collection of wildly entertaining essays, poems, comedic rants and more. The kind of person who is so 'on the go' you get exhausted just thinking about it (she, however, does not) I caught up with her as she was taking a break between a radio show, a modeling job and a party tonight. If you want to catch up with Wendy, you have to be flexible… she's probably got a full schedule that day! Her party this Friday is one that will not only celebrate a wildly varied and entertaining life, but also celebrate the spoken word from a variety of performers.
Anyone who's ready your book "She's The Last Model Standing" knows you've been partying since studio 54 – when did you first realize you were a party girl?
I first realized when I came back to New York after college! I wasn't until then, because there was no good place to party.
Where did you go to school?
SUNY Binghamton where I majored in anthropology – and then I went to Nigeria! I definitely enjoyed partying eventually, but back then I really, really wanted to go to Africa, which I did! I have gone back often, most recently to work on my documentaries.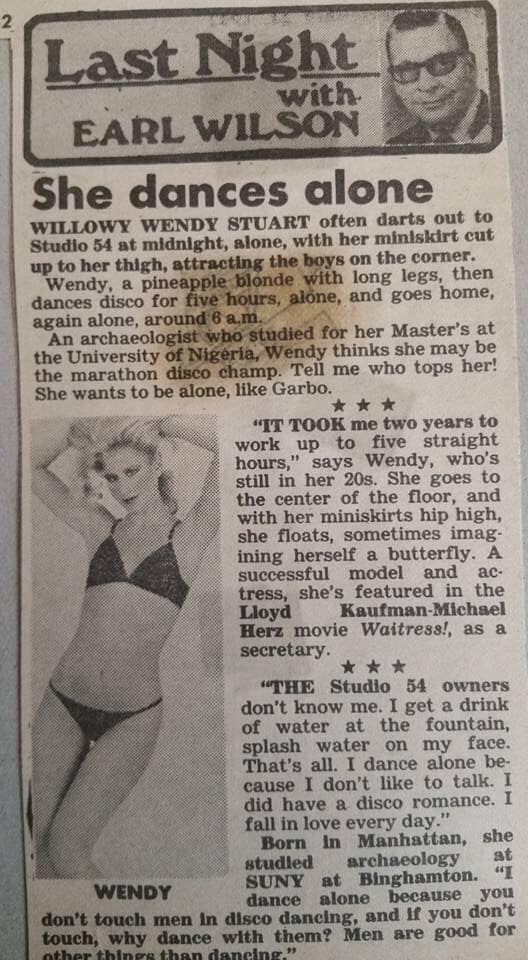 That's wild! But it's not surprising to hear of that passion since you make films about wildlife conservation there. But your festive side eventually DID come out! We all know you now as a social butterfly! Whether you're at a party, or working a film premiere – but were you as confident and comfortable in the spotlight as a kid as you are now?
I was an oddball kid. I had two things: I had my friends in the Bronx, and the ones that I had in school and they didn't mix all that well. I loved growing up there, that was home – but I remember as a kid I would get stomachaches before parties! How weird is that? Until you asked me I had forgotten all about that.
What were you worrying about?
Social pressures – what if nobody talks to me – oh my god, I'm not pretty. I had a short mop of brown hair because my mom thought I looked better with short hair, and I had chubby cheeks. I didn't love that look. I used to put on wigs as a kid and imagine myself with long blonde hair!
And here we are!
Here we are, right? Long blonde hair. I morphed into it. I'm totally self made!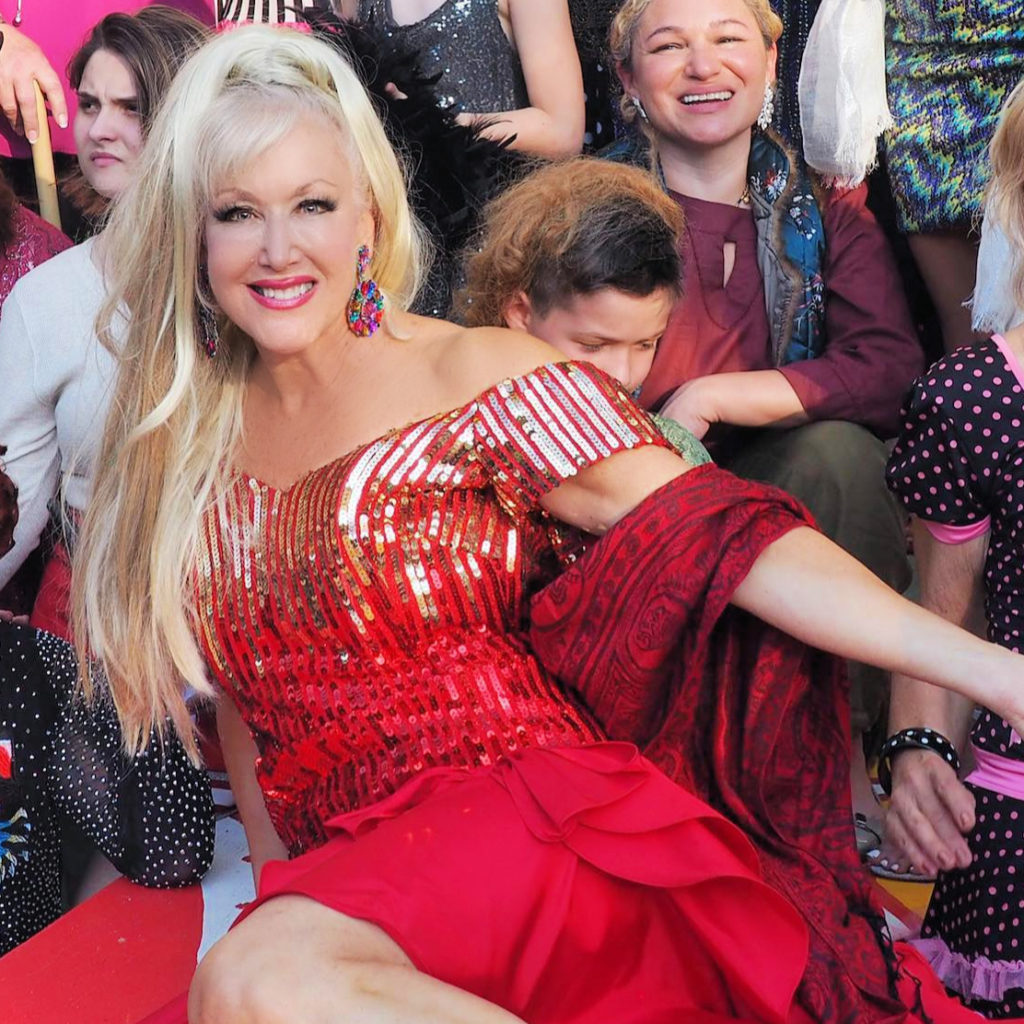 Tell me more about Reading for Filth – your event this Friday at Club Bedlam.
Reading for Filth came about when Brian Butterick, also known as Hattie Hathaway, used to have these events. One had the byline, "low rent reading for a high rent city." Reading for filth is an expression for 'I'm going to read you to filth,' as in, "I'm gonna tell you what I really think." The performers would do a reading of their choice. Something personal, maybe about an old boyfriend, or something someone else wrote, and they'd get up and read it in front of a room. At the last one we had, Michael Musto read from Suzanne Somers' poetry book. I didn't even know she wrote poetry… here the same person who wrote about African violets is also behind the Thighmaster! Brought me to tears! I imagine her thighs going back and forth as she sits next to a table with a sole African violet in its little pot, which inspired her to write the poem.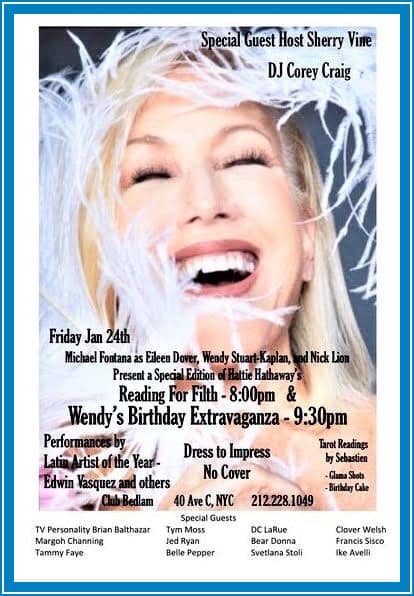 The reason we chose to open my birthday party with it is, when Hattie passed away, my friend and partner in crime Michael Fontana (Eileen Dover) really wanted to keep it going. We say it's such a downtown New York thing but it's a New York thing. It's a nationwide thing. Think about what's hot right now: storytelling. And here we have had Reading for Filth going on long before all that other stuff. Brian Butterick had been doing it for six to ten years. He was very ahead of his time. We brought it back this past year.
You love people and being around them, entertaining them, but you also love your home life – please describe your NYC living situation. You have a beautiful place… but describe your roommates.
Well, we will have to go back about 30 years when I got my first rabbit. I haven't lived without one for 30 years, so when one dies I always have one in the wings. Fast forward to now, we always have two rabbits. It's nice if they have another rabbit to hangout with. Also, 33 years ago we got a baby cockatoo, named her Louise, fed her formula, and she is now hanging out with me in my living room. Did I also mention our blue merle chihuahua?
In my New York apartment everyone is loose. No one is caged. Everybody is trained to go on those wee-wee pads you buy for dogs, and everybody goes on a wee-wee pad including the rabbits… but not the dog.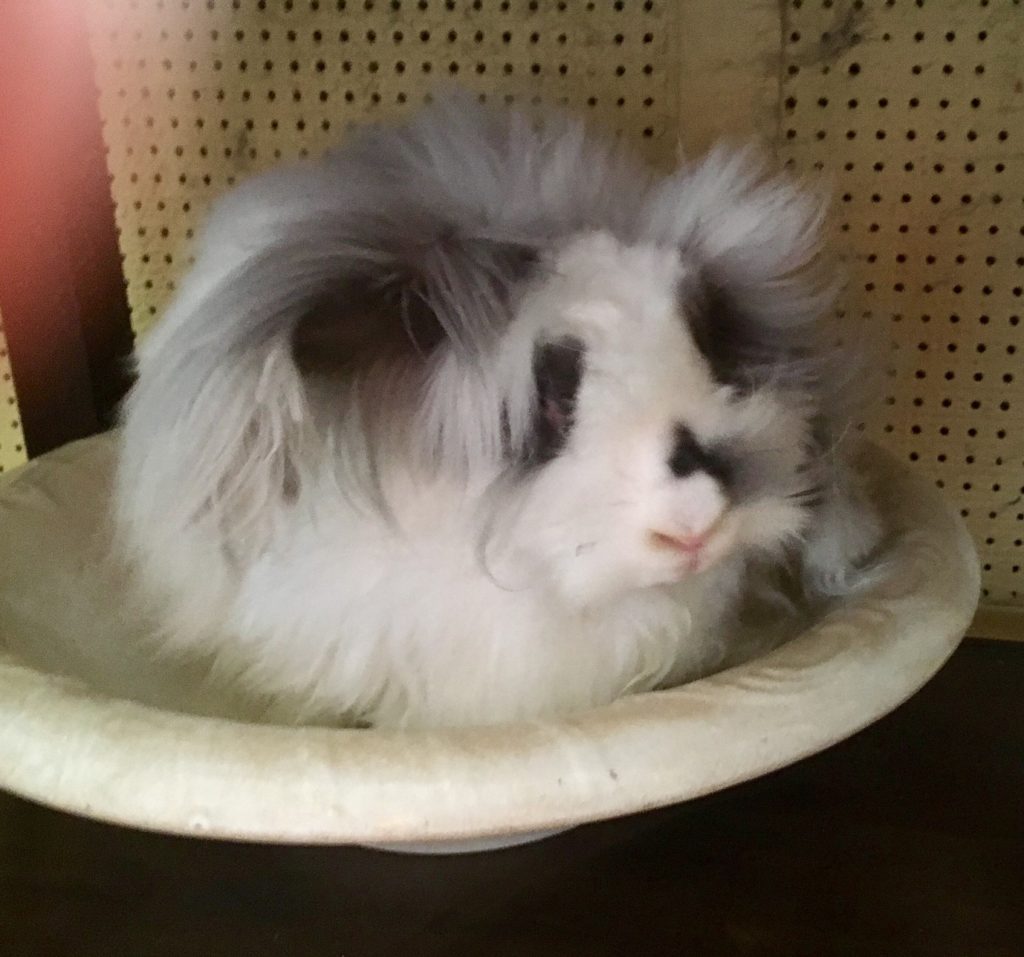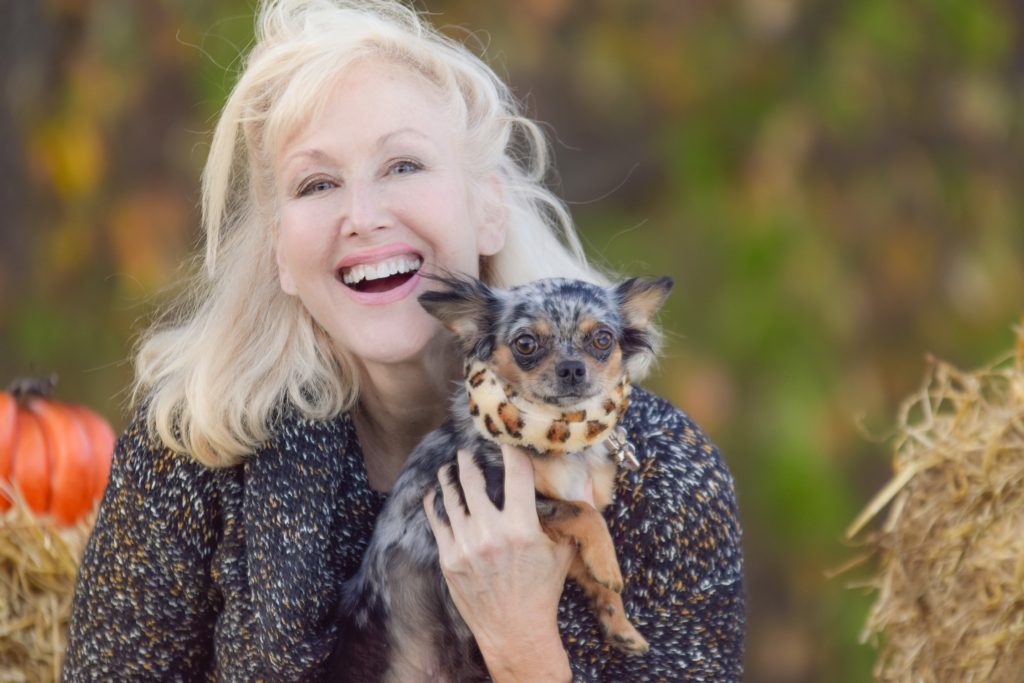 You know how to party – we know that – your wedding was no exception…describe your epic wedding.
So my wedding was 32 or so years ago. I should know that! Alan (a renowned photographer) and I got married in our huge loft, and you had to come dressed as members of a bridal party. It was on Halloween – you could be a bride, or a groom or a bridesmaid. The only problem was a lot of people thought it was a costume party and not an actual wedding. So we had people dressed as bridesmaids with five o'clock shadows and brides with full beards. They thought this was just going to be a big loft party – because we always gave huge parties – and not a wedding. But it was actually our wedding. I didn't get many gifts because no one took it seriously. I won't make that mistake again!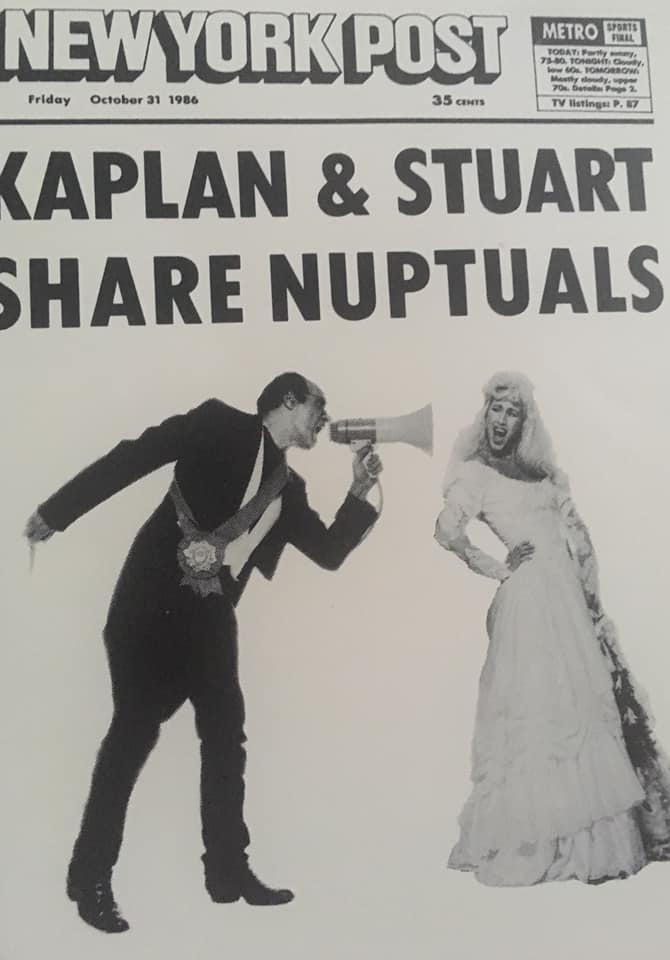 You've been modeling since you were in your twenties – what's the best thing anyone can do to look and feel like a model whether they're walking down the street or working it in the office?
You have to know who you are. What's your style? What makes you feel good? What floats your boat? When you put on a certain dress how does that make you feel? Don't go with trends, go with what you're attached to! Listen to your inner fashionista. And you know what? We all have that.
Reading For Filth is open to the public this Friday at 8pm at Club Bedlam, 40 Avenue C, NYC. For more on Wendy visit her book's Facebook page, her personal facebook page, or her instagram.
Visit her website, and buy her book on amazon!
All 18 of the BAFTA Acting Nominees Are White, All Directing Nominees Are Male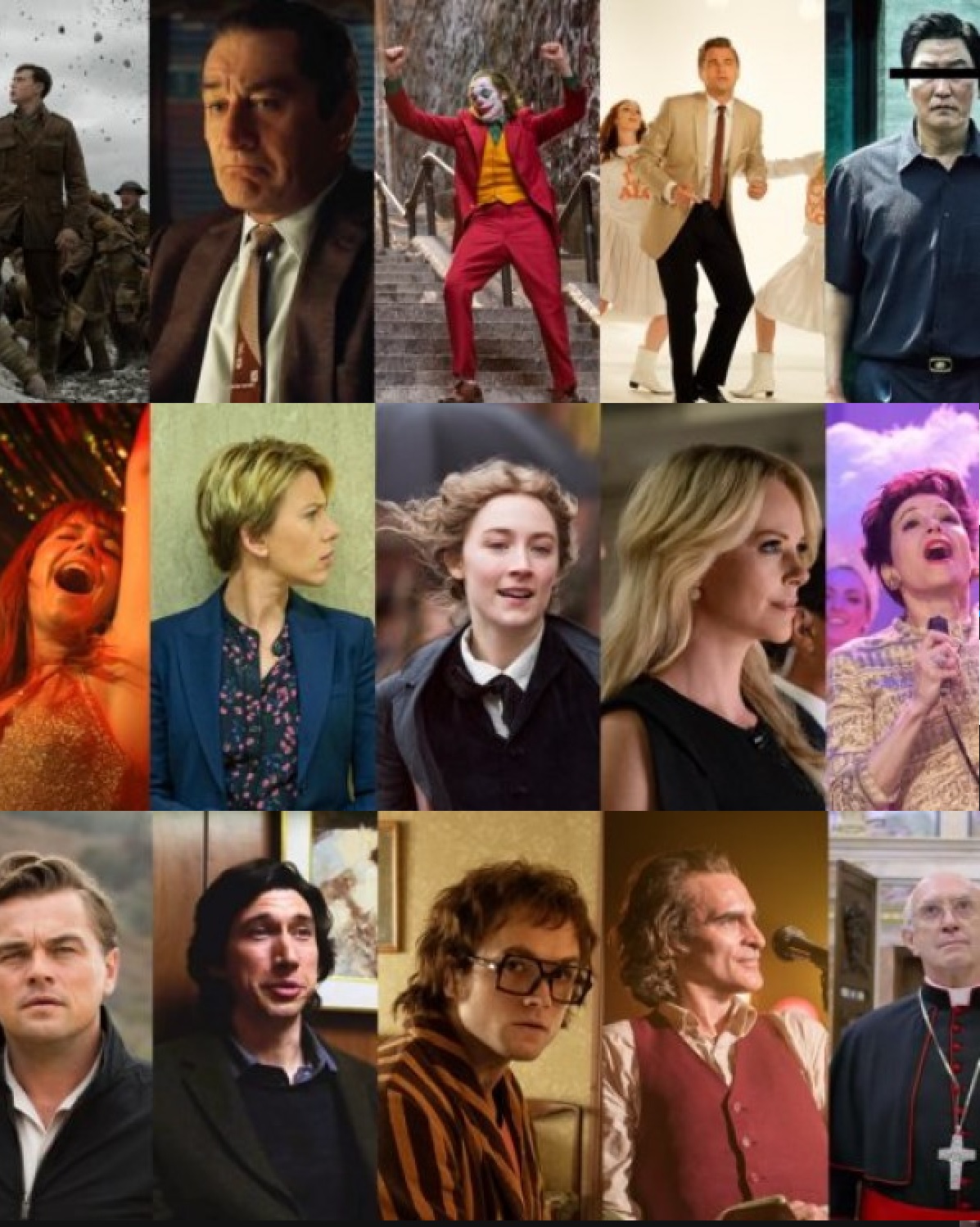 "Joker" is the one to watch at the upcoming BAFTAs, but if you're looking for diversity and female directors, sadly you'll have to look somewhere else. All the acting nominees are white, and all the directors are male.
Led by a lead actor nomination for Joaquin Phoenix, "Joker" received 11 nominations for Britain's equivalent to the Oscars, competing with familiar Golden Globe nominees Taron Egerton, "Rocketman,"  Leonardo DiCaprio for "Once Upon a Time … in Hollywood," Adam Driver for "Marriage Story," and Jonathan Pryce for "The Two Popes."
Renée Zellweger leads the nominations for the best actress category for her role in "Judy," alongside Jessie Buckley,  "Wild Rose," Scarlett Johansson, "Marriage Story," Saoirse Ronan, "Little Women," and Charlize Theron for "Bombshell."
Here are the other notable highlights:
See the full nomination page HERE.
11 nominations for Joker
10 nominations for The Irishman and Once Upon a Time… in Hollywood
Nine nominations for 1917
Six nominations for Jojo Rabbit
Five nominations for Little Women, Marriage Story and The Two Popes
Four nominations for For Sama, Parasite and Rocketman
Three nominations for Bombshell, Judy, Le Mans '66 and Star Wars: The Rise of Skywalker
The ceremony will be held on Feb. 2 at the Royal Albert Hall in London.